The Yinyoo IN8 is a cheap in-ear headphone built using one balanced armature and one dynamic driver, in a classic hybrid configuration. These earphones leverage their cheap retail price as the main selling point, together with the use of aluminium housings and a smartphone-compatible remote.
Disclaimer: a free sample was provided by AK Audio. Using the code "SoundphileReview" during checkout brings the price down to $20. To use the code, you have to write it in the message form and select "other payment", then wait for AK Audio to manually adjust the price for you (you will receive an email when it's done).

TL;DR: recap
Pros




Cons

Good build quality

Universal remote

Good for bassheads: strong, loud bass

Cable has lots of microphonics

Isolation is lacking

Good (only?) for bassheads
Rating: 6.7/10
Packaging & Accessories
The box comes with the earphones, a plastic clip, three different sets of eartips and a hard carrying case. It's a fairly complete set given the price of the Yinyoo IN8.
Design & Comfort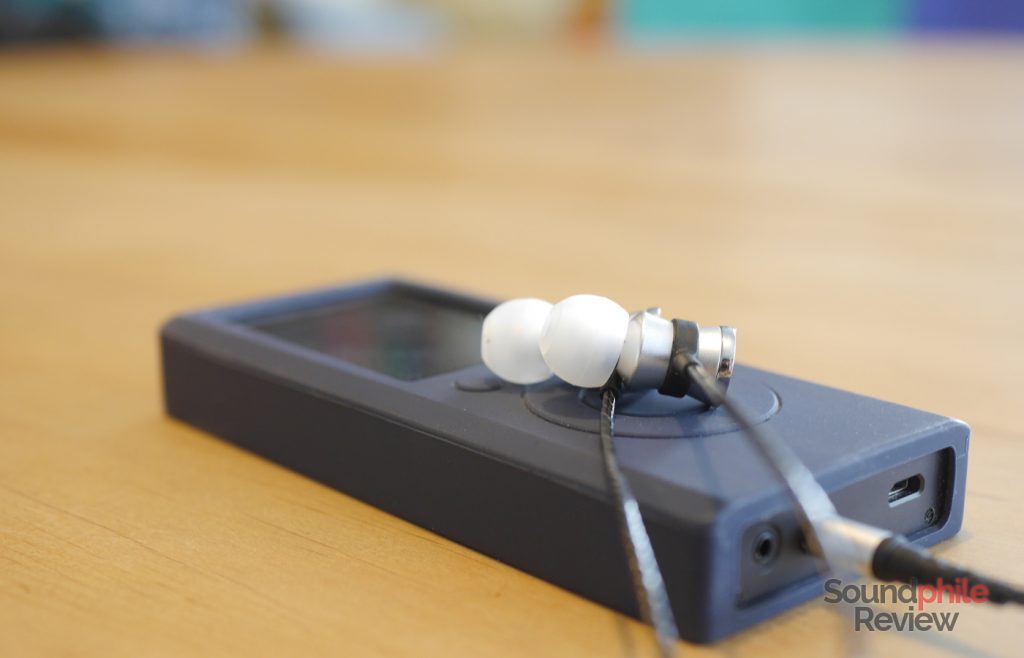 The shape of the housings reminds me that of the Meze 11 Neo, which stand out from the crowd for their somewhat-premium appearance. This last bit does not apply to the Yinyoo IN8, though, as the use of shiny plastic and a glossy cable make them look a bit cheap. They're anonymous enough when it comes to appearance; the only distinctive thing is the "flap" on the back of the housings, where the Yinyoo logo resides.
The housings are made of aluminium, as the remote on the cable, but everything else is made of cheap-looking plastic. The strain reliefs are made of plastic, too, though it is a bit flexible so as to allow them to bend. All in all, build quality is acceptable and in line with what can be expected from ~$25 headphones.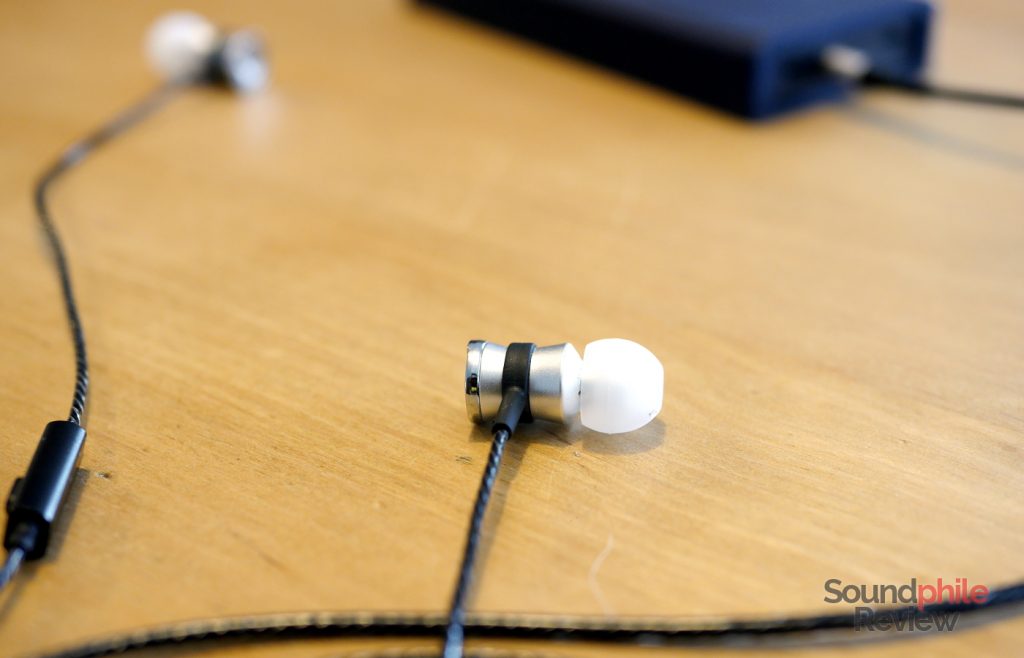 The cable is covered in shiny, rubbery plastic, which has a black colour with a silver line running from end to end. It seems to be resistant enough, but it's also prone to coiling. While it's not really stiff, it often gets in the way because of its tendency to coil. What's more, it has a lot of microphonics, so running it under the dresses (i.e. under a jacket or sweater) is of essence to avoid a constant thumping noise. I found that running the cable behind my ears can reduce the impact of microphonics, though using the clip is often necessary anyway.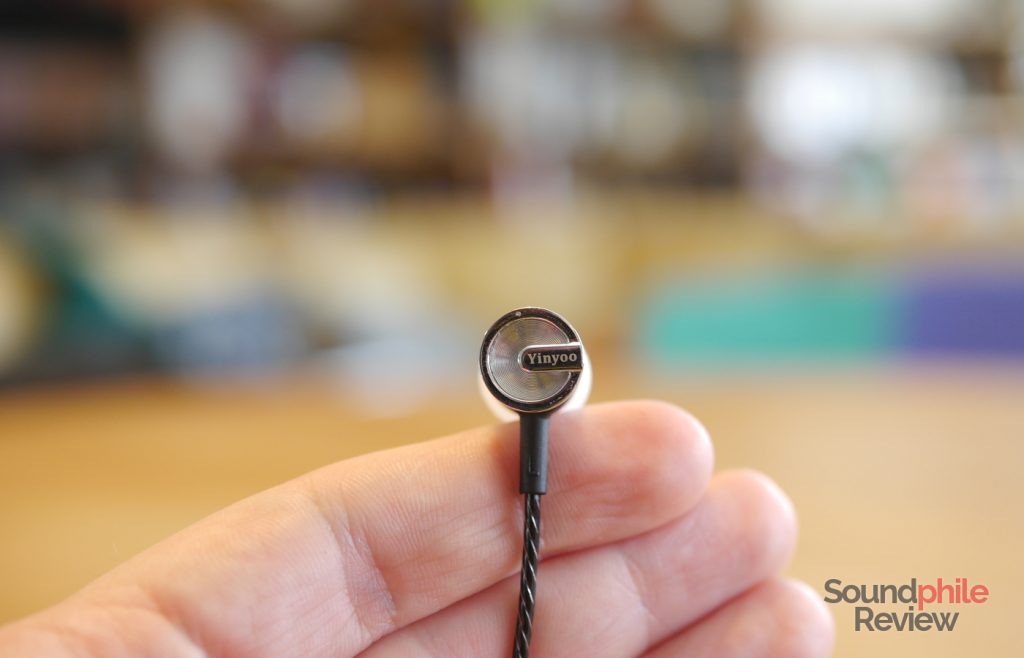 As for comfort, the Yinyoo IN8 is discretely comfortable, thanks to a relatively small size that makes it easy to fit in the ear. The absence of clear-cut edges (I'm looking at you, KZ ZS6) also helps it being comfortable for longer listening sessions.
Isolation is definitely not one of the main selling points for the Yinyoo IN8. While there is an attenuation of ambient noise, it's slight and not on par with other in-ear headphones (i.e. RHA T20i). It can deal with light noise, but it probably won't be sufficient for public transport and other noisy situations.
The microphone offers sufficient performance when used in quiet environments; if ambient noise is present, it is not able to capture the voice with sufficient quality to allow for a clear conversation.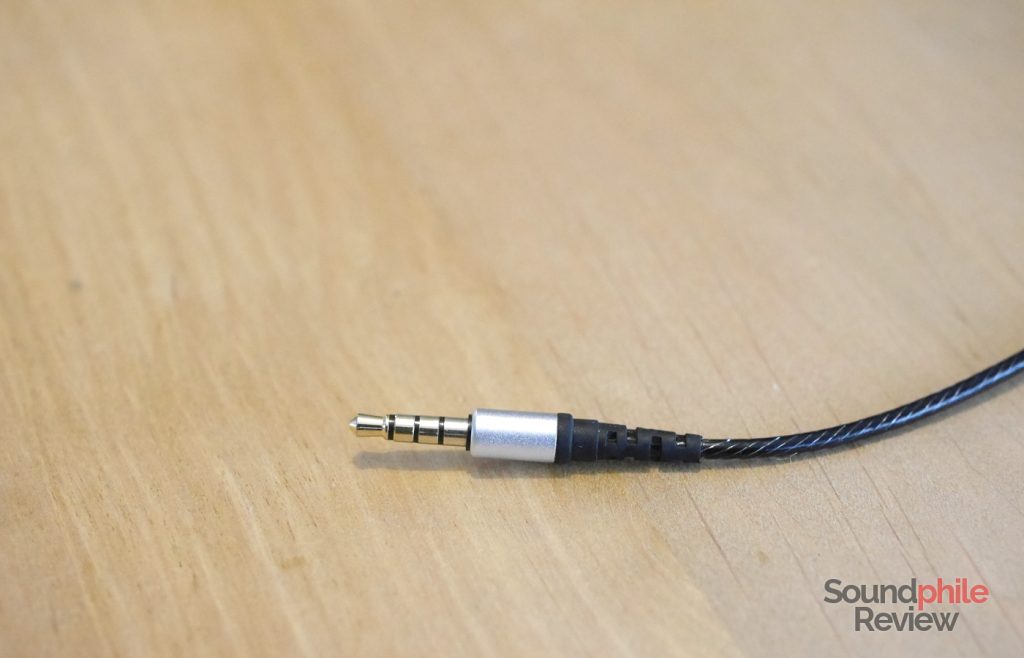 Sound & Specs
I ran a 100-hour burn-in on the Yinyoo IN8 before testing it. I then used various sources: a FiiO X3 III, an Aune M1s, a Topping DX7, a Head 'n' Hifi Objective2 and an iFi micro iCAN SE fed by a Topping D30, and my Lenovo K3 Note smartphone. I used a pair of Comply Isolation tips during the tests (see my best eartips article for additional information).
Frequency response
20 – 20,000 Hz
Impedance
16 Ω
Sensitivity
106

±3

dB
When it comes to sound, the Yinyoo IN8 sound warm and not too detailed, with a bump in mid lows. This emphasis makes the sound appear bloated as a whole and unsuited to correctly render all genres. It's generally flat, as it is a bit dull and not really lively.

Soundstage is limited and very close to the listener; this gives a sense of engagement and intimacy to modern music recordings (which don't have a huge soundstage to begin with) and may be appealing for certain genres, but it limits the overall ability of the Yinyoo IN8 to reproduce multiple genres.
Despite the overpowering lows, instrument separation is still decent, though nothing more. The RHA MA650a and the Xiaomi Mi In-Ear Headphones Pro, just to name a couple names, have way better separation.
While the Yinyoo IN8 have a strong low-end, it is not that good. In fact bass is not well-controlled, thus it lacks detail and texture. It's a fill that doesn't do much more than providing the sound with body and thump. In fact it's a bit overwhelming and it overtakes the lower mids on a few occasions. It's bold and powerful and it overcharges the music; it is mostly concentrated in upper lows and lower mids, with the classic Beats-like bloat. Listening to songs such as Korn's Play Me, which is bass-heavy by itself, results in an explosion of lows that envelops you. That's actually pretty good for entertainment and fun, but not for fidelity.

Using an equalizer and cutting the lower frequencies by ~4 dB yields better results, with sound becoming more balanced and natural. I personally do not recommend buying headphones because of how they sound when using an equalizer, though, as that is not their true sound.
Mids are slightly recessed and suffer from the excessive presence of bass, but have an otherwise energetic presence – aided by a small spike in the upper midrange – that makes them noticeable despite the bump in lows. Detail retrieval is basic and doesn't allow for too many nuances to be portrayed, so I wouldn't call the midrange "articulate" nor "transparent". Its presentation is otherwise good, as they are natural enough in terms of tonality.
Treble is left a bit in the background, even though it's got a good timbre and discrete extension. The level of detail is not extreme and it won't blow your socks off, but it's pretty decent for a $25 earphone. Being highs behind mids and lows, however, they're often not that easy to hear in congested songs and this makes them contribute less to the overall tonality.
Given their bass boost, the Yinyoo IN8 excel in those genres where strong bass presence is a good thing – think electronica, nu metal, hip-hop, etc. My personal preference is against using them for genres such as jazz, classical, classic rock, blues and other mostly acoustic genres, but it all depends on one's taste.
I compared them to a few headphones that are in the same price bracket:
Xiaomi Mi In-Ear Headphones Pro: Xiaomi's flagship in-ears are way brighter than the Yinyoo IN8, with much better instrument separation and similar soundstage. Midrange is more recessed on the Xiaomi, but detail retrieval is superior anyway. In terms of general sound quality, the Mi In-Ear Headphones Pro are superior, though not vastly so.
Ubsound Smarter Pro: Ubsound's latest low-fi offering is not a memorable one, but has an almost identical price to the Yinyoo IN8. In fact, the difference is incredibly apparent, with the Smarter Pro having aggressive and tinny highs, recessed mids and less bass extension. Though the Smarter Pro have better soundstage, they are less balanced and end up presenting an incoherent sound. If fun is the name of the game (as it surely isn't fidelity), then the Yinyoo IN8 wins.
HiFiMAN RE-00: a track in Until we meet the sky, one of my favourite albums from Solar Fields, is When the worlds collide. That seems to fit in this comparison, as these are totally different headphones: the RE-00 are neutral, bass-shy headphones that strive for sound linearity, while the IN8 are fun, bass-heavy headphones. The first offer more balance, slightly better detail retrieval and a wider soundstage, while the latter offer more liveliness and greater bass depth.
1More EO323: the EO323 are actually really similar to the IN8: there is a similar focus on bass, with recessed mids and tamed treble. The Yinyoo IN8, however, is far more balanced and offers better details and larger soundstage. The IN8 offers an overall better sound.
Final Thoughts
The Yinyoo IN8 are decent, but they cater to an audience who likes big, bold lows and is not afraid of some spills in the midrange. It may be worth checking these out if heavily coloured, fun sound is your aim. Bassheads and people wishing for a bump in bass would find them pleasing. I also found them pleasant when gaming – explosions have that boomy sound that's just perfect, though it's not going to blow you away (puns intended).
Considering their sub-$25 price, they're not half bad as bass-heavy earphones. They've got character and work well with modern genres and games, which is great for young people. Good build quality also makes them more attractive. Should you buy them? They're a good alternative to other bass-heavy in-ear headphones out there, but don't buy them expecting to change this inclination.
The Yinyoo IN8 have a $23 price tag as of this review's publication.