The lowest tiers of the headphone market are very crowded, but this doesn't keep manufacturers from releasing new products in the sub-$30 tier. Italian manufacturer UBSOUND makes no exception. Their newest offering, called UBSOUND Smarter Pro, gets most of the things right with a price of $24.99.
Disclaimer: I paid nothing for the UBSOUND Smarter Pro. Thank you to Greta for the sample! You can check the manufacturer's site for additional info.

TL;DR: recap
Pros




Cons

Very comfortable

Remote with microphone

Slightly V-shaped sound

Extra-wide soundstage

Super-prone to microphonics

Cable is a bit flimsy

Sound lacks clarity

Low instrument separation
Rating: 6.5/10
Packaging & Accessories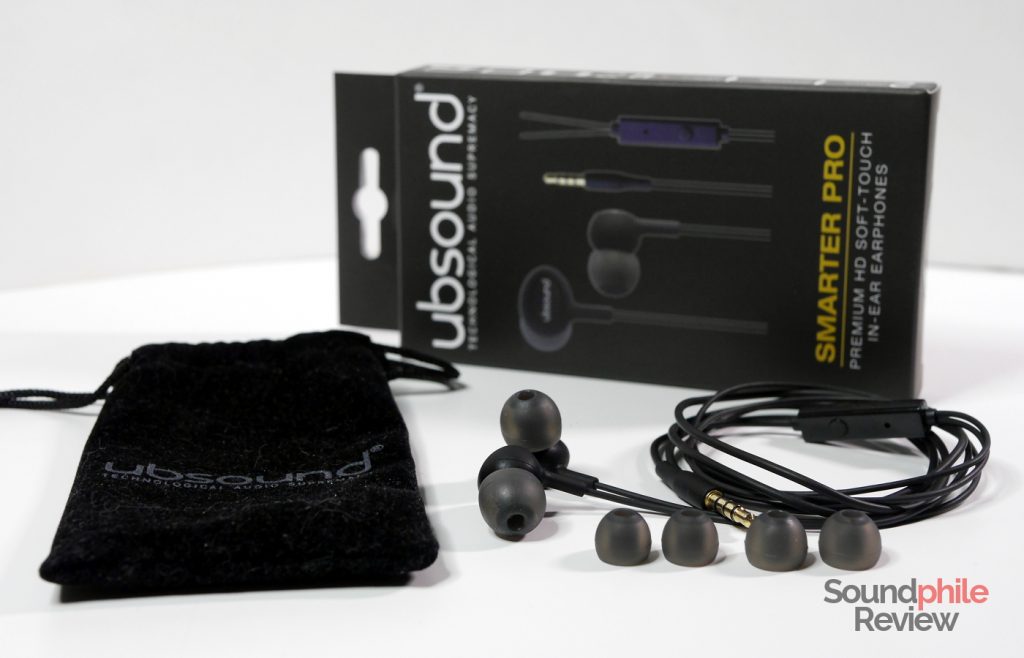 It's a bit of a tradition for UBSOUND to include a soft cloth bag in their packaging and there's no exception this time. Besides that, there is a set of silicone eartips in three different sizes (S, M, L). Everything is kept inside a cardboard box. It's pretty simple, but that's okay given the price.
Design & Comfort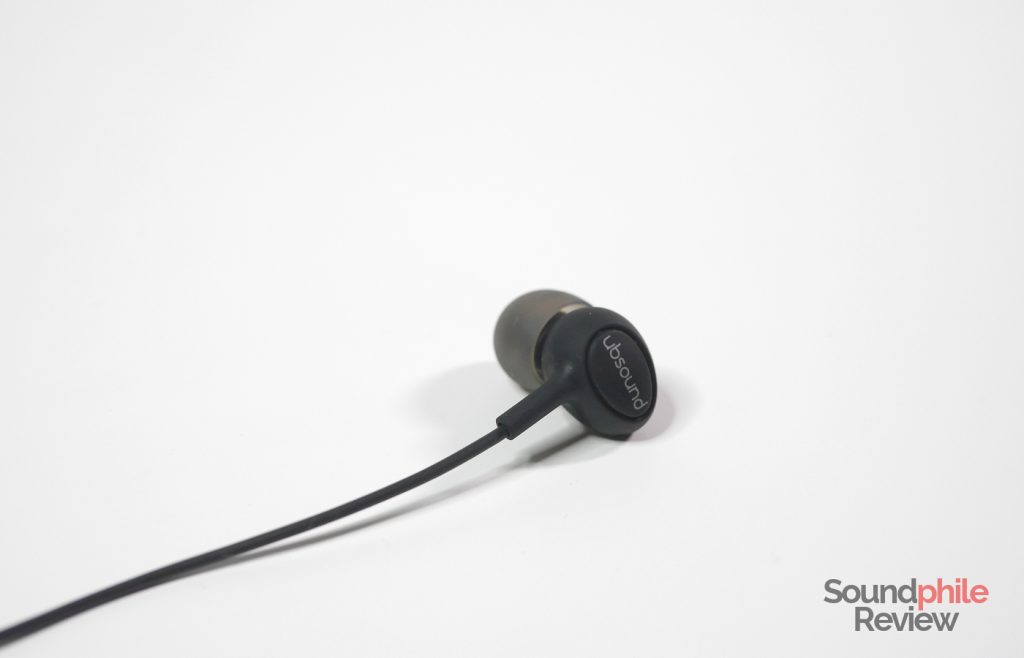 UBSOUND went with a peculiar design for the Smarter Pro: the housings have an egg-like shape which is usual in earphones with over-the-ear cable (i.e. RHA T20i), but the strain relief is pointing downwards instead. They're completely made of soft-touch plastic, which is also a fingerprint magnet. You will want to clean them often enough. Both white and black colours are available.
Build is solid enough, but it's apparent this is an entry-level product once you look at the materials. These are down-to-earth earphones that skip all the bells and whistles in favour of a practical approach. This also means they won't appeal to those who look for premium-looking, decorated headphones.
The egg-like shape makes comfort especially nice, at least to me. I can wear them for a few hours and this doesn't cause any fatigue or discomfort, which is quite a feat considering silicone eartips often end up bugging me after three hours or so. It's the eartips the one thing that did not satisfy me so much, as they have quite large a canal (tips from headphones such as HiFiMAN RE-00 can't be used because of this) and they can't properly seal the ear canals.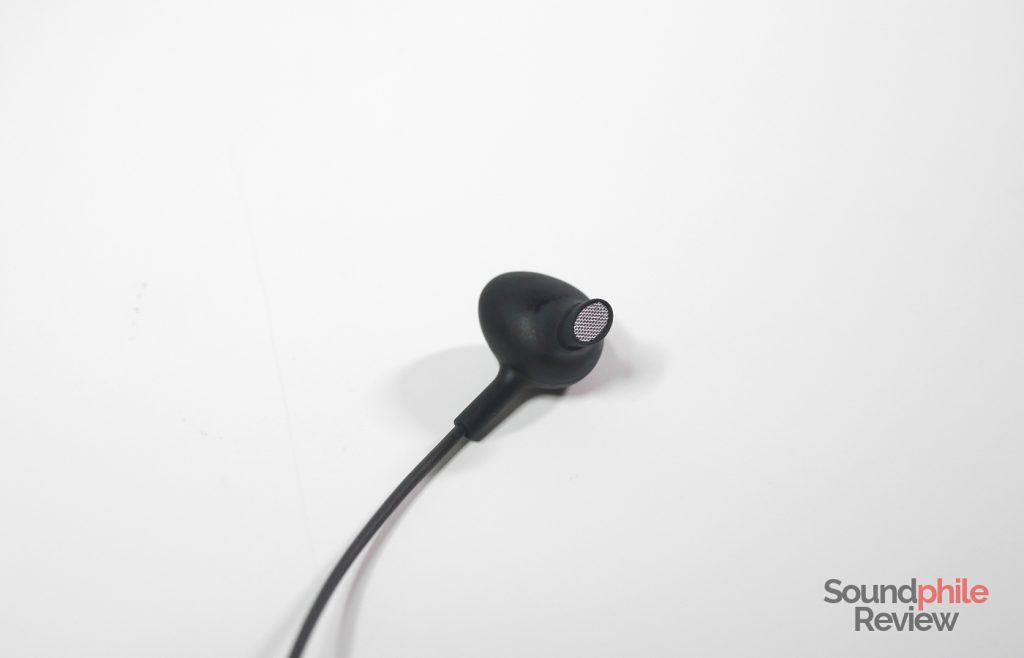 This has an impact on passive noise isolation, too, which is enough just to remove the quieter noises. Human voices even at moderate volume will easily slip in and cover the music. They may fare better with different eartips, though I am not able to back this hypothesis with actual proof.
The rubber-covered cable is extremely prone to microphonics, to the point I had to make it run inside my shirt to at least attenuate it while I walked. I could actually hear noises coming from the wind when I had an oscillating fan pointing towards me! This is a severe flaw, given the magnitude of the microphonics, and I advise you against buying the earphones if you are sensitive towards this issue.
Extra Features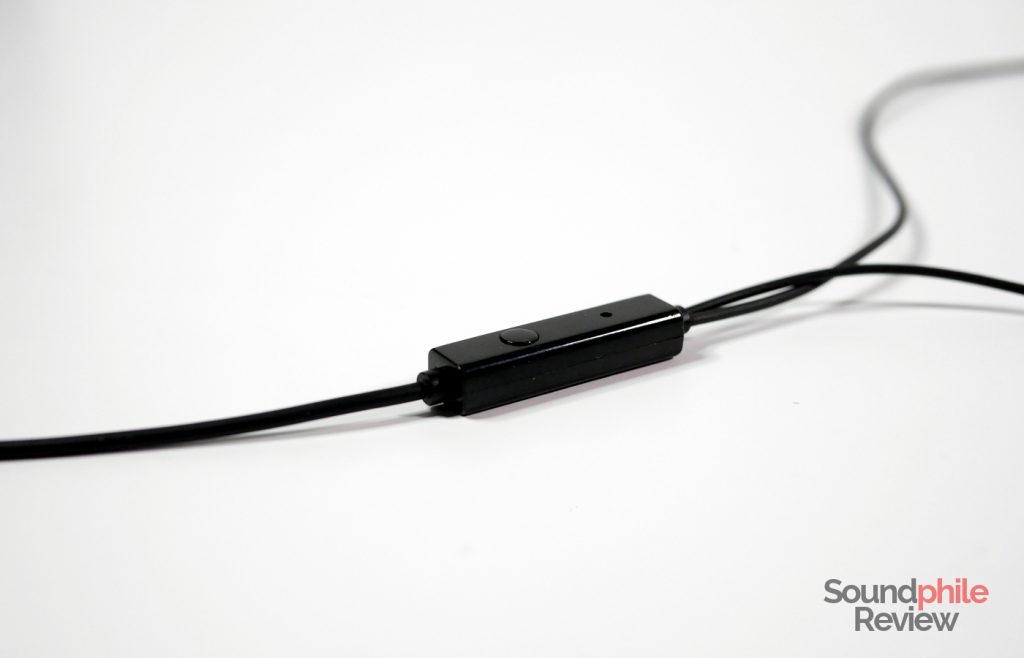 Call quality is not up to expectations and the microphone is saturated even when there's no ambient noise and there's about 50 cm distance from the mouth. Nothing really changes when moving the microphone around, so the problem seems to lie in the mic itself – maybe it's just low-quality?
Sound & Specs
The burn in process I usually run is 100 hours, and that is also true for the UBSOUND Smarter Pro. I used them with a Topping D30 + Topping A30 stack while at the desk and a Lenovo Vibe Shot while on the move.
| | |
| --- | --- |
| Frequency response | 15 – 21,000 Hz |
| Impedance | 16 Ω |
| Sensitivity | 115 dB |
UBSOUND has a record for headphones with a wide soundstage and the Smarter Pro are no exception. They have in fact a very wide soundstage which is completely unexpected in this price range and which may well be their strongest point. Instrument separation is borderline sufficient, with denser tracks which often end up being a mess of different instruments, and stereo imaging is really good.
Previous headphones from UBSOUND I tried had a V-shaped sound, meaning both bass and treble were elevated. This does not seem to be the case here, as we'll see in the next paragraphs; the Smarter Pro have a more balanced approach, although they keep a slight V shape with a bit of mid-bass bloat which make them fit in the general consumer headphones category.
Bass rolls off pretty soon – in fact the lack of the lowest frequencies is one of the flaws of the Smarter Pro – as they start reproducing sound after 30 Hz and the sound starts showing decent volume only after 100 Hz. That means the bottom end of the spectrum is almost cut out, and you won't get that nice oomph many V-shaped headphones sport (i.e. the Meze 11 Neo, just to mention a sub-100$ earphone).
Mids appear a bit veiled and muffled, especially in dense tracks where multiple instruments play together (i.e. Nietzsche che dice by Zucchero Fornaciari). It lacks low-mids and it also appears a bit flat and dull; it's definitely not as vibrant and vivid as in earphones such as the Venture Electronics Asura 2.0 or the RHA MA750i (which also cost at least three times as much). There's little sibilance, but that's because the upper section of the mids is especially weak. Voices are generally pleasant, though they're not too natural and they're a far cry from those produced by higher-end headphones.
Treble is Smarter Pro's Achilles' heel. Just as the Greek hero who was vulnerable to wounds on his heel because of the way he was dipped in the Styx, the Smarter Pro can be easily easily criticized because of their highs. They're not detailed nor present and they often get behind all other sounds, so it can be at times challenging to hear them. It's as if it was some indiscernible sound in the background with no real shape or identity.
Given their "consumer tuning", as I like to name it, the UBSOUND Smarter Pro can be used to listen to a wide variety of genres, from pop to rock, from hip-hop to electronic music. They will sound best with modern genres, though, so jazz, classical, opera, folk and other (mainly acoustic) genres will not sound as good.
The KZ ZST reach lower frequencies and show better resolution, especially in the treble department; in contrast, the UBSOUND Smarter Pro seem to be more balanced as the bass on the KZ earphones is overly present. The Superlux HD381B bear a stronger bass response which makes the sound fuller and warmer (to the extent it's not that natural anymore), but they also have a congested soundstage with worse instrument separation and a harsh sibilance which are not found on the Smarter Pro.
Final Thoughts
The UBSOUND Smarter Pro is an entry-level IEM with some great features and a few severe flaws. It's an overall balanced product that sounds good for the asking price and it offers features (such as the wide soundstage) which are beyond what one would expect out of a cheap pair of in-ear headphones. In contrast, the cable microphonics is just plain terrible and the sound quality is borderline sufficient.
They can be a great replacement for the headphones that are usually included with phones, although they lack the volume keys. Comfort is a pro that has to be praised, as they can be wore for hours without causing issues. Given their sonic performance I would not recommend them to the demanding audience; on the other hand, though, they can be satisfying for people who are looking for budget earphones.
The UBSOUND Smarter Pro are sold at $24.99 (or the same amount in Euro).