The Topping D30 is a DAC with plenty of connections and support for hi-res formats – including DSD. It comes in a nice package, too! The company recommends using it in conjunction with the Topping A30 headphones amplifier, but it can be used with a plethora of devices – both in input and output. It also supports hi-res content up to DSD128.
Disclaimer: I received a sample directly from Topping and I won't have to return it. You can check out the manufacturer's website for additional information.
TL;DR: recap
Pros




Cons

Simple, modern design

Solid build, high-quality materials

Switches and connectors are placed conveniently

Support for 24 bit / 192 kHz content and up to DSD128

Transparent sound

Clean output

No real cons for the price
Rating: 8.8/10
Packaging & Accessories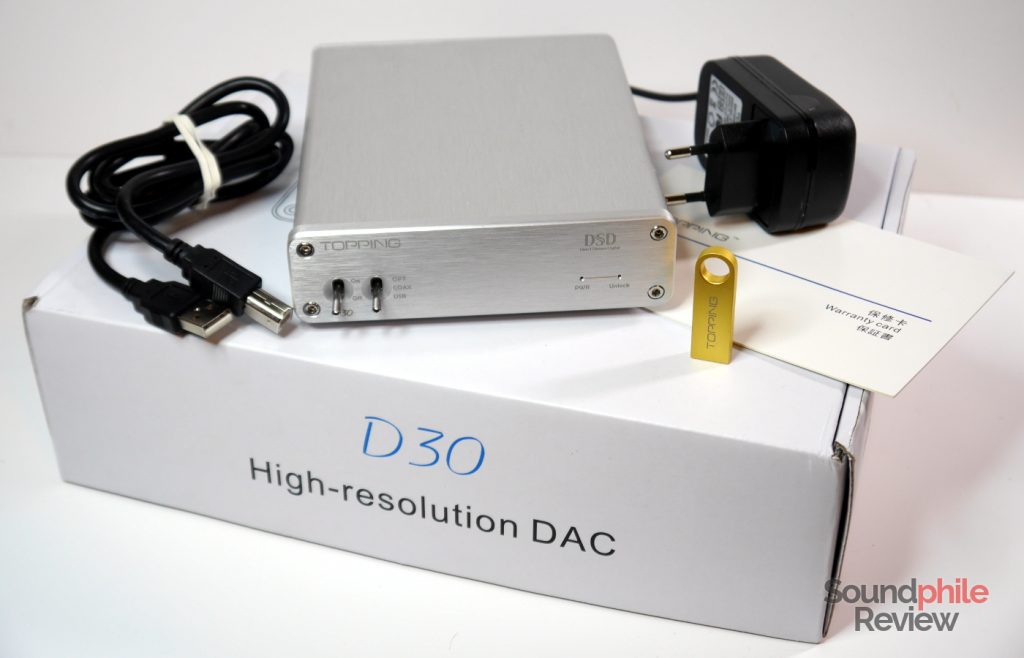 The Topping D30 comes in a simple cardboard box, which holds the DAC, the power supply, a USB drive with Windows drivers and manuals, a USB cable plus a warranty card. No other cables are included.
Design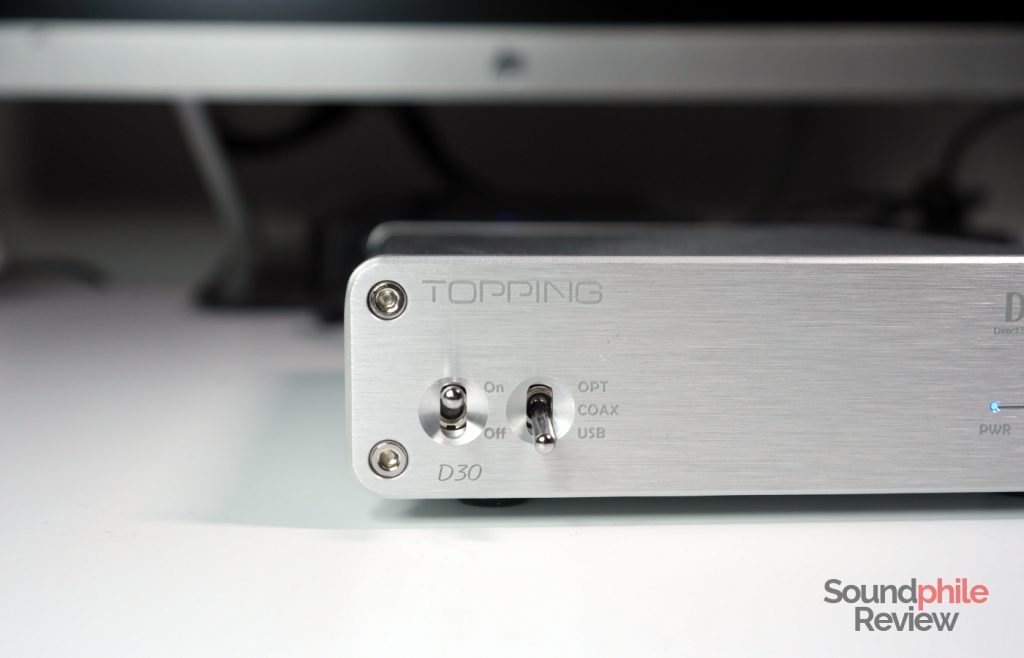 The Topping D30 has the same overall design as the Topping A30: it is a solid-looking chunk of brushed aluminium, with front and back sides that are slightly larger than the body and which show the nuts that hold it all together. The device appears to be rather solid and well-built. The writing is obtained through laser etching, so it should stand well the passing of time. There are four rubber feet under the shell that help keep it in place.
The combination of brushed aluminium and solid, almost sharp lines contributes to making the Topping D30 look unmistakably modern, yet classic. It can blend in with other devices (i.e. Schiit Magni 2, O2 amplifier) with no effort, while also keeping its own identity.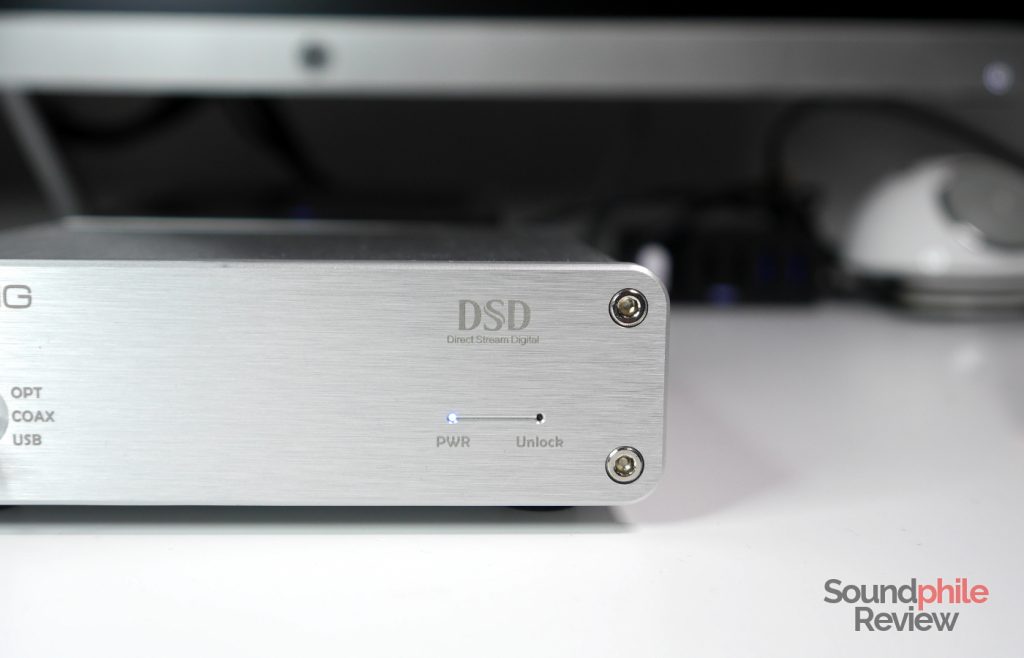 The front side only hosts the power switch, the input selector (USB/coax/optical) and two LEDs, contributing to maintaining a polished look, while the back is full of connectors: besides the power connector, there are a USB port (type B) and SPDIF via coaxial or optical for input and two RCA connectors (left and right) for output. More exotic connections are left out, but those three means should be more than enough for most users.
Features & Specs
The Topping D30 uses the Cirrus Logic CS4398 DAC chip, which is still a great chip even though it's a bit dated (it was first launched in 2010, if what I read is correct).
Input range

USB: 16 – 24 bit/44.1 – 192 kHz, DSD64, DSD128

Optical: 16 – 24 bit/32 – 192 kHz

Coaxial: 16 – 24 bit/32 – 192 kHz

Frequency response
10 – 20 kHz ± 0.03 dB
Maximum output

2.1 Vrms @1 kHz
THD+N (@1 kHz)
USB: 0.00062%

Optical: 0.00063%

Coaxial: 0.00065%

Crosstalk

USB: -117.7 dB

Optical: -117.6 dB

Coaxial: -117.6 dB
Note: all of the information above comes from the manufacturer's site.
The wide amount of connectors on the back leaves ample choice to the user, and in addition to that one can achieve 24-bit/192 kHz content playback independent of the chosen input. The Topping D30 not only sports support for files up to 24-bit/192 kHz, but it also supports DSD64 and DSD128 – although support for DSD is only provided through USB and using DoP (DSD over PCM) or ASIO. While the most discerning users may complain about the lack of support for higher resolution content, there's little doubt that what is provided already exceeds what most listeners require.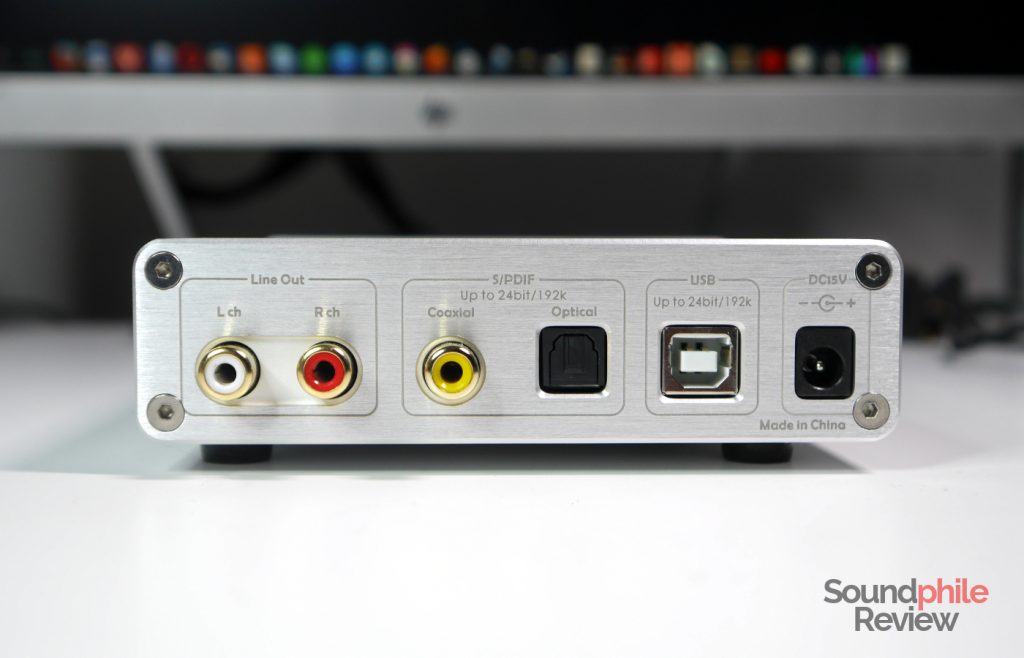 As I previously wrote, output is only provided via two RCA connectors on the back. The Topping D30 is meant to be used together with an amplifier – be it a headphones amplifier or a speaker amplifier – and cannot be used on its own. While this may be disappointing for those who look for a one-stop all-in-one device, the separation of DAC and amplifier also leaves room for improvements in the amplification section without the need to replace the DAC.
The left LED on the front indicates the device's power status, while the second informs of whether the D30 can lock the input signal – if it can't, it will light up in red. In my experience, it only did so before I installed the drivers.
Talking about drivers, the Topping D30 is supported by Linux out-of-the-box – there is no action required on the user's part to make it work. I tested it under Linux Mint 18.1 with Linux kernel 4.10. Windows, on the other side, does not recognize the device and requires drivers to be installed.
Sound
I used the Topping D30 in tandem with the Topping A30 desktop headphones amplifier. I used mainly 16 bit/44.1 kHz FLAC files, but I also listened to a few 24 bit/192 kHz FLAC files. I also used a few tracks from the 2L Hi-Res evaluation tracks collection in both FLAC and DSD.
There is no noise coming from the unit – the background is black. The output is therefore very clear. There is no "smoothing" of the records, so if they are harsh or bad the D30 won't mask it – you will very likely hear artifacts, noises and other nasty things. There's also a noticeable "issue" with low-bitrate MP3s and Youtube videos, which sound very bad – just do your ears a favour and don't use them at all.
Soundstage seems to be decently wide and deep, with a presentation of instruments that does not shove them in front of you, while instrument separation is at least on par with that of the Zorloo ZuperDAC (which in turn is great for the price and size). Detail is generally very good.
It is widely accepted in most parts of the world that each one is entitled to their own opinion – and this is especially true if we're talking about preferences and tastes. That's why I think that I should warn you that what follows is a collection of impressions, inevitably influenced by my personal taste. I like neutral, transparent gear, but you may not. Please consider this fact!
When it comes to sound, the Topping D30 is neutral and presents no colouration at all. That's what a DAC should do, in the end, and if you want any colouring you can resort to EQ. Mids are not of the in-your-face kind, and sound detailed and smooth. Bass has great control and precision, with no added colour – I could not hear any added warmth listening to the HiFiMAN RE00, whose lows are almost lacking. Treble is precise and airy, without added harshness or sibilance. If the record is harsh or sharp, though, you will hear it! I can hear no significant differences between bass and treble.
Being the Topping D30 an entry-level DAC, its performance is remarkable.
Final Thoughts
The Topping D30 has to clash with other giants in the DAC arena – the first examples that come to my mind are the Schiit Modi 2 or the ODAC. The D30 is well-built, has conveniently placed switches and connectors, features many connections, supports hi-res content up to DSD128 and has a neutral sound signature – all these elements make for a compelling products which can stand up pretty well against competitors.
The Topping D30 retails for $119.99, which makes for an admirable price-performance ratio. It's definitely worth trying out if you're looking for a DSD-capable DAC at a reasonable price.
It is available on Amazon.com and AliExpress at ~$119.99.