In recent years, the choice of affordable yet quality headphone amplifiers has increased dramatically, to great benefit for the consumers. Much of this has been due to offerings from Chinese firms, which Topping represents in an exemplary way. The Topping A30, their only desktop headphone amplifier, embodies the concept very well: it is a well-built device that offers good sound at a reasonable price.
Disclaimer: I received a free sample from Topping. I will be able to keep it. You can learn more on their site.
TL;DR: recap
Pros




Cons

Minimalist design

"Premium" materials, solid build quality

Convenient switches and connectors placing

Neutral sound

Clean output with no hisses

High impedance output
Rating: 8.5/10
Packaging & Acessories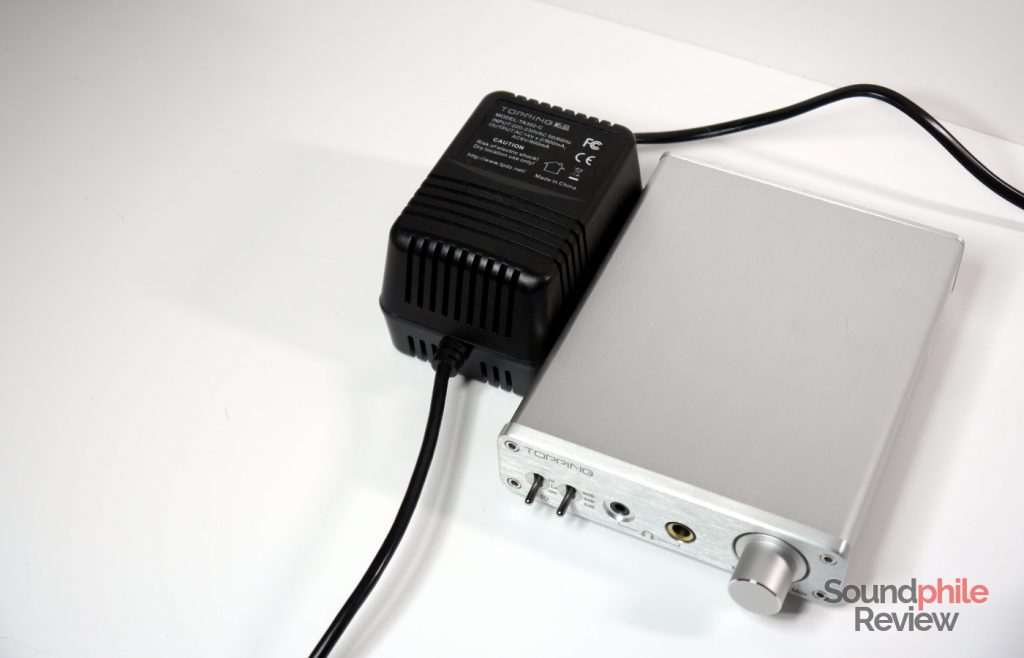 The package only holds the Topping A30, the power supply unit (which is indeed very large and heavy!) and various manuals in Chinese language. The main manual is a printed version of the A30 page on the website, so international users will be able to retrieve all the necessary information from there.
Design & Build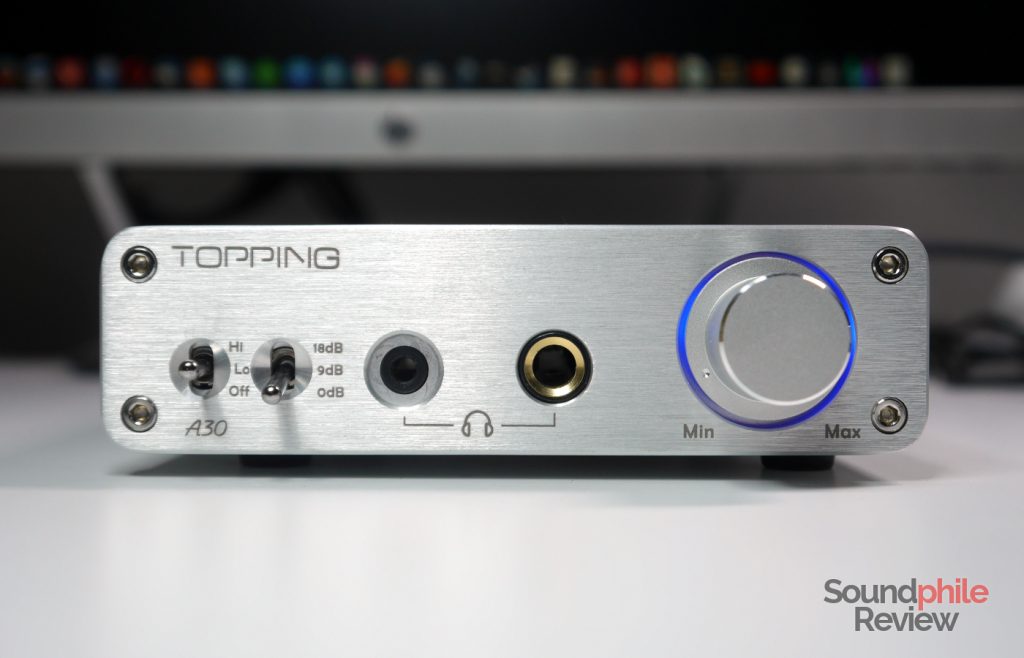 The whole body of the Topping A30 is made of machined aluminium. It is carved out of a single block of metal, with front and back being slightly larger and with laser etchings. They're held together by bolts with a star head.
Lines are clearly cut and well-defined; as a whole, the Topping A30 appears very solid and refined, but it also retains simplicity at its core. It's almost austere in its simplicity. The solid aluminium is pleasing to the eye and makes the device fit in almost every environment – be it a desk at home or in the office. The small size – 17 x 12 x 3.8 cm – also contributes to the Topping A30's ability to blend in the environment. This is no portable amplifier: it weighs more than 500 g and requires to be plugged in to a power outlet, so it's not very portable.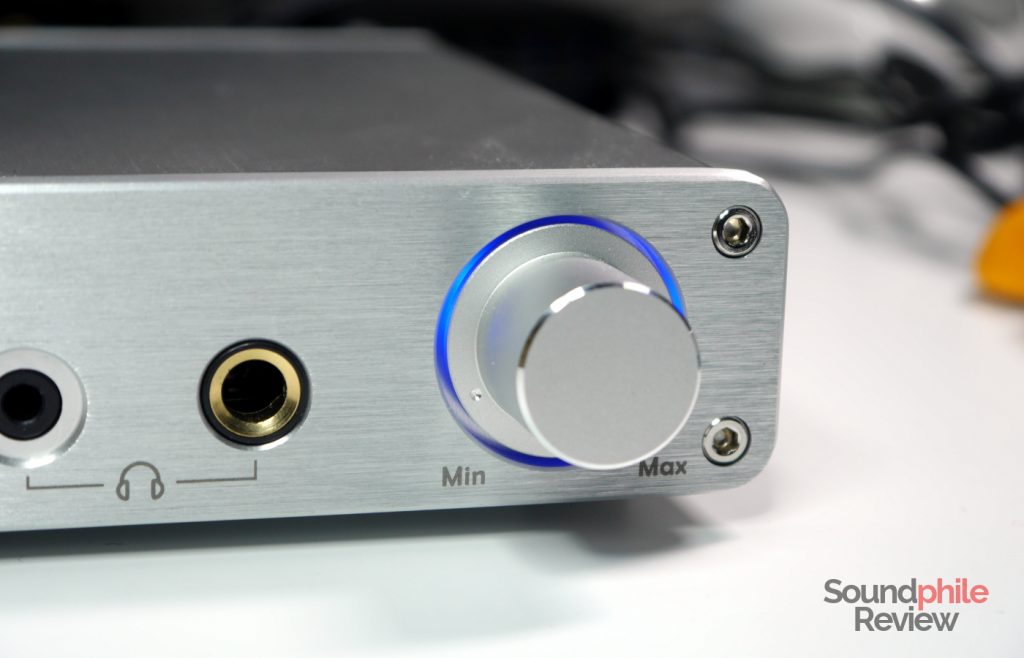 The front is home to the power switch, the gain selector, two different jack outputs and the volume knob; the back hosts a variety of connectors for input and output, together with the power connector.
The volume knob on the right has a surrounding blue light when the unit is powered up. Fans of "no lights should come out of the device" won't be pleased because the shape will make it difficult to cover it; I personally found it pleasing and useful to help me find the volume knob in the dark, as the light is faint enough not to disturb. The knob is very smooth and allows subtle movements, so I could set the volume with a high degree of precision.
Features & Specs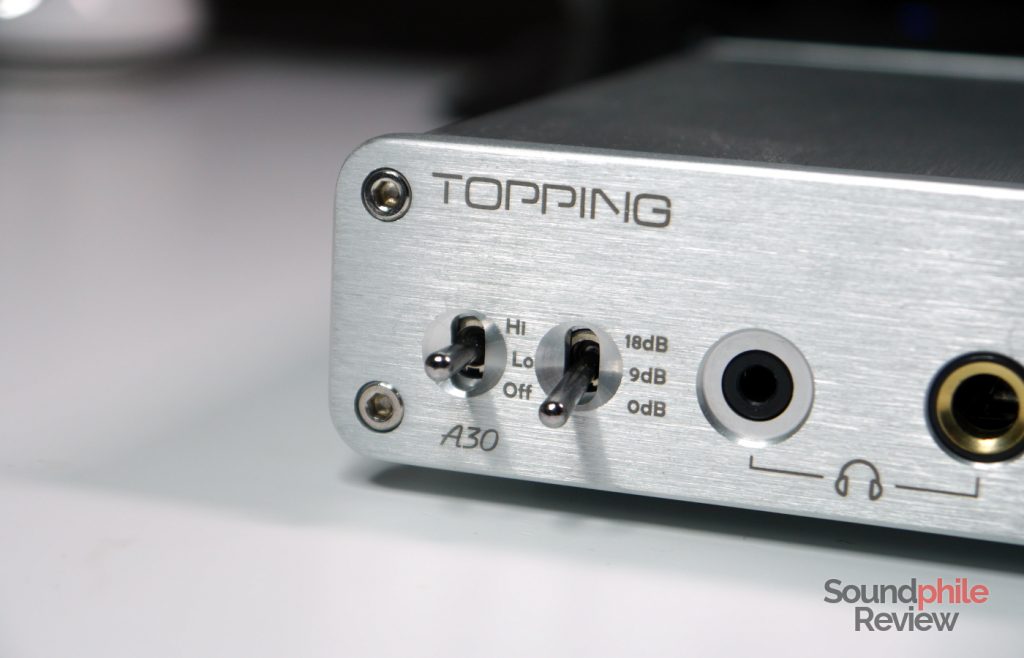 Something I found to be very positive is the presence of the switches on the front, so they are very convenient to flip. There are both the power switch (which also acts as an impedance selector) and a gain selector, which allows to choose between three presets: 0 dB, 9 dB, 18 dB.
There are two different outout jacks on the front: one 3.5 mm jack and one 6.3 mm jack. They cannot be used at the same time and there are differences in output power between the two, so the most power-hungry headphones should be powered using the larger jack connector.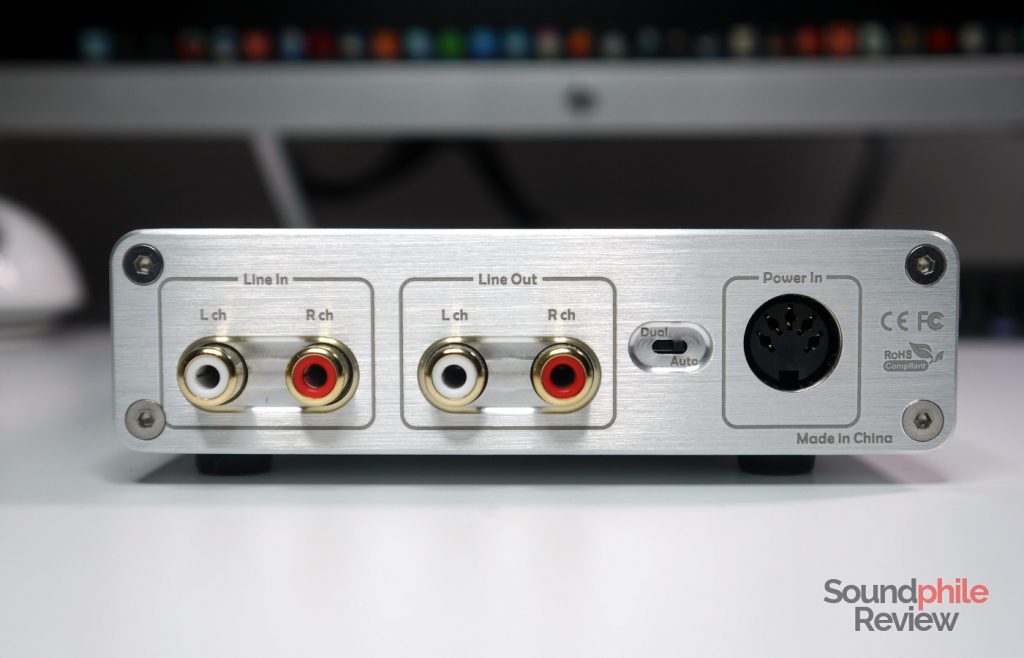 The back hosts two RCA inputs, two RCA outputs and the power connector, which resembles an XLR connector with five pins. The RCA outputs can be used in conjunction with powered speakers, but the Topping A30 does not support passive speakers – it is a headphone amp, after all! Talking about power supply, Topping claims it got separated power lines for amplification and other electrical components such as the front LED. This should lower electrical interference and provide better sound in the end, according to the company.
Just to the left of the power connector is a switch to select the output mode: if set to "auto", the amplifier will redirect sound to the RCA out connectors if no jacks are inserted on the front; if set to "dual", it will output audio to both the RCA connectors and the front jacks.
Suitable headphones impedance
16 – 600 Ω
Output impedance
10 Ω (6.35 mm output)

30 Ω (3.5 mm output)

Maximum output power
1551 mW x 2 (PO = Hi, 6.35 output, RL = 32 Ω, THD+N = 1%)
291 mW x 2 (PO = Hi, 6.35 output, RL = 300 Ω, THD+N = 1%)
152 mW x 2 (PO = Hi, 6.35 output, RL=600 Ω, THD+N=1%)
757 mW x 2 (PO = Hi, 3.5 output, RL = 32 Ω, THD+N = 1%)
258 mW x 2 (PO = Hi, 3.5 output, RL = 300 Ω, THD+N = 1%)
143 mW x 2 (PO = Hi, 3.5 output, RL = 600 Ω, THD+N = 1%)
THD+N (@1 kHz)
0.0019% (RL = 32 Ω, Gain = 0dB, IN = 0.5 Vrms)
0.0003% (RL = 300 Ω, Gain = 9dB, IN = 0.5 Vrms)
0.0006% (RL = 600 Ω, Gain = 18dB, IN = 0.5 Vrms)
Input sensitivity

10.0 Vrms (PO = Hi, Gain = 0 dB)
3.3 Vrms (PO = Hi, Gain = 9 dB)
1.2 Vrms (PO = Hi, Gain = 18 dB)
SNR

126 dB (PO = Hi, Gain = 0 dB)
121 dB (PO = Hi, Gain = 9 dB)
111 dB (PO = Hi, Gain = 18 dB)
Note: all of the information above comes from the manufacturer's site, except output impedance which I directly asked them.
The Topping A30 uses Texas Instruments OPA1611 and OPA2134 op-amplifiers in conjunction with a TPA6120A2 amplifier. The specs are mostly in line with similar products in the same price range (i.e. Schiit Magni 2 Uber). The only value which is starkly different is output impedance, which is really high and indicate the amplifier may work better with high-impedance headphones.
The supported headphones range from super-sensible 16 Ω IEMs to 600 Ω full-size headphones, so there should be no problems in terms of compatibility.
Sound
I used a variety of headphones to test the Topping A30: the RHA T20i, the Sony MDR-1000X, the Meze 11 Neo, the Meze 99 Classics, the Superlux HD330, the VE Monk Plus and the HiFiMAN RE-00. I used the Topping D30 as the source and files in FLAC and MP3 (320 kbps) formats.
Output signal is clean, as there is no background hiss whatsoever and even with sensible earphones I could not hear any significant background noise – it is totally silent. This happens despite having interferences in the electrical line which produced an audible buzz when using the PC's onboard soundcard.
Sound signature is neutral and analytical, and the Topping A30 is able to deliver a balanced sound with lots of details and a remarkable instrument separation. The quality of the played music becomes all too important, as lower-quality music (i.e. low bitrate MP3s, YouTube) is audibly lacking and shows many artefacts – especially in highs.
Soundstage is very wide and also features some depth, although limited. Transient response is very good, both in bass and midrange. Dynamics are also remarkable for a product in this price range.
The Topping A30 does not seem to feature any colouring, a fact which may please some and displease others – it is "boring", as I've read a few people call this signature. Bass is very well controlled and defined: the amp makes it sound full and deep, while also being precise and clean. It has a rich texture and a good impact. Midrange is very clean and natural, with good presence and a remarkable crispiness. Highs are crisp and very detailed, but there is no sibilance nor excessive sharpness nor piercingness – in fact it surprised me that is very easy on the ears even with the RHA T20i that can be a bit picky in this respect, sometimes being a bit harsh.
Final Thoughts
The Topping A30 is the only desktop headphone amplifier made by the company, but it makes me wonder what higher-priced products may would be like. Topping has got a bit of a gem here, as it performs remarkably well in all aspects while only costing ~$110.
Its sound is neutral, detailed and clean and, on top of that, the A30 is very convenient to use. It has its flaws, too, such as the high output impedance, but they look minor in comparison to the pros.
You can buy one on Amazon for $109.90 or on AliExpress for the same amount.