The Zorloo ZuperDAC is the Chinese startup's second product, following the Z:ero earphones. While I think the latter is a forgettable product, the Zorloo ZuperDAC is an enjoyable mix of solid features, good build quality and convenience.
Disclaimer: Zorloo sent me a free sample so that I could write a review. You can check out their site here.
TL;DR: recap
Pros:
Very good detail;
Mostly neutral sound signature;
Affordable;
Well-built;
For desktop PCs, notebooks and mobile devices alike
Cons:
Relatively high output impedance
Rating: 7.5/10
Packaging
The packaging is fairly essential: the box only holds the ZuperDAC in cut-to-size foam and a manual. That's it. I appreciate Zorloo's dedication to keeping costs low and to provide minimal packaging, even though some may have appreciated if they included a pouch or a cap.
Design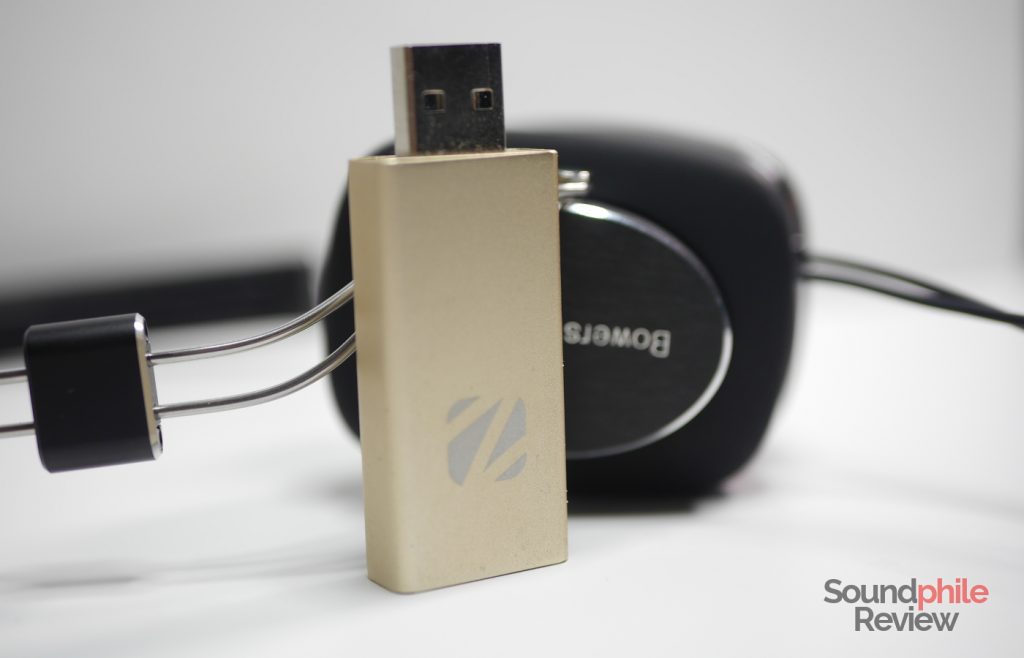 The Zorloo ZuperDAC may resemble a USB thumb stick at first sight, but it is a larger-than-usual USB key with a 3.5 mm jack and a LED on one side. It is made of aluminium and it is either golden or natural (silvery). Zorloo's logo is printed on one side. Its size is 46 x 23 x 10 mm and it weighs 20 g.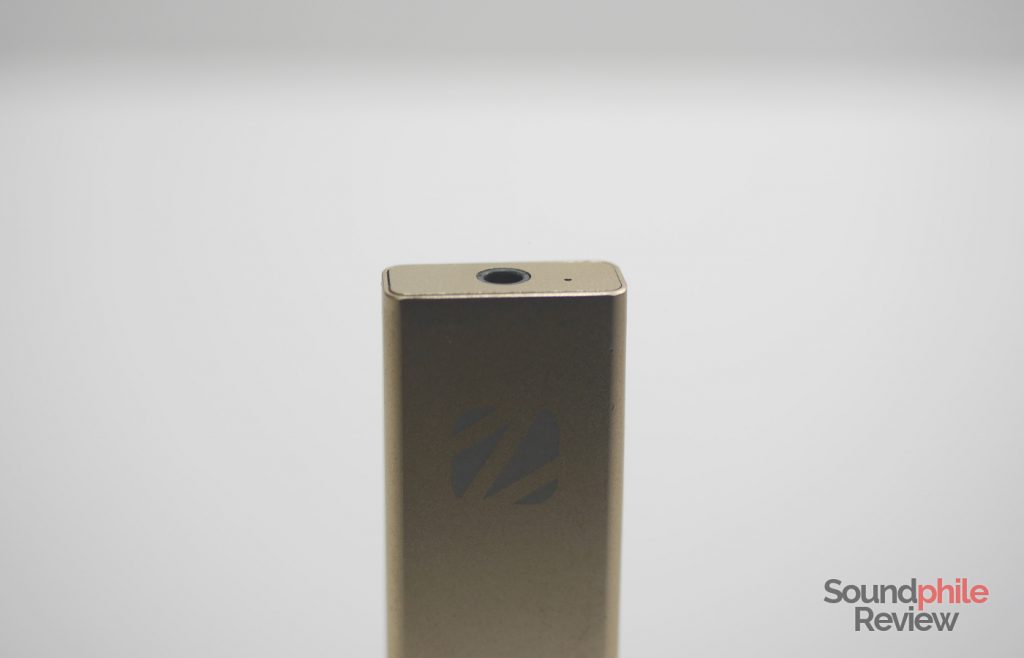 Build is fantastic: the device is so solid it seems ready to withstand almost any kind of abuse. The matte aluminium finish is nice both for sight and touch. The only point I'd raise against build quality is the caps are not perfectly flush with the rest of the body. That should give you an idea of how serious build quality issues are!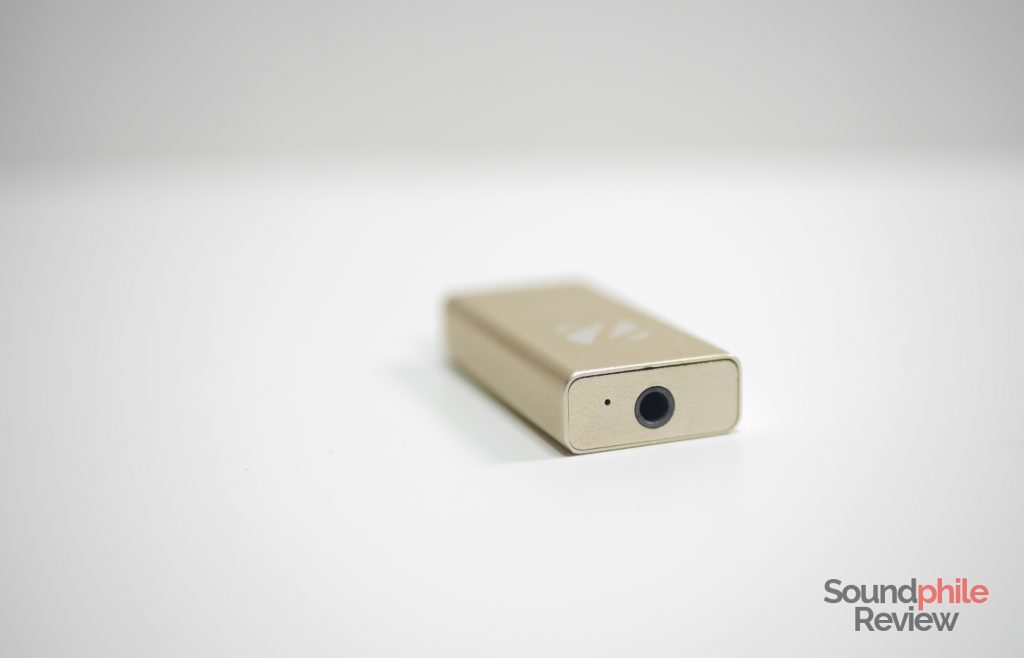 A LED glows in green when the ZuperDAC is connected to a PC or mobile phone and is ready to use. It is very tiny and difficult to see, but I never had to use it so I would not care too much about it.
Features & Specs
I tested it on Windows (7 and 10) and on Linux (Linux Mint 17 and 18). It works flawlessly in both environments. Please note that it works without any tinkering in Linux environments, while it needs additional drivers in Windows systems. It is also compatible with mobile phones, but compatibility is a bit patchy and you need to check whether your mobile works nice with it or not. Not all Android phones support USB audio playback (i.e. the Nexus 4 does not work with it).
I do not really recommend using it with mobile devices as it drains the battery really fast – a problem which is not to be taken lightly, given most smartphones' battery life is already awful. I recommend a powered DAC/amplifier for mobile use.
| | |
| --- | --- |
| Bit depth | 16, 20, 24 |
| Sampling rate | 44.1 kHz, 48 kHz, 88.2 kHz, 96 kHz, 176.4 kHz, 192 kHz |
| SNR | 115 dB |
| THD | 0.003% |
| Output power | 30 mW |
| Output impedance | 4.7 Ω |
The Zorloo ZuperDAC is built around the ESS Sabre ES9018K2M DAC, coupled with the ESS Sabre ES9601 amplifier. This is a common setup, given many other portable DACs share these components with the ZuperDAC, but each device has its own sound signature – after all, sound is more than mere electronics.
Sound
First of all, I would like to point out that it is way easier to me to spot differences in sound between headphones than between DACs and amplifiers, so every consideration that follow is a personal one and should be taken as an indication. The only other device I can compare the Zorloo ZuperDAC to at the time of writing this review is the Creative Sound Blaster E3. The testing has been carried out using the Bowers & Wilkins P3 Series 2 headphones and the RHA T20i earphones.
The sound is clear, precise and clean. I hear no relevant hisses or disturbances and this contributes to a very nice presentation. Whether you are attaching it to a smartphone, to a notebook or to a full-fledged gaming PC, it will always be hiss-free. That's a huge premium if you are looking to improve the sound from low-quality portable devices: I used it multiple times in conjunction with low-cost Chinese tablets (i.e. Teclast X98 Pro, Chuwi HiBook…) because of the devices' terrible audio output quality. It indeed saved me from hiss-y, muffled and distorted sound.
The sound signature is neutral overall, with a well-controlled bass, natural midrange and rich treble. The thing I immediately notice when comparing the Zorloo ZuperDAC to the Creative SB E3 is the bass has a bit more power, but is also better controlled and refined. It has a good impact and is rounded and warm, with a very good extension. This sound signature also makes headphones and earphones with a "boomy" bass signature (as in "overpowered low-mids") sound a bit better than they would do using a smartphone or a computer's integrated audio card. As an example, the Noontec Zoro II Wireless lose a bit of their focus on low-mids and gain a more airy, spacey sound.
While the ZuperDAC is somehow able to "tame" some bass-heavy headphones, bass is not as fast and tight as I'd like it to be; there is room for improvement in this regard and this is the only real complaint I can have about the device. A faster, more textured and clearer bass would definitely benefit this device and allow it to truly stand out.
Midrange shows a good amount of detail and presence, even though I feel it is a bit more recessed than on Creative's E3. It is clear and crisp. The treble is also presented with great detail and a nice presentation; it is fast, rich, extremely lively and analytical, all while being very natural and without artificiality.
Soundstage is not the most open I've heard, but instrument separation is very good and helps differentiate instruments even in tough conditions. All in all, listening to the ZuperDAC is great fun.
The Zorloo ZuperDAC can be used with most headphones and earphones without the need for additional amplification. When used with sensitive IEMs (e.g. 16 Ω) I have to lower the volume; that especially happens if I'm using Windows, as Linux seems to manage volume differently and I always find myself using it at 25-35% volume with most headphones. I also tried it with higher impedance headphones such as the Superlux HD330 (150 Ω) and it worked very well.
Final thoughts
Zorloo's first foray in the crowded portable DAC market is a plain success. The Zorloo ZuperDAC is a wonderful piece of equipment, with a great sound signature that returns a crisp, detailed and balanced sound. Build quality is almost flawless and its format is convenient for laptop, desktop and phone users alike. I cannot spot evident flaws; the only criticisms I'd advance are that bass could show a bit more speed and output impedance could be a little lower.
The Zorloo ZuperDAC allows to experience superior quality sound without the superior price audiophile equipment usually has. It is marketed at ~80$, which is a fair price for what you get. It is poor on the accessory side, but it delivers on what matters most – sound.
The Zorloo ZuperDAC is priced at ~$80.