To take advantage of the rapid rise of mobile devices, manufacturers inundated the market with a slew of speakers equipped with Bluetooth. The Creative T30 Wireless sits among them as an odd mix of a 2.0 desktop set and a Bluetooth speaker.
It is an evolution over the previous T20 and both belong to the Gigaworks line of speakers, made with PC users in mind. The T30, though, also caters to those who want to enjoy music and content from their portable devices, be it smartphones, tablets or laptops.
Disclaimer: Creative Europe sent me a review unit free of charge. You can take a look at their site for additional info & purchase.
TL;DR: recap
Pros




Cons

Can be used either with cable or Bluetooth

Adjustable treble and bass

Affordable

Sound is decent at most

Lack of detail and instrument separation

Automatically turns off after a few minutes
Rating: 6.5/10
Packaging & Accessories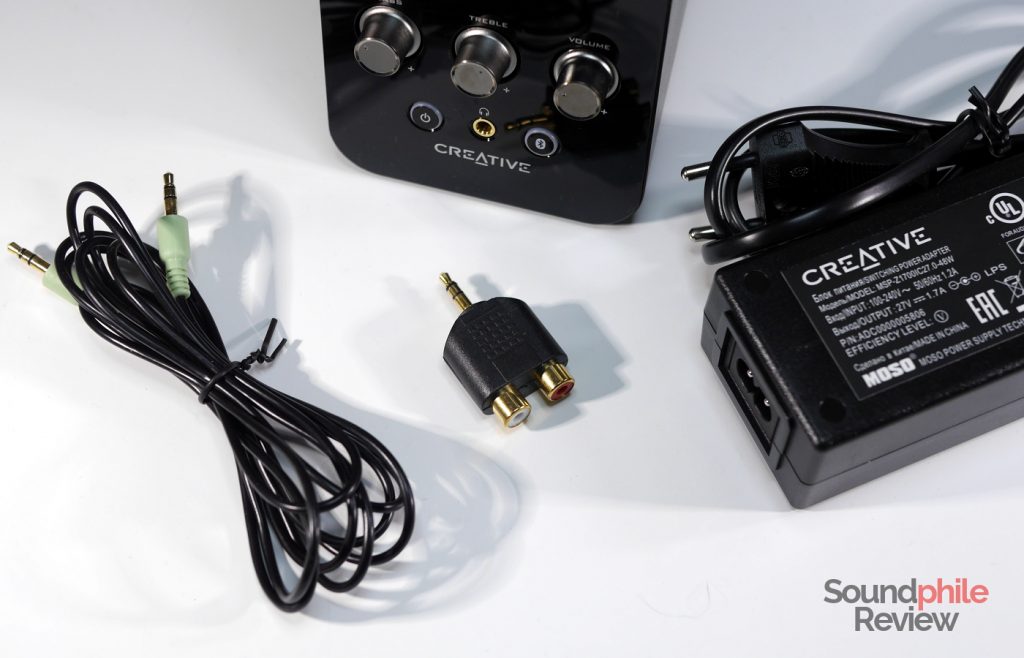 The Creative T30 Wireless come in a cardboard box that contains the speakers, a power adapter, a 1.2 m cable with 3.5 mm male jack connectors on both ends, a RCA to 3.5 mm adapter and various manuals including instructions and warranty card.
Design, Build & Materials
The T series of speakers made by Creative is characterised by a lean, modern design which include black plastic enclosures and orange fabric on the drivers. The black-orange contrast is striking and, together with the silver knobs on the lower part of the right front, it contributes to the speakers being easily recognizable.
Build quality is average: plastic is good quality, but it's plastic nonetheless; the speakers do not appear especially resistant or solid, though they don't appear fragile either. The glossy front is a dust and fingerprint magnet, so it needs cleaning often (case in point: I peeled the plastic protectors from the speakers some 20 seconds before shooting the pictures, yet the speakers seem full of dust).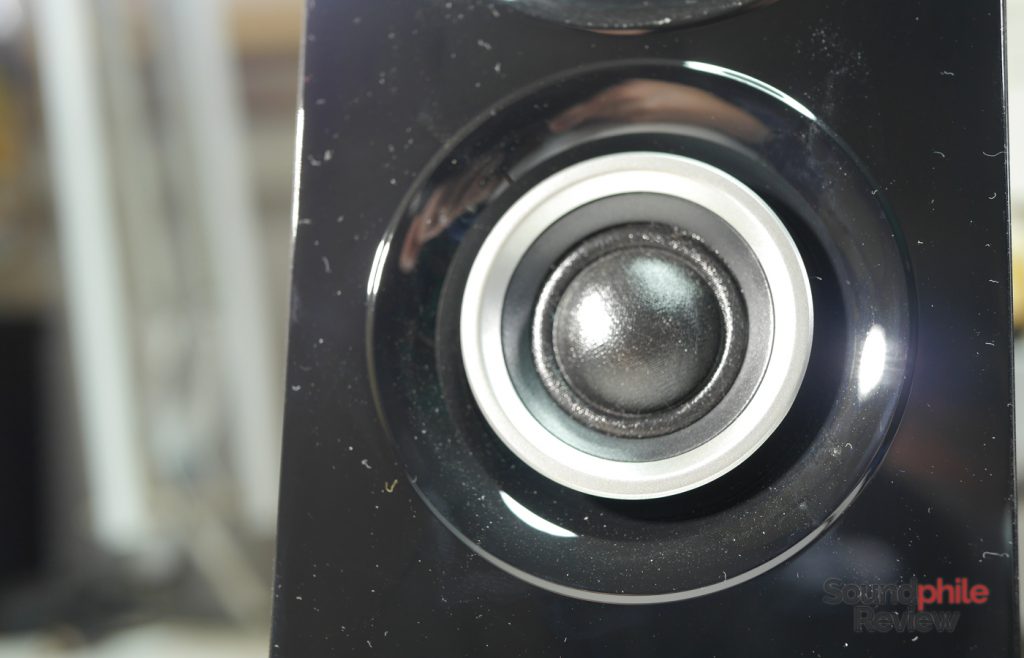 The glass fibre woofers are made with an orange fabric which is then covered by a disc of black plastic, which is quite unique a choice – at least in terms of appearance. The tweeters are made with dome-shaped 1″ drivers.
An interesting design choice is the position of the tweeters: they are below the drivers, whose bass ports are on top of the cabinets. This is somewhat in contrast with the general idea that tweeters should be on top and woofers on the bottom, and there are in fact a few issues with treble which we'll analyse later – though I don't have any hard proof to directly blame those on the position of the tweeters.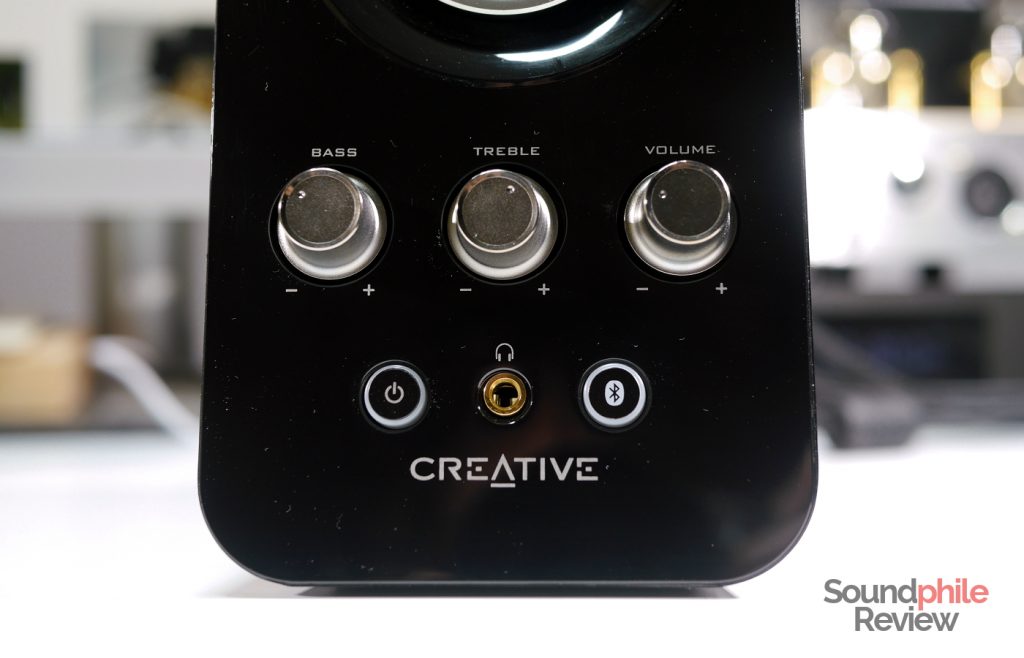 There are anti-slip rubber feet beneath the speakers, but they easily collect dust and they don't grip the surface as a consequence, so the speakers move pretty easily when touched – i.e. when one presses the power button on the right unit. Removing the dust improves the situation a bit, though they need constant cleaning.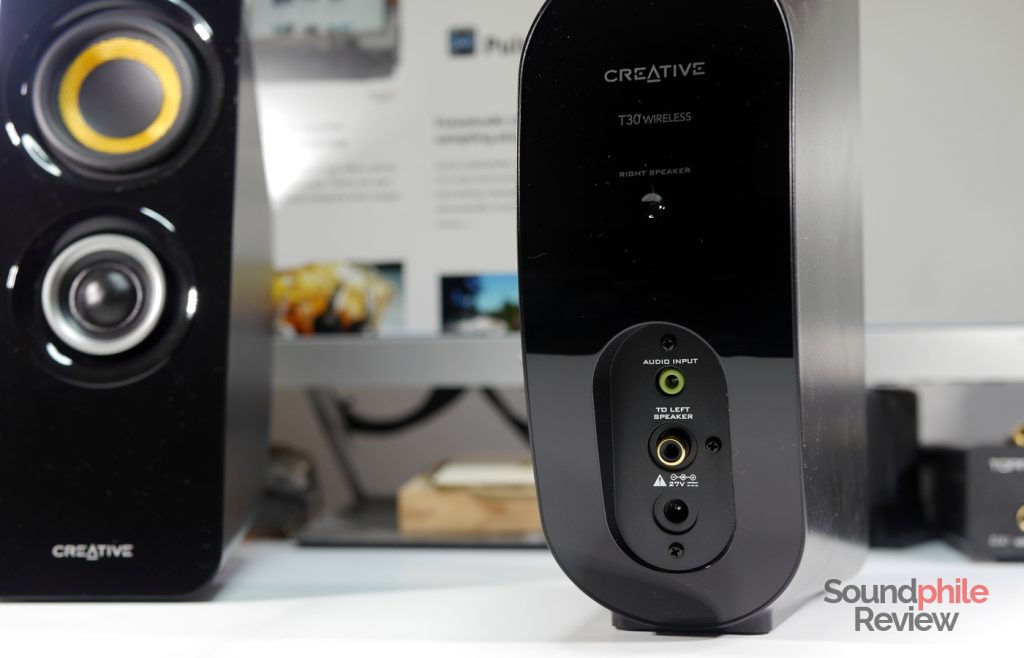 The right speaker hosts three knobs (bass, treble and volume), a power button, a 3.5 mm headphone jack and a Bluetooth button on the front, plus a 3.5 mm jack input connector, a RCA connector (to connect the right speaker) and the power input on the back. On top there's the NFC tag which allows for fast pairing.
The left speaker as a built-in wire (with RCA termination) used to connect it to the right speaker. It is ~1.5 m long, so it should be enough to place speakers on the opposite sides of a desk.
Features & Specs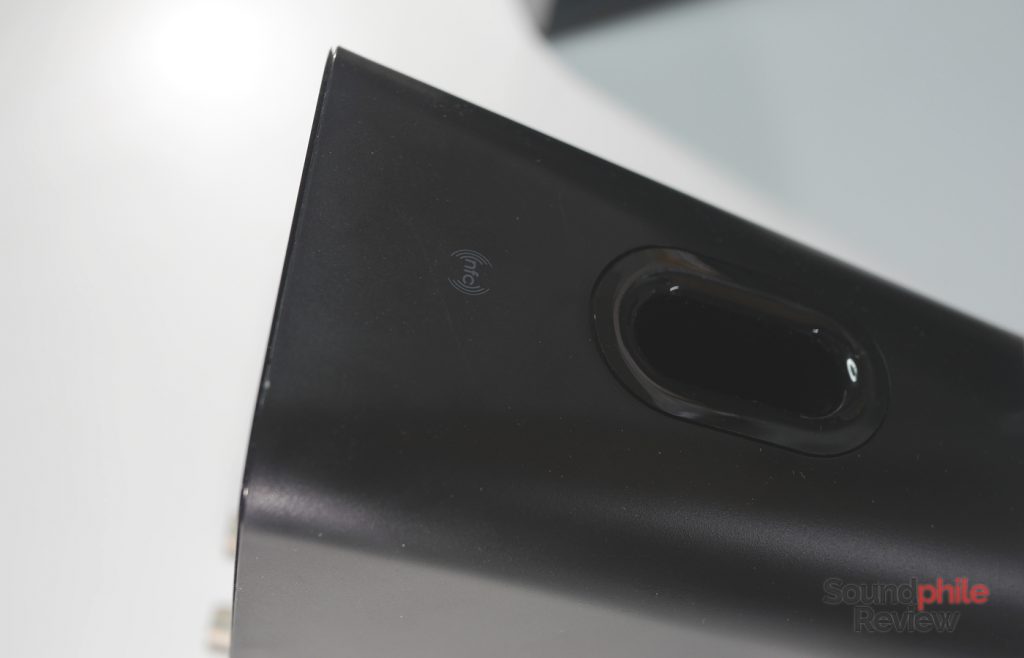 As the "Wireless" in the name suggests, these speakers have wireless capabilities – namely Bluetooth and NFC. They are suitable for listening from a variety of sources, and the Bluetooth connection enables playback from mobile phones, tablets and other portable devices. NFC allows one to easily pair a source without much work (though I suspect it only works with Android phones).
| | |
| --- | --- |
| Frequency response | N.D. |
| Bluetooth version | 3.0, supports aptX and SBC codecs |
| Power output | N.D. |
Creative does not publish many details about the T30 Wireless, so it's hard to make a comparison with other products based on the specs. Bass starts at ~55 Hz, though it's very quiet at frequencies below 100 Hz. I won't comment on treble as my hearing only reaches ~16.000 Hz.
One of the biggest flaws I found is not related to sound, but rather to design: the T30 Wireless are designed to power off after ~15 minutes of inactivity and this makes for a terrible experience for desktop speakers. That's normal behaviour for portable loudspeakers, but given these are connected to the power grid it's mind-numbing why the designers chose to make it act this way.
Sound
I paired the T30 Wireless with a Topping DX7 as a DAC, using a RCA-to-3.5-mm cable for the connection. Files were mainly FLACs at standard resolution (16 bit, 44.1 kHz) with a few hi-res files among them (24 bit, 96/192 kHz). My collection should now be almost devoid of MP3 files, though there are still a few of them.
While they're not suited for critical listening, the Creative T30 Wireless show off Creative's vision on consumer sound. Although they're (kind of) cheap and they don't target audiophiles or music enthusiasts, these speakers offer plenty of value. The sound is detailed and balanced enough for it to be enjoyable for casual listening, watching films and videos and gaming. The ability to set bass and treble also makes it possible to tune the sound to one's liking, even though results are mixed.
While the two knobs do indeed change sound, it can only change so much. There's no way to make it become something it is not – changes are noticeable and bass can be tamed or emphasised a bit, as treble can be brighter or blunted, but it's all DSP equalisation which can't really make the T30 Wireless produce explosive bass or super-fine highs. And that's expected: the Creative T30 Wireless are cheap and it shows.
The bass is emphasised as one can legitimately expect from consumer-tuned products, but not in a way it becomes overwhelming. The only problem it has is it is tasteless: it is neither very textured nor deep, and it tends to become an unrecognisable mix of sounds with pacey tracks. If I were to compare it to portable Bluetooth speakers, it would quite undeniably be better than what most of those offer but, given these are desktop speakers, they tend to be a bit underperforming. It's not like it's bad, however: playing DOOM and watching Netflix is really nice and electronic music can be quite satisfying if you give bass a boost.
Mids tend to be a tiny bit recessed, especially in the lower mids spectrum: they are not really bright and they also lack body and coherence, thus they end up being neither flesh nor fowl. Voices are portrayed with good balance, but they lack life. In this price range it's remarkable how Creative managed to keep mids relatively consistent with bass and highs, though it partly failed in keeping internal coherence. Though it's not the best of the bunch, it is reasonably balanced and detailed, enough for movies and games to be enjoyable.
Even when the knob is all the way to the right, treble is not really in the spotlight. It's decently extended, but it lacks airiness and openness. Detail is decent and although you won't hear all the small nuances, it still contributes to making the sound appear somewhat balanced. It's got other issues, though, as it lacks coherence and it seems like certain frequencies are not correctly reproduced: in The Doldrums from the Master and Commander soundtrack (one of my favourite CDs, really) there's a hiss when the track begins which the T30 Wireless get totally wrong. I guess part of the issue comes from the position of the tweeters, which mess up with how treble is portrayed – again, no hard proof on this though.
The sound as a whole can be described as "pleasant" as it's just really lacking detail and there are no major flaws (i.e. no bass cannon which mutes all other frequencies, no excessive treble which make it sound like it's an old, broken radio), so that is why in the end I can say it is a nice product you can enjoy listening to when using the PC.
I wouldn't listen to classical music on the Creative T30 Wireless: the level of detail they afford is not enough, though I suppose they can be satisfying for more modern genres (i.e. pop, rap, electronic, etc). Music separation and soundstage could be improved, though they're decent for a product below $150.
Final Thoughts
The Creative T30 Wireless are somewhat of a compromise between desktop speakers and portable speakers. They're meant for use with PCs and as multimedia speakers they are remarkable: the T30 Wireless are a good choice if you are looking for a set of speakers to watch videos, play some games and have some background music.
I would recommend them to people looking for cheap speakers which can also be used with portable devices while providing decent sound quality at the same time. I think there are products for a similar price out there which are more refined and noteworthy in terms of sound, so I do not recommend them as speakers for a purely musical experience. They are great as PC or smartphone companions, though, and a starting point for people who want to start a journey in the speaker world.
The Creative T30 Wireless retails for $129.99.