IK Multimedia was born in Modena, some 180 km away from my hometown, and made a reputation for creating great products for musicians and audio professionals. They range from effect boxes for guitarists to microphones for reporter journalists, including software and applications for mobile devices. They also manufacture speakers: the iLoud, a portable monitor, and the IK Multimedia iLoud Micro Monitor, a pair of diminutive speakers which launched in 2016.
Though they are small (even smaller than the Creative T30 Wireless!), they are full packed of features and offer an incredible sound. The Italian saying il vino buono sta nella botte piccola (good wine is always in the small casket) seems to apply in this case, too.
Disclaimer: IK Multimedia sent me a pair of iLoud Micro Monitors on loan. You can take a peek at their website for additional information.
TL;DR: recap
Pros




Cons

Small size

Accurate sound

Lots of settings

Can be used with Bluetooth, too

Sound is cut off below 55 Hz
Rating: 10/10
Packaging & Accessories
Packaging includes the speakers, cable to connect right and left channels, the power adapter and a 3.5 mm to RCA cable.
Design, Build & Materials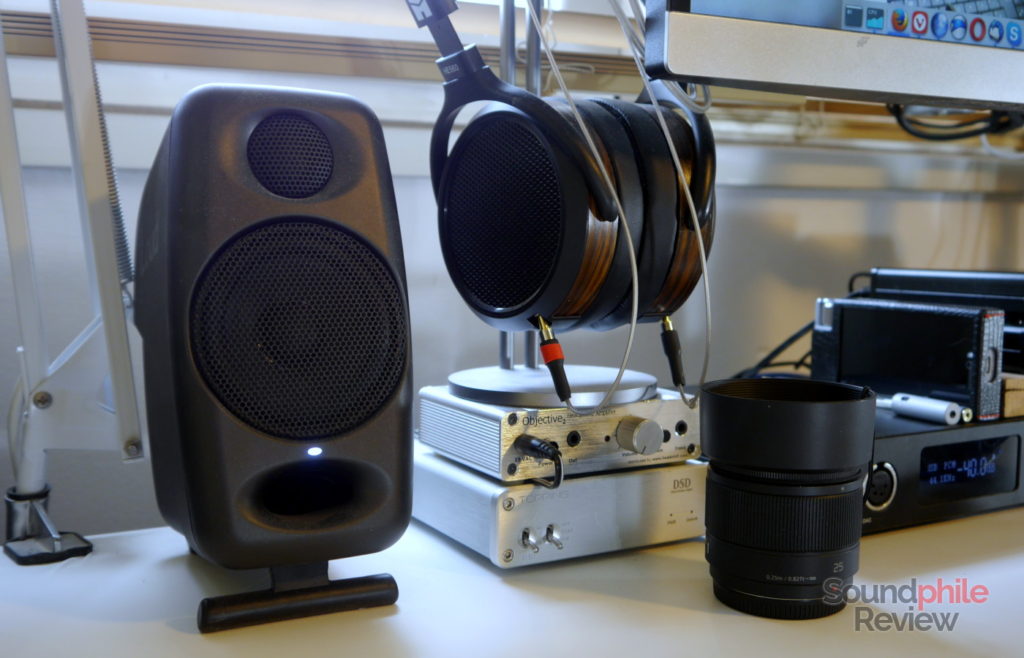 The IK Multimedia iLoud Micro Monitors do not hide their monitoring nature in any way. In fact, they are quite different from most of the flashy-looking consumer desktop speakers, in that they are essential and without frills. The cabinets are made of matte black plastic with a raw look; the only thing they concede to a more frivolous look is the "iLoud" glossy logo on the side – that's it.
They are utilitarian in their design, but this is not to say they aren't good looking – in fact they are so simple and bare they look great on most desks. Their small footprint (180 x 135 x 90 mm) allows them to be positioned on the desk without sacrificing too much space. This also helps with the acoustics, as there are less strict requirements for positioning. In fact, the small size allows the IK Multimedia iLoud Micro Monitors to be placed in ideal conditions, given how you won't need to distance them too much from the wall nor take that into account when positioning them on a desk.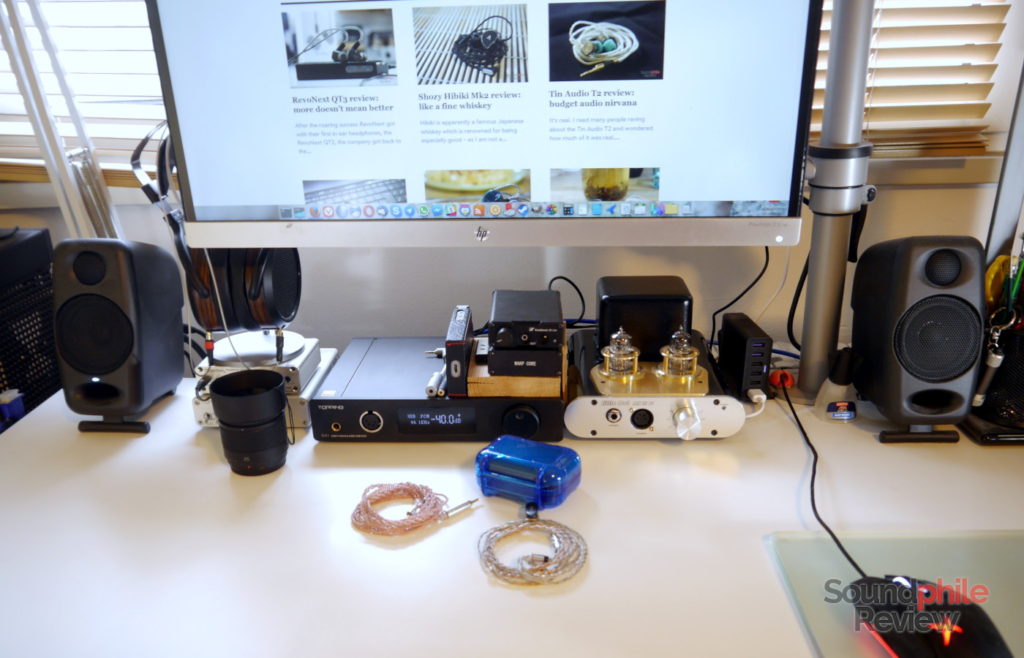 Their small size means you won't have to reserve a large amount of space for your monitors – if you look at the JBL LSR305, just to name a famous entry-level monitor, they are way larger and take a considerable amount of space – more than what's available on a normal working desk.
Their modest weight (920 g for the left speaker, 800 g for the right speaker) also makes it possible to bring them around and set up an accurate-sounding station wherever one wants, provided there is a power outlet available.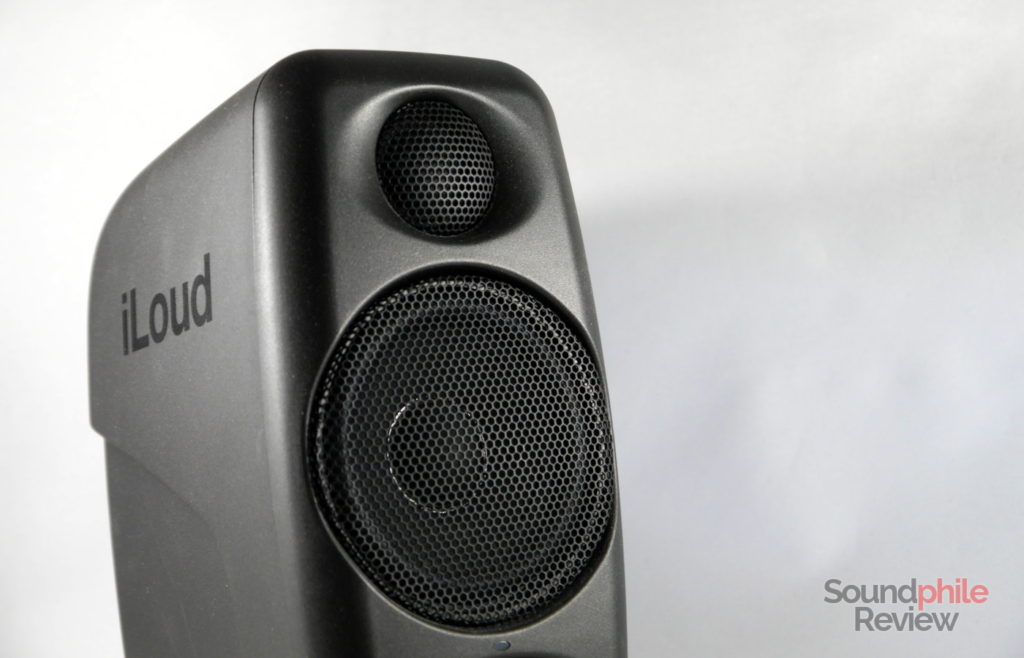 The look is spartan, but the build is incredibly solid. The IK Multimedia iLoud Micro Monitors are built like a tank and feel like they could resist an atom bomb. Jokes aside, they are among the best-built speakers I've seen to date in the sub-$500 range. Everything, from cabinets to switches, feels solid and durable. Talking about switches, they are smooth and offer a bit of resistance, so you need to apply a bit of force to activate them.
The IK Multimedia iLoud Micro Monitors are designed to be used either on a desk or on poles, thanks to the built-in 1/4″ thread on the bottom. When used on a desk, they can be raised on the front (thanks to a kickstand) to better face the listener. The base really isolates the speakers from the desk: even when reproducing low frequencies at high volume, there was no vibration I could feel when touching the desk. This also helps eliminating buzzes and other noises which may arise from the desk and/or the things on it vibrating.
The left speaker hosts all the electronics, with switches and connections on the back. There are the power switch, the Bluetooth button, the volume knob, the EQ switches (flat/desk, flat/HF -3 dB, flat/LF -3 dB), a 3.5 mm jack input, a couple of RCA inputs, the power input and the proprietary port to deliver the signal to the right speaker.
Features & Specs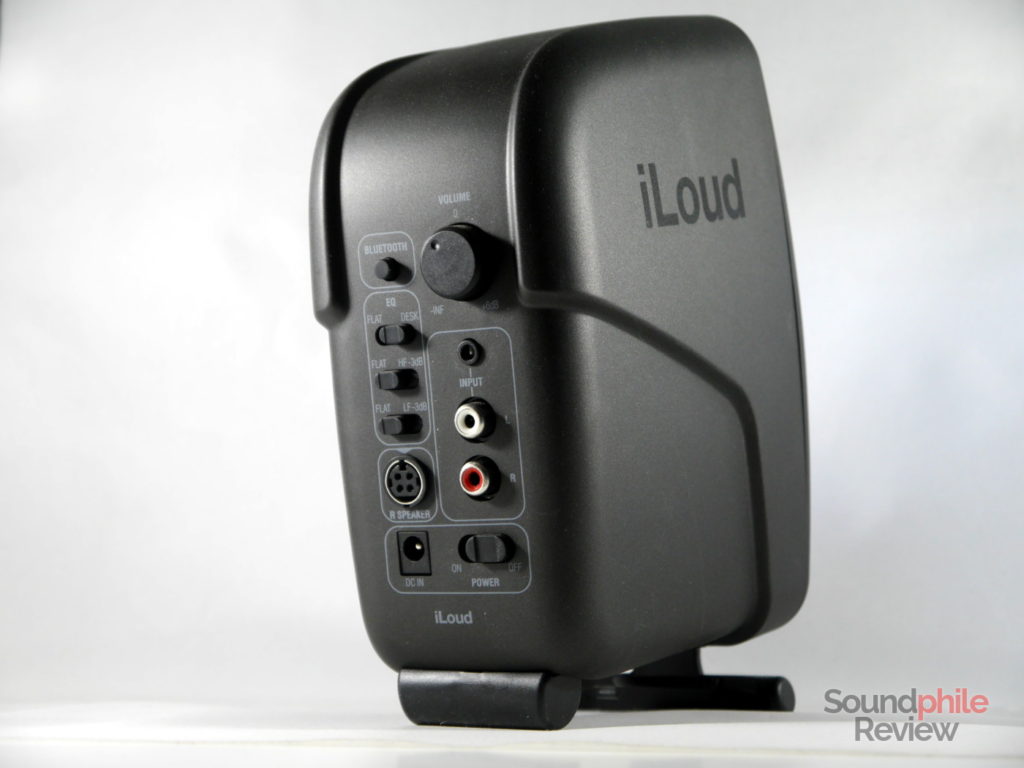 The switches on the back cover a variety of use cases and allow one to customise the sound and tailor it to one's needs. As I wrote previously, there are two main use cases for the IK Multimedia iLoud Micro Monitors: on a desk or on poles in wider spaces. These two situations need different equalization, so IK Multimedia provided the user with switches to compensate for the differences in sound caused by the positioning of the speakers. The "flat/desk" switch allows the listener to change how the midrange responds: it gets a slight boost when selecting the "desk" mode. The same applies to the other two switches, which change the way treble (HF, High Frequencies) and bass (LF, Low Frequencies) are rendered: they can be flat or reduced by 3 dB.
The fact that the iLoud Micro Monitor is a powered speaker (bi-amplified, in fact) surely has a few advantages, as it does not require an amplifier and can be used with either RCA or a 3.5 mm jack with a few possible sources, from the dedicated audio interface or DAC (I've been using the Topping DX7, as an example) to the smartphone or PC using a common 3.5 mm to 3.5 mm patch cable. It surely makes things easier. Despite their monitor nature, the iLoud Micro Monitors are not limited to wired connections. In fact they can also connect to sources using Bluetooth, so they can be used with portable devices (i.e. smartphones or DAPs such as the FiiO X5 3rd Gen) conveniently. This expands the possible use cases for these speakers and makes them more user-friendly, though at the cost of inferior audio quality compared to cable connection.
IK Multimedia iLoud Micro Monitor
| | |
| --- | --- |
| Frequency response | 55  – 20,000 Hz |
| Bluetooth version | N.D. |
| Power output | 50 W RMS, 70 W peak |
Despite power output being "just" 50 W RMS from the two internal amplifiers, the iLoud Micro Monitor can actually create a high sound pressure – up to the point of being intolerably loud. This ensures that usage in large rooms where higher volume is needed is possible and you won't be limited in possible use cases.
Everything is controlled by an internal DSP that equalises sound to keep it as flat as possible and also cuts the bass below 55 Hz. The iLoud Micro Monitor's almost completely flat frequency response is not "natural": it is the DSP that forces the driver to behave this way. The result is quite clean however and it shows IK Multimedia's technical prowess.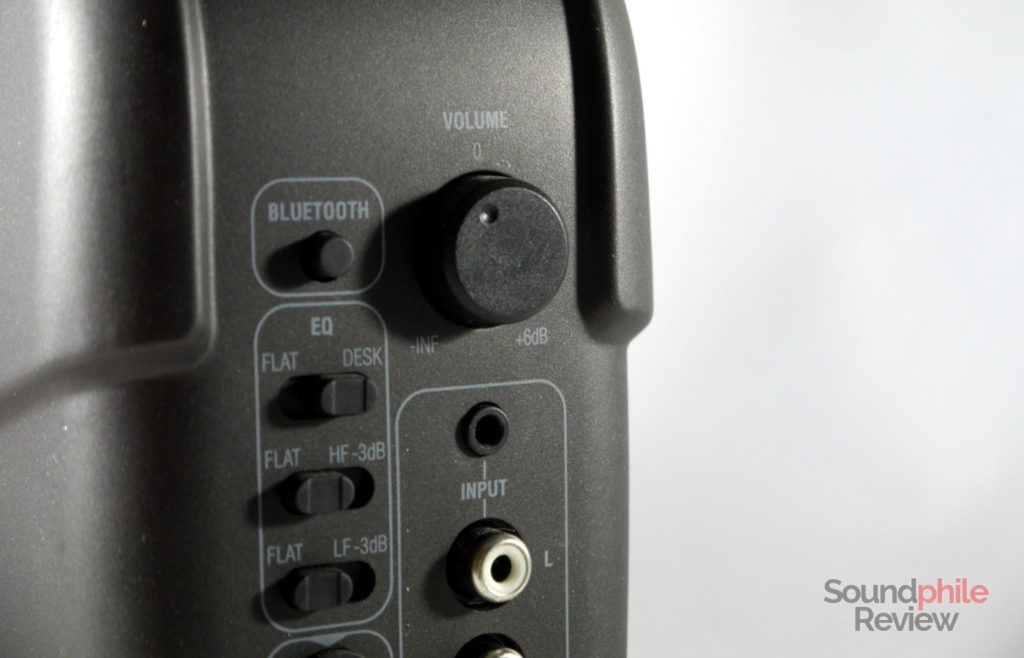 There's a constant hiss that plays whenever the speakers are on; the only solution I found around this problem is to lower the volume a bit using the integrated volume knob. This requires to raise the volume on the source but grants a hiss-free listening experience.
The speakers also emit a high-pitched tone when they are powered on, but it goes away almost immediately (~10 seconds) and never comes back as long as the speakers are powered on.
Sound
The IK Multimedia iLoud Micro Monitor were tested using a Topping DX7 as source, connected using RCA cables. I used the Topping DX7 in "line out + headphones" mode, so that I could set the volume from the amplifier. The volume on the monitors was set to slightly below "0" (see picture above) to avoid the constant hiss. I ran tests using the monitors without any calibration and after calibration. More on that at the end of the paragraph.
After almost one year of listening to them daily, I think I reached a conclusion on them. This is what I wrote back when I first tried them:
They are indeed great if you listen to certain genres of music, and if you play masterfully recorded tracks. Many classical music recordings and many jazz, blues and classic rock records – among others – will sound incredibly well on the iLoud Micro Monitor. If you plan to listen to modern, compressed music, however, you're in for a big disappointment. The iLoud Micro Monitor are so revealing that they immediately expose any low-quality recording or mastering. They shine with records such as Mike Oldfield's Tubular Bells 2003 or the soundtrack for Master and Commander, but they do not sound as great if you listen to Blind Guardian or Opeth (and that's actually odd, as Opeth's production is regarded as one of the best in the metal scene).
All this brings me to an important question, which is not trivial. With the iLoud Micro Monitors sounding so accurate, will they also sound good? The answer is not an easy one, nor has it to be taken for granted. Many tracks will indeed sound good, but at least the same number will not sound as good – even if they sound good when you fire up your full-fledged audiophile stereo system. They will most likely expose the shortcomings in the recording or mastering of your tracks, within their limits.
That's the main point, however, behind a product such as the iLoud Micro Monitors: they are not meant to sound good, even though they may to some, but they are meant to sound accurate. And that means that they will make tracks you love sound terribly if they are not recorded or mastered properly. That's because they are mainly meant as monitors for professionals in the music industry who actually need these features to work. They also happen to be great for demanding audiophiles, but that's another story.
That still holds true now: the iLoud Micro Monitor are indeed revealing and they won't forgive bad recording or mastering, but what I initially mistook as "they don't sound as good with certain tracks" was indeed the other way around. It's not that these speakers sound wrong, it's that the speakers I used before do – and that is also proved by the fact that the iLoud Micro Monitor sounds closer to my headphones than other speakers I tried do. So, the answer to the question "will they also sound good?" is that yes, they do – it may just take a bit to grow accustomed to them.
Now let's see how they sound a bit more in detail. Soundstage is wide enough, though not excessively so; I never feel like I'm in a wide concert hall, but there is some width and especially depth to it that make it possible to feel immersed in music anyway. Imaging is precise and accurate and I could position instruments with great precision across the soundstage. Dynamic range is very good as one can still hear very faint sounds even in loud tracks – as an example, the echo of the "mandolin" word at 5:14 in Mike Oldfield's Finale from the album Tubular Bells 2003. Instrument separation is remarkable, with all instruments clearly distinguishable in all but the most intricate tracks.
Even though they don't reach the deepest lows, the iLoud Micro Monitors are still able to hit low frequencies despite their diminutive size. The lowest point is 55 Hz and it is controlled by the internal DSP, so you can't get lower than that. Bass is very tight and controlled; what's more, it does not taste like it's coming from a traditional cabinet loudspeaker. It's definitely not "boxy", with little to no reverberation and with fast decay and high precision. Details abound, thanks to the driver's ability to keep good control and layer the sound effectively, and make the lower section rich. One of the few tracks I've heard that show the limits of the monitors is Thomas Newman's Root beer from the American Beauty soundtrack, where the bass just drops off and seems like it tears up. In most other situations it's clear and delivers the right amount of body to music without getting in the way or being in the background – it just sits where it should.
Midrange is very clear, and has a lot of naturalness to it (I know: "natural" is a very broad term. The fact is everything just sounds as I expect it to!). They're easy on the ears, so you can listen to them for hours without getting any fatigue. However, it must be noted that they are very detailed and this means even small imperfections are portrayed and almost shoved in your face. As a practical example, in Massive Attack's Teardrop there's a crackling sound that starts playing at the beginning of the song and it gets displayed in full force, being almost obnoxious. Voices are very natural and lively, though they suffer from some sibilance in a few records – there's no sweetening here. In general, mids are pleasant and rounded, with plenty of nuances and small details – though only up to an extent, as you won't hear the details of the hands on the drums hides in The Battle from the Master and Commander soundtrack, as an example.
There are lots of details in the highest part of the spectrum, delivered with precision and portrayed with the right emphasis. Treble extension is great, as there is a more-or-less flat line that goes up to at least 16 kHz (alas I can't hear beyond that point…). I know it may sound repetitive, but it is just as it should be. It is not the most detailed treble section I've heard, but it is detailed enough to give you a very good idea of what's going on and it has enough presence to sit where it should in the sound. It sounds extremely clean and polished and that by itself is a fantastic feat.
With all this being said, the IK Multimedia iLoud Micro Monitor are an apt companion of whatever task you throw at it.  Mixing, listening to music, playing games, watching films – you name it. There is not a single occasion where I felt they weren't up to the task, nor a single music genre where I found them lacking the necessary features.
I also tried using them after calibration using the IK Multimedia ARC System 2.5. The difference is sizeable as my room's acoustics make it so that bass and treble are a bit lacking. After the calibration, the iLoud Micro Monitor have more impact in the lower tones and better treble extension. Calibrating speakers to account for the room is therefore necessary if you want perfectly flat reproduction, though it is very good even without it.
Final thoughts
Considering their price and size, the IK Multimedia iLoud Micro Monitor punch way above their weight – quite literally. These small, almost diminutive speakers sound great, are dead accurate and can comfortably sit on any desk. They also have a lot of possible connections to your favourite source and a few options to make them sound right according to your use case. The cherry on top of the cake is that they don't cost an arm and a leg, being priced at €299 (plus VAT); this is not entry-level price, but it's one that allows them to be placed in an affordable-yet-not-cheap price point where they can compete with offerings from other famous manufacturers.
Soundwise the iLoud Micro Monitor is a reference – in every possible sense. It has a linear tuning that makes (virtually) everything sound good, as there is almost no colouration that would skew the reproduction of sound, yet it is revealing and makes bad recordings sound just that – bad. The detail and technical ability of the iLoud Micro Monitor are notable and place them in the higher tiers of their market. The only limitation is bass depth, but that has to be expected given the size. What it accomplishes anyway is just astounding.
All in all, there's nothing not to love about the IK Multimedia iLoud Micro Monitor. It is a great product that I will never praise enough, and they are incredibly good whether you are looking for a great monitor for your mixes or for a very capable speaker set to enjoy your music.