FiiO's midrange offering is now made of one single device, the FiiO X5 3rd gen. This portable player is equipped with a large touchscreen that enables the use of the Android operating system, one of  its main selling points.
The device is notable for its use of components such as the AK4490 DAC and the compatibility with balanced headphones. It has to be noted, though, that beyond its gorgeous design and its great sonic performance lie a few flaws in software which harm the experience. This shiny, polished device is actually held back by its distinctive feature, Android.
Disclaimer: FiiO's Italian distributor, Play Stereo, lent me this unit. I had to send it back. You can have a look at FiiO's site for additional information.

TL;DR: recap
Pros




Cons

Solid build, modern design

Android operating system

Excellent sound

Balanced output

Outdated Android version, bugs galore

Third-party player apps don't work as intended

Produces plenty of heat

Screen has no light sensor, is a fingerprint magnet

Subpar battery life
Rating: 8/10
Packaging & Accessories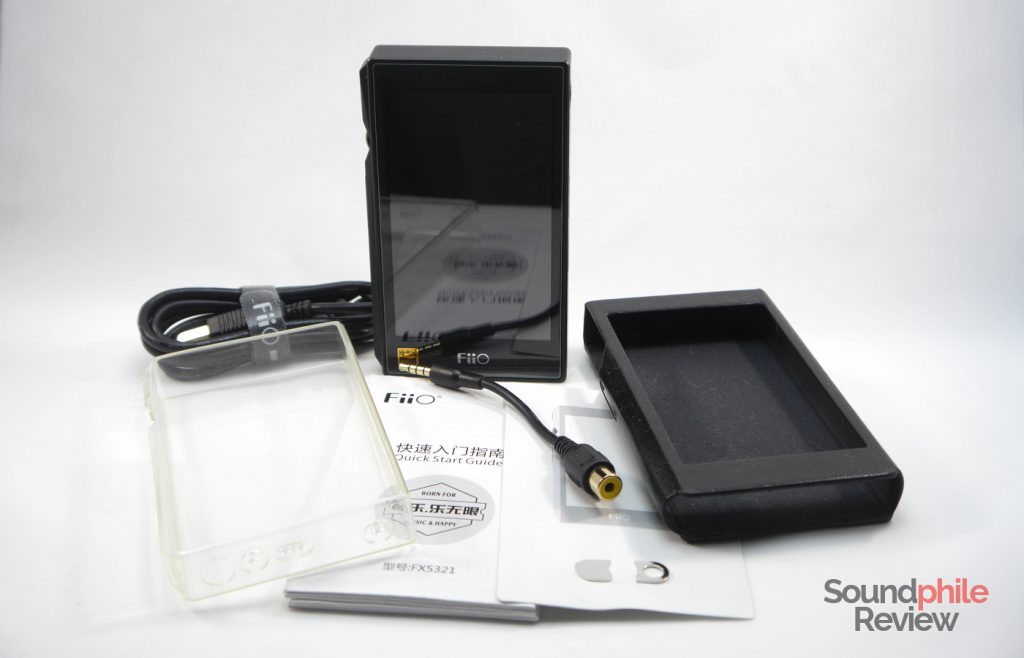 The cardboard box the FiiO X5 3rd gen is shipped in includes the device, a soft clear silicone case, a faux leather case, a micro-USB cable, a 3.5-mm jack to coaxial converter cable,  the manual and a pin for the microSD trays.
The silicone case has minimal impact on the device size and also leaves the front completely exposed, therefore it does not hamper the use of the touchscreen. It also has flaps that protect the 2.5 mm, micro-USB and line out ports, but they also get in the way when you're trying to use the ports. The faux leather case, on the other hand, leaves the lower side open, but masks the front and gets a bit in the way when using the device.
All in all it's a fairly generous packaging content, given the price bracket this device is positioned into. I can't think of any other accessories, actually!
Design & Build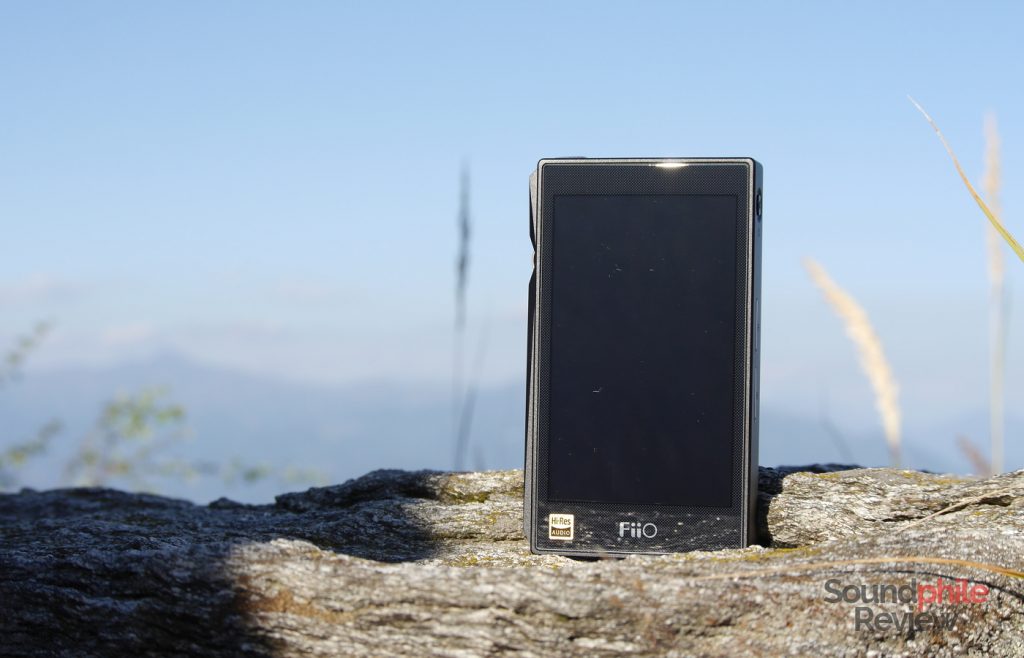 The frame of the FiiO X5 3rd gen is built out of solid stainless steel, whereas the front and back sides are made of glass. If it was a phone, it would definitely appear as a premium handset because of these materials. Since it is a media player, I will skip these considerations and say it appears solid because of the steel and a bit fragile because of glass. The back panel is covered by a factory-placed plastic protector, which made my fear of scratching it dwindle. It's definitely massive: with its 114.2 x 66.2 x 14.8 mm size and its 186 g weight it is a far cry from smartphone specs, but it's in line with other media players in the same league.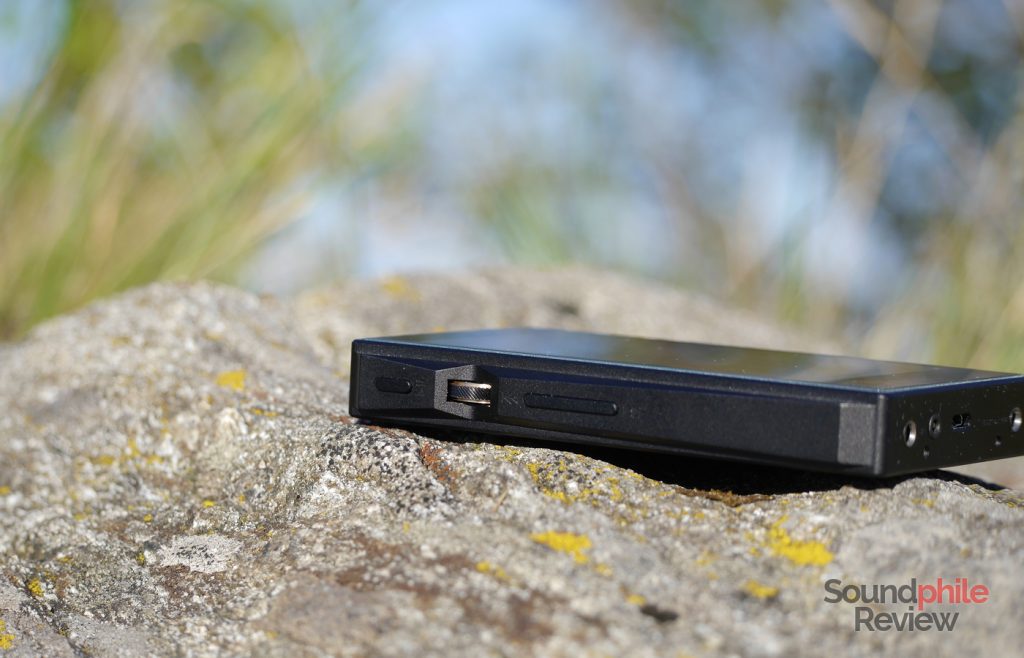 The front is covered by the 4-inch LCD screen; the right side is home to the power button (which embeds a blue power LED) and two microSD trays; the left side hosts the play/pause button, the volume wheel (which is clicky and offer a bit of resistance between steps) and the previous track – next track rocker; on the lower side there are the connection ports: 3.5 mm jack, 2.5 mm balanced jack, micro-USB (too bad it isn't Type-C!) and line out. All in all it is pretty complete and button position seems handy enough to me, though I'd prefer play/pause button to be on top.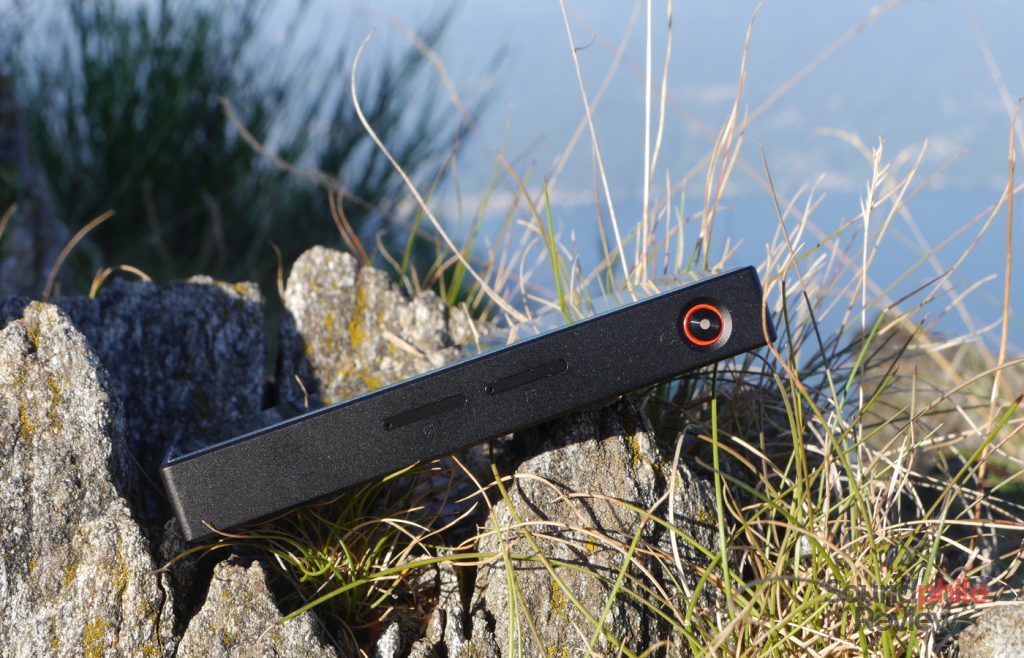 It's a solid device which seems to be built to last. I especially like the stainless steel finish, as it is really smooth. Edges are smoothed out so they won't feel sharp (ahem, Aune M1s) and the relatively little size of the device, combined with its finish, allow it to be easily managed with one hand. The buttons have a nice feeling when pressed and appear durable. The microSD trays require you to insert the microSD(s) upside-down, which is not very convenient although not a big issue.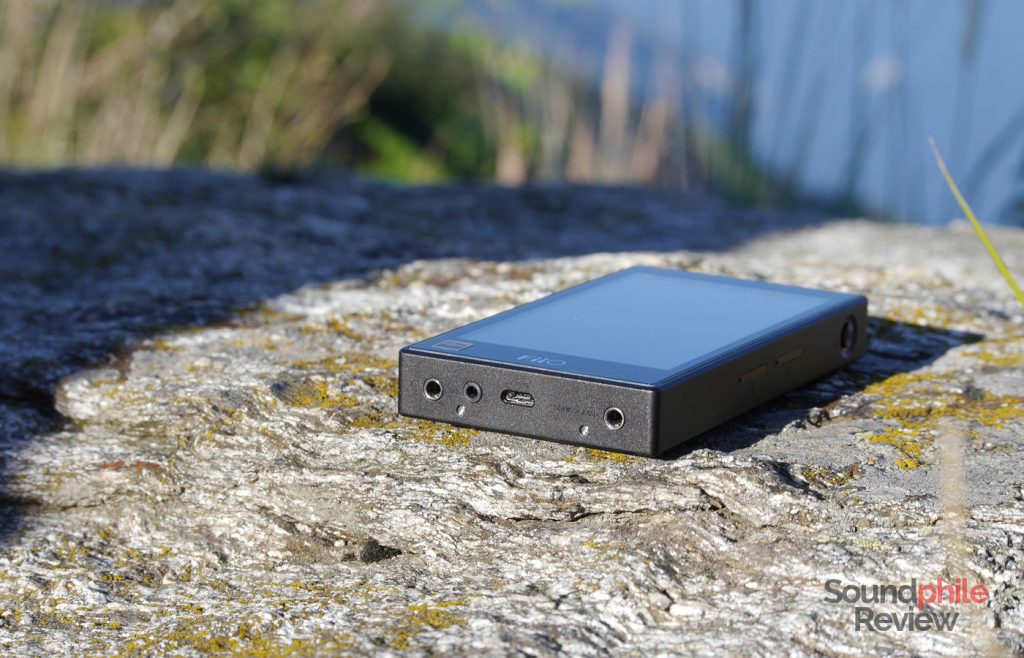 When it comes to the screen, though, things start to work less awesome. Although the screen has a decent size (4 inches) and resolution (800 x 480) and good colour reproduction, it is still plagued by a variety of issues. First and foremost is the absence of a light sensor, therefore screen brightness cannot be controlled automatically. This is an issue if you go from indoor to outdoor, as you'll need to manually set the proper brightness. The factory-applied tempered glass screen protector, although it's a very welcome addition, is a fingerprint magnet and it is quite difficult to wipe; after a bit of use it renders the screen almost illegible.
Specifications
DAC chip
AKM AK4490
Amp chip
LPF: OPA1642 x2

OP: Customized OPA426 x2

Suitable headphones impedance
16 – 150 Ω
Output impedance
< 1 Ω (single-ended)

< 3 Ω (balanced)

Maximum output power
480 mW (RL = 16 Ω, single-ended)
250 mW (RL = 32 Ω, single-ended)
28 mW (RL = 300 Ω, single-ended)

400 mW (RL = 16 Ω, balanced)
240 mW (RL = 32 Ω, balanced)
26 mW (RL = 300 Ω, balanced)

THD+N (@1 kHz)
0.003%
SNR
115 dB (single-ended)
110 dB (balanced)
Operating System
Customized Android 5.1.1 with proprietary audio stack and FiiO Music app
Supported formats
WAV (16 – 32 bit, 44.1 – 384 kHz), FLAC (16 – 24 bit, 44.1 – 384 kHz), DSD (DSD64, DSD128), DXD (352.8K), APE (16 – 24 bit, 44.1 – 384 kHz), ALAC (up to 24 bit, 384 kHz) and AIFF (16 – 24 bit, 44.1 – 384 kHz), MP3, WMA, OGG, AAC
As the FiiO X5 3rd gen has the Android operating system installed, it has a 32 GB internal memory (25.6 GB available) which can also be used to store songs. The device is built around the Rockchip RK3188 processor, an old CPU from 2013 with 4 Cortex-A9 cores – it actually came out around the same time Android 5.0 was first introduced. It is complemented by 1 GB of memory, which is a bit on the low side and affects reactivity though it is not a great deal. The two microSD slots support up to 256 GB each, with a total of 512 GB – which brings the grand total to 537 GB available space, when considering internal memory too.
The Fiio X5 3rd gen supports WiFi 802.11b/g/n standard and Bluetooth 4.0 with aptX codec. I tried using it with the UE WONDERBOOM and it sounds nice without any connectivity issues – it's stable and steady.
Battery Life
The FiiO X5 3rd gen's battery is rated at 3400 mAh, but let this not trick you into thinking it would ensure great battery life. The FiiO X5 3rd gen is actually not a device for those who look for long battery life, as it rarely reaches the advertised 10 hours as it is more often than not around 5 to 6 hours. That obviously depends on a variety of factors, but I've used the single-ended output and 16-bit, 44.1 kHz music most of the time and only got these results – which are a bit underwhelming.
These numbers are more easily associated with smartphones, though they are often tasked with 4G connections and intensive tasks (i.e. browsing, games) which consume lots of power. I expected the FiiO X5 3rd gen to fare much better than this.
The FiiO X5 3rd gen supports quick charging using Qualcomm's Quick Charge 2.0. When using this technology, however, temperatures rise up to 60 °C (ambient temperature being 30 °C), which is high enough to make the steel frame too hot to touch. On the positive side, though, it takes just around an hour and a half to fully charge it!
Software
I tested the FiiO X5 3rd gen with firmware 1.1.6. The operating system is Android 5.1.1 Lollipop, which is now three years old. Although it may seem a detail, it is not: not only because there are many security issues which are not patched, but also because this version is going to lose support from developers in a relatively short timeframe. A more up-to-date release would at least partially solve this issue, although it is not likely (as in "impossible") to come.
Boot time is a far cry from those seen on custom-firmware-based players: it takes ~36 seconds from the moment the device starts booting to the moment it is ready to use. It's so much more than the few seconds it takes to boot other, "simpler" players (i.e. Aune M1s or ONN X6).
Android has been thoroughly customized by FiiO. Everything from the lockscreen to the quick actions panel has been customized, though the experience remains faithful to vanilla Android and no major interface modifications have been put in place (there's no custom UX such as Samsung's TouchWiz or HTC's Sense). This is a pro in my opinion, as the experience is consistent with the majority of Android devices out there and there's no major difference which requires you to (re)learn things. I won't delve into details about the general experience, as it is comparable to the one you get on the Nexus phones – except for a "clear all apps" button in the multitask view, a FiiO Market app (which offers a few free apps), the lack of most Google apps and the Tech Support app.
The quick actions panel includes the usual WiFi and Bluetooth toggles found on any Android smartphone, plus a mode switch (Android Mode and Pure Music Mode), the line out mode (line out or coaxial digital mode), a gain selector (low or high), a filter settings toggle, a storage vs DAC mode toggle (which you can use when the X5 3rd gen is linked to your PC) and a power-off timer toggle. While none of these are found on Android phones or tablets, they're pretty self-explanatory – though a few of them require more in-depth analysis.
The filter settings toggle leads to a page in the Settings app that allows you to set the filter. There are 5 different options:
sharp roll-off filter;
slow roll-off filter;
short delay sharp roll-off filter;
short delay slow roll-off filter;
super slow roll-off filter.
The Android/Pure Music mode toggle makes the player work as a normal Android device – as in, with multiple apps open and running – or, viceversa, as a pure player that only keeps the music player app open "to achieve better sonic performance" (I wonder how bits in RAM can influence audio quality…). When you switch from "Pure Music" mode to Android mode (and vice-versa) the app gets killed, so it is better to activate it when music is not playing.
There's a power off timer which triggers after a set period of inactivity, but it can be set to 50 minutes max. I personally would have liked options up to 120 minutes, but that may well be nitpicking.
Volume has a default max scale of 120, and it can be set to a max of any value between 10 and 120. Android allows the in-line remotes to be used and I found even iOS-compatible remotes work without issues. In my eyes that's a significant usability advantage over traditional DAPs without this support as it adds convenience.
As I mentioned above, the FiiO X5 3rd gen can also be used as an external DAC when connected to computers. I mainly tested it under Linux (Linux Mint 18.2 Cinnamon, kernel version 4.12) and it worked perfectly. It works on Windows and macOS is supported, too.
The next and previous buttons on the left are mapped in a way which seems counter-intuitive to me: the button facing upwards is the "previous" button, while the other is the "next" button. It would seem more natural to me if they were the other way around! Taking screenshots also requires you to press the power button and the "previous" button simultaneously, but the latter performs its function anyway. There's some tinkering to do here!
If music is paused, there's a bit of delay when the physical play button is pressed – it takes roughly 5 seconds before it plays music again. This is another small flaw that needs fixing as it can be quite annoying. The screen also turns on when the play button is pressed and there is no setting I am aware of that can turn this behaviour off.
Apps
The default player app, FiiO Music, is a player with a few interesting features and a few flaws that either make you love it or hate it. I am personally not a fan, though I think there are many great features in there.
Playback behaves strangely. After the "play" button is pressed, it takes up to 5 seconds for music to start playing, but the cursor starts moving right away – so it appears like the song starts at second 5 or 6. The cursor also moves faster than it should – seconds are not precisely calculated, as I have verified by comparing it to both my watch and my PC. That's doubly odd as it plays music without any time issues! Gapless playback, on the other hand, works almost flawlessly, to the point where there is virtually no gap between tracks and they seem to fade into each other.
I've also experienced a few issues with files that the player shows in the library but then warns it is unable to play because "music file does not exist…". Well, it does in fact! When selecting the file from the folder view, it plays like a charm. Album art retrieval also needs improvement, as it often downloads the wrong artwork: as an example, it downloaded the art for Yngwie Malmsteen's Rising Force when I was playing Abbath's To War. Not a catastrophic flaw, but one I expect not to be there on a $400 device.
FiiO has included the famous VIPER Android module which enables a few different customizations to sound – e.g. spectrum extension, convolver, field surround, reverberation, tube sound simulator (it simulates sound from a 6N1J tube), clarity or bass enhancement and a few others. It's a nice software to tinker with and, although I am personally not into equalization and sound effects, I can see there's value in its addition.
Equalizer is accessible from the "now playing" screen. It's a 10-bands equalizer that also offers a few pre-set alternatives (i.e. rock, pop, dance, blues, etc.).
There are two different themes: the default one is black with mainly red accents, while the alternative one is dark grey with blueish accents. It all boils down to personal preference as there's no difference in features and there are just cosmetic changes.
The app supports DLNA out of the box, which is very convenient for the networking crowd who loves to store their music on a local server and play them on their favourite player.
I tried using different players (i.e. Black Player, Shuttle Player, Pixel Player), but failed. Although they can be installed and they work, they don't detect all the tracks on the microSD (they only show a few) and this renders them useless. One of the few advantages of using Android is in fact the ability to use different players that suite one's taste and needs both in terms of appearance and functionality. If you take this ability away or cripple it, then using Android makes much less sense. I hope FiiO will be able to fix this in future updates. I asked them about this issue but got no reply, though it seems pretty common.
Sound
I tested the FiiO X5 3rd gen by using the Venture Electronics Asura 2.0, the RHA T20i, the KZ ZST, the Meze 99 Classics and the HiFiMAN RE-00. As I did not have any headphones with a 2.5 mm jack connector to test the balanced output, I'll leave that bit to the future – actually a pair of balanced Monk Plus is on the way to my home (update: impressions added at the end of the paragraph!). I mainly used standard-res FLAC files (16 bit, 44.1 kHz), with a few high-res files (24 bit, 192 kHz) and MP3 files (320 kbps) thrown in the mix.
As I already stated in a few reviews, I have personally found it difficult to find extreme differences in sound between the different DAPs I tried until now, at least when it comes to the usual "bass-mids-treble" scheme – I think differences are more easily pinpointed when talking about sound presentation, instrument separation and so on. That's the main reason why you won't find a word wall about how bass is incredibly detailed or treble has a -1 dB negative peak at 12,536 Hz. Just joking, of course!
Bass is very, very close to being neutral – it is just a tiny little bit emphasised. It mainly adds to the sub-bass, as I could hear in Doc Powell's All Right Now where the bass gains strength while keeping the guitar front and centre. It's not a hard-hitting bass elevation anyway – it's just a soft touch added here and there. There's good control and detail, which make for a pleasant listening experience.
Mids are clear and upper mids seem to be slightly elevated: I can hear the organ in Steely Dan's Do It Again solo is a tad more prominent than when listening to it on other sources (i.e. Aune M1s, Topping DX7). It's an overall balanced and rich sound which renders vocals and instruments such as guitars in full glory.
Treble has great detail and has no sibilance or fatiguing pitches. It's smooth and neutral, thus it is easily enjoyable even when using trebly headphones. It's not overly extended and fans of large extension will be disappointed.
What surprised me is the instrument separation and overall clarity, which are far above what I expected to hear from a midrange device with a relatively old and cheap DAC chip. The FiiO X5 3rd gen proves itself as an audio player with great sonic performance.
I found out it produces a lot of noise when the headphones jack is disconnected after a track has been paused or stopped. That does not happen when the player has just been powered on, so this makes me suspect that firmware is somehow involved and the issue can therefore be fixed. There's also a constant hiss which is especially audible when the FiiO Music app is not playing or in the foreground – its volume is vastly reduced when music is playing.
All in all the FiiO X5 3rd gen has solid performance which appeal to every person who wants to step up the quality of music they listen to. While the most demanding audience may find it lacking or may prefer more coloured (or more neutral) a device, it is a great mid-tier offering.
Update: I tested the balanced output using both a VE Monk Plus SPC and an Asura 2.0s. While I could (obviously) find no significant difference in terms of tonality, there is a notable difference in terms of soundstage, clarity and instrument separation. The balanced output makes it even easier to pinpoint the different instruments, also giving music more space. I think it is definitely worth using!
Final Thoughts
As the title implies, I had great expectations over the FiiO X5 3rd gen and I haven't been let down, though there are a few remarks to be made. The FiiO X5 3rd gen delivers great value for the price, thanks to great sound quality, lots of options, fantastic build quality and materials and an easy-to-use interface of top of Android.
It has its flaws, too, mainly related to firmware and therefore (hopefully) fixable with future updates. FiiO has a good track record so far with updates for the X5 3rd gen, so there's hope they will be fixed sooner or later. Now, the problem is this is not a $100 player. It's a $400 player which has been on the market for more than 6 months now and most of the issues it has should have been fixed by now. This is something that has to be taken into consideration and that's the main reason why the score is just 8/10 (it could well be 8.5 or more!).
Should you buy the FiiO X5 3rd Gen? If you are willing to face the issues I mentioned (and maybe some others I did not encounter), and if you are also looking for a solid device both in terms of build and sound quality (though it is not as analytical as some may wish), then the answer is by all means "yes". My opinion is that FiiO should care more for its software, though – and while I love how the FiiO X5 3rd Gen sounds and works, it still needs a lot of fixing to be considered a true reference device.
FiiO X5 3rd gen's MSRP is $399.99