Among the products manufactured by ONN are smartphones, tablets and portable music players. The company is focused on low-cost devices, but they gained notoriety in the audiophile niche thanks to the decent quality of their audio products. The ONN X6 is their flagship portable player and is capable of playing hi-res tracks. Is it worth the money, though? Let's find out.
Disclaimer: TomTop.com was so kind to provide me with a unit I can keep. You can buy it from them here, if you wish. Please note there is a tracking element in the link, but I earn nothing from it as I am not affiliated with TomTop.

TL;DR: recap
Pros:
Build quality;
Materials and finish;
Almost neutral sound;
Supports hi-res files;
Low price;
Bonus microphone for simple voice notes
Cons:
Clunky interface;
Management of files on SD card is nightmarish;
No expected update of firmware;
A bit too much emphasis on low-mids could not please everyone
Rating: 6.8/10
Packaging and Accessories
As we've already seen in the unboxing, the box the device comes in is fairly simple. It comes with a bonus, though, since it also includes a pleather case. The only complaint I have is that it is difficult to press volume buttons while the player is in the case; it needs to get used to it to understand where to press.
Design & Build
The ONN X6 is almost square, being 89 x 62 x 9 mm. It is small enough to fit in any pocket and its light weight (75 g) makes it easy to forget about it. It is definitely smaller and lighter than Fiio's offerings, as an example, but it does not ditch good manufacturing quality nor "premium" materials because of this. It is actually made of aluminum carved from a single block, with just the rear of the device being made of plastic. It is solid enough for a cheap device and the aluminium adds both sturdiness and a nice finish.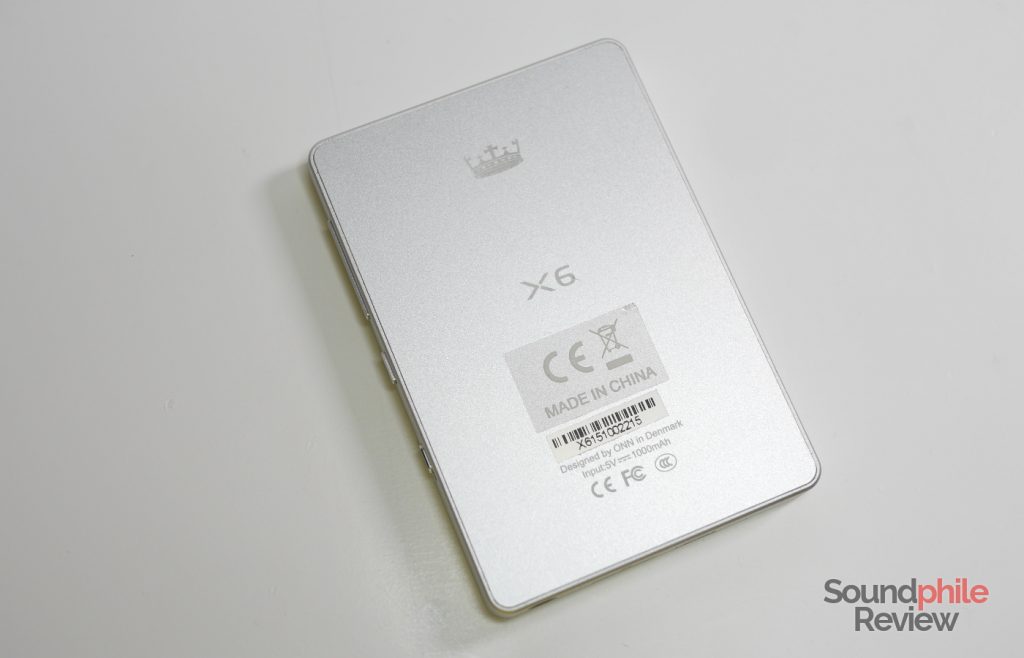 The cheap nature of the device is, however, apparent. Having that said, it is remarkable how ONN managed to set its player apart from the mass of similar cheap devices with design. Four buttons are placed under the screen: left, right, M and power/play. These buttons are too few to give a good user experience, as I'll explain later, but they are obtained from the aluminium housing and have a very nice feel to them. There is no "lock" button, but there are a volume rocker, a "rec" button and an on/off switch on the right side. The lower side hosts the 3.5 mm jack, the microSD card slot and a micro-USB input.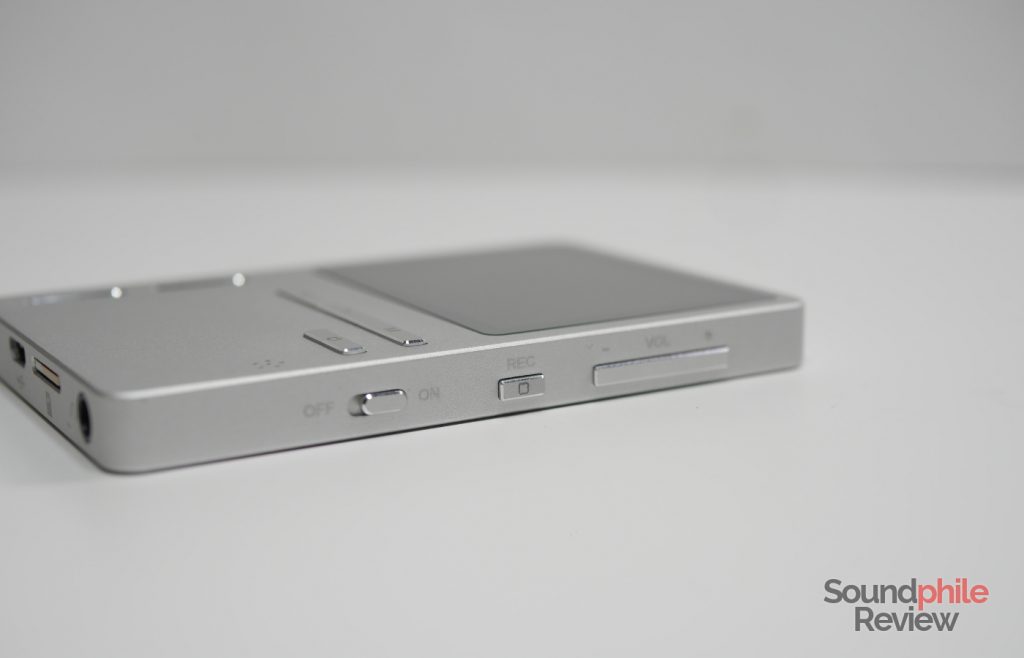 The buttons are small and a bit hard to press. They are also not easily recognizable to the touch, so you need to look at the player when operating it. It seems like switch quality is not entirely uniform, since the "forward" button is a bit easier to press than the others.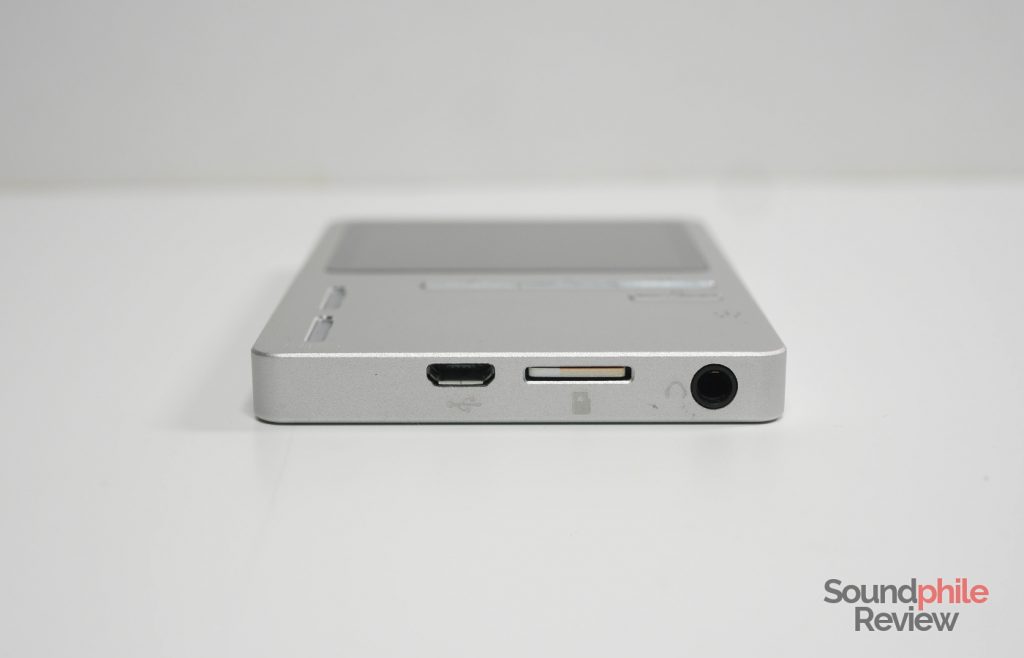 On the left side of the front there are two diminutive speakers, which are not really suitable for listening to music both because of the limited volume and because of the low quality. The presence of the speakers is also the main difference between the ONN X6 and the ONN X5, which lacks such speakers.
The screen seems to use a cheap TN panel; it clearly is low quality as there is an evident contrast shift as you tilt the device up and down. This is not a major issue, though, since the screen is only there to select the song you want to be played.
Specs
The ONN X6 supports MP3, WMA, APE, FLAC, WAV and OGG file formats. It also supports hi-res files, up to 24-bit/192 kHz. It is equipped with a dual-core ARM Cortex-M3 processor operating at 500 MHz, 8 GB storage and a microSD slot (the manufacturer claims it supports up to 32 GB, but I used a 64 GB card and it worked just fine). The ONN X6 can drive headphones with impedance ranging between 16 Ω and 55 Ω.
Firmware and Usage
Using the ONN X6 is a bit of a pain, both because of the firmware and the controls. I say this as a long-time smartphone user, but I also own a Sony Walkman NWZ-E345 (which was launched back in 2009) and it is way easier to use and navigate. Let's see why.
The firmware is very basic and shows a good few rough edges, especially when it comes to managing the media library. Interface is simple and good-looking, with a minimal set of information shown – which can be either good or bad, depending on one's taste and needs. The main menu is divided into sections: Now Playing, Music, FM Radio, Record, Explorer, Settings.
It is easy to use the menus and browse the music stored on the device: you just need to use "back" and "forward" buttons to select the desired item and then press the "M" button to activate it. It is easy until you want to go back. This is where the firmware and the presence of just four buttons show the first signs of starts of trouble. To go back you have to long press the "M" button and it takes quite a bit of time and patience to navigate the menus this way.
Navigating through menus to play a track on the SD card is an endeavour similar to the Labours of Hercules. The player does not index the SD card, so it is up to the user to navigate folders and manually select the desired track. This is not a big problem, but it means that you need to browse through all of the folders on the SD card and you cannot mix songs on the internal storage with tracks on the SD card. From a usability standpoint, this is terrible – and it's even more so because playback of a track on the SD stops if you browse the library on internal storage and vice-versa.
In addition to that, folders and files are not sorted alphabetically, but chronologically. This means you could have AC/DC as the last element of the list and U2 as the first, withball sorts of mixed folders and names in between. Playback is done on a chronological basis, too, so if the last track of the album was stored first on the SD card, then it will be played first.
Playback of tracks stored on the microSD is problematic to say the least. There is a noticeable gap whenever a track starts, which can ruin the listening experience as the first second gets cut off. If the player shuts down and a track stored on the microSD was being played, then clicking on the "Now Playing" menu item will not resume playing, but it will instead start playing a random track stored on the internal memory (if any track is present).
There are really few settings. Playback mode (shuffle/repeat) can be set in the "Settings" screen and there is a simple equalizer. There is also a setting for voice recording (low/high quality) and a few options for the screen off timer. There are also a few language options: traditional Chinese, simplified Chinese, Korean, Japanese, English, French, German, Portuguese, Russian, Swedish, some Indian language I cannot identify, Polish, Dutch, Greek, Turkish, Czech, Hebrew and Arabic. I'm surprised not to find Italian!
The battery has a capacity of 1200 mAh and is capable of 19 hours of hi-res tracks playback, according to the manufacturer. If MP3 files are played, battery life increases to 70 hours. I have been listening to FLAC files (16/44.1) and MP3 files (320 kbps) and the battery is not yet empty after three weeks of usage with roughly 1/1.5 hours of listening every day.
Sound
I used the Bowers & Wilkins P3 Series 2, Superlux HD381 and 1More EO323 headphones to test the ONN X6. I've been using it for about three weeks on a daily basis.
As I already stated in the Zorloo ZuperDAC review, it is not easy for me to spot big differences in sound signatures when it comes to players, DACs and amplifiers. Having that said, I think the ONN X6's signature is mostly neutral, with a few necessary distinctions. Sound output shows a low-volume (but still audible) background hiss. Detail is good, especially on treble, without being sharp nor pretending to be analytical.
The soundstage is not very wide and I can distinctly hear the difference when listening to Mayhem's A Bloodsword and a Colder Sun: Maniac's voice seems to always remain near to the listener, but it should sound much more distant. Instrument separation is very good, even sometimes superior to what the ZuperDAC exhibits.
Bass is not well controlled in my opinion and it shows a few soft spots of this device: the lows tend in fact to be a bit on the boomy side, with a bump on the low-mids; this is evident while listening to earphones such as the 1More EO323 which offer a strong (but overall balanced) bass response: it makes the bass look more flabby and undefined. Midrange sits in the right spot, without being recessed nor too upfront; treble is detailed and bright, stopping just a step away from being too sharp.
Recording
As you can hear from the sample recording (untouched .wav file produced by the player), there is a vast amount of background noise even though the recording environment was silent. There is an audible double click at the end of the recording when I unlock the screen and stop the recording. I would not suggest using this device as a recorder unless you need it for simple voice notes.
Final thoughts
I think the ONN X6 is a good entry-level player with too many flaws in its firmware. It is all too clear that a low price equals to less features and refinements when compared to higher-tier products; it is then up to each one to decide whether the flaws are too much to bear or whether they are acceptable.
My opinion is that build, sound quality and materials are great for a product that costs just ~60€/65$; on the other hand, a more refined firmware could have made the difference and made this player a "must" in its category. ONN unfortunately let this chance slip away from them and this sounds more of a half-baked device. Its issues lie in firmware, but given that the manufacturer will not issue any updates, they do not seem to be solvable.
It can be an option for the cost-savvy and those who can endure the clunky interface and firmware. The sound is good and the build is great (and it supports Hi-Res, too!), so it is up to you to decide if the firmware is an obstacle or not. If you care more about sound than about ease of use, the ONN X6 could be an option; otherwise, look elsewhere.