The new Bowers & Wilkins P3 Series 2 were launched a few months ago as heirs to the lucky first series, which I had a chance to review earlier this year (for the publication I worked for at the time) and which positively surprised me. They had balance, clarity and detail – and while they lacked comfort, they were cheap enough. The Bowers & Wilkins P3 Series 2 lack the balance I remember from the previous generation, and show similar comfort. But don't despair: they have good qualities, too!
Disclaimer: the sample was on loan by the local B&W PR agency and I returned it. For more information, please have a look at the product page.

As a side note, the pictures you see here have been shot while on a short trip to Lake Como. I did not carry the case with me, though, so that picture has been shot at home.
TL;DR: recap
Pros:
Build quality;
Compatible with smartphones;
Small and portable;
Comes with a nice hard case
Cons:
Comfort leaves a lot to be desired;
No control over adjustment;
Isolation is close to non-existent;
Bass is muddy and covers midrange;
Sound signature is too bass-heavy.
Rating: 6.5/10
Packaging & Accessories
Packaging is fairly essential, but it lacks nothing. The box, fitted with foam, contains the headphones in a hard carrying case of the same colour as the headphones and a spare cable. The one which comes equipped on the P3 Series 2 is a smartphone-friendly cable with built-in remote and microphone, while the one in the box lacks such features and is more suitable for use with desktop equipment. They both measure 1.2 m.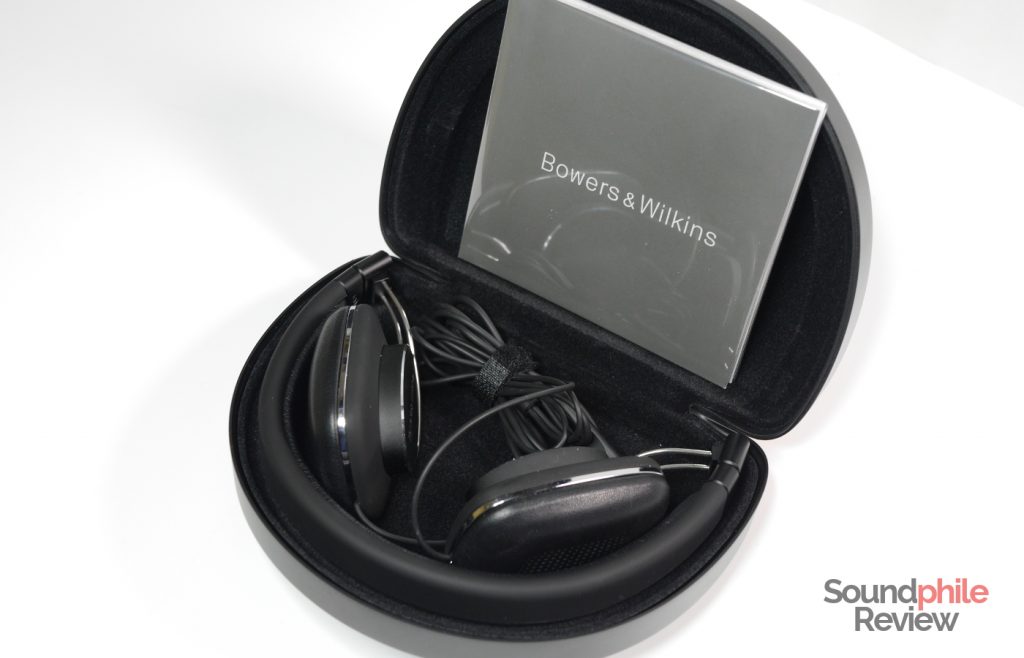 The hard carrying case is solid and does its job of protecting the headphones from accidents. It is, however, prone to bending where pressure from the opening movement is applied; I cannot comment on durability for obvious reasons, but this may be a concern. It is made to store the P3 Series 2 when they are completely folded and this forces the user to constantly having to find the sweet spot when opening them (see the "Design & Comfort" paragraph below).
The box also contains various manuals and information leaflets.
Design & Comfort
Bowers & Wilkins' iconic design is once more used on the P3 Series 2. The use of metal rods gives the whole headphone a light, elegant appearance, which is further suggested by the narrow headband. Metal is at the core of the headphones and is used throughout the whole build: not only is it used for the rods, but also for the cups and the headband. This makes the P3 Series 2 appear more as a premium product. They may look a bit frail, but the build is sturdy and solid: metal has good qualities in addition to being good-looking.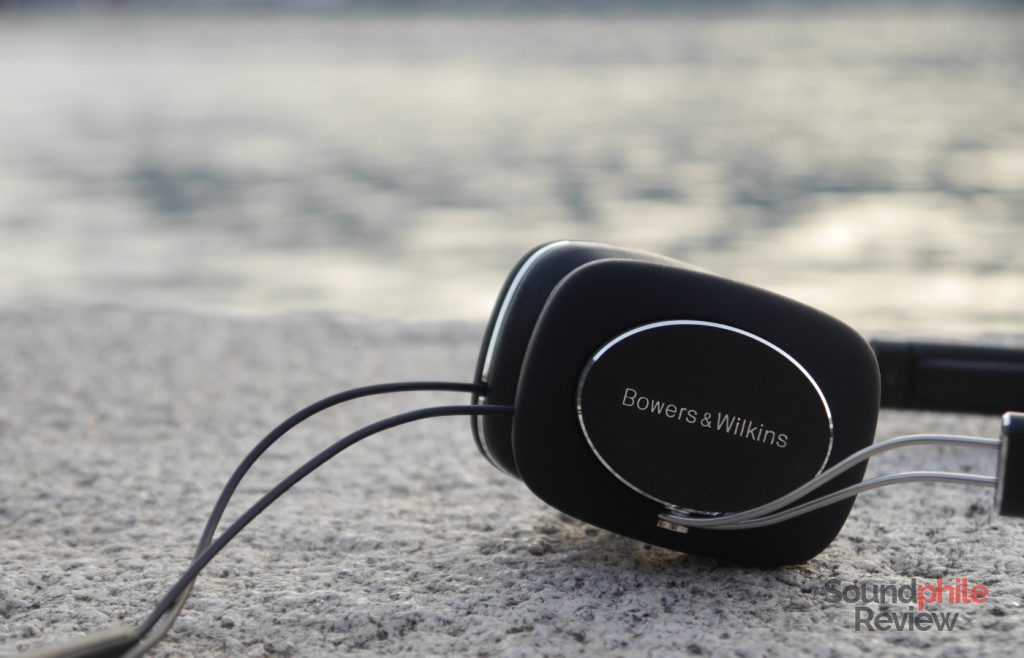 The earcups are small and they just lay on the ear, rather than enveloping it. This has an impact on both comfort and isolation. In terms of pure appearance, though, I have to say it is wonderful. On the positive side, they are very small and you can easily fold them to store them in their case. The adjusting mechanism, however, does not work with predefined steps as it usually does, but it is free to move. It is difficult to find the right spot and you lose it anyway when you fold the earphones.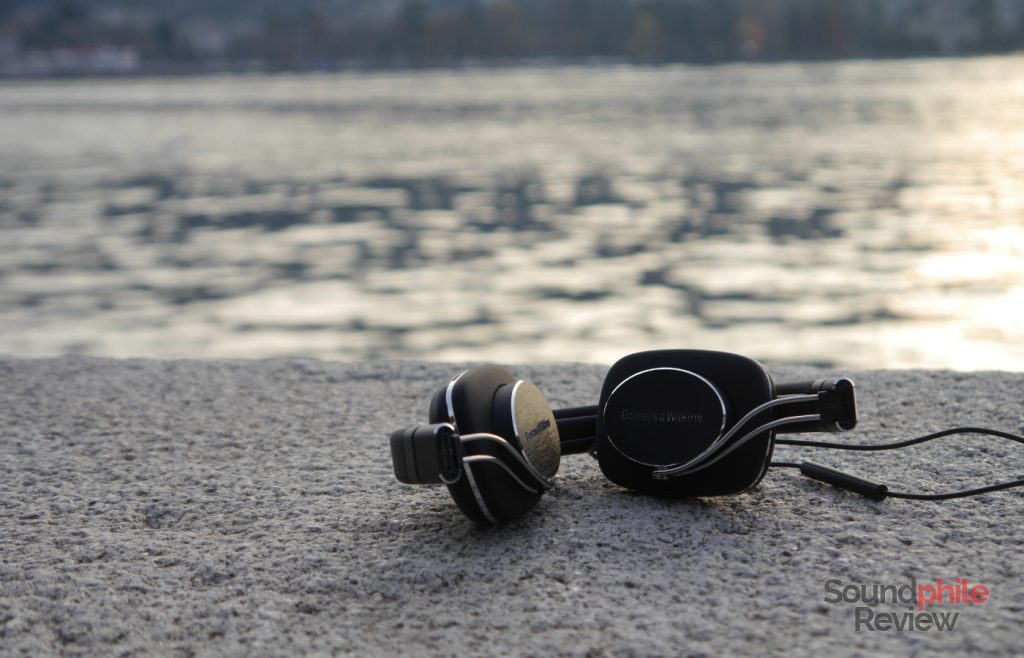 Before commenting on comfort, I would like to anticipate that I tend to be a little sensitive when it comes to headbands: my head skin becomes easily irritated, so headphones that may be comfortable for the larger part of the population are not comfortable to me. Having that said, this is one of those cases where I can't even wear the headphones because of their headband. The Bowers & Wilkins P3 Series 2 feature the same narrow and almost-not-padded headband as the first series. That means they start feeling painful on my head after just a few minutes. To give you a bit of perspective, to carry out listening with these headphones I had to resort using a folded felt cap as additional padding (and it did not completely work anyway). Other people told me that they are fairly comfortable to wear, so I imagine they pose no threat to normal people's heads. Given their weight of ~133 g (cable included), I suspect that comfort isn't their selling point, though.
They also tend to clamp my head really tight, so they tend to push my prescription glasses against my head causing pain. Glasses aside, the clamping is efficient but excessive in my opinion. They tend to slip away because of this clamping, so that they fall off when I look down. This is also partly caused by the fact that the earcups just lean against the ear.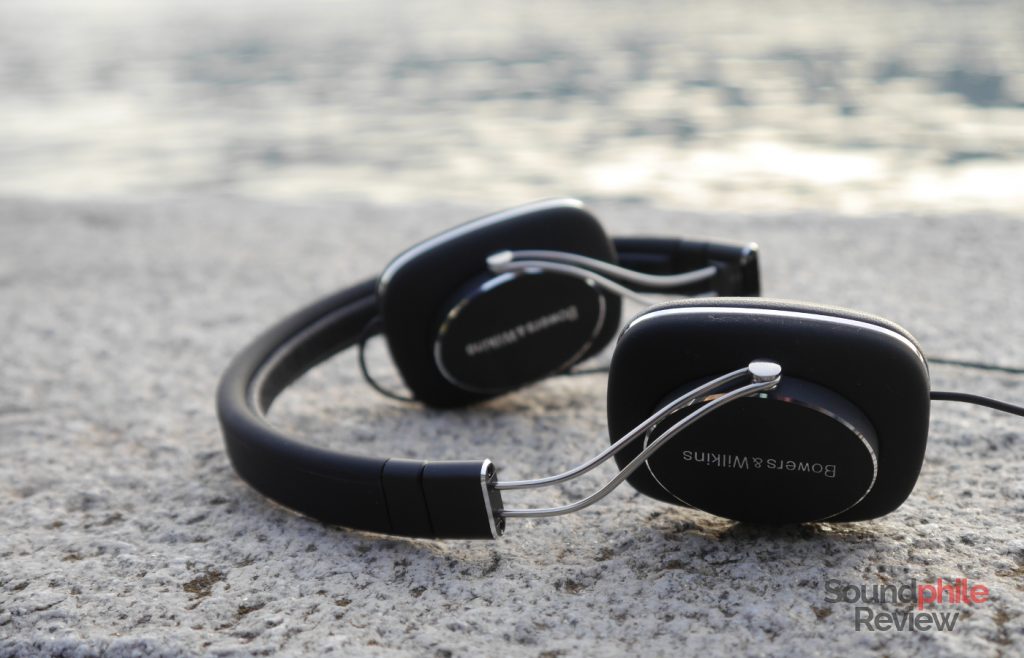 Isolation is really poor and this fact definitely undermines the headphones' suitability for use on public transport and in other noisy environments. Using different, aftermarket earpads with better isolation could, however, mitigate ambient sound leaking in and allow for a quieter listening experience.
The microphone is not meant to be used in crowded, noisy environments, as it picks up every sound around it and ends up making ambient noises louder than the user's voice during phone calls. The remote (vol+, play/pause, vol-) is only compatible with iOS devices, so the play/pause button is the only one which works on Android devices.
Specs & Sound
I ran a 100-hour burn-in on the Bowers & Wilkins P3 Series 2 as I usually do. The sources I chose are an ONN X6 portable player and a desktop PC with a Zorloo ZuperDAC attached to it. I used mostly FLAC files (16-bit, 44.1 kHz), with a few MP3s (320kbps).
Bowers & Wilkins P3 Series 2

| | |
| --- | --- |
| Frequency response | 10 – 20,000 Hz |
| Impedance | 34 Ω |
| Sensitivity | 111 dB (+/- 3 dB) |
The Bowers & Wilkins P3 Series 2 have got a distinctly warm sound signature. Having tried the first series earlier this year, I was expecting a much more transparent and laid back sound, but what I found is a "tangled" sound with overpowered bass. That's not bad in itself, as there are many people which prefer a touch of added bass to spice up their sound; the problem is that it's not a well-portrayed bass in my opinion.
Stereo imaging is good, but there is definitely room for improvement. Listening to both parts of Mayhem's A Bloodsword and a Colder Sun I can distinctly hear that imaging is imperfect in the first part, while the second part renders the track so that Attila's voice appears in its own layer, with a precise spatial collocation. Instrument separation is quite good, if there is little bass in the track; it is otherwise not the best I've heard and leaves a lot to be desired.
Even though the Bowers & Wilkins P3 Series 2 show a discrete amount of detail and a decently wide soundstage, their lack of balance is what struck me the most. Not only that, but I think they fail to deliver truly quality bass. Let me explain that before going on.
"Quality bass" to me may well be loud and non-neutral bass, but it has to be controlled (as in "you can hear different shades of bass") and it also has to avoid covering other parts of the track. I feel like music is made of different layers, each one stacked up on another. Bass should be the lowest layer: it has to be present and it can be a large, loud layer, but it should not cover other things up. A good example of what I think is a truly well crafted non-neutral bass is that of Meze 99 Classics, as it is more than what you'd expect from neutral headphones, but it also does not preclude listening to all the other different layers.
To give you a practical example, I love listening to Celtic Frost's Monotheist album to test out bass performance of headphones. Bass is overpowering and central both to the sound and to the general dark atmosphere; it has to be just in that sweet spot, otherwise the songs lose their appeal. If bass is too shy, then the songs are hollow and dull; if it's overpowered, then they give you a headache. Ground is one of my favourite tracks as it contains a lot of details on bass guitar. They're almost completely lost when I listen to it on the Bowers & Wilkins P3 Series 2; I can just hear a constant rumble and roar. It's as if I was drowning in a pit of mud.
The Doors' Riders on the Storm does not look half-bad with the Bowers & Wilkins P3 Series 2: bass is not invasive and cymbals are decent. Vocals by Jim Morrison are also pretty much enjoyable.
The problem lays in low-mids, which have the biggest boost in volume. It is not sub-bass where the problem lies, as bass depth is not that good either, but in lows and low-mids. They get that typical bump often found in "consumer-grade" audio gear that ends up being obnoxious to my ears.
As one would expect from a bass-centric sound signature, the midrange is slightly recessed and lacks air and incisiveness. While it is not dull, it is crushed by bass and loses much of its importance in the scene. Even in tracks where it should be under the spotlight it is covered by bass. In tracks where bass is low and in little quantities, such as in Shantalla's debut album of the same name, the midrange has a bit more breathing room and has a chance to shine.
Treble is fairly detailed and relatively airy, but it often gets suffocated by lows. It is far from being prominent, thus it can't compensate the lows' invasiveness. Extension is nowhere near impressive, although it is acceptable in this price range. Listening to Pollen by Aes Dana I can hear the treble, but it is not where it is supposed to be – front and center.
It is hard to say which genres play well with these headphones. The bass focus initially led me to believe the Bowers & Wilkins P3 Series 2 were ideal for electronic music and, more generally, bass-intensive music. I found out that is not true. Listening to Daft Punk's Tron: Legacy OST on my father's Denon AVR-A100 amplifier I could distinctly hear distortions and the bass losing control. And that was true for other bass-centric tracks, too. I think people these product caters for (average consumers looking for bass) would find rap, electronic music, pop and other modern genres to suit their tastes. While I would not rule it out, jazz is not the first genre that comes to my mind. I'd definitely exclude classical music.
Among the headphones I've tried and I can compare these to:
Jabra Revo: these are currently among my favourite on-ear headphones below 100€. They deliver a punchy sound, with better midrange and rich treble. The Revo have a "consumer tuning", too, but they have better instrument separation and wider soundstage; they are also able to better portray different genres of music.
UBSOUND Dreamer: these interesting headphones lack the same build quality as the P3 Series 2 (they are cheap plastic), but they sound dramatically better in my opinion. They have a V-shaped sound, with pronounced lows and treble, but they deliver it with better definition and instrument separation. They are also quite open-sounding for a closed pair of headphones.
Noontec Zoro II Wireless: the Zoro II Wireless share a similar sound signature with the Bowers & Wilkins P3 Series 2, but bass is softer and there is an overall better balance. What's more, comfort is definitely better and they also include Bluetooth if you wish to listen to music without the wire clutter.
Final Thoughts
As much as I enjoyed the first series, this second generation is a partial disappointment to me: it does not improve comfort, one of the first series' weakest points, but it also tends towards a more consumer-friendly sound. Of course it's not all bad and the Bowers & Wilkins P3 Series 2 can appeal to those looking for a prettier alternative to consumer-oriented products such as Beats. They also prove to be great for gaming.
The problem is that there are far better alternatives out there, unless you're looking for a headphone with good-looking appearance and not much more. The Noontec Zoro II Wireless is able to deliver similar sound with much better comfort. Jabra Revo, which is available for as low as half the price of the P3 Series 2, is a better all-around alternative. Those looking for a bass-heavy sound could also have a look at the UBSOUND Dreamer (made by an Italian company!). Going in higher price tiers, the alternatives are countless.
Considering they are priced at ~150€/$, I do not recommend buying them. You can easily find better alternatives on the market.