There's a spirit unique to every city, a sum of parts that make every place unique – more than just the landscape, but a manifestation of the history and culture of a place. Spirit Torino is a company founded in Turin, Italy, which tries to incarnate that spirit: hard work, passion, dedication, technology development. Those elements have been hallmarks of the city since times far gone and they are now put inside the Spirit Torino Twin Pulse. They're over-ear headphones using Grado-like design with their own twist, namely the use of solid blocks of aluminium for the earcups. The tuning philosophy is not one that I support, but the result is really meaningful. It's amazing what this startup has achieved and the Spirit Torino Twin Pulse stand out from the general crowd in every possible sense.
Disclaimer: Spirit Torino kindly loaned me a unit for the purpose of this review. Thank you to Andrea Ricci, CEO at Spirit Torino, for making this happen. They sell the Twin Pulse on their website at €2,500.
Note: I erroneously wrote that this unit was one of the Grand. I was wrong: this is a Twin Pulse. I am sorry for this mistake.
TL;DR: recap
Pros




Cons

Very well built

Superb accessories

Dynamic, impactful sound that is pure fun

Superior technical ability

Bass is surely going to be divisive as it is largely emphasised

Probably uncomfortable to the majority of people due to weight and (lack of) padding
Rating: 9/10
Accessories & Packaging
The Spirit Torino Twin Pulse come in one of the craziest examples of packaging I've seen to date. I've seen boxes, I've seen boxes with cases, I've seen suitcases with padding, but I never saw a full metal suitcase with stylised headphones on it, precision-cut foam for headphones and cable and a pedestal to put the headphones on. The premium in price also comes with premium accessories, thankfully. And the suitcase is really well done, too, seemingly resistant and durable. Well done, Spirit Torino, you really impressed me with the packaging.
There's also a USB stick with some music on it: it is a recording of the chorus of Sacra di San Michele, an abbey near Turin. It was recorded using a binaural microphone, so listening to it is just like being there.
Design & Comfort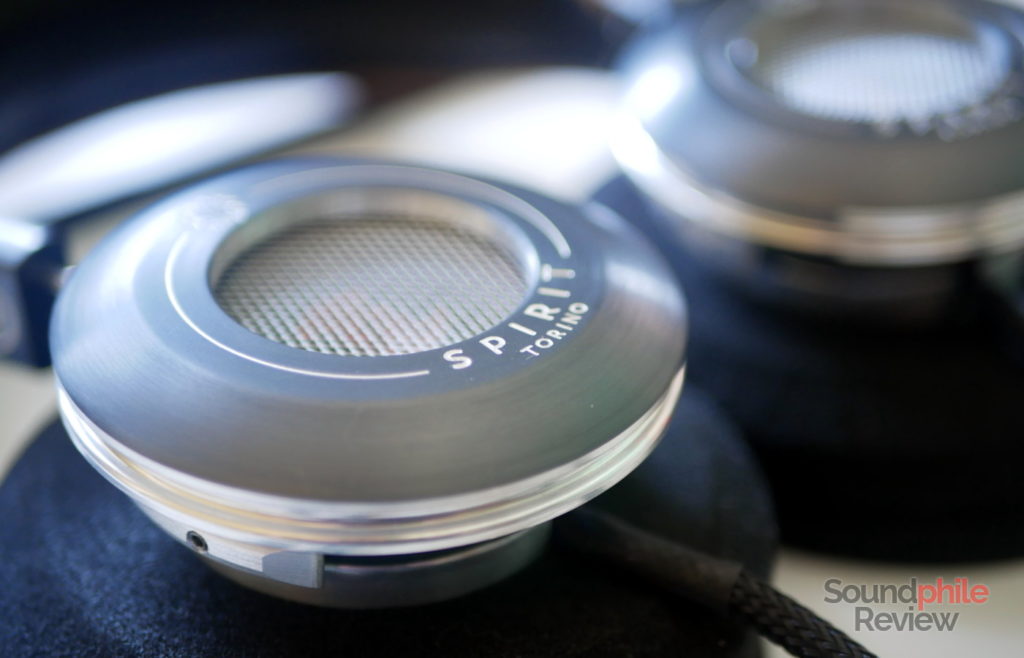 The Spirit Torino Twin Pulse is aptly named indeed. These headphones are huge. It's especially the cups that are large, especially considering that they are made of solid aluminium. The foam padding used is also really large and makes them appear larger than they really are.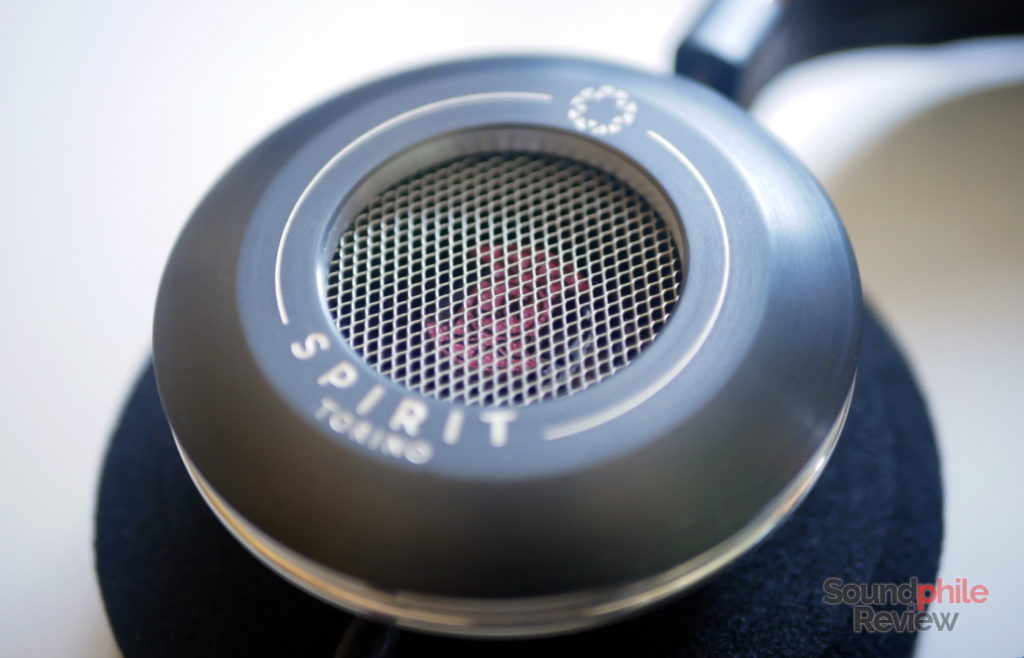 Spirit Torino decided to use solid blocks of aluminium to manufacture the earcups as it reduces resonances and the transmission of vibrations according to them (they call it "inertial frame system"). If I put my fingertips on the earcups while they are playing music I can feel no vibration, but what merit this material choice has remains to be seen irrespective of my empirical and imprecise findings. Speaking purely from the perspective of design, aluminium has a great impact on the looks of the headphones: its polished and brushed surface really looks attractive and made with great care to detail. The same applies to the etchings with the company name and logo. The earcups are open and protected by a metallic grille. Removing the foam cups exposes the "twin pulse" text and the serial number of the headphones. The inside of the earcups, where the gimbals are, also reads "made in Italy".
The drivers are protected by a grille shaped like the company's logo on the inside (see pictures above). The centre is left open, so one can actually touch the driver if they wanted to – a bit risky, given one could touch (and damage) the driver by accident, but it should also make it easier to remove any dirt coming into contact with the driver if paying enough attention. There is an additional grille protecting the driver embedded in the foam padding so, as long as one does not remove it, the driver should be a bit safer.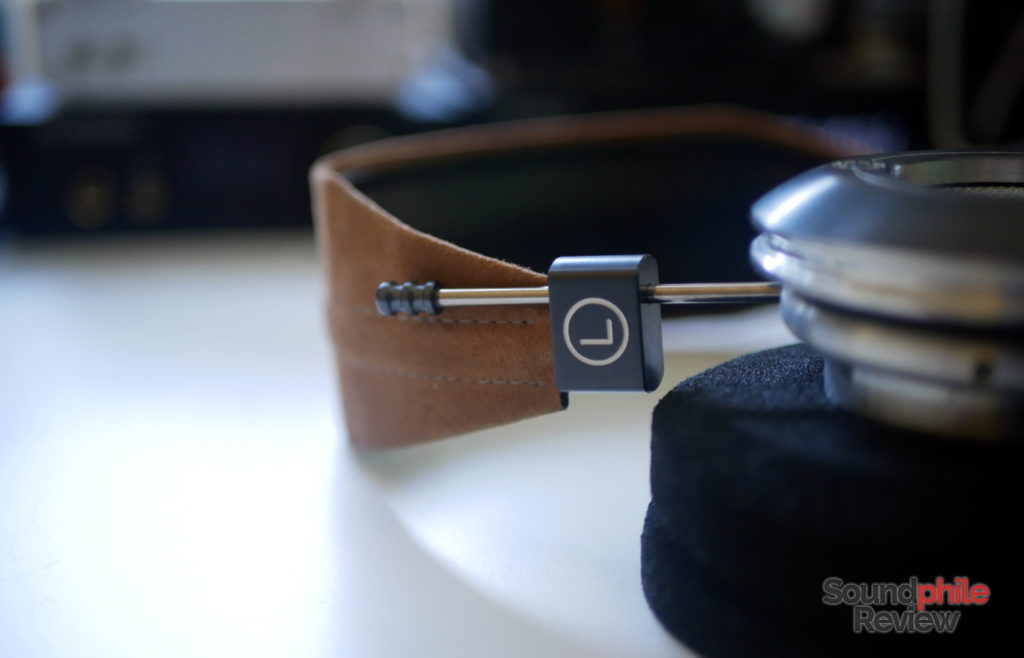 The headband is relatively large and made of a metal band covered in leather. In my case it is brown suede (chamois?), with the inside being black leather. It looks and feels premium – even luxurious. It surely is made with attention to detail and quality.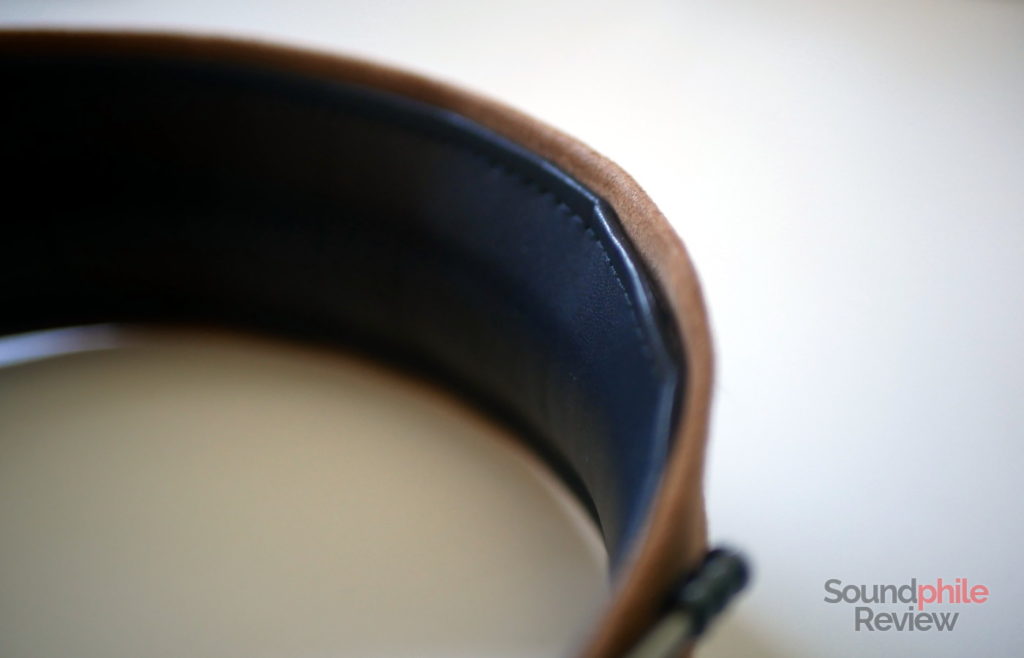 The large weight (420 g) together with the not-enough-padded headband that directly rests on the head makes the Spirit Torino Twin Pulse really uncomfortable to wear. I have an especially sensitive scalp (thank you, genetics, I love you so much) that really can't stand the Twin Pulse: in a couple of minutes the weight and the padding, which is insufficient for my needs, render the headphones impossible for me to wear. The only solution is to take some cloth or a cap and put it between my head and the headphones. That way I can wear the headphones for about half an hour – which is still insufficient to me. Of course everyone is different from others and there will be people who can wear the Spirit Torino Twin Pulse for longer periods of time, but I feel confident in claiming that they are not made for comfort and few people will find them comfortable. Using a suspended headband design would alleviate the issue, though Andrea Ricci told me they don't share my view on the matter and won't use a suspended headband design in the future.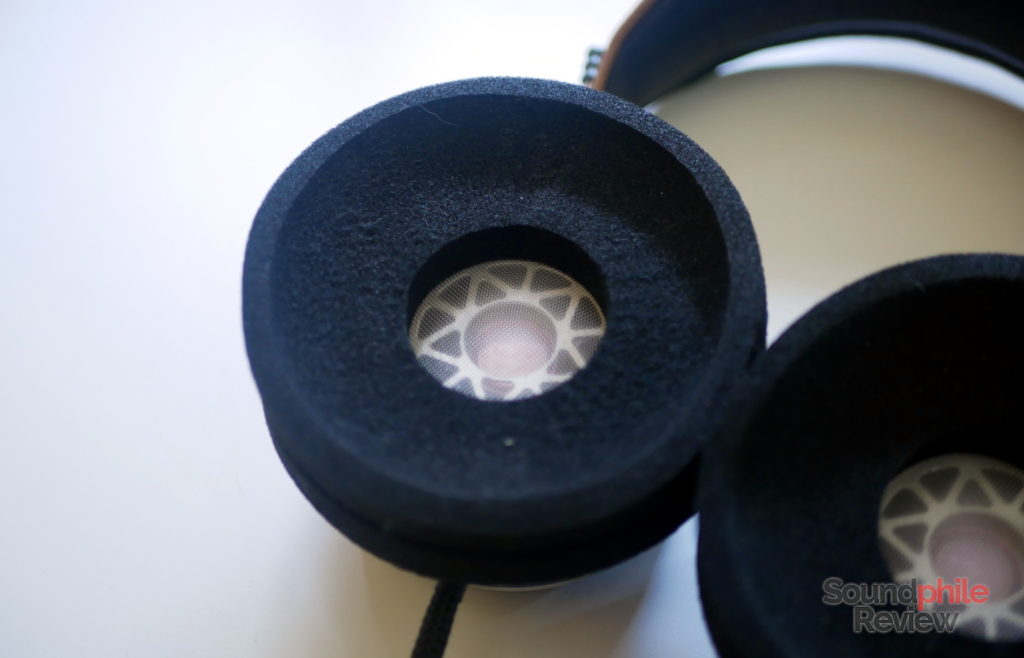 The foam surrounding the earcups are not very deep and make the headphones come in direct contact with the ears. The clamping force is not really large, so this contact is not too fatiguing. It still does cause some issues, as it is something pressing on your ears after all and that's not an ideal situation. The foam also is really hot, so it may be problematic during the summer (especially if you, like me, live in areas where it's 30+ °C with 70-80% humidity).
The cable is as huge as the headphones: it is 1 cm in diameter, which is more than any other stock cable I've seen. Inside the woven fabric seems to be a braided cable with thick cores. It is heavy and really well made – and the weight is also caused by the large and heavy connectors (the Y-split and the XLR4 connector by Neutrik). Spirit Torino spared no expense in manufacturing their headphones and it shows when looking at how they are made, including the cable. It really screams "premium". There are various connectors one can choose from: XLR4, 6.3 mm, 3.5 mm (seemingly TRS), 2.5 mm TRRS.
Sound & Specs
As the unit I received was equipped with a 4-pin XLR connector, I used it with the only two sources I currently have which support this connector: the Topping DX7 and the Little Dot MKIII SE. Source files were predominantly standard-res (16 bit / 44.1 kHz) FLAC files.
| | |
| --- | --- |
| Frequency response | 25 – 22,000 Hz |
| Impedance | 32 Ω |
| Sensitivity | N/A |
The Spirit Torino Twin Pulse
Attention to detail goes beyond build and applies to sound, too: the Spirit Torino Twin Pulse display an almost incredible level of detail that gets to the point I could hear the fingers moving on the keys of brass instruments in some classical recordings (it was specifically an Overture 1812 recording). This also means that the Twin Pulse won't forgive any flaws in the recording or in the file format – MP3s sound pretty bad.
The Spirit Torino Twin Pulse are really dynamic and fast throughout the spectrum, so they appear lively and really engaging. Spirit says they aim to reproduce the involvement that live music creates, and in terms of dynamism (so the ability to reproduce the same variation of volume from minimum to maximum and co-existence of various degrees of volume that are inside a recording) they reached their aim as music has a huge impact and high speed that sounds (almost) like a live performance.
Technical ability is one of the strong points of the Spirit Torino Twin Pulse. Soundstage is not really wide, but it is spacious and three-dimensional with enough depth to make layering great. Instruments do not appear squashed on a virtual wall, but they are placed in a 3D environment with front and back on top of left, centre and right. Their placement is not pinpoint-like in accuracy, but it is accurate enough to let each instrument have its own well-defined place. Even in very crowded track it is easy to tell instruments apart, no matter how layered and dense the track may be.
It is impressive how the lowest notes emerge clearly out of the mix and give the music a huge impact. It's not just body, it's a freaking assault on your ears that makes you want to headbang – and that's exactly what I did the first time I tried them, listening to Rammstein. It's a wall of bass that slams your tympani with relentless force, a full-scale nuclear war right in your ears. Spirit says that they look for "the dynamic impact of a live event" – and they're there. These headphones make you want to turn the volume to 11 and just immerse yourself in music. Listening to Rage Against the Machine I was amazed at how good the mix sounded – full-bodied, rich and similar to a live event, with a whole lot of impact, yet still balanced. It's remarkable that despite this aggressiveness, bass is still well controlled and leaves midrange clearly audible and almost without any leaks. There's also very good texturing that makes details emerge clearly in the mix.
On the other hand, the issue with bass is that it may be just too much. Let's face it: certain tracks and certain genres need bass not to be as prominent as it is on the Spirit Torino Twin Pulse. Of course then it all boils down to what one likes and I'm not going to discuss that. What I would like to point out, however, is the fact that some music just does not have that much bass – take recordings of acoustic guitars as an example: I know how they sound because I play guitar myself, and the sound coming out of the Twin Pulse is nothing like it. Spirit Torino uses isopreference curves to determine that bass should be super-emphasised, but I do not support this theory: I can clearly hear bass is excessive and not like live music. I don't want to claim the theory is wrong, nor that this sounds bad: I just don't feel it to be like the real thing based on personal experience.
Midrange is not front and centre, right in the spotlight: it is instead a bit more in the background. In Dio's Holy Diver the voice and guitar appear a bit distant, as they do in Rage Against the Machines' Wake Up: they are a bit behind bass, so they aren't given the right weight in the mix. Despite this positioning, midrange appears natural and coherent, with the right tonality to make almost anything sound good. Male voices, as well as female ones, sound as they should. If I had to point out any specific feature, I would say that midrange is warm, with added presence in the lower area. That additional emphasis makes midrange more relaxing and pleasant, but it also takes something away from instruments in the upper range: guitars in Empyrium's Where at Night the Wood Grouse Plays sound a bit dull and lack presence as their acute part is more in the background than ideal.
All in all, though, midrange has some very positive aspects. It is in fact well detailed, with even the smallest details that are laid in front of the listener for them to take. The Spirit Twin Pulse are ideal for critical listening mainly due to this. The speed and fast transient response is part of this, as the headphones are able to respond quickly. They also have a strong physical presence that delivers impacts in percussions and plucked instruments really well.
Due to the way the isopreference curves are made, treble has a spike in the lower range and then goes gradually down as frequency goes up. This emphasis is clearly audible in tracks with a strong presence of high-pitched instruments and may even become downright harsh and fatiguing (especially as volume goes up!). But this emphasis does not take away the fact that treble is portrayed well, with many minute details that make it appear real. Sibilance is unknown here: "s", "f", "t" all sound natural and tame despite the peak. I wouldn't call treble airy, sparkling or spacious; its tuning makes it appear mild in comparison to other headphones with more sparkly and airy treble. It still adds the necessary splash of colour in the scene and its presence is felt just right.
Spirit Torino says the Twin Pulse are ideal with rock, jazz and classical music – I beg to differ. Given their dark tuning, the Spirit Torino Twin Pulse are good with those genres that require lots of bass – some sub-genres of metal, electronica, hip-hop, etc. Of course it's up to one's taste, but my (strictly personal) opinion is that there's too much bass to use the Twin Pulse for classical and jazz. As a practical example of what sounds great, Blind Guardian's Into the Storm, Rammstein's Wollt ihr das Bett in Flammen sehen and Rage Against the Machine's Killing in the Name are among those songs that sound good.
Final Thoughts
Little did I know, when I entered the room where Spirit Torino was at the Milano High Fidelity show, that such a wonderful journey would start. Andrea Ricci just gave me this pair right away, (almost) no questions asked. And I have to thank him for trusting me so much. The Spirit Torino Twin Pulse is a wonderful product, so much so that it's one of those that leave a mark in an audiophile's experience. Its superb technical ability and dynamic approach stand out from the crowd like an eagle soaring out of clouds. Tuning can be divisive, but quality far outweighs quantity: one may or may not like the way the Twin Pulse are tuned, but has to recognise that they do their thing wonderfully.
Despite the huge amount of bass – almost overwhelmingly huge – the Spirit Torino Twin Pulse are enjoyable to a vast amount of people, as this shipload of bass does not end up engulfing the signature and covering the rest. This is how bass emphasis should be done. The Spirit Torino Twin Pulse punch above their weight (which is a whole lot, trust me and my poor scalp!) and truly deserve their status of high-end headphones.