There's a lot of fun in the sub-$50 space and OneOdio really wants to demonstrate this with headphones such as the Pro-50, aimed at DJs (and, more realistically, to people who like heavily V-shaped signatures) and sporting a modern design.
Now, the first thing I thought when OneOdio contacted me to review their Pro-50 was that their company's name was quite funny. It took me a while to understand that the name is a play one the pronunciation of "audio", as to my native Italian ears the name says something quite different – "odio" means "hatred" in Italian, so the message is definitely not what the company had in mind when they launched the brand. They're aware of the issue, but with trademarks having already been registered and a lot of stuff already manufactured, it's too late now for a change of hearts. Languages really can be fun!
Disclaimer: I received this unit free of charge from OneOdio. The headphones retail for £40. Additional information is available on the official website.
TL;DR: recap
Pros




Cons

+ Light and comfortable

+ Ingenious cable system

+ Good accessory set

– Invasive bass

– Harsh treble
Rating: 5.5/10
Packaging & Accessories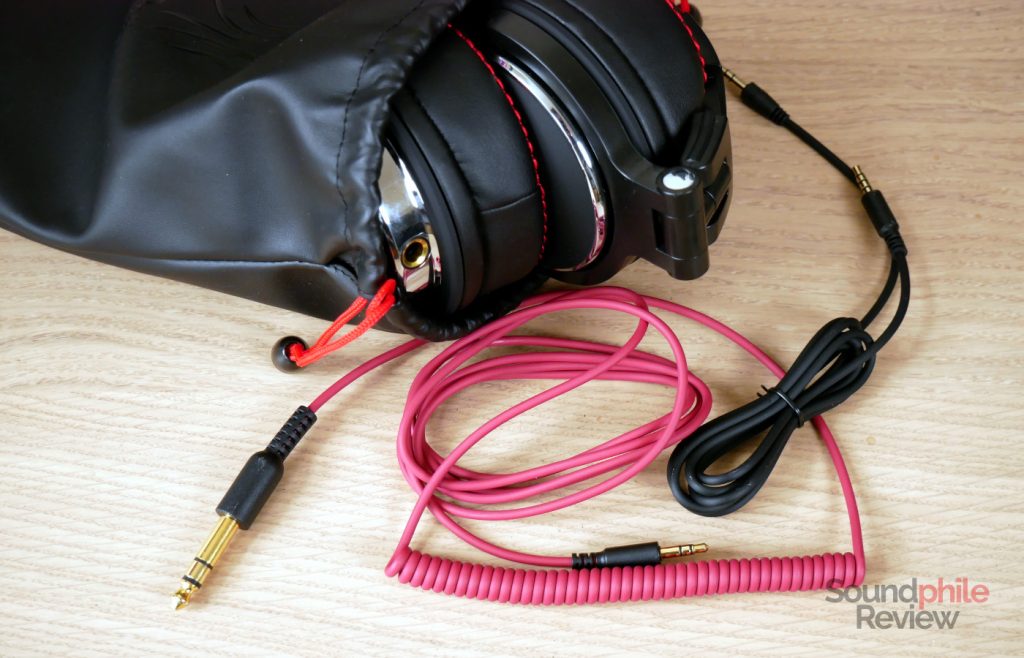 The packaging is quite simple and it holds quite a few accessories: there are one cable with 3.5 mm to 6.3 mm jacks, one cable with 3.5 mm to 3.5 mm jacks with a microphone and a plastic bag to hold the headphones when not in use.
Design & Comfort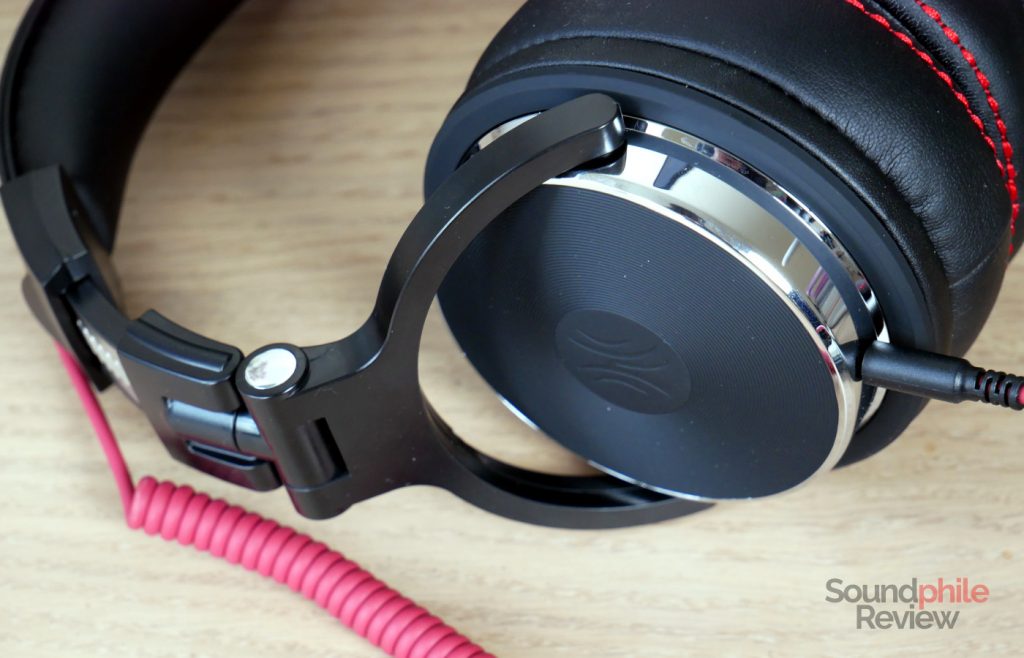 The OneOdio Pro-50 are definitely cheap and you can tell just by looking at them: the design is typical of "DJ" headphones, with rotating gimbal and cups so that you can use a single earcup at a time. The thing that gives the headphones away is the plastic, though: it looks and feels cheap, with the fake metal bits being the largest signal. Had those not been there, the effect would have been infinitely better and less tacky. Speaking of tacky, the lettering inside the earcups to indicate the channel is quite… unsophisticated. That's a minor detail, but it sets the mood for the whole design (that's an "L" in the picture below).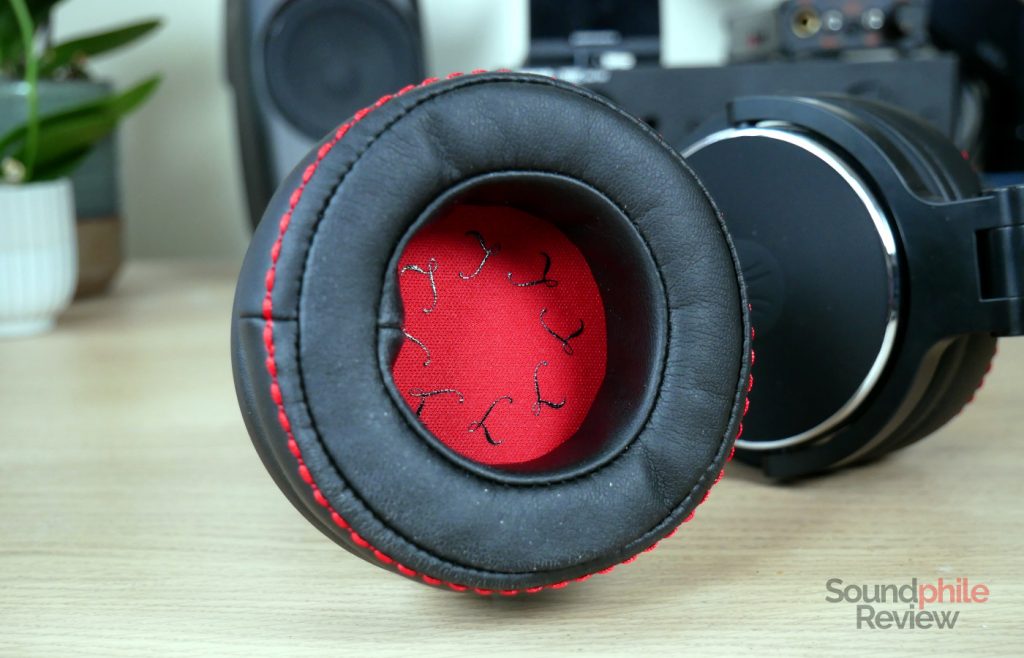 Build quality is in general decent, especially for the sub-$40 price point the Pro-50 are sold at. They don't look nor feel especially solid or durable, but they don't feel flimsy or bad quality either. They're entirely in line with expectations.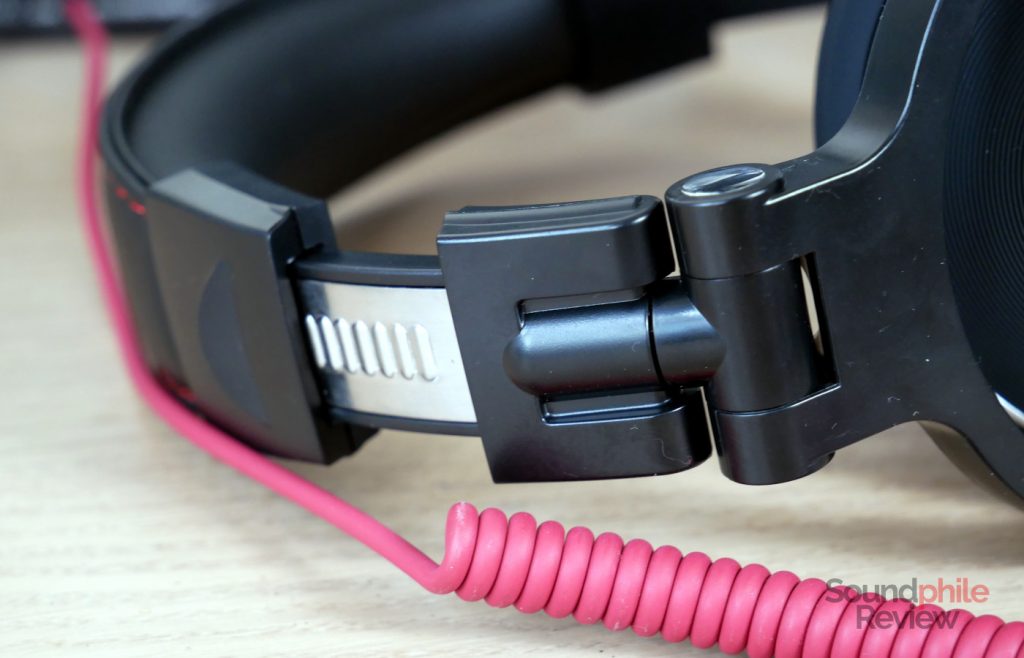 One good thing about the plastic is that it's incredibly lightweight: the headphones without the cable weigh in at just [] g. This, together with the generous padding in both the headband and the earpads, makes the Pro-50 quite comfortable even during longer listening sessions.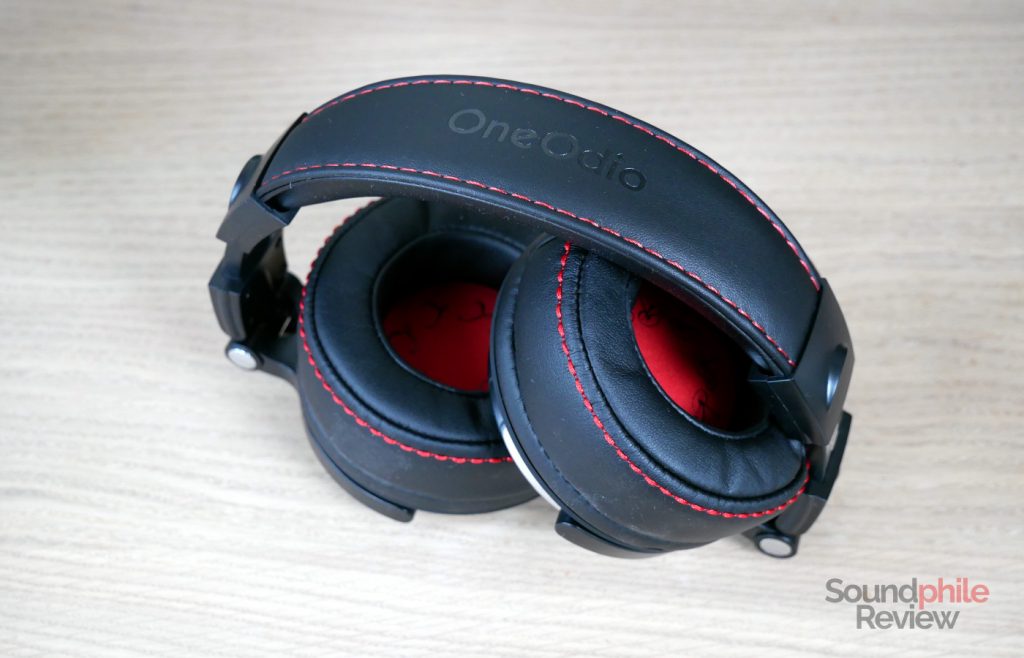 Isolation is, however, nearly non-existent, so it's always easy to hear what's around you even when you increase the volume. These headphones are not quite what I would use as a DJ, considering what some friends told me about requirements in such a setting, despite them being squarely target at DJs.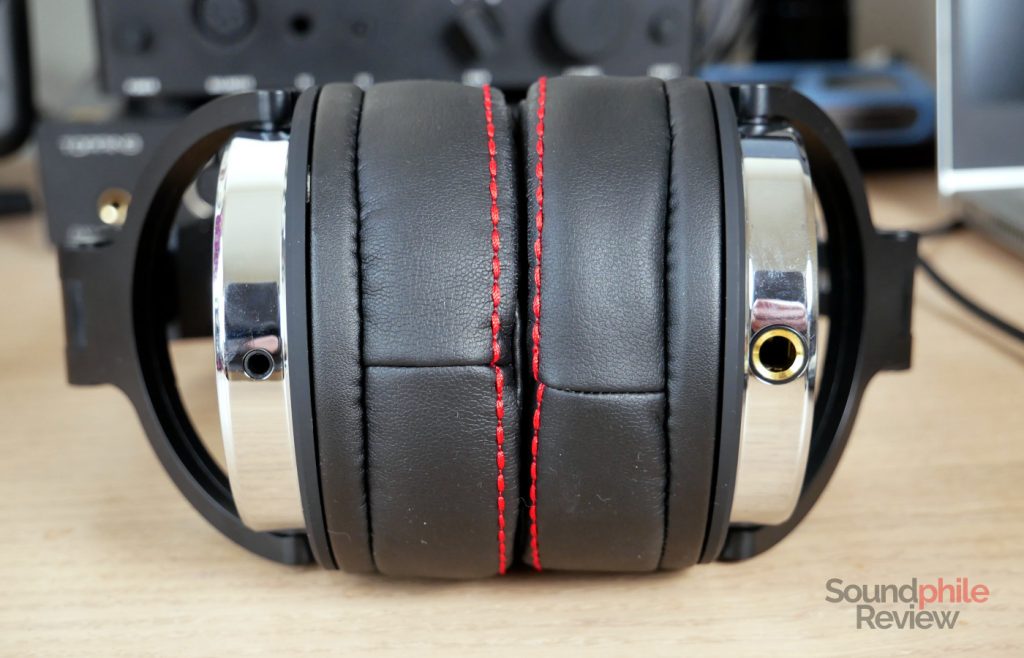 What I really love about the OneOdio Pro-50 is their cable as it's just downright ingenious. You know when you are looking for that 3.5 mm to 6.3 mm adapter and you can't find it? Or when you have a 6.3 mm jack and a device with a 3.5 mm output? The Pro-50 solve this elegantly with a 3.5 mm input on the earcup on the right hand side and a 6.3 mm input on the left hand side. You just take the cable, plug it in with whatever jack you need in your source, and then plug the other jack in to the headphones. That's quite a clever solution!
Now, the cables themselves are very decent for the price: the 6.3 mm to 3.5 mm one has a coil near the 6.3 mm jack and is otherwise relatively soft and malleable, with little microphonics; it is about 2 m long without extending the coil. The other cable is ~1.2 m in length and makes use of the same plastic for the sleeve.
Sound & Specs
I tested the OneOdio Pro-50 using a Shanling UA2 with my notebook computer, while files were mostly FLACs ripped from CDs.
| | |
| --- | --- |
| Frequency response | 20 – 40,000 Hz |
| Impedance | 32 Ω |
| Sensitivity | 110 dB |
The OneOdio Pro-50 are quite far from the usual "studio" headphones that strive for some form of neutrality, instead opting for a much more consumer-orientated V-shaped signature. They use a 50 mm dual-diaphragm driver which is easy to drive at 32 Ω impedance and 110 dB sensitivity (in fact I've seen earbuds that were much harder to drive).
Bass is massive, so much so that it becomes overwhelming. OneOdio writes "bass that you can measure in goosebumps" in their marketing material and… I mean, they have a point, I guess? If you are looking for an unrelenting assault on your ears, for bass that blasts you and becomes absolutely dominant, the Pro-50 are the right headphones. This quantity surely is fun to listen to, especially if you listen to electronic music. It must be said, though, that's not especially physical nor especially good quality; it is in fact lacking in control and tends to dominate everything else, leaking massively over mids and making the sound dark. Detail is quite decent, but it is reduced more and more as the track becomes more complex.
Midrange is really recessed, so much so that it's sometimes hard to hear. The Pro-50 are definitely not headphones for people who like to listen to vocals or acoustic instruments. The mids sound compressed, distant and lacking clarity. While the details are there, they're hard to reach and require your to make an extra effort to hear them. There's a dip in the middle and in the upper area which also makes mids not only warm, but lacking in presence and in the ability to render voices and instruments with the right tonality – it sounds like something is off.
Treble is quite aggressive, especially in the lower region: while it's not downright piercing or harsh, over several minutes of listening I can feel a growing sense of discomfort and fatigue. There's a moderate level of detail, which is still quite impressive given the price range. Extension is very limited though, with the middle and upper region being all but non-existent.
I would love to include a comparison, but I currently don't have any comparably priced headphones with me.
Final Thoughts
At around £40, The OneOdio Pro-50 can be considered good for the price they're sold at, but they're no miracle. Although they are well-built and have a truly ingenious cable system, they have a sound signature which is quite polarising – and, more importantly, they have flaws that make them difficult to recommend, as their bass is just too dominant and their treble just too aggressive for them to deliver the balance that is necessary to render music correctly.