The ultra-portable segment of the audiophile market amazes me more and more with each new product release. The latest surprising product I've tried is the Shanling UA2, a larger and more powerful version of the UA1. Aimed at being the audio companion of your smartphone, tablet, PC, or even game console, the UA2 has a very decent power output while being smaller than my thumb. This Lilliputian-sized device surely has a lot to offer.
Disclaimer: the UA2 was sent to me free of charge by Frankie at Shanling. It retails for $85. Additional info is available on the official product page.
TL;DR: recap
Pros




Cons

+ Very compact and well-built design

+ Balanced output

+ Nintendo Switch mode

+ Support for extreme-hi-res formats

+ High power output

– Weird volume behaviour under Linux
Rating: 9.5/10
Packaging & Accessories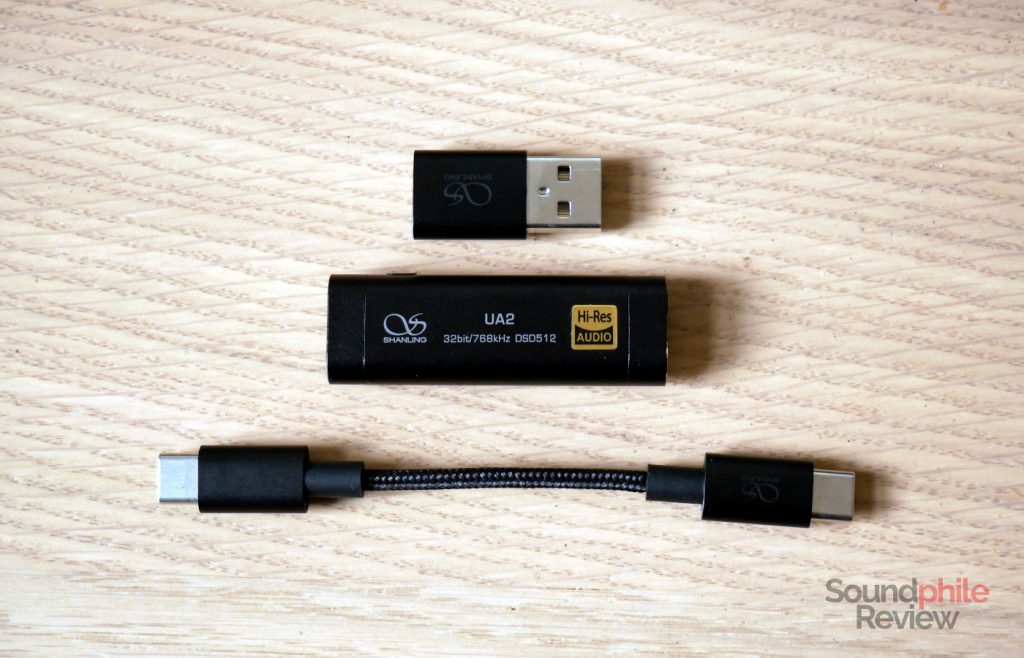 Shanling kept things simple with the UA2: inside the package you can find the device itself, a ~10 cm USB-C to USB-C cable and a small USB-C to USB-A adapter, so that you can use the device with computers or other devices with a USB-A output port. Although there's already one factory-applied on the device, the package contains two additional Hi-Res Audio stickers.
Design & Build
The Shanling UA2 sits firmly in the realm of DAC/amps made for phones and other similarly portable devices from a design perspective: it's basically a small slab of metal with rounded edges and connectors on the two smaller sides. The only distinctive element is the writing on one side, with faint white lettering informing you that this is the Shanling UA2 and that it is capable of reproducing hi-res music (the lettering is actually more subdued in person than in the pictures, for some reason).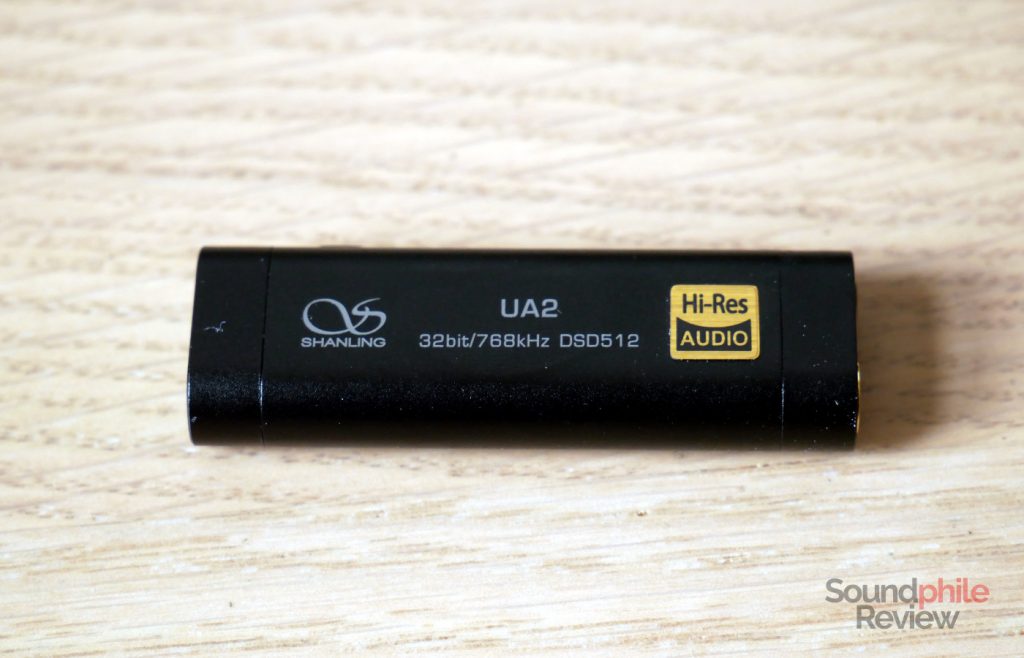 Contrary to the UA1, the Shanling UA2 has a removable cable. This has the great advantage of letting you choose the cable you prefer or need: the one included in the box is of high quality, but you may want to use a USB-A to USB-C cable, or one that is Lightning to USB-C in case you want to use the UA2 with an iPhone. This also has an effect on the design: the Shanling UA2 is small and flat, with round edges that make sure it won't scratch your precious devices (or tear a hole in your pockets, for that matter). The only peculiarity is the "mode" button on one side that switches between the "normal" mode and the Nintendo Switch mode.
There are two jack connectors: one is 3.5 mm and supports unbalanced devices (although it does support headphones with a microphone and a TRRS jack), the other one is 2.5 mm for balanced headphones. There is a status LED between the jack connectors that lights up in various colours to inform you of the type of stream being played (e.g. DSD64, 44.1 kHz PCM, etc).
Shanling buit the UA2 entirely out of metal, with no plastic in sight: even the cable housings are made of metal. This bestows upon the device a feel of durability and quality that no plastic can give.
Features & Specs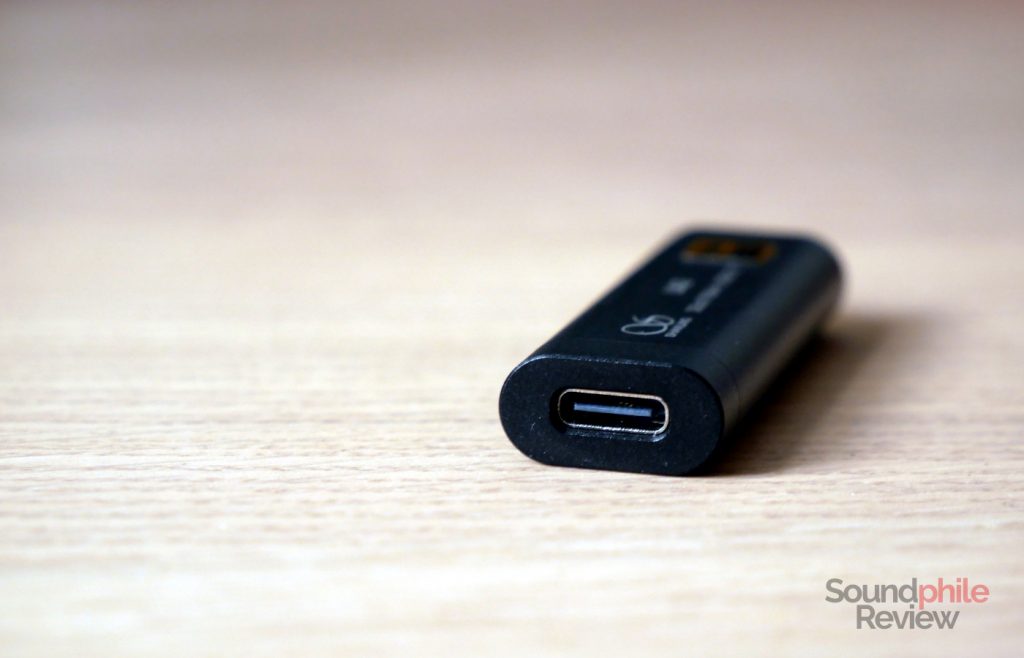 The Shanling UA2 comes with a special Nintendo Switch mode: as many people want an audio device able to drive their headphones while using the portable console, more and more manufacturers of audio gear are turning to this market. The UA2 is actually the first device with such a mode that I happen to see; it basically switches to the older USB Audio Class 1.0 protocol, so it's still fully compatible with computers and smartphones, but it's limited to CD-quality audio (16 bit, 44.1/48 kHz).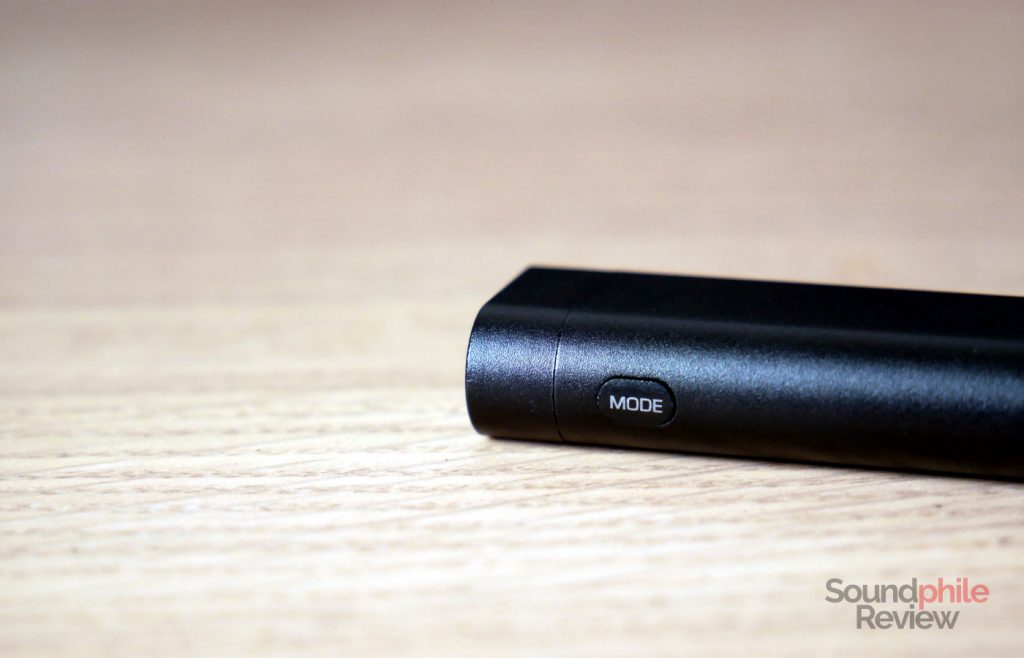 Speaking of compatibility, the Shanling UA2 runs fine with practically every operating system out there. The only issue I can report is that the volume seems to do some random things under Linux: it starts playing sounds around 10%, but then it reaches maximum output around 20% and goes back to no volume right after that. I found this out the hard way, as I lowered the volume from the default 100% to the usual 10-15%… only to find my ears blown out by the terribly high volume.
Input
USB (up to 32 bit / 768 kHz PCM/DXD, DSD512)
Suitable headphones impedance
N/A
Output impedance
0.8 Ω (single-ended)
1.6 Ω (balanced)
Maximum output power
125 mW (32 Ω, single-ended)
195 mW (32 Ω, balanced)
Frequency response
20 – 50,000 Hz (- 0.5 dB)
THD+N (@1 kHz)
0.0008%
SNR
121 dB (single-ended)
116 dB (balanced)
Crosstalk
76 dB (single-ended)
120 dB (balanced)
Shanling does not indicate what headphones are suitable for use, but the relatively low power output (in the grand scheme of things) means you won't be able to power 600 Ω headphones to deafening levels. Still, on a more relative level, the power output is quite large for a device this small and this allows you to drive most headphones without issues: to put things more into perspective, the UA2 has a power output that's close to the M2X. Shanling opted or an ESS Sabre ES9038Q2M DAC and a Ricore RT6863 amplifier. The latter chip is quite hard to find online and there's little information available on it. It appears to be used in the very well-reviewed Khadas Tone Board, but there's not much else and I find it amusing that it's even unclear where the company hails from, though there are strong clues they're Chinese (though it doesn't really matter, to be honest). It seems like the UA2 is the one product that has popularised this chip, though, as almost every single result on Google points to the UA2.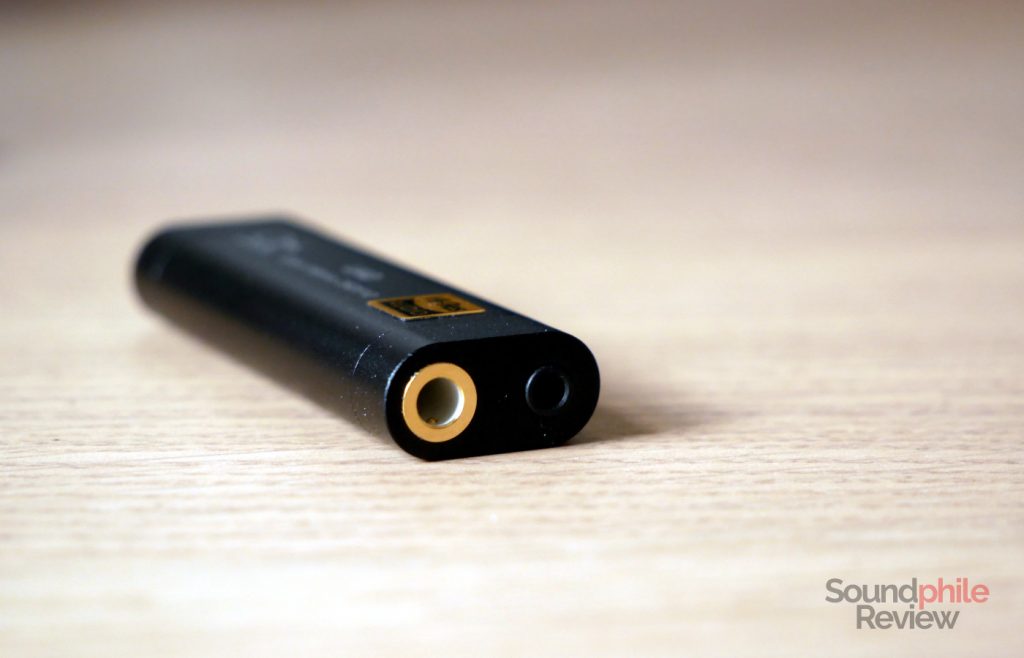 One thing I really like about the Shanling UA2 is its compatibility with most formats out there: not only does it support extreme high-res PCM, but also DSD512, so you can make the most of your music collection without requiring an external device. The only format that's not supported is MQA, but that's hardly a huge issue.
I also really appreciate the presence of the balanced output: although it does not bring any difference in sound quality, it does offer you the ability to use headphones with a 2.5 mm jack and to have more power available, both of which are quite useful features.
Software
Shanling introduced the new Eddict Player with the launch of the UA2. Although the name appears to be a weird combination of "addict" and "edict" (an addict to edicts? an edict for addicts?), the app is actually quite fine. The app is only available for Android, I guess due to limitations in iOS. It allows you to play music and also set a few different things on the UA2, including equalisation (through a 5-band equaliser), gain (high/low) and volume.
Sound
I tested the Shanling UA2 using various headphones, including the HiFiMAN Ananda, the Shanling ME80 and the Sennheiser HD 6XX.
Although it is powered directly through the noisy USB interface, the UA2 is actually quite notably devoid of any background hiss, hum or other form of background noise, leaving only music to the listener.
As far as sound is concerned, I find the Shanling UA2 to be quite flexible as it can drive most headphones to their best, whatever their sound signature is. That's because it's (almost?) perfectly neutral in its frequency response, so it can actually pair up with practically anything without letting its own signature get in the way. It pairs well with both the bright Ananda and the warm 99 Classics. I can't hear any discernible difference between this unit and other sources.
I can't hear any difference whatsoever between the single-ended and the balanced connectors; in fact they both sound the same. The only major difference is the larger power output of the balanced connector: in this case you might hear a difference when using high-impedance dynamic headphones, as the larger power output can probably better compensate the fluctuations in the impedance of the headphones, therefore making them sound better (or, more appropriately, closer to their real signature).
Final Thoughts
The Shanling UA2 is among the few portable DAC/amps to feature a dedicated amplifier stage and a balanced output together with a single-ended one. This makes it quite versatile and useful, and even more so once we factor in the compatibility with practically every hi-res format out there including the DSD512, once domain of hi-end, bulky desktop devices. But we're in the era of portable things and the Shanling UA2 is a masterful example of how much things have progressed on this front, with enough power output to drive most headphones and a flexibility that's second to no-one. This could easily be the one and only DAC for most people as it covers all the bases from desktop to ultra-portable. Shanling really shows what can be achieved with modern technology and goes on to prove once and for all that it's not about how big your DAC is, but how well you design it.