The Shanling UA1 is small, but bold, and you can tell that just by looking at it. This diminutive device has quite a few features that make it rather versatile and useful, from support of hi-res music to a very decent power output.
Disclaimer: I received this unit free of charge directly from Shanling. Additional info is available on their website.
Packaging & Accessories
The Shanling UA1 comes in a rather simple cardboard box which holds the device itself, a USB-C to USB-A adapter and a manual. It's a simple set of accessories, but there's everything you need so it works quite well.
Design & Build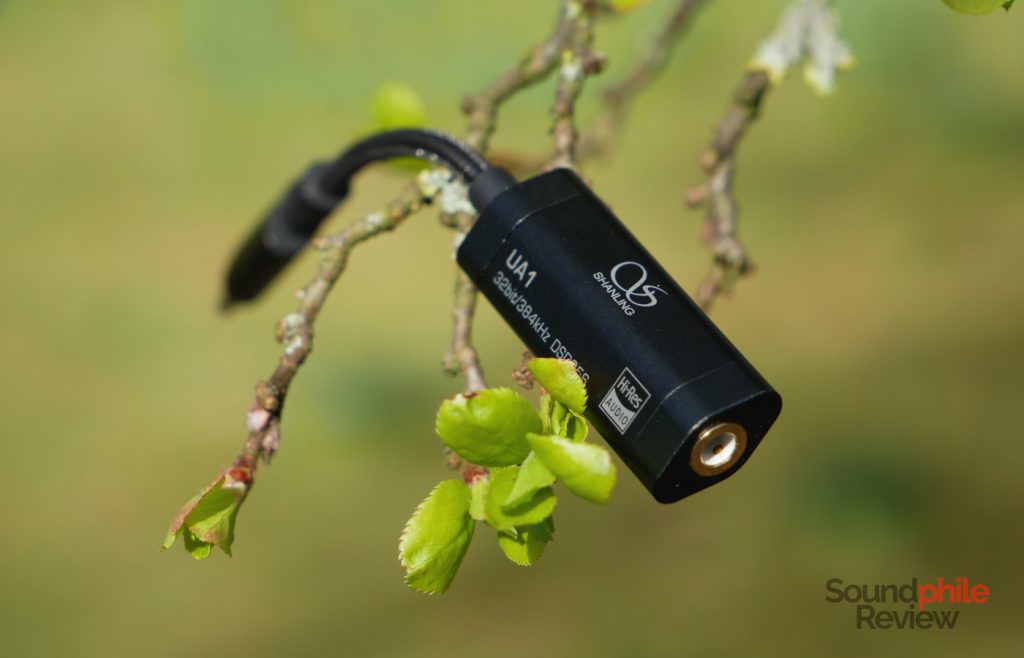 The Shanling UA1 looks like most of the competitors: it is a small USB dongle with a non-removable cable, so it is quite close in design to other products on the market such as the Audirect Beam 2S or the Zorloo Ztella. Its peculiarity is the rhomboidal section of the jack housing, which sets it apart from all other devices on the market. It looks quite great honestly, with a certain understated elegance also afforded by the marks and logos on one side – they're barely noticeable, despite appearing quite prominent in the pictures, and this contributes to the overall good looks of the device. The small size and low weight (~8 g) make the Shanling UA1 extremely portable and easy to use with any phone, tablet, laptop or DAP.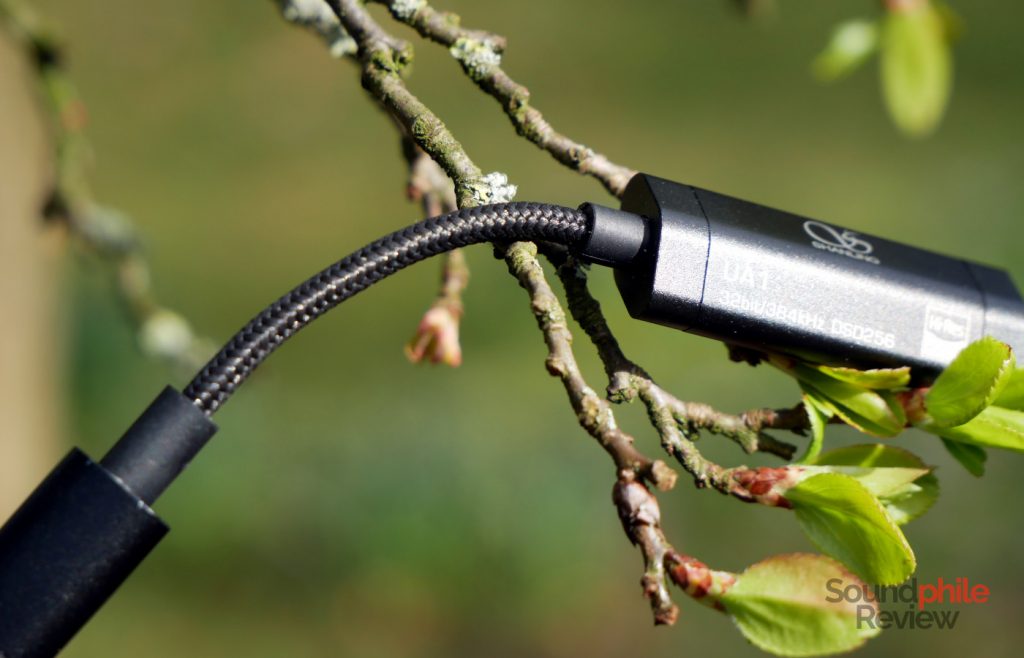 The housings are made of metal (presumably aluminium) and they have plastic strain reliefs at both ends of the cable; unfortunately the material chosen for the reliefs is quite hard and only manages to move the strain further towards the centre of the cable, instead of removing it altogether. The cable itself is sleeved in braided fabric and feels well-made.
A notable detail is that Shanling used cotton as shielding. No, seriously! The electronics are shielded using cotton which, I have to admit, I didn't know was capable of such tricks. In the intentions of the company, this shielding should provide with better resistance to interferences such as those caused by a phone connecting to the cellular network, and I can attest this is actually true and the listening experience is interference-free.
There is a small status LED beside the 3.5 mm jack output: it lights up whenever you connect headphones so you know the device is actually working.
Specs & Features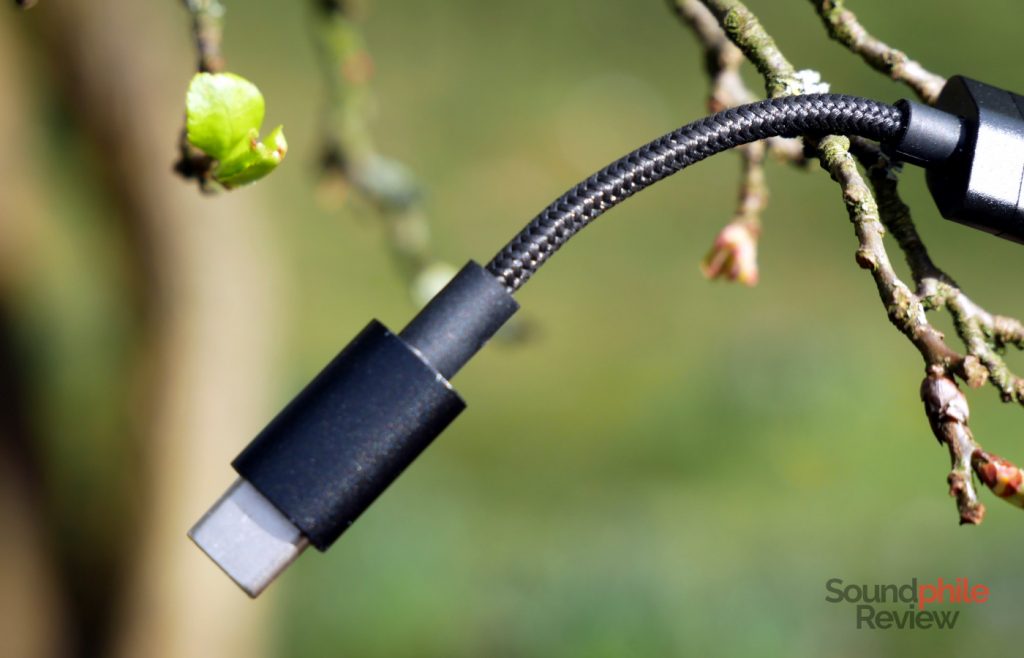 The unit doesn't show up among available audio devices unless a headphone is plugged in. Shanling thought of this method so that you can leave the device plugged in to your source without draining your battery – quite a smart trick! The Shanling UA1 requires no drivers on Windows 10, macOS and Linux, while other OSes might need them. Android is obviously exempt from drivers.
| | |
| --- | --- |
| Input | USB (up to 32 bit / 384 kHz PCM/DXD, DSD256) |
| Suitable headphones impedance | N/A |
| Output impedance | < 0.5 Ω |
| Maximum output power | 80 mW (32 Ω) |
| Frequency response | 20 – 50,000 Hz (- 0.5 dB) |
| THD+N (@1 kHz) | 0.001% |
| SNR | > 119 dB |
| Crosstalk | 77 dB |
With 80 mW at 32 Ω, the Shanling UA1 is quite powerful for its price and size class. It's still distant from the heavyweight champions like the Creative SXFi AMP, but it is still quite great and allows you to drive almost all but the hardest-to-drive headphones. It still lags behind the competition, though, which often offers double the power or more. The UA1 uses the ESS ES9218P DAC chip and its embedded amplification. It supports high-res PCM files as well as DSD, but not MQA.
Software
Shanling provides Android users with the Shanling Music app, which is available free of charge on the Google Play Store. It is a full music player app with some rather interesting capabilities such as connecting to a NAS and transferring files through WiFi, but most importantly for this review it is also able to control the UA1. It offers various controls including volume, filter, gain and channel balance. Available filters are linear phase fast roll-off, linear phase slow roll-of, minimum phase fast roll-off, minimum phase slow roll-off, apodizing fast roll-off type 1, apodizing fast roll-off type 2, hybrid fast roll-off and brick wall. As far as I've understood, it doesn't allow you to update the firmware of the UA1.
Sound
I tested the Shanling UA1 mainly using the Thieaudio Legacy 4, the Moondrop A8 and the Sennheiser HD 6XX.
The first thing I noticed with the Shanling UA1 is that it is entirely silent. There is no hiss, hum, rustle or other background noise. That holds true even when using earphones with very low impedance and high sensitivity, like the Legacy 4.
As you can probably imagine, hearing any significant differences between the UA1 and other DAC/amps is quite challenging. In fact I would say that it sounds quite neutral and that it doesn't introduce any kind of colouration to the sound, so that what you hear is actually your earphones and not the DAC or amp – quite a good thing, if you ask me.
Despite the small size and the low power output, the UA1 was able to drive my HD 6XX to decent volume without much effort. Bass is ever-so-slightly recessed compared to more powerful amplifiers, but it's a subtle difference.
Final Thoughts
The Shanling UA1 proves how far the ultra-portable segment has come in terms of what it's able to offer. If you are looking for something truly portable, it is a very good alternative to more expensive and larger solutions as it is able to drive even demanding headphone with good authority and with very good overall effect. I absolutely love the fact that these devices are (relatively speaking) cheap, yet they allow you to experience music at its best whether you are using a computer, a tablet, a phone or any other compatible device as your source. The UA1 is a marvellous device that has a lot to offer for its price and size and a great pen-sized DAC for your portable needs. It's surely going to be a great companion, whether you just need to go out for a walk or travel around the world (when that will finally be possible again!).