Even the most purist among audiophiles admit that Bluetooth is quite convenient. It's no surprise then that an increasing amount of companies is offering Bluetooth adapters that allow you to use your existing wired headphones with the wireless standard, thereby allowing you to take advantage of the best of both worlds. Shanling has been active for some time on this front and the latest device they've introduced is their flagship Bluetooth DAC/amp: the Shanling UP5. Taking the best of the previous adapters and expanding it, the UP5 turns out to be quite a great companion for the audiophile on the move (or who simply wants to make their headphones wireless).
Disclaimer: a big "thank you" to Frankie at Shanling for providing this unit free of charge. The UP5 sells for ~$100. Additional info on the official website.
TL;DR: recap
Pros




Cons

Well designed and built

Long battery life

Supports practically all Bluetooth codecs

Balanced output, both 2.5 mm and 4.4 mm

Good power output

Volume wheels may be difficult to operate with large thumbs

A bit pricey compared to the UP4
Rating: 8.5/10
Packaging & Accessories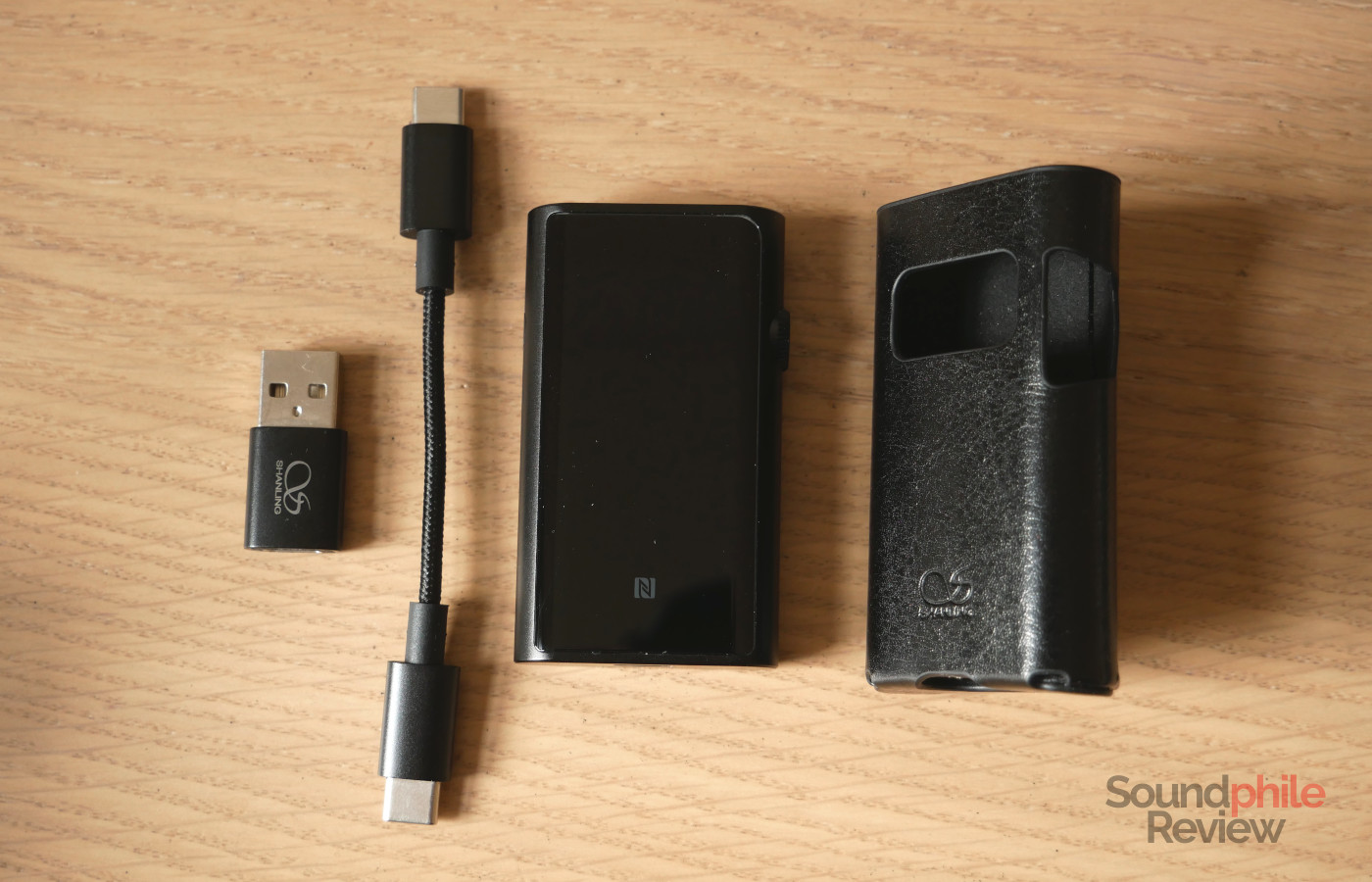 The UP5 features the usual box from Shanling with a book-like opening mechanism held in place by magnets; inside it you can find the UP5 as well as a USB-C to USB-C cable and a USB-C to USB-A adapter, plus a nice faux leather case. It's a bit small and it requires some patience to fit the device in it, but it's quite well built and elegant and it has a belt loop with a button that clicks it in place.
Design & Build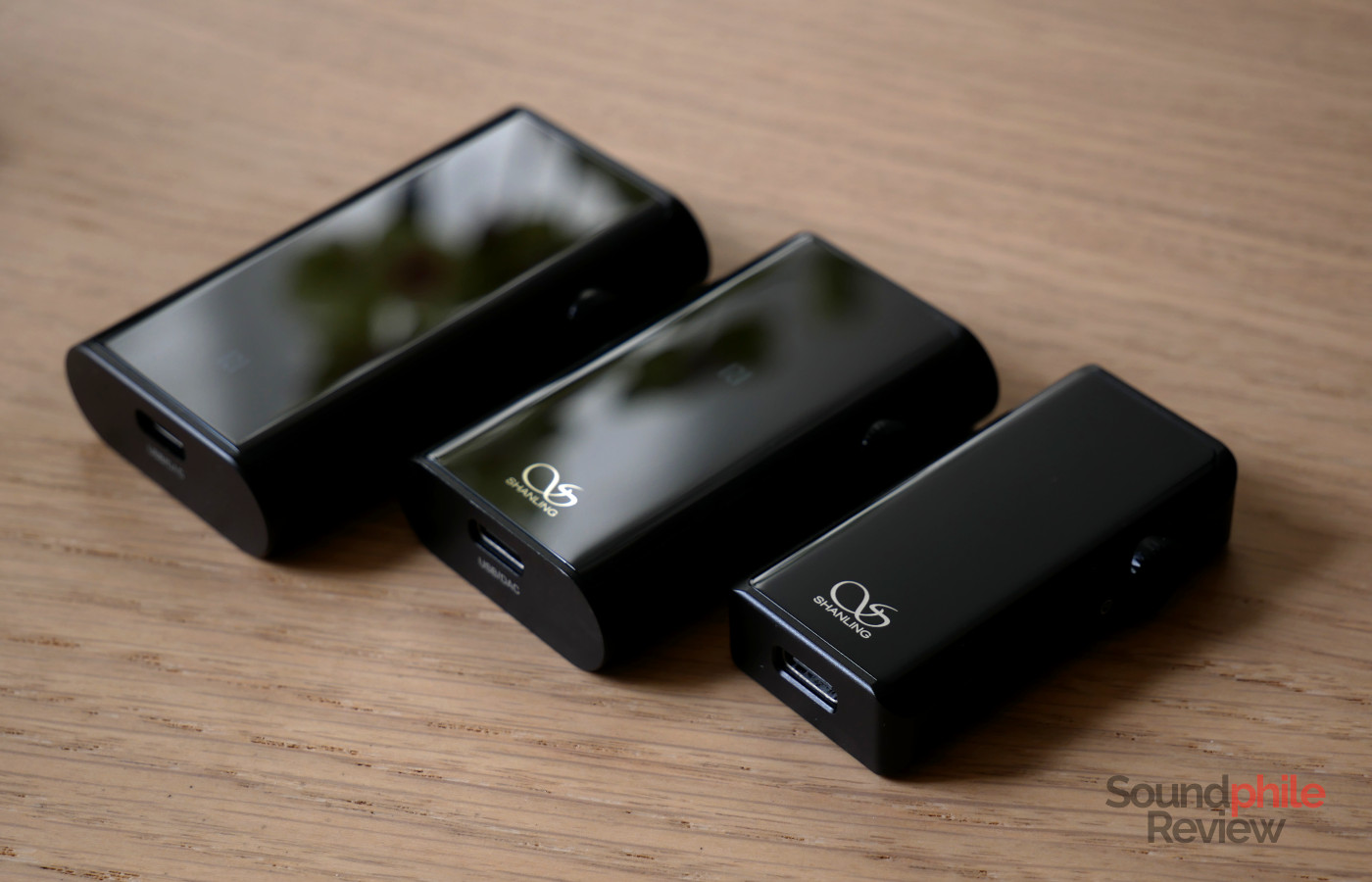 From an aesthetic point of view, the Shanling UP5 is basically a bigger version of the previous models, the UP2 and the UP4 (in the picture, from left to right: UP5, UP4, UP2). It uses the same mixture of glass and metal, with glass on the front and the back of the device and metal that constitutes the frame. It keeps the same rounded sides as previous models, while the fact that it's wider makes it look even more elegant to me.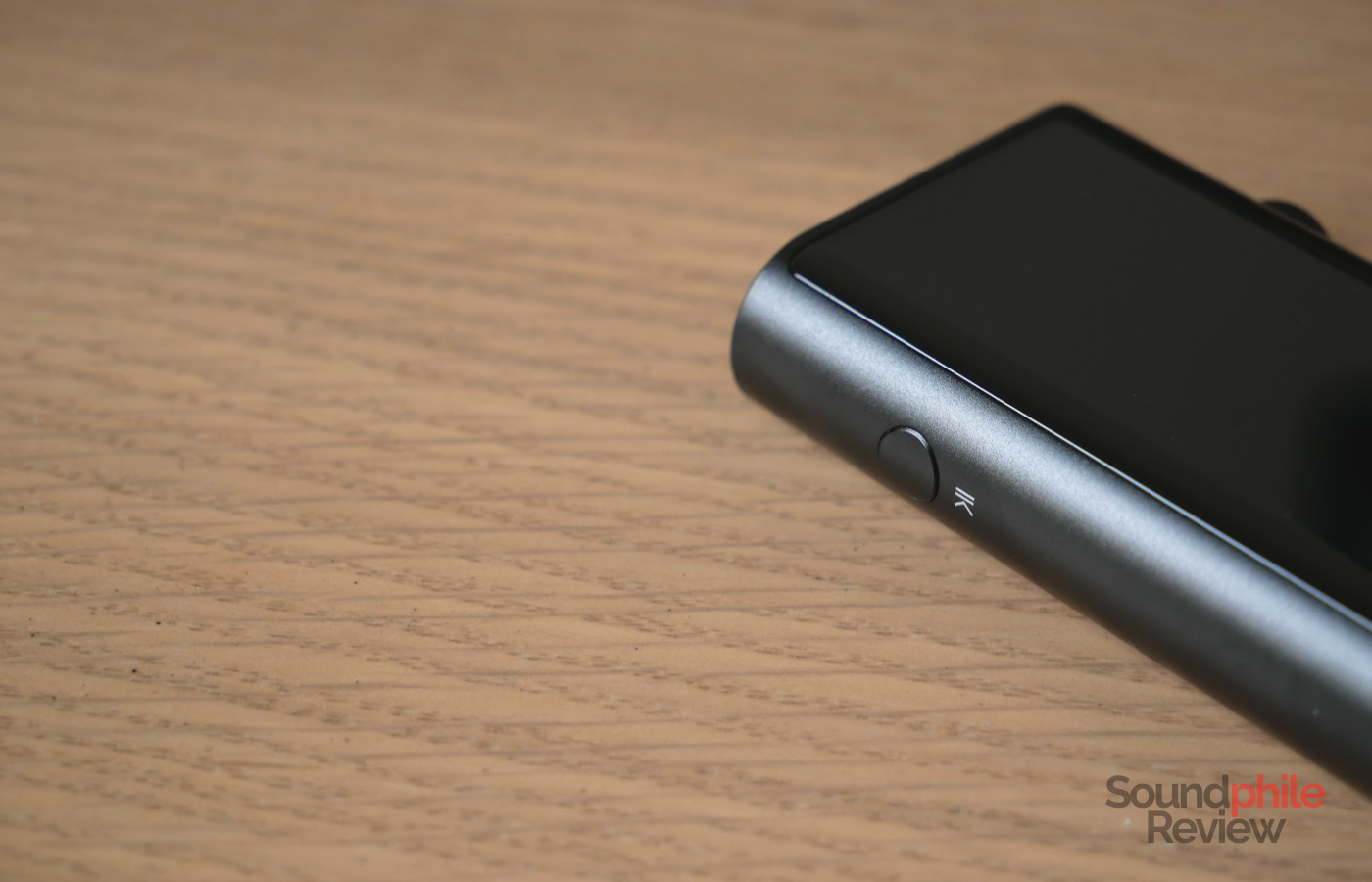 With a size of just 68 x 39 x 14.5 mm and a weight of a mere 50 g, the UP5 surely is pocketable. It is so small and light that you can barely feel it in the pocket of your trousers, and it simply disappears if you put it in your jacket.
The largest innovation is the presence of a black and white OLED screen that gives you a clear idea of the state of the device: it tells you the current volume level, whether it is connected to a device, the battery level and the codec in use. It is moderately bright, but enough for you to see it in plain daylight at its maximum setting; there are five brightness levels, so you can set it to your preference.
There's the volume wheel on the right hand side, a play/pause button on the left hand side, a USB-C port on the bottom and three jacks on top: there's 3.5 mm unbalanced, 4.4 mm balanced and 2.5 mm balanced outputs. There's also an NFC chip on the front.
I find the Shanling UP5 to be exquisitely built. Metal and glass surely lend it a premium look and feel, but they're used masterfully and assembled without any visible flaws.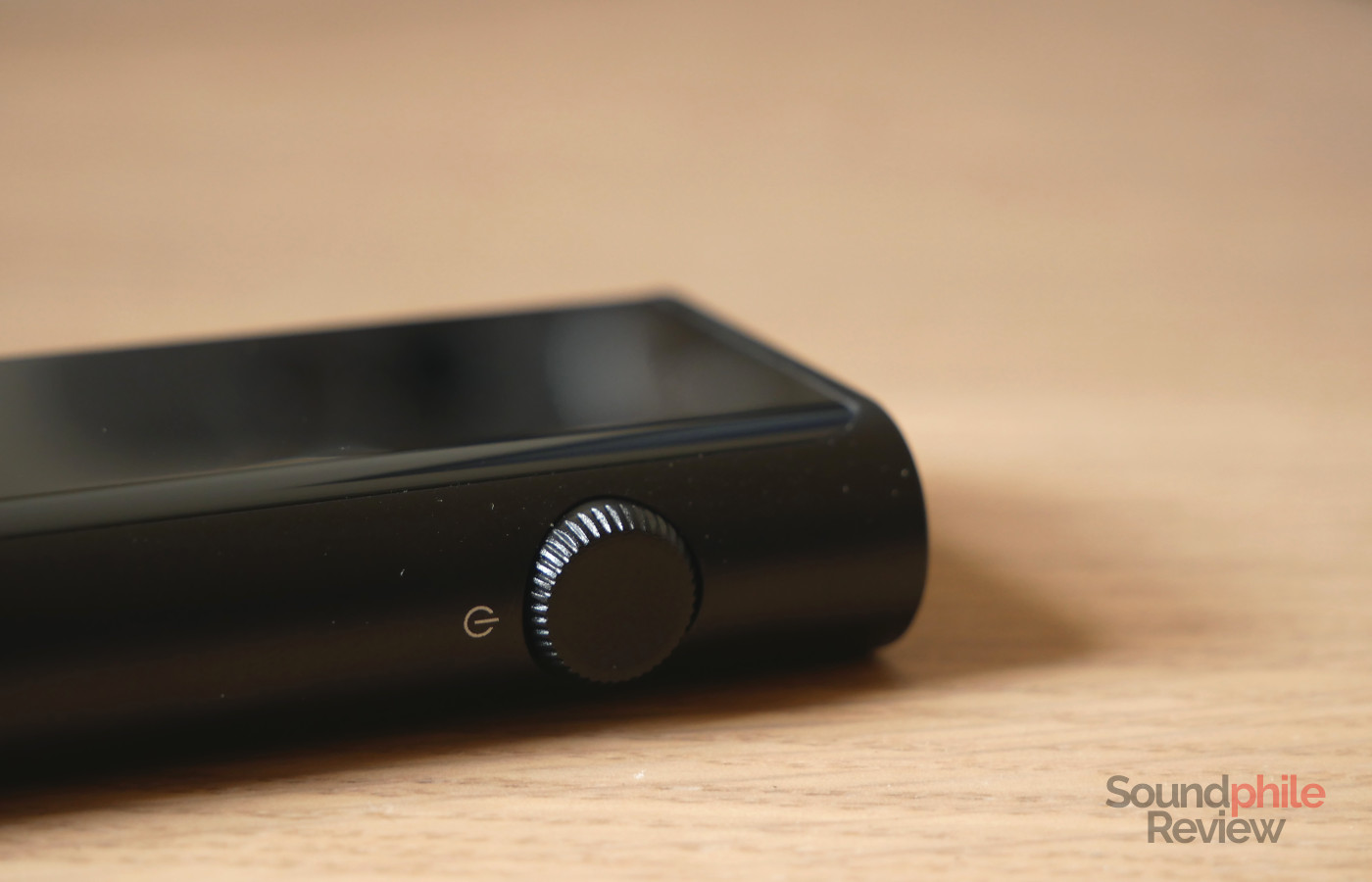 Just like in other Shanling devices, the volume wheel is clicky and is not really a knob, so you can turn it infinitely. It can be pushed in to power on and off the UP5 if you keep it pressed, as well as turn the screen on and off and select options in the menu with a single press. It works quite well as you have an immediate tactile feedback of the turning, so you can operate it even when the device is in your pocket and you're not looking at it.
Features & Specs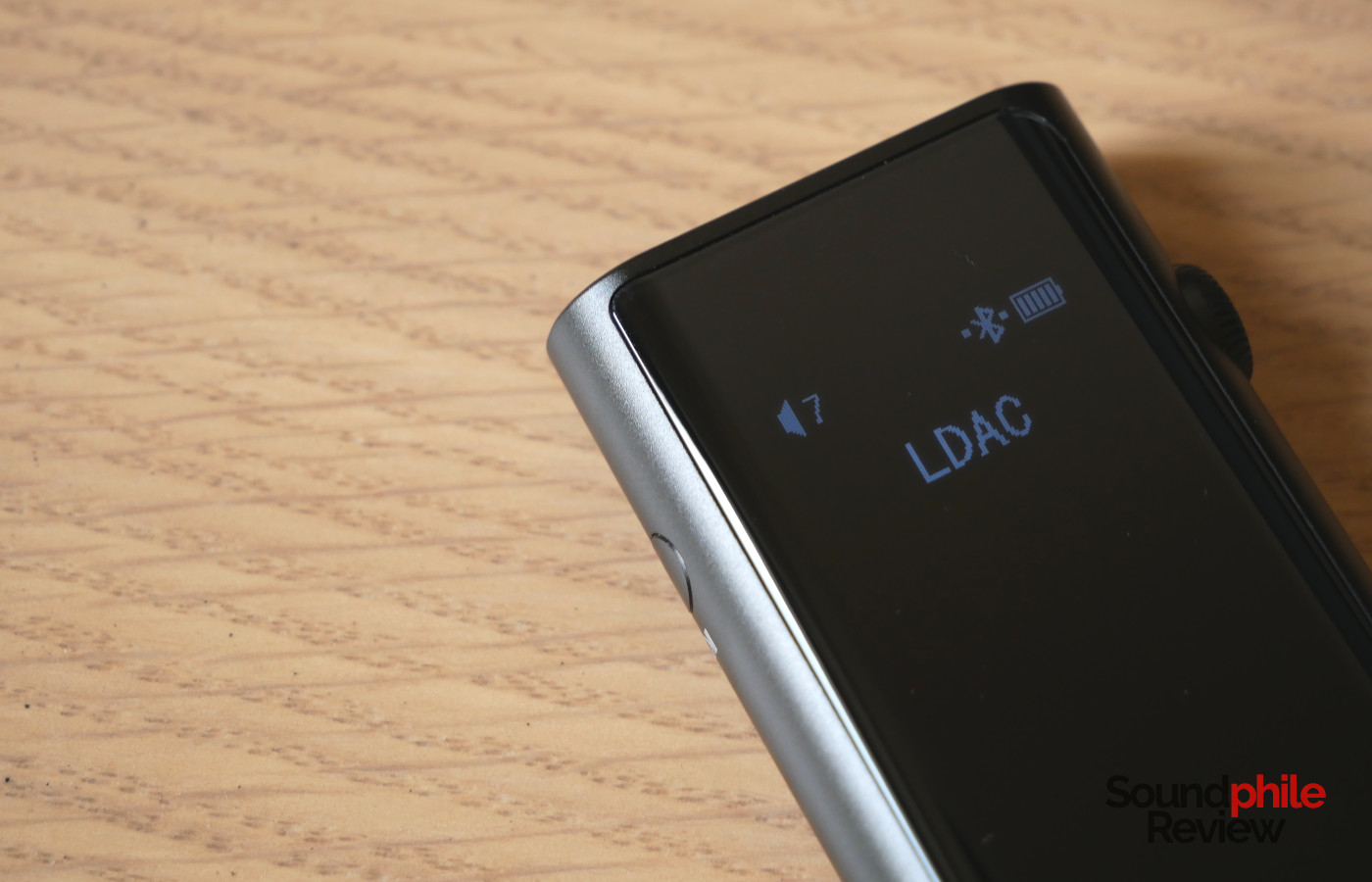 Shanling chose the Qualcomm QCC5120 as the chip that takes care of managing Bluetooth, thus enabling compatibility with a variety of codecs: the UP5 supports SBC, AAC, aptX, aptX low latency, aptX HD, LHDC and LDAC. The connection is quite good and proves stable even in difficult environments with lots of devices using Bluetooth and WiFi, with a decent range as well. I find it quite great that Shanling enabled the possibility to have two connections active at the same time. This way you can, as an example, connect both your computer and your phone so that when you receive a call you can answer it without having to take your headphones off. Just like the UP4 before it, the UP5 features an NFC chip, so pairing it to an Android device should be a completely frictionless experience.
Not only can you use the UP5 with Bluetooth, you can also use USB. It uses an XMOS XU208 chip, which allows it to offer 32 bit, 384 kHz PCM playback as well as DSD256. The UP5 is also the first in its line-up to also offer MQA playback as a renderer.
The volume is decoupled from the source, so you can adjust it independently (which I find quite useful, as often I can't get it low enough). The UP5 boots with a volume of 32 out of 64; this value can be set in the menu to any that you like. The other settings include gain (low or high), DAC (dual or single), filter (linear or apodizing), equaliser (with a large variety of  presets: pop, ballad, jazz, rock, classical, custom, blues), UAC, car mode, charging (more on that later) and screen brightness. One interesting bit is that the UP5 disconnected from my computer after I opened the menu and I had to reboot it for it to connect to the PC again.
There's a microphone included which works decently well if you are in a quiet environment.
I haven't had any issues making the UP5 work on Linux and it does work on Windows and macOS without problems as well, although you need to install drivers for it to work in USB Audio Class 2 on Windows. The fact that you can select it to use USB Audio Class 1 makes it possible to use it with consoles such as the Nintendo Switch.
Input
USB (up to 32 bit / 384 kHz PCM, DSD256, MQA)

Bluetooth 5.0 (SBC, AAC, aptX, aptX LL, aptX HD, LDAC and LHDC)

Suitable headphones impedance
N/A
Output impedance
N/A
Maximum output power
Single-ended output:

90 mW (32 Ω, single-DAC mode)
112 mW (32 Ω, Dual DAC mode)

Balanced:

Frequency response
N/A
THD+N (@1 kHz)
0.0018% (LDAC)

0.0035% (other codecs)

SNR
120 dB
Crosstalk
70 dB (single-ended)
108 dB (balanced)
Shanling adopted the ESS ES9219C DAC in a dual configuration (in order to provide balanced output); its amplification stage is the only one used, hence the fact that the "dual DAC" setting gives you more output power than the "single DAC" setting.
Power output is not as generous as other similar devices (e.g. EarStudio ES100), but it is enough to drive most headphones with low to mid impedance.
Battery Life
Battery life is quite good, as it gets to 10 hours using the LDAC codec and the 3.5 mm unbalanced output with dual DAC mode enabled. Using other codecs, such as aptX or AAC, can prolong battery life to about 14 hours, while using a balanced output further shortens it to about 9 hours.
Just like the UP4, the UP5 offers a standby mode that kicks in after 2 minutes of idle; you just need to press the volume wheel for it to exit sleep and connect to your device again. Shanling says the UP5 can stay in this standby state for up to 100 hours (about four days).
As the Shanling UP5 is designed to be used with portable devices such as phones, tablets and consoles like the Switch, it is possible to disable charging when connected through USB: this way you can use the UP5 without draining the battery of your device.
There's also a car mode that makes the device turn on as soon as power is detected, so that you can leave the Shanling UP5 in your car and your phone will automatically connect to it.
Sound
I tested the UP5 using the Moondrop A8, the Fearless Audio S10 Genie, the HiFiMAN Arya and the Sennheiser HD 6XX.
As expected, the Shanling UP5 sounds great. I can't hear any deviation from neutrality and the device offers enough power to drive most headphones to their full potential, with the same kind of sonic performance that you would expect from a full-size desktop device. There are exceptions, as high-impedance dynamic headphones will suffer a bit, but overall the UP5 is more than satisfying in its performance. Even the Arya, which are fairly demanding as planar headphones, have no issues whatsoever and sound just as good as they do with my desktop setup.
The background is also perfectly clean and devoid of any hiss or hum, even when using low-impedance, high-sensitivity earphones, so you won't need any devices like the iFi IEMatch.
Final Thoughts
The Shanling UP5 is a bigger, better, more powerful and more versatile edition of the UP4 – which already was a great device in its own right. It improves on a few points that set it apart from a usability perspective: the OLED screen is the proverbial cherry on top of the cake, which is already quite yummy with the addition of a play/pause button as well as a 4.4 mm jack output. In the end there's not much I can say about the UP5 to sum it up, because it's such a great little device its pros are self-evident. The only possible issue is the price: it is almost double that of the UP4 for what amounts to improvements that not everyone might need, so I think that the value proposition of the UP5 is slightly lower than that of the UP4 – it's still rather high though, hence my recommendation for this device!