Size does not always matter. In fact the Shanling UP2 is diminutive in size, yet it is a compelling device for audiophiles and non-audiophiles alike. As a Bluetooth adapter that can also work as a micro-DAC through USB, the Shanling UP2 is one of those devices that one wants to always carry around – not only is it so small it fits in any pocket, it is also a joy to use.
Disclaimer: I would like to thank Frankie at Shanling for sending me a complimentary unit to write this review. Additional information is available by clicking here. Official retail price for the UP2 is $79.

TL;DR: recap
Pros




Cons

Well-built

Super portable

Vast selection of codecs

Stable Bluetooth connection

Low power output

Relatively low Bluetooth range
Rating: 7.8/10
Packaging & Accessories
There's a full unboxing article for the UP2 – enjoy it! A quick recap: the box holds the player, a clip case and a USB to USB Type-C cable.
Design & Build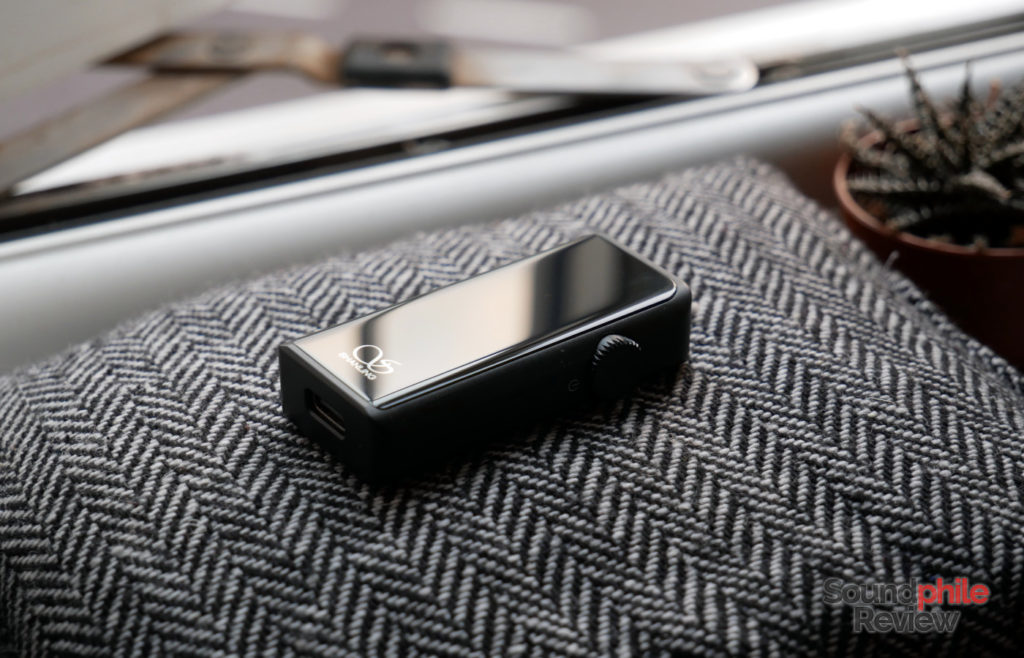 The Shanling UP2 appears like a small DAP by the brand – it has all the design elements that characterise Shanling products such as front and back panels made of glass, a bevelled frame and a small volume wheel on the upper right side. It's really like a miniature Shanling M2X. The unit I got is all coloured black, as unlike other Shanling products there aren't other colours available ("you can choose any colour you like, as long as it's black"). The small size (55 x 27 x 12 mm) makes the UP2 really easy to carry around and to place in pockets – yes, even those notoriously small on women's trousers. The absence of any sharp edges also means it won't dig a hole in your pockets. It's also really light – just 26 g.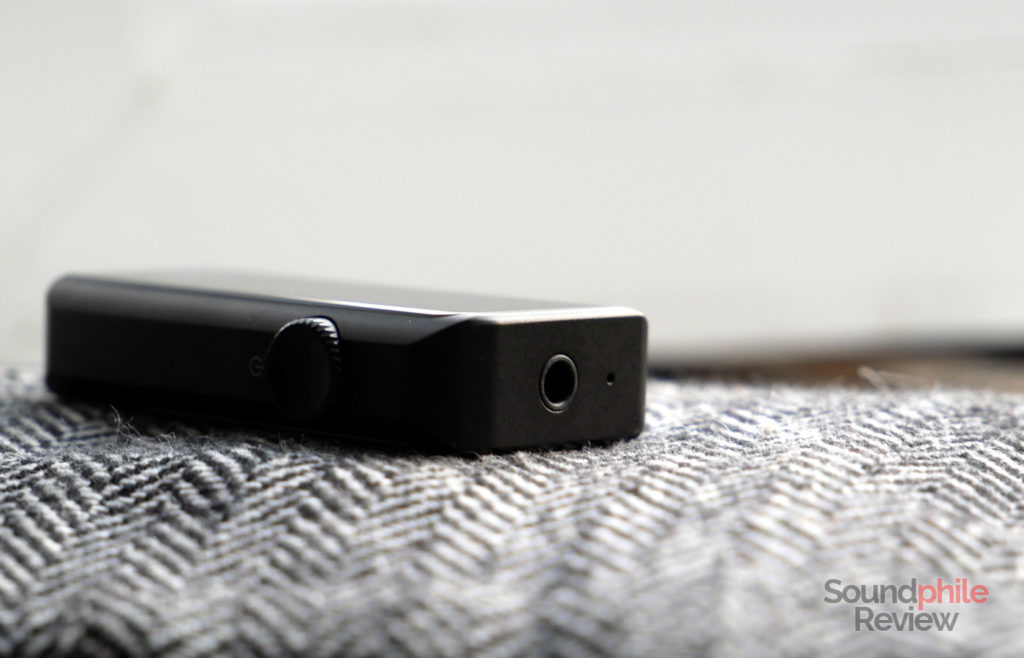 The front hosts the Shanling logo and a status LED, the right side hosts the volume wheel, the upper one the 3.5 mm jack and the lower one the USB Type-C port. The back has some text about certifications and electrical specs. All in all it's a very clean design.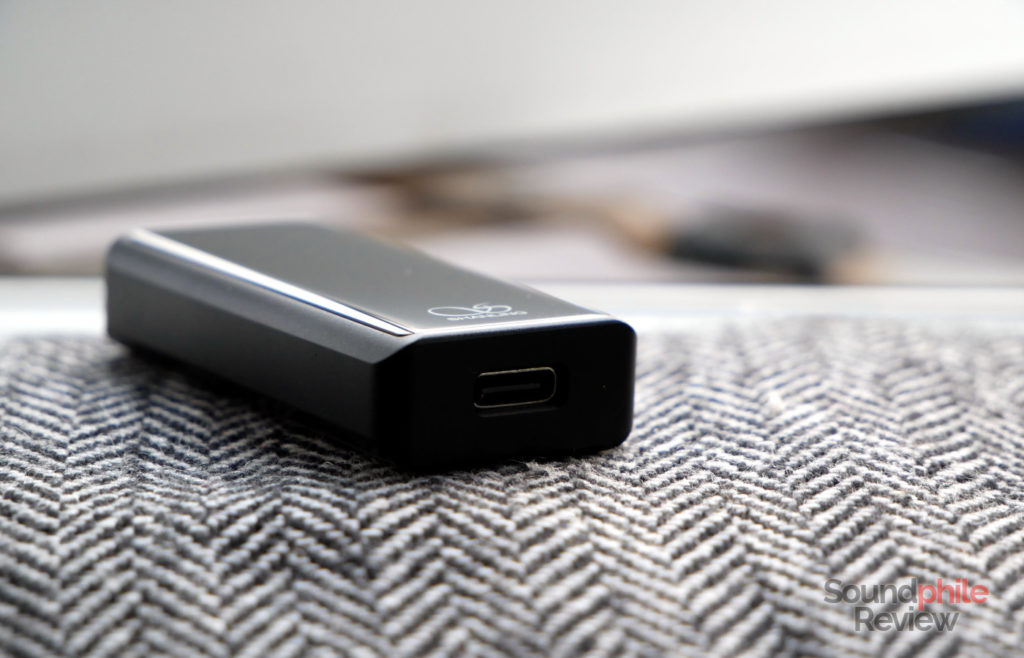 As for build quality, it's the one Shanling got us used to and it's therefore really high. The UP2 appears to be put together almost like a jewel. The only thing that has me a bit worried is the use of glass, as not only is it fragile, it is also prone to scratching and scuffing and the rounded borders mean it's not easy to protect it. The clip case can shield it from most damage, but only in a limited fashion.
The volume wheel is the same as that of the other Shanling players: it has steps clearly indicated by small tactile "bumps" that one can feel when rotating it, without audible clicks. There's some weight to it, so rotating it requires a bit of force – enough to make turning it accidentally less probable. A series of machined dips around the rim make it also easier to grip it.
Features & Specs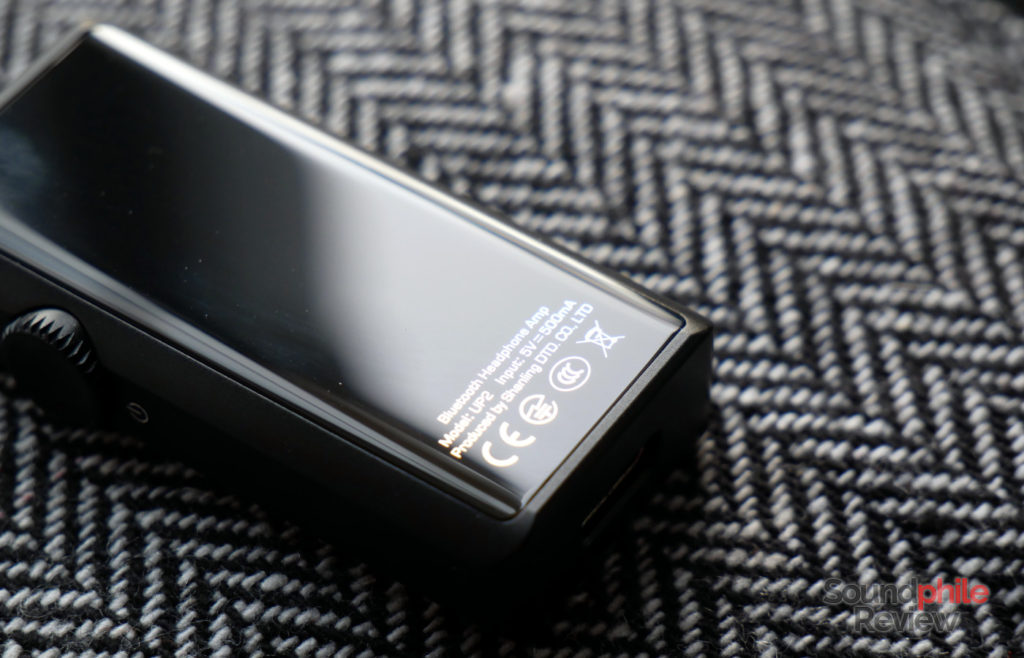 The Shanling UP2 has one of the widest ranges of compatible codecs I've seen to date. It sports compatibility with SBC, AAC, aptX, aptX LL (low latency), aptX HD, LDAC and LHDC. It supports high-quality audio streams and can be a good compromise between portability and convenience on one hand and audio quality on the other.
It can be used both wirelessly and wiredly. It can in fact act as a USB DAC, with support for streams up to 24 bit / 96 kHz. This is a limitation in the chipset being used for USB; the Shanling UP2 is primarily a Bluetooth amplifier so the compatibility with USB is more of a useful add-on than a main selling point. It also can't act as a Bluetooth transmitter as that would require more circuitry that would not fit in the limited case. The cheapest device with that option in Shanling's line-up is the M0.
The Shanling UP2 has a microphone so one can take calls even if the headphones do not have one. That's a pretty useful addition as it gives one the ability to listen to music without worrying about incoming calls. The microphone works well, though the noisiest environments are not the best place to use it.
Support is there for wired use with Windows, macOS, Android, iOS and even Linux. In fact I used it with the latter mostly and I found it to work perfectly fine.
Input
USB (up to 24 bit / 96 kHz PCM)

Bluetooth 5.0 (SBC, AAC, aptX, aptX LL, aptX HD, LDAC and LHDC)

Suitable headphones impedance
N/A
Output impedance
0.25 Ω
Maximum output power
67 mW (32 Ω)
Frequency response
N/A
THD+N (@1 kHz)
0.005% (HWA)

0.05% (other codecs)

SNR
116 dB
Crosstalk
72 dB
The DAC chip being used is the ESS Sabre ES9218P, the same used in the Shanling M0. With 67 mW of maximum power output on 32 Ω loads, the Shanling UP2 is a bit limited in what headphones it can drive. It can in fact work perfectly well with headphones up to around 150 Ω; I tried using a pair of Sennheiser HD 6XX and there were apparent issues with both bass and lower treble that sounded a bit off. Headphones with lower impedance sound perfectly fine!
The Qualcomm CSR8675 chip provides Bluetooth connectivity and it's the core of the UP2's connectivity. While the connection is really stable, the range is not as good in my tests: just walking out the room means that there will be stuttering and interruptions. As long as the range is small enough, the connection is rock solid.
Battery Life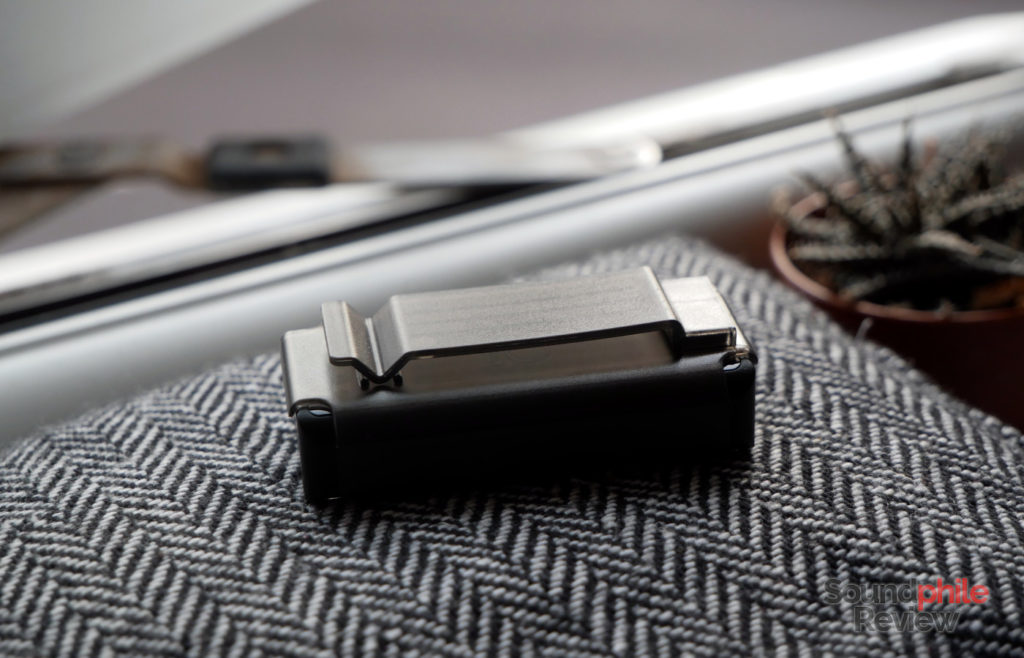 The battery has a capacity of 400 mAh and is rated at 11 hours of usage with the SBC codec. Using other codecs, such as aptX or LDAC, it is even significantly less: using LDAC it is closer to 7 hours, whereas using SBC it's around 10. Of course it depends on volume, signal quality and so on, but the figures shouldn't vary wildly.
Sound
I used a range of headphones to try out the Shanling UP2, including the Venture Electronics BIE, the Blon B20, the Sennheiser HD 6XX and the Fearless Audio S10 Genie.
As volume has 64 levels, the Shanling UP2 can drive even very sensitive earphones to acceptably low volume and not blow one's ears. Conversely, it has a high enough upper limit to be able to drive demanding headphones to good volume. That's still limited by the overall power output, though.
The background is totally black, as no noise can be heard – no humming, buzzing or hissing there. Even when using sensitive earphones there's nothing getting in the way of enjoying even low-volume music.
The Shanling UP2 has a neutral frequency response, so it does not get in the way adding its own colouration. What it does, though, is to have good detail retrieval and good speed: transients are fast enough, though more demanding headphones such as the Blon B20 do not sound as fast as if one were using equipment with more power and control (e.g. a Venture Electronics RunAbout 2.0bl). There are also issues when using high-impedance headphones as there are audible distortions due to the impossibility of providing enough power.
Speaking of distortions, even at high volume levels I can't hear any distortion, and at low volume it seems like there is no variation in sound quality.
Final Thoughts
The Shanling UP2 is lovely. It's a smart answer to the search for a small and portable Bluetooth source. It's nowhere near as powerful as bigger units (e.g. iFi xDSD), but it's more than adequate for in-ear headphones and full-size headphones with limited impedance. The main aim of the UP2 is to offer the convenience of Bluetooth with good sound quality, and it reaches it with more-than-positive results. It can also work as a USB DAC, so it's got everything!