There are few ways of getting good audio from a portable device like a smartphone: either add a new DAC and amplifier on top of it, or just replace it with a device that sounds good by default. The second option is often costly, sometimes too much, so having dongles one can use is a good compromise (and a good hack). We've seen expensive dongles, and we've seen cheap ones. The Venture Electronics Odyssey HD belongs to the second group, as it is the successor to the great first-generation Odyssey.
Disclaimer: Lee kindly sent me a free unit to write this review. The Odyssey HD is on sale through VE's website at $10.
TL;DR: recap
Pros




Cons

Very well built with high-quality materials

USB Type-C works with most modern devices

Neutral tuning

Insanely high value

Low power output
Rating: 9/10
Packaging & Accessories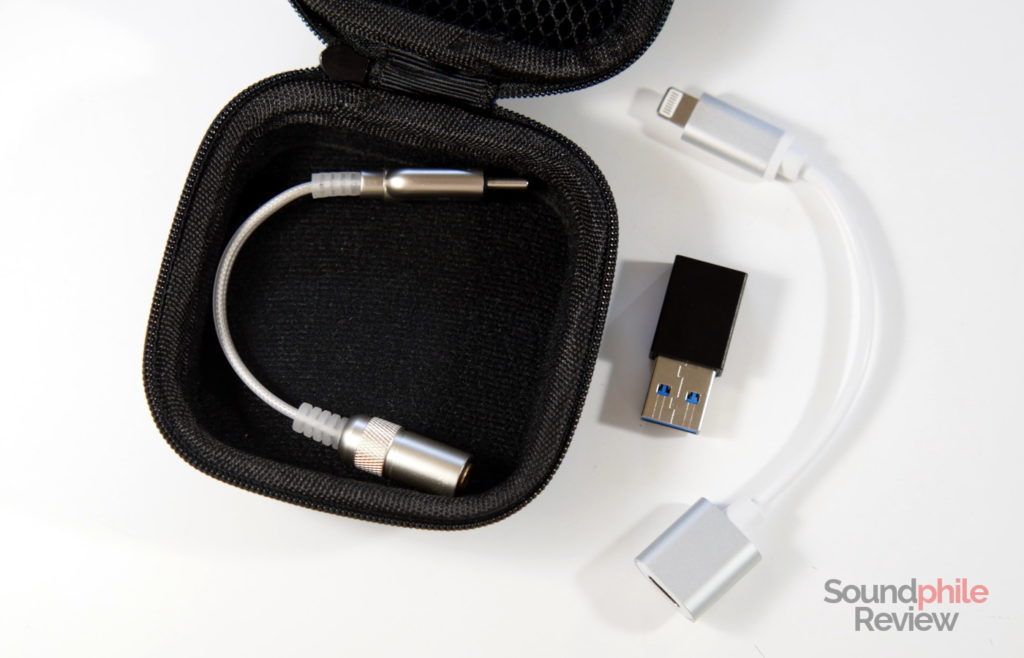 The Venture Electronics Odyssey HD I received came in a carrying case (though newer ones will come in a Monk-style plastic package) which also had a USB Type-C to USB Type-A adapter and a USB Type-C to Lightning adapter.
Design & Build
Nothing has changed from the first Venture Electronics Odyssey, so I suggest you to read that review to find out more about it. In short: it's well-built, it's convenient to use and it has a good design. The news is that the Odyssey HD features a variety of connectors: on top of the usual 3.5 mm jack, there are the 2.5 mm and 4.4 mm variants and the XLR one, too.
Specs & Features
The Venture Electronics Odyssey HD is made to be compatible with a wide variety of devices: it's compatible with Android smartphones and tablets, Windows PCs, Macs, Linux PCs, iOS devices, Nintendo Switch and maybe even other devices. The Android situation is not monolithic and each device has its quirks, so support is not assumed.
Venture Electronics Odyssey HD

| | |
| --- | --- |
| Input | USB (up to 24 bit / 192 kHz PCM, or up to 32 bit /384 kHz PCM with special firmware) |
| Suitable headphones impedance | N/A |
| Output impedance | N/A |
| Maximum output power | 45 mW (16 Ω) |
| Frequency response | 20 Hz – 20 kHz ± 0.1 dB |
| THD+N (@1 kHz) | 0.01% |
| SNR | 98 dB |
| Crosstalk | – 78 dB |
The main difference between the Odyssey and the Odyssey HD is the fact that the latter supports 32 bit, 384 kHz PCM streams whereas the previous model was limited to 24 bit / 192 kHz. You won't hear any difference unless you're a bat, probably, but if you do have 384 kHz files you might incur in some distortions due to downsampling if not playing them at native resolution. It's probably just a matter of seeing a higher number more than anything else, but it's good to have the option.
The Venture Electronics Odyssey HD does not really have a powerful output: at just 45 mW peak power, it can only drive low-impedance and relatively high-sensitivity headphones. Using a Sennheiser HD 6XX it was apparent that there was not enough power: the lower end, where the impedance spikes, was reduced.
Just like the predecessor, the Odyssey HD supports in-line microphones. That's useful if you use the adapter with your phone or your PC as you can then use it to take calls.
Sound
I tested the Venture Electronics Odyssey HD using a variety of headphones including Sennheiser HD 6XX, AKG K7XX, Fearless Audio S10 Genie and Venture Electronics BIE.
Although relatively faint, white noise is audible in the background. I found white noise to be there with all the devices I plugged the Odyssey HD in.
There is no way to adjust volume apart from using the source device's software volume control. This is not ideal for several reasons, one of which is that (at least when using the Odyssey HD with Linux) there is a large channel imbalance below 15%. At 10% the right channel appears louder than the left one, and at 5% the left one is silent. These volume levels may appear too low, but they're most useful with sensitive earphones.
If one uses headphones with low enough impedance the Odyssey HD has enough power to sound decently. It has a neutral signature, so it won't colour the sound; it's not especially fast or controlled, but it has enough of everything to sound well. It provides more than basic audio quality and that means that it reaches its aim.
Final Thoughts
At $10, the Venture Electronics Odyssey HD is probably the audio dongle for smartphones and tablets. In an age when manufacturers actively remove audio jacks out of plain stupidity and greed (though they call it "courage"), this is a smart solution – and one that's affordable while delivering good audio quality.