Shanling has a growing line-up of Bluetooth products which includes both earphones and amplifiers. One of the latest trends in the audiophile world is that of Bluetooth amplifiers which allow you to use your wired headphones as wireless ones. The Shanling UP4 belongs to that category and its peculiarity is that it offers a balanced output on top of the usual single-ended one.
Disclaimer: I received this unit directly from Shanling. The UP4 retails for $99.
TL;DR: recap
Pros




Cons

Well designed and built

Very long battery life

Supports practically all Bluetooth codecs

Balanced output

Good power output

Volume wheels may be difficult to operate with large thumbs
Rating: 8.8/10
Packaging & Accessories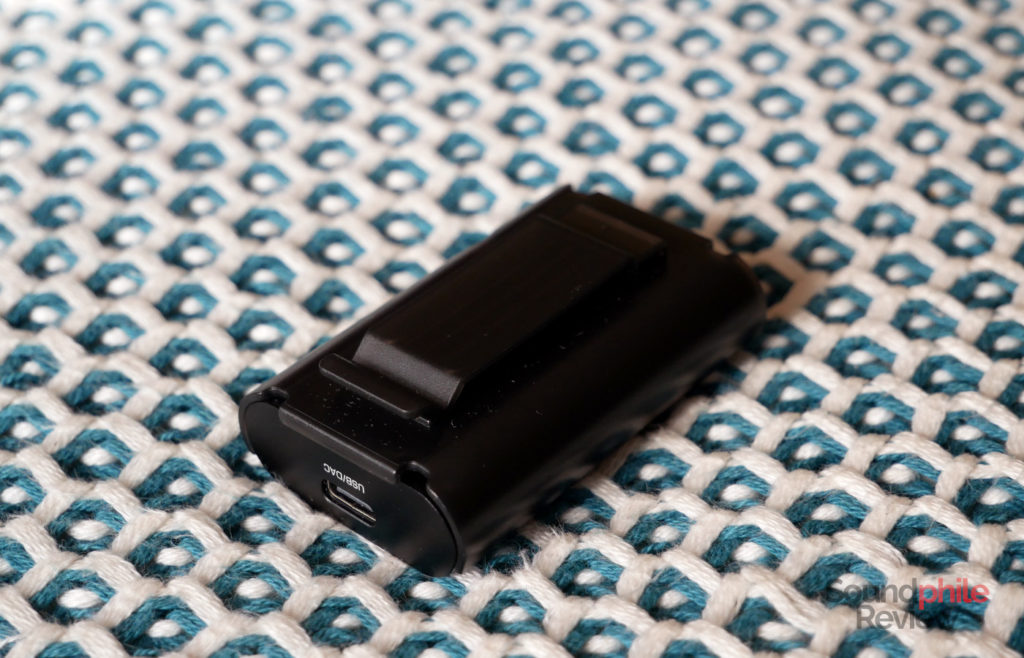 Shanling kept things simple and easy by including a plastic clip case and a USB to USB-C cable. There's also a manual.
Design & Build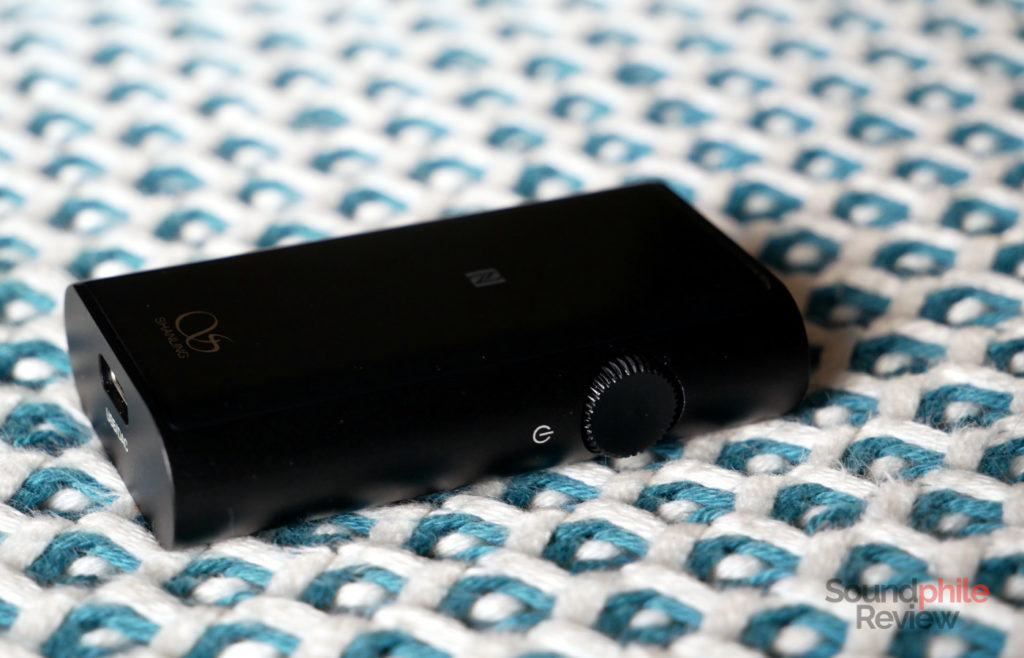 Shanling's design is simple yet effective. Their players are made of an aluminium frame and glass front and back. The Shanling UP4 is the same. Contrary to the smaller brother, the UP2, the frame is bigger and rounder, with round sides instead of just bevelled. In fact this design is even more reminiscent of a small DAP: the only thing that's missing is a screen!
The front is covered with a glass pane and hosts the NFC chip for fast pairing and the status LED. On the top are the two jacks, 2.5 mm and 3.5 mm, plus a "mode" button. On the right we find the volume wheel (which also acts as the power button), while the USB-C port is on the bottom side.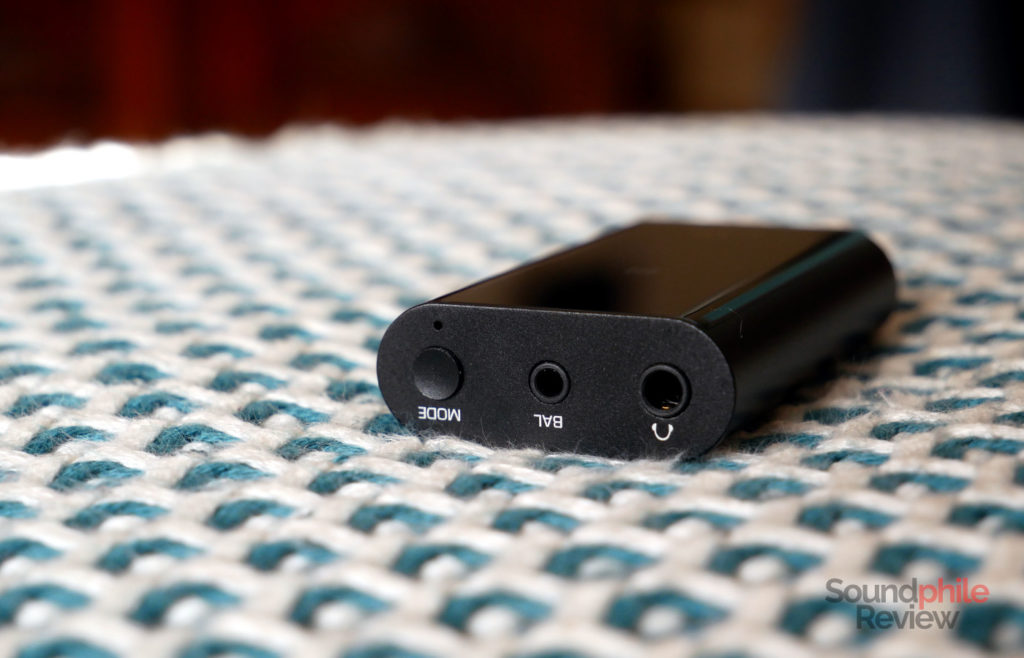 The Shanling UP4 is very well built with no apparent flaws. The metal frame is solid and the glass panes are installed almost perfectly so that the gap between metal and glass is almost invisible (and you can't feel it when touching the device!).
The volume wheel has "steps" that make it click every time you rotate it, with tactile feedback too. This makes it possible to adjust volume accurately when the device is in a pocket. The wheel is small, though, so those with larger hands and fingers may have some issues using it despite the machined cuts to improve grip.
Features & Specs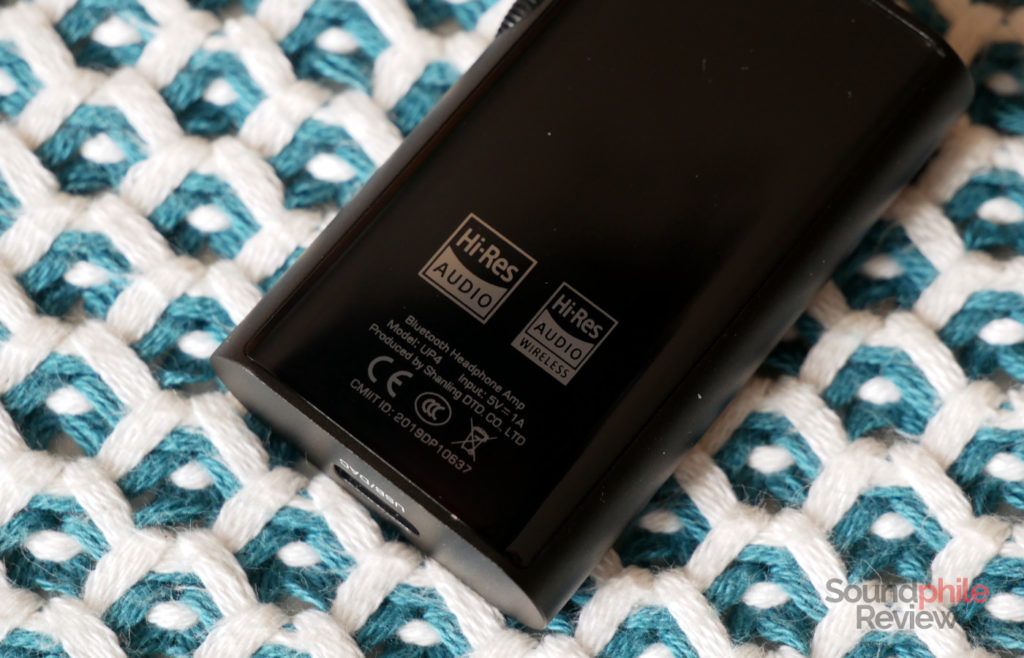 Shanling makes all their Bluetooth products compatible with a lot of high-quality codecs and the UP4 makes no exception: it offers compatibility with SBC, AAC, aptX, aptX LL (low latency), aptX HD, LDAC and LHDC. This makes it compatible with a very wide array of sources – I can't think of any situation where the UP4 would not work correctly.
On top of sporting Bluetooth 5.0, the UP4 can be also used as a wired DAC by taking advantage of the USB-C port. Connecting it to a PC, smartphone or any other compatible device one can use the UP4 as a small sound card capable of reproducing content up to 24 bit and 96 kHz. The UP4 is only a receiver though, so it can't work as a Bluetooth transmitter when connected through USB.
The volume on the UP4 is decoupled from that of the source, so you can max out the volume on the source and adjust it on the UP4 – or, as I usually do, approach the ideal volume level on the source and then use the finer-grained adjustment on the UP4. There are 64 volume steps, so that allows for a very fine-grained volume adjustment.
A very nice touch is the inclusion of a microphone to take calls (only when using it with Bluetooth, though). The microphone is a Knowles SiSonic and offers 8th generation cVc noise cancelling technology. It works well and allows one to be heard with good enough clarity.
The mode button allows one to set the desired gain mode and select the filter. On top of the usual "low gain" and "high gain" modes the UP4 also offers a "Dual DAC" mode: it uses both DACs to improve power output and reduce noise even when using the 3.5 mm output (a bit like the "S-Balanced" tech used by iFi).
It works with all major operating systems. I used it as a wired DAC with Linux and found out that it only works when forcing music to be reproduced at 48 kHz (by setting default-sample-rate = 48000 in /etc/pulse/daemon.conf).
Input
USB (up to 24 bit / 96 kHz PCM)

Bluetooth 5.0 (SBC, AAC, aptX, aptX LL, aptX HD, LDAC and LHDC)

Suitable headphones impedance
N/A
Output impedance
N/A
Maximum output power
Single-ended output:

71 mW (32 Ω, single-DAC mode)
91 mW (32 Ω, Dual DAC mode)

Balanced:

Frequency response
N/A
THD+N (@1 kHz)
0.003% (LDAC)

0.03% (other codecs)

SNR
120 dB
Crosstalk
73 dB (single-ended)
96 dB (balanced)
Being a larger version of the UP2, the UP4 features the same internal components. Those include two ESS Sabre ES9218P DACs (vs just one in the UP2). There's a difference in output power, though: the UP4 offers 71 mW in single-ended mode, 91 mW in single-ended "Dual DAC" mode and 160 mW in balanced mode. The latter is enough to drive anything that's not extremely demanding.
The Shanling UP4 offers a good connection range: when using it with my Shanling M2X it stays connected at ~5 m distance when using LDAC – and that's quite good. If stepping down to aptX I can get to more than 5 m easily.
Battery Life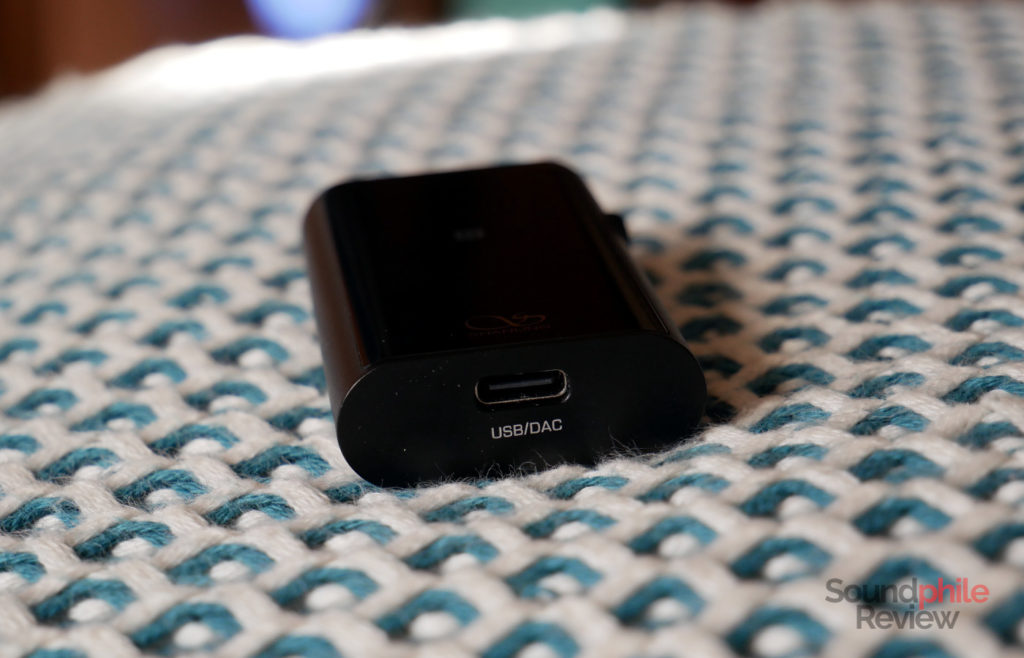 Shanling estimates about 15 hours of playback with single-ended output and 10 hours with balanced output. These figures are accurate and I was able to squeeze about 14 hours in single-ended mode and 9 hours in balanced mode out of the 550 mAh battery. I also found that using LDAC impacts the battery life much more than other codecs, so much so that I got around 10 hours when using it instead of aptX or SBC (which is the best from the perspective of battery life).
The Shanling UP4 can be left on even when not in use as it has a "deep sleep mode" which make it use almost no energy when in standby. It doesn't turn off automatically, so it is always ready to start working again; on the other hand, it can run out of battery if you forget to turn it off for too long (usually days).
Sound
I tested the Shanling UP4 using multiple headphones. Among them are the HiFiMAN HE-560, the NiceHCK NX7 Pro, the Shozy Form 1.4 and the Shanling ME500 Platinum Edition. I used both my Linux PC and a Shanling M2X as sources.
Just like the previous model, the UP2, the Shanling UP4 presents the listener with a very clear and clean sound with no significant deviations from neutrality. That is to say I can't hear any specific alteration to the sound when comparing the UP4 to other sources. There's also absolutely no background noise, so the sound appears even cleaner. Despite being so small, the UP4 can drive earphones and headphones with good authority – meaning that transients are fast and do not sound muddy or "wet" (when a drum hit goes on for a long period of time, losing its immediate and impactful nature). I could hear no difference at all between single-ended and balanced outputs.
There are 64 volume steps so the UP4 can drive any headphones from the super-sensitive ones to harder-to-drive stuff. This comes in handy as one can then use the stuff they like.
Shanling UP4 Comparisons
So let's compare the Shanling UP4 to other similar DACs:
Shanling UP4 vs Shanling UP2: the UP4 is quite literally a bigger UP2: it uses the same components and the only significant difference is the presence of the balanced output, though the UP4 also offers NFC and a set of filters. In terms of sound there are no differences whatsoever that I can hear: that's because the UP4 features the same DAC and the same Bluetooth codecs as its smaller sibling. The UP4 has longer battery life, too, when used in unbalanced mode.
Shanling UP4 vs Radsone EarStudio ES100: the ES100, while smaller, is able to output more or less the same power. It also offers many more options thanks to the dedicated application; while many will find these options unnecessary, they're still quite useful. The ES100 sounds really close to the UP4: the two are almost indistinguishable, save for the fact that the ES100 has more power output and can therefore offer better sound on a wider variety of headphones (as it supports high-impedance cans that would sound too quiet or whose signature would be altered by the lack of power). The difference is again in features, with the UP4 having the lead in terms of supported codecs and the ES100 having the upper hand in configurability. The UP4 also has longer battery life. So in the end it all boils down to features: the UP4 offers more codecs and better battery life, the ES100 is more configurable.
Final Thoughts
Shanling took what was already a great product and made it even better by adding more flexibility to it. Not only that, they also experimented with a rounder design which is quite good while using the same build quality and great materials as previous products. The Shanling UP4 is almost a Swiss army knife in terms of features offered and it's a great companion to one's every need when it comes to mobile DACs. It's small, it's good to look at, it's built very well, it has tons of options and it sounds good. This is definitely a product one should consider when shopping for Bluetooth DACs!
Update: this review was updated on March 15th. The rating was raised from 8.5 to 8.8 to better reflect the value of the UP4.