KEF's flagship connected active speakers, the KEF LS50 Wireless, were introduced back in 2018. A wireless-enabled and active version of their much-lauded LS50 speakers, they are relatively small while being powerful and full of features.
Disclaimer: KEF's press agency in the UK kindly provided me with this unit on loan. I had to return it. The KEF LS50 Wireless retail for $2,499.
TL;DR: recap
Pros




Cons

Lots of connections: Bluetooth, WiFi, Ethernet, optical, RCA, USB…

Can be used as near-field monitors

Well-made app to set up the speakers

Almost neutral tuning with a touch more bass

Great technical ability

Requires some time to find the proper tuning adjustment
Rating: 10/10
Packaging & Accessories
Packaging is a bit basic and includes a manual, two power cords (one per speaker), an Ethernet cable to connect the two speakers and a USB cable to connect a PC.
Design, Build & Materials
When I first saw and touched the KEF LS50 Wireless (or LS50W for short) I thought the cabinet was made of ceramic and the front was cast metal. I was wrong! The cabinet is in fact plied MDF and the front is hard resin – but they're so well made I would never have told. KEF really made an outstanding job with the finish on the LS50 Wireless, which appear not only solid but also beautifully crafted and refined. Almost artisanal.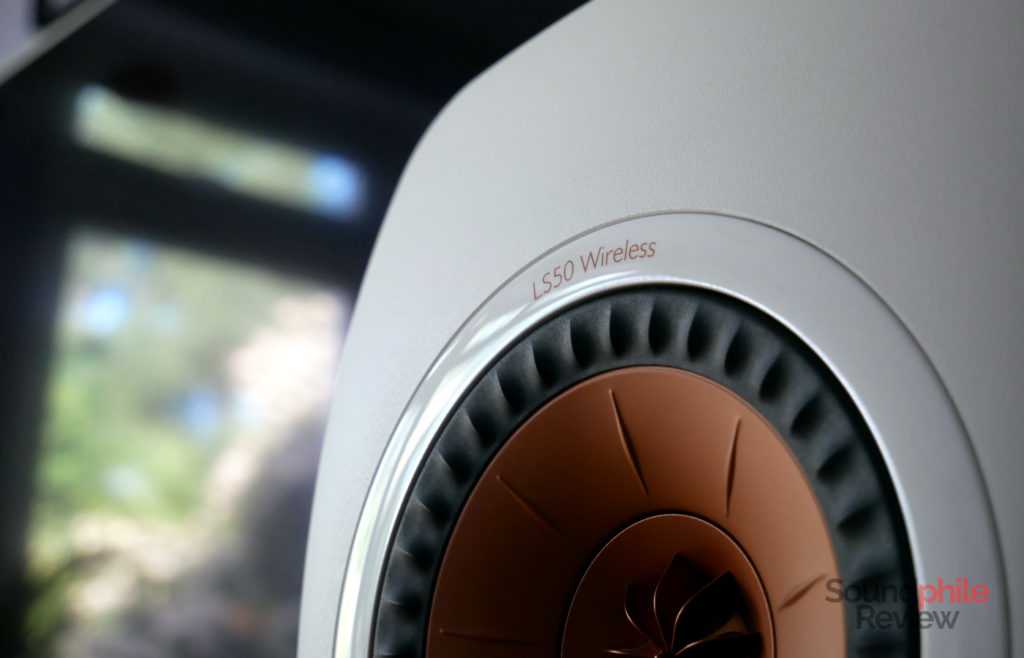 This precisely crafted look and the simple, clear-cut lines make the LS50 Wireless look beautiful. The striking contrast between the white of the cabinet and the black and coper of the Uni-Q driver and its surround is very pleasing to the eye – and it's quite unique, too.
The speakers are assembled masterfully and the materials are extremely high quality. The resin used for the front is actually DMC, short for Dough Moulding Compound: it's a polyester resin that, combined with glass fibre and calcium carbonate, offers an acoustically inert material. That's why I mistook it for metal – it's hard and inert as if it was cast iron (and it has a texture that reminds me of it, too). Both the front and the cabinet are in fact inert-sounding: I did an experiment with my highest-tech equipment, my knuckles, and verified that it sounds inert.
The LS50W are relatively small, clocking in at 300 x 200 x 308 mm. They're not as small as the IK Multimedia iLoud Micro Monitor, but they're not humongous either. At 10 kg each, though, they're quite heavy.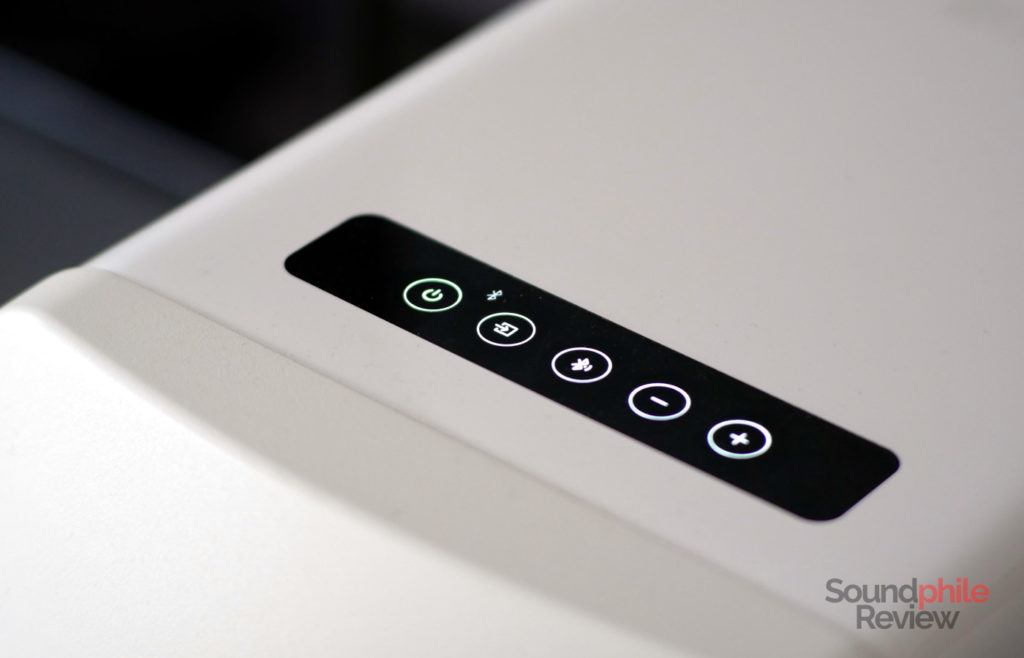 The front only shows the driver and nothing else. The right speaker has a small screen on top which controls input and volume in case you can't or don't want to use the remote. It's really nice and elegant: it is black with white text and it's perfectly fused with its surrounding surfaces. The back has, on the other hand, all sorts of connections (more on that later), including a USB port to charge devices such as smartphones and DAPs. It also has a very large heat sink which gets barely warm to the touch even when pumping out serious volume; there's a hole in it for the bass port. It's all combined very well so all parts look well integrated.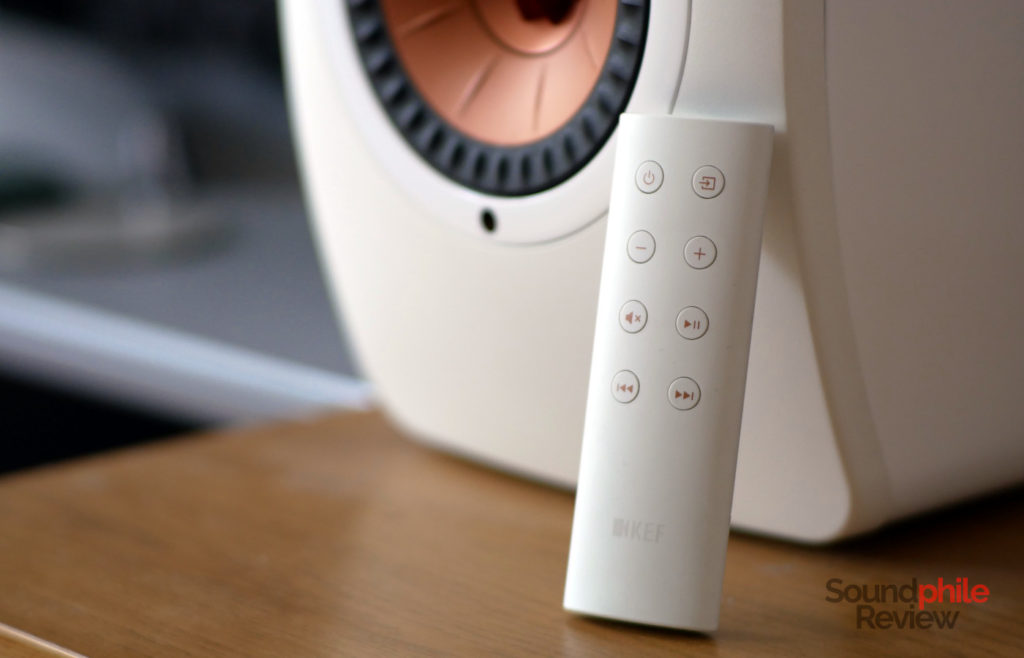 The remote is the only thing I would actually change: the lack of any tactile indication of what each button does is far from ideal not only for the visually impaired, but also in dark rooms (and if you, like me, just want to listen to music with your eyes closed). Apart from this it has all the relevant features (power, input switch, volume,  and is small and light.
Features & Specs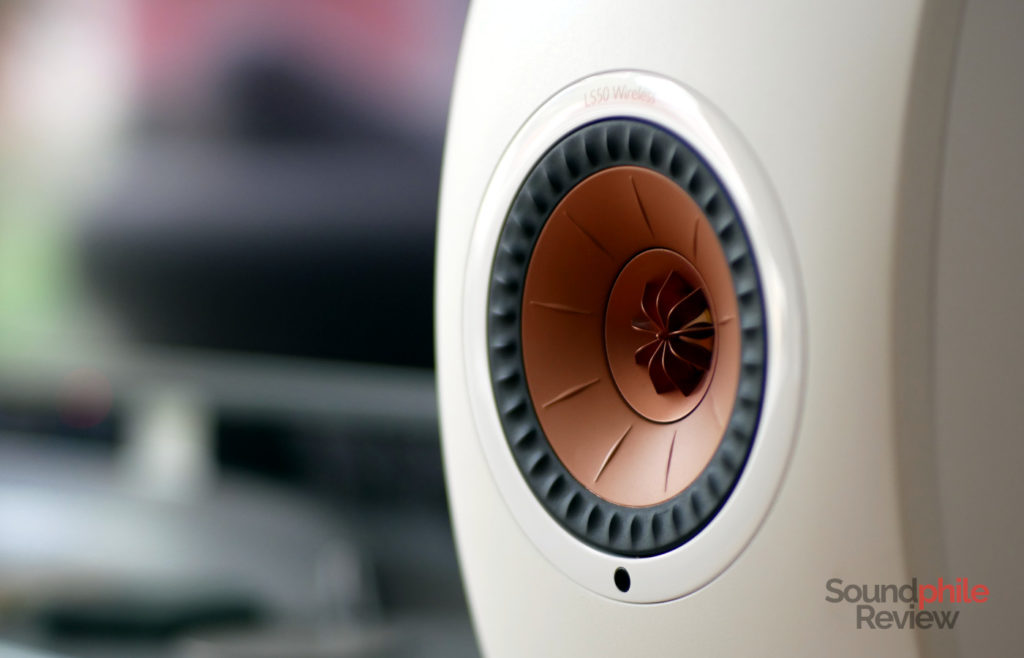 They may be called "Wireless" but they are in fact definitely not. Not only do the KEF LS50 Wireless need power cords, but they need to stay constantly connected to each other through an Ethernet cable. The "Wireless" part undoubtedly refers to the fact that they can be fed music though WiFi and Bluetooth, but it would have been nice if they had been free from wires connecting one speaker to the other.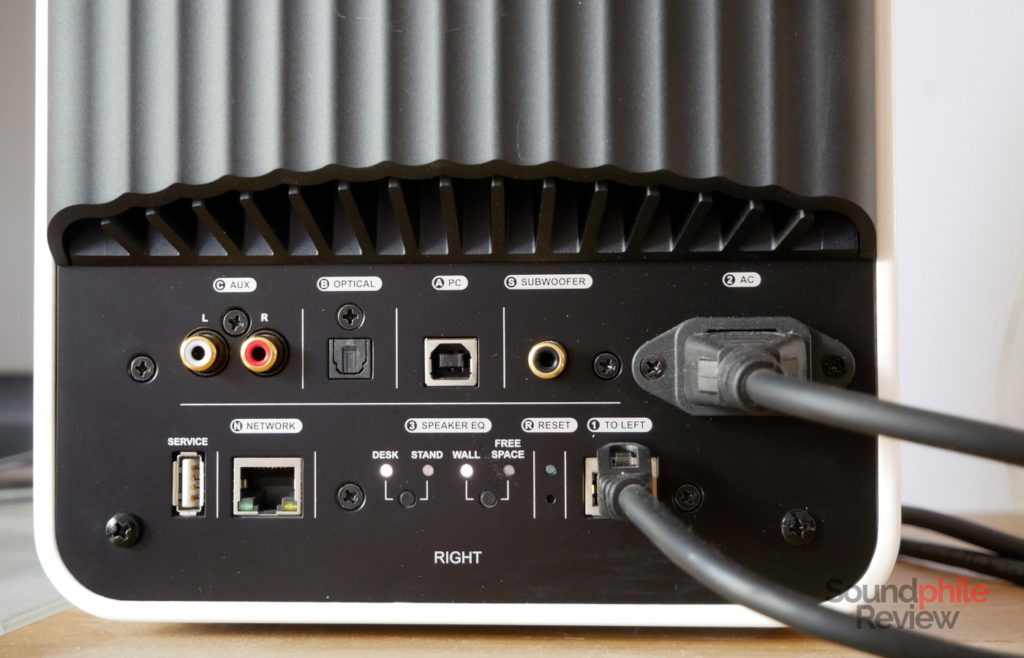 The KEF LS50 Wireless allow for a large degree of freedom in terms of sources. Even if we take out WiFi, Ethernet and Bluetooth, the LS50 Wireless still offer compatibility with RCA inputs (both phono and line), optical and USB. The latter is especially useful if one wants to use their PC as the source. Bluetooth, here in the old version 4.0, offers compatibility with the aptX codec, so audio quality is high even using this usually lossy transmission.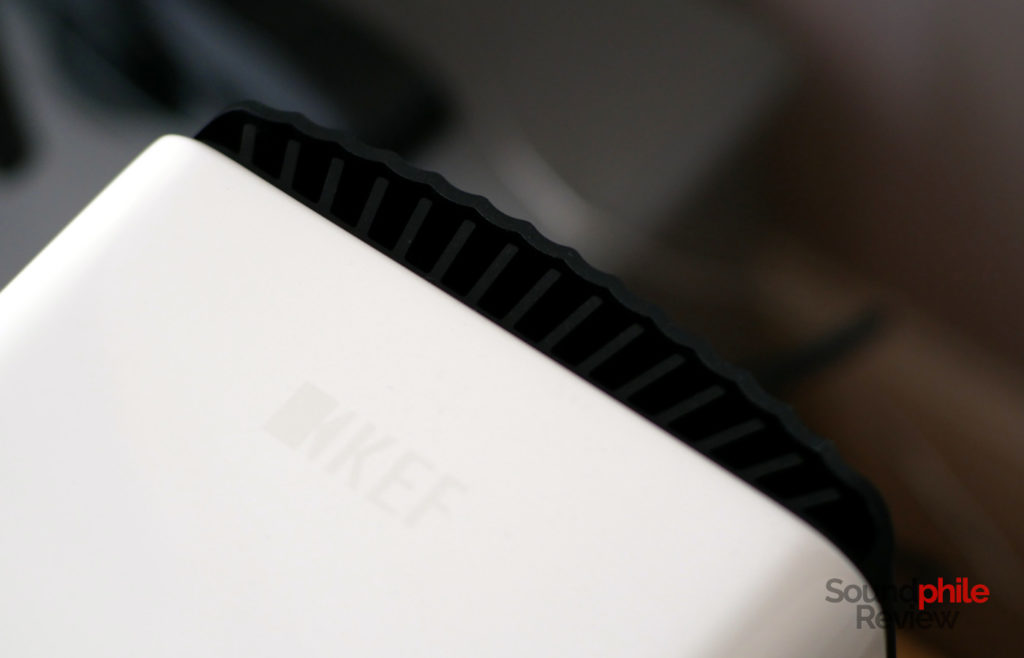 Whichever input one chooses to use, there's one thing to keep in mind. The LS50 Wireless use a DSP in order to influence the driver's frequency response and this applies to analogue inputs, too: the analogue signal is converted to digital, processed and then converted back to analogue before being fed to the drivers. This may be seen as limiting by those who wish to preserve the "purity" of the signal, but it is the only way to achieve the performance the LS50 Wireless offers – and it's also one of the known features of many (if not most) active speakers.
Although the LS50 Wireless offer a lot of different inputs, you can only tell which one is active by taking a look at the small screen on top of the right speaker. There is in fact no other mean to tell which input is active: not exactly the best if you want to switch from one to the other without getting up from the chair.
| | |
| --- | --- |
| Frequency response | 45 – 47,000 Hz ±3 dB (depending on settings) |
| Power output | 200 W low frequencies, 30 W high frequencies |
| Maximum SPL | 106 dB |
| Connections | Bluetooth 4.0 (with aptX), RCA in, Ethernet, optical, WiFi (2.4 GHz and 5 GHz), sub out |
| Driver type | KEF Uni-Q: dynamic driver with coaxial tweeter |
There are two power amplifiers inside each speaker, one for the bass and midrange cone and the other for the tweeter. The former provides up to 200 W in Class D, while the latter outputs 30 W in Class A/B (apparently due to differences in sound quality). It's interesting to see how the bass/mids amplifier is much more powerful than the tweeter one, though that's probably due to both the lows needing more power and the tweeter being more efficient (and therefore sensitive), and also to leave more room for equalisation in the lower frequencies.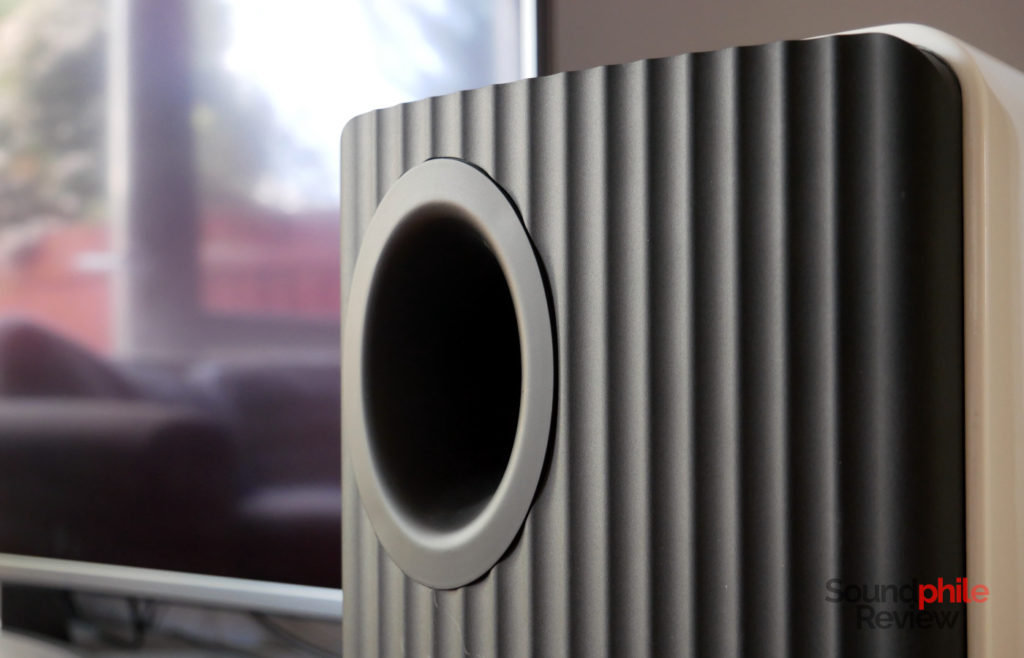 The KEF LS50W in fact offer the opportunity to tweak their signature based on their position in the room and on the room itself, so that it's possible to place the speakers almost wherever one wishes.
Software
The software KEF provides to setup and use the LS50 Wireless is the same we've seen in the KEF LSX review without any change, so I invite you to read that article to learn more about it.
Sound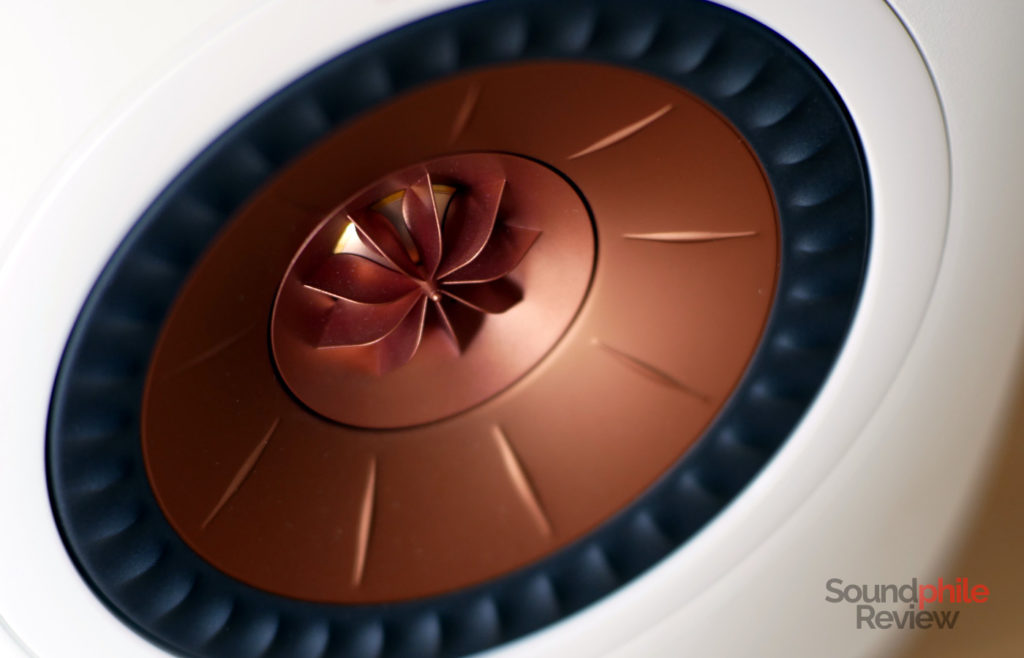 Unlike the LSX, I found the KEF LS50 Wireless to be a bit picky in terms of placement. Despite their ability to change their tuning, they sound best in a "traditional" setup with ~50 cm from the wall behind them and a stand beneath them. They're usable on a desk, but the process of getting the sound right is a bit longer than on the LSX in my experience – one has to fiddle with controls more. They're definitely usable in any setting, they just need a bit more patience to find the right settings.
The Uni-Q driver array features a unique combination of coaxial mid/bass cone and tweeter. The latter has a diameter of 25 mm, while the former is 13 cm. The mid/bass cone is made of a magnesium-aluminium alloy: an odd choice, but one that should improve its rigidity and therefore acoustic performance. The thing with this driver arrangement is that it is extremely consistent in its output irrespective of the angle: even being really close to the speakers, say half a metre from their front, and with them at a couple of metres of distance from one another, the result is just as good if not even better than when being at three metres from them. The Uni-Q driver on the LS50 Wireless is in fact made to mimic a point source with equal dispersion in all directions and while this ideal model is not realised, it is still approximated to a good degree that allows to use the speakers in an extremely wide variety of situations with equally good results and minimal impact on sound quality.
If I had to describe how the KEF LS50 Wireless sound in one word, that would be "clear". These speakers are so clean and clear their sound is almost crystalline. Sound is always presented with a refinement that one would not expect from speakers of this size.
The breadth of the stage is impressive: it extends far beyond the physical distance of the speakers. In Tenhi's Saivon Kimallus I could hear the piano reverberating almost all around me and the sound coming distinctly from my sides. While this is an extreme example, the LS50 Wireless really stand out in terms of spatial representation: the space is large in width and depth, making you feel immersed in and surrounded by music. Stereo imaging is also superb, with a very accurate positioning of each instrument.
I love how transients are portrayed on the LS50 Wireless. In Tenhi's Pienet Purot you can hear the drum being hit and the leather bouncing in a way that's very convincing, something you can also hear in a more pacey track such as The Battle from the Master and Commander soundtrack. It seems like the Uni-Q driver works quite well in offering a fast-yet-not-too-fast transient response that results in a pleasant, enjoyable sound. I won't use the word "natural" here as it's often misused and carries little meaning in this context, but the transients do appear very convincing in their reproduction of the real thing.
Bass extends to about 45 Hz using the "extra extension" mode. Bass extends almost linearly to the lower notes, with a small bump around 120 Hz – a similar one to that we found on the LSX and part of KEF's signature. While bass is not ground-shaking, you can definitely feel it on a physical level (the ground does vibrate!). Massive Attack's Angel reaches down low and while the lowest tones aren't portrayed it's still an impressive result for speakers this small (and with just a 13 cm cone!). Control is very good – I've never heard bass become preponderant, overbearing, or leaking over the mids: it always stays clear and well-controlled. Not only are there lots of details, but micro-details also get their more-than-fair share. We may well say they're articulate! There's also good layering which helps in keeping good clarity in crowded tracks.
Many of the qualities that apply to bass also apply to midrange: it is clear, clean, articulate, well-layered, detailed. I mentioned the speed of the drivers before and I will do it again now: in Daft Punk's Give Life Back to Music you can hear the guitar strings being picked at the end of the song with great clarity, with speed sufficient to make them sound accurate. Tonality is very well balanced and approaching neutrality, so that no single instrument stands out – both female and male vocals have the right tonality and weight. The clarity is such that you can tell individual wind instruments apart in Snarky Puppy's Chonks and hear the small variations in the way they're playing individually. There's also a good chunk of physicality to the mids, with percussions making you feel the impact.
Highs are crystal clear: cymbals, hi-hats, triangles and so on are always well defined and detailed no matter how intricate the track is. The tambourine in Powaqqatsi (from the soundtrack of the film of the same name) is clear and clean to the point you can almost see it moving, while the triangle in that track is so polished. Extension reaches the uppermost area with ease and the result is a very nice sense of space and air – treble is light and well present. There are some bumps and dips, but they're limited and treble stays roughly linear and represents all instruments with the same accuracy and the same weight. There's no smoothness (it's not for the treble-sensitive folks) nor sharpness either – treble is as it should be, without focusing on specific areas nor leaving anything behind. This makes it stand where it should in the mix, with cymbals appearing in the right place inside the track. The detail presented to the listener extends into micro-details – there's a lot of them, in fact – and this is what makes treble especially enjoyable as one can seemingly never stop hearing new details.
I've tried anything from jazz to black metal with everything in between those two extremes and not once did the KEF LS50 Wireless let me down. If there's one "flaw" it is that they won't sugar-coat bad recordings: you will hear them as such.
Final Thoughts
The KEF LS50 Wireless offer everything one needs in a relatively compact package. They are in fact a full system which could only need a smartphone or DAP in order to work. Their performance is astonishing when compared to the size and price. There's not much to say because there would be too much to say – the LS50W are clear, clean, almost neutral in their frequency response and this is what makes them so attractive. This is the future a hi-fi: a self-contained system that sounds great and takes little space. Because fiddling with a hi-fi rack is fun, but listening to music is better – and the LS50 Wireless allow you to do just that without any hassle, leaving you just with the pleasure of music.