Introduced just a few weeks ago, the all-new UE WONDERBOOM takes the design of the previous Ultimate Ears portable speakers and makes it waterproof. The compact factor, nice design and affordable price make the UE WONDERBOOM especially attractive, but will it live up to expectations in terms of sound quality? Let's discover that!
I am always a bit sceptical about this small-sized speakers as their size is usually a clear indication of limited sound quality, but the UE WONDERBOOM surprised me in more than one way.
Disclaimer: the local press office kindly gifted me with this unit. You can find additional information on UE's site.
TL;DR: recap
Pros




Cons

Nicely designed and well built

Water resistant

Great sound with lots of volume

Affordable

Bass distortion kicks in at higher volumes

No analog inputs (i.e. 3.5-mm jack)
Rating: 9/10
Packaging and accessories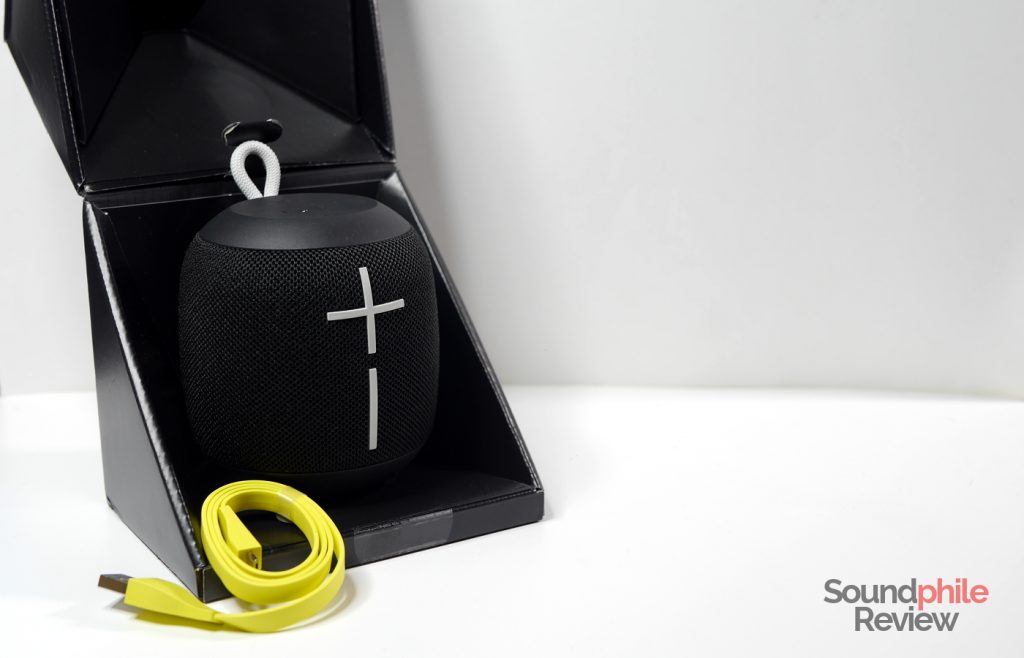 The box is peculiar as it is cut in half diagonally and opens like a jewel box, showcasing the speaker very nicely. There are a flat USB to microUSB cable and a set of instructions included. Nothing else is provided, as UE kept a minimalistic approach to the matter.
Design, Build & Materials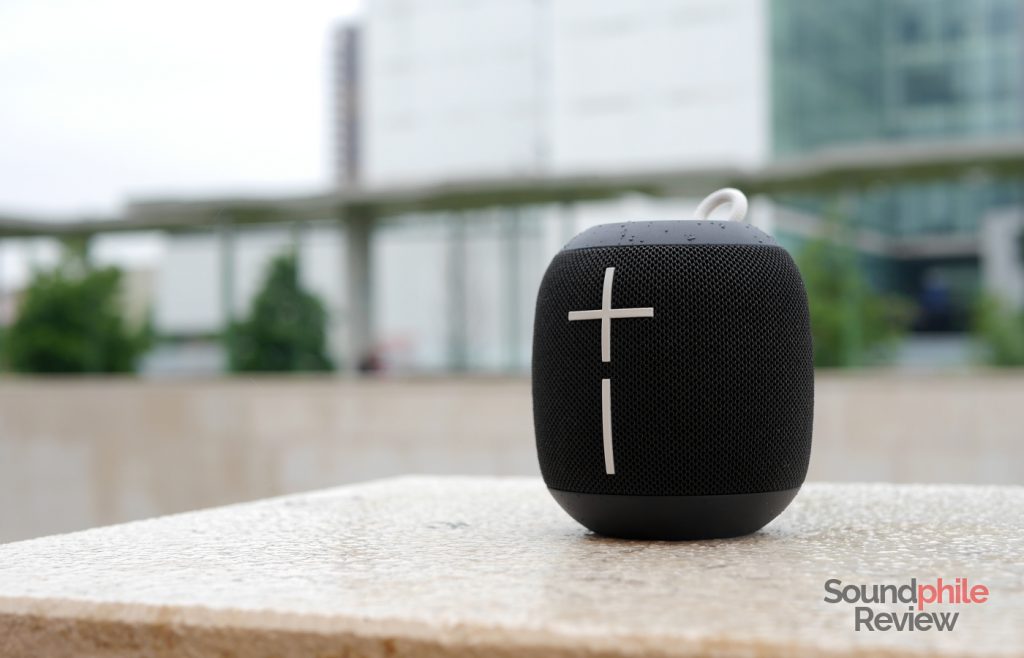 What we see here is a fine example of adaptive design: the WONDERBOOM shares most of its lines with the rest of the BOOM product line, although it is easily distinguishable. The speaker is cylindrical with a height of 10.2 cm and a 9.35 cm diameter. It is fairly portable, but I don't see it as a favourite for travels as it can be hard to fit it into a suitcase. There are two rubber "caps" on each end; the one on top hosts the buttons and a rope loop, while the one on the bottom is home to the micro-USB connector for charging. The sides are covered in tissue and it's here we find UE's trademark "+-" giant rubber buttons.
The top hosts a power button, a multi-function button with the UE logo (play, pause, skip track) and a button to manage the Bluetooth connection. The UE button is so seamlessly integrated that I did not understand it was a button at all when I first used the speaker!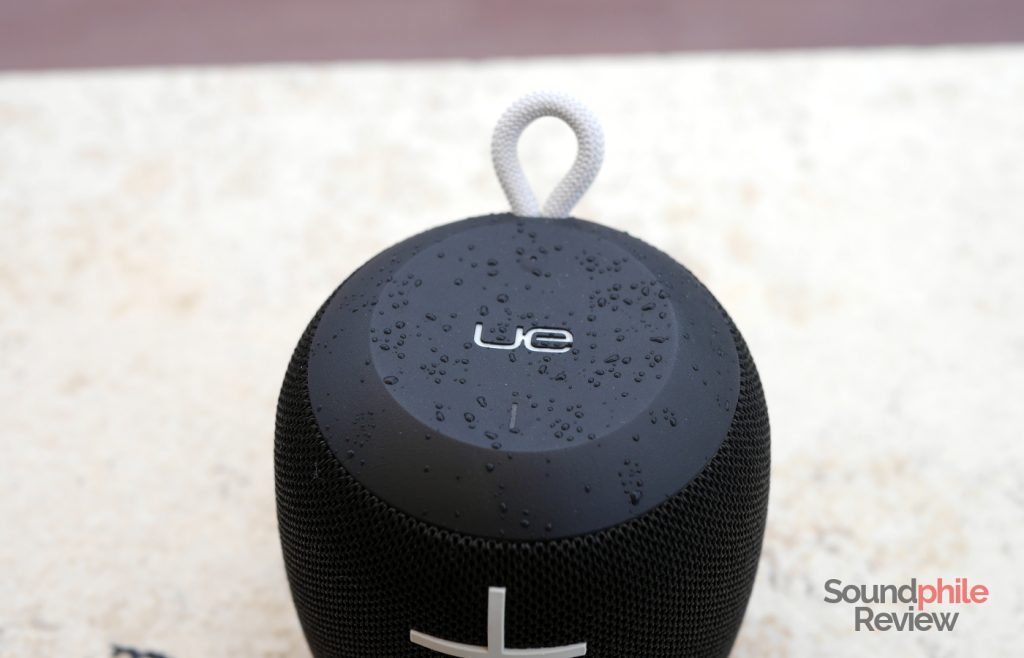 This speaker is solid: it's rugged and that's apparent at first sight. It is touted to withstand falls up to 1.5 m high, but I admit I did not test this specific claim. The plastic it's made of is slightly rubberised, so that one can have a better grip on it.
One of the main selling points of the speaker is water resistance. The WONDERBOOM is specifically thought for using in wet areas (i.e. showers, pools, etc) and is IP67 certified for this purpose. I tested the waterproofing by using the UE WONDERBOOM under the shower and it worked flawlessly. I found out that the tissue on the sides only needs you to run a towel on it to remove any water trapped inside it.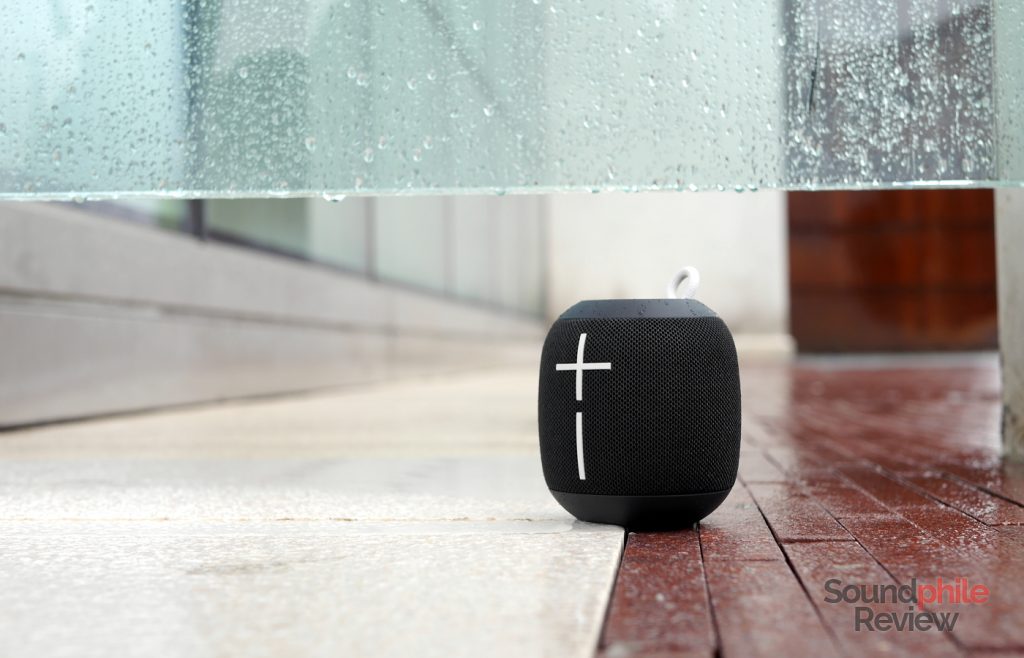 The fun part comes now: not only is the UE WONDERBOOM water resistant, it also floats. When UE introduced the speaker to the Italian press, during an event held in Milan, they had us bloggers and journalists throw speakers in a pool to demonstrate how they float. It was funny, but it goes to show that one doesn't have to worry about losing the speaker should it decide it's time for a dive when you are having a bath.
A small flap hides the micro-USB port for charging, but there are no other connectors: there's no 3.5-mm jack, so you are left with Bluetooth as the only connection choice. Talking about missing features, most notably it lacks a microphone and the compatibility with the UE app. The WONDERBOOM is a "prêt-a-porter" speaker that plays music and nothing more. No fancy firmware updates nor cables!
Features & Battery Life
UE thought of the people who would like more volume and allows users to connect two WONDERBOOMs together. You just need to hold down the UE button on the two speakers at the sime time and they will pair in a matter of seconds. The pairing is not stereo, so you can't set a channel for each speaker.
Volume can be controlled from the speaker and this won't affect settings from the phone. They're independent, so you can set a volume on the phone and then forget about it.
The estimated battery life for the WONDERBOOM is 10 hours, but it's probably more than that – if my calculations aren't flawed, it ran for ~12 hours during my tests. Of course your mileage may vary, depending on volume, Bluetooth signal strength and other factors, but this gives you a solid indication on what to expect.
Sound & Specs
Given the small footprint of this speaker, I certainly did not expect anything fancy nor powerful bass. I was terribly wrong. The UE WONDERBOOM surely has its flaws and limits, but it may be *the* go-to portable, water-resistant Bluetooth speaker under 100$.
| | |
| --- | --- |
| Frequency response | 80 – 20,000 Hz |
| Bluetooth version | Unknown, supports AAC and SBC codecs |
| Power output | N.D. |
This little grenade-sized speaker is capable of filling a rather large room with sound without effort, so having a couple of them pumping out music could be a valid solution for parties and the like. Even open air environments are no match as the music can be heard even 10 metres away.
Unlike many similarly-sized speakers, the WONDERBOOM has good instrument separation and a relatively wide soundstage – even though it will never be a really wide soundstage for obvious limitations induced by the shape and size. Sound seems to extend beyond the tiny speaker and to come from different points.
The UE WONDERBOOM packs a punch well above its weight. Not only bass has great volume, it also has depth rivaling with that of speakers far larger. It's sufficiently controlled and fast, and it doesn't wither at higher volumes – in fact it stays almost the same even at max volume. The only issue is that there is audible distortion in the lowest frequencies at high volumes. It's otherwise full and deep and keeps you engaged no matter the genre you're listening to.
Midrange is clear, with vocals standing out. Even at higher volumes there's no mashing up with the lows, if tracks aren't too congested. The sound tends to be a bit bright, so vocals (especially female vocals) are highlighted. Details are not portrayed in all their subtlety, but they are not even expected to. Overall, the WONDERBOOM can be good for virtually every genre, although it will best render genres with a focus on bass.
Small speakers tend to be too bassy, and therefore muddy, or thin, with treble taking the top spot and making everything sound soulless. This isn't the case here: treble is finely balanced and it's definitely present and audible, with good detail and extension.
Where the UE WONDERBOOM shows its limits is dense tracks with lots of layers. Emperor's Anthems to the Welkin at Dusk is a fine example at this: its hyper-congested sound with lots of instruments layered one over the other puts the WONDERBOOM under heavy pressure and the result isn't the most appealing. The example is extreme, as the genre it belongs to, but it goes to show the speaker is not perfect.
When compared to the Creative Sound Blaster FRee, the WONDERBOOM stands out for its better balance, detail and bass depth. They're both in the same price range and feature water resistance, but the UE speaker has an edge in terms of sound quality (the FRee wins in the features category). The Razer Leviathan Mini, on the other hand, has a far more bassy and boomy sound. It's better for gamers who want a boost to their gaming laptop's sound – and they are incidentally the exact target of the device. The Razer speaker also costs almost double the UE one, so keep this in mind! It can't rival speakers such as the Bowers & Wilkins T7 or the Creative iRoar Go, but that's mainly because of size.
Final Thoughts
The UE WONDERBOOM can't realistically be used to play music while it's floating and it distorts bass at the highest volume, but that's just about every flaw I can think of. It's an impressive device which offers great sound quality, high volume and good portability together with water resistance and a great build. It's limited and you won't be listening to audiophile-grade music on it, but it's definitely a champion in its price range and size class.
While I don't recommend it to music enthusiasts who listen to jazz or classical (or even extreme metal), the UE WONDERBOOM is a solid speaker for outdoor activities and even bathrooms. It is affordable, too, with a price just shy of $100/€100 that makes the deal even sweeter. It deserves every praise.
The UE WONDERBOOM is available for $99.99/€99.99.