For quite some time, the EarStudio ES100 has been the benchmark portable Bluetooth DAC. This deceivingly little device offers so much more than its size would make one think: not only does it sport Bluetooth with high-quality codecs, it also has high power output (in relation to size) and a companion app that is just wonderful. And all this for an affordable sum!
Also, a special note: the official page (a link is in the following paragraph) is a treasure trove of well-explained technical information that really allows one to peek at what's behind the design and manufacturing behind these devices. I highly encourage everyone to read through it; while it's not always 100% clear for people who are not familiar with these themes, it's a really interesting read (and one that may move you to want to learn more, too).
Disclaimer: I received the ES100 from Radsone (thank you, Emily!). You can learn more on the ES100 on the official website. The device retails for $100 on Amazon.
TL;DR: recap
Pros




Cons

Small and light

Lots of compatible codecs

High power output (in relation to size)

Includes a microphone to take calls

Great companion app

Great battery life

Superb value

No significant cons
Rating: 10/10
Packaging & Accessories
The packaging for the EarStudio ES100 is really spartan: the simple cardboard box only holds a quick start guide. Call it minimalism!
Design & Build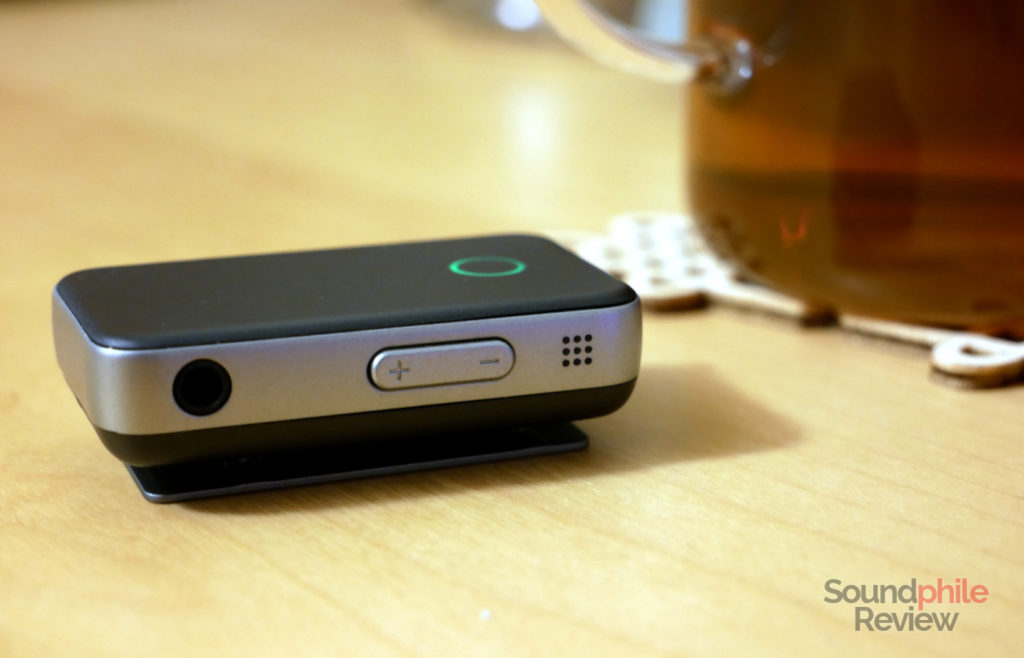 The EarStudio ES100 does not appear to innovate too much in terms of design: it has a rectangular box design with a clip on the back. All of the body is made of plastic, save for the clip which is metal. The top part is made of black plastic and has a status LED circle glowing through it; the bottom is made of the same plastic, while the sides are made of silver plastic. The sides are where all the buttons and connectors are: there are both a 3.5 mm and 2.5 mm output, together with a volume rocker, a play/pause button (which also acts as the power button), a next/previous rocker, a microphone and a micro-USB connector (sadly no Type-C). It's all really clean and logical and the lack of any sharp edge means the device will not cut into your pockets.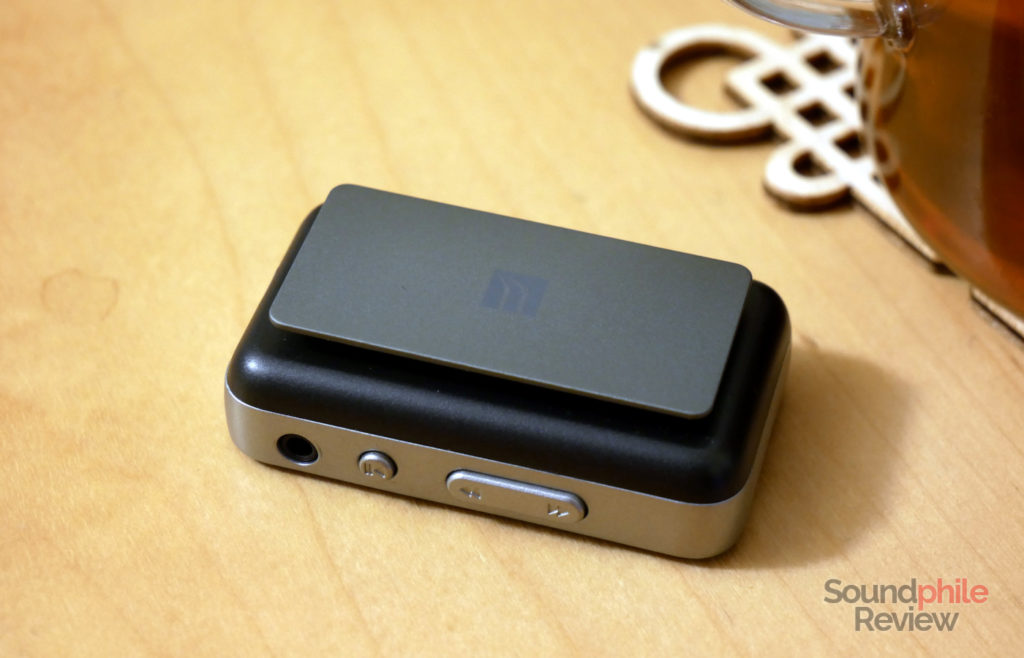 The plastic used by Radsone is high quality; it feels solid and well-assembled. It doesn't have the premium feeling of metal, but it offers significantly less weight – which is a pro for a device made for mobility. The buttons feel solid and well implemented.
Features & Specs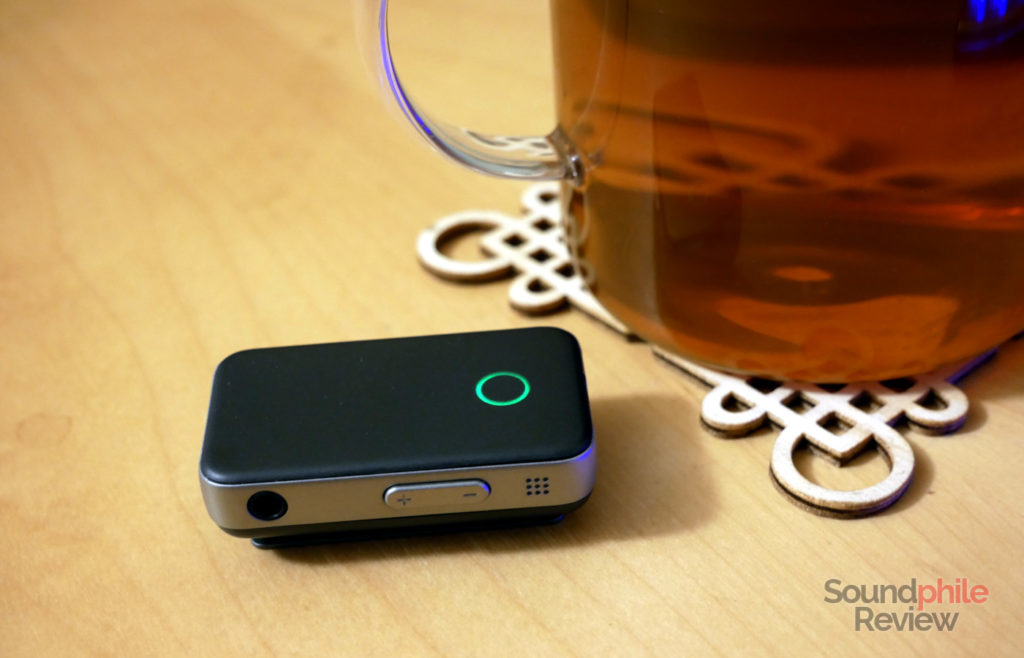 The EarStudio ES100 is a Bluetooth DAC and as such it supports a lot of different codecs: on top of the standard SBC, which is mandatory with Bluetooth audio devices, the ES100 supports AAC, aptX, aptX HD and LDAC. For a long time the ES100 was the go-to choice for those wishing to use a Bluetooth DAC that supported LDAC and thus achieve the best possible quality. Other products now offer the same codec compatibility, but the ES100 remains a great choice!
The ES100 can work as a Bluetooth DAC, but also as a USB DAC. There is a limitation imposed by the chipset in the latter case: it can only support audio at 16 bit / 48 kHz when using USB. There is a setting that only works with macOS (for some technical reason I am not aware of) that enables 24 bit / 48 kHz audio; I tested it on the other operating systems and it does not work (as Radsone says).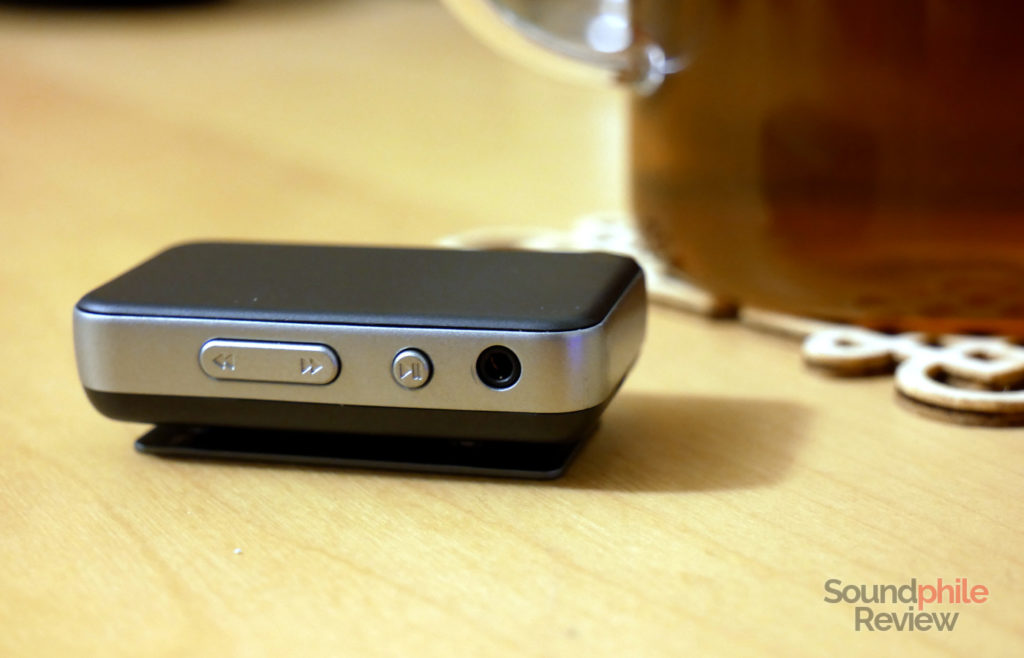 I find it pretty useful that Radsone included a microphone on the EarStudio ES100: you can use it to take calls even if the earphones you are using do not have a microphone. Plus, you can still use it if you are using the ES100 as a USB DAC if you keep it connected to your phone using Bluetooth, which makes it even more useful. You don't even have to take your headphones off!
Radsone officially supports only Windows and macOS operating systems with the EarStudio ES100. On the mobile side, support is there for both Android and iOS. Linux is not officially supported, but the device does work with the open-source OS.
I could not make the ES100 work reliably with Linux, so I asked the people at Radsone for some help and they told me to modify the default bit depth and sample rate in PulseAudio, setting them to 16 bit / 48 kHz. That gave me the inspiration to look in the settings of the mobile application, where I found there is a 16 bit / 48 kHz mode you can use in place of the 16 bit / 44.1-48 kHz mode. Using the 48 kHz mode actually fixed all the issues I was experiencing and the unit started working flawlessly. So although the EarStudio ES100 is not officially supported by Radsone under Linux, this little bit makes it perfectly functional.
Input
USB (up to 16 bit / 48 kHz PCM)

Bluetooth 5.0 (SBC, AAC, aptX, aptX HD and LDAC)

Suitable headphones impedance
8 – 600 Ω
Output impedance
0.5~1 Ω
Maximum output power
1.1 V / 75 mW (16 Ω, unbalanced)
2.2 V / 302 mW (16 Ω, balanced)
Frequency response
N/A
THD+N (@1 kHz)
0.0022% (3.5 mm)

0.0014% (2.5)

SNR
109 dB (3.5 mm)
110 dB (2.5 mm)
Crosstalk
72 dB
Let's face it: making small devices output large quantities of power is a difficult task. Somehow, though, Radsone managed to create a device that's really compact but which features large output power in balanced mode. In fact the power output in unbalanced mode is quite modest, but in balanced mode it's enough to drive even relatively demanding headphones. It won't be able to drive super-demanding headphones (e.g. 300+ Ω) and it will probably struggle with some planars, too, but it's going to be more than good with anything else.
The DAC chip used by Radsone is an AKM AK4375A. It is used in a twin configuration, so that the EarStudio ES100 is truly balanced. That Radsone was able to fit two DAC chips in such a little package is quite incredible. The AK4375A chips include a headphone amplifier and feature analogue volume control, so there is no loss in quality.
The Bluetooth connection is managed by the Qualcomm CSR 8675 chipset, coupled with the patented DCT technology developed by Radsone themselves. This technology allows them to severely limit jitter and to limit noise. Connection quality is superb: the music keeps on playing even at the furthest edges of the source's range. The only issue is that in that situation half a second of music is skipped every now and then. It only happens in extreme situations and only once in a while, so I am really impressed by the performance of the ES100.
Battery Life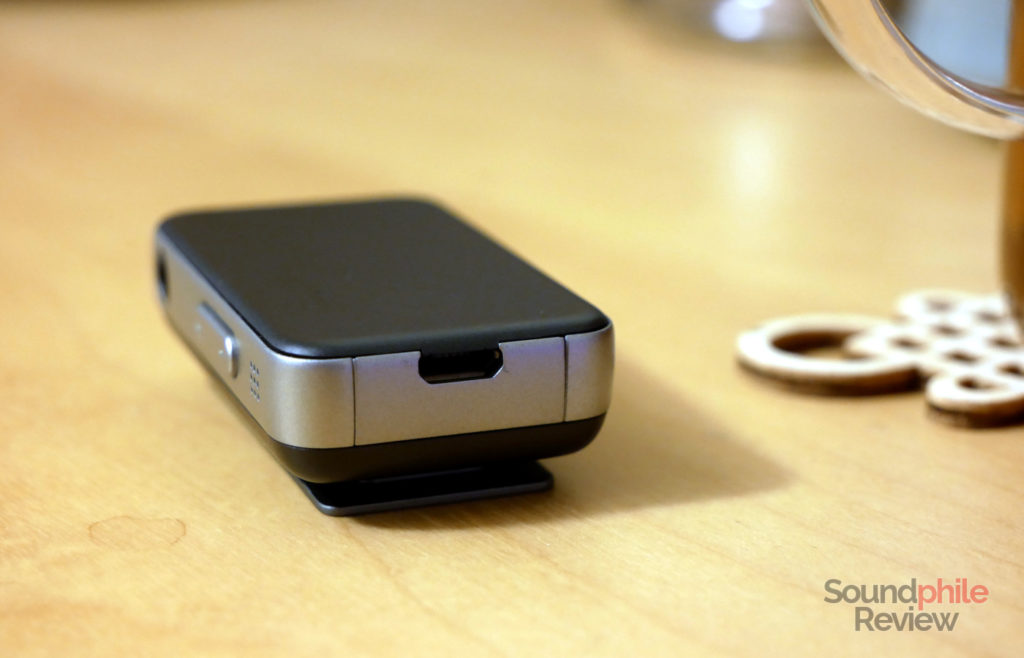 Radsone promises 14 hours of usage out of a single charge; this figure is subject to change depending on how one uses the device, so it's no surprise that in my usage pattern I was able to achieve around 12 hours of use (using the 3.5 mm output). This is a great result as it's around 90% of what the manufacturer promised, so it' s a very satisfying figure!
Software
The EarStudio ES100 comes with its own application that helps one use it. The app is available for iOS and Android, so pretty much everyone should be covered. The app allows one to access information on the device such as battery charge left, volume and so on, but most importantly it is useful in changing various settings. The Android version I tried is remarkably well-made, fast and easy to use.
The app allows one to set and monitor various things. Among them:
in the "analog volume" section one can set the volume and related things, such as per-channel volume reduction and max volume limit; there is also an estimation of the output level that requires one to input the impedance and sensitivity of the headphones in use (by the way, it confirms my previous estimates: I listen to music at a volume that's between 65 dB and 70 dB, and anything louder than that becomes fatiguing to me);
the "Bluetooth pairing" section makes it possible to access various information about Bluetooth such as hardware addresses of connected devices and their active Bluetooth profile, plus one can set multi-point pairing which allows one to connect multiple devices (e.g. a DAP and a phone, or a phone and a tablet, etc);
the battery section makes it possible to enable "battery care mode" which only charges the battery to 80-90% and allows it to last longer. It is especially useful if one uses the ES100 mainly through USB. There is also a setting related to charging, which makes it possible to automatically power off the device when the charge stops (e.g. if you use the ES100 as a Bluetooth bridge on your car, so the ES100 automatically shuts down when you turn off the car and then wakes up when you turn the car on). One can also set whether to make the ES100 rely on external power or if it only has to draw power from the internal battery, so that it does not drain the battery of devices it is connected to using USB;
there is a slew of options in the "audio input" section: one can see what codec, bit resolution and sample rate are being used, plus set buffer length, set what codecs are available, select which USB DAC mode should be used and whether the jitter cleaner tech should be used or not in USB and Bluetooth connections. There's also a ton of information on how the ES100 performs with related graphs;
under "audio output" one can find various settings; among them are the settings for power mode of both unbalanced and balanced outputs, with both having a "normal" mode and a "high power" mode, the latter of which provides more voltage.
in "misc control" there are settings related to mic volume, system tone volume, LED colour settings and Bluetooth hands-free profile;
The app also offers an equalizer with 10 bands, access to low-level controls (e.g. DAC filter, crossfeed, over-sample) and ambient sound, which uses the microphone to pick up sounds from outside and play them through the headphones so that one can stay aware of the surroundings even when listening to music.
Sound
I used a variety of headphones to test the EarStudio ES100, including the oBravo Cupid, the Fearless Audio S8 Pro, the Tin HiFi T4, the ThieAudio Phantom, the HiFiMAN HE560 and Radsone's own EarStudio HE100. Source files were largely FLAC files in standard 16 bit / 44.1 kHz resolution.
Despite being so little, the EarStudio ES100 has the power needed to drive even low-sensitivity headphones such as the HE560 (in balanced mode). At the time of writing this review I do not have any high-impedance headphones that I could test the ES100 with, but it seems like it has ample power to drive them unless they are super-high impedance. Single-ended mode is ideal for low-impedance, high-sensitivity headphones, whereas the larger power output of balanced mode allows one to drive even hard-to-drive headphones.
Neither in single-ended nor in balanced mode there is any background noise: Radsone specifically writes in their technical papers that they employed solutions to avoid this issue and provide the cleanest possible power to the headphone outputs.
As far as tuning is concerned, I can't really hear significant departures from a neutral signature. Everything seems to be correctly portrayed, without emphasis (or de-emphasis) on any specific thing. In short, it's not a source I would get because it adds something to the sound; it seems to me like it just "tells it like it is". This lack of colouration does not make it "boring" or "sterile" though; the ability of the ES100 to drive headphones with fast transients and a high level of detail makes the sound engaging and pleasant.
There's not much more to say about how the ES100 sounds, but that's a good thing if you ask me: it means that whatever headphones you are going to use, you will hear them and not the source. If you really wish you could add more of something in your sound, you could always use the embedded equaliser.
Even when nearing maximum volume you can barely hear any distortion, which is again a positive direct result of Radsone's design choices.
Final Thoughts
The Radsone EarStudio ES100 is small, yet this does not stop it from having every possible feature one would want. What it does not offer through the buttons, it does offer through the companion app. Not only does the ES100 perform excellently under all metrics, but it becomes even more versatile and useful when setting it up with the app. There's a trove of settings that makes it possible to customise the user experience to one's liking and needs, so that the ES100 is able to do practically anything one wants it to. Its possibilities are almost endless and that's also thanks to the availability of high-quality codecs, Bluetooth 5.0 connection, high-power output and small size.
So, should you buy the EarStudio ES100? Of course you should! At the sub-$100 price it's sold at, it's an outright steal. Plus, you would be supporting a company who is very open about the technical details and provides so much information about their products and the design process – which in my opinion is a super-positive fact.