A year has passed since the xDuoo LinK made its debut and the company has been constantly renovating their offer, especially when it comes to the mobile segment. The xDuoo LinK 2 takes the old model and makes it better in almost every possible way, from the inclusion of a detachable cable to a power output that's five times that of the previous unit. The improvement is sizeable, so much so that the LinK 2 is now among the best portable DACs you can find.
Disclaimer: this unit comes courtesy of Linsoul Audio, which sells the LinK 2 for $99. Additional info on the device is available on the official website.
TL;DR: recap
Pros




Cons

Great build quality

Neutral sound signature

Powerful output

Bass boost and soundstage enlargement switches

A bit bulky compared to the competition
Rating: 9/10
Packaging & Accessories
xDuoo kept the packaging and the accessories easy and simple: the cardboard box contains a manual, a warranty card, a USB-C to USB-C cable, a USB-C to Lightning cable, a USB-C to USB-A adapter and a silicone pad to secure the device to your smartphone, tablet or other device.
Design & Build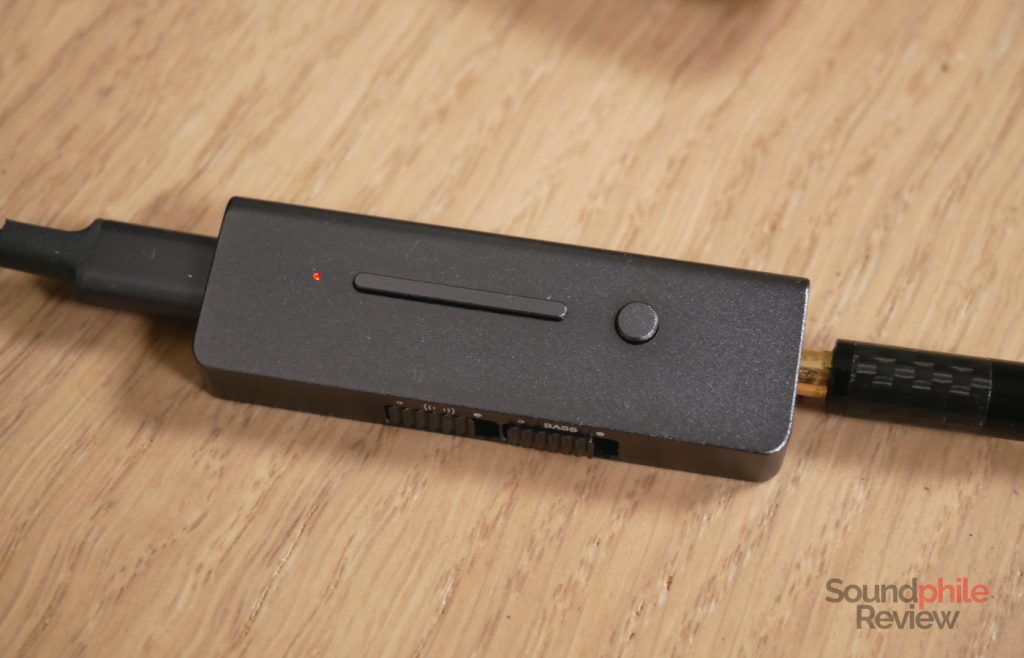 The xDuoo LinK 2 is a wedge-shaped slab of aluminium with a few buttons and connectors on it. It looks definitely unique and different from most devices of this kind I've tried so far. It's really simple and almost utilitarian. On one side there are the volume rocker and a play/pause button, on the opposite one there's the xDuoo logo, on the lateral sides there are the USB-C connector, the 3.5 mm output jack and two switches, one for bass boost and one for soundstage enlargement.
Compared to most other similar devices on the market, the xDuoo LinK 2 is a bit bulky at 63 x 21 x 12 mm. The weight is relatively limited at ~21 g, though, so portability is not impacted too much (though with the cable it's going to be more than that).
It's built very well, with the body being made of a single part and with just the upper and lower sides being made from different parts. The aluminium build is solid and the buttons feel durable. The switches are a bit hard to activate, but in a good way – they don't feel weak.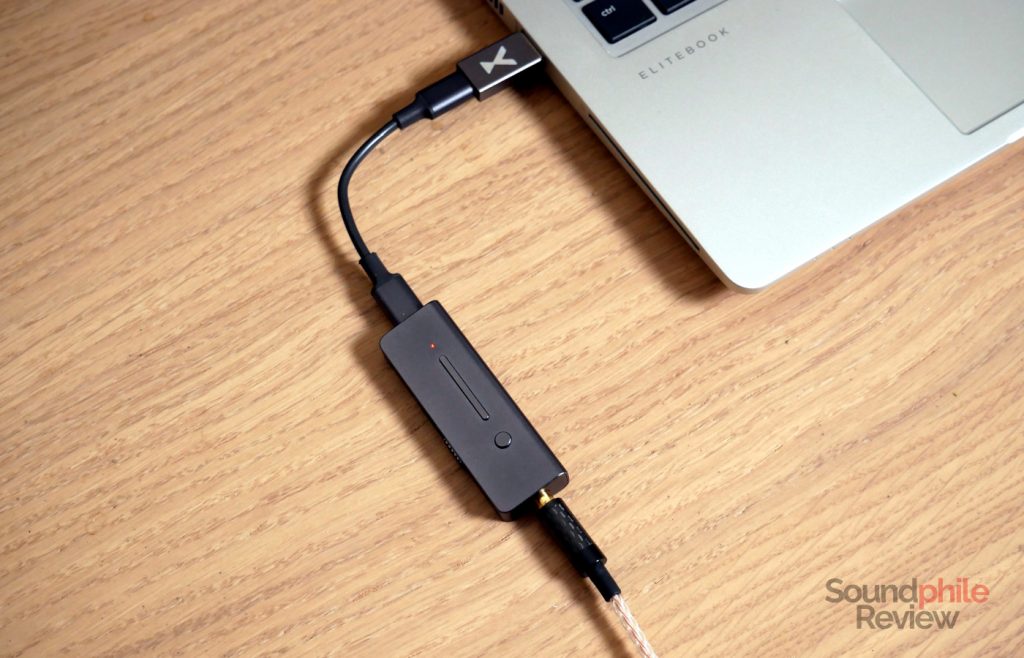 I think that the xDuoo LinK 2 is the ideal companion to a laptop computer. Its size and shape make it ideal to use when it's resting on the desk. It can be used with a phone or other portable source, of course, but in my opinion this device is the perfect complement to a notebook – I've mostly used with mine and its shape is perfect for resting on the desk and giving you quick access to volume and playback controls.
Specs & Features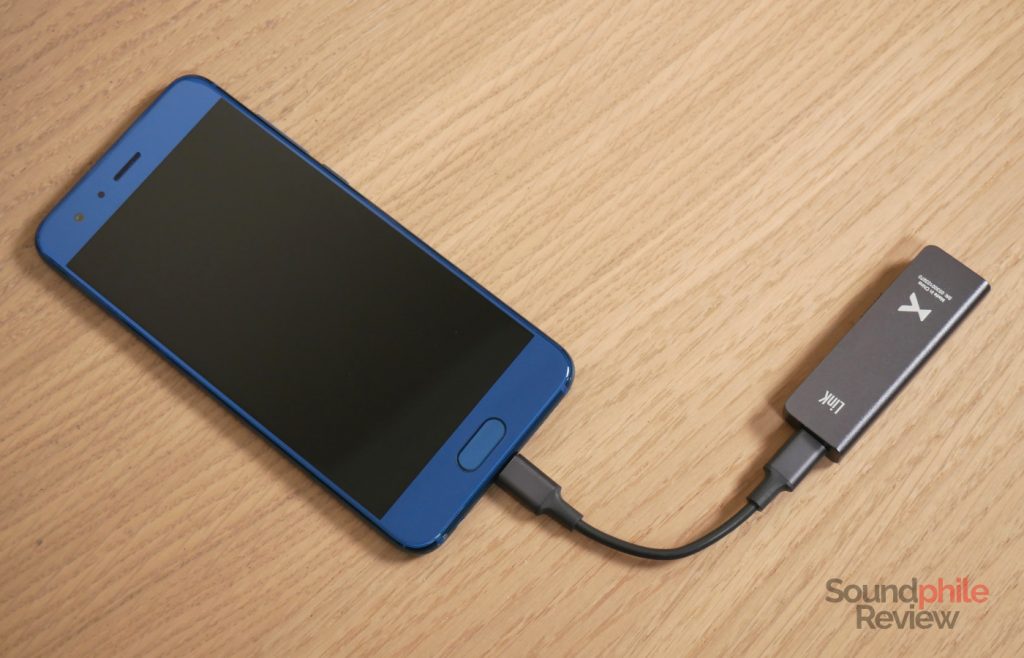 The xDuoo LinK 2 works with all major operating systems: Windows, macOS, Linux, Android and iOS all work. It might be an issue with Linux, but I noticed that I need to adjust the volume before anything would come out of the LinK 2. Just turning it up and then down again would "unlock" it and music would start playing. As there was nothing to be found in log files, I think this might be either to do with drivers or with the hardware itself, and as I lack a computer with Windows I couldn't test it.
| | |
| --- | --- |
| Input | USB (up to 32 bit / 384 kHz PCM, DSD256) |
| Suitable headphones impedance | 16 – 300 Ω |
| Output impedance | N/A |
| Maximum output power | 150 mW (32 Ω) |
| Frequency response | 20 – 20,000 Hz (± 0.5 dB) |
| THD+N (@1 kHz) | 0.0018% |
| SNR | > 110 dB |
| Crosstalk | -75 dB |
With 150 mW at 32 Ω, the LinK 2 offers quite a lot of power for a dongle of this size. xDuoo uses a ESS Sabre ES9118EC DAC coupled with an unnamed amplifier. The company notes that there is a low SNR which "reduce noise to comfort, obsessive-compulsive disorder" – it's okay to be a bit OCD, but what does that have to do with SNR? We will probably never know.
Available power is enough even for high-impedance headphones such as the Sennheiser HD 6XX. I tested them with the LinK 2 and found, much to my surprise, that they actually sounded quite well; even though they wouldn't reach deafening volume levels, they had more than enough power to have a decent punch in the lower end, where the impedance climbs up to about 500 Ω. The difference is there with amplifiers that deliver more power such as the Drop THX AAA 789: the lower section is definitely more controlled and defined there, while also being a bit more present, but the difference is not of the "night and day" kind. When xDuoo says the LinK 2 can drive headphones up to 300 Ω, they are right.
On the other side of the spectrum, the LinK 2 is not ideal with IEMs as the minimum volume is quite high: I could only reduce the volume to 9%, as below that threshold the device would just go silent, but that was enough to push the earphones to a volume that was beyond my level of comfort, so I had to use an iFi EarBuddy to tame it a bit.
Sound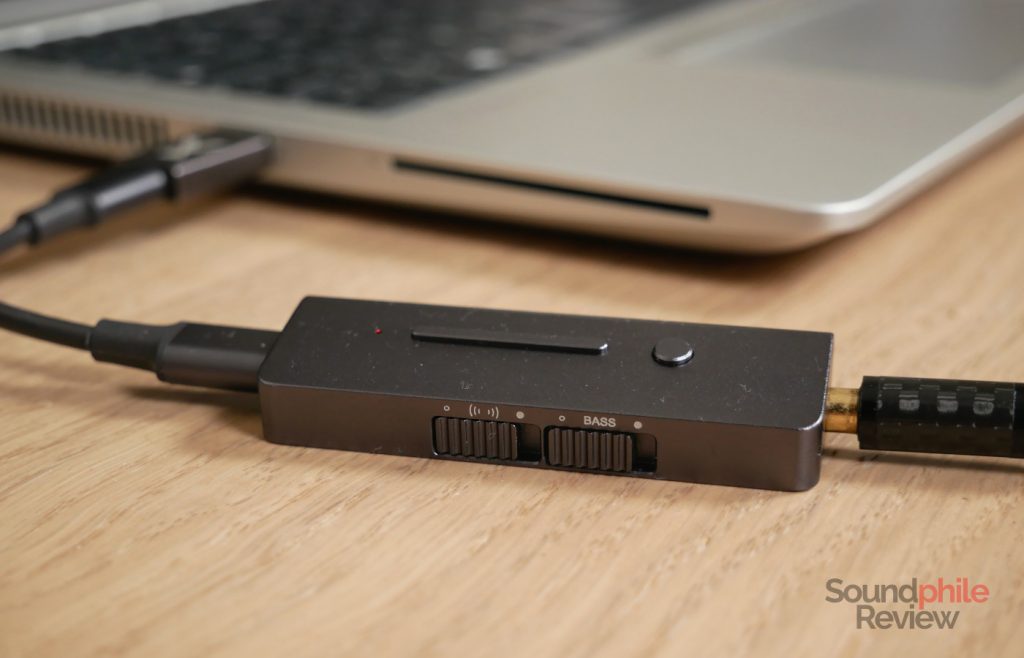 I mostly used my HP EliteBook 745 G5 notebook PC to power the LinK 2. Most music files used were FLACs ripped from CDs (and therefore in 16 bit, 44.1 kHz format). I used my Sennheiser HD 6XX as well as the Fearless Audio S8 Pro to test it out.
The xDuoo LinK 2 appears to be perfectly silent when using low-impedance earphones, which is a good sign as it shows it was well designed.
The sound signature is neutral, without any significant colouration that I can notice. The xDuoo LinK 2 appears good to drive any headphones and earphones as it does respect their tuning without introducing its own in the equation. It's as detailed as more powerful amplifiers, but it is a bit lacking in speed with high-impedance headphones.
The bass switch gives a substantial boost to sub-bass and lower mid-bass frequencies (+ 6 dB), making them almost preponderant if your headphones are already relatively warm. This effect is welcome if you really crave for more punch or if your headphones lack presence in the lowest region, but otherwise it might even be excessive.
The soundstage switch, on the other hand, appears to mostly remove a bit of presence in the lower midrange and upper bass areas, exposing upper midrange and treble more and therefore making soundstage appear slightly wider. It's not a night-and-day difference, but the effect is surely there and it works well. With the open-back headphones the effect is less evident.
Final Thoughts
The xDuoo LinK 2 is a real improvement over the previous generation in almost every aspect, and in all those that count anyway. It is far more powerful (almost five times as much!), it has a detachable cable, it offers added effects that make it more useful and it is entirely built of aluminium. The price received a boost as well, going from ~$50 to ~$100, but the improvements made to it are actually more than worth the added expense. The LinK 2 is not the most portable thumb-sized DAC, as its competition tends to be smaller (e.g. E1DA 9038D), but it's still small enough that you probably won't mind its presence. It's the perfect addition to a laptop computer, also thanks to its physical controls. It's not the perfect device, but it's really, really good and in some ways better than the competition, which doesn't offer as many options at this price point and in this size category.