xDuoo's line-up includes mainly two types of products when it comes to amplification: solid-state portable amplifiers and tube amplifiers. Both often feature a DAC stage, too. The xDuoo XD-05 is the manufacturer's top offering when it comes to portable DACs and amplifiers: it's the largest, most powerful (and most expensive) product by xDuoo of this kind. In more than one sense, the xDuoo XD-05 is an odd device which is really interesting to demanding audiophiles thanks to its peculiar features – which include the possibility to replace the op-amp with one of your liking.
Disclaimer: this unit was provided to me free of charge in order to publish this review. I won't have to return it. It is on sale on Linsoul's AliExpress store for $249. The official product page is available here.

TL;DR: recap
Pros




Cons

Sturdy metal build

Large power output at 500 mW

Solid selection of inputs and outputs

Built-in bass equalisation

Replaceable op-amp

Large imbalance zone on the volume knob

Background hiss

A bit bulky
Rating: 8/10
Packaging & Accessories
The xDuoo XD-05 has a decent accessory set that comprises a USB cable, a USB to micro-USB cable, a set of adhesive rubber feet, two silicone bands in case you want to keep the unit attached to a mobile device, a mini-CD with the drivers for Windows, a user manual and a warranty leaflet.
Design & Build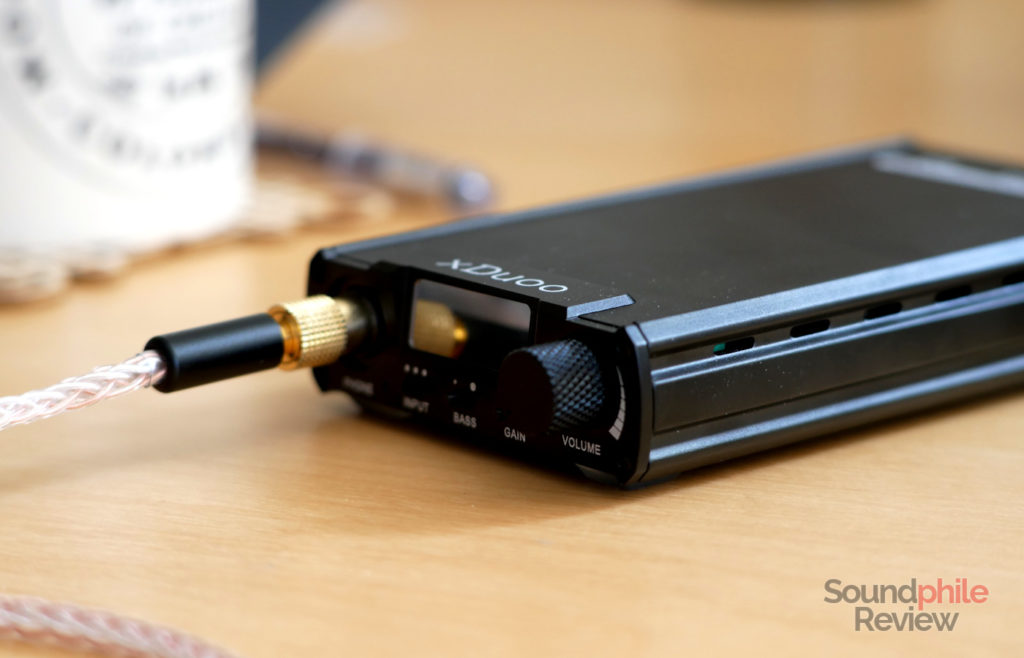 The xDuoo XD-05 is a rather large black metal slab with a screen and a knob sticking out from one side. The chassis is made of aluminium in three pieces: the front, the back and the rest. It's not super fancy in design, as it is just a parallelepiped with the sides bulking out a bit, but it serves its purpose. The sides also have holes in them, probably to let air pass through the device and cool it down. The xDuoo XD-05 is more utilitarian than beautiful, although its look reminds me of pro audio gear which has an appeal of its own if you like that kind of design. It surely isn't decorative!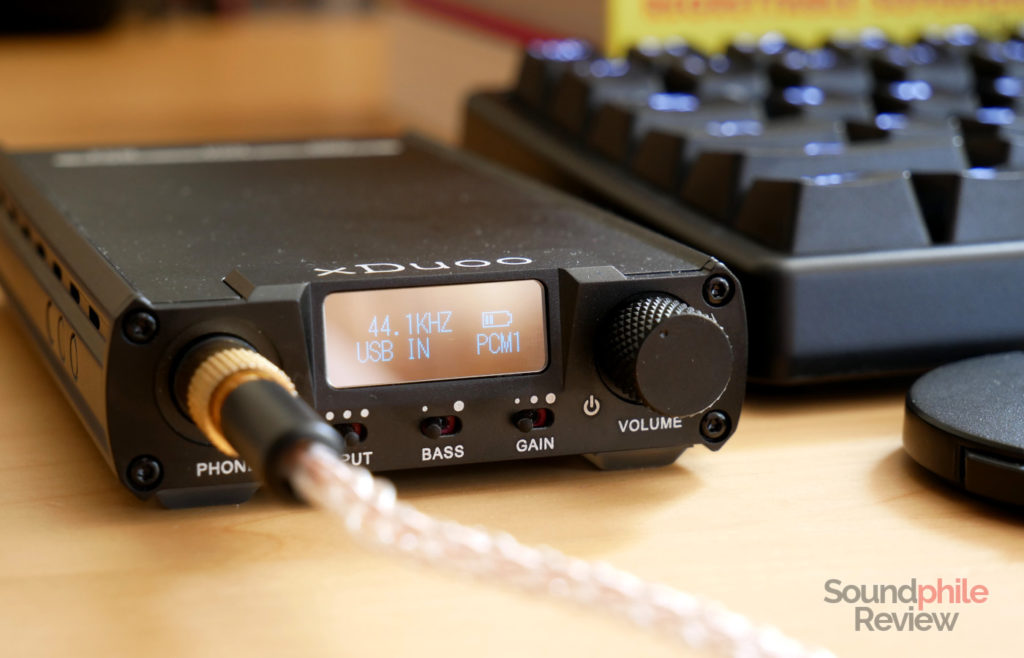 The front hosts the volume knob, a 0.91 inch OLED screen, three selectors (input, bass, gain) and a 6.3 mm jack output. It's rather uncommon to have 6.3 mm jacks on portable devices, but the sheer size of the xDuoo XD-05 (139.5 x 75 x 23 mm) means there's enough space to host one. The back has an aux in/out port in the form of a 3.5 mm jack port, a USB connector (a male one, just like the cables you plug into PCs or power adapters), a female micro-USB port to charge the battery, a LED for the connection status, a LED for the charging status and a digital input port. The left side hosts three buttons to adjust the settings: a "display" button, a "SRC" (source sampling) button and a filter button.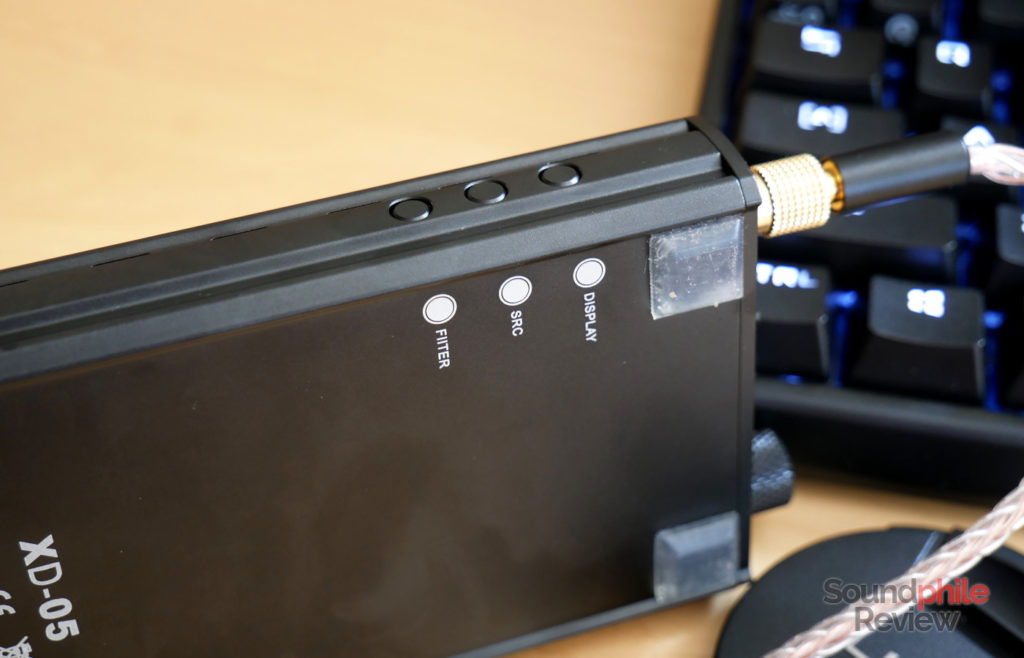 The xDuoo XD-05 appears to be well put together. Its metal build is solid – the metal appears to be quite thick and although I didn't try to drop it to test its resistance, I guess it can take a good bit of abuse. It's not flawless in its build, as the pieces don't quite fit perfectly together and some pieces have occasional smudges, but it's still really good nonetheless. The connectors and input ports all seem to be solid.
Considering the size and weight (270 g), I would say that this sits solidly in the "desktop" territory. It is more transportable than portable, the same way that the iFi micro iDSD BL is. It does not fit in a pocket and while it can be moved, you can't really use it while on the move – it is a device that can replace more powerful equipment when one uses a laptop or other portable device, but only when being on a desk or other fixed place.
The screen shows information on the input used (either USB, aux or coaxial), the sampling rate and the battery left. It's small, but large enough to be clearly seen when the device sits on the desk; it is not really bright, so using it outside is not really an option. It serves its purpose and that's about it.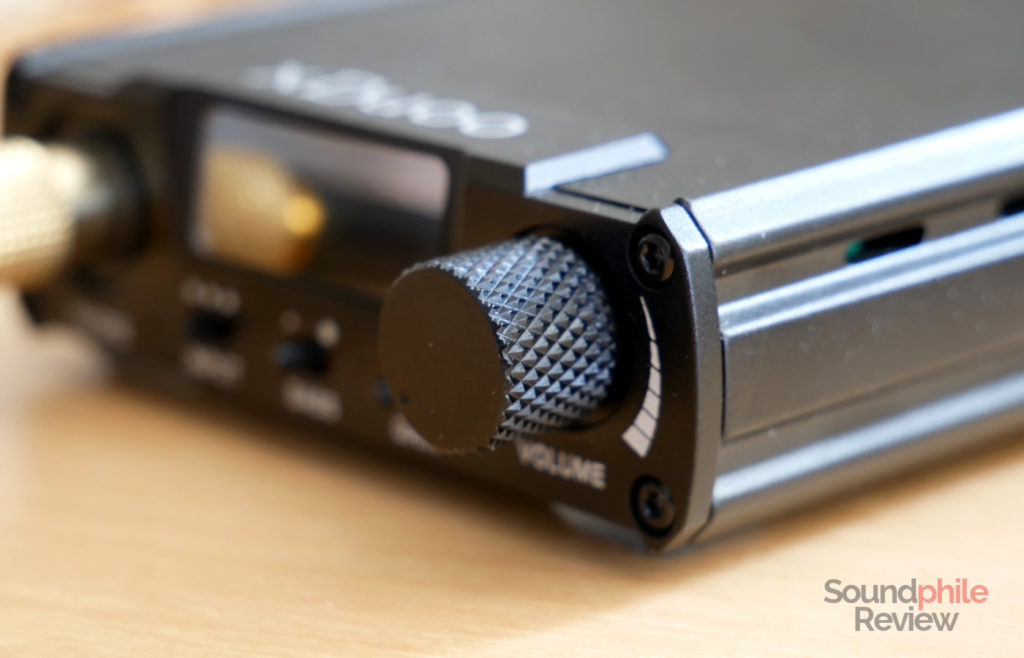 The volume knob sticks out of the body noticeably. It is machined so that it's easy to get a grip on it, and it is smooth enough to operate with a nice sense of resistance that allows for precise adjustments of volume. Now, the not-so-good part is that the volume knob has a very large "dead zone" and an equally large "imbalance zone": it starts to output sound at 9, but it is heavily imbalanced as it only plays in the right channel; it becomes balanced around 11, where output is already too powerful for many sensitive IEMs. The knob acts as the power button, too, so that it has a minimum around 7 which coincides with power off; rotating it clockwise makes it "click" and also powers the unit up.
Features & Specs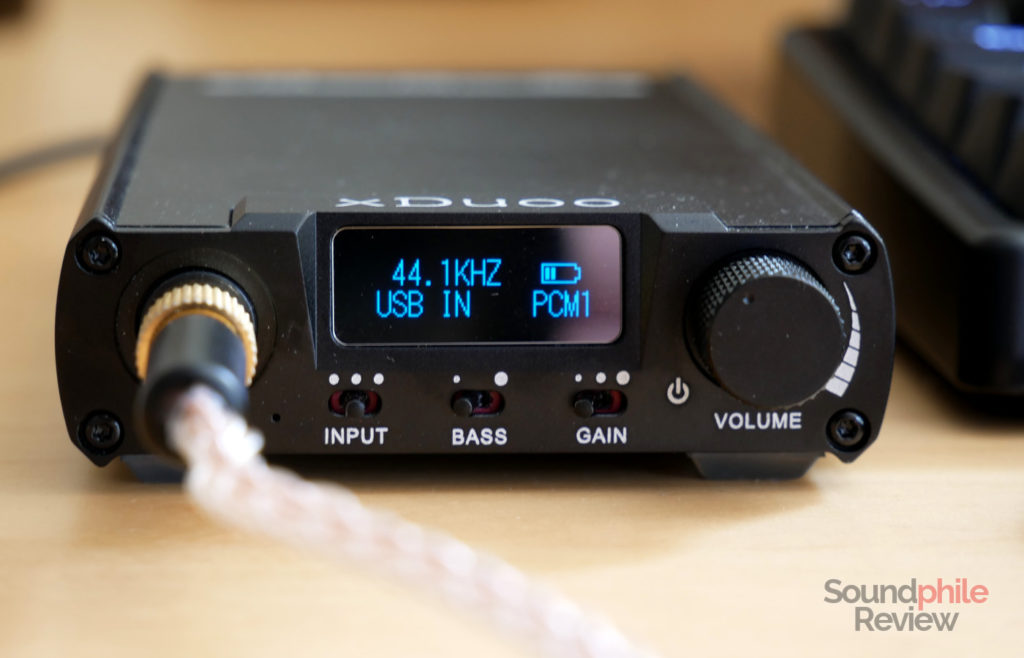 The xDuoo XD-05 rivals larger desktop devices in terms of input and output options. It can drive headphones, but thanks to the aux output it can also drive powered speakers and other devices (e.g. dedicated headphone amplifiers like the iFi xCAN). It is quite flexible, although it does not offer a pre-out mode to adjust the volume on the aux output.
In terms of inputs, the xDuoo XD-05 mirrors much of its output flexibility by offering a decently wide range of inputs. It can be used with the standard USB input, which offers the largest flexibility in terms of supported formats and sampling rates, but also with SPDIF (both coaxial and optical). The amplifier stage can be used on its own thanks to the aux input, so one can use a different DAC or other device (e.g. a DAP) as the source. The USB port is a full-size male connector so that it is possible to use OTG cables to connect the XD-05 to phones, tablets, DAPs and other portable devices.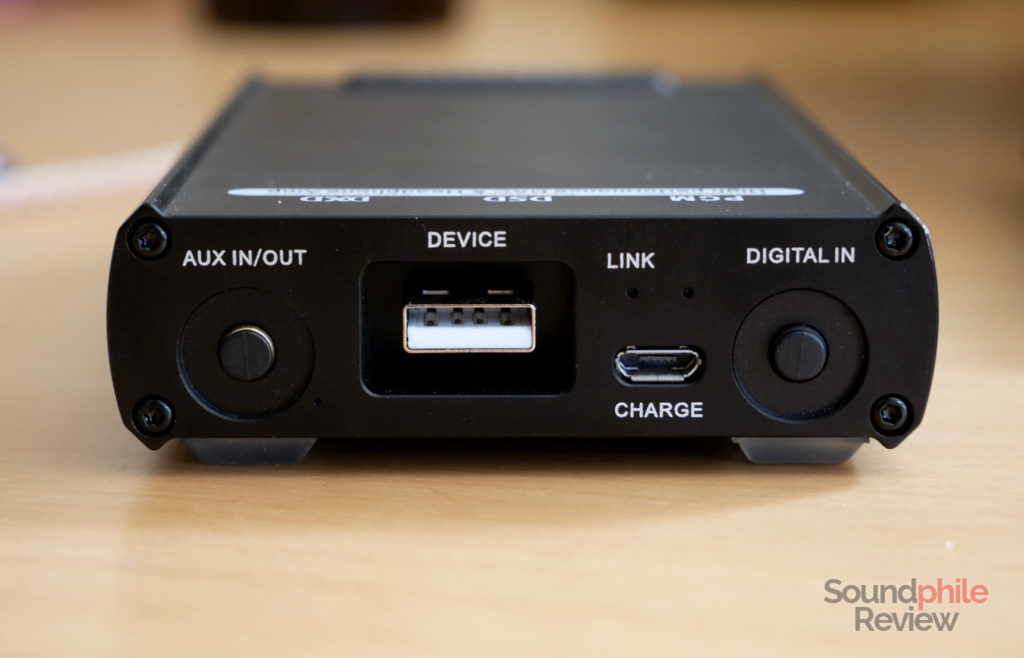 The xDuoo XD-05 seems to shut off some internal components, as it emits a "click" when it starts playing and then it takes less than a second for the sound to come out. This means that when one starts playing something it will cut off the first instants of the track. There's apparently no way around this fact.
The display button on the side allows one to turn the display on or off; long-pressing the button turns the display off and lights up a LED on the front. The "SRC" button allows one to re-sample the audio stream to 48 kHz, 96 kHz or 192 kHz, or to leave the stream as it is; this feature is only available when using SPDIF input. My advice is to leave it on "pass" as re-sampling always involves some form of processing that would be better to avoid. The last button, the filter one, allows one to select the filter to apply to the signal. There are seven in total: sharp roll-off, slow roll-off, short delay sharp roll-off and short delay slow roll-off for PCM streams; reserved cut off filter, 50k cut off filter and 150k cut off filter for DSD streams. Telling the difference between them is really difficult and not always possible, as the differences are really small.
Input
USB (up to 32 bit / 384 kHz PCM/DXD and DSD256)

SPDIF coaxial and optical (up to 24 bit / 192 kHz)

Suitable headphones impedance
8- 300 Ω
Output impedance
N/A
Maximum output power
500 mW (32 Ω)
Frequency response
N/A
THD+N (@1 kHz)
< 0.0025%
SNR
> 112 dB
Crosstalk
N/A
With 500 mW power output on a 32 Ω load, the xDuoo XD-05 has ample room to drive high-impedance headphones or those with low sensitivity. There is a limit, of course, and this power won't be sufficient for extremely demanding headphones, but it is more than the average portable amplifier offers.
The DAC at the heart of the xDuoo XD-05 is the AKM AK4490, renowned for its quality and used in other well-known products such as the Pro-Ject CD Box DS2. An interesting feature of the xDuoo XD-05 is that it has replaceable op-amps, so one can change the sonic features of the amplifier, such as its tuning, with little expense. There is a wide array of compatible op-amps, including those by renowned Burson Audio.
Battery Life
The xDuoo XD-05 has a relatively short battery life for being so large. It is in fact capable of running for about eight hours, also depending on the headphones you plug into it. That's not quite as good as the 11 hours promised by the manufacturer. It's still an interesting figure, given it allows for a full day of use. It has to be noted that there is no way to make the device automatically power off as the volume knob acts as a physical power selector, so the device can't power off on its own if one does not rotate the knob to its initial position.
For better or for worse, the xDuoo XD-05 does not charge when used with the full-size USB cable: it always requires the micro-USB cable to be charged. This is a pro when one uses it with a mobile device (phone, DAP or laptop PC), but can be annoying when using it at the desk as it requires a second USB port (or a power adapter) to stay charged.
Sound
When trying out the xDuoo XD-05 to write this review I used a HiFiMAN HE-560, a Fearless Audio S10 Genie and a Tin HiFi P1.
Thanks to its power output amounting to half a Watt at maximum power, the xDuoo XD-05 can drive even demanding headphones such as the HE-560 to high volume. In fact it has enough room for transients to be powerful and impactful, even at relatively high volume. For a portable device, it is remarkable.
As I mentioned before, hearing the differences between the filters is really hard, so much so that it is close to impossible unless you really know what to look for. The filtering system has an impact so low on the overall sound that it can be neglected.
The bass selector makes it possible to add presence to the lowest part of the spectrum. This form of equalisation lifts the whole bass section making bass more prominent but not excessively emphasised, so that it does not end up being overly present. It is a nice addition for earphones and headphones without much bass presence as it doesn't upset the fundamentals of the tuning. The emphasis is on a descending pattern as the frequency goes up.
The gain selector allows one to select between three different stages: 6 dB, 9 dB, 15 dB. The lowest gain setting is more than enough for most headphones.
In terms of sound signature, the xDuoo XD-05 does not introduce any significant colouration to the sound. There may be a very small bias towards bass, but it is so small it is barely audible. The significant achievement of the XD-05 is that it has fast transients, so the sound it produces feels faster than with other portable devices. It won't make you say "wow!" when you listen to it, but it will add a bit of kick to the sound.
One interesting aspect of the xDuoo XD-05 is that its op-amp is user replaceable. This means one can alter the tuning by swapping the op-amp with another one (e.g. one made by Burson Audio), and this would be a cheap and effective way of altering the sound signature and the acoustic properties of the device. This is a rare proposition in the portable world and one that makes the XD-05 more valuable to audiophile who want to experiment with their gear.
Alas the background is not really clear, as there is some noise. It is more clearly audible with low-impedance, high-sensitivity earphones, but it is always there unless you use very high-impedance headphones. It is not really strong, but it's there and it can become tiresome after a while.
Final Thoughts
One question pops up: is the xDuoo XD-05 a good alternative to other setups? If you are looking for an all-in-one device with a small footprint but enough power to drive even demanding headphones, then the answer is yes. It does not have the same power of larger (and/or pricier) devices, but it delivers more than expected. There's more than meets the eye in the XD-05, and this relatively little device is actually an interesting proposition for most people – so much so that I can see it being used as the only device by many audiophiles.
Its large power output, large selection of inputs and outputs, replaceable op-amp and transportable form factor make the xDuoo XD-05 a compelling desktop companion that can follow you wherever you go.