While DAPs have been offering balanced outputs for a while, there are not many portable amplifiers that do the same. The iFi nano iDSD Black Label features a so-called S-balanced output which brings some of the advantages of balanced to single-ended earphones, and the company has now moved to offering true balanced outputs on their wireless, portable DAC and amplifier the iFi xCAN. This is the first Bluetooth DAC/amp by the company and it was born to give the users one small device they could use as a wireless source or as a balanced amplifier – or as a balanced wireless source, of course!
Disclaimer: Karina at iFi Audio kindly loaned me this unit for a while so that I could test it and publish this review. More information on the company's website. The device retails for $299.

TL;DR: recap
Pros




Cons

Original, peculiar design with quality materials

Huge amount of power – 1 W!

Both single-ended and balanced inputs and outputs

Useful built-in audio effects

Background noise

Pop when switching between the various XBass and 3D modes

Bluetooth connection is not very strong

Can't be used with USB
Rating: 9/10
Packaging & Accessories
iFi has a tradition in how they make their packaging and they're sticking to it for the xCAN: it's a rectangular box (a parallelepiped, technically) in white cardboard with a lot of information on it. The box holds the xCAN, a USB to USB Type-C (yay!) cable, a 3.5 mm to 3.5 mm TRS jack patch cable and a 2.5 mm to 2.5 mm TRRS jack patch cable. There's also a soft fabric bag, similar to that included in the iFi IEMatch2.5 box, and a set of Velcro-like stickers one can use to secure the device to another one (e.g. a phone or DAP).
Design & Build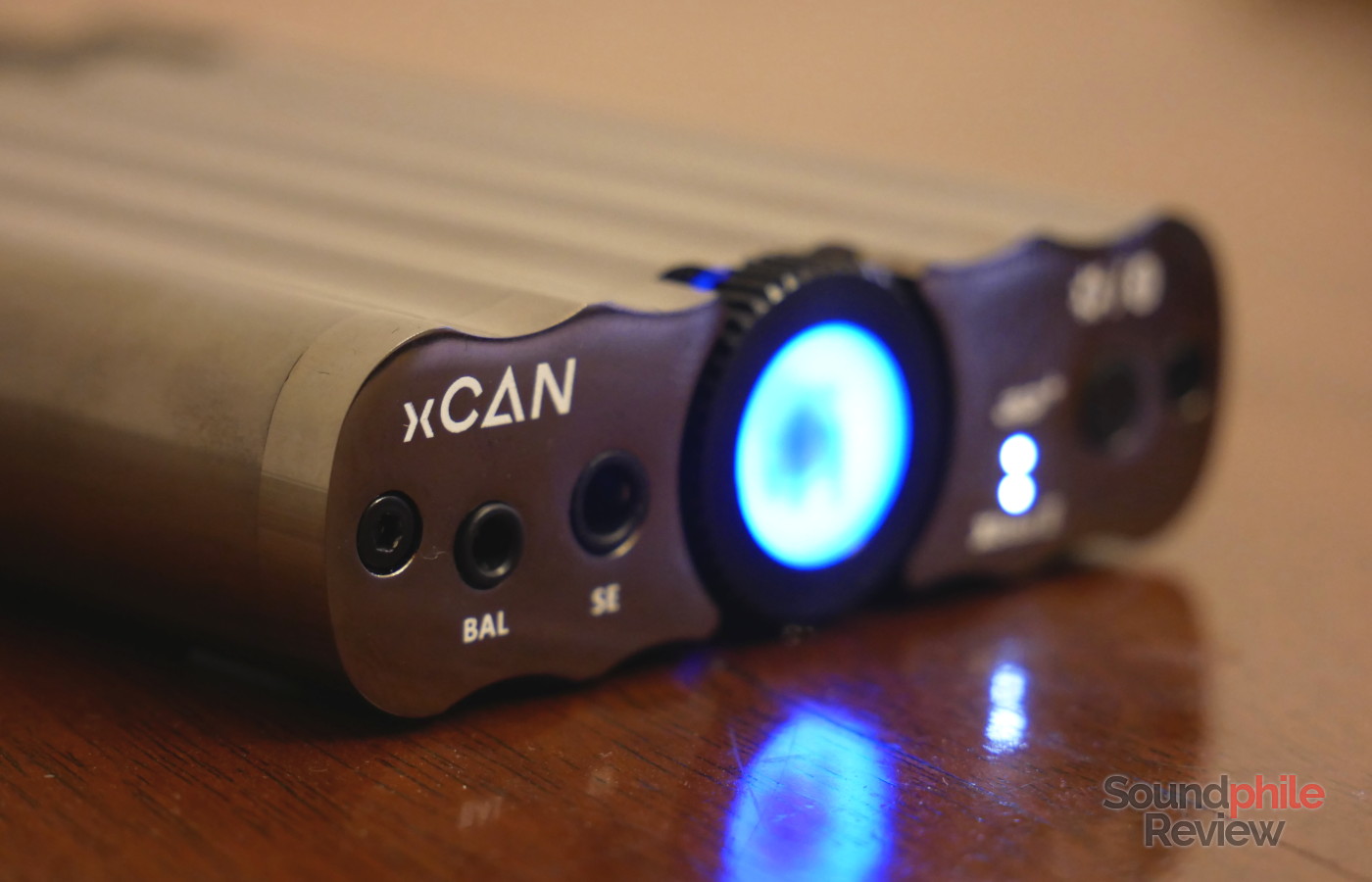 iFi has had a portable line-up for a while now. All of their portable devices under the "nano" brand, though, were always meant to be used with a cable. There was no wireless option, unless one used odd, non-standard setups. The new "x" line-up of devices bridges this gap by offering features similar to the "nano" line, but adding Bluetooth as the proverbial cherry on top of the cake. That's not the only change, of course, as the differences are many – starting from design.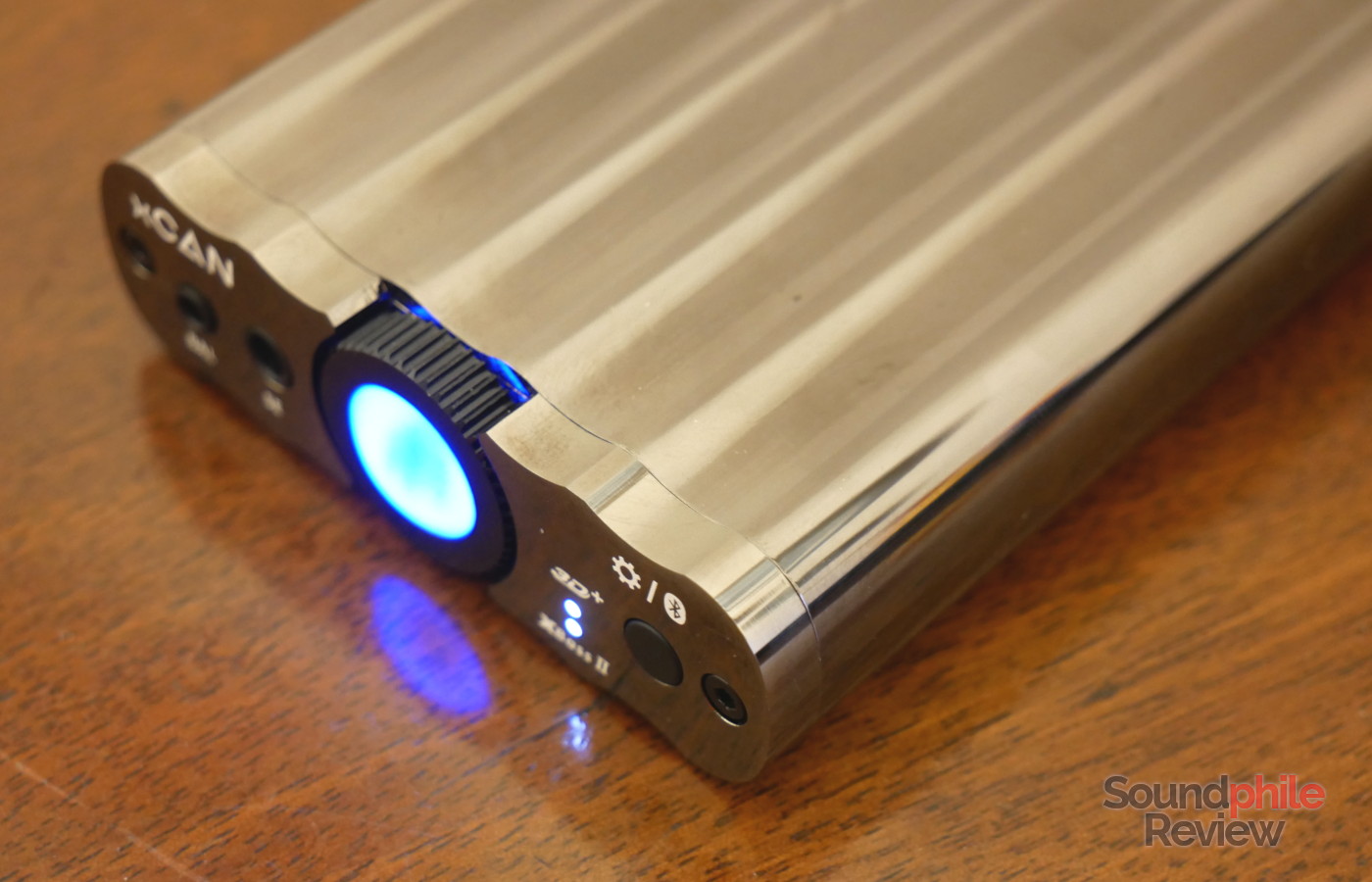 The iFi xCAN is a small device by any standards. It's not Audirect Beam small nor Topping NX4 DSD small, but it's still pretty small being just 95 x 67 x 19 mm and weighing just 127 g. It's roughly the same size as the devices in the nano line. The body is made of metal for the most part, with one end being made of plastic with a soft-touch finish (thus allowing the wireless signal to go in and out of the device). The metal is shiny and mirror-like to the point it appears chrome-plated. The body has a few "waves" on it which create a complex play of concave and convex lines and gives the iFi xCAN a unique look. It's certainly a huge departure from the previous products and their trapezoidal shape!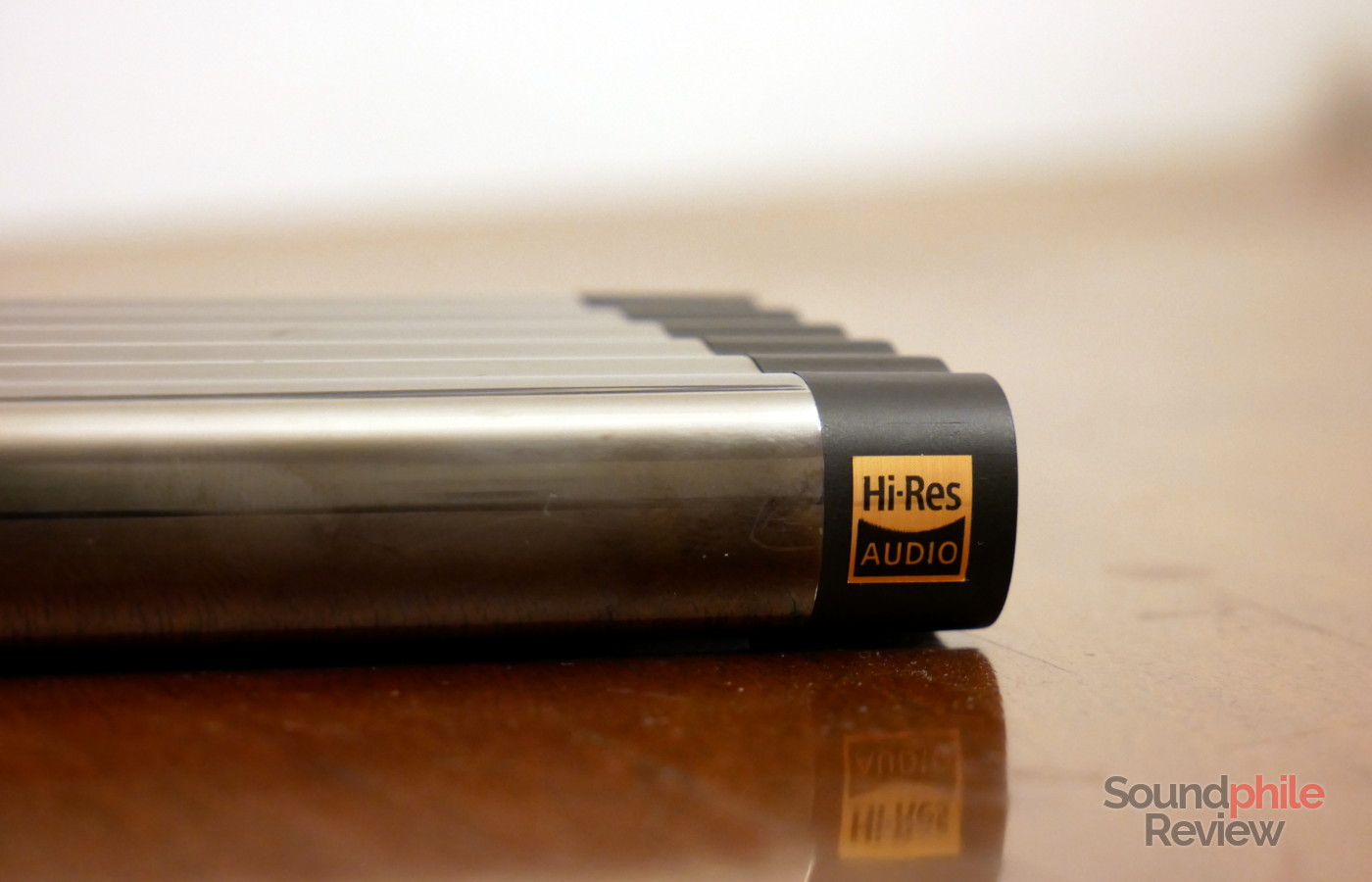 iFi has been consistently manufacturing well-built products and the iFi xCAN is no exception to this empyric rule: it's very solid, not only because of the choice of materials but also because it is assembled really well. My only concern regarding durability is about the finish of the metal parts: as they are mirror-like, I fear they might be easily scratched. I do wonder if that's the case, though I can't verify that for obvious reasons (if you're reading this, Karina, rest assured I didn't try to scratch the device).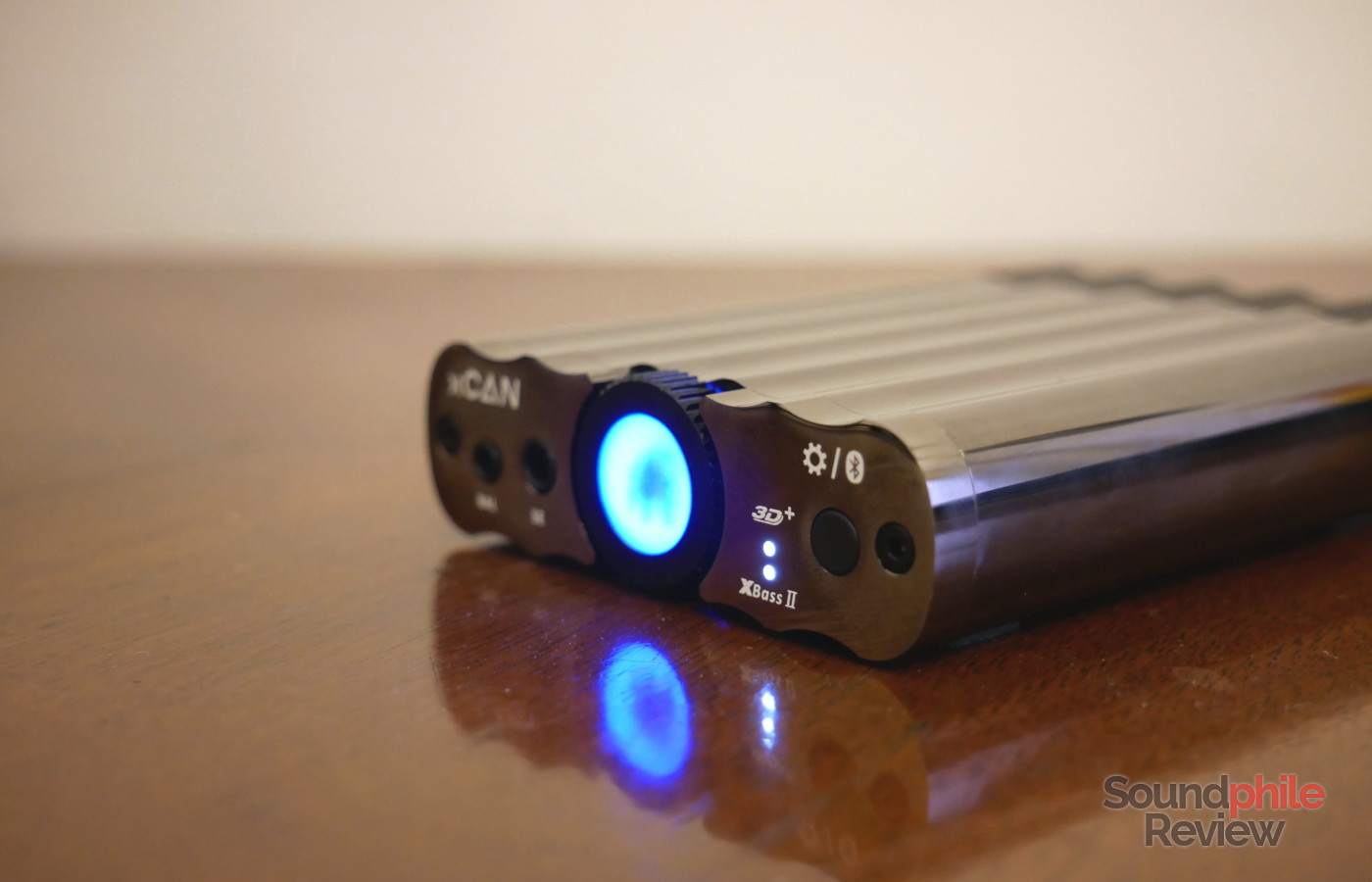 The front of the iFi xCAN hosts a rotary wheel with a semi-transparent circle which shows the iFi logo, a 2.5 mm and a 3.5 mm jacks, two status LEDs and a button to switch equalization modes and enable Bluetooth pairing mode. On the back we find a USB Type-C port, a selector for the XBass II mode and two input jacks (2.5 mm and 3.5 mm).
The semi-transparent disc inside the volume wheel has a practical function, too, as it conceals the status LED: it lights up in different colours to inform the user of the status of the device. As the wheel keeps on spinning endlessly (there's no starting nor final position), the LED lights up in different colours to indicate the current volume. The wheel itself does not spin freely, but instead has small clicks delimiting each step of volume.
Features & Specs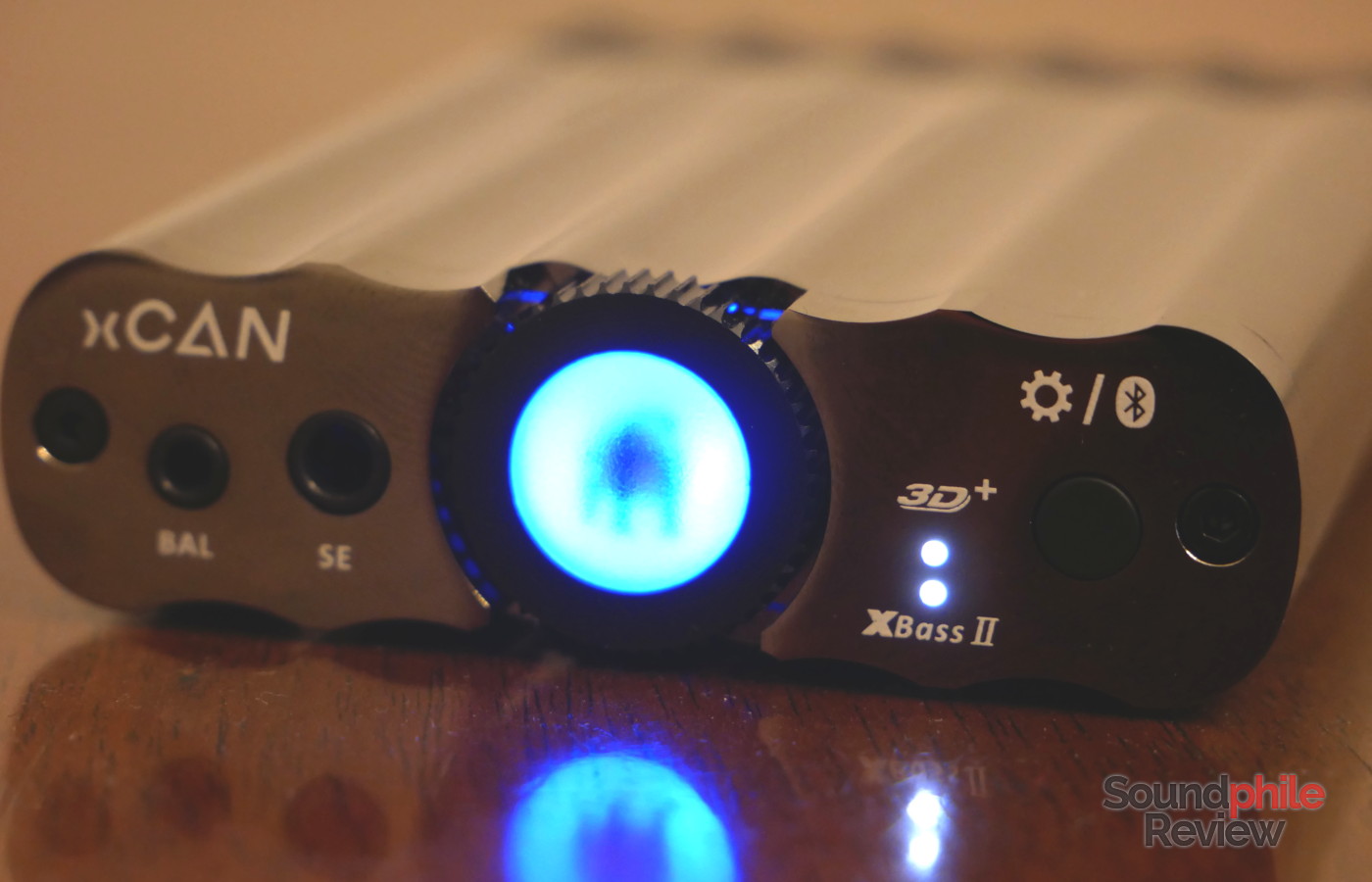 The iFi xCAN is, as the name implies, a device purely dedicated to headphones – it does not even have a line out option! As such, it is designed to power most headphones while on-the-go, combining the convenience of Bluetooth with a powerful amplification section. One can choose between two types of source: Bluetooth or cable, in the latter case using either a balanced 2.5 mm jack or a 3.5 mm jack. This way the iFi xCAN can be used as a stand-alone device in wireless mode or as an amplifier when one has another source (e.g. a DAP).
When using Bluetooth, the iFi xCAN sports support for Bluetooth in an unknown revision (4.2, maybe?) and for SBC, AAC and aptX codecs. In the latter case, it also supports the low-latency version, which comes in handy when watching video content. The inclusion of these higher-quality codecs makes the xCAN much more appealing and although it does not support "top" codecs such as aptX HD and LDAC, you would be hard-pressed in hearing the difference. The way that I see it, what's important is that there are good enough codecs so one can use the Bluetooth connection without longing for the wires too much. Perfection is not of this world, right?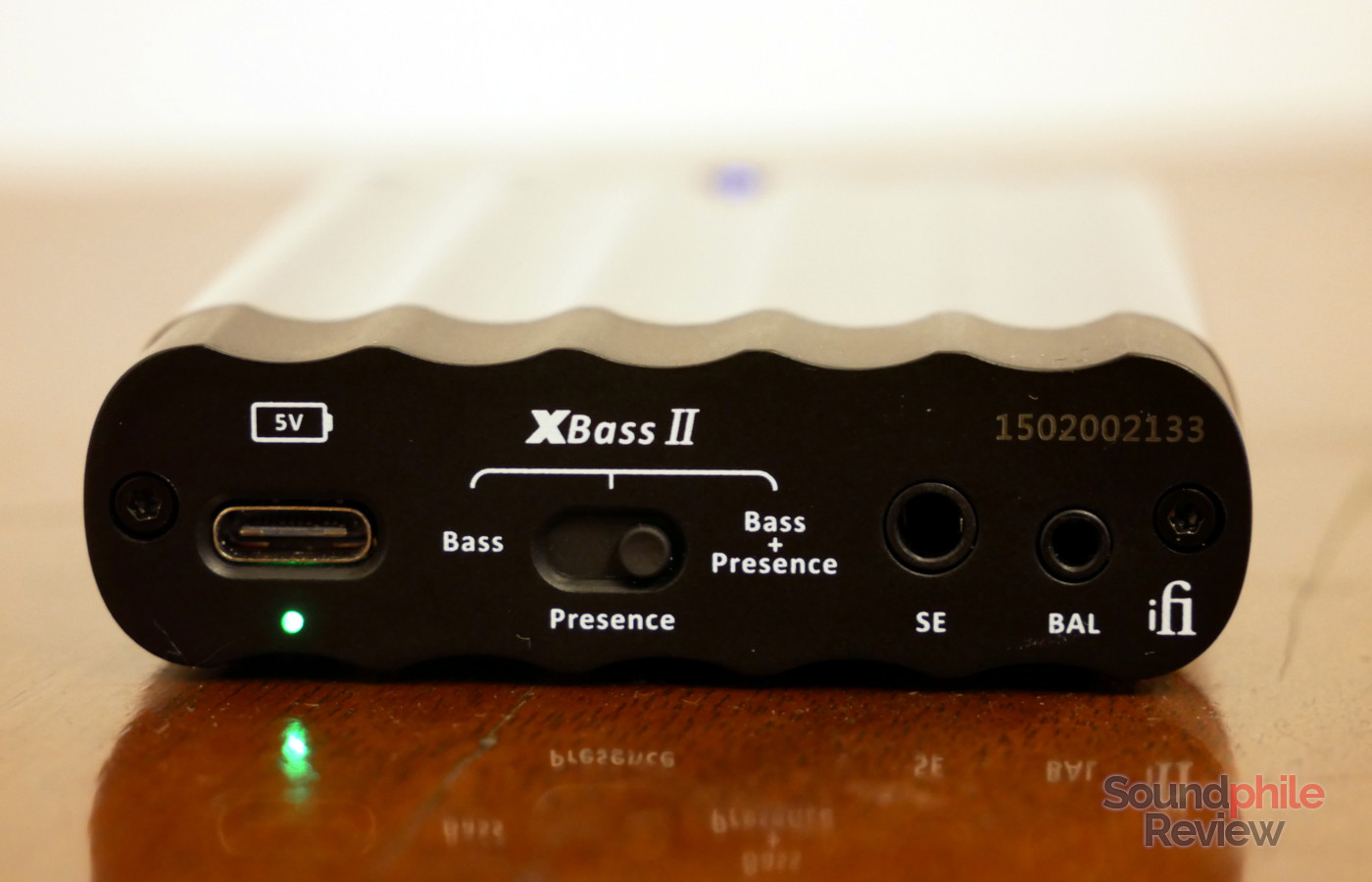 Although it is marketed as mainly an amplifier, the iFi xCAN actually has a DAC inside it in order to perform the conversion from the digital Bluetooth signal to the analogue signal fed to headphones. Despite this, the device can't be used as a traditional DAC using the USB Type-C port: it only works to charge the device. This limitation appears a bit artificial and unnecessary to me: I do understand the complexities and cost of including the USB controller, and also the fact that this specific use case is covered by the xDSD, but that device does not offer balanced output and is way less powerful. This means that there's no way of having a balanced chain using only iFi devices when using a USB connection (at least on the portable side, as the Pro line features balanced output).
It seems there is no integrated IEMatch technology. Although the output impedance is low and the volume wheel allows very fine adjustment, the most sensitive earphones (and those with the lowest impedance) will still need the use of a separate attenuator due to the sheer quantity of power the xCAN provides.
The volume wheel changes colour as the volume goes up. It goes from blue to purple, then light blue, green, yellow and red. This gives you a clear idea of what volume range you are currently in as there is no minimum or maximum.
Input
Bluetooth (16 bit / 44.1 – 48 kHz PCM) with SBC, AAC, aptX and aptX LL codecs

2.5 mm balanced jack

3.5 mm jack

Suitable headphones impedance
16 – 600 Ω
Output impedance
< 1 Ω (3.5 mm)

< 2 Ω (2.5 mm)

Maximum output power
S-Balanced (3.5 mm):

600 mW (16 Ω, 3.1 V)
380 mW (64 Ω, 3.5 V)
45 mW (300 Ω, 3.8 V)

Balanced (3.5 mm):

1,000 mW (16 Ω, 5.7 V)
800 mW (64 Ω, 7.2 V)
90 mW (600 Ω, 7.6 V)

Frequency response
2 Hz – 200 kHz (-3 dB)
THD+N (@1 kHz)
< 0.005% (S-Balanced)

< 0.006% (balanced)

SNR
> 121 dB (S-Balanced)

> 120 dB (balanced)

Crosstalk
N/A
The iFi xCAN is among the most powerful portable amplifiers on the market, as it provides 1 W on 16 Ω. This is desktop-equipment-class power! All this power means that the xCAN can drive most full-size headphones without much effort. I tried it using the Sennheiser HD 6XX and the HiFiMAN HE-560 and they sounded as good as if I was using one of my desktop amplifiers. With all this power, the iFi xCAN is effective in driving practically anything. It has to be noted that the balanced output is the one to be preferred with power-hungry headphones as it allows a far larger power output.
iFi also has this thing called "S-Balanced" on the 3.5 mm jack output. It is a technique similar in concept to the one used on the Hidizs AP200: each channel has its own DAC and amplification, so it's not stereo but dual-mono. The advantages reportedly come in the form of lower noise and crosstalk.
The iFi xCAN does not feature a very strong Bluetooth connection. In my tests it would not fare too well because it would lose the connection if the plastic section didn't face the source, or after it got ~5 m away from it.
Battery Life
iFi claims 12 hours of battery life when using the xCAN with Bluetooth or 18 hours when using it as an amplifier. These claims are mostly true as I was able to squeeze more than 10 hours out of the battery when using the xCAN with Bluetooth and powering various headphones ranging from 16 Ω IEMs to 300 Ω cans. This should be enough for transcontinental flights or a full working day, so one is always covered.
Sound
As always, I used a variety of headphones to test the amplifier; among those are the aforementioned Sennheiser HD 6XX and the HiFiMAN HE-560, but also the Fearless Audio S6 Rui, the CCA C16, PMV Crescent 8BA and the Tin Audio T3. I used the xCAN both as a stand-alone device and as an amplifier for the Shanling M2X DAP, using both Bluetooth and cable.
The iFi xCAN does not have a black background: there's always some noise involved, more in balanced mode and less in single-ended mode. It's not a lot of noise, but it's noticeable if you use sensitive earphones. Those wishing to use sensitive IEMs would be better served by either using an attenuator or by using the single-ended port as it is noticeably less noisy than the balanced one.
Speaking of attenuators, the xCAN does not have any IEMatch mode, so you will have to use an external dongle if you wish to take advantage of such technology. It is not needed in terms of volume, as the xCAN has a really fine-grained volume adjustment system, but it could be necessary if using sensitive IEMs.
I used the xCAN both on its own as a Bluetooth adapter, or as an amplifier. In both cases it works remarkably well and produces accurate sound that sounds good on any headphones. It is transparent and neutral – you don't hear any amplifier-specific additions to sound, which is always a welcome feature.
The iFi xCAN offers the company's trademark features in terms of sound modifiers: the XBass II and the 3D+ technologies. XBass II adds volume to the lower notes so that they're more easily heard even on headphones that offer little sub-bass. The largest emphasis is in fact on the lowest part of the spectrum; it then decreases as the frequency goes up until there's no emphasis at all. Comparing the XBass II tech to the previous iterations, there's a new switch that allows one to select the desired effect: whether to only affect bass, lower midrange or both.
This combination is important when one uses 3D+: this setting makes the soundstage larger by basically shifting everything up, so the pitch appears a bit off if you pay enough attention to it, but the sound as a whole appears much larger. It's as if one went from a small studio room to a concert hall; the difference is really huge. The issue with this is that it makes everything sound brighter, so countering this effect by adding a bit of bass and lower mids makes the sound more balanced as a whole. One can choose what effect they want to apply and XBass II and 3D+ can be used at the same time.
Final Thoughts
The iFi xCAN is a wonderful device and one of the most powerful portable amplifiers in this size class. Its only real flaw is that it can't be used as a USB DAC, because it is otherwise absolutely fantastic. It's well-built, it has a nice design, it has balanced input and output, and it has additional audio effect technologies that complement its ability. It's also practically transparent, so you won't even notice it's there, acoustically speaking. What's not to love?