More and more devices feature balanced outputs nowadays; the standard for desktop amplifiers is the XLR4, stemmed from the XLR3 standard widely used for balanced connections in pro equipment. When it comes to mobile devices, though, there are a few competing standards including 2.5 mm TRRS jack, 4.4 mm jack and mini-XLR (such as the one used on the RHA Dacamp L1). It is the 2.5 mm TRRS jack the one which is getting more attention lately, being featured on most DAPs and a few portable amplifiers. The iFi IEMatch2.5 does for 2.5 mm balanced connections what the iFi IEMatch does for 3.5 mm outputs – it lowers volume, reduces background noise and reduces issues related to impedance matching.
Disclaimer: I received this unit on loan from iFi to write this review. They have a product page with additional details on their website.
TL;DR: recap
Pros




Cons

Allows for better volume management

Removes power noise and other interferences

Makes it possible to better match impedance

High-quality materials

None
Rating: 10/10
Packaging & Accessories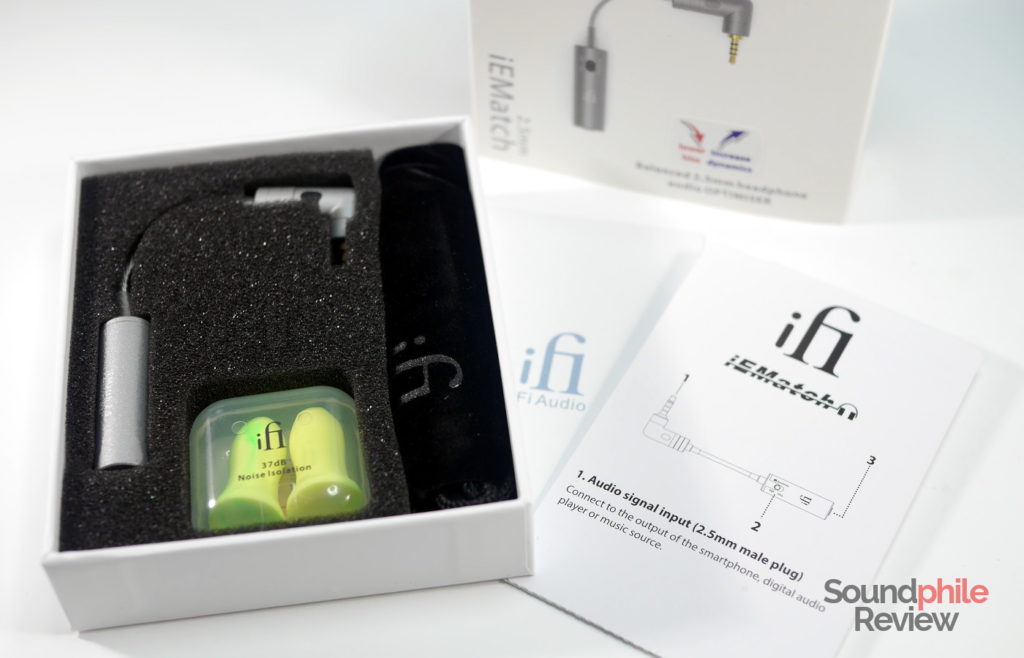 The packaging is the same as that of the IEMatch, save for one detail: the box contains the IEMatch2.5, the black carrying bag and the two acoustic earplugs, but it does not contain the aeroplane adapter as it would not be compatible with it!
iFi IEMatch2.5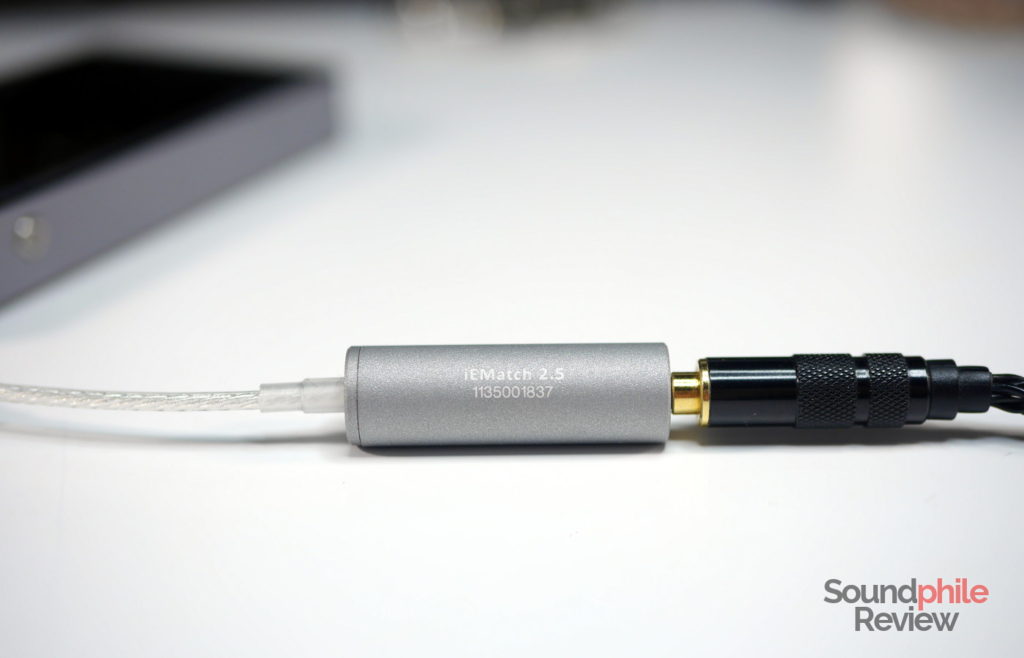 The iFi IEMatch2.5 looks like a short patch cable with a 2.5 mm TRRS male connector on one end and a female 2.5 mm TRRS receptacle on the other. The housing is made of a magnesium-aluminium alloy and feels sturdy and durable; its finish is peculiar as it is smooth, yet it has a bit of residual roughness. The cable is short (~5 cm) and it is made of silver-plated copper encased in transparent plastic.
There is a switch on the female side that allows one to select the desired sensitivity and, therefore, the volume reduction. There are two different levels: "High" (12 dB) and "Ultra" (24 dB). Contrary to the 3.5 mm version, the IEMatch2.5 does not feature a switch to select balanced or single-ended connection, as the 2.5 mm TRRS standard is (almost) only used for balanced lines, at least in the hi-fi world.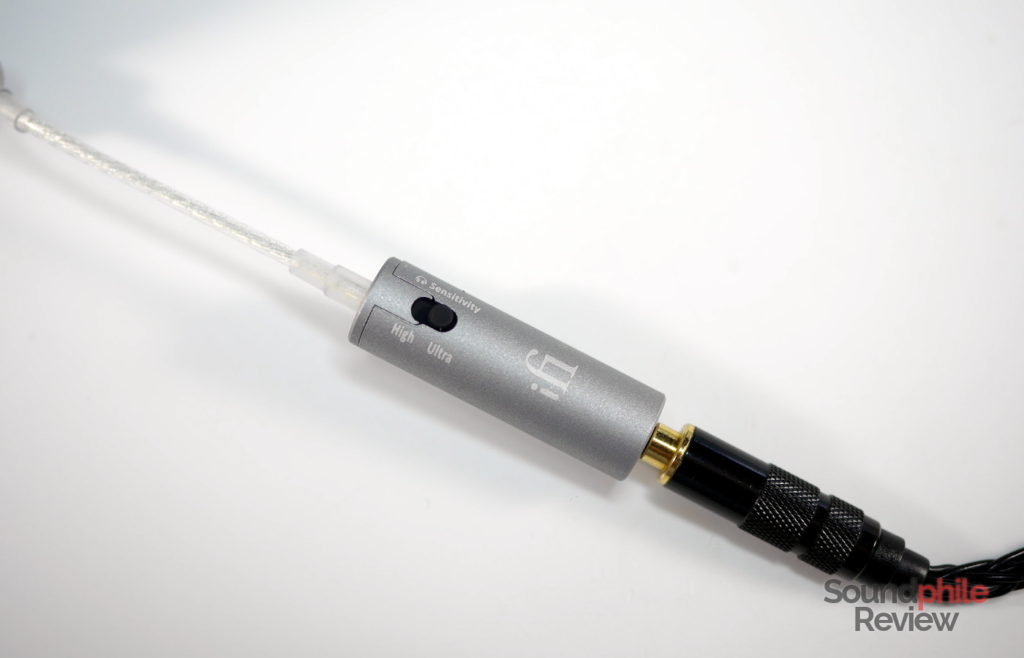 As more and more devices on the market feature 2.5 mm TRRS outputs, there is also a growing number of amplifiers that work using this standard – the Venture Electronics Round About 2.0b Lite is one of them, just as an example. The iFi IEMatch2.5 is therefore useful not only when using DAPs, which are the most widely available devices with such an output, but amplifiers too.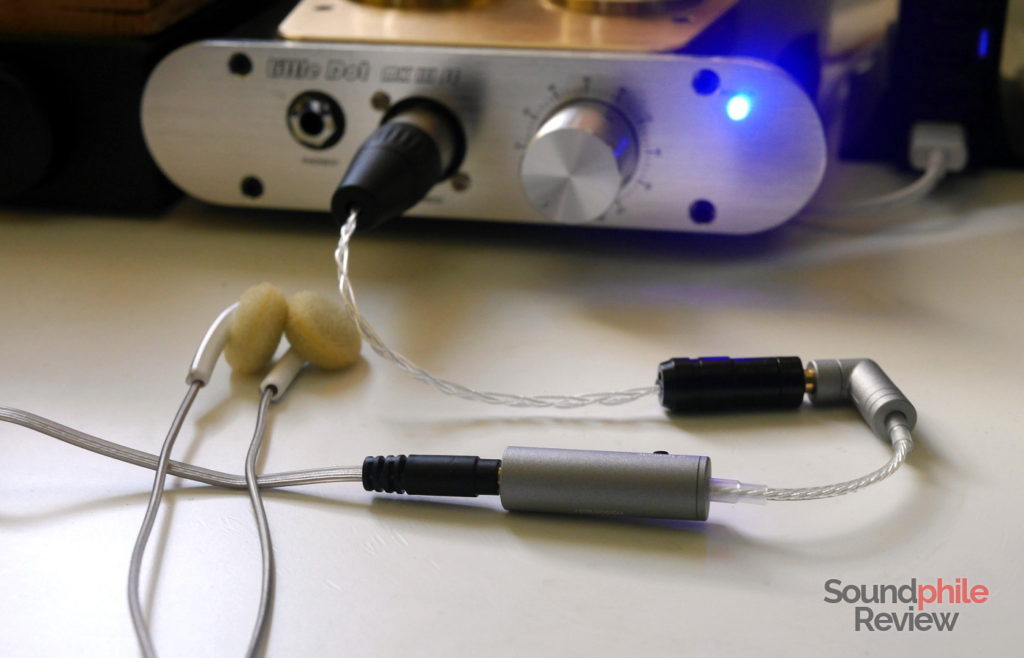 I got a HiFiMAN HE-560 and a Sennheiser HD6XX late last year and I bought balanced cables for them so that I could use the headphones with the balanced output of portable devices such as the Aune M1s or Cayin N5ii, or the XLR4 balanced output of desktop devices such as the Topping DX7 or the Little Dot MKIII SE through an adapter. The same applies to IEMs or earbuds: I always try to get them with a balanced connector, which allows me to use them either with balanced outs or single-ended ports using adapters when necessary. I found the iFi IEMatch2.5 to be extremely useful as I could use it with balanced connections and even with balanced adapters (e.g. 2.5 mm TRRS to XLR4). The IEMatch2.5 allows to keep the balanced chain intact and allows one to effectively take advantage of it whilst offering the full functionality of the IEMatch.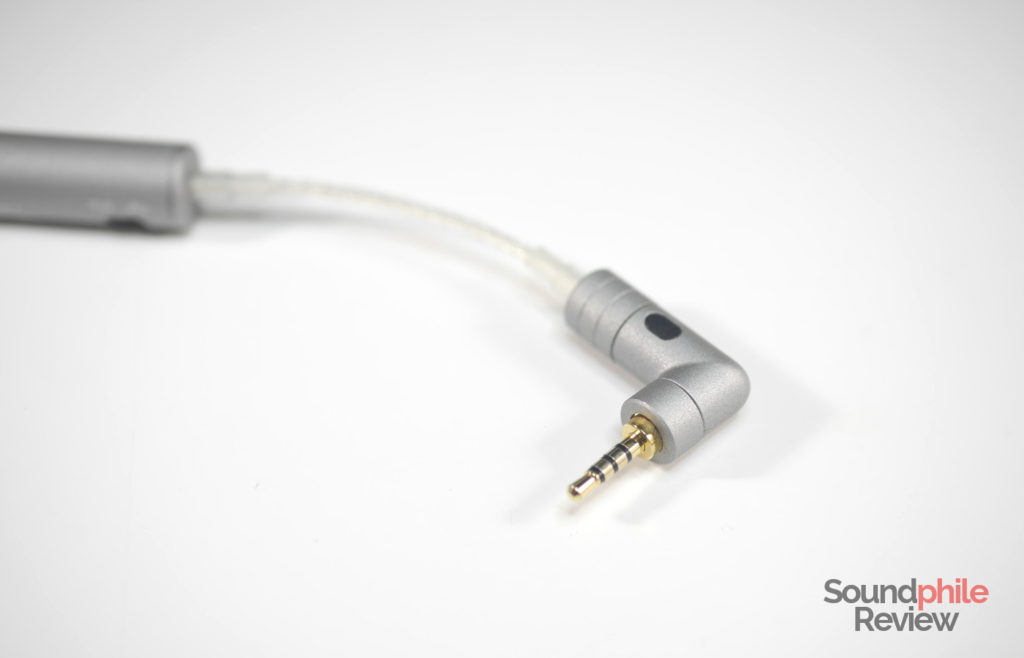 iFi touts the IEMatch2.5 as a mean to get back the full dynamic range of devices. In the case of DAPs, that may be especially true: as volume is digitally controlled, lowering the volume reduces the dynamic range and compresses it. While this may not be apparent on every track, some high-quality recordings may be affected by this fact. Setting a higher volume on the DAP and using the IEMatch2.5 should restore the full dynamic range while keeping the volume at acceptable levels.
Sound
As most of my headphones come with a 2.5 mm balanced connector, I used the IEMatch2.5 with a few different headphones (HiFiMAN HE-560, Sennheiser HD 6XX, Venture Electronics Asura 2.0s, Venture Electronics Monk Lite, KZ ZS6, KZ ZSR, TRN V10) powered by a variety of sources: Topping DX7, Little Dot MKIII SE, Aune M1s, Cayin N5ii. Using the IEMatch2.5 in tandem with an adapter to 3.5 mm single-ended jack, I also used the Hidizs AP200 and the Topping NX4 DSD.
The aim of the iFi IEMatch2.5 is to bring silence where electrical noise and other kinds of interference reign, with a focus on high-sensitivity IEMs. It masterfully delivers on its promises, eliminating noise even when using sensitive earphones and very noisy sources. That's a life-saving feature if you have large amounts of electrical noise in your system like I do (though I admit it may not really save your life).
One of the advantages of using a device such as this is that it does not introduce any colouration to the sound. It just does its thing and it does it without making you notice it (once you adjust the volume, that is).
Final Thoughts
The iFi IEMatch2.5 has me wondering why this concept is not more widely spread in the hi-fi market – there are not many competing products and this seems one of  the few (if not the only) to be specifically tailored for balanced chains. It would be worth its price if it provided better volume control with sensitive earphones alone, but given it also removes hisses and provides better impedance matching, I really can't help but recommend that you buy it if you need any of its features. It's just perfect.
The iFi IEMatch2.5 is on sale for $69.90.