Cayin's latest effort in the DAP space, the Cayin N5ii, is the latest contender to the championship title in this crowded market. Cayin nails all the basics for a 2018 product – solid construction, premium materials, original design, Android operating system and balanced output.
Though the foundation is solid, Cayin still has quite a bit to work to make the device perfect as software is its Achilles' heel. There are a few issues with playback and library management, and their Android implementation has a few design choices I personally do not support as I think they can negatively influence the user experience. Despite these software hiccups, the Cayin N5ii proves itself an exceptionally interesting device.
Disclaimer: I received a sample from Cayin and they told me I can keep it. As a full disclosure, I received two units as there was a suspect the first unit was defective (in the end it was not!). I would like to express my gratitude to Andy for his support. Please have a look at the official product page for additional information.

TL;DR: recap
Pros




Cons

Built like a tank with premium materials

Compact size

Balanced output

Fantastic volume knob

USB Type-C

Two microSD card slots

Many, many rough edges in software

Screen is not very bright and touch is unpredictable

Output jack ports get loose over time and stop working

Device has been abandoned with lots of issues after just a year
Rating: 5.5/10
Packaging & Accessories
Cayin kept it simple with the packaging and the included accessories; the box only holds the player, a USB cable and a plastic bumper. You can find out more in this Out of the Box article.
As an addition to what I wrote in the unboxing piece, the cable turns out to be only useful to charge the device: data transmission often shows errors and file transfer is almost impossible in my experience, due to constant disconnects and I/O errors. This is not limited to the N5ii, as other devices show the same behaviour (e.g. a Hidizs AP200, a Honor 9, an Elephone P9000). A cheap USB Type-C cable does the trick however, so it's clear the cable is at fault here.
Design & Build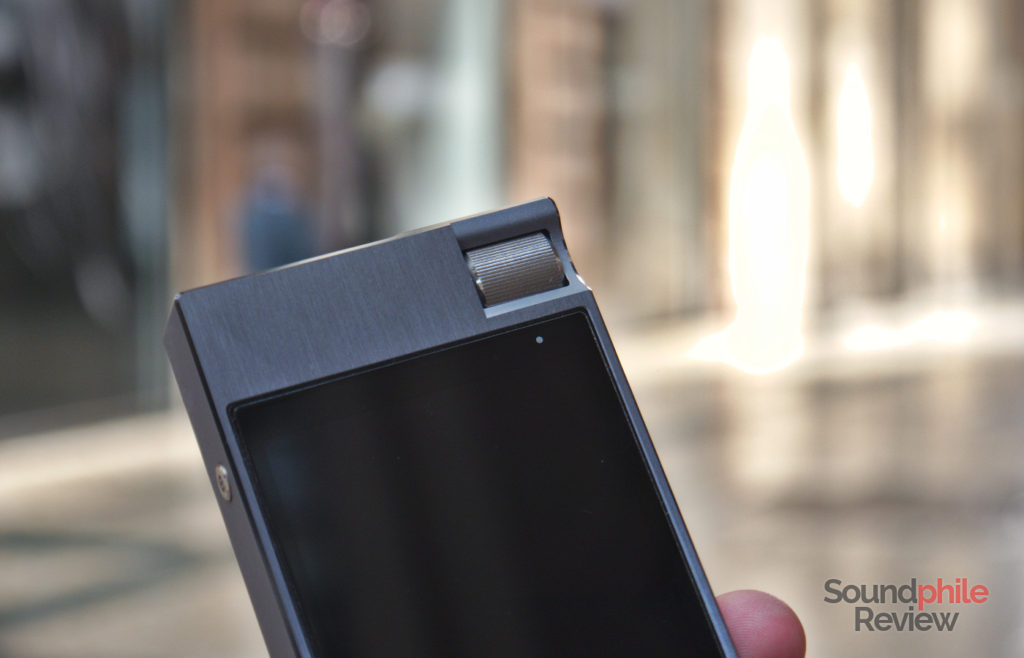 Cayin went with a peculiar and original design for its N5ii: it seems a blend of the i5 and the N5, which really sums up the device in other aspects, too. There is a volume wheel in the top right angle, encased in the chassis so that it is only actionable from the front and the back.
The chassis itself is made of aluminium: the surface is rough and has a sandy and dusty feeling to it, so the Cayin N5ii completely departs from the smooth surfaces that are almost standard on DAPs and smartphones alike. Front and back are covered by glass; the front has a factory-applied temperate glass protector and the back has a plastic protector applied on it. The back glass panel is held in place by a plastic frame that slightly protrudes from the surface and it has a motive with circular shapes that reflect light differently when moving the device.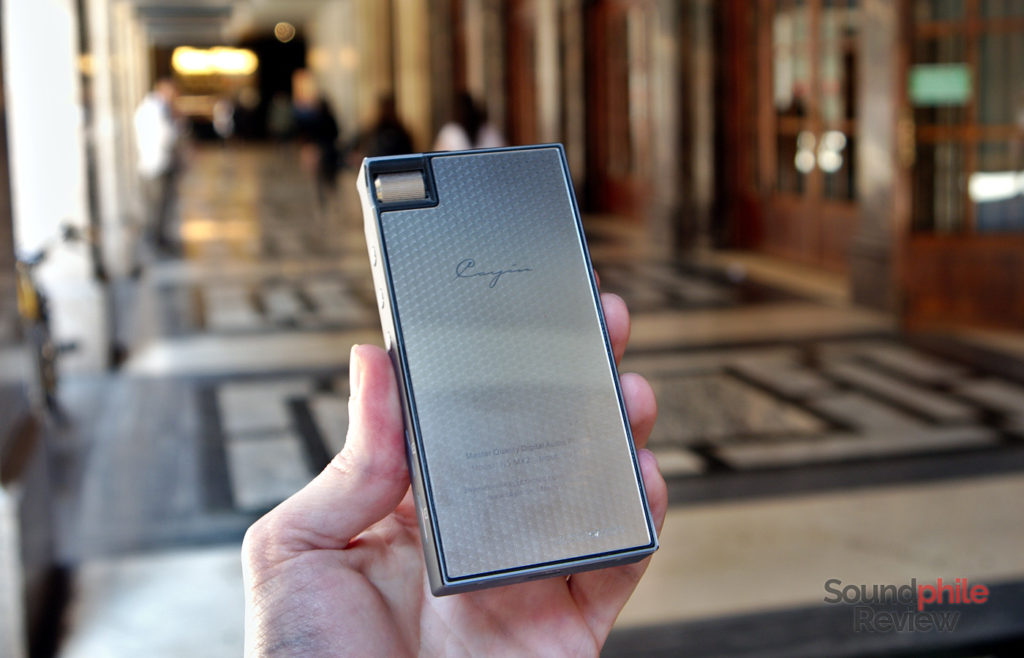 The general sensation the device gives me is that of an uncommon attention to detail and of refined craftsmanship. Cayin really nailed it with the design and build of the N5ii – it's solid, good-looking, it uses premium materials and it looks like it can last a lifetime. Good job!
The left side is home to the power button (odd choice: most smart devices have the power button on the right nowadays), while the right hosts the previous, play/pause and next buttons. It is an odd choice to make the top button the "previous track" button, as that is counter-intuitive – "up" has always been synonymous with "next"… – but it is no fundamental issue. It seems like this is not really a choice by Cayin, but a design choice imposed by the HiBy foundation used by Cayin to build the device, as many devices using it are similar (i.e. FiiO X5 3rd Gen, Hidizs AP200).
The top is where the two jack connectors (one 3.5 mm and one 2.5 mm) are located, while the USB Type-C (USB 2.0) is on the opposite side. On the front we find the volume knob, the status LED, the screen and the home button.
The jack connectors appear to have build quality issues, as reported by multiple people and as I experienced myself. The 2.5 mm port on one of the two units I received loosened up so that the left channel becomes silent. This is the first time ever I have a similar issue with a device – never have I experienced jacks loosening despite trying smartphones in the hundreds and owning several audio players.
The screen has 3.65 inches diagonal, which is small by today's smartphone standards but perfectly adequate for a music player, and features a resolution of 854 x 480. The screen only supports a single touch, meaning that two-fingers gestures such as pinch-to-zoom are not available. That's not a big issue – you won't be using this as a general purpose device, after all. The LCD panel is decent in both colour reproduction and brightness and appears more than sufficient given the device's purpose. Despite this, I have to note that it is not usable in plain sunlight, as it is not bright enough.
One thing I noticed about the screen is that it seems to get stuck quite often, leading to ghost touches being detected. When this happens, on most occasions it continues to detect the finger touching the screen after it has been lifted or if it has been moved. This issue is present on both review units I received; Andy assured me they tested them and found no issues, but the problem becomes evident after enabling the "show touches" option under "developer tools" in the settings. While I do not doubt Andy's and Cayin's good faith, I still think something is not right with the touchscreen – whether it is a design flaw or a production issue of both units I received.
The volume knob is very satisfying in that it has physical and audible clicks, so that one can adjust the volume even without looking (e.g. when the device is in the pocket) but having a direct feedback of how many steps the volume is being raised.
Specifications
DAC chip
ESS Sabre ES9018K2M
Amp chip
OPA1622 x3 (two for balanced out, one for single-ended out)
Suitable headphones impedance
16 – 200 Ω
Output impedance
< 0.4 Ω (single-ended)

< 0.6 Ω (balanced)

Maximum output power
130 mW (32 Ω, single-ended)
250 mW (32 Ω, balanced)
THD+N (@1 kHz)
0.002%
SNR
116 dB (single-ended)
117 dB (balanced)
Operating System
Customized Android 5.1.1 with proprietary audio stack and Cayin app
Supported formats
WAV (16 – 64 bit, 44.1 – 384 kHz), FLAC (16 – 24 bit, 44.1 – 192 kHz), DSD (DSD64 – DSD256), APE (16 – 24 bit, 44.1 – 192 kHz), ALAC (up to 24 bit, 192 kHz), AIFF (16 – 32 bit, 44.1 – 384 kHz), MP3, WMA (up to 24 bit, 96 kHz), OGG, AAC
The Cayin N5ii is built on the same foundation used for the FiiO X5 3rd Gen: a Rockchip RK3188 with 1 GB RAM and 32 GB internal storage. Contrary to its competitor, though, the N5ii features a modern USB Type-C connector, though it is limited to USB 2.0 speed (presumably because of limitations on the SoC part). The player has Bluetooth 4.0 and WiFi 802.11b/g/n, too. The hardware looks pretty old by all standards, given the CPU is now five years old. This has a direct impact on the device's user experience, as the limited processing power often affects operations.
Internal memory can be expanded thanks to two microSD slots: each of those accepts microSD cards up to 400 GB, leading to a theoretical grand total of 832 GB of available space (though it will be a bit less in GiB). It is also possible to use an OTG drive (e.g. a USB key).
The Bluetooth connection is not stable enough, unless you don't move neither the N5ii nor the receiving device – and even then you could hear some interruptions and pauses. When using the Xiaomi Mi Sports Bluetooth Headset or the Jabra Sport Pace during my indoor workouts I could not get a stable connection, with music stopping and resuming as I moved (keeping the player still and less than 1 m away). The same happened with the Bluetooth system in my car – it continuously dropped the connection. The only device that plays without issues is the UE WONDERBOOM, which I use while I take showers and which sits ~1 m from the player. If my experience is of any indication, Bluetooth is definitely not the focus of the Cayin N5ii and should not be expected to operate reliably.
Battery Life
Since the v3.1 update, battery life has been really good. The Cayin N5ii can play music for more than 10 hours in balanced mode and it lasts for ~5 days before needing a charge if you leave it on but don't use it. That's pretty impressive by any account.
Though the battery has "just" 3000 mAh capacity, it can provide one of the longest battery lives in the Android DAP segment. It is nearly double that of the FiiO X5 3rd Gen, which only achieved 5-6 hours when I reviewed it last summer. This is still far from the 30+ hours some "traditional" (non-Android) players achieve, but a great result overall – battery life is the trade-off for added features.
Software
All testing was done on a Cayin N5ii updated to firmware version 3.1en, based on Android 5.1.1 Lollipop. Cayin chose to develop the N5ii on what seems the standard among Android DAPs from Chinese manufacturers – a customized Android ROM made by HiBy to include audio-specific features such as gain settings, audio priority mode, automatic power off and so on. It is the same platform used by FiiO for its FiiO X5 3rd gen and by Hidizs for the AP200.
Since this seems to be pretty much the standard across the industry, that's all fine and dandy. It actually offers useful features to users and the only real complaint I can make is the reliance on Android 5.1, released back in 2014 and rapidly becoming obsolete. That seems the standard on these devices though, so that's it.
The Cayin N5ii takes around 35 seconds to boot: it is way more than competing players with specialised firmware (i.e. Aune M1s) and it is comparable to the FiiO X5 3rd Gen which I tried last summer.
The UI was tweaked by Cayin and HiBy to better serve the purpose of the device – playing audio. The default launcher is the audio player app, which also has a section to launch apps and access settings. Cayin stripped away anything not related to audio and only left the essential, so that the device could operate as smoothly and efficiently as possible. Despite this, the result is mixed.
Quick settings toggles include: WiFi, Bluetooth, gain (low, medium and high), output mode (headphones or line-out), audio priority mode (kills every app but the player), USB mode (USB, MTP or DAC), idle shutdown and scheduled power off. Two sliders also allow to quickly set brightness and screen timeout. The screen brightness slider only works if you slide the cursor, as tapping on the desired point/level does not work unless you select the lowest or highest level.
DAC mode should allow one to use the device as an external sound card. In reality, it currently does not work as it only plays fragments of the audio stream being played – it seems as if it constantly stopped and resumed playback. Cayin admitted the issue and is working on fixing it, so it could hopefully work in future firmware releases.
Volume has a scale that goes from 0 to 100 and can be set to a different max value using the settings of the player app.
One thing I do not like is that Cayin decided to strip away almost everything from the Android system and only leave an option-less system, also forcing its sometimes odd choices on users. One such choice is the one to completely remove the "apps" section of the Settings app, so that you can't actually clear the cache of applications easily – you have to clear cache for the entire system booting into recovery mode. That's not exactly user friendly. Corruption to data of system components (e.g. the Download Manager app which is tasked of downloading apps from the Play Store, or the Google Play Store itself) makes a hard reset of the device (Cayin calls it a "double wipe") inevitable to regain complete functionality. It's not as far-fetched a hypothesis as it might seem: I have to routinely do that on multiple devices, and it happened shortly after I set up the N5ii, so again this is a poor decision in my eyes.
Now, I insist on this as a player with perfect audio but poor user experience is not as rewarding as it should be. If using a device is a pain or is difficult or in any way frustrating (and if the Play Store stops downloading apps and the only way to fix it is to hard reset the device, then it's definitely going to be frustrating!), it does not matter if it sounds good. There are alternatives out there that sound good and offer good user experience, so why would one want to use a device with a flawed user experience? This is not to say the Cayin N5ii is bad – it is not, by a long shot. There are many issues that require fixing, though, and hinder the enjoyment the player. Take this as food for thought and an invitation to Cayin to rethink some of their decisions, as the player is otherwise very good.
Important update: as of version 3.3en, the following paragraph is no longer true as I haven't experienced a single case of playback freeze and the situation seems to be much improved for other users, too, judging by online discussions. This eliminates maybe the single largest issue and leaves the USB audio feature as the only major hurdle.
There are multiple instances where playback stops with a "pop" and the resumes after a few seconds with a second "pop". This happens in the first 15 seconds of random tracks regardless of the type of the file being played, of the embedded artwork and of the output used (balanced or single-ended). This leads me to believe that it is caused by an issue in how the Cayin N5ii manages playback, be it because of a small bus between CPU and SD cards or because of other issues. It was much more frequent in firmware version v1.1 and v2.1, so Cayin should be able to fix it in future releases.
On multiple occasions the playback control buttons (play/pause, next track, previous track) only worked after a few seconds. The pause button also produced a "bump" in playback, as the music would stop playing, then resume and stop again after a fraction of a second.
Using an external DAC, connected through the USB Type-C port, music does not play correctly as only static noise is played. Cayin is working on a fix, though it may take a few months: the issue seems to be low-level code that requires HiBy's intervention.
Apps
The default player app, Cayin Music, is a derivative of HiBy's "HiByMusic", customised to fit with its role of main user interface to interact with the player. The main screen shows three main categories: Music, List (which stands for "playlists") and Private cloud (which really means "local network").
Under "Music", the main view (which you can't change) is the folder view, which offers you a view of every possible storage: internal, microSD slot 1 and 2 and OTG. There are a few other views: album, artist, genre and tracks. The player does not automatically download any missing artist picture or album art, just leaving the space blank if the image is missing. This is intended and Cayin won't "fix" it.
There are issues in how the device manages the library, with tracks appearing multiple times in the selection screen despite no odd characters (plain ASCII, really) or other elements that could make the media scanner trip. Other tracks are not detected at all, or detected erroneously. There are multiple cases where the track played is not the one selected (the player says track title is A, while it's B). All these issues are not present on other Android devices with stock software, so it appears Cayin and/or HiBy modified the system's media scanner and left some errors in the code. It seems like there's a lot of work that needs to be done to iron out all issues.
The "List" section shows the favourite tracks (which you can manually add from the library), frequently played and recently played tracks and then playlists you created.
You can find your local network shares under "Private cloud"; any DLNA-compatible device is shown, as well as any SMB share.
The "now playing" screen is fairly simple, with just the basic options being displayed: play/pause, previous, next, add to favourites or to a playlist, playback mode (repeat one, shuffle, repeat playlist, play once), equalizer and theme (three in total).
The settings menu of the app includes gain, output mode, digital filter (sharp roll-off or slow roll-off), DSD gain compensation, DSD mode (native or DoP), play through folders, startup volume, whether to use the set startup volume or the one used last time, max volume, channel balance, resume from where the track was left off, gapless playback and whether to show album art and lyrics or not.
A few other options are available in the sidebar drawer: music scan settings, equalizer, third-party application launcher, "smart cleaning" (a built-in task killer), download path, download manager, sleep time and scheduled power off.
The Cayin N5ii does not support ReplayGain, crossfade or Chromecast using the native player app. If you want any of these features, you can use any of the compatible apps on the Google Play Store.
Alternative player apps such as Black Player can only see the internal storage, meaning they won't be able to access music stored on the microSD card(s). This is another flaw that seems to need fixing by Cayin, as the players can detect the tracks on external SDs on other player such as the Hidizs AP200 (though there are other show-stopping flaws there).
Sound
I used a wide array of headphones when testing the Cayin N5ii: among others, I used the Sennheiser HD6XX, the HiFiMAN HE-560, the Meze 99 Classics, the RHA CL1 Ceramic, the RHA T20i, the KZ ZS6, the TRN V10, the Yinyoo Pro, the KZ ZSR, the Venture Electronics Asura 2.0s, the Venture Electronics Monk Lite 120 Ω and a few others. The microSDs used were a 64 GB Samsung EVO UHS-1 card, followed by its substitute a 128 GB Samsung EVO Plus UHS-3 card.
The Cayin N5ii sounds great, and that's it. That's a bold claim, I know, but please trust me – this is a transparent, hiss-free, powerful and detailed device that does not get in the way with its own colouration, just presenting you with the sound as intended. To me, that's enough to love this player – but there's more.
The soundstage is wide and deep, almost comparable to desktop devices such as the Topping DX7 or the iFi micro iDSD Black Label. This speaks volumes on what Cayin achieved with this device. Instrument separation is also great – it is rather easy to distinguish instruments and to pinpoint them however complex and stratified a track may be.
The sound being neutral means I cannot hear any audible emphasis on any part of the spectrum. Lows, mids and highs are all equally represented and reproduced, so you will only hear the headphones and not the source (the very definition of "transparent").
What I can hear, however, is that the Cayin N5ii is capable of reproducing the tiniest details and therefore delivers a rich listening experience that is up to "critical listening" standards, despite it being a portable device.
The only differences I can hear between single-ended and balanced outputs are a slightly larger soundstage in single-ended mode and a slightly better better instrument separation in balanced mode.
In the end, the Cayin N5ii is really a fantastic device which ticks all the right boxes in the sound compartment. I can hear nothing wrong – though it is not perfect (nothing is!), it certainly is worth the price tag it carries.
Quickly comparing it to other players, I can hear the Aune M1s being a bit more aggressive in its presentation (despite using the same DAC), while having way more power to drive demanding headphones. Sound signature seems to be quite similar, though the faster attack of the Aune M1s makes it sound a bit more engaging. The Hidizs AP200 is, on the other hand, in a completely different category – it is less detailed, precise and fast and it offers way less power.
Final Thoughts
Software is the main flaw of the N5ii. Cayin has been hard at work trying to fix all the issues and this goes to their credit. The problem, however, is the software base they use made by HiBy: it seems to be plagued by issues and unreliable, so each manufacturer that relies on them has been launching products ridden with bugs – that applies for FiiO and Hidizs, too, just to mention two other names. On top of that, there are also a few design choices by Cayin which are questionable from my personal point of view.
Assuming the major bugs can be fixed, it is going to take time. Until the engineers fix them, the Cayin N5ii cannot be considered completely stable. That's not a situation exclusive to the N5ii, as many other products suffer the same situation, but that's no excuse. ~$400 are not "cheap", so there's no questioning the device should not have launched with all these bugs. Alas that's common in the DAP world, with products being launched with unfinished firmware – Cayin is not the only one, so I don't blame them too much over that. That's an issue the industry as a whole needs to fix.
When it comes to hardware, there are a few issues to take note of (e.g. ghost touches on the touchscreen, low screen brightness), but there are no fatal flaws. Design-wise, the N5ii is one of the most original and clean players on the market, with a unique appearance that really sets it out from the crowd. Build quality is top notch and the device should last for years. Cayin really did a great job here.
The same applies to sound: the N5ii sounds great with most headphones, be they super-sensitive IEMs or power-hungry planars. It's neutral, transparent and clear, so it has anything one would ever want from a DAP sound-wise.
I can't help but have mixed feelings on the Cayin N5ii. It could be one of the best players on the market, but the software keeps it from being really great. Once (and if) the issues are fixed, it will be an exceptional device and one I would feel completely comfortable recommending as one of the best sub-$500 players. But until then, I can only recommend you to buy it if you are patient enough to deal with the bugs.
I will keep this review updated as new firmware releases are introduced; please mind the current score of 8/10 could raise to 9/10 if the main bugs were fixed.
The review was updated on June 3, 2018 to reflect the improvements made by the 3.3en firmware update.
A further update was issued on September 22, 2018 to include the issues with the jacks. The score was adjusted accordingly from 8.5 to 8.
New update on May 2, 2019. The unit seems to be abandoned with all the issues being left open. The score was further lowered to 7 as I do not deem the player good enough to earn the 8 given the competition offers better products for less money.
Last update, December 2020: Cayin has officially announced that they won't spend more time updating the software and correcting the bugs. The device has therefore no more potential – it is just what it is, which is not that much. This is why I have further lowered the rating to 5.5: on top of the open issues, additional ones piled up due to the ageing software and they are now too many to make this device useful for anything but local playback. Much better options exist for such a use case, though, so this device should not be considered at all.
The Cayin N5ii has a suggested retail price of $379.