The Aune M1s is one of the latest additions to the portable audio players market and an interesting midrange device. After a period when portable players seemed not to attract users because of smartphones, lately we're seeing a resurgence in this niche segment which is brining a lot of variety and choice to consumers.
The Aune M1s is very simple both in its purpose and realization: it's a portable player which reads music from a microSD and nothing more. There are no fancy features and even a few basic ones are missing, but it's a solid device which does well its main duty: playing music.
Disclaimer: I got the Aune M1s on loan from the manufacturer, so I had to return it. You can have a look at the manufacturer's site for additional info.

TL;DR: recap
Pros




Cons

Solid build, modern design

Intuitive, minimal UI

Decent battery life

Neutral, transparent sound

Balanced output

No gapless playback

Shuts down after 5 minutes of inactivity & cannot resume track after (re)boot

Cannot set power off timer

Only manual folder navigation is supported, no indexing of tracks
Rating: 8/10
Packaging & Accessories
The Aune M1s comes in a cardboard box which only includes a USB to micro-USB cable, a screen protector and a manual. It's an overall very simple presentation and one which is perfectly in tune with the rest of device – it's pretty minimal. Aune also sent me three silicone covers (grey, blue and red), which can be bought separately and protect the device from scratches.
​Design & Build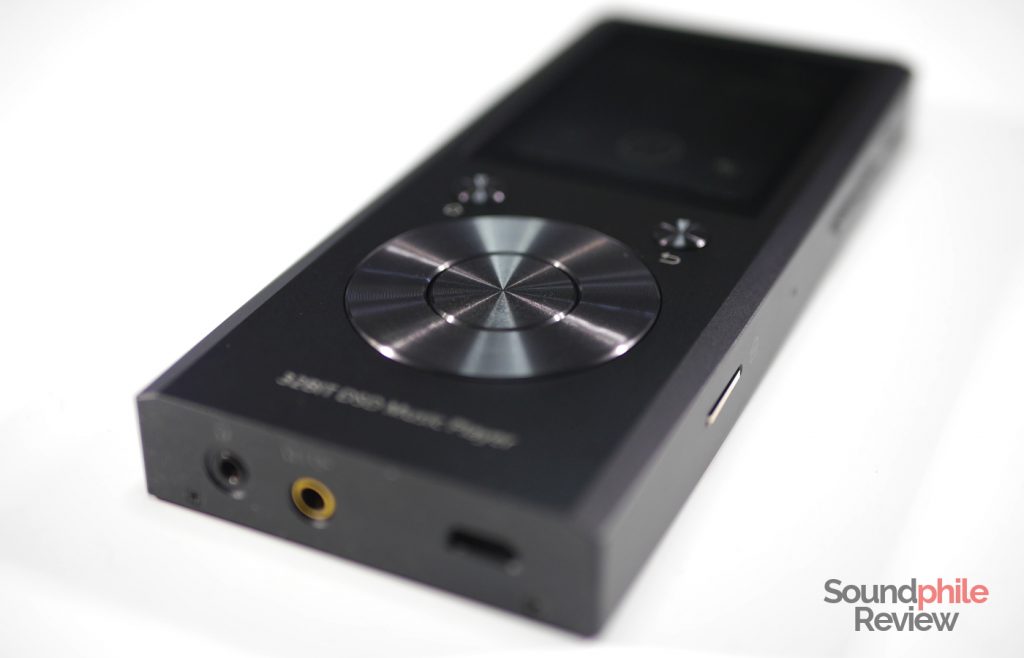 The design of the Aune M1s is pretty simple: it looks like a brick of aluminium with tapering on the left and right edges. It is almost gargantuan in its size (12.6 x 5.5 x 1.48 cm), although it doesn't feel like it is too big or too heavy (it weighs 150 g) when held in hand or tucked away in a pocket. It feels solid and sturdy as a whole and the metal gives a premium feel to it. Edges are clear-cut, almost to the point of feeling sharp. The silicone covers are a great match and help reduce this sensation.
Under the 2.4-inches IPS screen lies a metal circle encompassed by a ring and two metal buttons. The latter buttons are a "home" button (the one on the left) and a "back" button (the one on the right), while the ring hides a D-pad and the button in the centre is the play/pause button. The unit I received, in contrast with the general feel of solidity, has a lot of play on the buttons and the central button even moves enough as to clink.
The right side is home to the power and volume buttons, a reset button hidden in a hole and the microSD slot; the lower side hosts the micro-USB port used for charging, a 2.5 mm balanced jack output and a 3.5 mm single-ended jack output.
The screen is tiny when compared to the ones found on modern smartphones, but it's big enough to show all the relevant information. It's also bright enough to be visible in direct sunlight, even under the scorching Sun of the Italian summer. There are seven different brightness levels one can set and they cover pretty much every possible situation, from utter darkness to 2 PM Sun.
Specifications
DAC chip
ESS Sabre ES9018K2M
Amp chip
N.D.
Suitable headphones impedance
8 – 300 Ω
Output impedance
N.D.
Maximum output power
110 mW (RL = 32 Ω, single-ended)
180 mW (RL = 32 Ω, balanced)
THD+N (@1 kHz)
0.00027%
SNR
120 dB
Operating System
Proprietary
Supported formats
WAV (16 – 32 bit, 44.1 – 384 kHz), FLAC (16 – 24 bit, 44.1 – 192 kHz), DSD (up to DSD128), APE (16 bit, 44.1 kHz), MP3, ALAC and AIFF
Aune emphasises the fact that they used two different "ultra-low jitter" oscillators so that both 44.1 kHz (and multiples) and 48 kHz (and multiples) music playback runs smooth. That's a nice addition to a $249 device.
Battery Life
Aune reports a battery life of 10 hours at volume 70 while playing 16 bit, 44.1 kHz files. I usually listened to music at volume 30 with middle gain and I got to squeeze about 12 hours out of the battery. While not jaw-dropping, this is a good result which is in line with (or even a bit better than) other similar products on the market. It takes about a couple hours to fully charge it.
Software
The Aune M1s has a simple firmware that only offers music playback and a few options. There are no fancy features and it is actually a bit barebone: as an example, there is no equalizer nor album art support. This seems to be due to conscious design by Aune, who wanted to keep it as simple as possible. There are just four elements in the top-level menu: songs, folders, playlists and settings. The first lists all songs on the device, the second allows you to search music on the microSD (it is a file system explorer, so you will see all the folders on the card), the second searches for playlists and the third makes a few settings available.
This implies there is no indexing of tracks like that found on Android players and you have to navigate through folders to select the track you want. You also can't skim through tracks by genre, date and so on. The only option is to use playlists.
The simplicity and barebone experience of the firmware are compensated for by the blistering speed of the device. It takes less than a second for the operating system to boot and response to user input is almost instantaneous. While it is indeed feature-light, it makes up for it with an easy-to-use interface.
Navigation is performed through the D-pad buttons; up and down move the cursor up or down one element and left or right jump to the previous or following page. This allows to sift through large music collections with ease, as the "one-element-at-a-time" navigation would be way too slow for collections with more than a few folders.
There's a one-second delay between the moment one presses the play button and the moment the device actually starts playing music. I think this may be related to the lack of true gapless playback: despite the presence of a dedicated setting I could not make it work and there is a significant gap between tracks. It also tends to eat a few moments away from the end and the beginning of songs, thus further enlarging the gap between tracks. I am told by Aune that gapless playback is only present when using CUE playlists, so there's that.
Settings include startup autoplay, play mode (once, shuffle, single repeat, single folder, multiple folder), filter mode (a basic EQ), brightness, auto power off (useful if you listen to music before sleeping), auto-lock time, gapless playback, gain (low, middle, high), language (only Chinese, English, Japanese and Korean are available) and line out mode. Volume has a scale of 100 steps.
The filter mode offers three presets: fast, slow and MP. Differences between them are not easy to detect and they all seem to change little nuances in music rather then making vast changes to how it sounds. The "fast" preset seems to enhance detail and to make the sound tighter as a whole; the "slow" one, on the other end, seems to make the sound a bit warmer and more enveloping (more intimate, I'd say) and focuses on mids; the "MP" preset appears to enhance the low end and the treble. Differences are hard to spot and they're subtle, so you may hear different nuances.
The player shuts down after five minutes of inactivity and there's no way to change this behaviour. It is not annoying per sé, but the fact that it does not keep memory of where it stopped playing makes it quite a hassle. I found myself multiple times pausing the music for a few minutes only to find the player powered off and I couldn't resume the track from where it stopped.
The "multiple folder" mode will play all tracks from the parent folder: as a practical example, if the folder hierarchy is artist/album, then it will play all albums from the same artist. That's great if you have the full discography of an artist.
Sound
I used the Aune M1s for three weeks or so and I matched it with a few headphones: the Meze 99 Classics, the RHA T20i, the RHA MA750i, the KZ ZST, the Venture Electronics Asura 2.0, the Superlux HD668B and the Venture Electronics Monk Plus. I could not test the balanced output, though I will update the review if and when I will be able to. I used a variety of different tracks to test it, mostly in FLAC (mostly 44.1 kHz, 16 bit, a few 192 kHz, 24 bit), DSD128 and MP3.
I think IEMs are a better match to the Aune M1s than full-size cans. They just seem to take full advantage of the power the player provides, while the headphones I tried behave better when used in conjunction with desktop amps (i.e. Topping DX7).
The Aune M1s is a transparent source with a completely black background. I think this of a very positive quality and attitude, as it allows differently-coloured headphones to do their job without the need to wrestle with the DAP's own coloration. It all boils down to opinion, of course, so other people may like a bit of colour with their DAP, but as neutral sound also pairs well with every genre of music, my opinion is that it is a better design approach.
That's why I won't delve too much into details of the sound breakdown – I will only provide a general description of the sound. Bass is deep and precise, without any flabbiness or – conversely – shortage; it is dealt with with naturalness and without bias. Midrange is rich and natural, and treble is detailed and extended. Since the sound is transparent and there's no equalizer, this means you will have to deal with the sound as it is.
"Neutral" and "transparent" should not be mistaken for "boring", though. The Aune M1s is entertaining and full of musicality and dynamics at all times. It's also full of details and it has great clarity – something I think should be praised at this price point. Soundstage is very wide and instrument separation is awesome – it makes headphones such as the RHA T20i shine, as they already have great instrument separation.
All in all it's a surprising experience given the price this device is sold at, and it's amazing to see such sound quality coming from a device which is indeed affordable for most people. It's not a cheap thing you can buy on impulse, of course, but it seems to me to be punching way above its weight – full disclosure: I did not expect it to sound this good, given how everything in the audiophile world seems to carry a heavy price tag.
Final Thoughts
The Aune M1s reminds me of the old MP3 players that crowded the market more than 10 years ago, though my Sony NWZ-E445 from 2009 actually has more features! I can see why Aune chose this path, however: the M1s does only one thing, playing music, and does it damn well. It's a no-frills experience which can be (or not) satisfying, but it caters to an audience which prizes simplicity and sound quality over features. While I would have preferred it to be more feature-rich (i.e. I'd love an external DAC mode, more than anything else), I also think there are people who like this approach – hence the good rating.
The Aune M1s sounds fantastic and it actually caters to a very wide audience from this standpoint, as it offers a sound approach most people can actually enjoy. Moreover, its design principles can actually be enjoyed by newbies, casual listeners and "full-size audiophiles" alike, while keeping the price affordable. The fact that it is a midrange device only strengthens it.
If bells and whistles aren't your thing and you look for a solid player with great sound quality, the Aune M1s is a little marvel you should definitely check out.
The Aune M1s retails for $249.