xDuoo calls it a "digital turntable" – and this definition had me wondering what that meant for a while, before I had had a chance to try it. But it is an apt name for the xDuoo X10T II, as it really works like a turntable – but in the digital domain. In fact it is a digital transport and it acts as the source of the digital signal (the track you want to play) and then leaves everything else to another device, therefore allowing you to choose the DAC and amplifier you like the best. However unconventional that may sound, as sources like this are usually seen in the desktop and/or home theatre segment, the xDuoo X10T II can be an interesting compromise for the uncompromising listeners.
The xDuoo X10T II is in fact among the most audiophile devices I've ever seen, as it is of no use in itself unless you use it with Bluetooth – but even then, there's no way to adjust the volume which is not exactly practical. It is a good compromise as it is compact and light enough to be conveniently portable, but it also offers people who look for the best sound quality the possibility to choose their DAC and/or amplifier of choice to have the best possible sound quality. As it only acts as a digital source, one can use with any number of devices with a wide array of inputs – you're not limited to USB or line-out as with most DAPs, but you can also use optical, coaxial and AES (which is quite rare among portable devices!). It is a compromise as it does not offer the vastest array of outputs nor the best user interface, but it's good enough to satisfy most people's needs.
Disclaimer: this free sample comes courtesy of Linsoul Audio. They sell it on AliExpress at $230.
Packaging & Accessories
Packaging is nothing especially fancy, with a simple cardboard box holding everything inside pre-formed foam. As it is a digital transport, the xDuoo X10T II does include a fair bit of accessories, though. In fact it has two USB cables (one Type-C to Type-C and one Type-C to micro-USB), one optical cable, one coaxial cable and one AES cable (with a mini-XLR3 connector on one side and a full-size XLR3 connector on the other). There's also a faux leather case that's simple, yet effective. It only covers the back and three sides (excluding the lower one) and it is a bit large for the player, so it could really be done better – but it's also included so it's good enough.
Design & Build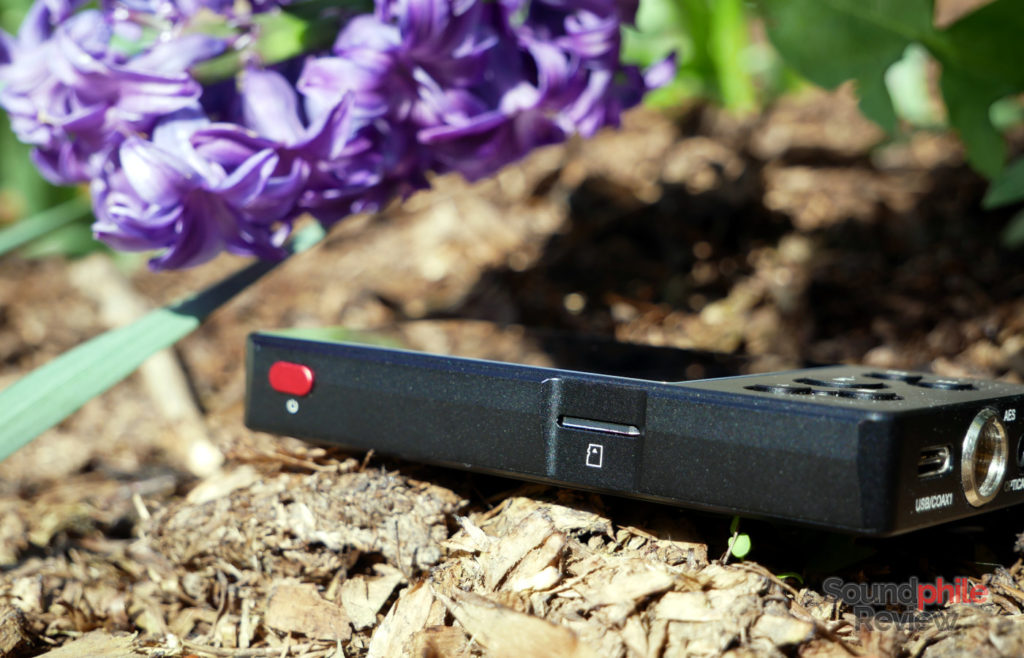 The xDuoo X10T II seems like a larger xDuoo X3-II, as it is identical to the smaller sibling except for the sides. Those are bulging and protrude laterally, giving the impression of a bulkier yet more solid device. What I find curious is that the microSD slot on the left side is in the same spot as that on the X3-II, so it is actually sunken compared to the rest of the side.
The front hosts a 2.4-inches screen (with 320 x 240 resolution and good enough brightness) and the usual controls that consist of play/pause, next, previous, menu and back buttons. There are no controls for volume, as that is demanded to the device that is connected to the X10T II – a DAC with amplifier or other device that converts the signal from digital to analogue.  The only button on the side is the power button. This is a bit limiting, especially if one wants to use the xDuoo X10T as a Bluetooth source.
The lower side is home to the output connectors: there's a USB Type-C port, a female mini-XLR3 (AES) and a 3.5 mm jack that doubles as a coaxial output and an optical output. As it is a digital transport, it does not have any output one can use to connect their headphones to.
Build quality is very good, with the metal body being solid and seemingly resistant. It's made of two parts, as the back is separate from the rest and is attached to the body through four screws. There is also a plastic band that allows for the Bluetooth signal to pass through (as the metal would shield the internals from the outside and vice-versa as every Faraday cage does).
Specifications
| | |
| --- | --- |
| DAC chip | N/A |
| Amp chip | N/A |
| Suitable headphones impedance | N/A |
| Output impedance | N/A |
| Maximum output power | N/A |
| THD+N (@1 kHz) | N/A |
| SNR | N/A |
| Operating System | HiBy Linux OS |
| Supported formats | WAV (up to 32 bit, 384 kHz), FLAC (up to 24 bit, 384 kHz), DSD (DSD64, DSD128), APE (up to 24 bit, 384 kHz), ALAC (up to 24 bit, 192 kHz), AIFF (up to 24 bit, 384 kHz), MP3, WMA (up to 24 bit, 96 kHz), OGG, AAC |
The company does not publish any information on what chips they use in the X10T II, so it's not clear what chip takes care of the optical conversion or the coax one. Considering xDuoo opted for good quality chips in their previous iteration (a Wolfson WM8550, in fact), I do wonder if they kept a similar level of quality on the X10T II.
My only real issue with the xDuoo X10T II is the microSD. Let me explain that: a device which should act as a digital transport should also provide the ability to play from a large library of tracks. The fact that  just one microSD slot is present and that it only supports cards up to 256 GB in size is quite limiting, especially if one has a lot of hi-res tracks. Using two microSD slots would have alleviated the issue.
The xDuoo X10T II uses Bluetooth 4.2 with support for aptX and AAC codecs. It cannot, however, act as a Bluetooth bridge – meaning you can't connect it to a PC to have Bluetooth output, nor use it to receive a Bluetooth signal and convert it to another signal. This makes it only useful as a direct source for Bluetooth devices.
Battery Life
I got used to having DAPs that run for about 10 hours, with peaks of 12 or 13 hours – but the old days of MP3 players playing music for 30+ hours are long gone. Now the xDuoo X10T II is not comparable to those old devices, but it surely does much better than the average player does these days. The xDuoo X10T II is in fact able to play standard-resolution FLAC files continuously for more than 15 hours, which is frankly great.
As an aside, I once forgot to shut down the player and left it playing for about 12 hours, only to find it still powered on and playing music after all that time (and with ~20% charge left). If one uses the X10T II as a portable player, the only real limit becomes the DAC/amp.
Software
Software is in fact shared across all xDuoo products of this generation, so it is exactly identical to that installed on the xDuoo X3-II. There are a few exceptions to this rule, as the xDuoo X10T II does not have any control related to output and therefore it does not even have volume control as I previously mentioned. Everything else is exactly identical, so I invite you to read the xDuoo X3-II review to learn more about the software.
Final Thoughts
The xDuoo X10T II is the only one in its kind. I can't point to another portable digital transport (if we exclude the first generation) and this makes it quite unique. Given how many people use their DAPs or smartphones with an external DAC, however, the X10T II appears to be a better choice for them as it offers more connections and better battery life. Moreover, it is not plagued by the same issues many Android DAPs suffer in their USB implementations. On the contrary, I found the xDuoo X10T II to offer perfect support for almost any USB device I could throw at it (and I guess that's because it uses the Linux kernel, which supports USB audio without drivers). As it also supports other connections, it may be the best device you can choose if you plan to use an external DAC.