While microphones have historically been used by relatively few people, the pool of potential customers has expanded dramatically over the past several years, especially due to the phenomenon of streaming. Maono is a China-based company that manufactures microphones, headphones and other audio equipment; I didn't know them at all, until they contacted me to request this review, but they appear to be quite well regarded among critics and public alike. The Maono AU-HD300T is a standard handheld microphone which features (non-standard) USB-C and XLR inputs, as well as headphone output directly on it.
Disclaimer: I received the Maono AU-HD300T directly from Maono. The AU-HD300T retails for ~$70.
TL;DR: recap
Pros




Cons

+ Sounds great without post-processing

+ Lots of accessories

+ Headphone monitoring output

+ Both XLR and USB-C connectors

– Ideal only if kept at ~10 cm from your mouth
Rating: 8/10
Packaging & Accessories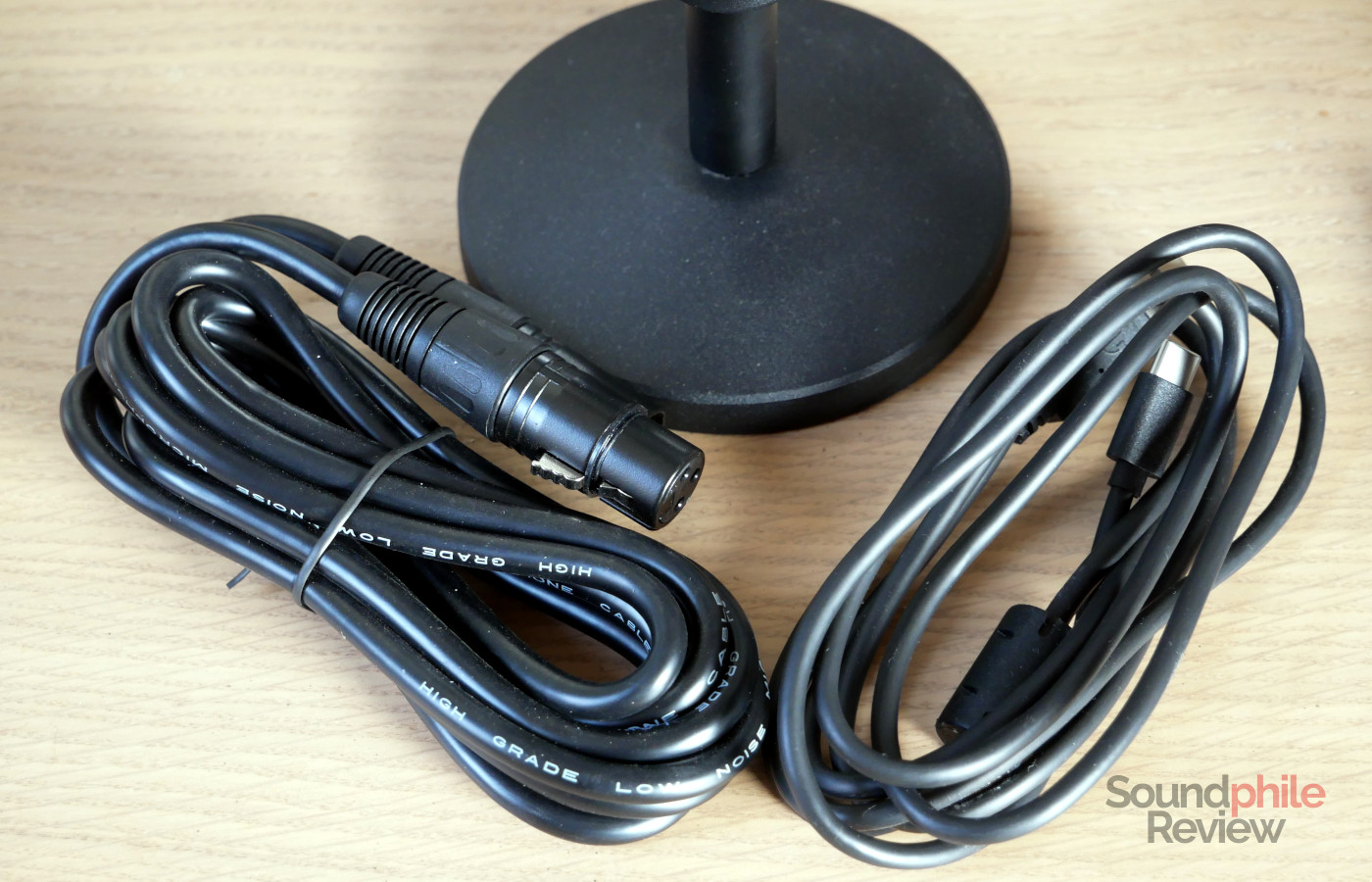 The packaging is fairly standard, with a cardboard box filled with pre-cut foam, and contains the microphone itself, a desktop stand, a pop filter, a USB to USB-C cable with a ferrite core to reduce interferences, as well as an XLR cable. It's a rather complete set of accessories and it's hard to ask for more at this price – truth be told, there are more accessories than in the packagings of microphones costing three times as much.
There table mount includes a shock mount, which is quite easy to fit the microphone into, and an optional pop filter, which should help improve sound quality and remove various unwanted noises and interferences. There is both pitch and height adjustment. The base is quite solid as it is made of a single piece of metal (seemingly iron). Unfortunately it has no anti-skid and anti-scratch protection on the base, so one needs to be careful while moving it on delicate surfaces. As we'll see later in the review, the table mount is not ideal due to the low volume; a boom would be better, as it would allow you to keep it at an ideal distance. The same microphone is indeed available with a boom, though the name changes to AU-HD300S.
Design & Build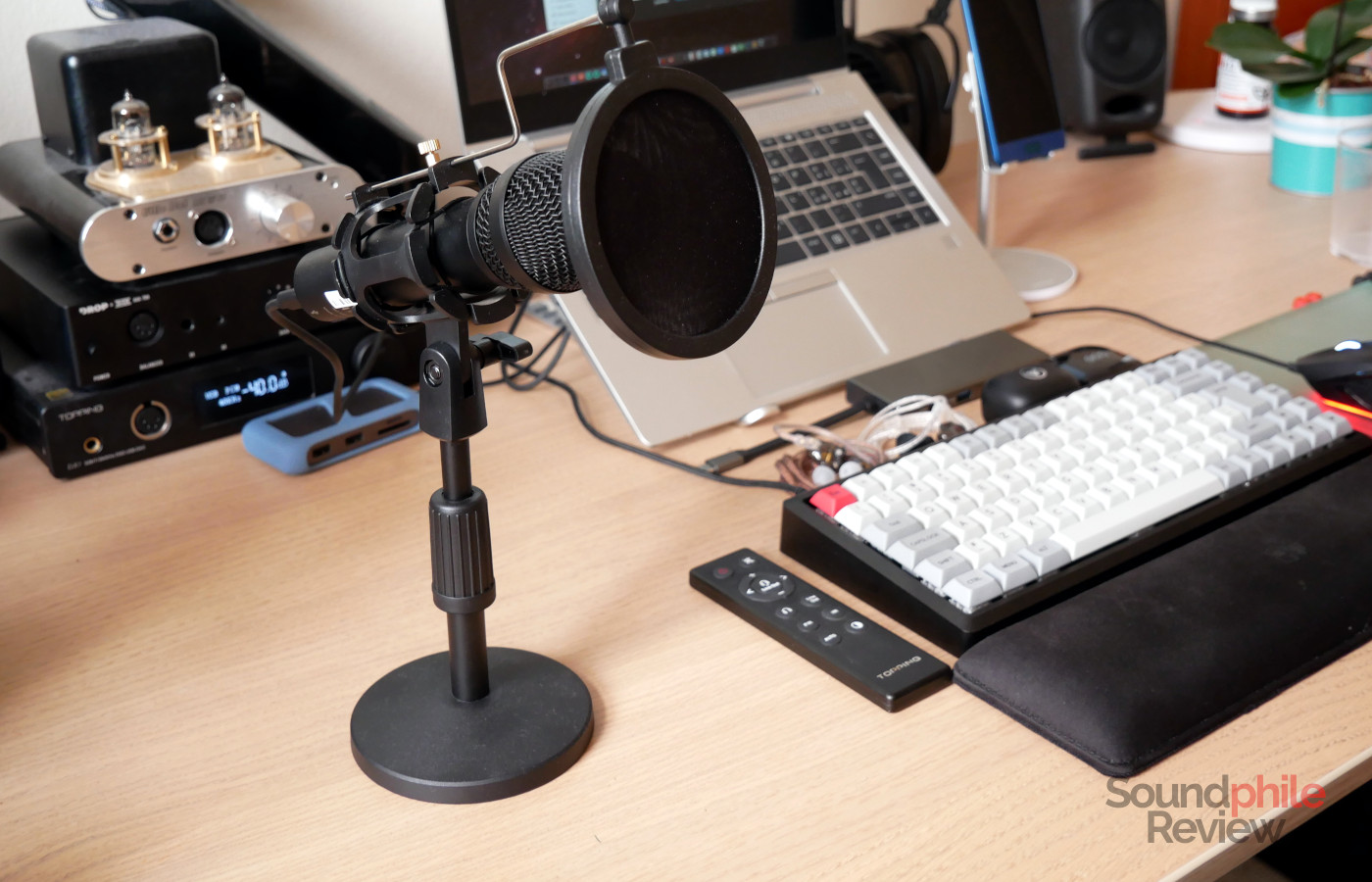 The entire microphone body is made of metal, which at this price point is not really a given. It is rather standard in its design, as it looks like a lot of other handheld microphones (fun fact: in Italian this type of microphone is called "gelato" due to its resemblance to an ice cream cone!). There's not a whole lot to say in this regard, to be honest – which is, in a way, a good thing as I can't find any specific flaws.
The Maono AU-HD300T sports a power switch on the side, along with two buttons to adjust output volume. On the bottom there are a USB-C port, an XLR3 input and a 3.5 mm headphone jack output.
Unfortunately there is no way to adjust the recording volume directly from the microphone. Some kind of knob or other device to adjust recording volume is sorely needed, but unfortunately not provided.
Specs & Features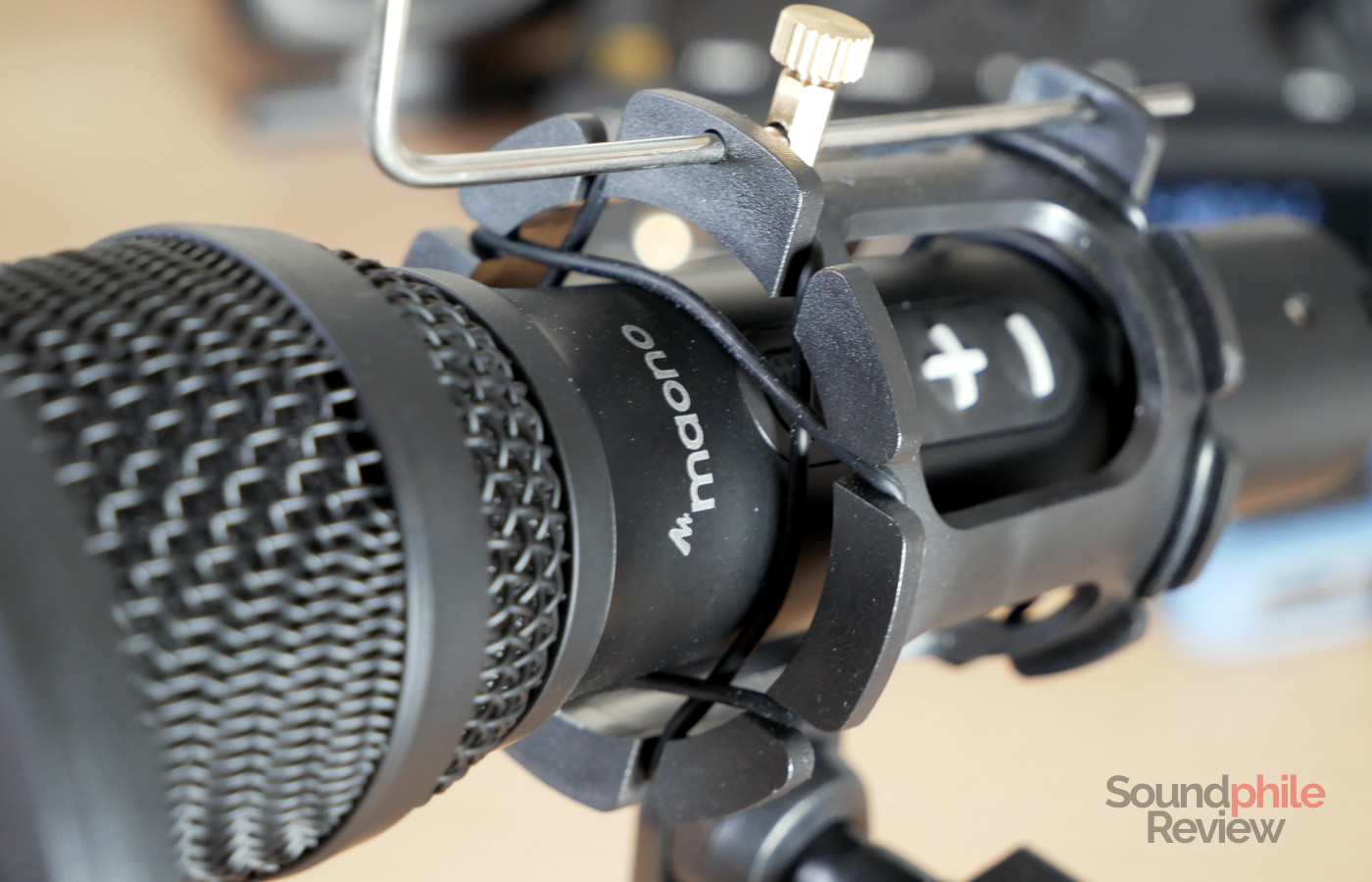 Maono does provides a bit of information about the AU-HD300T: the frequency response is 40 – 17,000 Hz, with an accompanying chart, the recording happens at 16 bit and 44.1/48 kHz. There's no word on the microphone needing phantom power when used with the XLR connector, therefore it is reasonable to assume it doesn't need it.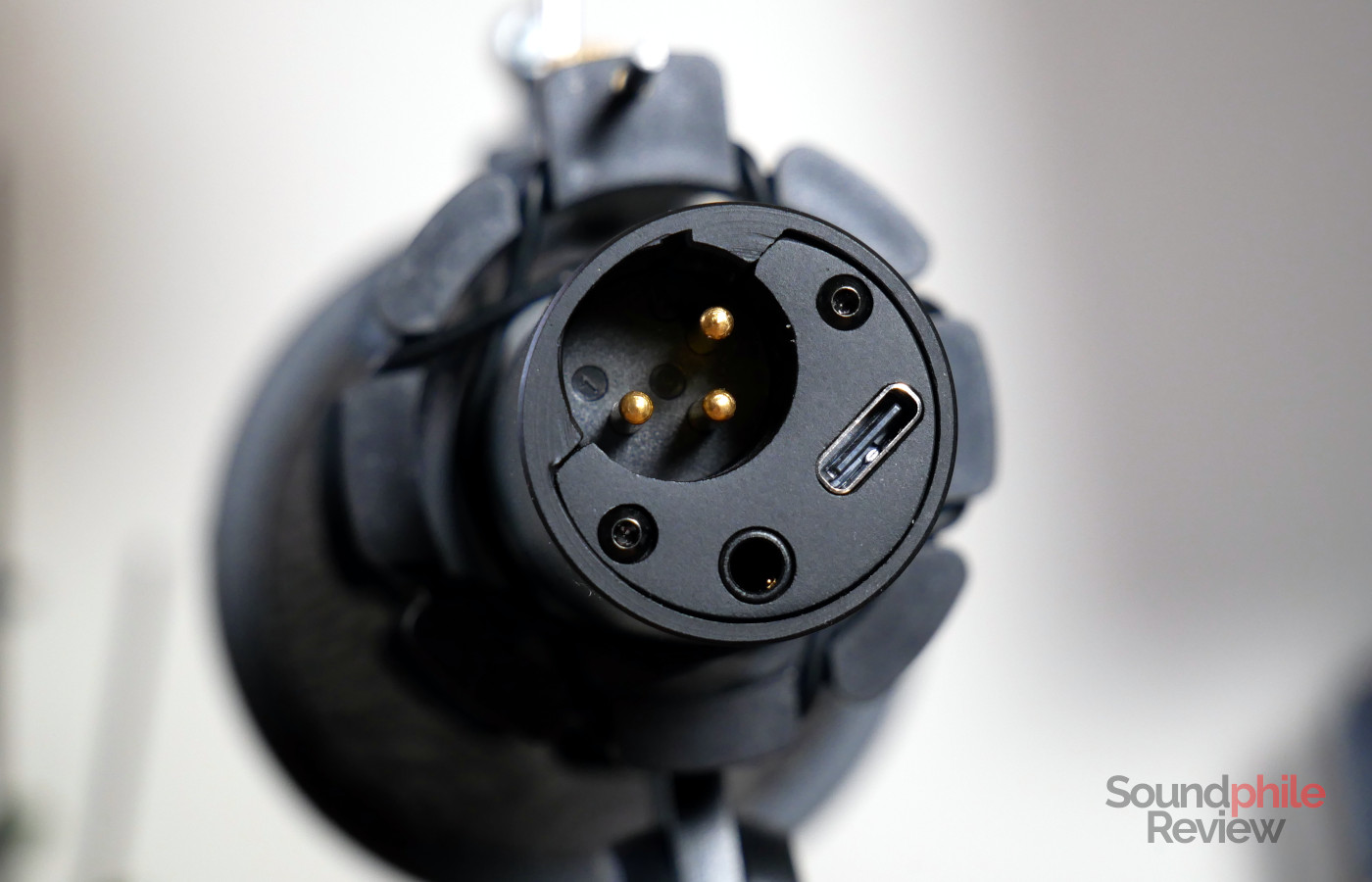 The Maono AU-HD300T has a headphone output. Maono says the power output is 30 mW at 32 Ω: it's not much by any standard, but it is enough to drive relatively demanding headphones. In fact, to my surprise it is enough to drive even the Sennheiser HD 650/6XX to quite high volume levels (though bass is not as good as on more powerful amplifiers, due to the impedance going up). If anything, the problem with the headphone output of the HD300T is that the minimum volume is quite high: at least on Linux, the minimum is 22% volume which is rather high, especially with sensitive headphones and earphones. One thing to note is that this output is only available if you use the USB-C connection, as with the XLR connection the microphone does not receive any output.
Sound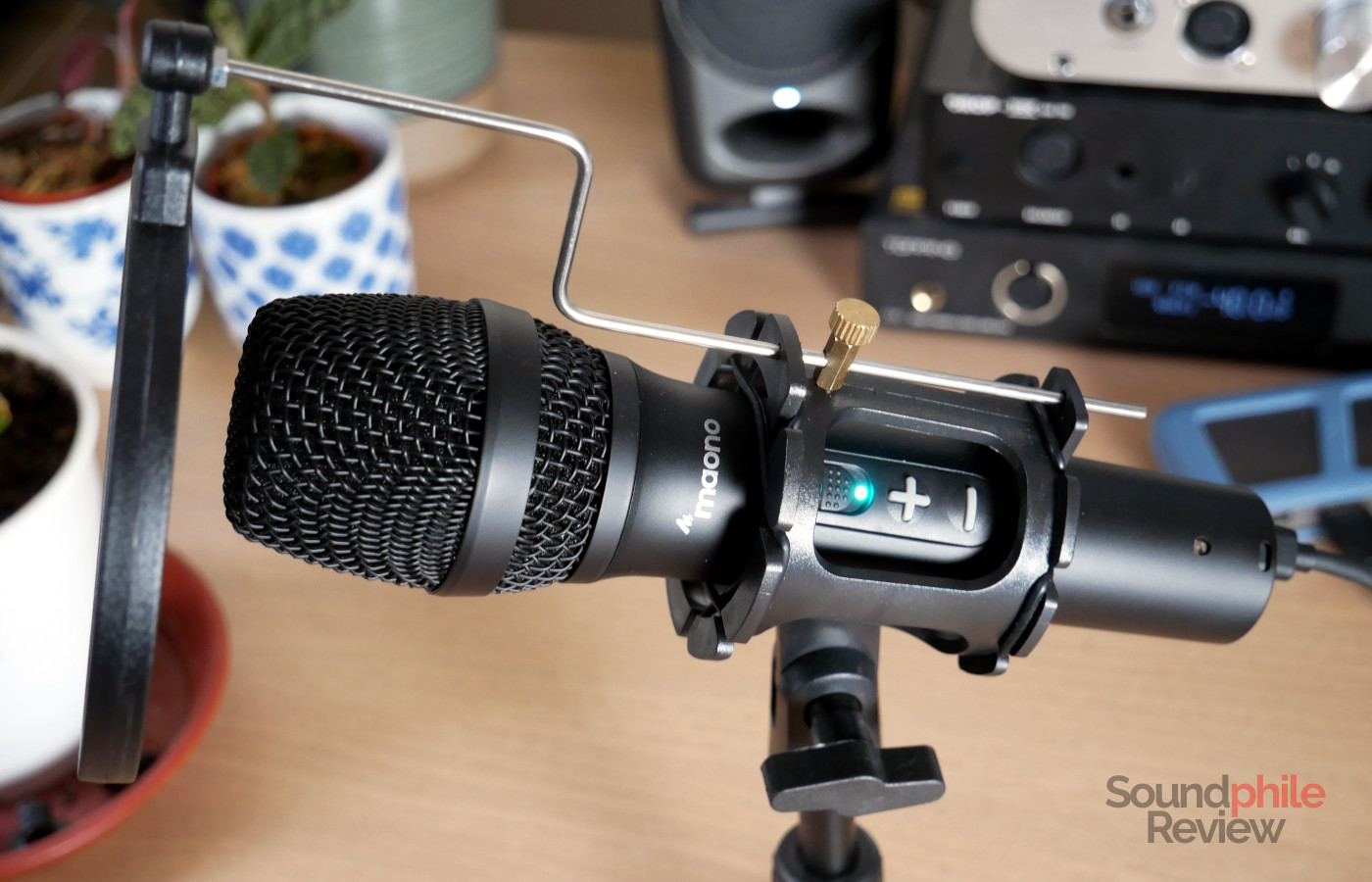 The Maono HD300T is a dynamic microphone which offers a cardioid pattern, which means that it is designed to record sounds coming from its front while discarding everything else. It is quite good, therefore, to record your speech while picking up few sounds (and at a low volume) from around you. That doesn't mean that you will be able to type on a clicky mechanical keyboard without being heard though! This type of microphones is usually best if you want something to use on your own, typically to record your voice, and it's not great to do things like 1-on-1 interviews with two people sitting in front of each other. You can probably hear from the test recording you can find below that it still does capture some sounds from around you, so it's not a full-on noise cancelling thing and more of a "you get more of your voice than of the rest". The test recording has been acquired through Audacity and has had no modifications made to it.
From the perspective of sound quality I can't really comment on (nor recommend) uses other than recording voice, as I don't have access to any musical instruments to test it with as I write this review. However, I can say something against using the Maono AU-HD300T's USB output to record music: it only offers 16-bit audio recording, which is going to be a bit too low (pun intended) for that usage. You could use XLR, but again I have no way to test this at the moment. Using USB you are also limited to 48 kHz, so higher resolution is out of the question.
One issue I have run into with the Maono AU-HD300T is the fact that it does record at a low volume if you just keep it on the desk. The only way to counter this is to keep it at less than 10 cm from your mouth and speak at a high volume, which is however not really convenient if you want to use the microphone for calls or streaming. I have found that my using of Linux gives me a useful advantage (for once), as you can boost the volume to below 100% and up to 150%: while this does have an impact on sound quality, however insignificant, it also allows me to speak into the microphone without needing to either shout or keep the microphone close to my lips. This, however, may not be doable for people who use other operating systems, so it's more of an interesting fact than a "here's a viable workaround".
Now, as a consequence of this characteristic of the microphone, I think it can be a decent choice if you need to just record your voice, as an example for a podcast, but it's not great if you are looking for something you can use e.g. for streaming or calls. As I mentioned, in those cases I think that the AU-HD300S would be a better choice as it would allow you to keep it closer to your mouth in an easier way.
Final Thoughts
The Maono AU-HD300T is a nice entry-level microphone that does everything right and whose only real fault is to have a low recording volume that limits its usefulness outside of podcasting and other specific situations. That's about it though: recording quality is quite good and my voice sounded great even without any post-processing, while the flexibility offered by the USB and XLR outputs is great. The headphone output is the proverbial cherry on top, together with the stand and the shock mount. Considering it retails for ~$70, it is quite a great device.