In the past several years there has been a category of speakers that's been constantly on the rise: party speakers. It might be nostalgia for boomboxes, or something else entirely, but large portable speakers capable of delivering a lot of power have become more and more prevalent. The Tribit Stormbox Blast is the largest portable speaker I have reviewed thus far and it packs a lot of punch while staying… well, small isn't the right word, but movable might do.
Disclaimer: Tribit kindly sent me a free unit. Additional information is available on the official website. The Stormbox Blast retails for $199.
TL;DR: recap
Pros




Cons

+ Solidly built

+ Large, room-filling sound

+ Long battery life

– XBass isn't too effective

– More complex tracks become muddy

– Cannot be charged through USB-C
Rating: 7/10
Packaging & Accessories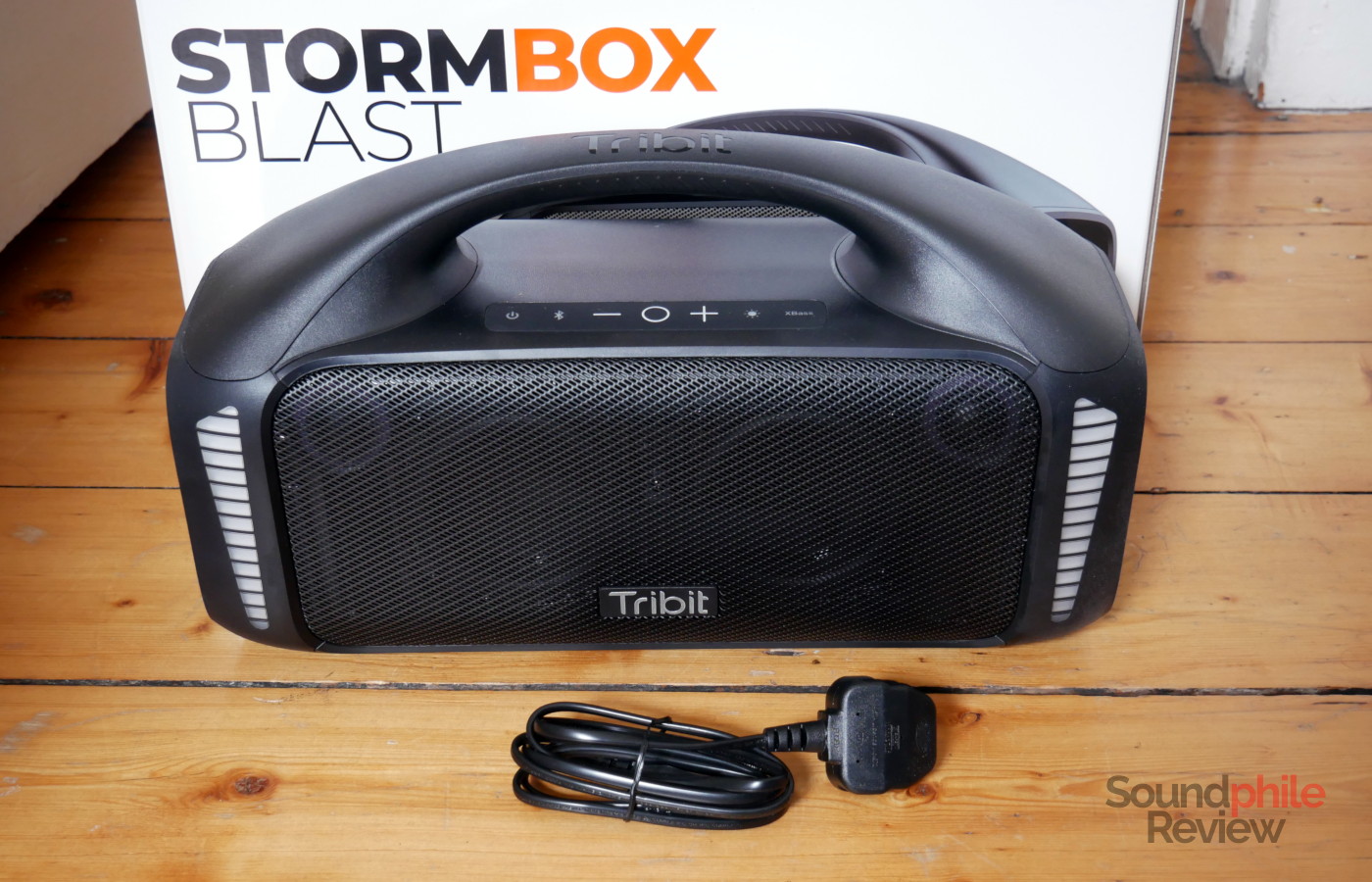 The packaging is quite impressive, as the box is very large. Inside it we can find the speaker itself, together with a power cable and a manual. There's not much in terms of accessories here, but to be fair I can't think of many possible accessories either.
Design & Build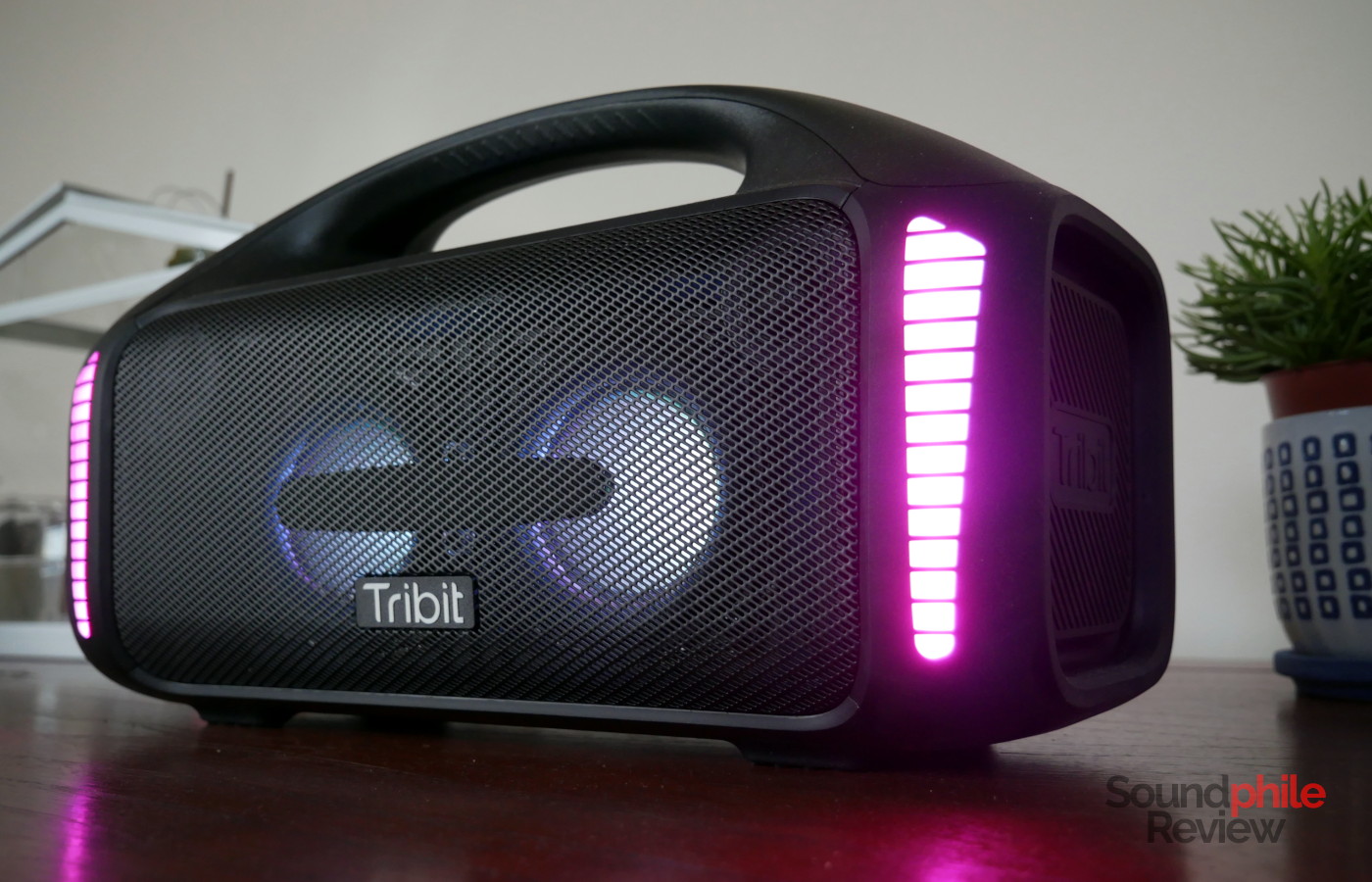 The Tribit Stormbox Blast is really large, at 40 x 16 x 23 cm (roughly) and 5.45 kg. This size and weight make it almost a requirement to have a large backpack to carry it. The handle on top allows for a comfortable handling (pun intended) of the device, and I have to say the weight is well balanced so you don't actually feel it that much, at least on short distances.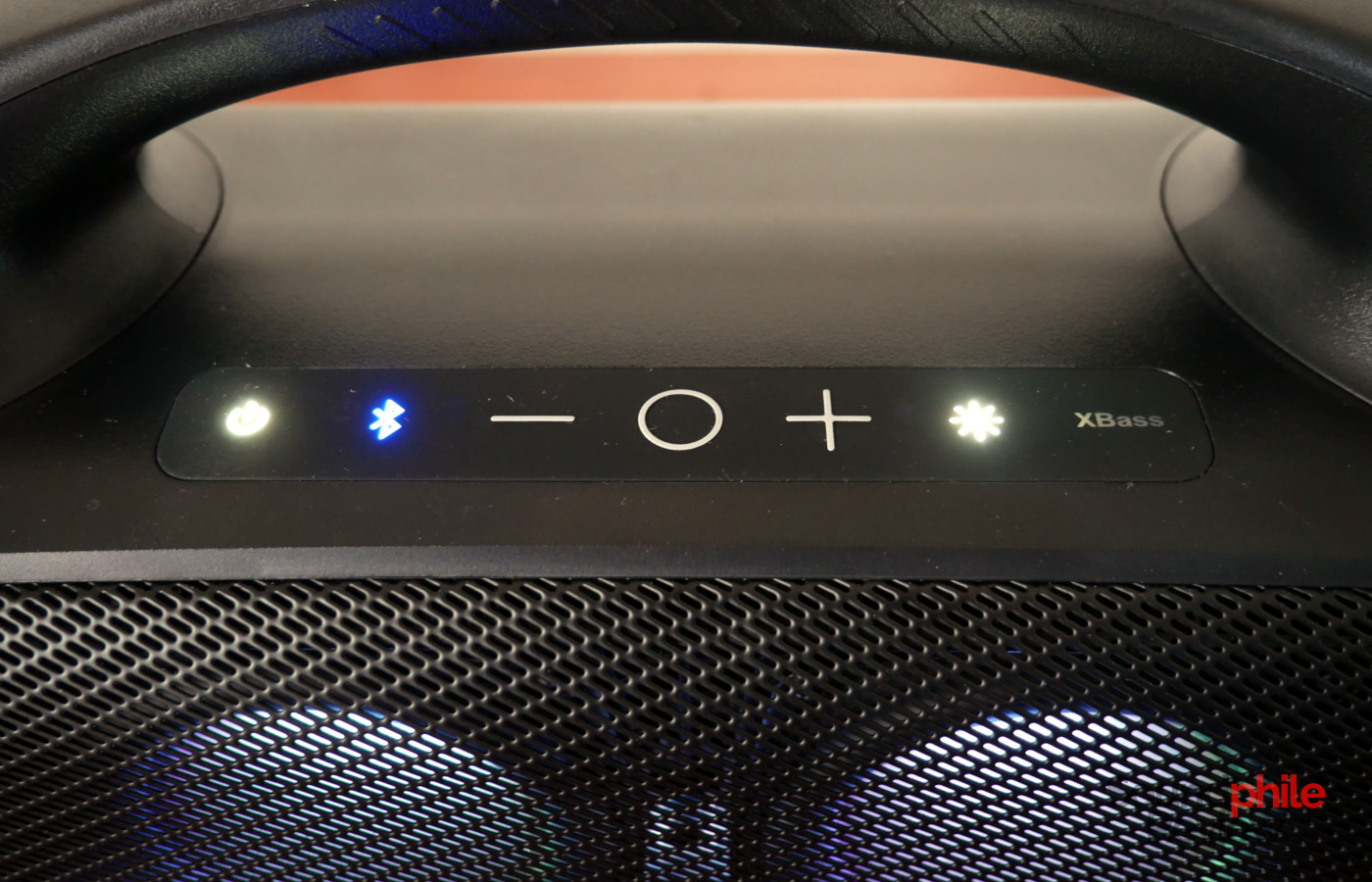 Purely from the perspective of design, the Stormbox Blast looks quite aggressive, with a central section covered by a grille and two LED strips to its sides. The top has the aforementioned handle, under which are the various buttons to interact with the speaker (power, pairing mode, reduce volume, raise volume, increase volume, lighting effects and XBass switch). The sides host two bass radiators, while the back has a grille that makes it symmetrical to the front, plus a rubber lid that hides all the connectors: there's a USB-C port, a power cable input (of the two-pin, 8-figure type) as well as an aux input. It should be noted that the USB-C port only serves as an output: it allows you to charge other devices by taking advantage of the massive battery of the speaker, but it has no other functionality.
The whole body is made of plastic, with just the grilles made of metal. The speaker feels quite solid nonetheless. There is also another consideration to be made: had the manufacturer used more metal (or another heavy material) in building the speaker, it would have become far too heavy to carry. The Stormbox Blast is IPX7 certified, which makes it usable even on poolsides, beaches and other settings where there's abundant water going around (though it is probably a good idea not to get it wet with marine water, given that salt has the nasty habit of corroding everything!).
Features & Specs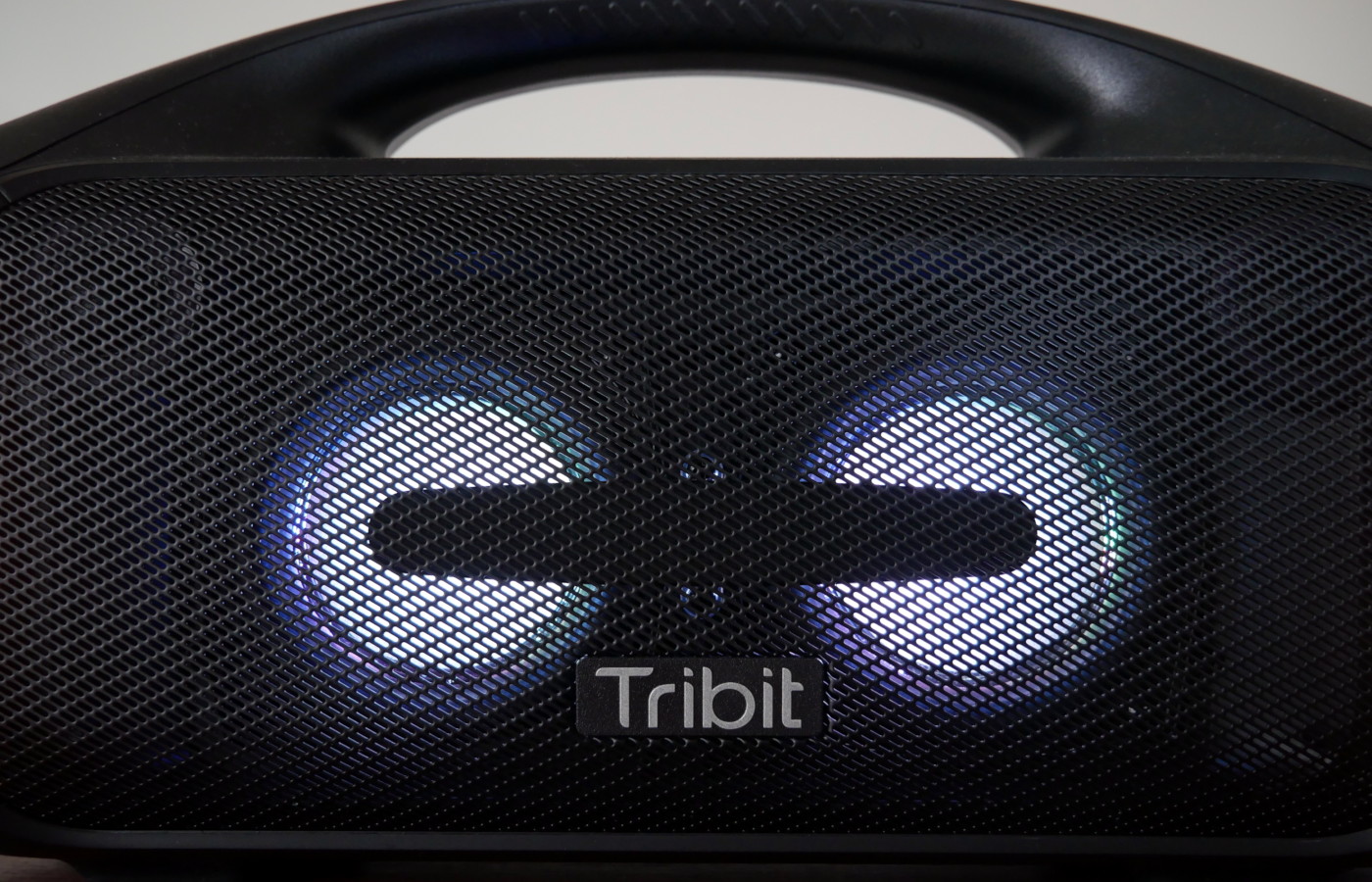 The Tribit Stormbox Blast only offers compatibility with the SBC codec using its Bluetooth 5.3 connection. No higher-quality codecs are available, not even AAC which is usually found on most products.
The LEDs can cycle through three different modes: off, white/rainbow and coloured. The white/rainbow mode makes the two lateral bars and the central part light up in white, with an effect that reminds me of a block analyser that fills the bars with rainbow colours as the volume in the track goes up. The coloured more is similar, but there's no white and only one colour is used at a time. The effect is nice, but it is only clearly visible in a very dark setting a the LEDs are not that powerful.
| | |
| --- | --- |
| Frequency response | N/A |
| Power output | 90 W |
| Maximum SPL | N/A |
| Connections | Bluetooth 5.3, aux in |
| Codecs | SBC |
| Driver type | 2 woofers, 2 tweeters, 2 passive radiators |
There's not much flexibility in terms of input options, with just the Bluetooth and aux connections available.
Battery Life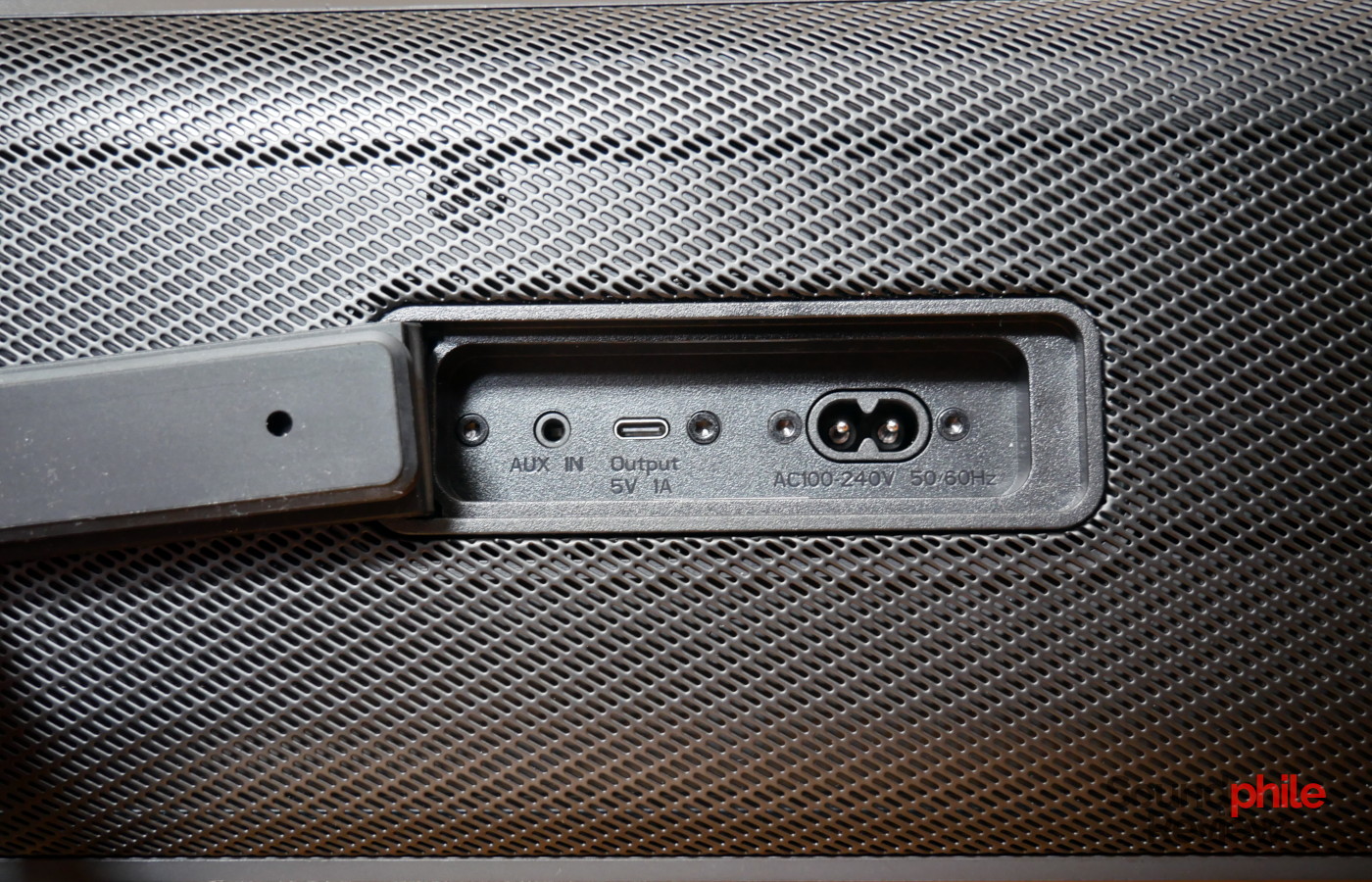 The company advertises a battery life of 35 hours, which seems realistic enough as I can use the speaker for multiple days before I need to charge it. The battery is so large (19,800 mAh!) that you can actually use the included USB-C port to charge other devices and still have plenty of play time. However, you can't use the USB-C port like on other similarly-sized devices such as the BlitzWolf BW-WA3 Pro; this is a weird choice, as it means Tribit had to include a power supply inside the speaker, making it heavier and more complicated than it would otherwise have been.
Sound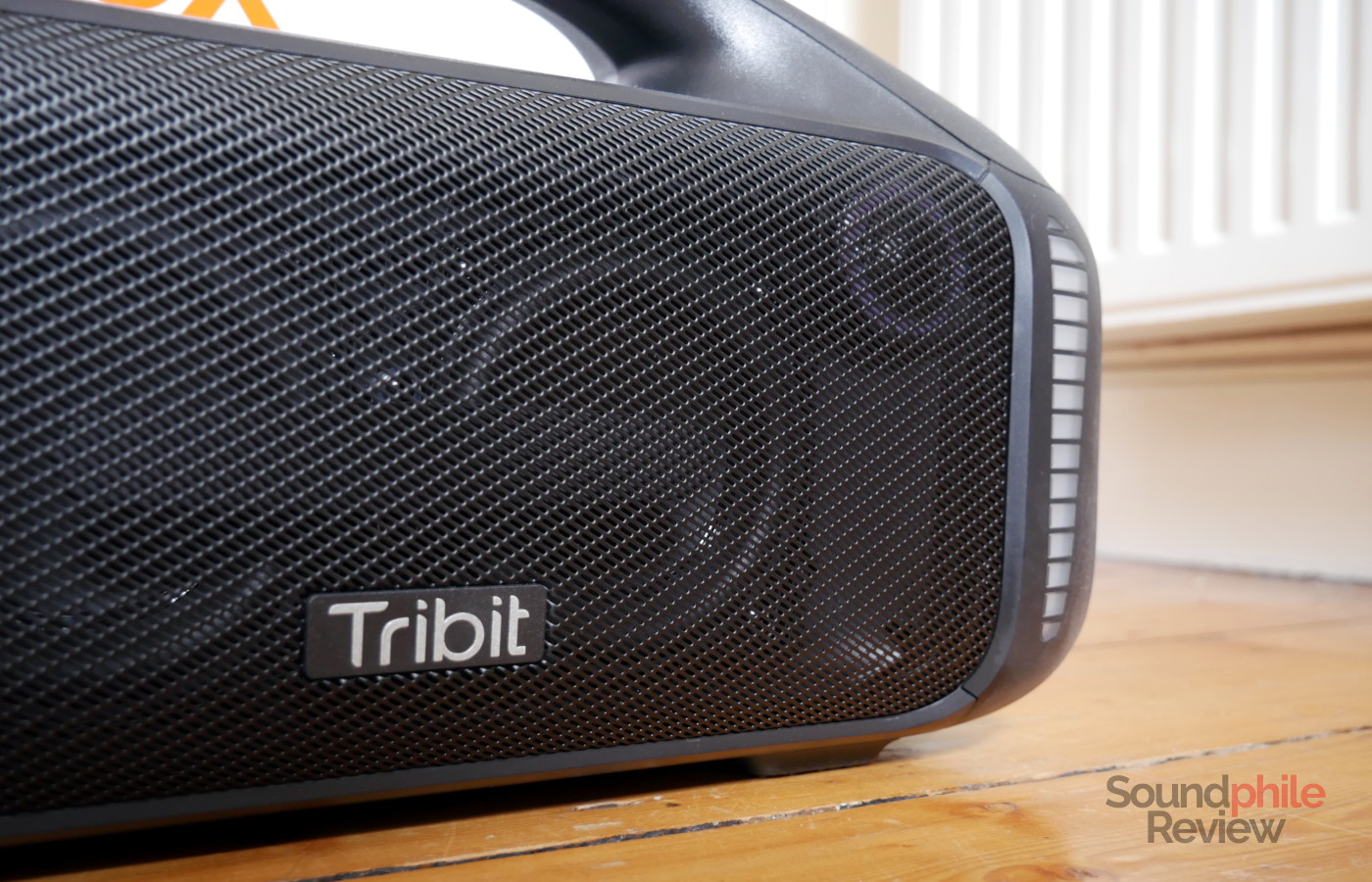 I tested the Tribit Stormbox Blast using both my Pixel 6 Pro smartphone and my desktop computer.
One thing I have to applaud Tribit for is the fact that there is no background noise. No hisses, no hums, nothing. That is quite unusual among these speakers and it is an absolutely welcome feature.
It's hard to tell if the 90 W figure given by the manufacturer is realistic, but the Stormbox Blast gets plenty loud. At just 10% its volume it is loud enough to fill a mid-sized room. At 30% it is so loud it becomes uncomfortable. This means you can definitely use the speaker in the open air as it has plenty volume to be heard from a distance.
The Tribit Stormbox Blast offers what I'd say is a fairly "mainstream" signature, with elevated bass and treble and relatively subdued mids.
Bass is quite powerful and it hits 100 Hz without issues; while it doesn't touch the lower frequencies, it is deep enough to sound bold and strong. As you can expect from a speaker of this type and size, it is relatively slow and details get lost in the mix with more complex or chaotic tracks.
Midrange is somewhat overshadowed by the mid-bass, but it's still present enough to be clearly audible. There is a shift towards the upper region, so instruments like electric guitars are a bit shrill and overpowering. Voices are relatively balanced, though, with female vocals sounding more prominent than male ones but with no other negative effect. In terms of detail, midrange doesn't quite shine, especially in more complex tracks, but it is overall acceptable.
Treble is elevated and can sometimes be a tad fatiguing. There are a few peaks that make cymbals and crashes penetrating at times. This is especially evident at lower volume levels. Detail is decent and it is still audible in more complex tracks.
The XBass feature seems to actually give more presence to lower frequencies, but the side effect of that is that it also takes away from the mids and the treble, making everything sound more muffled and muddied. It can work with specific tracks, but it generally doesn't seem to add much to the sound.
Final Thoughts
The Tribit Stormbox Blast is a massive portable loudspeaker, and with that size also comes a rather large price tag. The $199 the company asks for its product place it firmly in the midrange area of the portable speaker market, competing with renowned names that you find in big stores. The main difference between the Stormbox Blast and the majority of those names is that the former offers a larger, more powerful sound (and size). It is an enjoyable party speaker which doesn't offer a wide variety of features, but the sound of which is surely to fill the role it is made for – lighting up parties and filling rooms with sounds.