With more and more people using microphones to game or to manage calls while working remotely, there is also a boom in the offerings you can find on the market. The Fifine K688 is a microphone that caters to those who want premium looks and sound without an accompanying premium price tag. It offers both USB and XLR outputs, so it can be used standalone or with an audio interface. So how does it fare?
Disclaimer: I received this unit for free directly from Fifine. They sell the K688 for $79.99. Additional information is available on their website.
Packaging & Accessories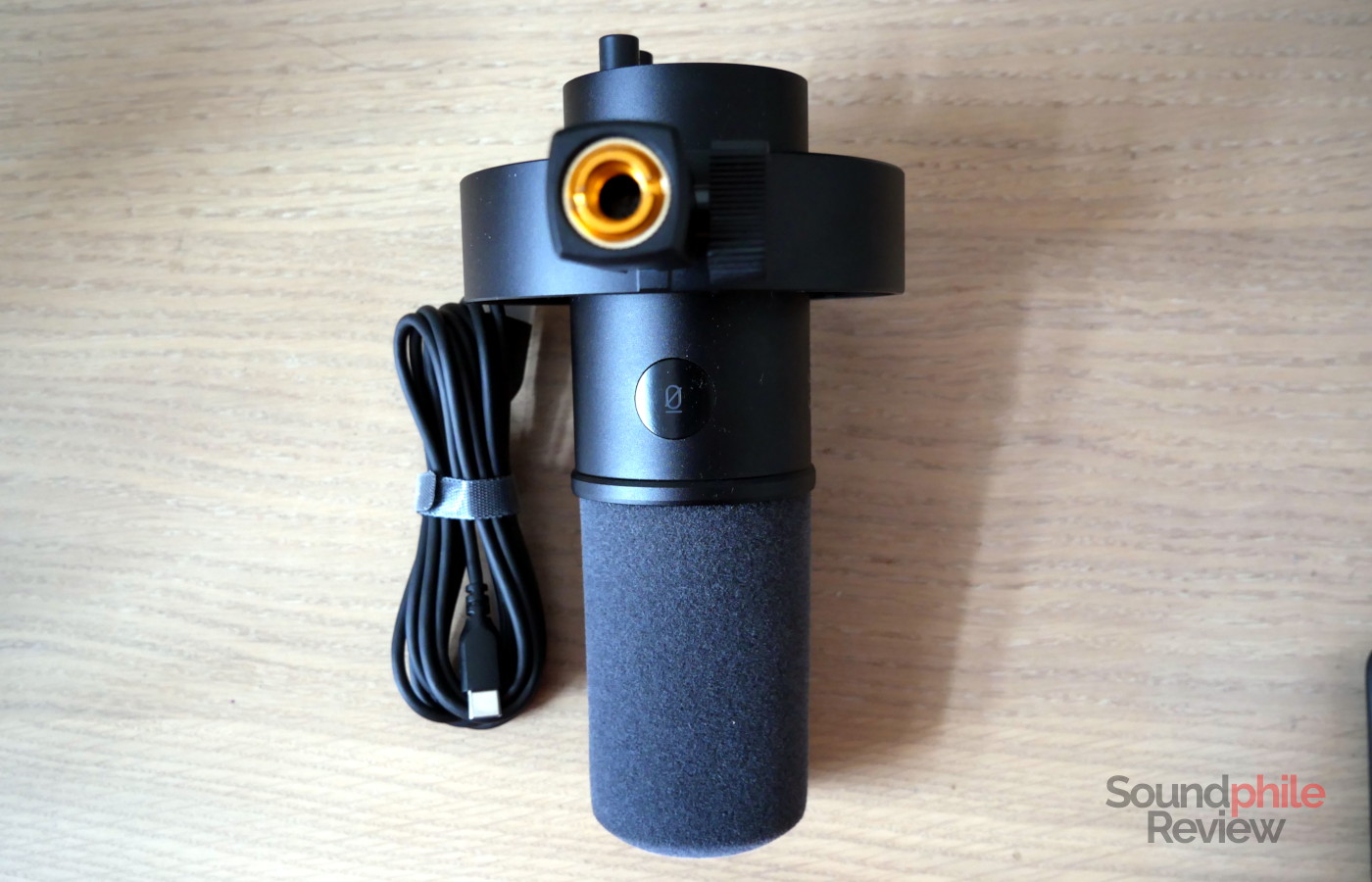 The Fifine K688 comes in a cardboard box lined up with plastic; it contains the microphone with its shock mount, as well as a 5/8″ to 3/8″ adapter and a 2.5 m USB to USB-C cable. The shock mount requires you to use a boom arm or another support for the microphone, but you will have to supply your own. There is also no XLR cable.
Design & Build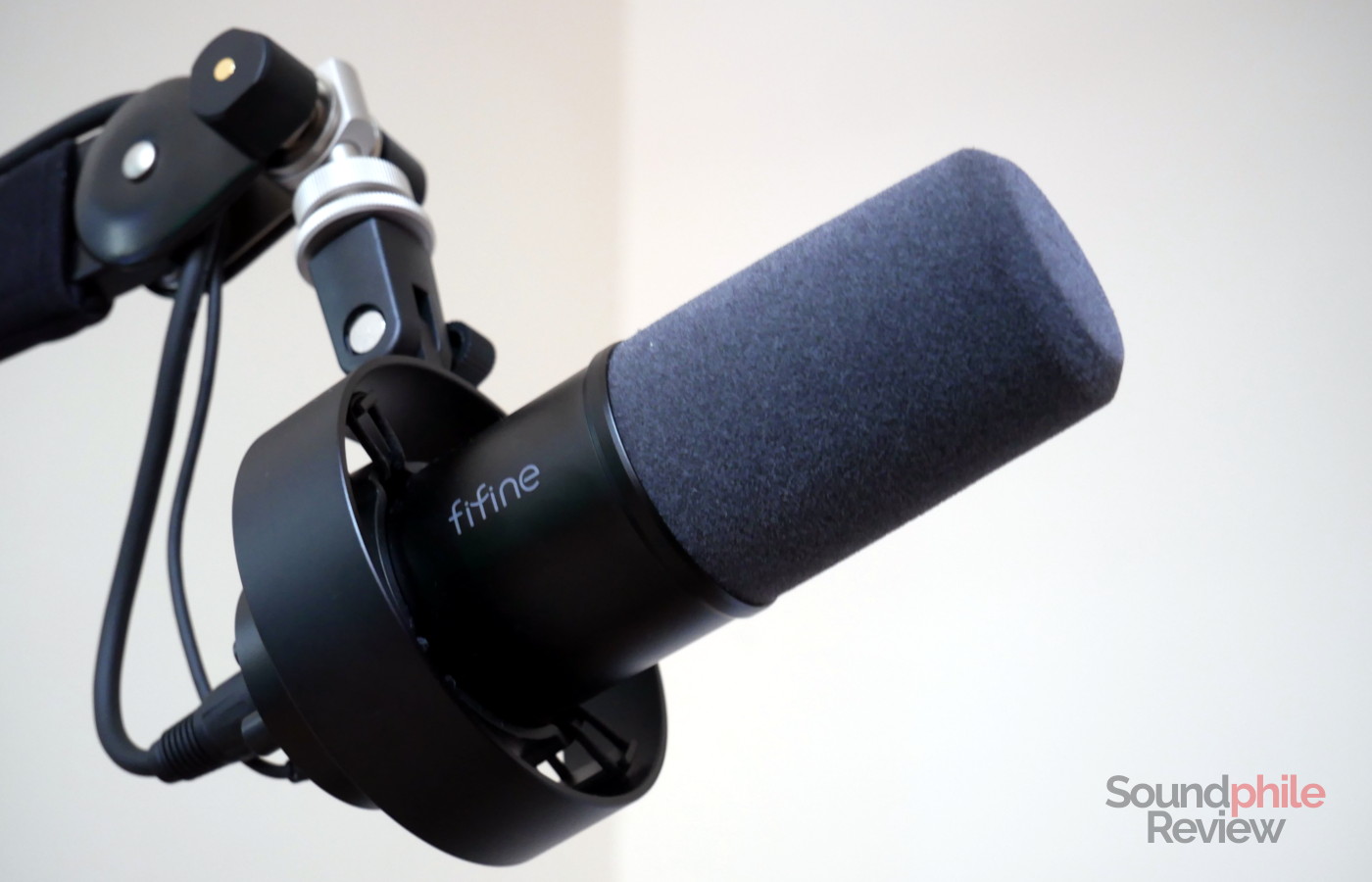 The design of the Fifine K688 falls in line with that adopted by a lot of microphones, with a metal shock mount that holds the (again, metal) main body of the microphone. It has that "professional" microphone look that's simple and understated without being boring. The front comes covered with a grey pop filter, which can be easily removed; under it there is a metal cage which protects the diaphragm, which is clearly visible.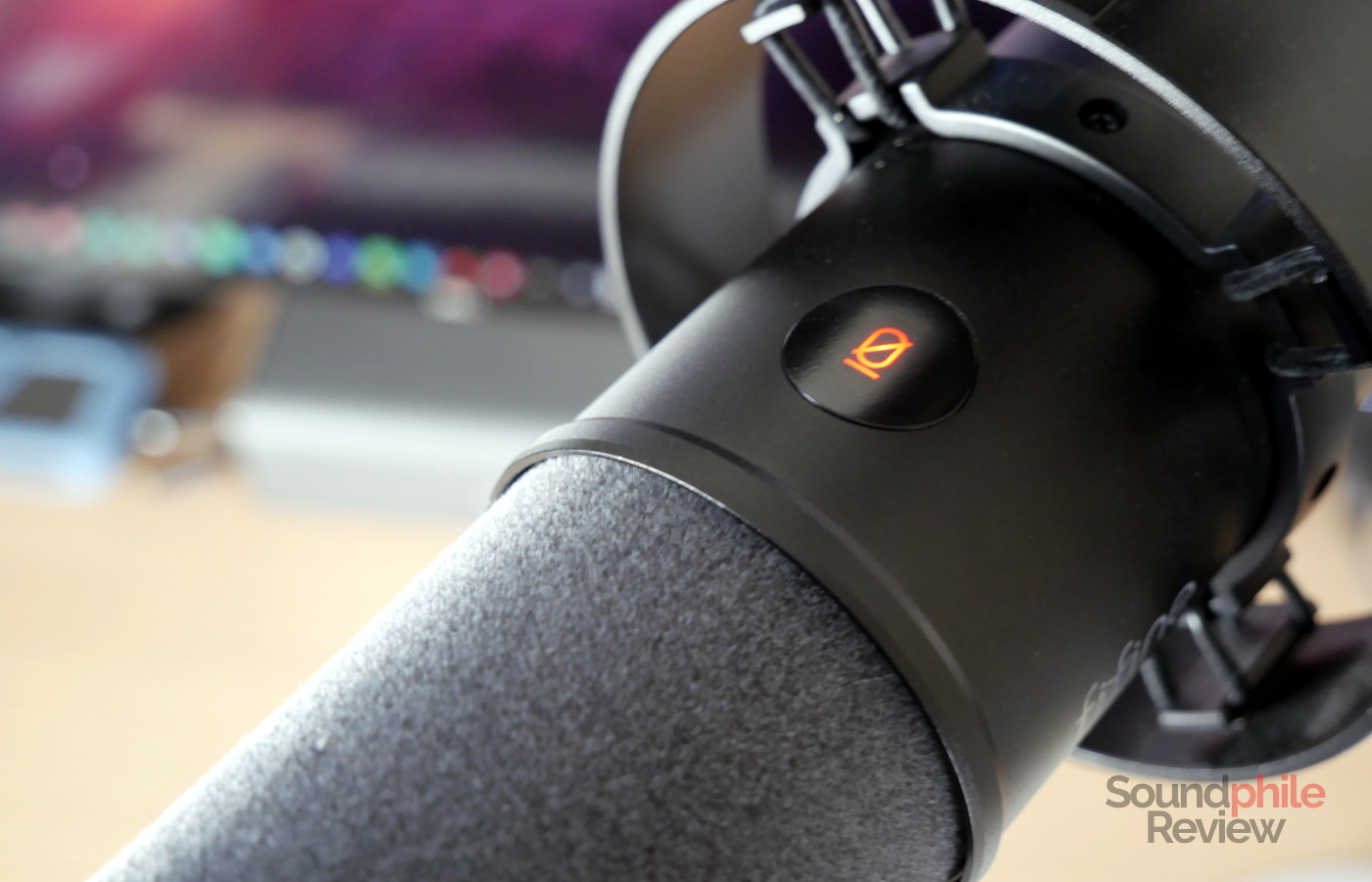 The top of the microphone has a touch-sensitive button to mute it, while the back has the USB-C and XLR ports as well as the headphones out and two volume knobs (for the microphone input and the headphone output). The knobs have a nice feeling as they offer a bit of resistance when you turn them, which in turn allows for a finer adjustment of the volume. The shock mount comes with a 5/8″ thread which allows you to mount it on any boom arm or stand.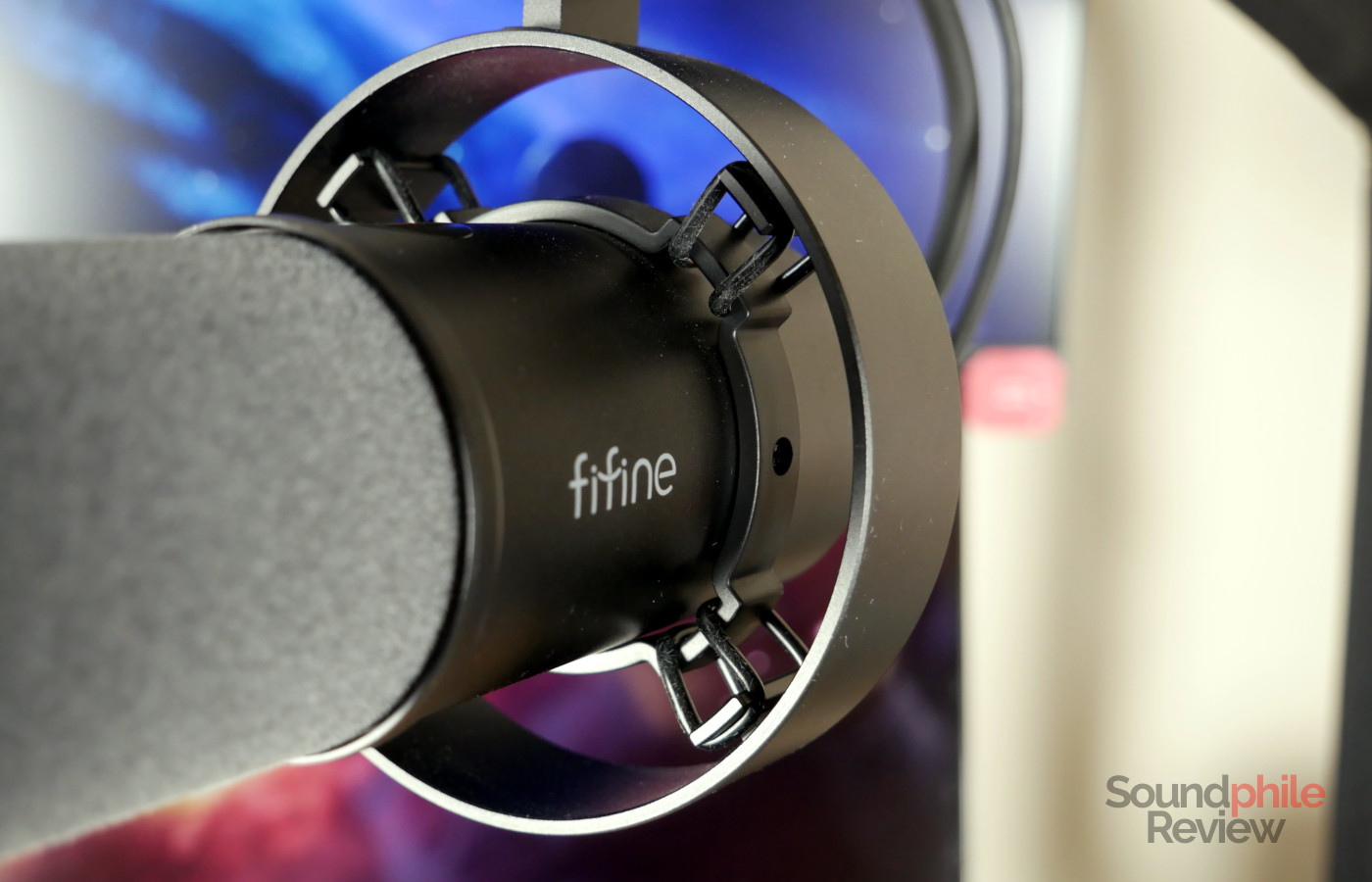 Build quality appears to be really good, also thanks to the fact that the microphone is made of solid metal. The finish is semi-matte, which makes the microphone look stylish and elegant. It is also quite lightweight overall, at 323 g including the shock mount, so it should be easily held by any boom arm.
Specs & Features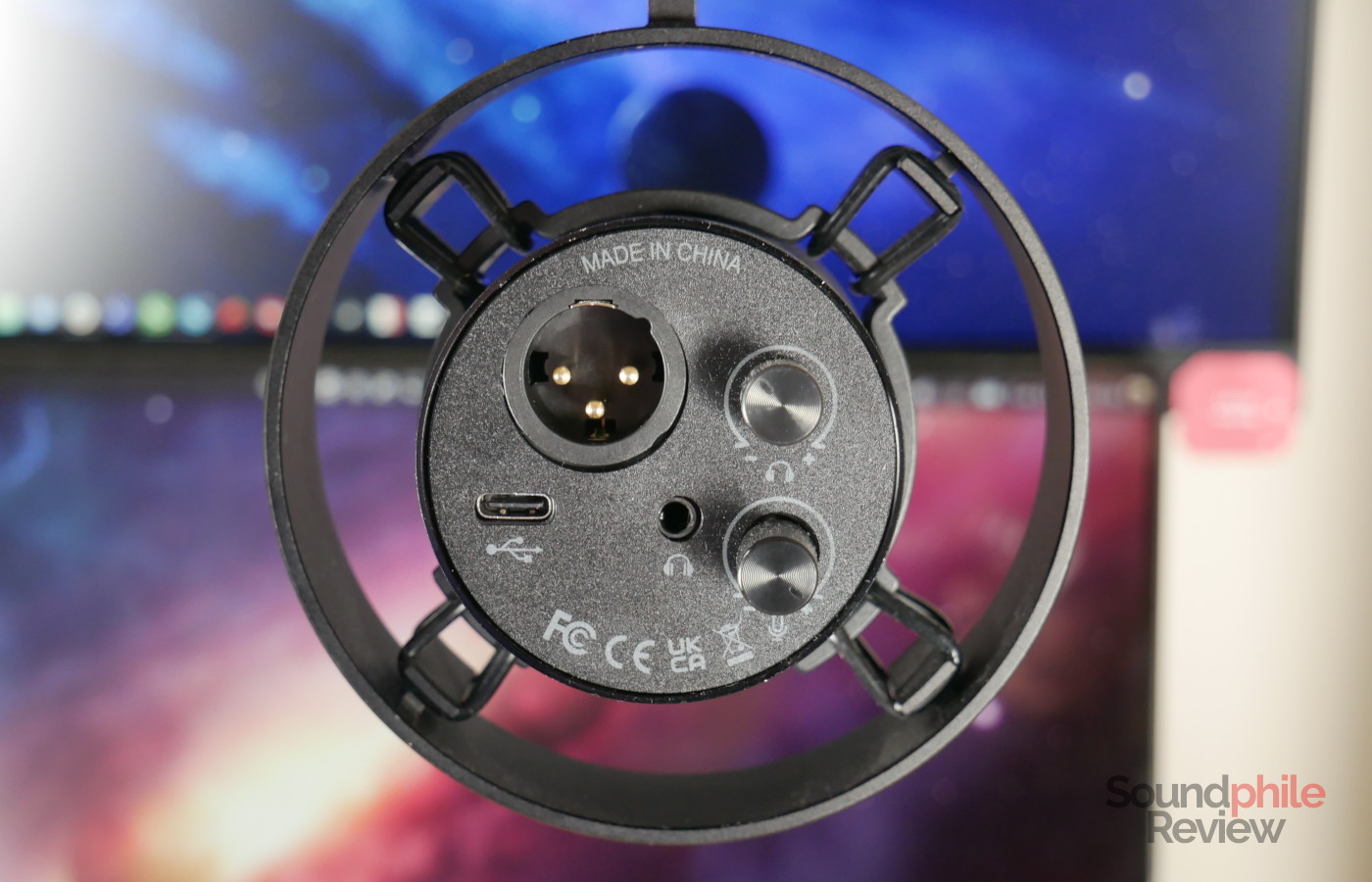 The Fifine K688 has a decent frequency response for vocals, as it goes from 70 Hz to 15 kHz. It won't capture sub-bass frequencies, which means it's not suitable for recording e.g. cellos, pianos and double bass, but it should be plenty enough to record human voices – which is, indeed, its target usage. It stops at just 16 bit of depth while recording, which puts it at a disadvantage compared to other competitors such as the Tonor Orca 001 which offer 24-bit recording depth. The SNR isn't great, either, but it should be more than enough for streaming and videocalls.
The microphone works out of the box with all major operating systems, including Linux, and according to Fifine it is also supported on the PS5.
| | |
| --- | --- |
| Microphone type | Dynamic |
| Polar pattern | Cardioid |
| Frequency response | 70 – 15,000 Hz |
| Connections | USB (16 bit, 44.1 – 48 kHz), XLR |
| Maximum SPL | 130 dB |
| S/N ratio | > 75 dB |
| Sensitivity | -58 ± 3 dB |
The Fifine K688 supports both USB and XLR connections, which is quite unusual at this price point. The additional features like the headphone output and the muting button will (rather obviously) only work with the USB connection; they can still work with the XLR as well, but you will need to power the microphone with a USB cable. As this is a dynamic microphone, no phantom power is required when using the XLR connector.
The headphone output port is supposed to drive headphones with impedance between 16 and 75 Ω; it is indeed powerful enough to drive all the headphones and earphones between 16 and 64 Ω that I have tested.
Sound
The FIfine K688 is a dynamic microphone with a cardioid pattern, which means it picks up sounds from the front and partially from the sides, but not from behind. This is especially useful as it (mostly) only captures your voice and not sounds from around you, but it also makes it so that you cannot use the microphone to capture e.g. the voice of two people sitting in front of each other. You can hear a test recording, performed using Audacity with the USB connection, with the player below.
Fifine is quite clear in claiming that the K688 isn't perfectly flat, like one would expect from a dynamic microphone. It has a small bump around the 2 kHz mark, followed by a ramp up in the upper midrange and treble. This would normally indicate that plosives and sibilants are emphasised and quite prominent; when testing out the microphone, however, I find that they remain controlled and do not add excessive emphasis. Here is a test recording.
Finally, when it comes to noise, the K688 picks up some ambient sounds, but they are kept to a lower volume than that of your voice. I recorded the test below in probably the worst possible situation: I had a speaker reproducing music behind me and facing the microphone at a volume that was clearly audible and similar to that of my voice, yet the microphone managed to record it at a volume low enough to be barely audible. If you crank up the volume it is audible, and quite clearly at that, but at normal volume levels it is not.
Overall, the Fifine K688 appears to do a great job at recording voices and it can give you that nice broadcasting-style, deep voice if you speak close enough – speaking at a distance between 10 and 20 cm is enough to achieve that, which means you won't have to stay too close to the microphone and that, in turn, makes the plosives and sibilants less prominent.
Final Thoughts
The Fifine K688 is a nice microphone that can satisfy the needs of a lot of people, thanks to its flexibility and good audio quality. It is well built and it has a great design; the mute button and the volume knobs on the back make it very convenient to use and allow you to manage everything directly from the microphone itself with little to no intervention via software.
At $79.99, the Fifine K688 is definitely worth checking out. It doesn't have more advanced features, like ENC, but it compensates that with XLR output for the more advanced users who prefer using a sound card or a mixer. For those who don't want to deal with that, the experience with USB is plug-and-play with no additional software required to use the microphone to its full capabilities. This is a great microphone not just for online gaming and calls, but also for podcasting and other uses for people who fall under the wide umbrella of "creators".