Everyone appears to be streaming nowadays – everyone but me, it seems. The market for microphones has boomed thanks to the explosion of two phenomena: one, people who have enough time on their hands to be streaming stuff (yes, I am jealous!); second, people who work from home and need a microphone to better communicate with people (yep, I'm in this category). The Tonor ORCA-001 is a USB microphone which is definitely geared towards gamers and streamers, as you can clearly see from its design, but this doesn't mean you can't use it for very serious Zoom calls with colleagues. In fact, it is a great all-round microphone that works well in a variety of situations.
Disclaimer: I received a unit for free directly from Tonor. The ORCA-001 retails for $69.99. Additional info on Tonor's website.

Packaging & Accessories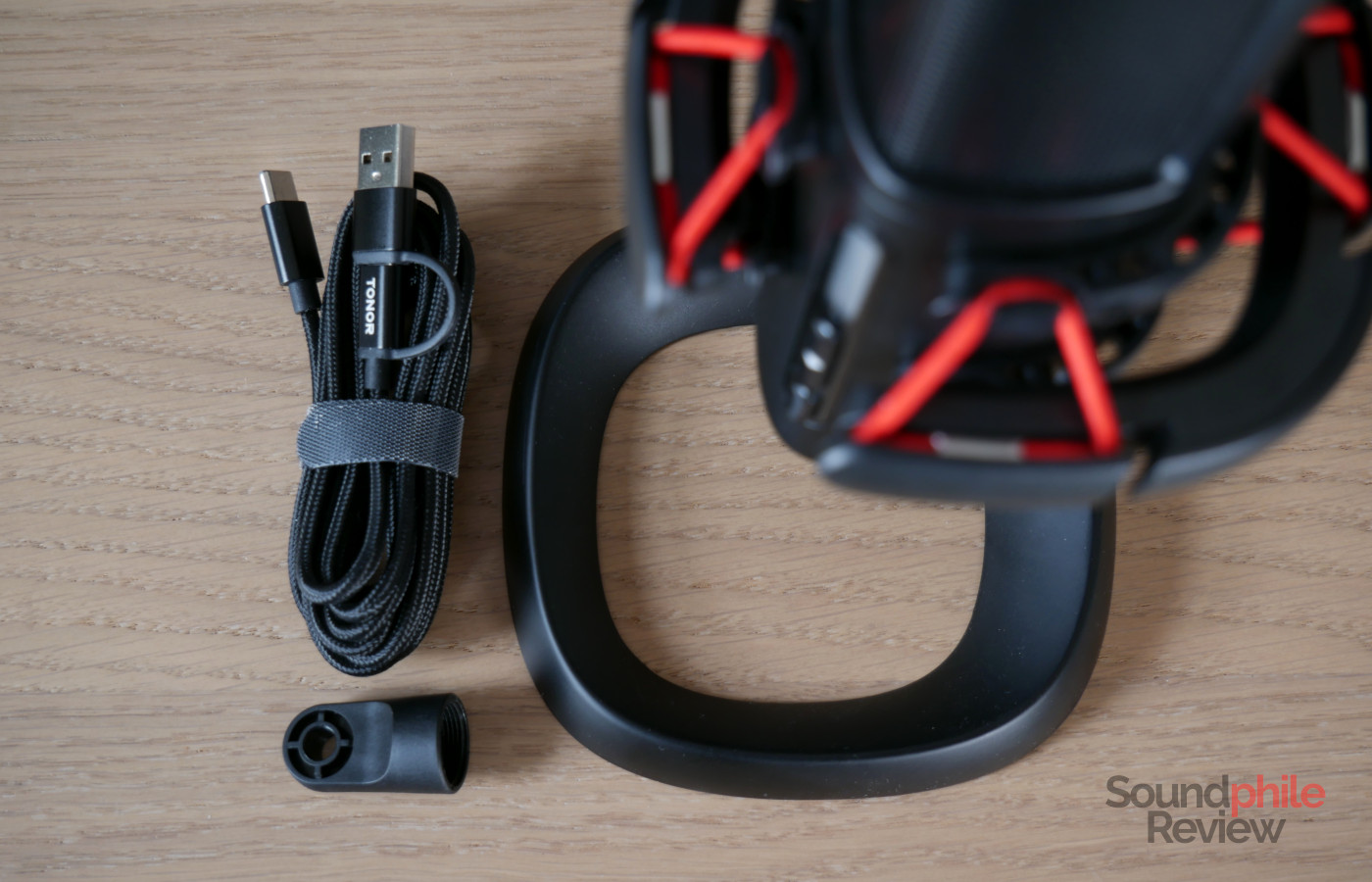 The Tonor ORCA-001 comes with its own (plastic) shock mount as well as a sturdy metal desk base. There are also an optional plastic mount for boom arms and a USB-C to USB-C cable with an integrated USB-A adapter which adds a bit of flexibility.
Design & Build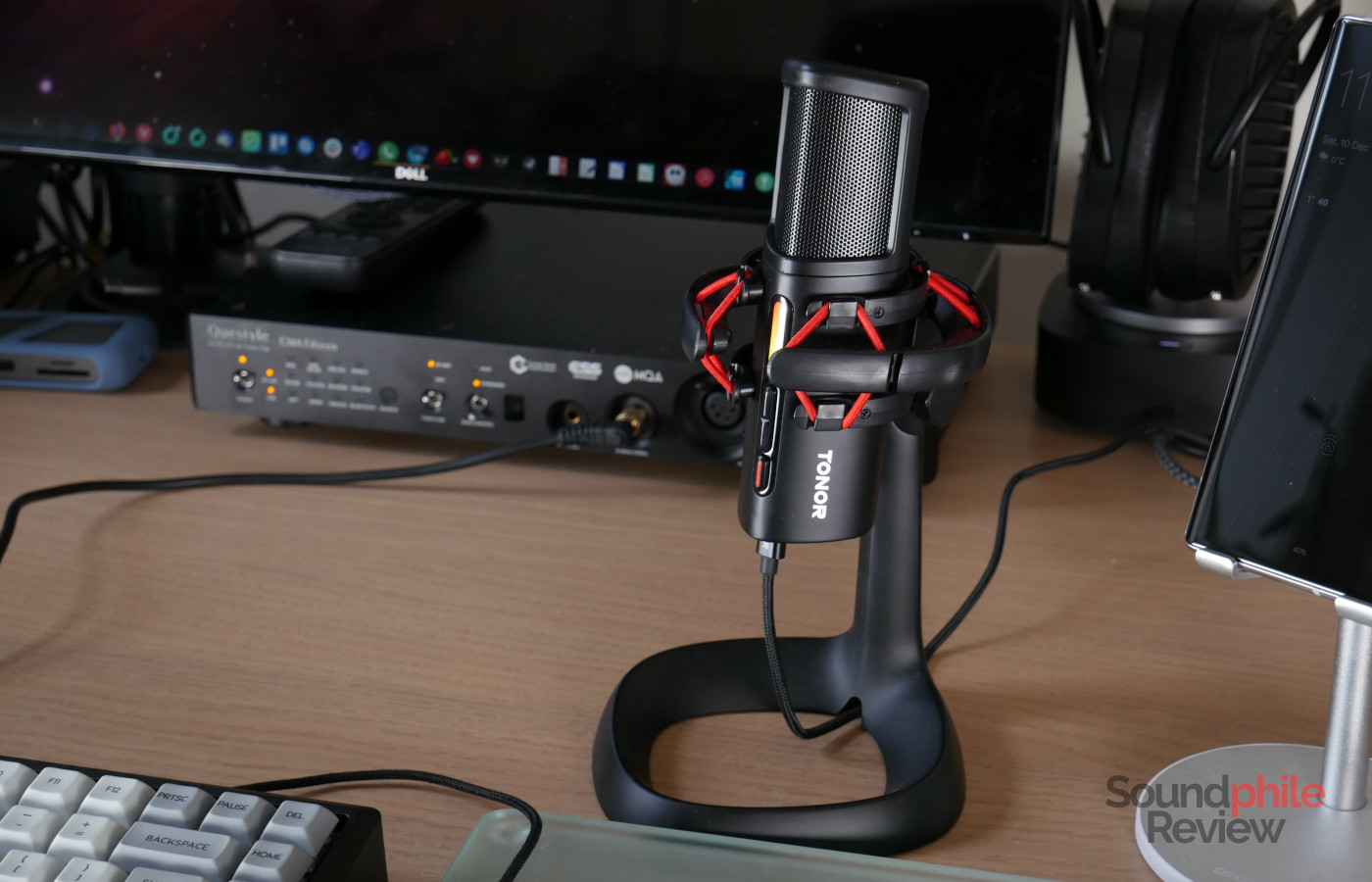 It is evident that the Tonor ORCA-001 is a microphone targeting gamers: its design is perfectly in line with the general aesthetics of that world, complete with RGB lights. In general, the design of the ORCA-001 appears a bit "aggressive" and surely modern and minimalistic. The front is where (almost) everything is: there's the grille that hides the microphone itself, the LED status bar, two buttons to adjust the volume as well as a button to enable or disable ambient noise reduction. On the top there's a touch button you can use to silence the microphone, while the bottom hosts a USB-C port as well as a 3.5 mm jack output.
The lower half is made of metal, probably aluminium, while the grille and the bit surrounding it appear to be made of plastic: this appears to be necessary given the touch button on the top. I am no electrical engineer, but I guess that making touch surfaces out of metal is basically impossible.
As a bit of a funny note: the shock mount's bands look like hairbands… because they actually are! (and you can see this quite clearly in the picture below!) If you take them off, which is quite easy to do, you can clearly see that they are hairbands. This makes them quite easy to replace in case they break, or even just if you want to switch to another colour scheme.
The metal base is sturdy and solid, with a very modern design as well. It is made of a single piece of metal (steel, judging by the weight) and has anti-skid and anti-scratch rubber applied to the underside. This ensures stability, though it also picks up dust better than a duster.
Specs & Features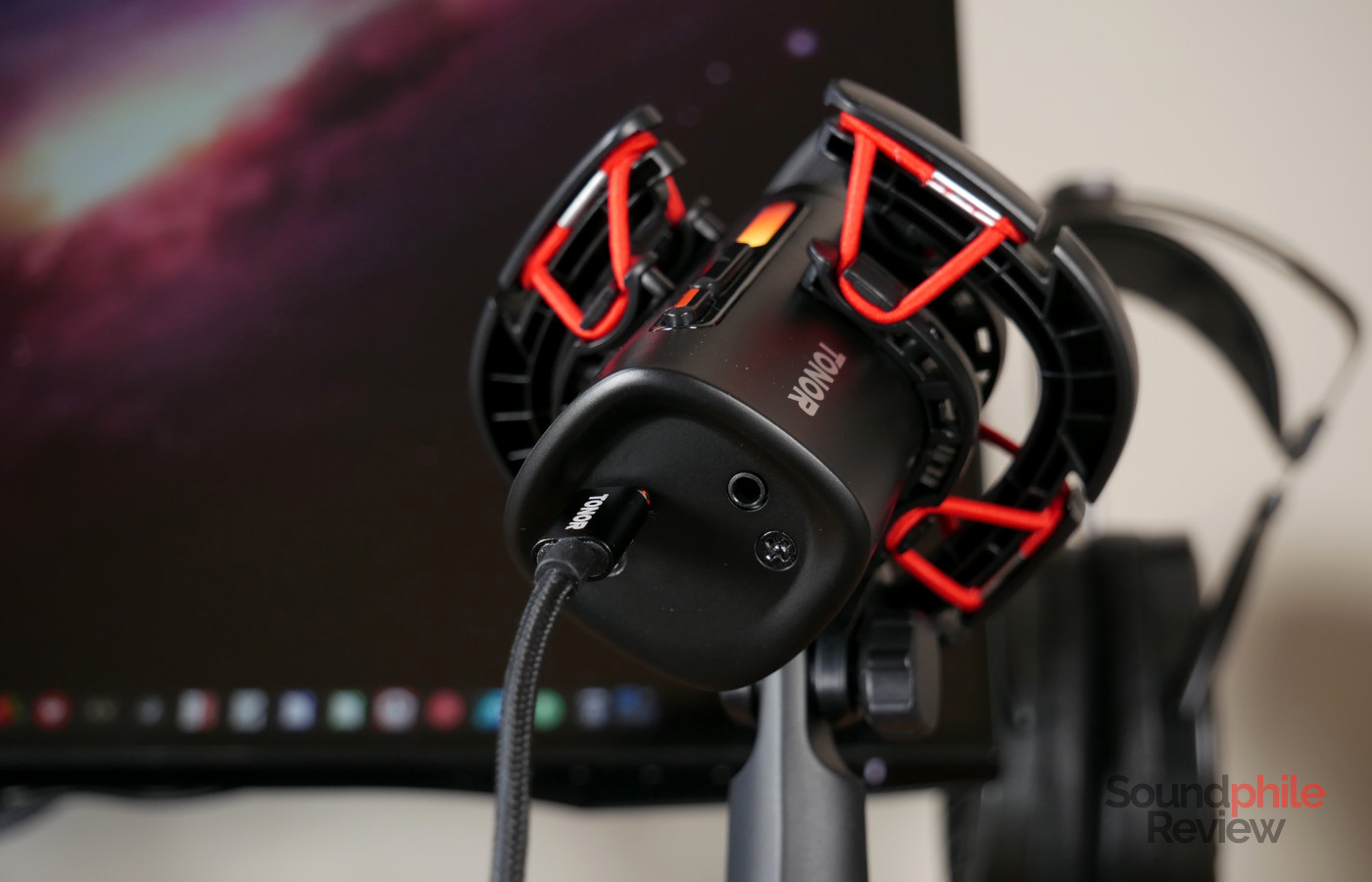 Interestingly enough, Tonor is quite light on specs online, but provides quite a few on the box itself. The ORCA-001 has a frequency response of 50 Hz to 16 kHz, with a sensitivity of -38±3 dB. The sample rate is 48 kHz with a depth of 24 bit, which is more than enough for most people and covers a wide range of possible applications. Maximum supported SPL is 110 dB, which again covers most bases (unless you really want to record a fighter jet while it's taking off, in that case you're out of luck). Total harmonic distortion is less than 1% and the signal-noise ratio is 95 dB. All in all, these seem like reasonable specs for a sub-$100 microphone.
There's no information on the headphone output.
I quite like that the volume buttons on the microphone actually allow you to set the recording volume, so you can quickly adjust it to your needs.
Sound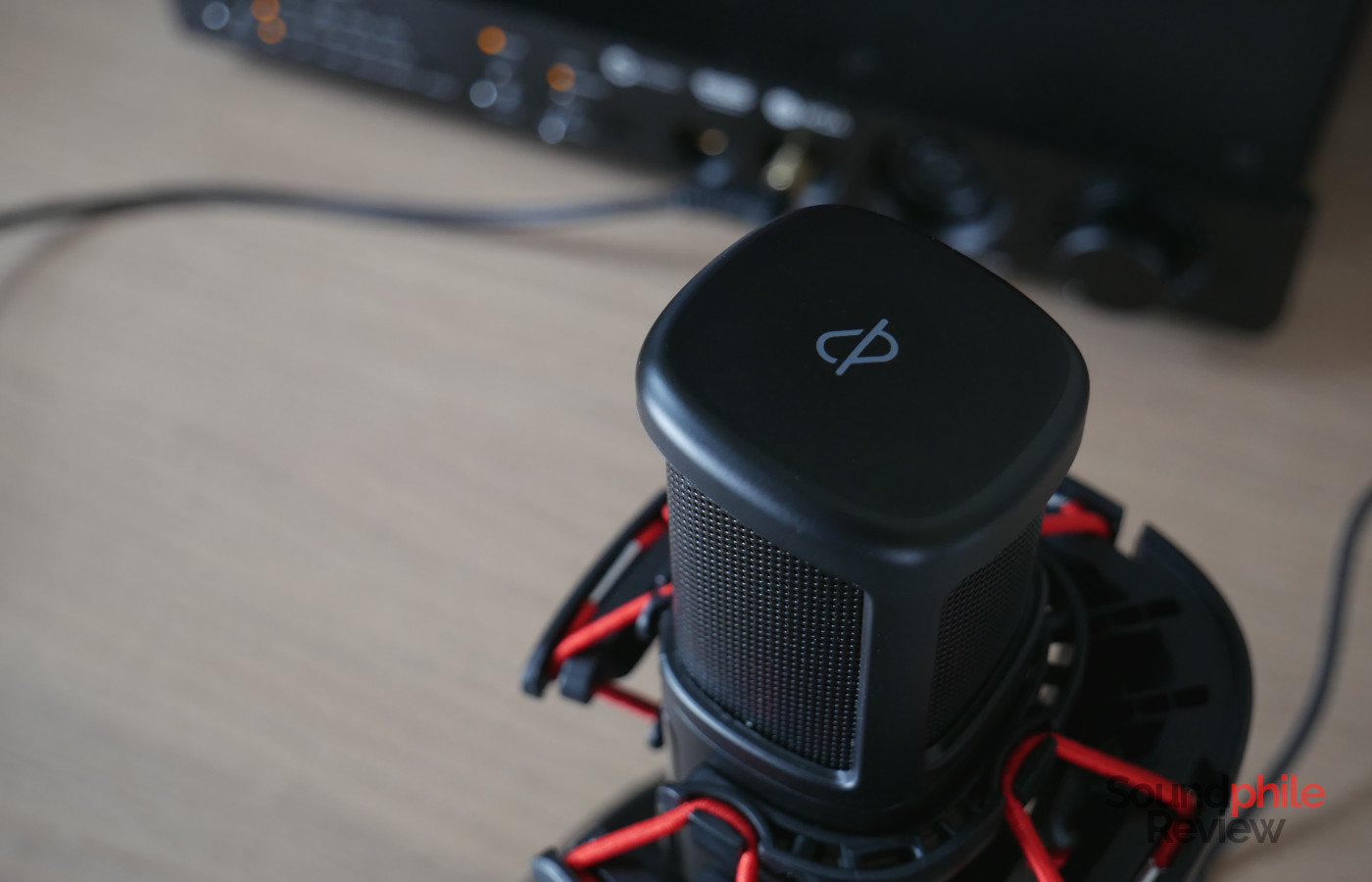 The Tonor ORCA-001 is a condenser microphone, which usually means the frequency response curve is flatter. On the other hand, the microphone is more fragile than dynamic ones. It has a cardioid pattern, which means it captures sounds from the front and rejects most sounds from other directions. This makes the ORCA-001 suitable for usage by a single person, as an example on a desk to make video calls or to stream gaming, and not for e.g. conversations with people sitting around a table. You can hear a test recording below: this was recorded through Audacity, with no modifications at all made to it.
If the cardioid pattern weren't enough to keep unwanted noise at bay, the ENC feature removes basically all of the noise from around you. To test this, I have tried recording my voice while listening to music on my loudspeakers (it was Snarky Puppy's Mean Green from their latest album, Empire Central). The result is that ENC removes the music entirely when I am not speaking, and makes it barely audible when I am, so the communication is a lot clearer. You can listen to a test recording below.
The recording quality appears to be quite good, with a faithful recording of the tonality of my voice. I wasn't able to test any musical instruments, so I will not offer any comment on that type of usage. For online calls and streaming, though, the ORCA-001 appears to be a great option.
Final Thoughts
The Tonor ORCA-001 offers a great balance between price and features; in fact, it is quite cheap for a condenser microphone while also offering advanced features such as ENC. Build quality appears quite good, too. The ORCA-001 records with quite a satisfactory sound quality, with a realistic tonality at least as far as voice is concerned. The microphone offers decent volume as well, which allows you to place it basically anywhere on your desk and still be certain that people will hear you.
All in all, at (one penny) less than $70, the Tonor ORCA-001 is a solid device that will satisfy a large variety of users, especially those who just want a plug-and-play experience and who don't want to deal with the complexities of setting up an advanced setup with XLR microphones. It just works and it does so very well, which is why I recommend it if you would like an easy-to-use microphone to manage online calls or play with friends.