Questyle's CMA Fifteen, or CMA15 if you prefer the numeral version, is the latest flagship DAC/amp launched by the company. It is an evolution of the CMA Twelve, launched in 2018, and it marks the fifteenth anniversary of Questyle's proprietary Current Mode Amplification technology (whence the name comes). It comes with a hefty price, but it also comes with lots of great features.
Disclaimer: I received this unit as part of the UK review tour, so I had to ship it to the next reviewer. The CMA Fifteen retails for $2,500. Additional information is available on Questyle's website.
Packaging & Accessories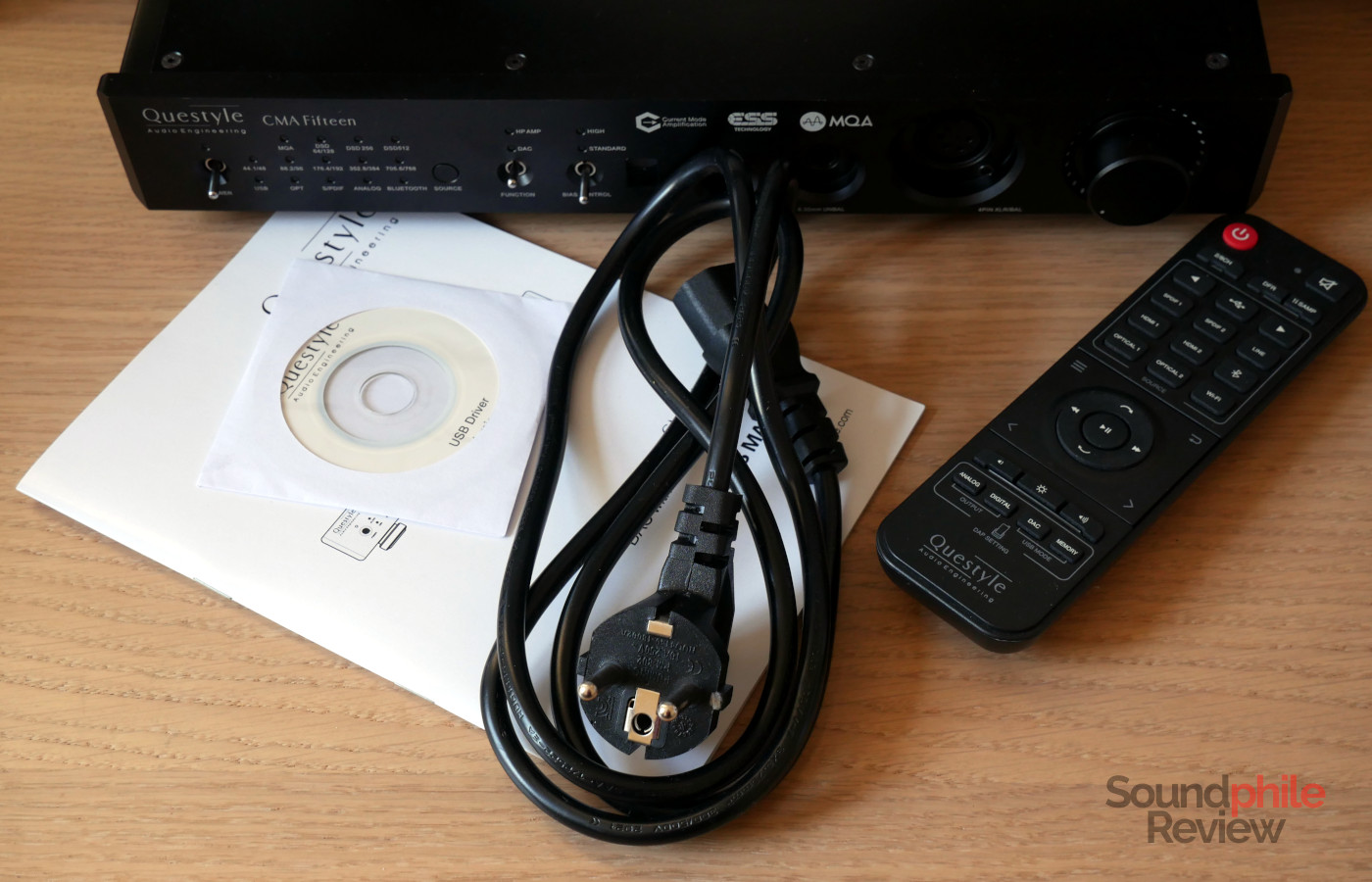 The Questyle CMA Fifteen comes in a very simple cardboard box that holds the device itself (in a protective cloth), a power cord, as well as a remote. There's also a manual and the USB drivers… on a mini-CD! That's something I hadn't seen for a while.
Design & Build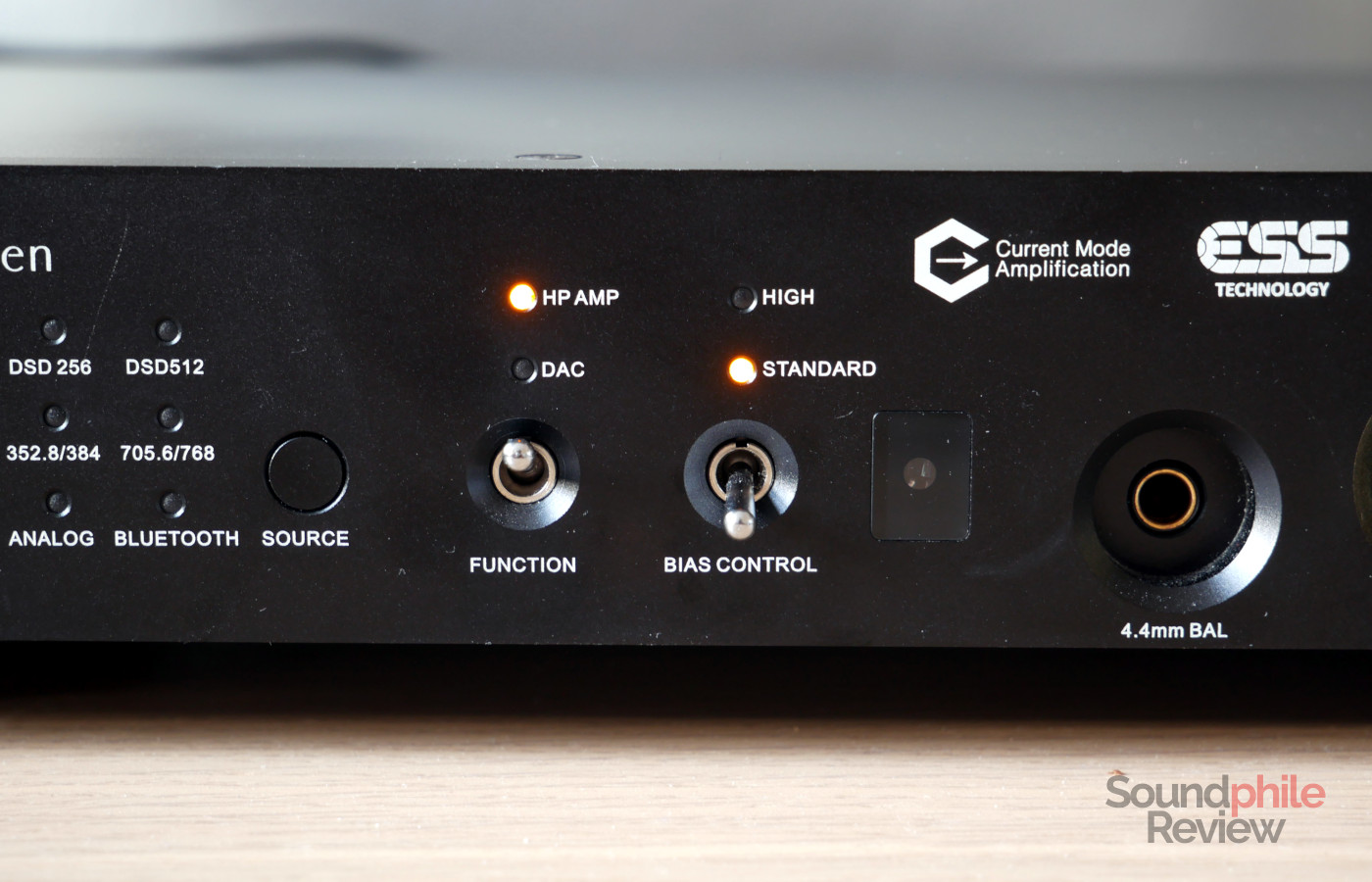 The Questyle CMA Fifteen is quite a large DAC/amp, especially in terms of width: it is 330 x 220 x 55 mm, which firmly puts it in the "you need to have a large desk to house it" category. The chassis is made of 10 mm thick alluminium painted black. It looks almost sombre, as its design is quite simple and doesn't concede much to form: it is squared and with strong, almost sharp angles, made a bit gentler by the sides of the front being tapered. It looks like a professional device, though, with the designers' effort going towards making it strong and easy to use rather than strictly good-looking – though it does, in fact, look quite good anyway.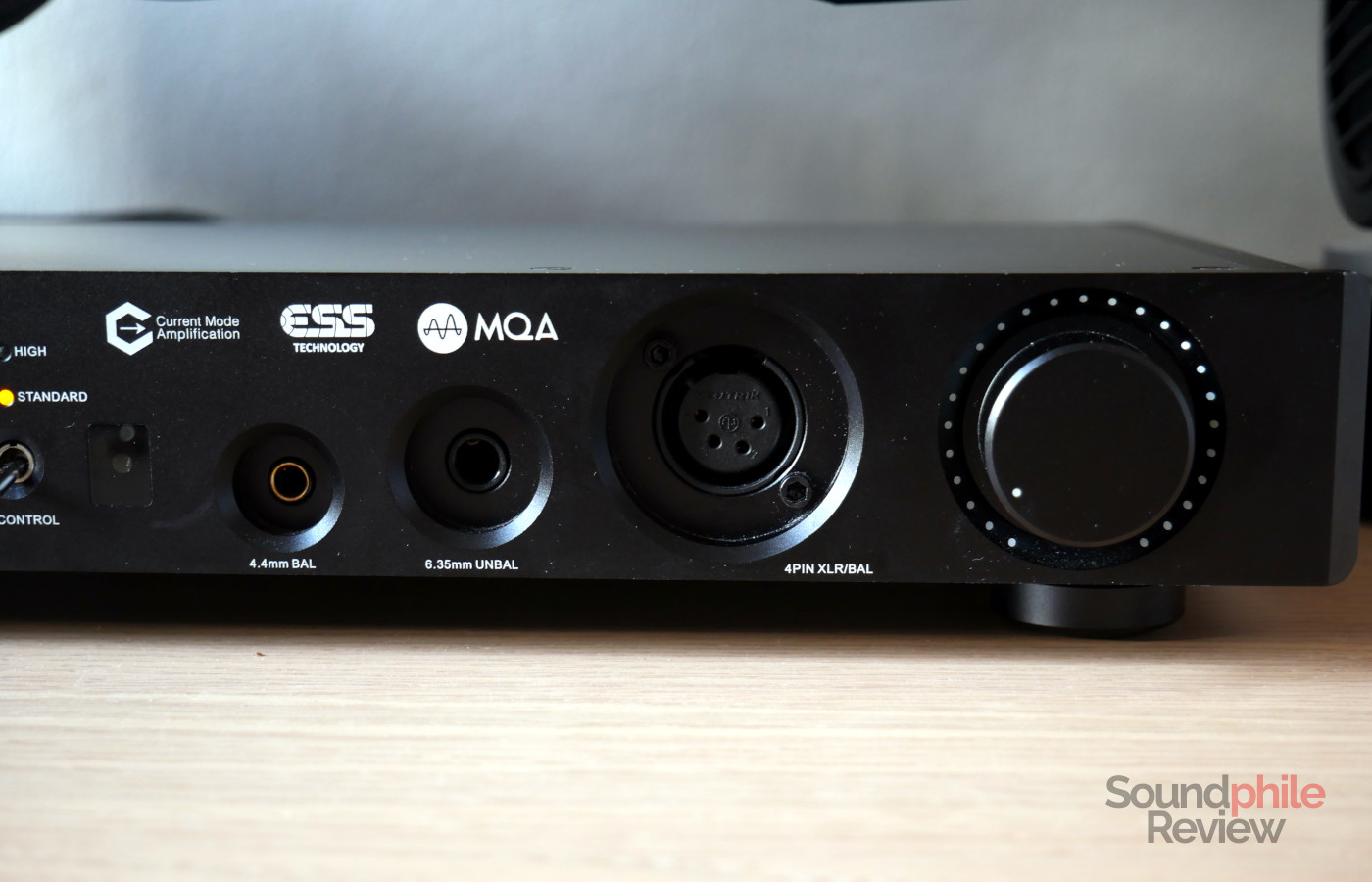 The large size of the device is partly due to the fact that the PSU is inside the chassis. The other bit is that both the front and the back are quite busy and wouldn't do with less space available. The front hosts, from left to right, the power switch, a series of LEDs that indicate the input being used as well as the sampling rate, a button to select the source, a switch to select between DAC-only and DAC/amp functionality, a switch to select bias control (standard or high), the IR receiver for the remote, 4.4 mm balanced, 6.3 mm unbalanced, and XLR4 outputs as well as the volume knob.
The back, on the other hand, has the USB (both USB-B and USB-C) and optical ports, an RCA coaxial connector, two RCA inputs, a switch to select between standard and studio modes, a switch to select between fixed and variable DAC output, stereo balanced (two XLR3) and unbalanced (two RCA) outputs, as well as a Bluetooth module that is actually kept outside of the main chassis to reduce interference to a minimum.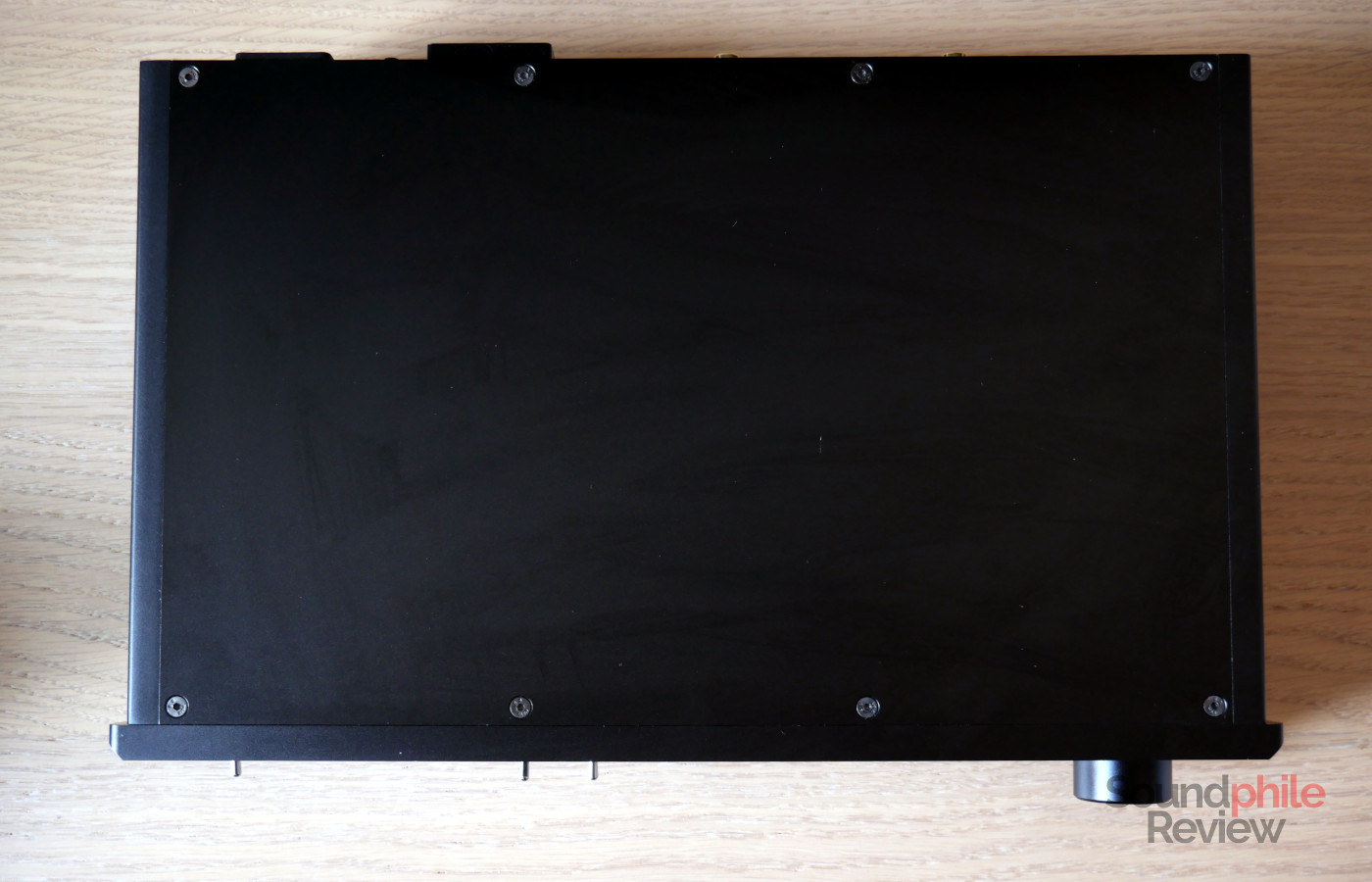 There are then four switches underneath the device which allow you to set the gain: it can be either "standard" (which is quite high for sensitive headphones) or "low". The positioning isn't ideal, as you have to at least lift the device to access the switches, but it is a consequence of the switches being directly in the electrical path of the amplification circuit. There are four switches as each channel has two: this is due to the CMA Fifteen managing the signal in a balanced configuration, which means every channel is split in two.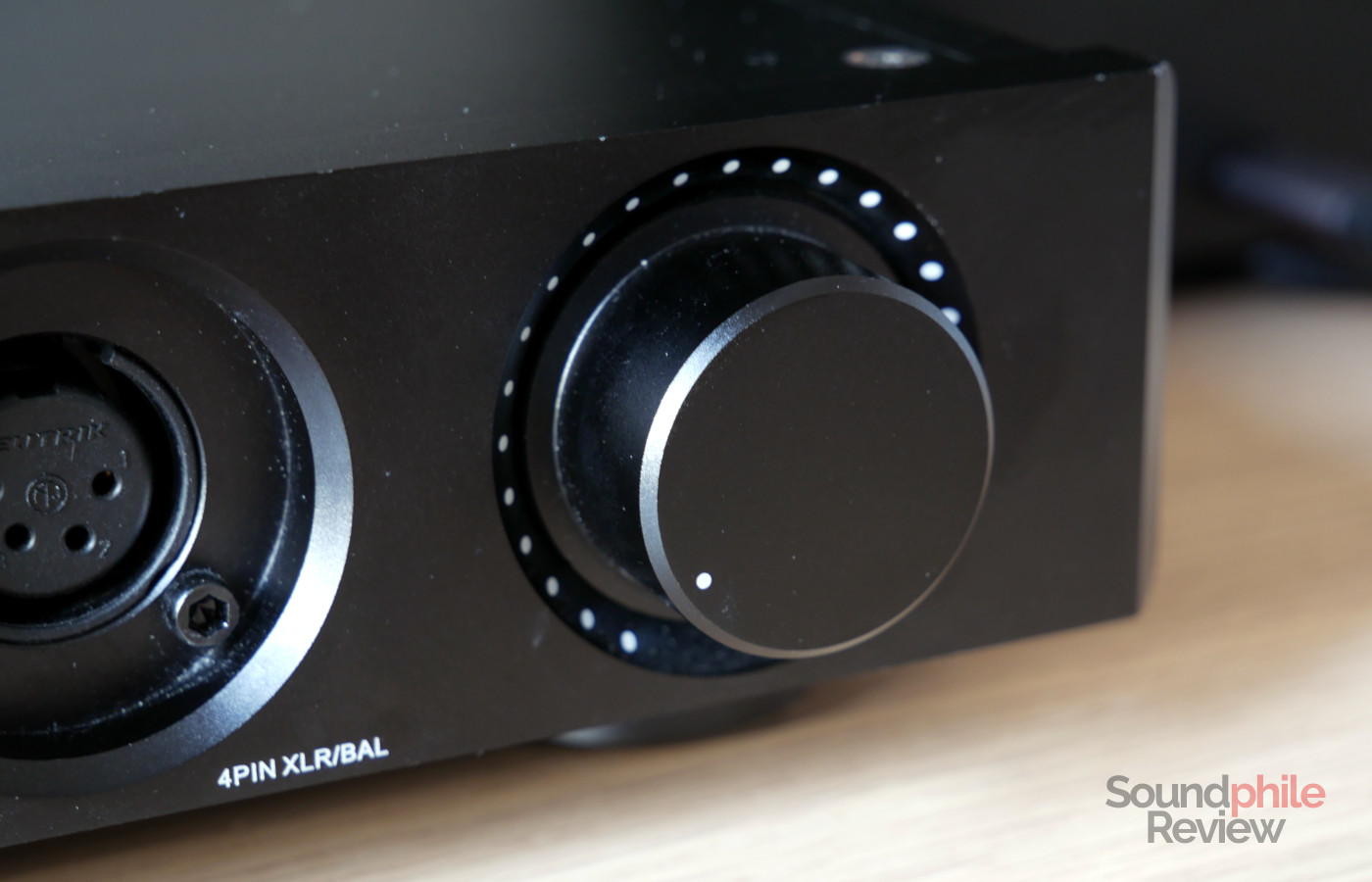 The volume knob is motorised, so it will move if you adjust the volume using the remote. It feels quite "heavy" when you turn it and doing so requires a bit of force. This helps with smaller adjustments as the weight makes fine movements easier. The "dead zone" and the "imbalance zone", which are usually present when the knob is set close to minimum volume, are quite small and only appear when you set the volume to very low levels. One thing I especially appreciate is that, contrarily to many DAC/amps out there, the CMA Fifteen's volume control is actually analogue and done through a potentiometer, so you can make those minimal adjustments that usually allow you to get the perfect volume.
Specs & Features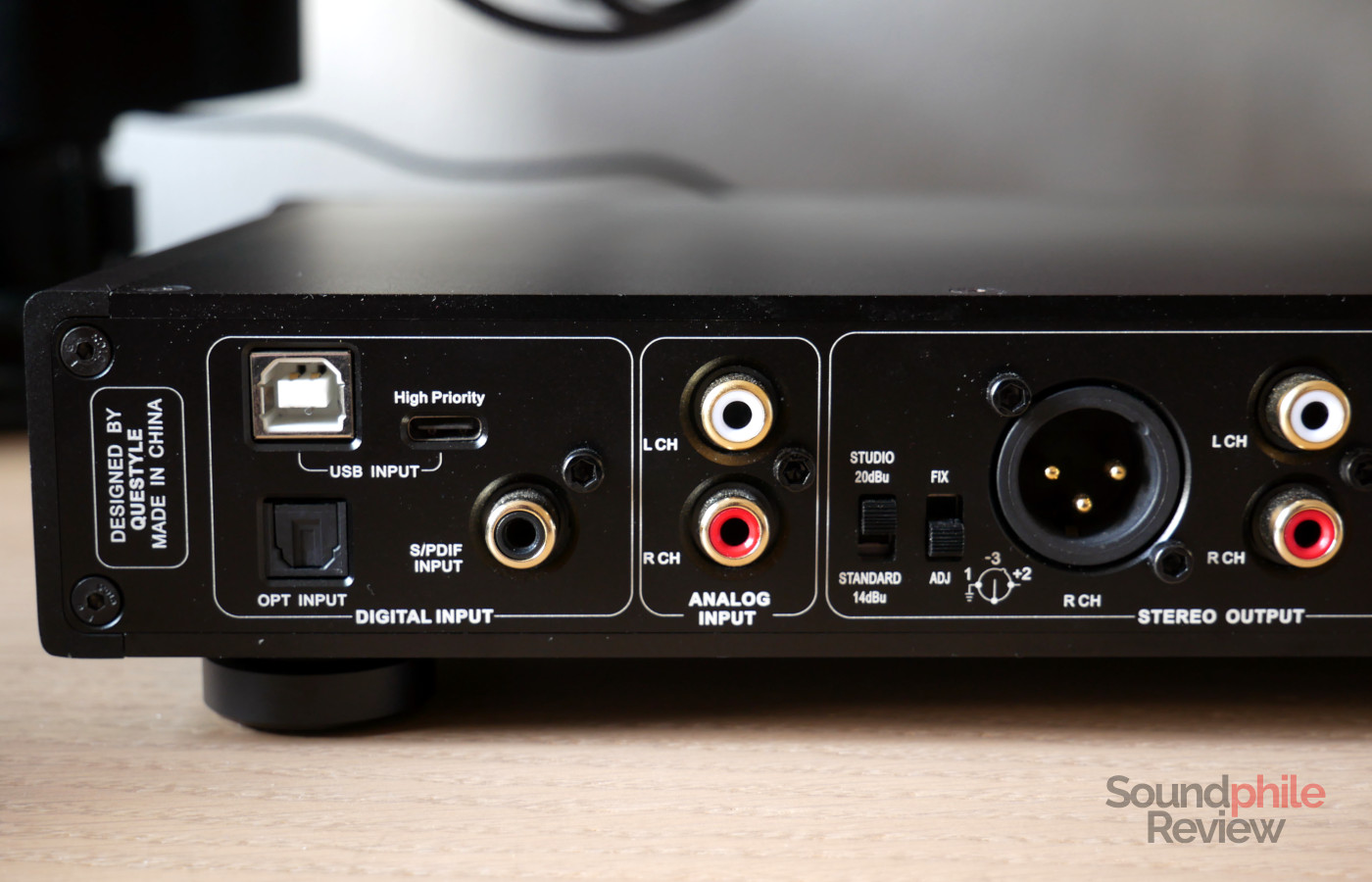 The Questyle CMA Fifteen is quite a flexible and versatile device, thanks to the wide variety of inputs it accepts. In the digital domain, you can use both USB-B and USB-C (with the latter taking precedence in case you are using both ports at the same time), coaxial, optical as well as Bluetooth (with support for the SBC, AAC and LDAC codecs). You can also opt to use the CMA Fifteen just as an amplifier by using the RCA inputs on the back. Not only this: you can also use it as a preamplifier in case you have a turntable!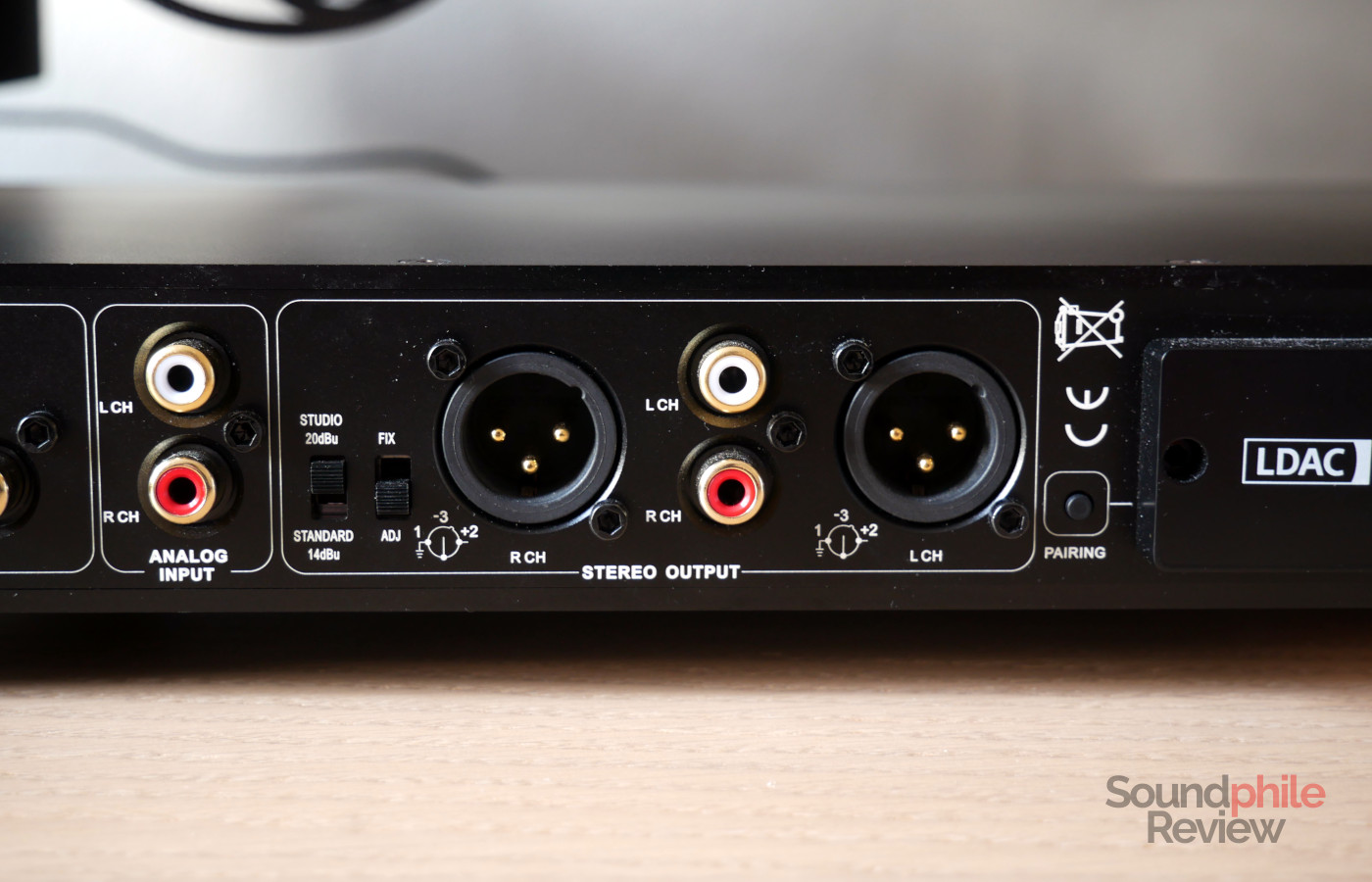 There's good flexibility when it comes to output as well: you can choose between single-ended RCA and balanced XLR, and in both cases you can opt for compatibility with consumer equipment (standard mode) and studio equipment (studio mode), as they expect different voltages. You can also opt for the output volume to be fixed or variable, so that you can control the volume from the device itself (quite useful if you have, as an example, active speakers).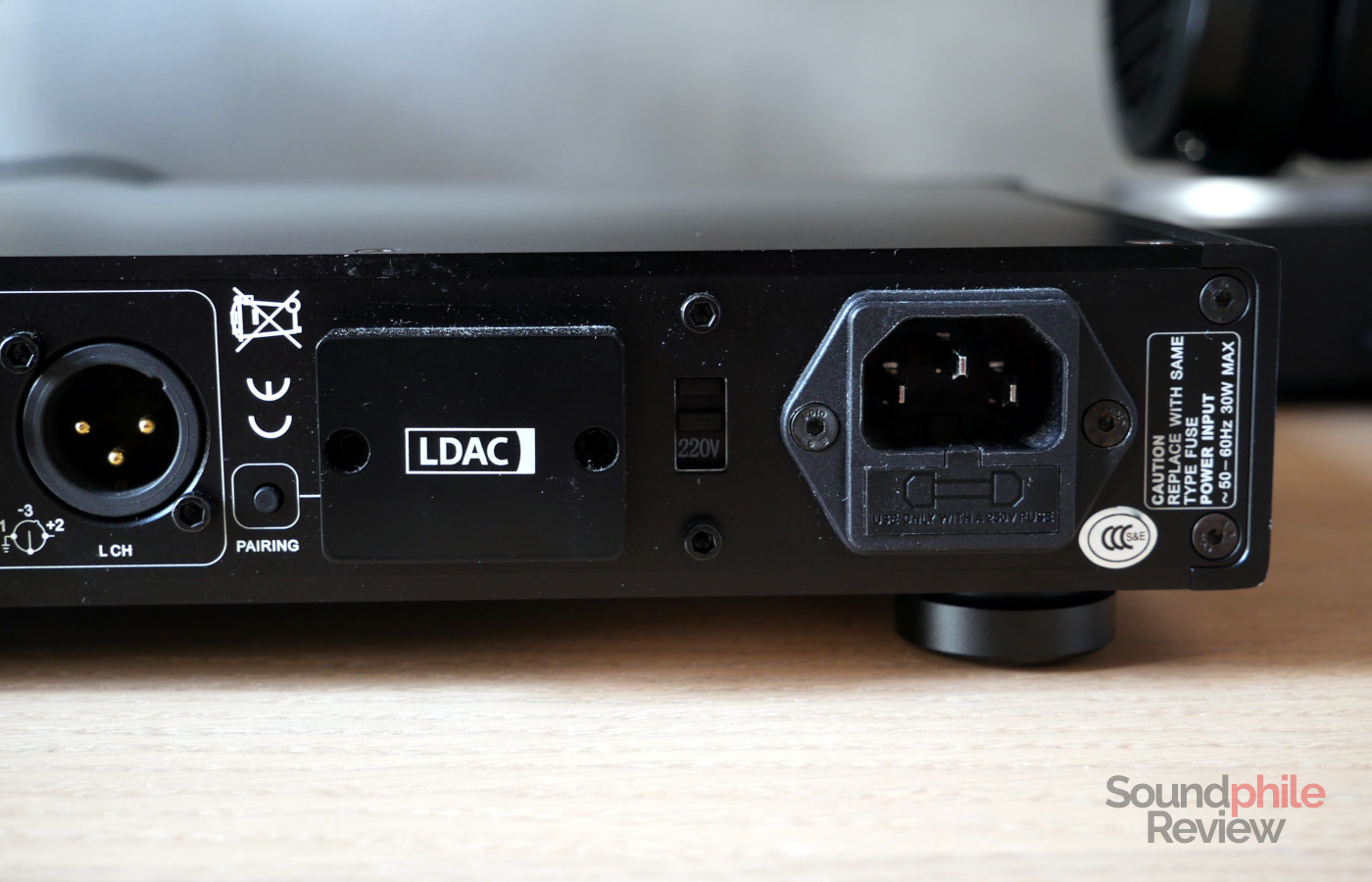 I quite like that Questyle explicitly mentions Linux among the supported operating systems. I can attest that it does indeed work. It is also compatible with Windows and macOS; Windows versions before 10 will need the drivers to make the device work, whereas Windows 10 and 11 will only require the drivers if you want to play DSD512 content.
Input range
USB: 16 – 32 bit / 44.1 – 768 kHz, up to DSD512 (native DSD), up to DSD256 (DoP), MQA
Optical, coaxial: 16 – 24 bit / 44.1 – 192 kHz
Bluetooth: 16-24 bit / 44.1 – 96 kHz
Suitable headphones impedance
N/A
Output impedance
N/A
Maximum output power
1.5 W (32 Ω, 6.3 mm jack)
180 mW (300 Ω, 6.3 mm jack)
2 W mW (32 Ω, XLR4 and 4.4 mm jack)
765 mW (300 Ω, XLR4 and 4.4 mm jack)
Frequency response
20 – 20,000 Hz ± 0.01 dB (all outputs)
THD+N (@1 kHz)
< 0.001% (32 Ω)
< 0.0003% (300 Ω)
SNR
> 117 dB (6.3 mm jack)
> 120 dB (XLR 4 and 4.4 mm jack)
Crosstalk
N/A
The Questyle CMA Fifteen offers quite a lot of power. While it is not as massive an amount as other amplifiers we've seen recently, it surely offers enough power to drive even the most demanding headphones with 2 W at 32 Ω. At the heart of the device is an ESS Sabre ES9038 Pro, which is not the latest and greatest but is still quite a great DAC under every perspective.
The bias control switch allows you to select between Class A and class AB modes. The "high" setting selects Class A, which is by some regarded as acoustically better; on the other hand, though, this increases power consumption significantly and makes the unit run hotter. The "standard" setting selects Class A/AB, which makes it so that the amp switches to class AB when the output is below a threshold, saving power. Interestingly enough, this also leads to greater overall power output.
You can make the device output the signal to the headphone amplifier or to the connectors on the back with the switch on the front. Once you select the mode, though, you cannot select which output is actually active, meaning you can't select e.g. RCA or XLR on the back, and the device will output to both. It should also be noted that the device is not designed to be used with multiple headphones plugged in at the same time.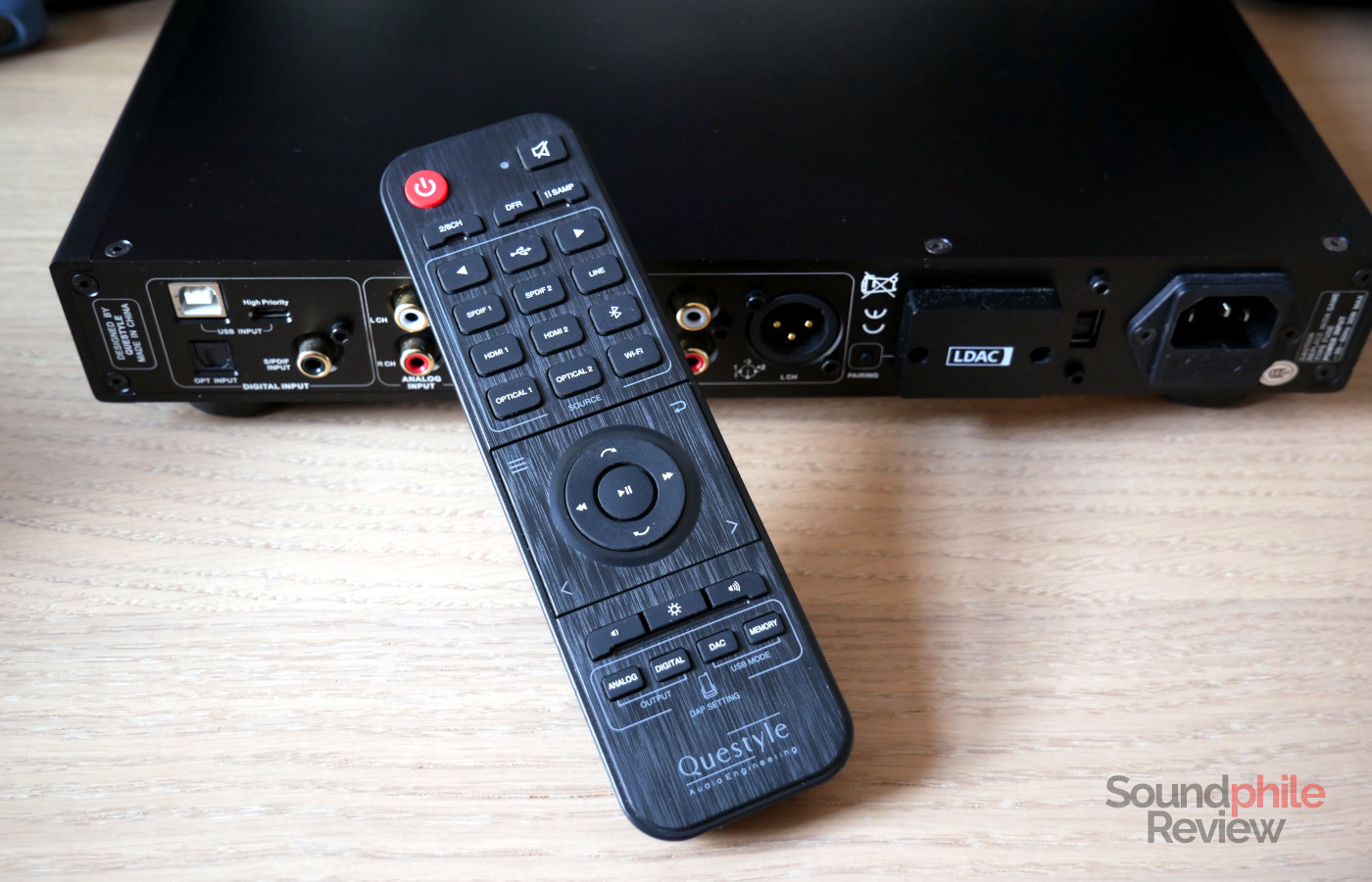 The remote control offers a slew of options. It appears to be a generic remote, as there are some things that simply do not apply to the CMA Fifteen: chiefly, the power button (it doesn't do anything, as power is controlled through the physical switch on the front), as well as the three buttons below it. Most buttons actually don't work at all, so it's actually easier to enumerate the ones that do: mute, USB, previous and next source, SPDIF 1, line, Bluetooth, Optical 1, vol-, vol+. The others simply don't do anything.
Sound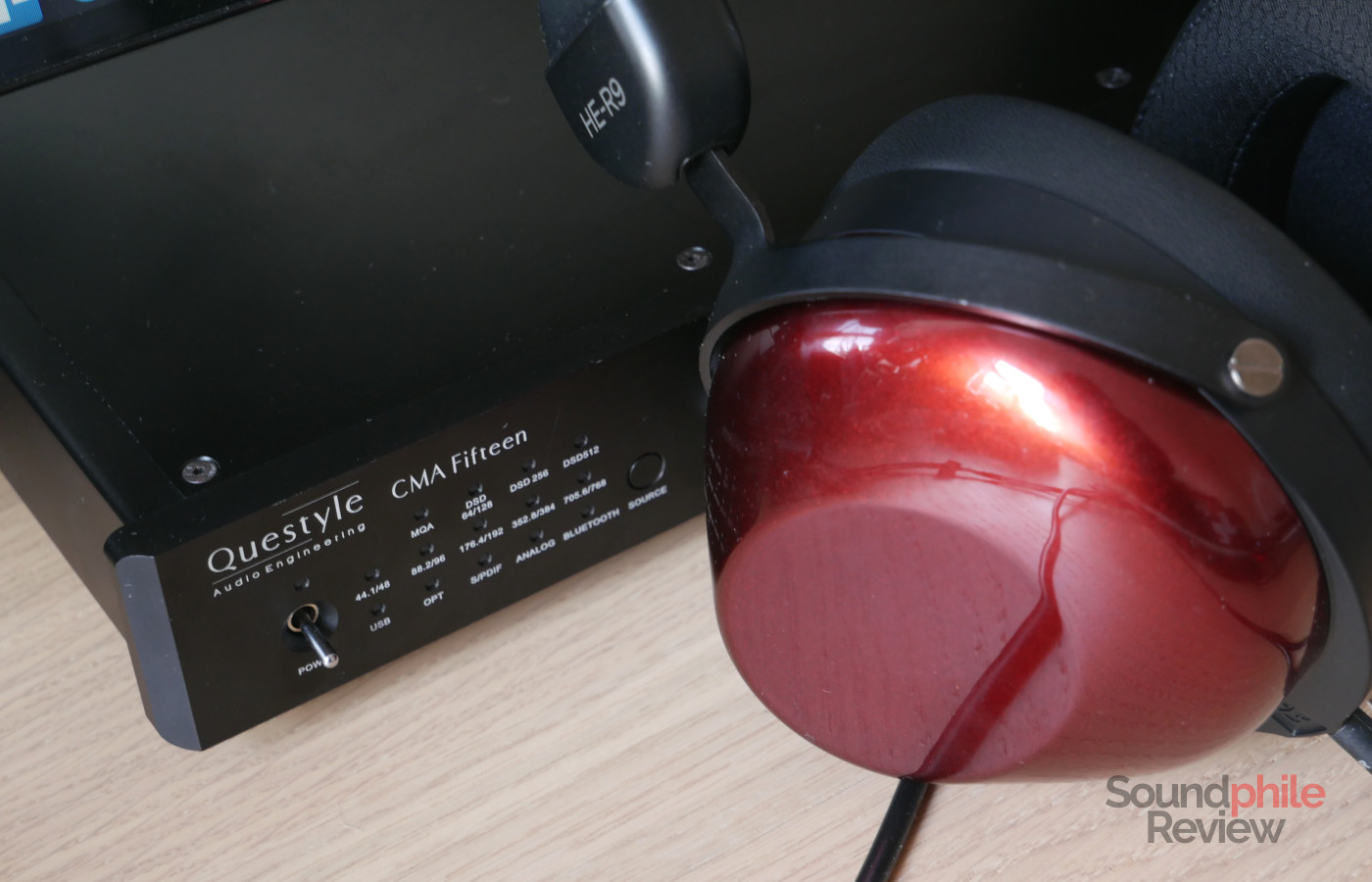 I tested the Questyle CMA Fifteen using various headphones, including the HiFiMAN Arya and the HiFiMAN Edition XS. I've also hooked it up to a Drop THX AAA 789 to test its DAC stage.
The first thing I noticed is that the CMA Fifteen has a completely back background: no hiss whatsoever can be heard when using it, even when using sensitive earphones such as the Tin HiFi T4 Plus. This speaks volumes on the quality of the power stage, so you won't be needing any power conditioner. The second thing I noticed is that it almost cannot be used with sensitive headphones and earphones, as it is too powerful and has a very high output even at the lowest possible volume setting, with low gain. You have to lower the volume significantly via software in order to make it bearable!
The CMA Fifteen works exactly as one would expect a piece of kit in sch a price range to do: it just stays out of the way. It is very clear and clean, with no detectable influence on the sound signature which makes it great to pair with anything you throw at it. Distortion is kept below the threshold of audibility, even when you use hard-to-drive headphones which require lots of power (e.g. the HiFiMAN HE-560), and this applies to the DAC stage as well. Given the huge amount of power available and the great implementation of the amplification stage, transients are really fast and this shows quite nicely with planars.
The difference between "standard" and "high" bias setting was entirely inaudible to me with all of the headphones I have tested the unit with. Despite trying multiple times, on multiple tracks and with multiple headphones, I just couldn't hear a difference between the two modes.
Final Thoughts
The Questyle CMA Fifteen is a stunning device with a no-frills approach that aims to deliver one thing and one thing only: clean sound. In order to do so, it does compromise on more sophisticated functionality compared to many other devices you can find out there, but this choice keeps the experience easy and simple while also delivering solid fundamentals. In other words, you won't be able to choose between 50 different filters of questionable usefulness, but what you'll find will be of great quality. This approach informed the design of the whole device, even in terms of how it looks.
Overall, the Questyle CMA Fifteen looks, works and sounds remarkably well. It truly offers a premium experience in line with expectations from a device with a $2,500 price tag. It is remarkably good at everything and I would argue the only thing it may lack are more "esoteric" things such as I2S input or XLR input. Other than that, it's probably as close to the perfect DAC/amp as you can get.