Little Dot is a Chinese enterprise which is famous for their tube headphone amplifiers, especially for their affordable models which are regarded as a great way to enter the tube world. They announced their new flagship amplifier back in February: the Little Dot MKIII SE is an improvement over the MKIII which adds balanced connections and a Class A discrete solid-state output stage to the mix.
It's a solid device in every possible sense, with lush sound and wonderful details. The Little Dot MKIII SE comes after almost 10 years have passed since the launch of the MKIII, but it was well worth the wait.
Disclaimer: Little Dot sent me a unit and they told me it's free, so I'd like to send them my sincerest "thank you". Please have a look at Little Dot's site for additional information.
TL;DR: recap
Pros




Cons

Somewhat retro design

Rock-like build, nice materials & finish

Balanced and single-ended options

Exceptional sound

Clean output

Power switch on the back

Headphone amp only, no preamp
Rating: 9.5/10
Packaging & Acessories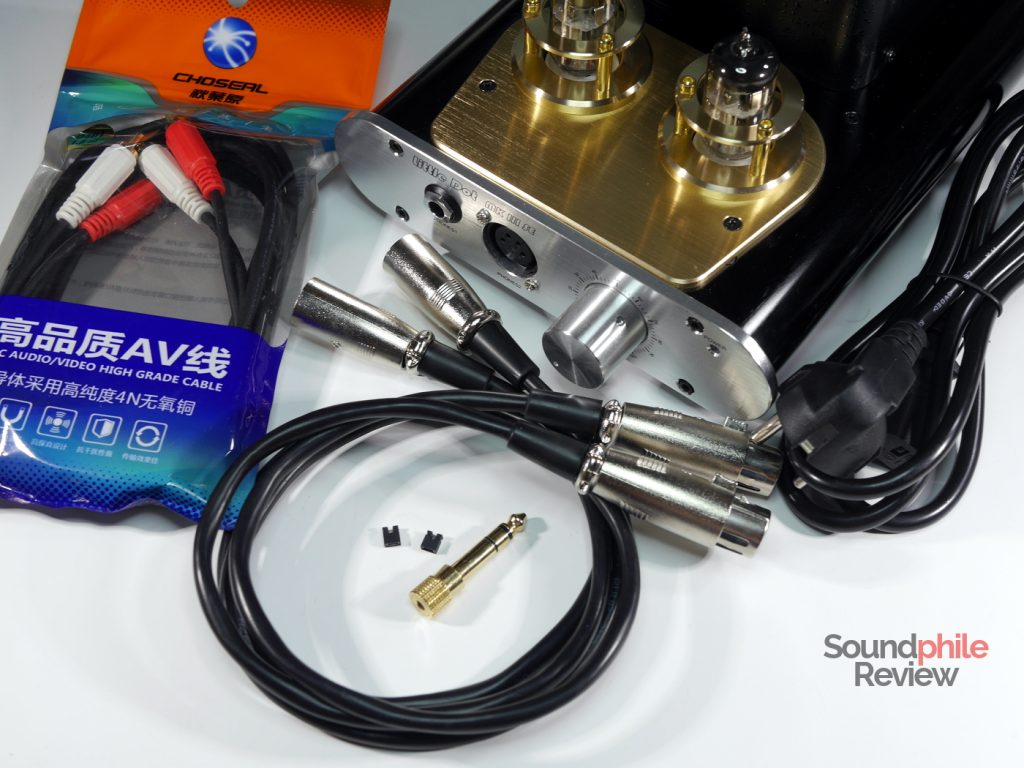 The Little Dot MKIII SE comes in a well-padded packet complete with a power cable, dual RCA cable and two XLR3 cables to connect it to a balanced output device. The two tubes were already inserted in the sockets, completely protected by the padding. The power supply is embedded in the amplifier, so you won't find it in the package as it happens for the Topping A30. Two jumpers are also included in the package.
There is also a manual, which is in Chinese in my case – I suspect an English manual is also available, though thankfully Google can translate text from pictures and this is not a problem.
Design & Build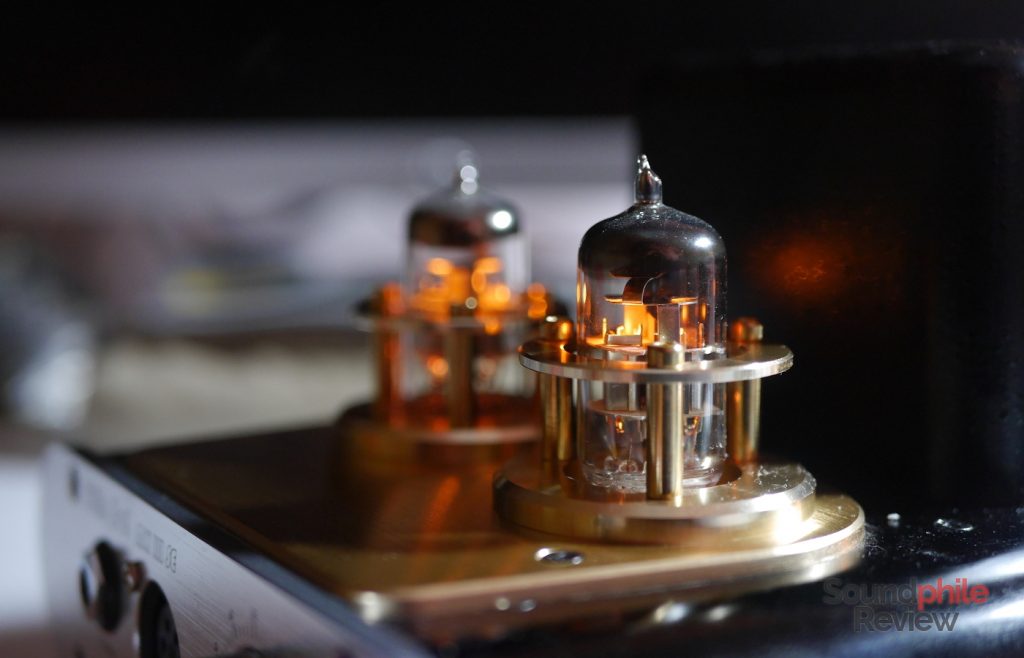 Built out of a block of aluminium, the Little Dot MKIII SE is a huge device which measures 24.5 x 16.5 x 12 cm and weighs 3 kg – it's definitely not a portable amplifier! It is painted black and the front is natural, brushed aluminium, while the little "cages" where the tubes are located are brass.
It's a strange mix of old and new: the body is definitely modern, but the brass cages give it a retro feeling which makes it a bit odd (though in a positive way!). It's also the contrast between the rounded chassis and the squared power supply in the back row that gives it quite a unique look.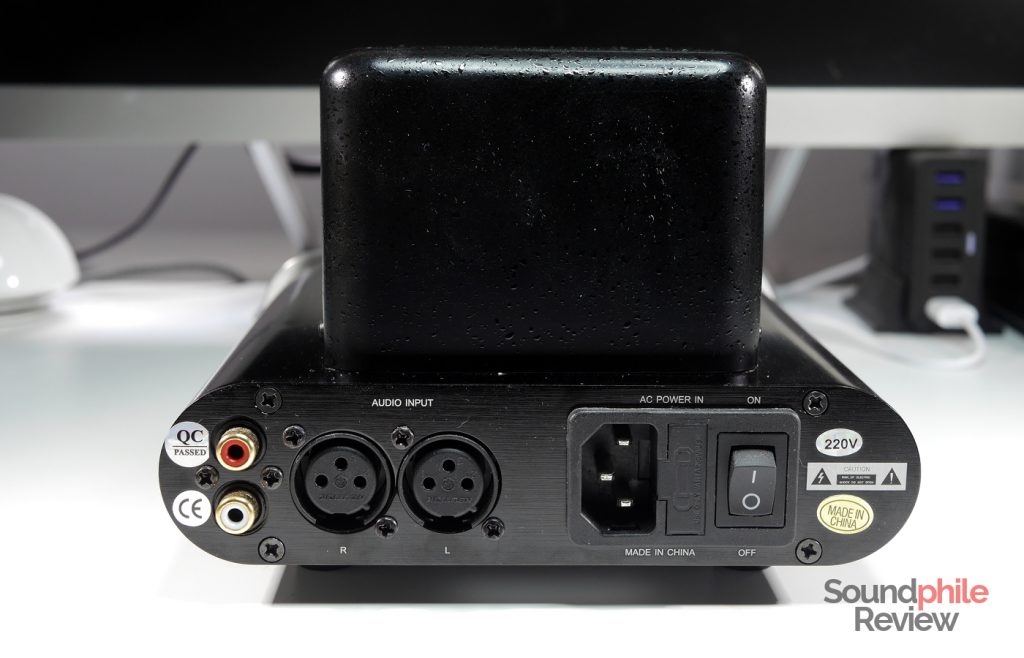 The front is home to the volume knob, a 6.3 mm jack connector, a 4-pin XLR connector and the status LED, while the back hosts the power connector, a fuse, two 3-pin XLR connectors and two RCA connectors. It lacks the RCA output seen on the MKIII, so it can't be used as a preamplifier.
Four solid pieces of rubber prevent the amplifier from slipping and moving on the desk. They also leave a bit of room for the air to circulate and therefore prevent overheating – something that seems otherwise likely to happen, since the amplifier gets really hot! That's normal for Class A and tube amplifiers, but when the environment is above 30 °C it can reach worrying temperatures (65+ °C).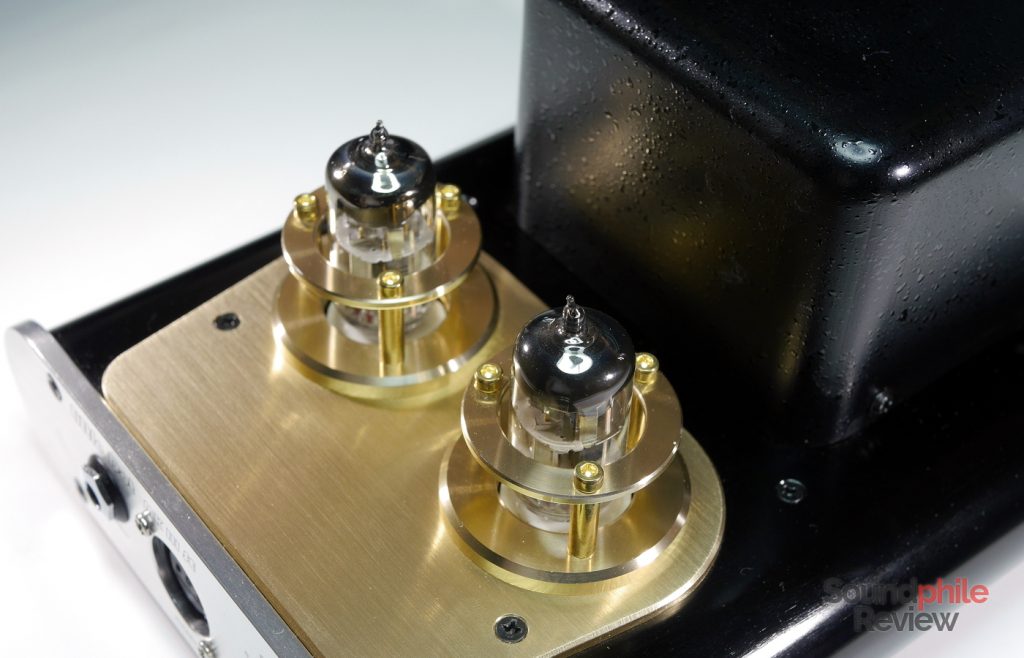 The Little Dot MKIII SE seems well-built and durable. The extensive use of metal in its construction certainly contributes to this impression, as it really looks built like a tank judging by the looks of it.
The volume knob has a certain "weight", so that it requires a bit of force to move it and this allows for precise volume adjustment. It is machined aluminium with grooves that make grip better.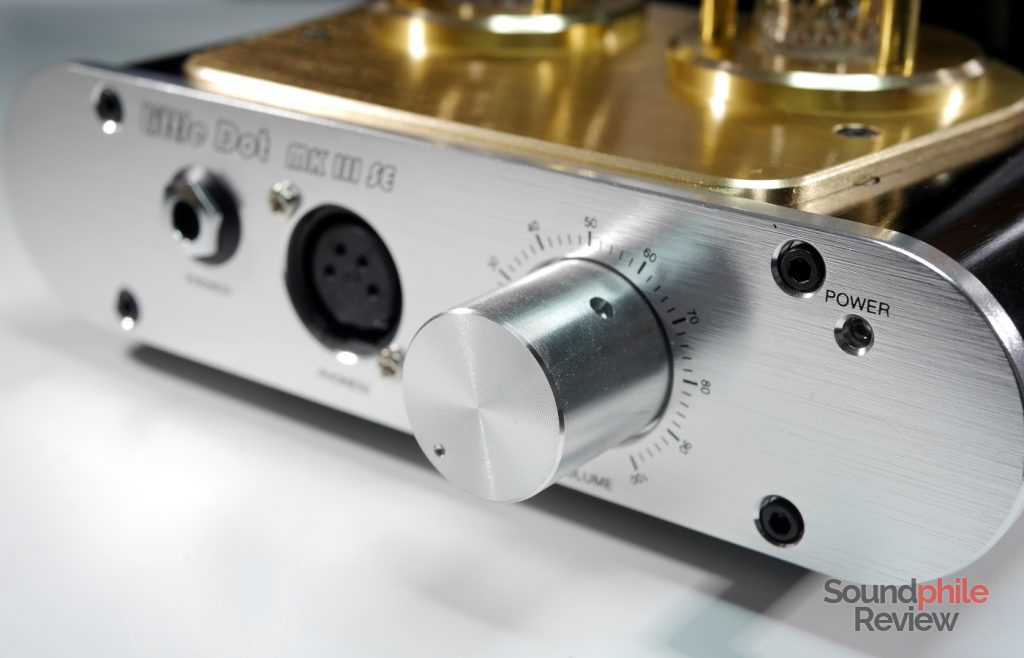 Features & Specs
Contrary to previous-generation MKIII, the Little Dot MKIII SE works just as a headphone amplifier, since it does not have any output ports other than those on the front. It is purely devoted to headphones, a fact that could upset a few people as there is no way to use it as a preamp.
Suitable headphones impedance
32 – 600 Ω
Output impedance
N.D.
Maximum output power
2.5 W (32 Ω impedance)
1.8 W (120 Ω impedance)
800 mW (300 Ω impedance)
THD+N (@1 kHz)
0.001% (2 Vrms)
Input sensitivity

N.D.
SNR

N.D.
Alas, Little Dot does not publish a few specifications such as output impedance and SNR. The specs sheet is indeed a bit poor, though it includes a 5 – 100,000 Hz (-1 dB) frequency response and 50,000 Ω input impedance. Power consumption is rated at 30 W.
Contrary to the previously-released MK III, the MK III SE is a hybrid amplifier which uses both tubes and solid-state components. There's a pair of 6N11 (6922/ECC88) tubes, probably manufactured in China, which can be easily replaced.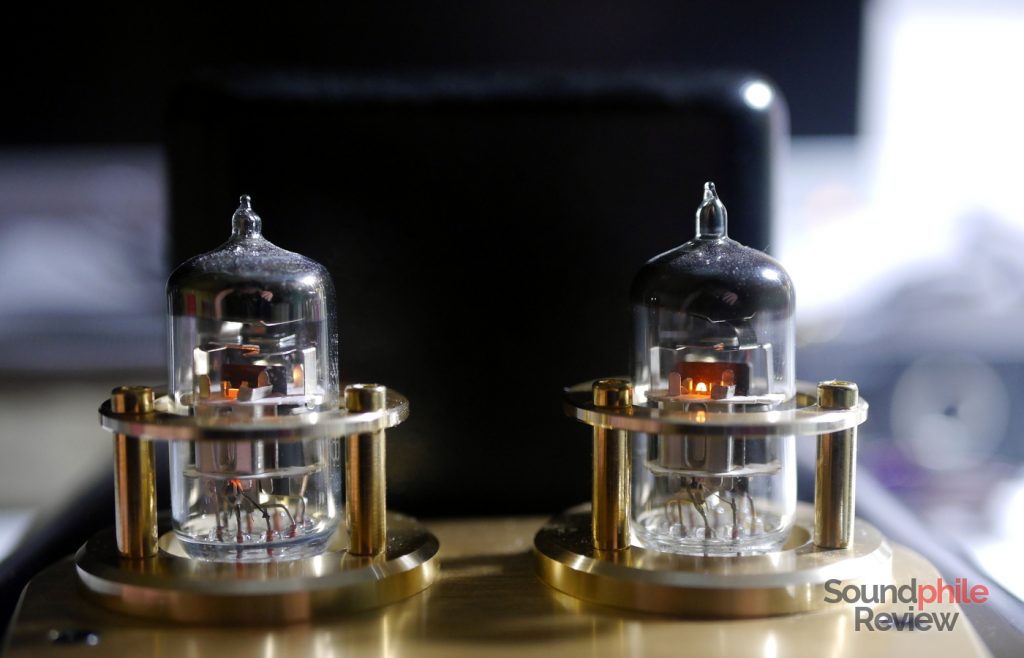 Buried under the amp are two sets of two switches which are used to set gain: if both are set to "on" gain is 4.5x, if both are set to "off" then gain is 9x. Considering the MKIII SE outputs plenty of power, I never had the need to switch them to "off". Operating them should be fairly easy with tweezers or other similar small tools.
Using low-impedance (i.e. 32 Ω) headphones there's a marked channel imbalance below the 10% threshold, which sharply cuts volume on the left channel. It completely disappears after the 12-13% mark. While channel imbalance per se is normal, it is especially noticeable on this amp, so you may want to take it into account if you're planning to use 32 Ω headphones.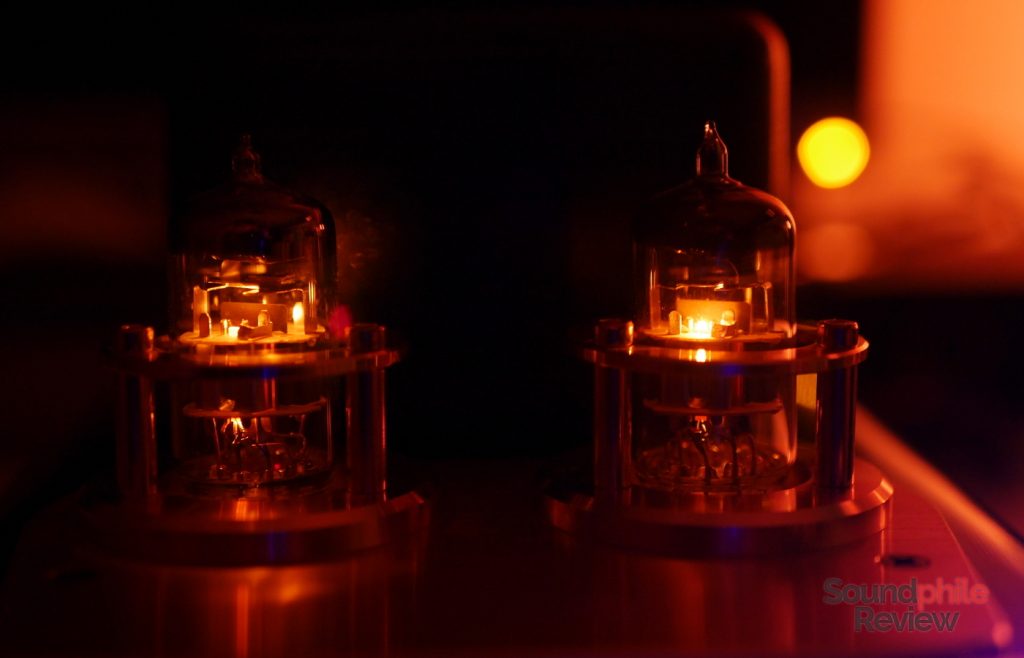 David from Little Dot suggests to let the amp warm up for some 20 minutes before use, so that the tubes are at the right temperature to get the best sound. I could notice some tiny differences in sound when warming up the tubes, but I usually wait for 5 to 10 minutes and it seems to work just fine.
Sound
In the two-months period that passed since I got the Little Dot MKIII SE, I used it for more than 100 hours, which should be enough time for the tubes' burn-in. I did not roll tubes, but I will update the review with my experience when I'll do.
I used a variety of headphones to try the MKIII SE out, including the Meze 99 Classics (I will definitely publish a review at this point…), the Venture Electronics Asura 2.0, the Superlux HD668B, the Superlux HD330, the Venture Electronics Monk Plus and the HiFiMAN RE-00. As I am waiting for my HD6XX to be shipped sometimes in the next few months, I will update this review with additional information on the balanced out when the headphones will arrive.
As for the DAC, I used a Topping DX7 in DAC mode using both balanced and single-ended inputs (not at the same time, obviously). Files used comprise standard-res (16 bit, 44.1 kHz) files in FLAC, a few hi-res FLAC files (24 bit, 96/192 kHz) and even fewer MP3s (320 kbps).
As the Little Dot MKIII SE is not a full tube amplifier (tubes are only used in the preamp stage), it is not as warm and "tubey" as other amplifiers such as the very Little Dot MKIII. This may (or may not, depending on your taste) be an advantage, however, as some people think tubes create too much distortion for the sound to be faithful to the original. My personal stance on the matter is that it all boils down to what you like to hear, and I must admit I like it so much.
Sound is crystal clear, with superb instrument separation and incredible details. It sounds spacious and vivid, with the music that really feels alive and lush. What amazes me most is the MKIII SE's ability to let every instrument shine. Not only are they well separated, they are also portrayed in a way they just seem to all be there and to fit in the scene just right – you can point every single instrument even in the most intricate songs and follow it to the end without it ever being overshadowed by the rest. This makes listening to old songs so strange because they keep on revealing. No jokes: listening to Hevia's No Man's Land, which I have listened to since I was 7, I could hear new things I never heard before.
The soundstage is wide and deep and this reinvigorates the separation, too, in an endless feedback loop. It's a relaxing, natural sound that allows you to pinpoint every instrument easily. It makes music especially enjoyable.
There definitely is colouring going on, but I think that's what people who like tube amps are looking for. It's not neutral, but it sounds so natural – especially when it comes to bass and mids. Even highs have a je ne sais quoi that makes them easy on the ears and natural.
The background is pitch black; not even raising the volume at completely unsafe levels will reveal noise. This means Little Dot made a great work at suppressing noise coming from either the input cables or the power – my electrical line is alas full of noise, but none of it shows up when using the MKIII SE.
There is no substantial difference between the single-ended output and the balanced one: both sound absolutely the same, though the balanced output has a lot more power to offer and may be the best option for hard-to-drive headphones.
Final Thoughts
The only negative thing I can say about the Little Dot MKIII SE is that its rubber feet left yellowy prints on my white desk. In all seriousness, that's really the only negative thing I can think of – the MKIII SE is just a fabulous headphone amplifier that exceeds every expectation. It's very hard not to spot deficiencies in products, but the people at Little Dot just nailed all the important aspects that make an amp a great amp.
Build quality is superb, sound quality is exceptional and price is reasonable. Talking about price, Little Dot positioned its amp just shy of $500: it is sold at 499$ plus shipping. It is in fact a bit expensive, but not as much so as to be unaffordable. I think it is fairly priced for what it offers, as it also offers balanced output and inputs which can be used with hi-end DACs and headphones.
Even being picky, it's hard to find flaws in this device. I've been using the Little Dot MKIII SE for the past two months as of the publishing of this review, and it keeps on giving. I am quite sure tube rolling would make it even better. I could not be happier with a product and the Little Dot MKIII SE wins my full, unconditional recommendation.
The Little Dot MKIII SE retails for $499.