Hidizs introduced the AP200 last year, using a crowdfunding campaign to make it public and to raise the necessary funds. Introduced as a modern-day portable audio player, the Hidizs AP200 is an Android-based device that uses the same HiBy foundation that many other devices use. While it is not that original in software, its design is indeed new and refreshing, setting it apart from the rest of the market.
The crowdfunding campaign was very successful: the company got a strong support from the community, also thanks to the low price of the device. Despite most modern players having balanced output, the Hidizs AP200 stays true to simplicity and only offers 3.5 mm single-ended output and a single microSD card slot. At the time of publication the device has several flaws, mainly related to software bugs, that overshadow the qualities of what would be an otherwise competent device.
Disclaimer: Hidizs kindly sent me a complimentary unit in exchange for this review. Additional information is available on the manufacturer's website.
This review has been ready for quite some time, as you can see from the snow and the gloves in the pictures. I kept on delaying publishing it for various reasons, I think it is now the time to make it public.
TL;DR: recap
Pros




Cons

Decent build quality

Small size

USB Type-C

Neutral sound signature

Relaxed sound presentation

Software is still in beta and has many issues

Screen has low brightness and stains
Rating: 7.5/10
Packaging & Accessories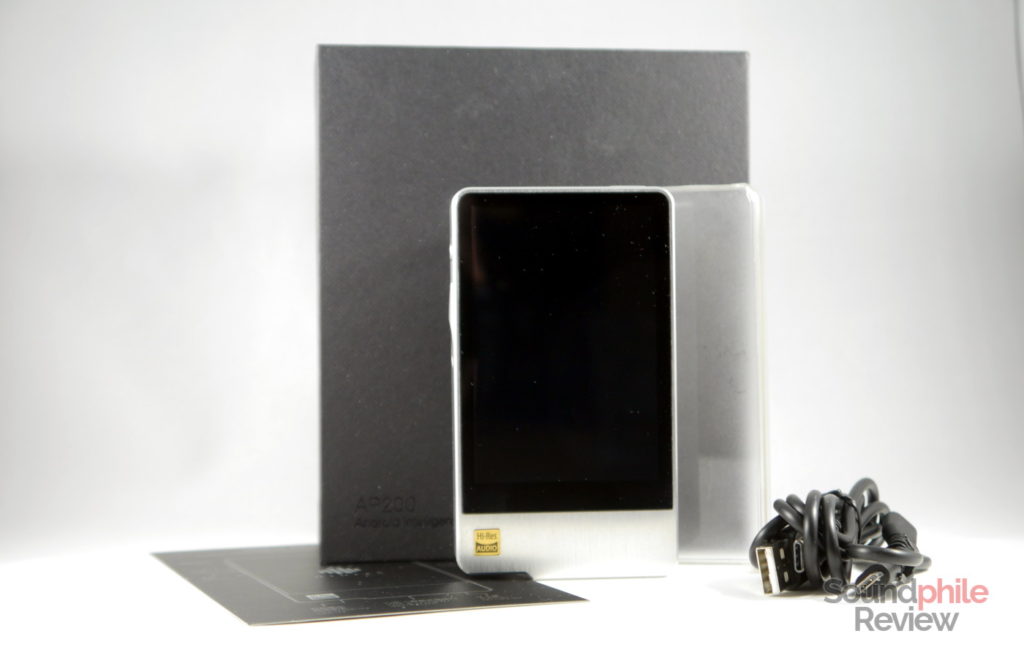 The Hidizs AP200 comes with a few accessories: the box holds a clear hard plastic case to shield the device from any damage, a USB-A to USB-C cable and a micro-USB to USB-C cable. A one-page manual completes the picture. All in all it's a pretty simple yet complete set of accessories.
Design & Build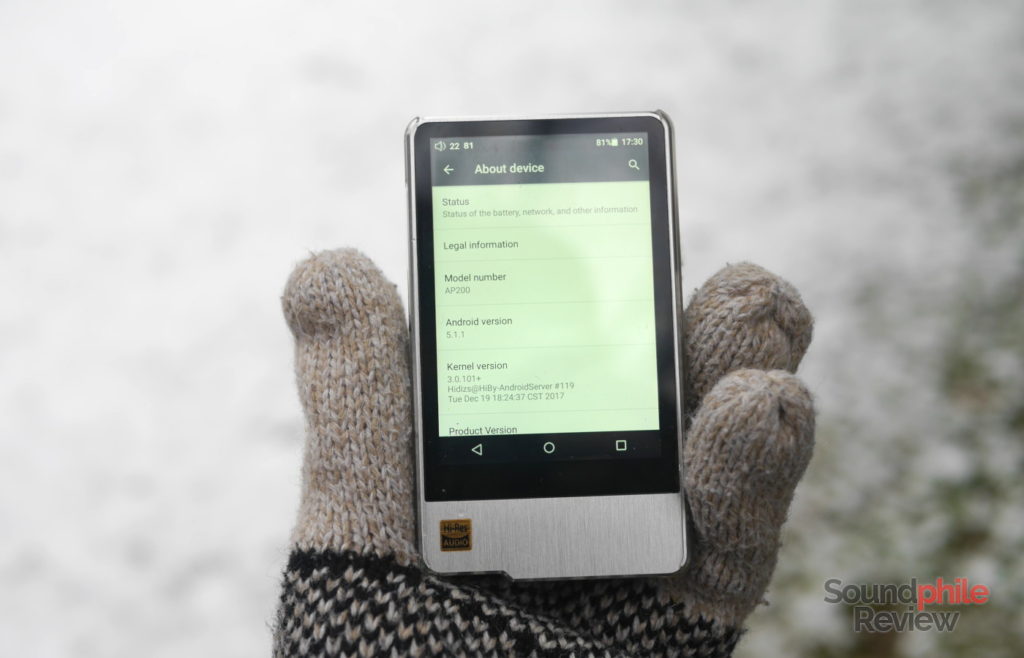 The Hidizs AP200 has an oddly asymmetrical shape: the headphone out connector is on the left side of the bottom, in a corner that is slightly more cut into the body than the rest of the side. This makes the overall shape easily recognisable as it is different from the other players in this segment. The frame is made of aluminium or stainless steel, depending on the version. The aluminium version I got is made of a single piece of brushed, smooth aluminium. Both front and rear are covered in glass, with the back displaying the company logo and basic information on the unit. There are also stainless steel variants that can either have a glass or wood back, with retail price being higher.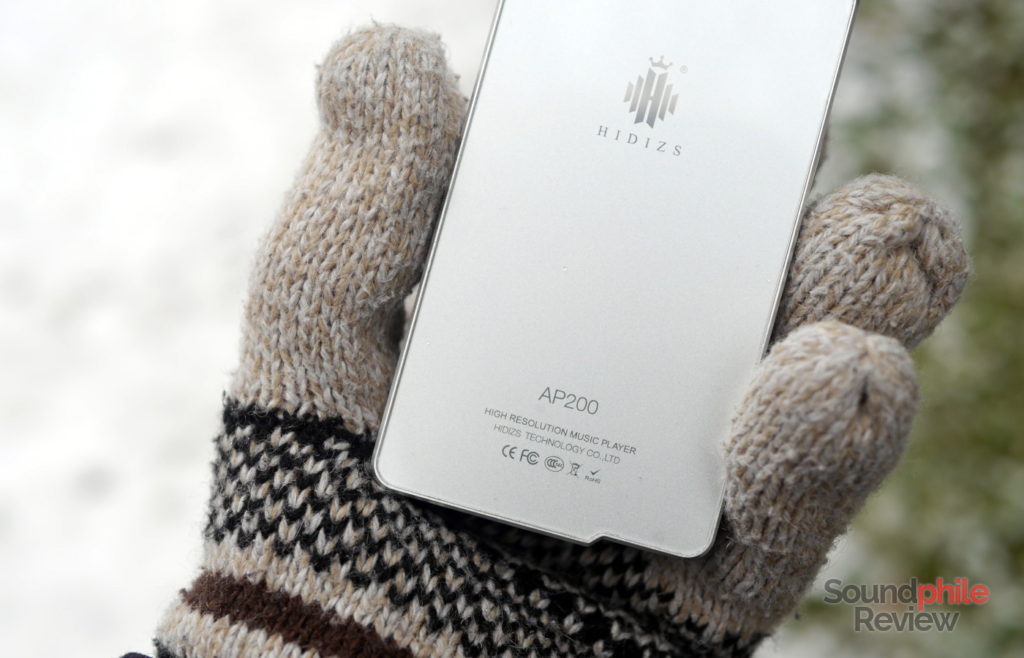 The screen has relatively small borders and it has a "chin", a metal band in the lower side, which together make the looks modern and sleek. The rounded corners also contribute to this impression, making the player look more svelte than it really is – it is 60.5 x 106.5 x 15.7 mm, which is not that small. The Hidizs AP200 is way thicker and maybe a bit heavier (145 g) than a modern smartphone, but it is in line with competitors and even smaller than directly competing products. It fits into pockets rather nicely.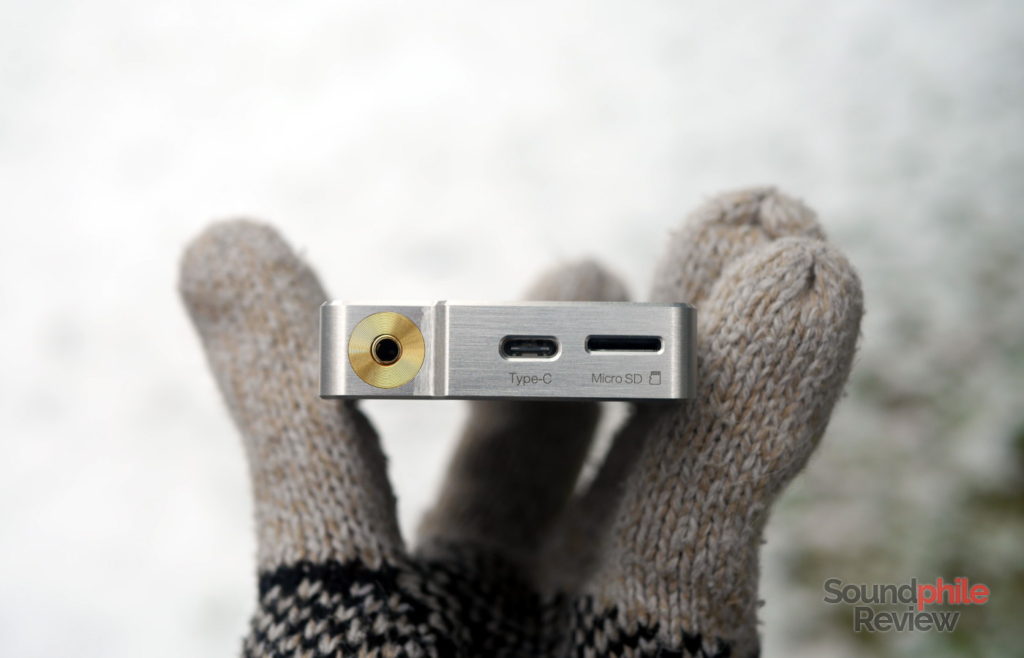 The only negative thing I can point out regarding build quality is the fact that there is some bad finish near the jack: metal is not smooth as in all other areas, but it is rather rough and imperfect. This is just some minor defect: I cannot rule it out it is present because the unit I received is not a final production unit, though this is no excuse of course.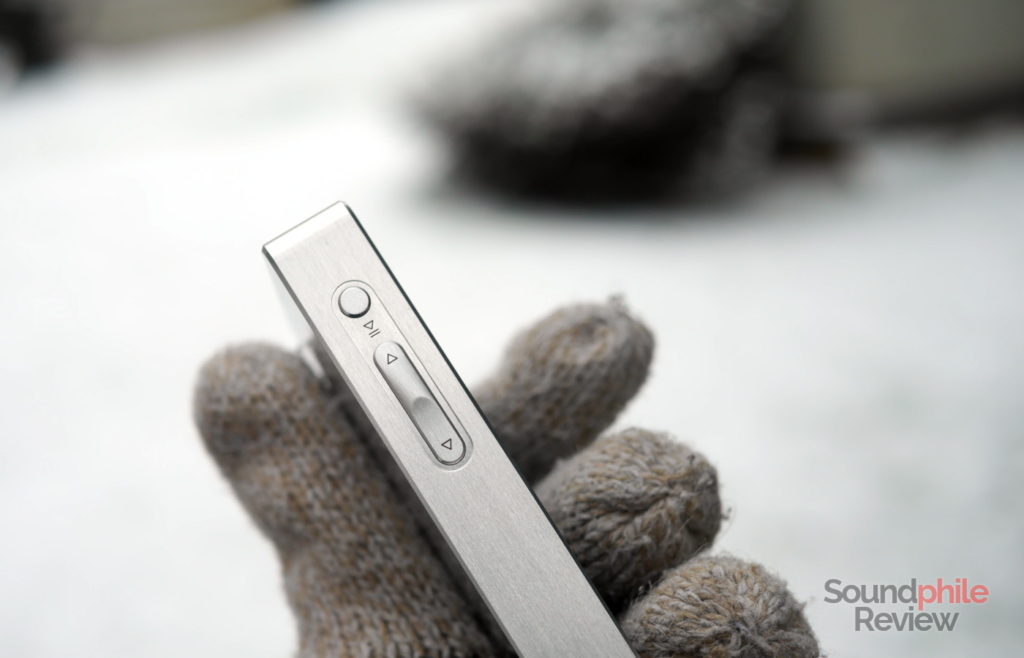 The buttons are well designed and offer intuitive and immediate access to their functions. The volume buttons are unified under a single button that has the "+" side slightly raised, so that it is easy to tell which one you are pressing just by touching it. The rounded play/pause button is just above the volume buttons, on the left side. The power button is on the upper side; contrary to the other buttons, it has poor feedback and sounds like a cheap switch was installed.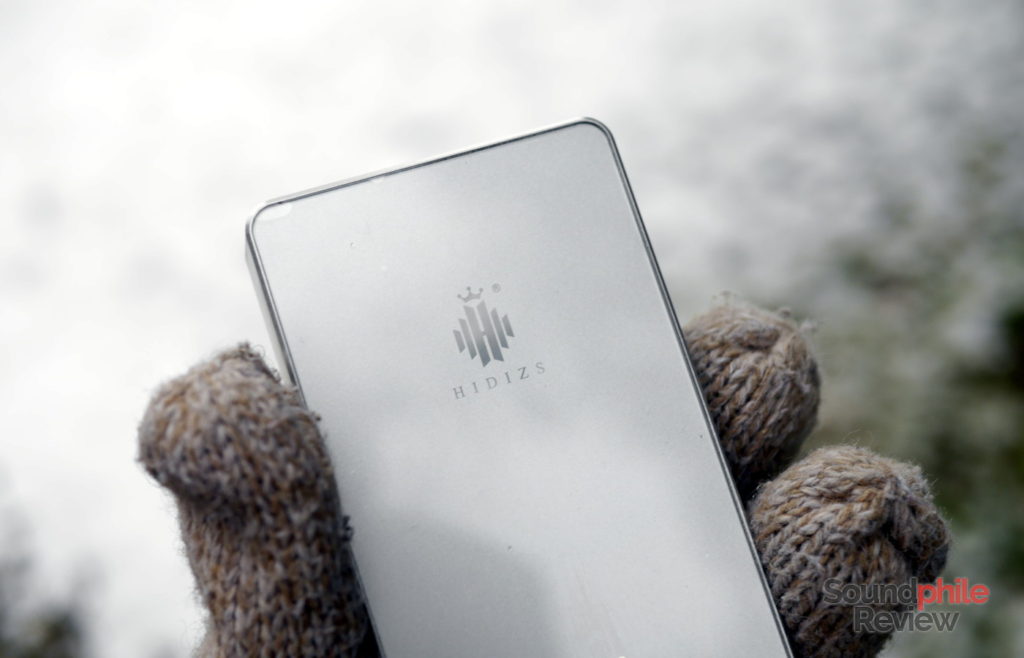 The screen is hardly good; while the size and resolution (3.54 inches, 960 x 640) are perfectly okay for a device such as this, the brightness and general quality are subpar. In plain sunlight it is impossible to use the AP200 as brightness is not high enough, but what's more important is that there are clearly visible "stains" on the panel – there are darker and brighter areas and uneven lighting (you can see that if you look closely between "kernel version" and "Android version"). Obviously the screen is not as important as on other smart devices as the focus is on audio here, but it seems quality is just barely sufficient. A side note: the green tint in the first picture is an artefact created by the camera's white balance – it is not this green in real life!
Specifications
| | |
| --- | --- |
| DAC chip | ESS Sabre ES9118C x2 |
| Amp chip | TPA6120A2 |
| Suitable headphones impedance | 16 – 150 Ω |
| Output impedance | 4.8 Ω |
| Maximum output power | 130 mW (32 Ω) |
| THD+N (@1 kHz) | N.D. |
| SNR | 115 dB |
| Operating System | Customized Android 5.1.1 with proprietary audio stack and HiBy/Hidizs player app |
| Supported formats | WAV (up to 32 bit, 384 kHz), FLAC (up to 24 bit, 384 kHz), DSD (DSD64, DSD128), APE (up to 24 bit, 384 kHz), ALAC (up to 24 bit, 192 kHz), AIFF (up to 24 bit, 384 kHz), MP3, WMA (up to 24 bit, 96 kHz), OGG, AAC |
The Hidizs AP200 has low power output compared to many competitors: 130 mW at 32 Ω is limited and is not enough to drive demanding and/or high-impedance headphones. An amplifier such as the Topping NX4 DSD or the RHA Dacamp L1 can help overcome this situation, but this puts it to a clear disadvantage against competitors. On top of this, as of publishing time, the Hidizs AP200 has no real line-out output. A software update to introduce this functionality seems to be in the works, but no time frame has been given so far.
Output impedance is higher than ideal; at 4.8 Ω it not possible to impedance-match headphones with impedance lower than 38.4 Ω (using the 1:8 ratio). Hidizs could have made a better job at providing lower output impedance.
Hidizs chose to implement what appears like a balanced DAC stage: they have one DAC chip per channel in place, though there is then just one amplifier to take care of both channels and a single-ended output. The purported advantages of using double DACs are then called into question by the subsequent stages – though there could be a slight improvement in channel separation.
The CPU is the usual ancient Rockchip RK3188, coupled with 1 GB RAM and 32 GB internal storage (or 64 GB in the stainless steel version). The Hidizs AP200 is equipped with a future-proof USB Type-C port, though it is limited to USB 2.0. There are WiFi (802.11b/g/n – no ac) and Bluetooth (4.0, with aptX), too.
The lone microSD card slot can only host cards up to 256 GB in size, which means the overall available space is 288 GB on the 32 GB model and 320 GB on the 64 GB model. While we're talking about a large amount of storage, 256 GB may be too little for a few demanding people. More is always better in these cases, isn't it?
Battery Life
Battery life on the Hidizs AP200 is quite good: it can play music for about 7-8 hours and it can last up to 4 days in standby mode. These are not mind-blowing figures and further battery optimisation could be applied, but they are above what's offered by other players on the market and mean the player can be used for the whole day before it needs charging – quite satisfactory, if you ask me.
Hidizs chose a 3100 mAh battery that would be especially large for the supplied low-power and ancient hardware, but due to both hardware (i.e. DAC and amp stages) and software implementation it turns out to be sufficient.
Software
I tested the Hidizs AP200 using firmware version 0.2.6 Beta, the latest available in April. As the name itself says, the software is still in beta stage and is not to be considered stable. The AP200 is built on the Android 5.1.1 Lollipop foundation. This is because Hidizs opted for using the HiBy platform which is common among many DAPs. Now, this is pretty much the industry standard, but the ancient Android release (Lollipop is now four years old) means it won't be supported for years to come and the system is already exposed to security issues, though this should be limited given how the DAP is not a general-purpose device.
Hidizs chose to use an almost-vanilla version of Android: the only changes to the AOSP version are those in the quick toggles area in the notification shade, while the rest is untouched. We find all the common features of Android: the home screen, the navigation bar (as no hardware button is present), the multitasking screen an so on. This comes as reassuring for those used to use Android and gives them a certain degree of freedom to customise the device, though any default app set is reset after a reboot.
As the HiBy software lies as a foundation to most Chinese DAPs these days, the Hidizs AP200 has many issues in common with other players. The terribly annoying stopping issue (also known as "playback freeze") plaguing the Cayin N5ii is present on the AP200, too, and this leads me to think this could be an issue with the very software foundation and is not due to modifications introduced by the manufacturers. The issue consists in the player randomly stopping playback with a "pop" in the first 15-20 seconds of a song, and then resuming after some 5 seconds with another "pop". It is completely unpredictable, as it happens in the most varying conditions: file type, bitrate, embedded album art, characters in the file name and/or in the metadata all vary, so it is difficult to pinpoint a single cause. Luckily enough, it is not that frequent.
The first second or so of playback is also ungraciously shaven off, so songs start in medias res. This issue only reared its head after update 0.2.6, so it seems like it could be solved the same way it was introduced.
If I pause the music while the screen is off using the play/pause button, then I can't resume playback by simply pressing the play button again. The only way to make it work is to power on the screen again. This could be an issue with the power management or in how the player app responds to button presses.
Alas it seems like the Hidizs AP200 does not work in DAC mode, as only a fraction of a second is played before it goes completely silent for several seconds. On the opposite, playing music on an external DAC leads to only static noise being played. This is again an issue shared with the Cayin N5ii, a fact which leads me to believe that the issue is in the HiBy software both devices use. It should be solvable with future updates.
Despite using Android as the operating system, the Hidizs AP200 is not currently compatible with in-line remotes – using different standards (iOS, Android and universal, as in "just one button") yields the same result, that is nothing happens. I guess this is caused by the 0.2.6 firmware revision, as previous versions worked and there is even a specific option in the settings.
Apps
As Hidizs uses HiBy software, the player app is also derived from HiBy's player. The interface is simple and streamlined, with most features readily available, though it also has notable shortcomings.
The main screen displays the various categories (artist, album, folder, genre, playlist, "all" which really is "tracks", LAN, Baidu, Dropbox) and allows access to the navigation drawer to the left and to the "now playing" screen to the right. The drawer hosts a few voices: private cloud, music scan, equaliser,
The "currently playing" screen is accessible by swiping to the left from any screen (excluding the settings screen). This is convenient, yet odd, as you have to tap your way through menus and sections with no swipes available. In contrast, the vast majority of player apps on the Play Store favours swipes as they're more intuitive. Whether Hidizs' choice was good or not depends on one's taste and habits.
There is no access to the current playlist, therefore it is not possible to change the play queue and rearrange the tracks in the desired order. This severely limits the flexibility of the app and only allows for straight playback of files without any custom playlist building possible. That's truly an odd choice, given how this is a basic feature in all modern players.
The app needs some serious redesign in a few areas such as navigation: Android's software navigation bar is hidden when the player app opens, but the app is not designed keeping this in mind. As an example, accessing settings leaves you with no other option than to swipe up from the bottom to reveal the navigation bar and then press the "back" button. This is a design flaw that shows how software was not designed with the player's specific features in mind, but hastily adapted to it. This is not a showstopping flaw, of course, but a hassle that should have been ironed out already.
Songs are often displayed alphabetically and there is no way to sort them differently – if you want them sorted by track number, then you need to go through the folder view. This kind of defeats the purpose of the artist/album view, alas.
Sound
Among the headphones I used to test the Hidizs AP200: HiFiMAN HE-560, Sennheiser HD 6XX, KZ ZS6, KZ ZSR, RHA T20i, IMR Acoustics R1, Venture Electronics Asura 2.0s and Venture Electronics Monk Lite (both 120 Ω and 40 Ω). All files were either standard-res or hi-res FLACs, stored on a 128 GB Samsung Evo Plus UHS-3 microSD card.
Due to the limited power output, demanding headphones such as the HE-560 or the HD 6XX ostensibly lack enough power to sound correctly; distortions are common, especially where impedance spikes happen. No such issues exist using headphones with lower impedance, but this limits the possible choice of headphones one can use. The Hidizs AP200 is not ideal for full-size cans with high impedance – anything beyond 150 Ω and/or needing a lot of power is probably not suited for use with the AP200 without additional amplification using another device, though each headphone has to be tested separately to make sure whether it pairs well or not with the DAP.
When dealing with IEMs and other low-impedance, high-sensitivity headphones, the Hidizs AP200 works well and is in fact capable of getting the sound right. The background is black and clean, without hisses or buzz, using any of my headphones. I don't have any overly-sensitive multi-balanced-armature headphones, but among the units I own even the peaky TRN V10 stay silent despite them being prone to display hissing.
Like most good products on the market, the AP200 has a neutral sound signature that pairs well with most headphones: whether you use neutral, V-shaped, bassy or bright headphones, you are going to hear just that without additional colouration by the DAP. If there is any colouration going on, it's really minimal and almost impossible to spot to me.
There's no questioning that the AP200 is a capable device. Its presentation is relaxed and not analytical, so it is an ideal device if you want to immerse yourself in music and phase out, just enjoying what you're hearing without too much analysis.
It is my impression that the AP200 sounds a bit more relaxed and laid back than the Cayin N5ii, which in turn sounds faster and more aggressive. I can't spot significant differences in soundstage and instrument separation between the two. As the Aune M1s sounds even faster and more aggressive than the N5ii, it is even more than the AP200.
Final Thoughts
Hidizs sells the AP200 at $299. Considering the fact that the Cayin N5ii is sold at $379 and the FiiO X5 3rd Gen retails at $449, the price seems to be reasonable. The AP200 sounds good, but it lacks features that are available on its competitors such as the balanced output and the double microSD slots, plus it is outputs way less power.
While the price may be right for what's on offer hardware-wise, the software is still in beta and has many, many rough edges four months after the debut – not a lot of time, but not little either. In its current state, I can't really recommend the device because of its buggy, unpredictable software – despite the fact that hardware and sound are good. I am sure it will improve over time and become a great alternative to other players out there, but it will take time. Still, the foundation is solid and earns a score of 7.5 – it may improve to 8 once all the principal bugs are squashed.
As the unit will stay with me, I will be able to follow the development of the firmware and update this review with any changes that may happen.
Hidizs sells the AP200 at $299 for the base model.