Most smartphones have now lost their headphone ports, which means that you can only choose between Bluetooth headphones and dongles. The Hidizs DH80S is just a bit larger than a dongle, but it offers much more functionality – and much more power to drive your headphones – while retaining a small footprint and an attractive design.
As a small prefacing note, the DH80S is virtually identical to the DH80. The only major difference is that the Hidizs DH80 has a different shape: it is meant to be used as a dock for the AP80 PRO-X, so it has an upward-facing male USB-C connector. There are no other differences between the two.
Disclaimer: I received this unit free of charge directly from Hidizs. The DH80S retails for $139. Additional information is available on Hidizs' website.
TL;DR: recap
Pros




Cons

+ Great build quality

+ Incredibly small and portable

+ Good output power

+ Longer battery life than declared

– Volume is not independent of source as declared
Rating: 8/10
Packaging & Accessories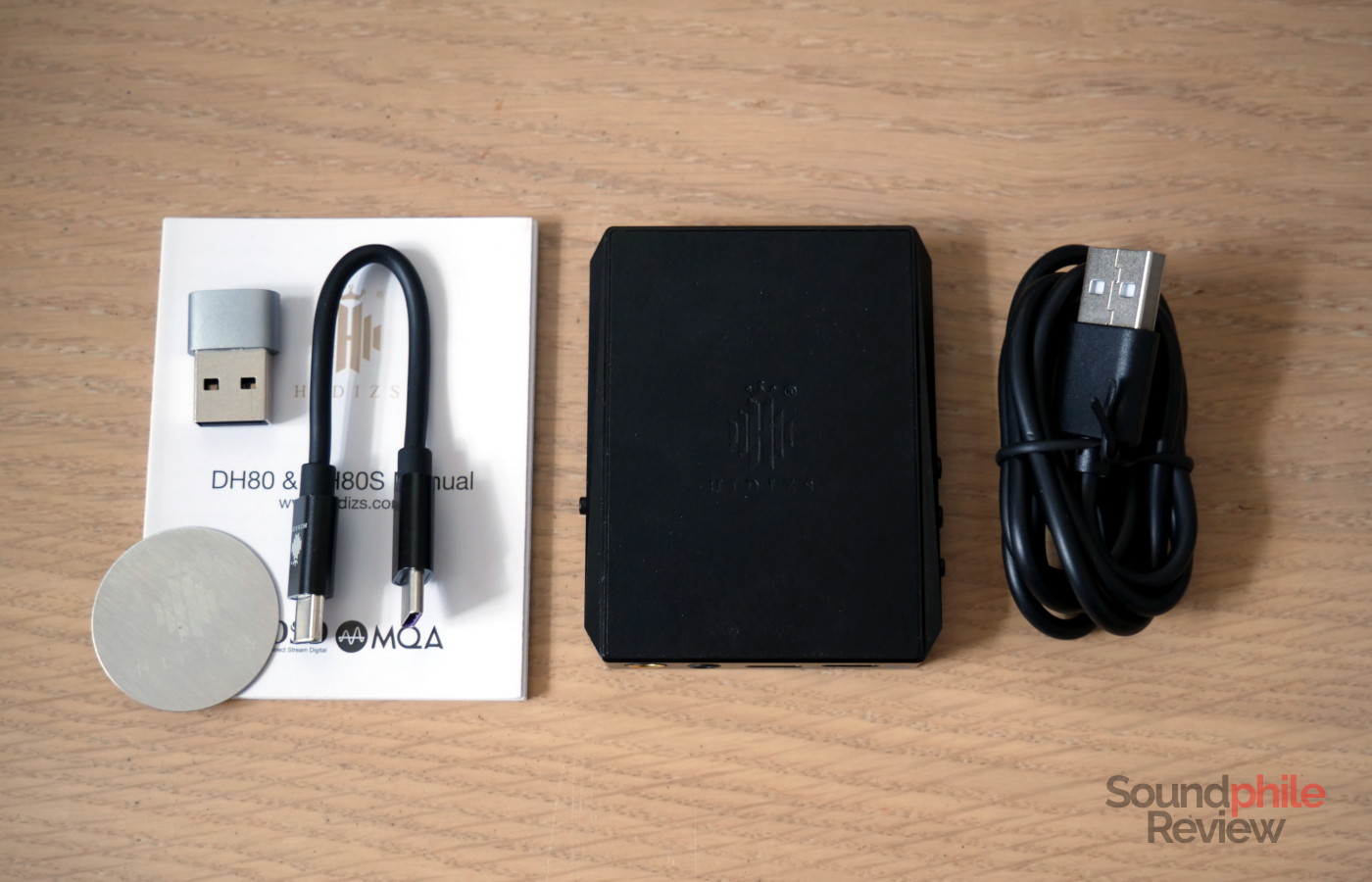 The Hidizs DH80S comes with a few accessories: there are a 1.2 m USB-C to USB-A and a short USB-C to USB-C cable (the latter of which is useful to connect the DH80S to your smartphone), a USB-C to USB-A adapter, a manual and a small metallic disk. It has adhesive on one side which allows you to apply it to the DAC; this, in turn, makes it possible to take advantage of the magnets on recent iPhones and other smartphones so that you can keep the DH80S safely attached to it without the need for adhesives.
Design & Build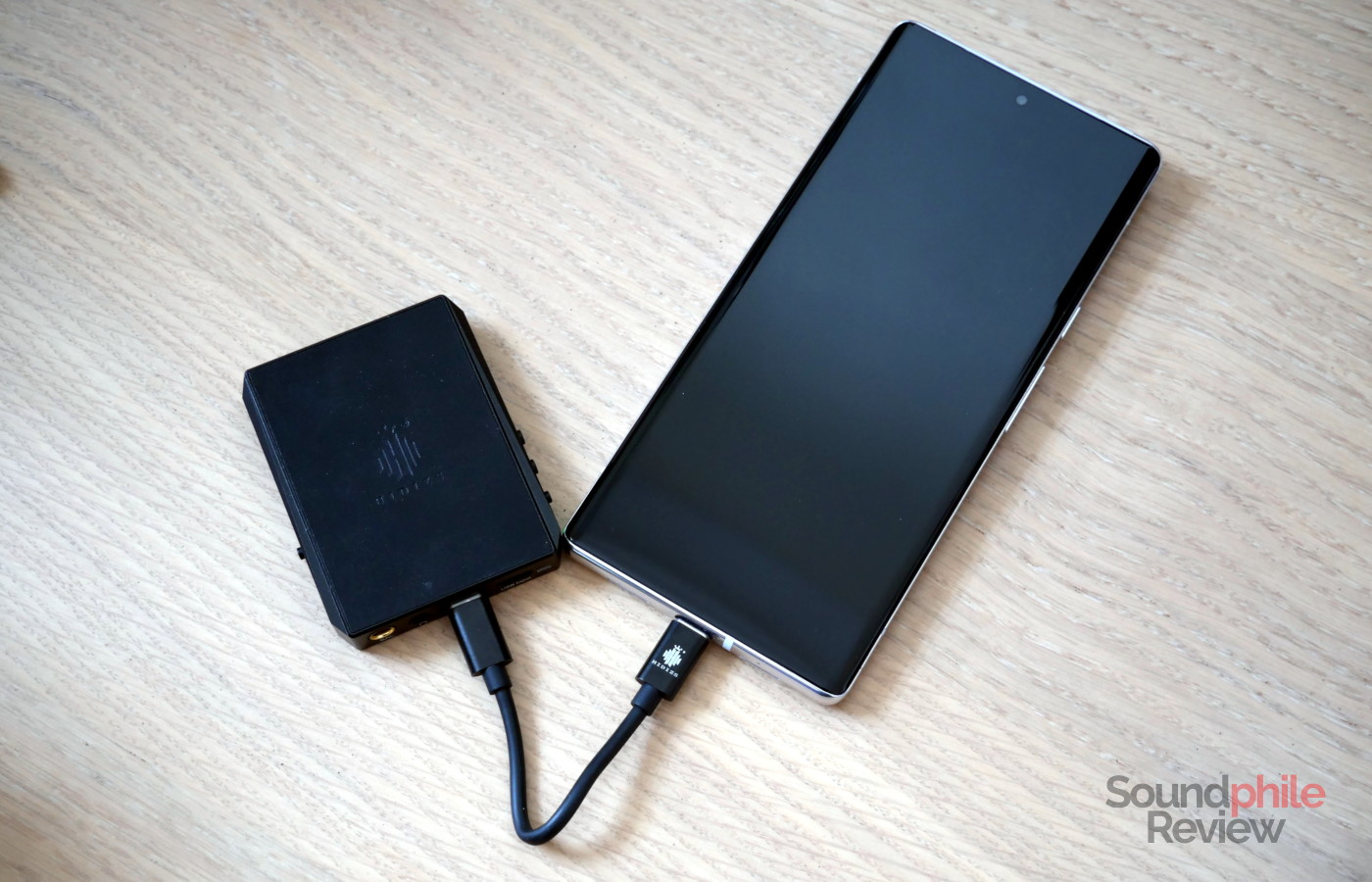 The Hidizs DH80S sports a design which is quite close to that of the AP80 PRO-X: it is almost square, with tapered sides which feature the controls. The front is covered with faux leather with the Hidizs logo carved into it. The rest of the body is made from a single piece of aluminium, coloured in black.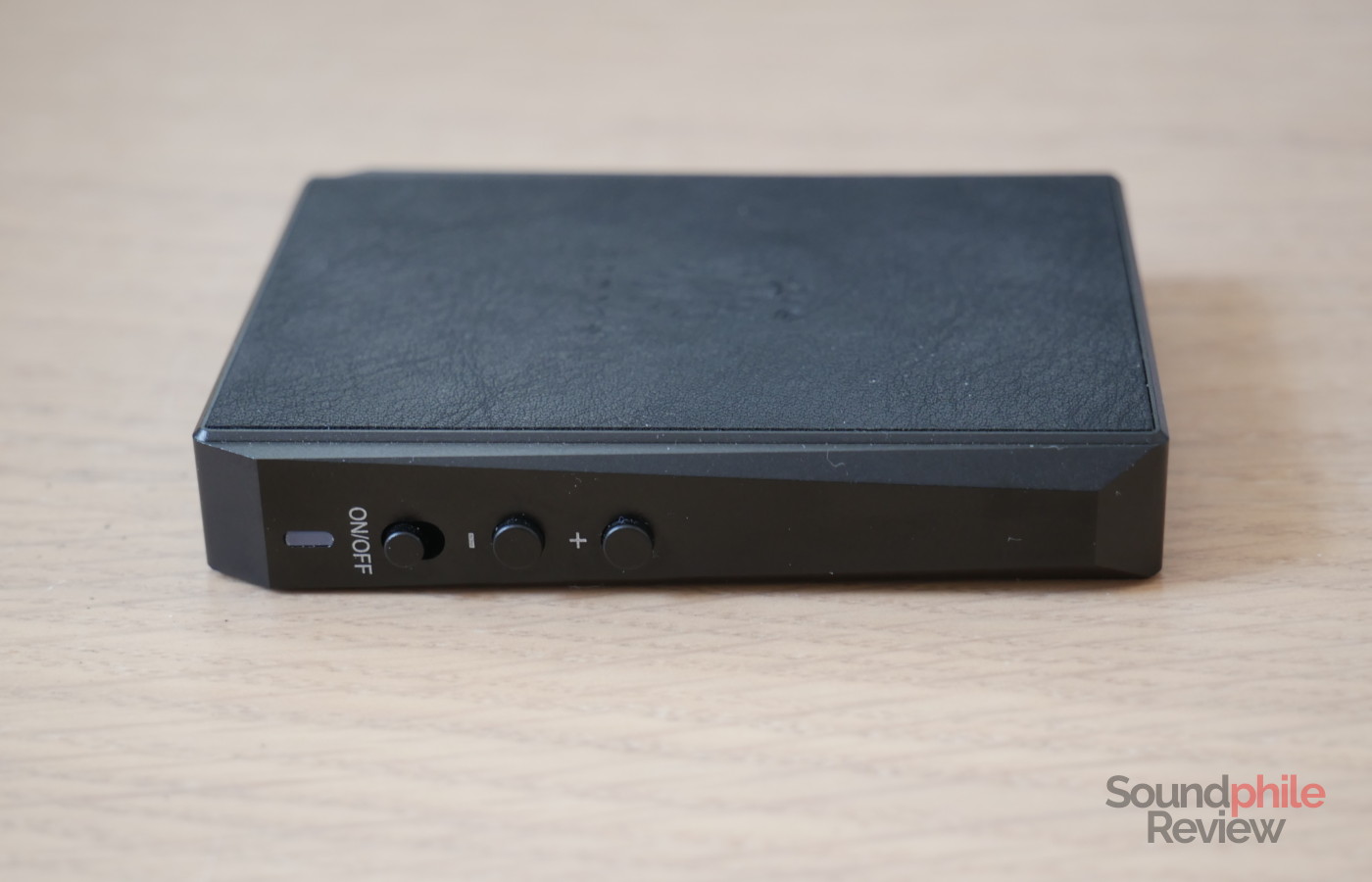 On the right hand side there are the volume buttons as well as the on/off switch and the charging LED, while the left hand side features the gain switch. On the bottom we find the 4.4 mm jack output as well as the 3.5 mm one, together with two USB-C ports and the status LED. The two USB-C ports make it possible to connect the device to a smartphone without draining its battery. I found myself using the DH80S at my desk more often than while on the go and I think that the LEDs would be better if they were swapped: it is easy not to see the charging LED turn red to indicate that the battery is almost empty, so I found myself more than once with the device abruptly turning off while using it. This is a minor detail, though, and indeed a matter of preference.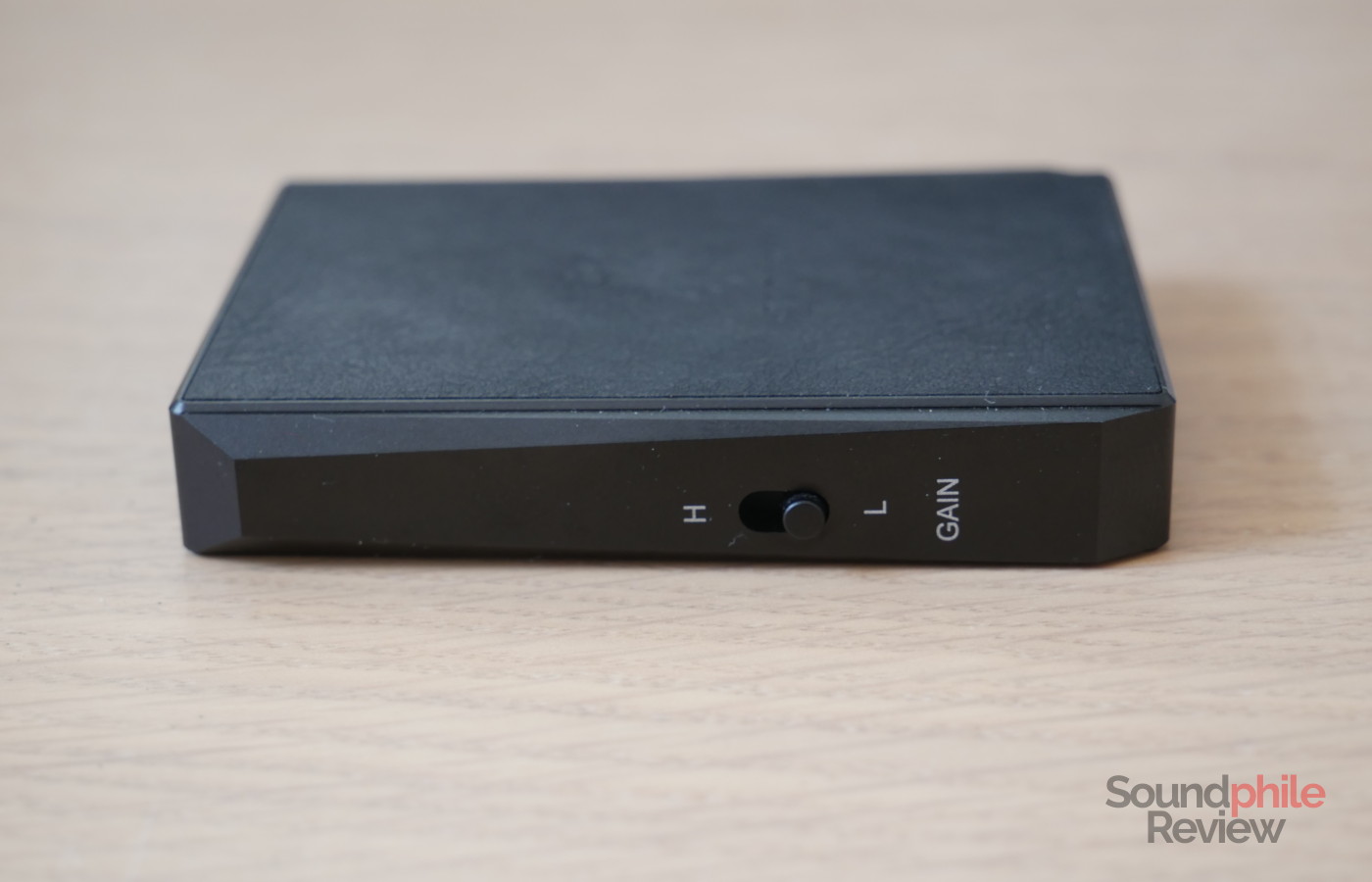 Build quality leaves no room for criticism as the DH80S is very solid and incredibly well crafted.
Features & Specs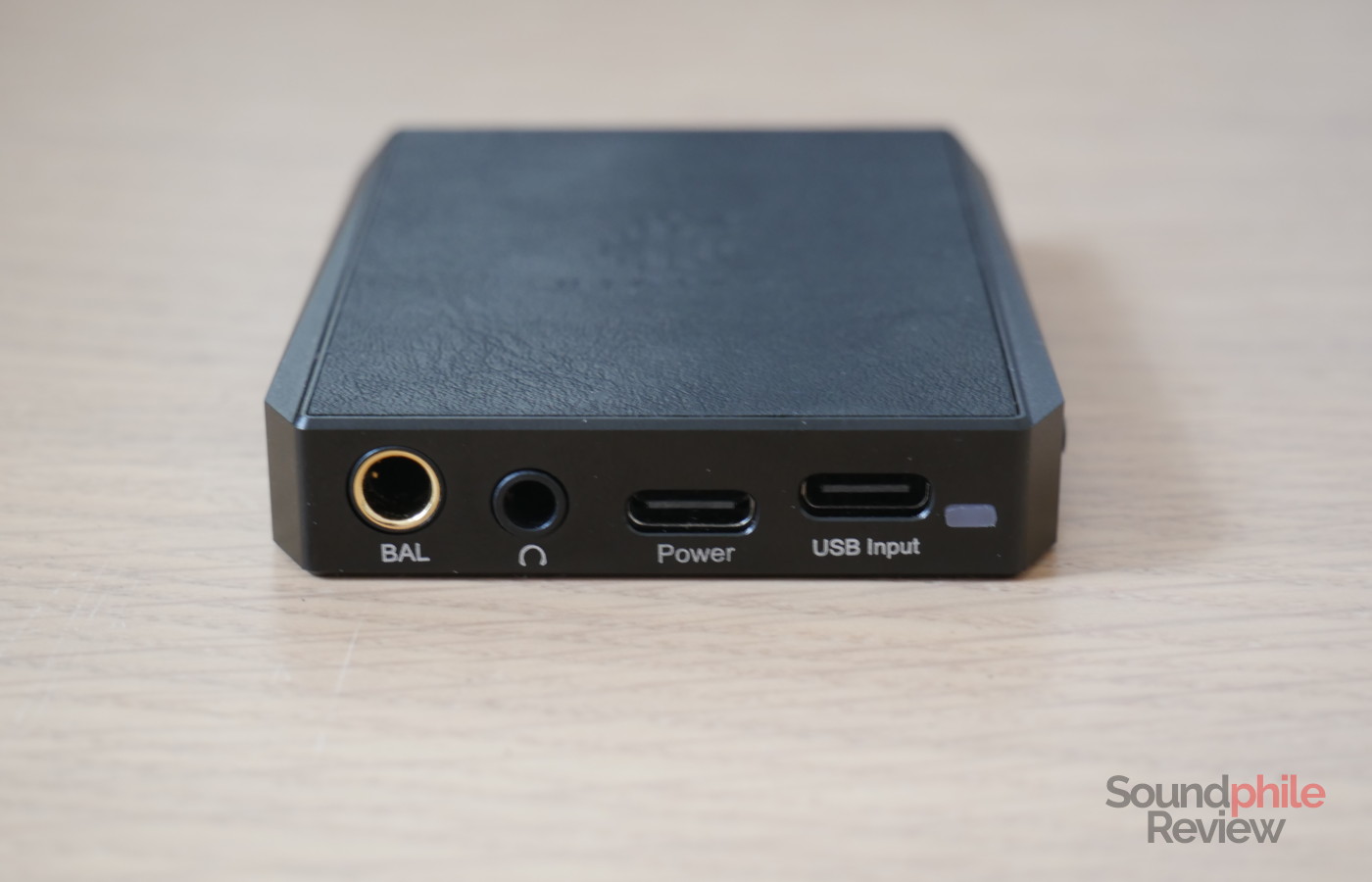 Although Hidizs claims that the DH80S offers independent volume adjustment, I find that it is actually tied to that of the device it is connected to. This holds true not just for my Linux computers, but also for my Pixel 6 Pro smartphone. Weirdly enough, the product page on the manufacturer's website says "professionally precise 30-level volume knob"… but there's no knob at all!
The DH80S has three levels of gain: low, medium and high. You can select one with the switch on the left hand side.
Input
USB (up to 32 bit / 384 kHz PCM, DSD 128, MQA)
Suitable headphones impedance
N/A
Output impedance
N/A
Maximum output power
Single-ended output:

Balanced:

Frequency response
N/A
THD+N (@1 kHz)
N/A
SNR
N/A
Crosstalk
N/A
The almost complete lack of data on the DH80S is a bit disconcerting. The only thing Hidizs publishes is that they use the ESS Sabre ES9281C Pro DAC and the Ricore RT6863C op-amps. The output power is stated to be 210 mW at 32 Ω with the balanced jack, but there's no further data which is weird. Considering this is a product aimed at audiophiles, who are usually quite demanding when it comes to specs, this is a strange choice on Hidizs' part.
Battery Life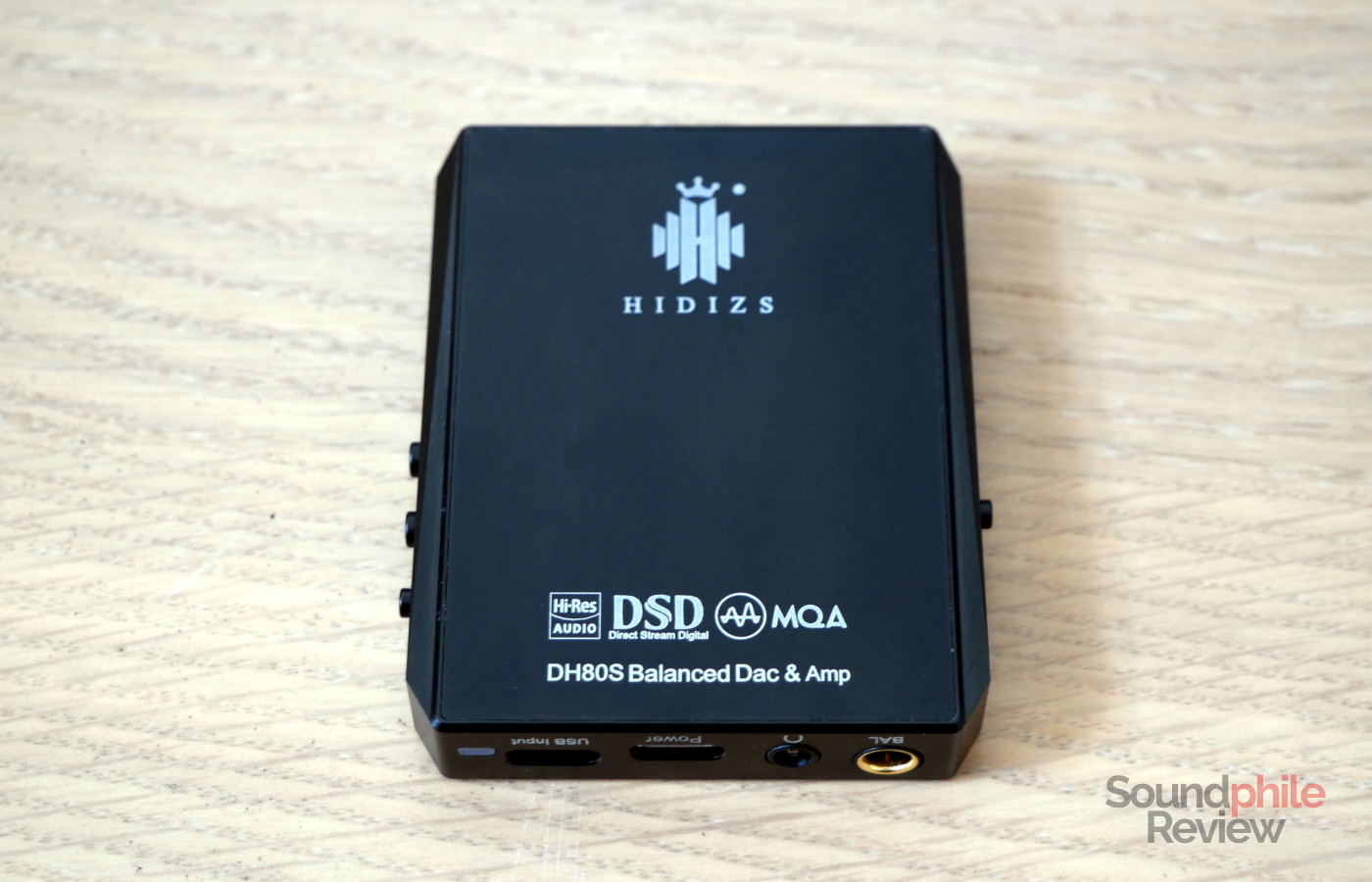 Although Hidizs says that the DH80S is capable of up to 8 hours of playback when using the single-ended output, I found that it actually extends further than this. I can in fact use the DH80S for a couple of days while keeping it on the whole time – and in more than one occasion I forgot to turn it off for the night with no significant impact on battery life. As they say: under-promise, over-deliver!
Sound
I've tested the Hidizs DH80S with various headphones, including the RØDE NTH-100, the Sennheiser HD 6XX and the HiFiMAN Edition XS, connecting it to both my computers and my Pixel 6 Pro smartphone.
The DH80S has enough power to drive most headphones, except for the most power-hungry. Even the HD 6XX, which have high impedance, are driven without issues. In fact, they sound okay even with the low gain engaged. With high gain they gain a bit of bass, but the difference is not stark. There is no background hiss, even when using sensitive, low-impedance earphones (such as the Tin HiFi T4 Plus).
There is no detectable influence on sound, so the DH80S sounds dead neutral, with no audible distortion and a very good rendition of transients, which are fast and show fast decay, and smaller details. This is true irrespective of which headphones I have used to test the device with.
Final Thoughts
Considering the Hidizs DH80S is an incredibly small DAC, it offers quite a lot of features. If you pardon the pun, this is one of those cases where it makes sense to say that it punches above its weight. It small size makes it possible to keep it in any pocket with your smartphone without adding bulk or weight. I quite like that Hidizs went with a design with two USB-C ports, as this allows you to connect it to your smartphone (or laptop) without draining its battery. The sound is neutral and works very well with virtually all headphones out there bar the most power-hungry. All in all, this is a very good portable DAC which I can recommend.