E1DA appears to be introducing new device non-stop and among the latest ones is the E1DA 9038D, a DAC with a headphone output that's so small it's smaller than my thumb. Despite this, it outputs a lot of power – so much so that it rivals dedicated low-end amplifiers. It's a small marvel, really, that has basically everything it needs.
Disclaimer: I received this unit free of charge from Linsoul. Additional info on the 9038D is available on the official website.
TL;DR: recap
Pros




Cons

Very well built

Linear, neutral sound

Companion app to fiddle with a variety of settings

Powerful output

Constant background hiss

Random loud noises when the device idles
Rating: 8.5/10
Packaging & Accessories
As explained in the Out of the box article, the packaging is quite… minimal, to put it nicely. The 9038D comes in a cardboard box with foam padding, and that's it. No accessories, no nothing. I received a USB-C to USB-C cable, but this seems to be an extra that Linsoul provides and not something that's part of the package.
Design & Build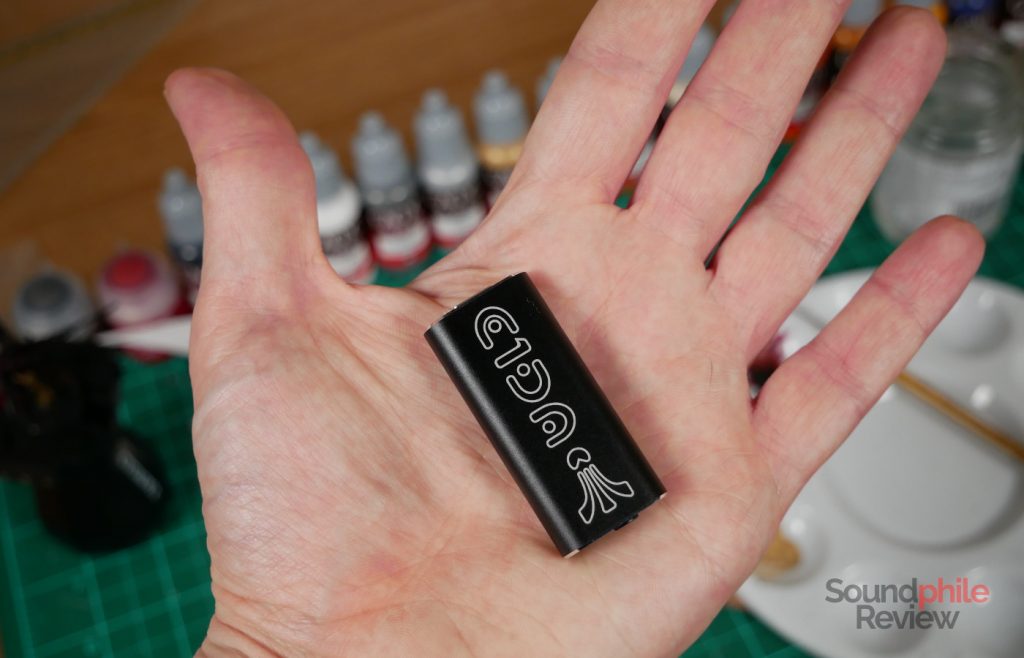 The E1DA 9038D is very small at 48 x 22 x 9 mm – so small, in fact, it's smaller than my thumb. And I have average-sized hands, so this tells you something. The device is made entirely out of aluminium, with laser etching of the E1DA logo. It's a very simple design that will probably prove quite resistant to daily use thanks to its simplicity. There are no buttons whatsoever and there are just a 3.5 mm jack on the lower side and a USB-C port with a status LED on the top side.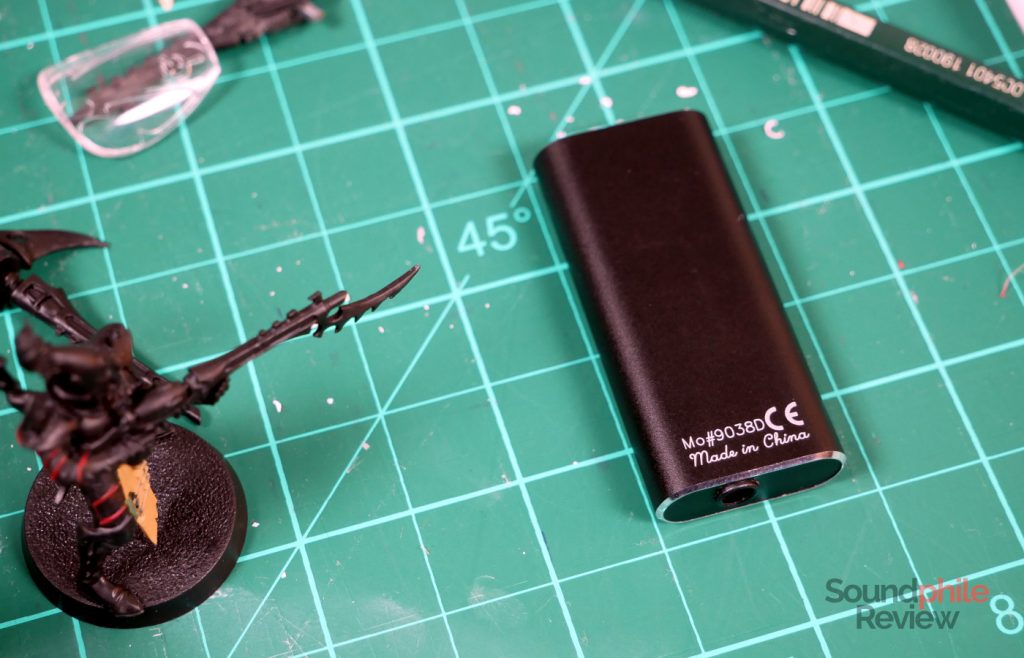 The E1DA 9038D becomes relatively warm during usage, but never to the point that the heat becomes excessive.
Features & Specs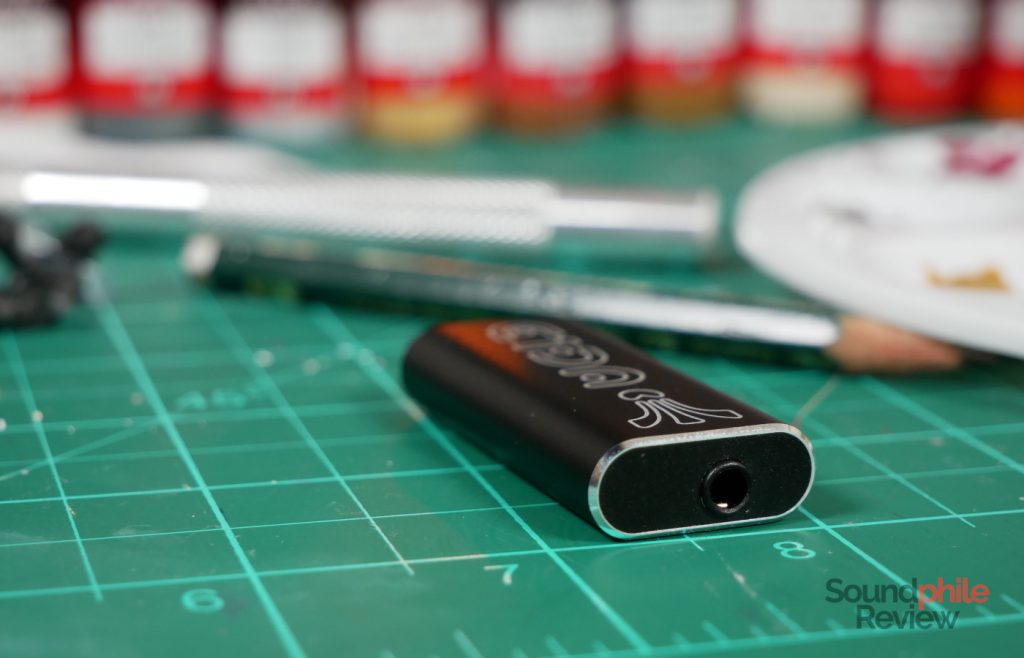 The E1DA 9038D requires drivers under Windows to provide hi-res playback, while under Linux and macOS it should work out of the box (it does under Linux, I am not 100% sure about macOS as I don't have a Mac).
Input
USB (up to 32 bit / 384 kHz PCM, DSD256)
Suitable headphones impedance
N/A
Output impedance
0.07 Ω
Maximum output power
120 mW (16 Ω, 1% THD)
180 mW (32 Ω, 1% THD)
200 mW (40 Ω, 1% THD)
Frequency response
5 – 80,000 Hz (+0.05 / -1 dB)
THD+N (@1 kHz)
0.00014%
SNR
> 125 dB
Crosstalk
-135 dB (no load)
-82 dB (32 Ω)
As the name implies, the E1DA 9038D uses an ESS Sabre ES9038Q2M DAC chip, which sits atop the manufacturer's line-up of DACs destined to the mobile world. Amplification is left to a TI OPA1622. Volume control is done in hardware, so even if you adjust it using your OS's native volume control it is actually adjusted in hardware – no small feat, considering how better that sounds!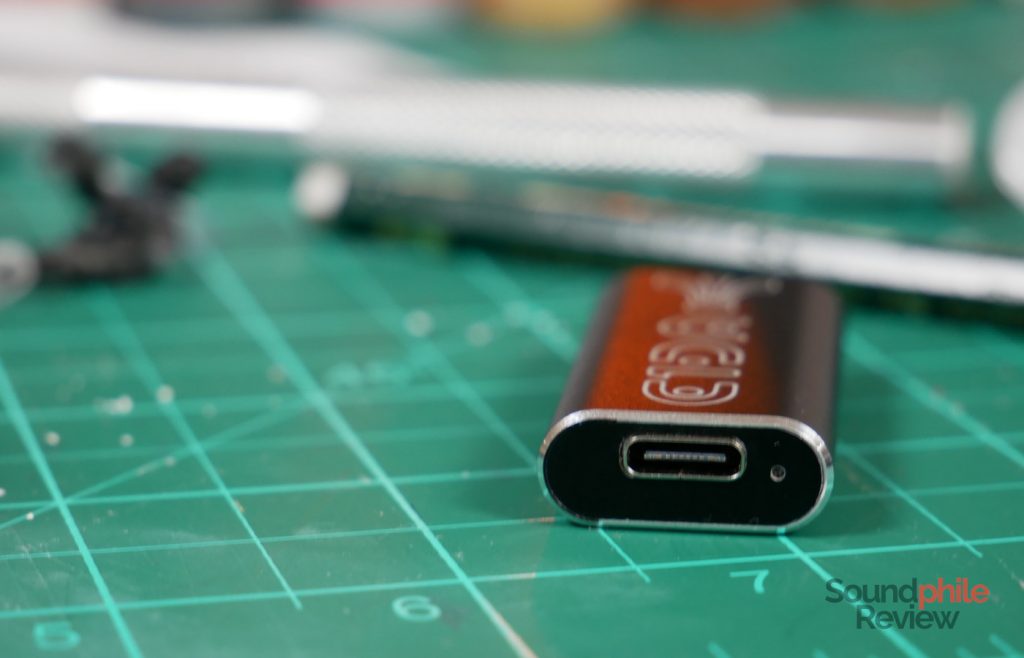 With 180 mW of power, the 9038D has enough juice to drive even hard-to-drive earphones and headphones like the Tin HiFi P2. Although it won't be able to break your eardrums, it will power earphones to quite high volume levels. It won't be enough for high-impedance cans or even just power-hungry full-size planars, though, so this is something to bear in mind.
Software
Like the E1DA PowerDAC v2, the E1DA 9038D also comes with its own app to tweak the various features. The app is available free of charge on both Android and iOS, however it only allows you to adjust the volume: in order to fiddle with other settings you have to pay a hefty €10.99 (or the equivalent in your local currency). That's quite a good amount of money and, if you do pay, you can then adjust the following settings:
THD: you can control second and third harmonics, e.g. to imitate tubes;
master clock: you can set the master clock frequency for each audio format;
filter: there's a ton of filters available including the most popular ones (linear phase slow/fast, brickwall…);
presets: allows you to choose between various presets you've created;
save presets: quite self-explanatory;
other settings: this menu item allows you to restore factory settings as well as control mute and standby switches.
In other words, the app is quite useless unless you are willing to buy the "pro" version, which however offers a whole lot of settings to fiddle with.
Sound
I connected the E1DA 9038D to my laptop PC, an HP EliteBook 745 G5, as well as to my desktop PC. I also used a Shanling M2X. Source files were mostly standard-res FLACs. I used a Fearless Audio S8 Pro as well as a Tin HiFi P2 to test the DAC.
When the 9038D is in idle and it's connected to my laptop I can hear that it starts to emit random noises, from simple white noise to low-pitched repetitive clicks. As soon as I start reproducing music again there is a sudden thump, after which the unwanted sounds stop and the music plays normally. The thump is so loud I am honestly worried it might damage the earphones. This is not present when using neither my desktop nor my M2X, so I would ascribe it to issues with the way the device manages some USB3 connections; the manufacturer mentions that there are issues with some laptops due to the USB interface and that a fix should be coming through a new firmware.
There's also a constant background hiss the volume of which is limited, but noticeable in quieter tracks. I initially thought this might have to do with my computer, but it is consistent across devices as my laptop, desktop and DAP all have the same hiss.
As you would expect, the E1DA 9038D is dead neutral when it comes to the sound signature. Some may say that it sounds analytical, boring and cold; to my ears it sounds exactly as it should, which means without introducing any colouration. This also entails that it will play just fine with any earphones without altering their signature. Detail as well as speed are like I would expect them and they're comparable to those offered by my much costlier desktop setup made of a Topping DX7 and a Drop THX AAA 789.
Final Thoughts
I find the E1DA 9038D to be a lovely device that offers quite a lot of interesting stuff despite its small size. It has enough power to drive most IEMs and a host of full-size cans as well. It can even drive power-hungry planars like the Tin P2, which is absolutely not a given in the context of portable DACs. It is well-built as well and the app, although quite pricey, opens a whole world of adjustments. There are just a couple of issues, which however are specific in one case and minor in the other. Still, it's quite a deal for the price: it offers many times the power of many rivals, which is quite surprising given the small size. I deem the 9038D a very good product for those looking for a well-made, powerful portable DAC with a neutral signature.