If you are into the scene of Chinese smartphones you might recognise the name Doogee: they now manufacture rugged Android smartphones, though they used to make a larger variety that targeted the masses. GooDee switches the only two consonants and even borrows the font for the name, but they told me the companies are not related in any way (so either there's no copyright at all in China, or they are related and they don't want to advertise it). The GooDee YG620 is their flagship projector that boasts Full-HD resolution, playback from USB and a brightness of 6,800 lux. Which is something we're going to talk about.
Disclaimer: I would like to thank Gina from GooDee for reaching out to me and sending me this unit free of charge.
TL;DR: recap
Pros




Cons

Full-HD resolution

Decent brightness and colour reproduction

Good set of connections

Works as stand-alone device

Affordable

Noisy fan

Out-of-focus sides

Unclear declaration of brightness

Issues with darker colours
Rating: 7/10
Packaging & Accessories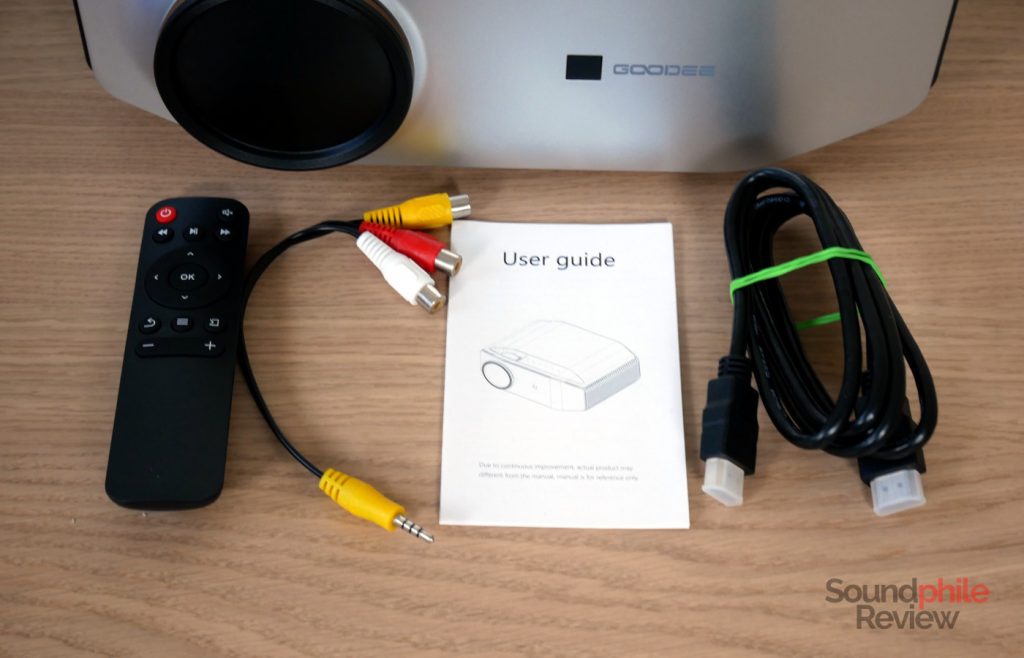 The GooDee YG620 comes in a rather standard cardboard box without any pretence of looking or feeling high-end – it's an affordable device that concentrates on delivering a low price with good quality instead of concentrating on appearance. The package holds the projector itself inside an air-filled plastic bag, a remote, a mains cable (with a UK plug in my case), an HDMI cable, an RCA cable and a manual. The remote came without a battery, so I had to provide my own in order to make it work. The projector was held into a nest of inflated plastic that appears to be quite resistant, so I am satisfied with how the package is made.
Design & Build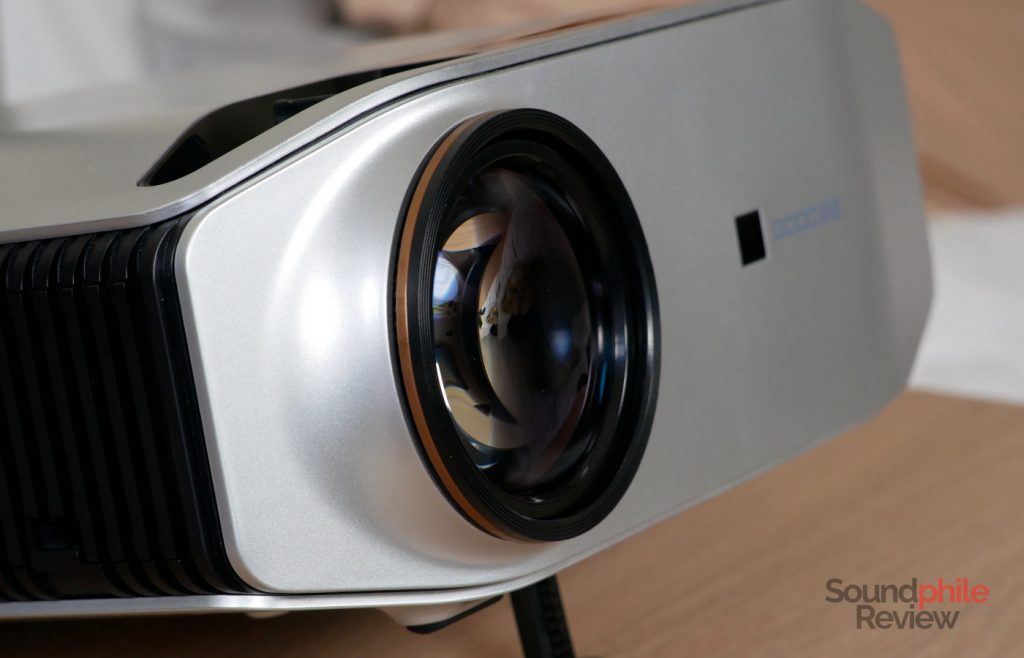 The looks of the GooDee YG620 are quite unassuming, with a design that I would describe as simple and to the point. The projector is made with silver and black plastic parts that don't exactly scream "premium", and honestly appear to be a bit cheap, but at the same time the overall assembly looks decently robust. While the YG620 lacks the elegance and researched looks of the costlier models, its utilitarian design doesn't look out of place anywhere.
The looks don't tell the full story, though, as the plastic appears to be actually quite resistant – I can't vouch for its resistance to an atomic bomb, but it should be able to resist moving around quite well. It's thick and sturdy and I like this.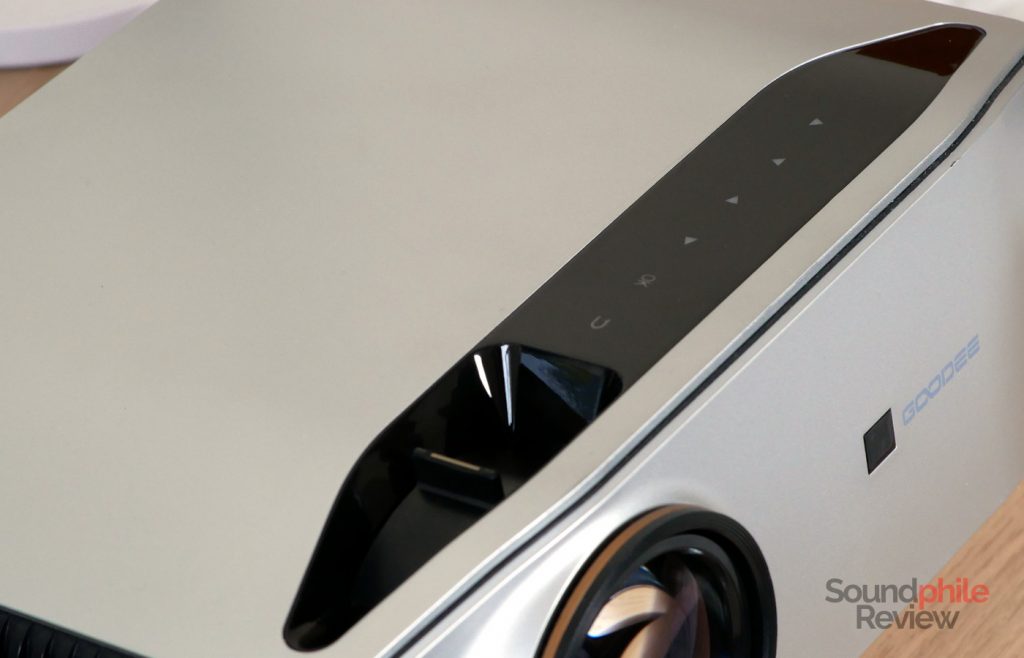 The top of the projector hosts the focus lever and a touchscreen panel with buttons to move through the menus, but you can't select sources with them and you'll need the remote. The back side is home to a host of connectors, including one VGA (which is always useful with older devices…), two HDMI, one USB, one powered USB to charge devices (in case you want to charge your phone with a projector for some reason), one jack that's to be used with the RCA adapter, one real jack for audio output and a microSD card. Below them are the power button, the power cord connector and the keystone correction knob – which only allows for vertical correction, you you need to have your projector perfectly parallel to the projecting surface.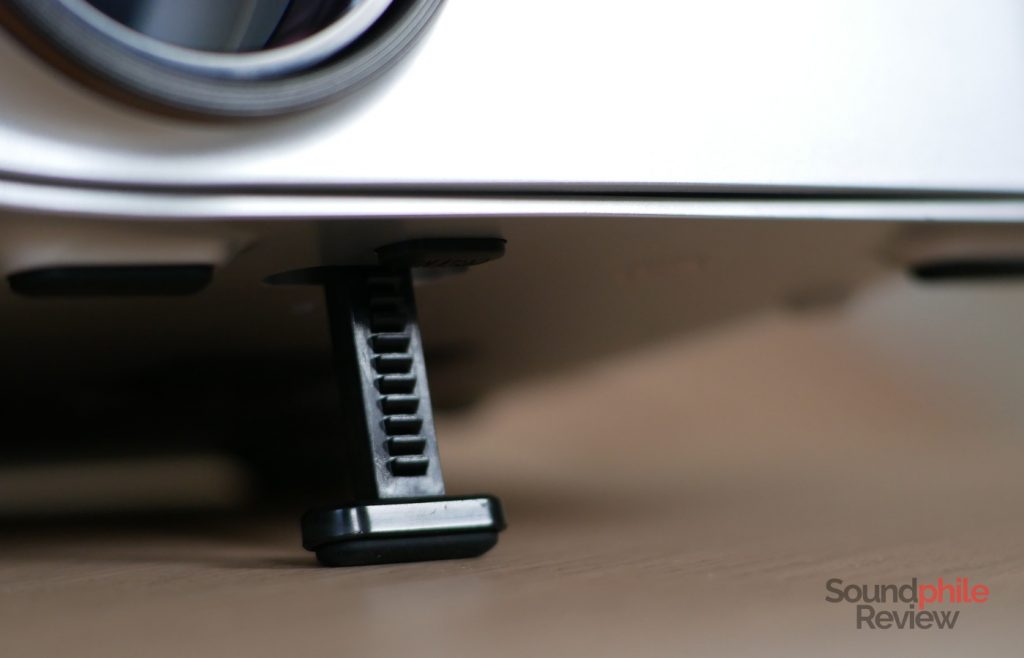 On the lower side you can find a foot to raise the projected image; the angle is obviously limited, but enough to have some degree of freedom. The foot works quite well, but it makes the projector slightly unbalanced as it is on the left side: the projector doesn't tip, but moves a scary lot if you push it. Two feet would probably have assured better stability. There are also four holes that allow you to position the projector on the ceiling.
The lens cap is designed so that you can't cover the lens and leave the focus in the position you wanted at the same time. Unless you are projecting from a very long distance, you will need to move the lever close to the middle region (or even further) and this will prevent the cap from fitting, so you will be forced to move the lever to the starting position. This is a design flaw in the cap, which could have easily been avoided with a bit of smartness.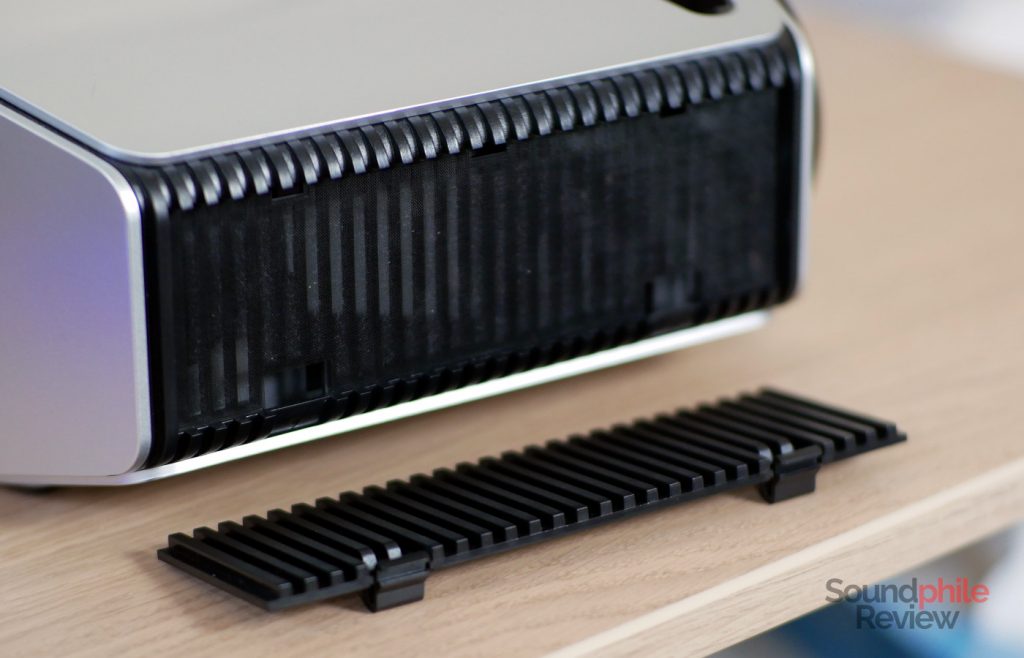 Modern projectors of standard size tend to be relatively quiet, with an operating noise that's low enough you don't have to shoot the volume up too much to hear the audio. Contrary to my expectations, on the GooDee YG620 the fan is quite noisy. It is constant and consistent in its volume: from when you turn the projector on to when you power it off, the volume doesn't change much whatever you do in the middle. It is loud enough that I can hear it if I stay even more than three metres away from the projector.
Specs & Features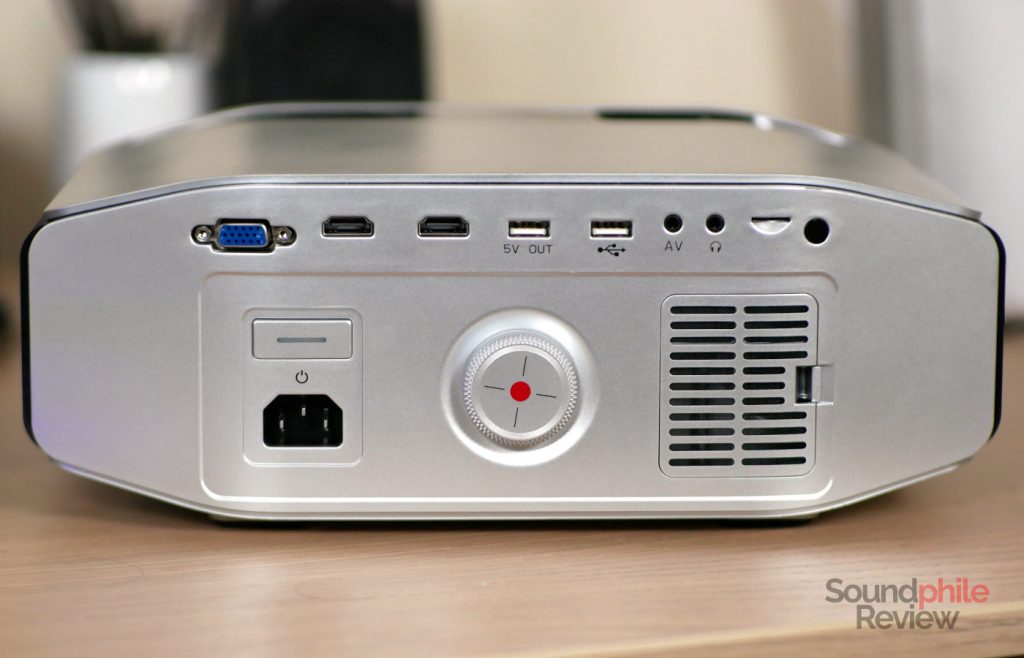 The GooDee YG620 is marketed as a projector for both indoors and outdoors and the manufacturer advertises its high brightness of 6,800 lux. Now, GooDee does something that's not entirely correct when declaring the brightness value of its projector. They do two things which are not correct (not to say misleading):
they declare the value in lux, which makes the absolute number go up and compare better to other projectors that use lumens or ANSI lumens;
they appear to measure the brightness value of the light source, instead of that of the actual projected image. As you can imagine, the lamp itself is much brighter than the actual image that is projected onto the surface.
I say that something's not quite right because the declared values would allow one to have a good-looking image even in an average-lighted room, but the reality is that I can't use the projector to get good picture quality unless it's nighttime. Even when using blinds I can't get good brightness during the day because light still enters the room a bit and it's enough to ruin the image. So the specification provided by GooDee is by all means meaningless.
As I do not have the instrumentation to measure things properly, I did a test that's not quite perfect, but useful to have an idea of what the real brightness of the GooDee YG620 is: I put it side by side with the Nebula Capsule Max which has a 200 ANSI lumens brightness. The result is that the GooDee YG620 has better brightness than the Nebula portable projector. While this doesn't get us closer to a definite brightness, it at least gives us a lower bound.
Although it's not a given, I expected the YG620 to be brighter than the Capsule Max: after all, the latter is a portable projector with all the power limitations this entails, while the former consumes 140 W and has virtually no limitations around how much power it can consume.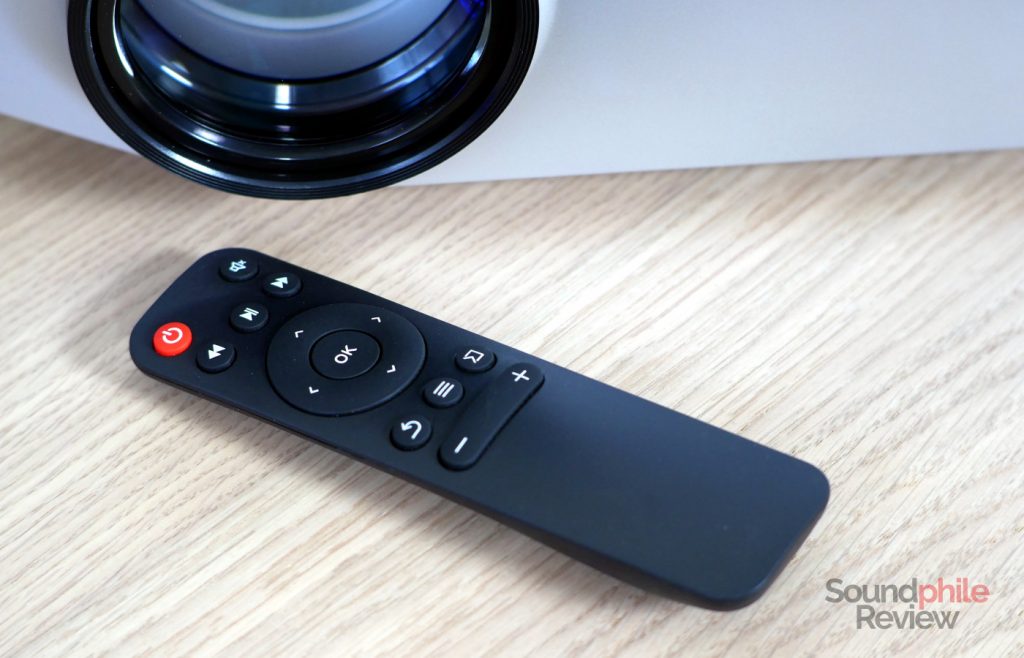 Although projectors in the sub-$300 area have usually been sold with low resolutions in tow, the G620 touts a Full-HD (1920 x 1080) resolution that's on par with higher-end devices. This makes it quite compelling from this specific point of view as the ability of the YG620 to represent details should outclass that of similarly-priced projectors from mainstream brands – at least on paper, as we'll see later. Images are formed on an LCD screen, which can be seen as being "traditional" and more widely used than alternatives; it also offers relatively high contrast, which in this case the company claims is 5,000:1.
The YG620 is able, according to GooDee, to project images with a diagonal up to 300 inches. That's achievable with a distance of 9.2 metres, which is actually quite long and not really achievable in most houses (unless you are quite rich, but in that cause I think you wouldn't buy this product). The issue is that at that distance the brightness is vastly reduced, so much so that I doubt you would be able to see anything even in a completely dark setting. By contrast, at 1.7 m of distance the image has a diagonal of 46″ and the brightness is acceptable. Most of my tests were done at a distance of roughly 2.5 m. There is an integrated keystone correction of 15° vertically; the knob on the back is easy to operate and allows for easy adjustment on the go. There is no lateral keystone correction.
Focus adjustment is done manually through the lever on the top; this process is far from easy due to the issues with focus I'll discuss in the following section. I found that the only way to make this work was to focus on the central region. The presence of the manual lever allow for fine adjustments, contrary to automated procedures, which I see as a positive thing; it also means one can adjust focus on the fly as they see fit.
There is no word on what the life of the lamp is, as there is no information over whether it can be replaced by the user or not. I would expect this projector not to be serviceable nor to be extremely long-lasting with heavy usage.
The speaker has an output of 5 W, which is lower than the Capsule Max's 8W despite the larger size and louder fan noise. Despite this, it proves to be enough for small rooms while sitting relatively close to the projector.
The projector can also read content directly from USB keys and microSD cards; in that case it supports video, audio and picture files in various formats. Audio codecs include MP3, WMA, OGG, AAC, FLAC, APE and WAV; supported picture formats are JPEG, BMP and PNG; video codecs are 3GP, AVI, MKV, FLV, MOV, MP4, MPG, VOB, MPG, RMV8 and RM. It also supports reading TXT files.
Picture & Sound Quality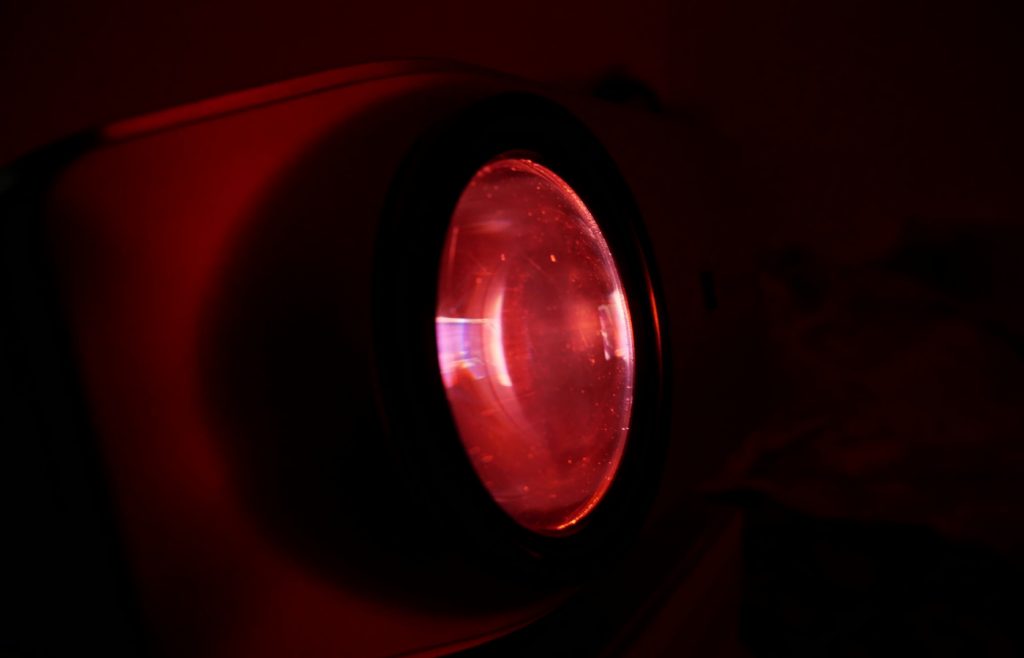 The GooDee YG620 is good enough for your casual movie watching on Sunday evenings as it proves bright and colourful enough for most people, with a resolution that helps it display a very good amount of detail. Whether you want to watch your favourite series or a film with kids, the YG620 offers quality in both picture and sound that will make your experience generally good.
Having said that, the YG620 does actually have some limitations which are worth discussing. Although it will work quite well for the majority of people, the GooDee YG620 has some imperfections that the more attentive watchers will notice.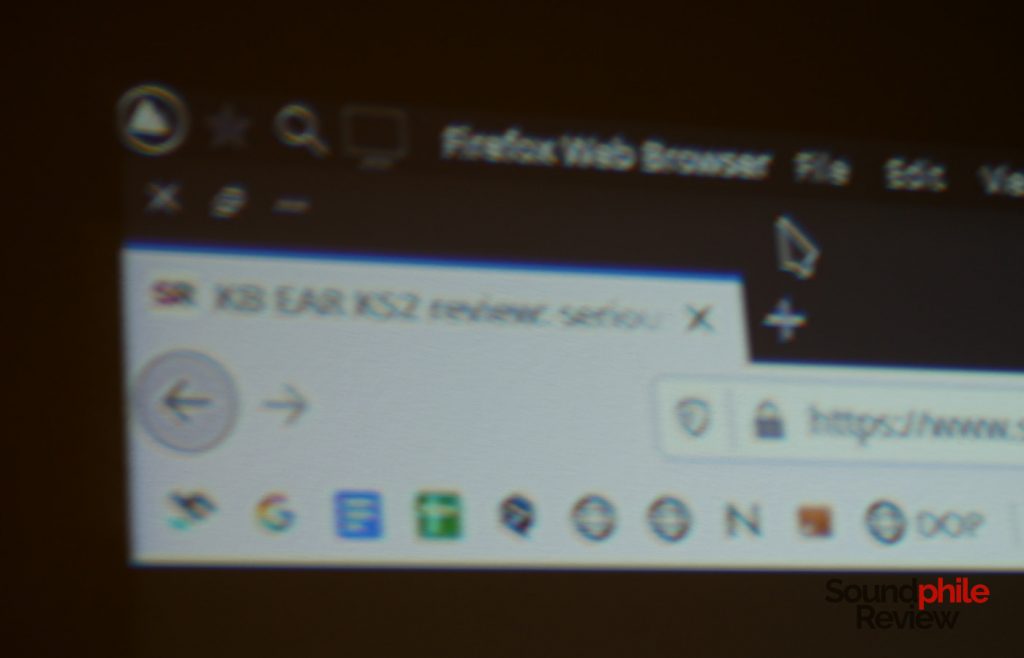 My experience using the YG620 went quite well, until I tried reading some text on it. One of the things I noticed when looking at text is how it appears completely blurred and out of focus on all sides. Now, the problem is in life you always have to pay in some way – whether it is in money or in other forms. In the case of the YG620, you pay in quality since the price is low. The company seems to either use low-quality lenses or to have QC issues, as my unit displays clear focus issues: the image is blurred and fuzzy along the edges. In practical terms, this means it's going to be hard to read text on it as it will be focused in the centre but not outside of it. The picture you see above is not out of focus on the camera, it's out of focus on the projector. That's exactly how I saw it.
You can also notice how there seems to be a blurry trail that follows the text, along the outer edges of it. It's almost a halo, a ghost effect, that makes text fuzzy and more difficult to read. I first noticed it when seeing the title of paused movies I was watching on Netflix.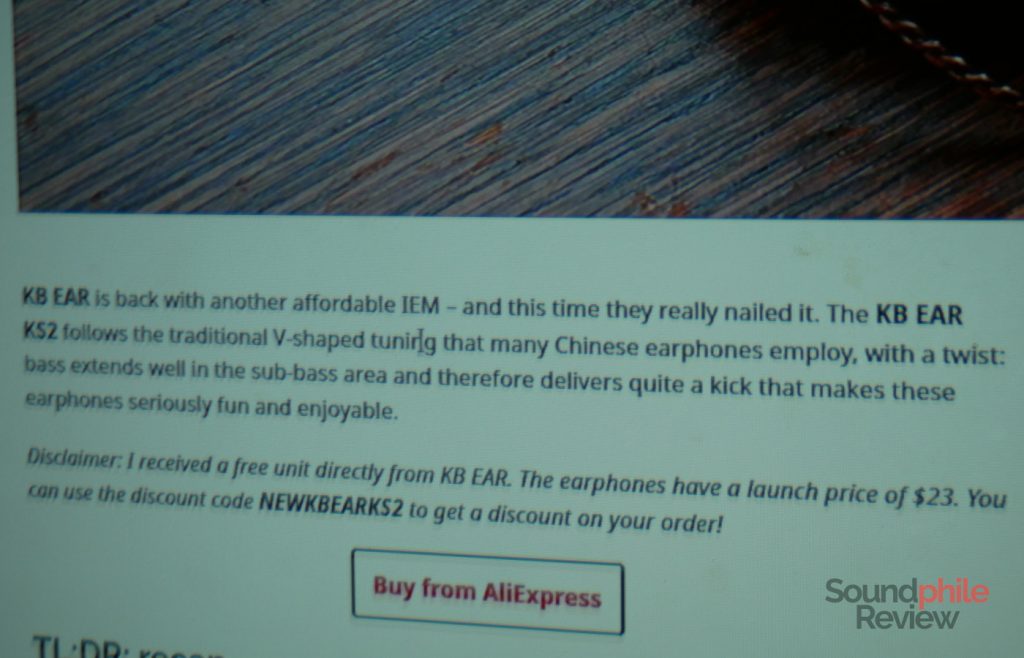 Despite this issue, watching movies (and doing other activities which don't require 100% perfect focus on the entire surface) will probably be fine. In my tests both playing games and watching films leads to an acceptable result, as the image is not so blurry to be distorted and to make watching a film impossible. The imperfection is noticeable if you really focus on the detail, but I only really noticed it once I tried to read some still text. Still, this means that the image won't be as sharp and full of details as it would be if the lens was higher quality and reduces the advantage of the resolution being Full-HD. The GooDee YG620 will only be truly useful as a multimedia projector and not as a projector for presentations, Web surfing and so on.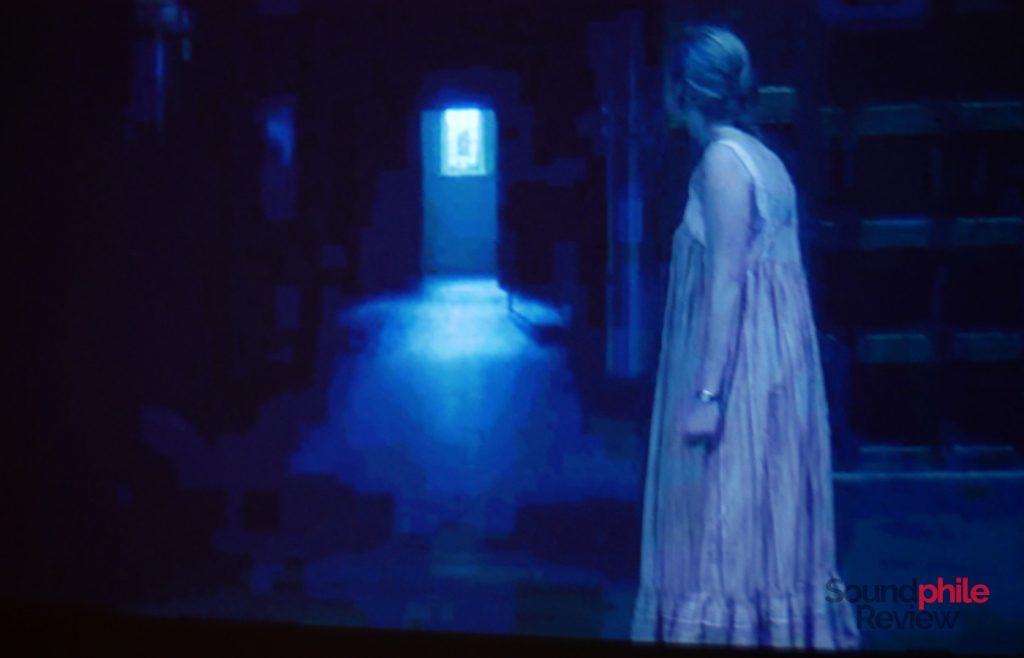 Even in that regard, though, there are some things to say. While contrast is quite good for a projector in this price range and exposes a lot of hues and nuances, this is a double-edged sword that displays the projector's struggle with darker colours. As you can see in the shot above from Netflix's The Haunting of Bly Manor (which I encourage you to watch along with its prequel!), there is some clear issue with darker colours, which are shown in blocky bits. I borrowed my girlfriend's professional monitor to find that this is not an issue with the content, but with the projector itself. This issue is not present with scenes full of light.
Colours are entirely reasonable in terms of brilliance and variety, and I never felt that they were poor or lacking (except, again, for darker scenes). Although they're not perfect, I found them to be adequate for casual watching that doesn't pay too much attention to picture quality in and by itself.
The GooDee YG620 surprised me with its speaker. Although it's not extremely powerful, it's enough to actually both cover the noisy fan and to be heard loud and clear… if you are close to it. It is definitely not powerful enough for larger rooms, unless you crank the volume to 11. Doing so, though, results in some distortion, so I advise against that. If you plan to watch films in a moderately-sized room it is going to be useful, otherwise it is recommended to adopt a proper speaker setup. Quality is actually better than I expected, as it even has some relatively clean, non-distorted bass in the mix – it's not a lot though, and music will sound a bit thin. It offers enough clarity for dialogues to be perfectly audible and intelligible and for action scenes not to end up in a garbled, mashed-up mess. All in all it's more than sufficient if you don't want a serious stereo setup, but it shows all of its limits with complex scenes and with larger rooms.
Final Thoughts
At $269, the GooDee YG620 is not too shabby – because I like euphemisms. This projector is actually quite nice, despite its shortcomings. As it is quite cumbersome, let's get the elephant in the room out: it doesn't compare in the slightest to pricier models by manufacturers such as Epson and BenQ. But this doesn't mean that the YG620 is a bad projector and, in fact, it's quite the opposite. For the price you can get quite a competent device that won't give you perfect-quality images, but will look good enough to enjoy watching your favourite movies and series.
There are limitations, though. The issue with focus that I experienced prevents the usage of the projector to, as an example, do presentations or surf the Web. It seems to be limited to the multimedia area, which is not an issue per se but also needs to be stated. The complete lack of information on the expected life of the lamp may also be a reason of concern for those who plan to purchase something for long-term usage. If you feel like these are not showstoppers for you, my experience so far with the YG620 has been overall positive and enjoyable, so you might want to check it out yourself. There's always a price to pay, but it's hard to find something better in all regards at the same price point so you get to choose in which way you want to pay – with money or with some compromise.