Although they're spelled the American way, much to the dismay of people all over the world who prefer the British spelling, the 1More ColorBuds are actually much more interesting to the audiophile crowd than the name would suggest. These earphones, which seem to cater to the more design attentive folks out there, offer a balanced tuning that is surprisingly likeable and a very decent technical ability. Together with a nice design that… wait, is my sample really pink?
Disclaimer: thank you to Tom at 1More Europe for the sample, even if it's pink. More info on 1More's website. MSRP is $99.

TL;DR: recap
Pros




Cons

Quite comfortable

Very long battery life

High-quality codecs

Warm, enjoyable signature

Missing features such as volume control

Treble detail is limited
Rating: 7.5/10
Packaging & Accessories
1More is quite consistent with the way they do their packaging and the ColorBuds are no exception in this regard. The cardboard box uses a similar style to that of previous products, trading the book cover for a more traditional slide-up cover. The rest is identical though – a plastic window protecting the earphones in their case, a set of eartips in three sizes, a USB to USB-C cable and a manual.
Design & Comfort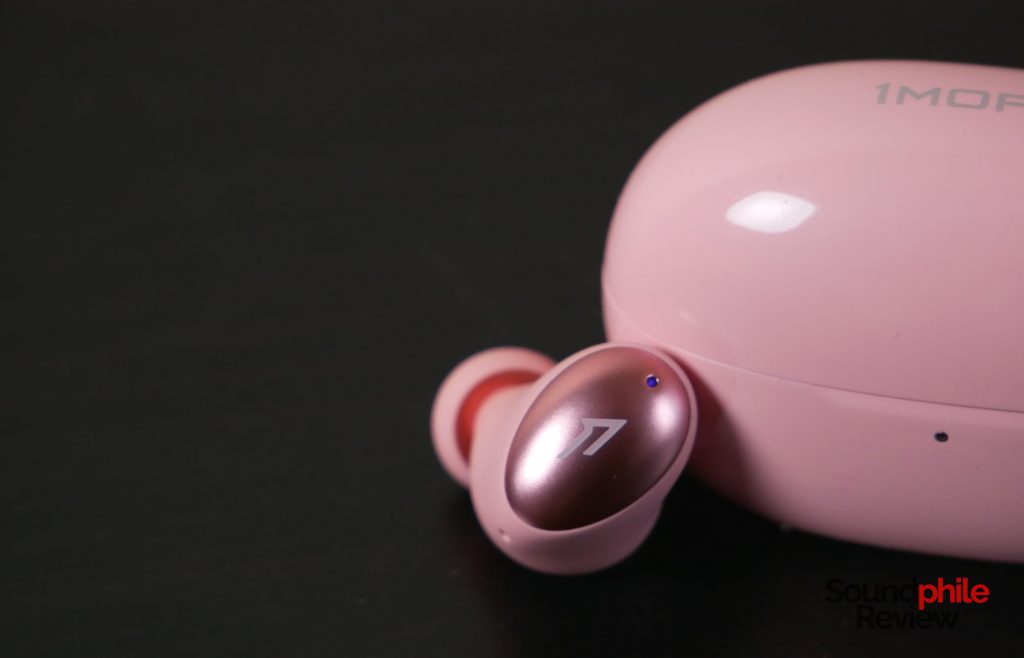 The earpieces are a bit weird: the faceplate is oval, but the rest is circular and the general shape follows this change with smooth curves. The first thing I noticed is how small the earpieces are: they are among the smallest I've seen, on par with the Lypertek Tevi. The faceplate has a darker hue than the rest of the shell and it has a metallic finish, while the rest of the shell is rubberised.
There is a status LED on the faceplate, while the backside (the one that faces your ear directly) has three metallic pins and a proximity sensor that pauses the music automatically as you take the earphones out of your ear and starts playing it again as you put them back in (quite a nifty feature, especially at this price point!). There's a hole in the lower side which appears to host the microphone.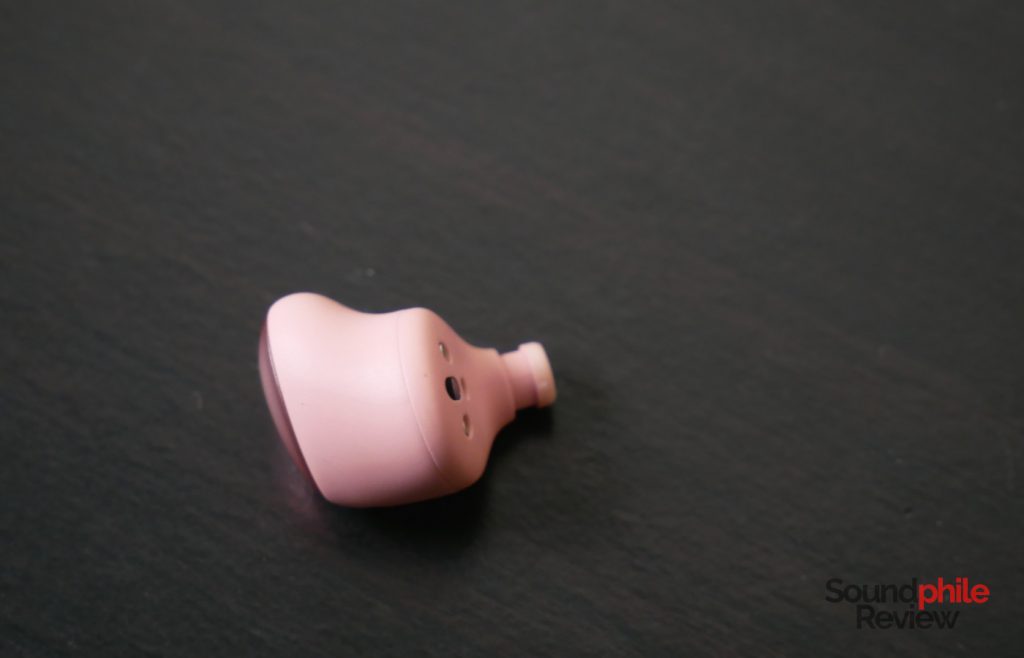 The overall build quality is quite good, as is customary for 1More products, with plastic appearing to be the same quality as the brand's costlier products. There's also the IPX5 certification which allows you to use the ColorBuds even while doing sports and taking showers.
1More recommends turning the earphones towards the front and this is a valid suggestion, as it does make the earphones more comfortable. I can wear them until the battery is drained and not feel any discomfort, which is quite amazing! Comfort is quite subjective, so your experience might differ from mine; still, I think that, due to their shape and size, most people will find the ColorBuds quite comfortable.
Isolation is decent, but can only withstand moderate noise: busy streets are already too much for the ColorBuds, unless you crank up the volume. For quieter situations, though, it's enough to drown out unwanted noises (e.g. typing on a keyboard).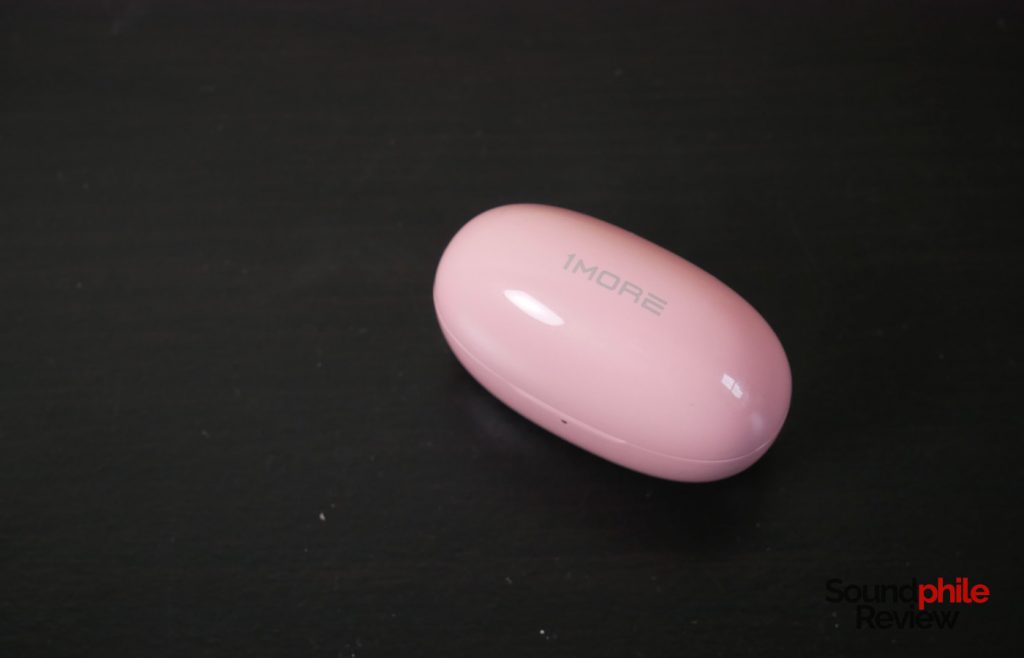 The case is really small (60 x 30 x 38 mm) and lightweight (~40 g), so it fits into any pocket without issues. It is made of shiny hard plastic that looks good but is also prone to scratching. The front has a single status LED that changes colour according to how much battery charge is left, while the back has a USB-C port and the lower side is covered with anti-slip rubber. Inside there's a button that lights up the status LED. All in all it's a well-built case that's compact and easily portable without renouncing to features.
Extra Features & Battery Life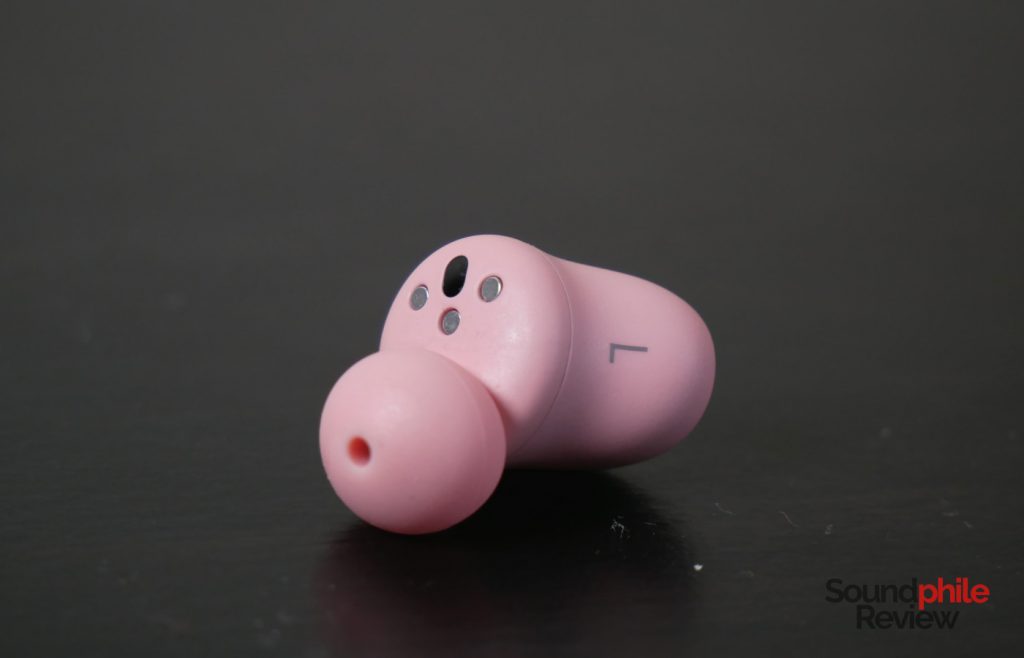 The 1More ColorBuds support the Bluetooth 5.0 standard and the SBC, AAC and aptX codecs on top of it. Latency is low enough that I had no issues watching videos and playing games while using the earphones: there's a so-called "entertainment mode" which makes latency especially low and is suited for movies and games. The connection strength is quite good, as it stays stable and doesn't drop even when moving throughout the house with walls between the source and the earphones.
The control scheme is quite simple and uses the touch-sensitive faceplates to register your input. There's actually quite a limited amount of commands available: with two taps you can play or pause music and answer or end a call, with three taps you can activate the voice assistant on your phone. That's it. It's much less than most earphones in this price range offer, as previous/next track controls are often provided. There's also a lack of volume control, but for once that's not a problem as the minimum volume is acceptably low.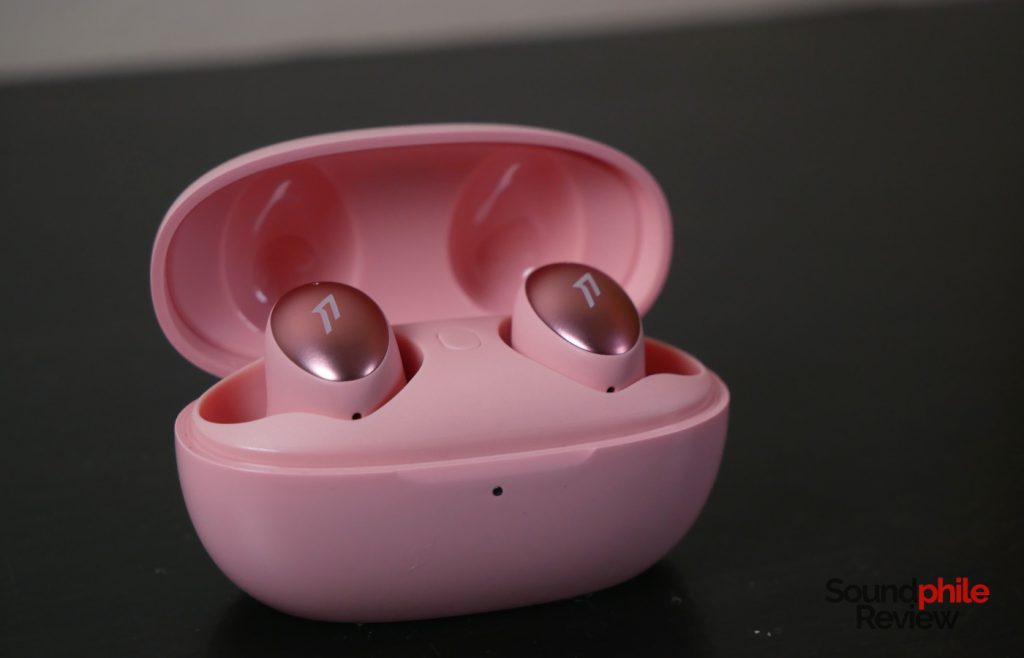 Battery life really amazes me: I can use the ColorBuds for ~8 hours before they start complaining about low battery. That's even more than the six hours 1More advertises and considering the earphones are really small, that's quite an amazing result! This has probably to do with the good optimisation of the Qualcomm Bluetooth chip and the choice of a single balanced armature as the driver. The case is able to provide about three full charges, bringing the total to around 30 hours.
Sound
I tested the 1More ColorBuds using mostly my EliteBook 745 G5 laptop and a Shanling M2X, both loaded with mainly standard-resolution (16 bit, 44.1 kHz) FLAC files.
| | |
| --- | --- |
| Frequency response | 20 – 20,000 Hz |
| Impedance | N/A |
| Sensitivity | N/A |
| Bluetooth version | 5.0 |
| Codecs | SBC, AAC |
As far as I am aware, the ColorBuds are the first product by 1More that has only one balanced armature per channel. The brand has gained notoriety thanks to their dynamic driver-powered products and their hybrid earphones, especially the Triple Driver. There's no indication on which model of balanced armature was chosen, but I got confirmation that it was developed internally (so it's not from e.g. Sonion or Knowles). Despite this technical choice, the sound signature is remarkably similar to previous products, although with better smoothness.
Soundstage is average in width, but offers some depth. It does have some lateral extension, but most instruments sound close to the listener. There is good imaging, with a good central image and a good positioning of instruments across the stage. Instrument separation is quite good, even in moderately crowded tracks: that's quite a good achievement, considering that there's just one balanced armature doing everything.
Bass is full and abundant despite the balanced armature driver: as one would expect it's fast and controlled, but its decay is unusually long for balanced armatures and reminds me more of dynamic drivers. On top of this, there's also a bit of physicality (a tiny bit!), which again reminds me more of dynamic drivers than of balanced armatures; it's a weird mix of qualities that's quite unique and positively so. All this together leads to the sound being enjoyably warm, with more presence in the mid-bass region and almost none in the sub-bass region (but, again, that's expected). Detail is quite good for this type of earphones and driver, although more complicated tracks do show the limits of the driver.
Midrange is warm, due to both the presence of bass and an added presence in its own lower region. This warmth lends it an easiness that's pleasant without foregoing an overall balanced presentation, as no part gets in the spotlight to the detriment of others. In the broader picture, midrange is almost at the same level as bass, sitting just slightly behind and therefore sounding present and never distant or lacking. Speed is again laudable, with longer decay and good overall control. Details are present, though smaller ones elude the ability of the driver to reproduce them. The presentation is, as I said, smooth: it lacks substantial ups and downs, plus it is relatively warm and this make almost everything pleasant to listen to.
Treble is vivacious, but it exposes the limits of the driver. It is not very extended and has a couple of peaks in the middle region that add a fair amount of sparkle to the sound (never crossing the line of fatigue, though). In terms of tuning everything's alright, considering the price point; the issue is with detail: it's smeared and generally lacking. Let's take Abyss Within My Soul by Triptykon as an example: the cymbals appear confused and lacking definition and individuality, so they end up sounding like a mashed-up soup of high-pitched sounds instead of a series of individual hits.
1More ColorBuds Comparisons
Let's compare the ColorBuds to a couple of other TWS in the same price bracket:
1More ColorBuds vs 1More Stylish True Wireless: given they use a dynamic driver, the Stylish TWS offer a decidedly different sound. They're fuller-bodied, meaning bass is much more present in the mix and reaches deeper, offering an overall warmer signature with much more punch and impact – compared to the ColorBuds, the Stylish TWS are almost physical in their sound. But bass listening to them side by side highlights how better balanced the ColorBuds are, with mids that are placed much more in the spotlight and therefore sound clearer and cleaner. They also sound more detailed as a consequence of their placement. Treble is unexpectedly better on the Stylish TWS: it's just more coherent and detailed, even though it's not really extended. Soundstage is comparable, but it sounds a bit wider on the Stylish TWS; imaging is largely comparable, and so is instrument separation (which maybe is a touch better on the ColorBuds, but it might be just an impression). In terms of functionality the Stylish TWS are more complete, but their battery life is inferior.
1More ColorBuds vs Lypertek Tevi: the Tevi are my benchmark for TWS earphones and there's a good reason why. The tuning is quite different, with a bit less bass that's however faster and more physical, with better detail overall. Midrange are more skewed towards the upper region, but they're still well balanced; they sound hotter than those of the ColorBuds, but they counterbalance this with significantly better detail. Treble is significantly more detailed and more extended, while also being better placed in the overall signature. Overall the resolution offered by the Tevi across the board is two notches above that of the ColorBuds. They also offer a larger soundstage and better instrument placing, but comparable imaging. Instrument separation is much better on the Tevi. The battery life is comparable, which is quite good for the 1More, while in terms of functionality the Tevi offer more thanks to the wider range of controls (plus they're IPX7 and come with foam eartips).
Final Thoughts
When I was pitched the ColorBuds for the first time, they were introduced to me as more glamorous and up-to-trend "true wireless" earphones. The thing is they're actually much more than this. 1More got the ColorBuds quite right – so much so, in fact, that they are probably the best TWS they've made up to this point. With a warm, cosy signature that makes practically everything sound pleasant but doesn't renounce accuracy, and with a solid connectivity section and great battery life, the 1More ColorBuds are a great offering. That's especially true at their sub-$100 price point, where there are few products that can do better than them. Treble could undoubtedly be better and that's the main weakness of these earphones, but you will only really notice it if you focus on your listening. For your everyday music the ColorBuds are more than good enough.
Side note: seriously, these are pink. That's quite a contrast to the black metal music I've been listening on them. But they didn't protest against my musical choice so hey, this proves these earphones are open-minded when it comes to music genres. Be like the ColorBuds: be open minded.