Is it a plane? Is it a bird? Is it a… wait, what is it? You would be excused for not immediately thinking of earphones when you look at the GravaStar Sirius, but they're actually true wireless earbuds aimed at gamers – and they do borrow quite heavily from the gamer aesthetic, more specifically from games like DOOM I'd say. Being targeted towards such a specific use case, the Sirius feature a sound signature that involves you more during games, as well as low-latency transmission that's all too important for gaming.
Disclaimer: I received a complimentary unit from GravaStar directly. They sell the Sirius for $89.95. Additional info is available on the official website.
TL;DR: recap
Pros




Cons

+ Very, very original design

+ Great comfort

+ Low-latency mode

+ Signature that packs a punch

– Limited technicalities

– Low battery life

– Fit is not for everyone
Rating: 7/10
Packaging & Accessories
The GravaStar Sirius are certainly unusual and this starts with the packaging: it looks like an ammo pack from DOOM. It's a plastic box with a transparent window on top that shows the earphones inside, which is not too weird, but the design of the rest is quite sci-fi-like. Inside this weird box are a USB to USB-C cable and three additional pairs of eartips. To add further weirdness to the mix, the package also contains a chain (presumably to wear around your neck) and a silicone bit to attach to the earphone case.
Design & Comfort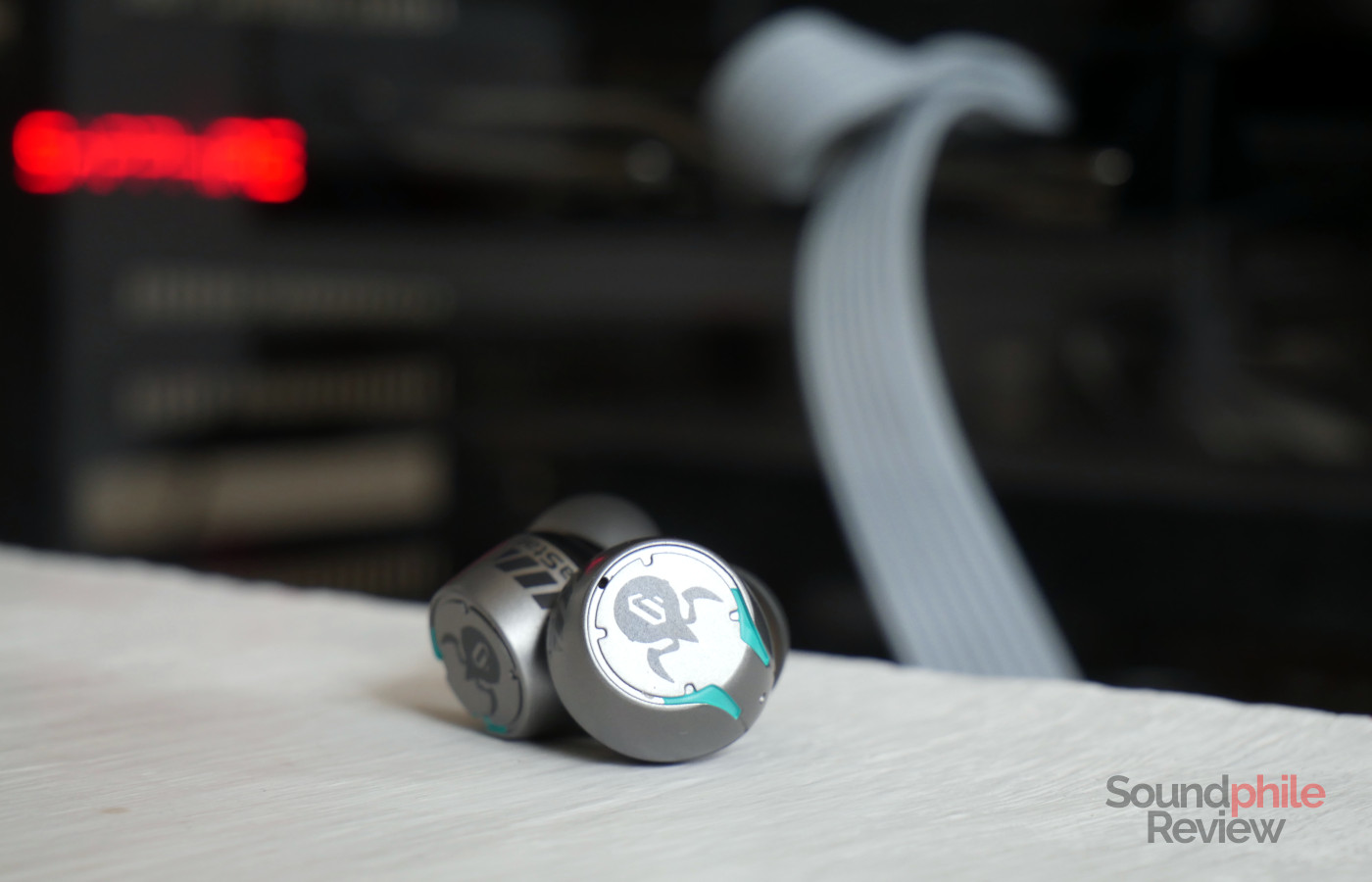 The one thing you can be sure about the GravaStar Sirius is that their design is weird. So much so that I've presented them (in their case) to multiple people and asked them what they were. Some replied that they were a lighter, some said they were some kind of technological contraption they couldn't identify, others said they were some tool. One person eventually got the answer right, but it took several trials. The design is really outlandish, but that's not a bad thing as it certainly sets the Sirius apart.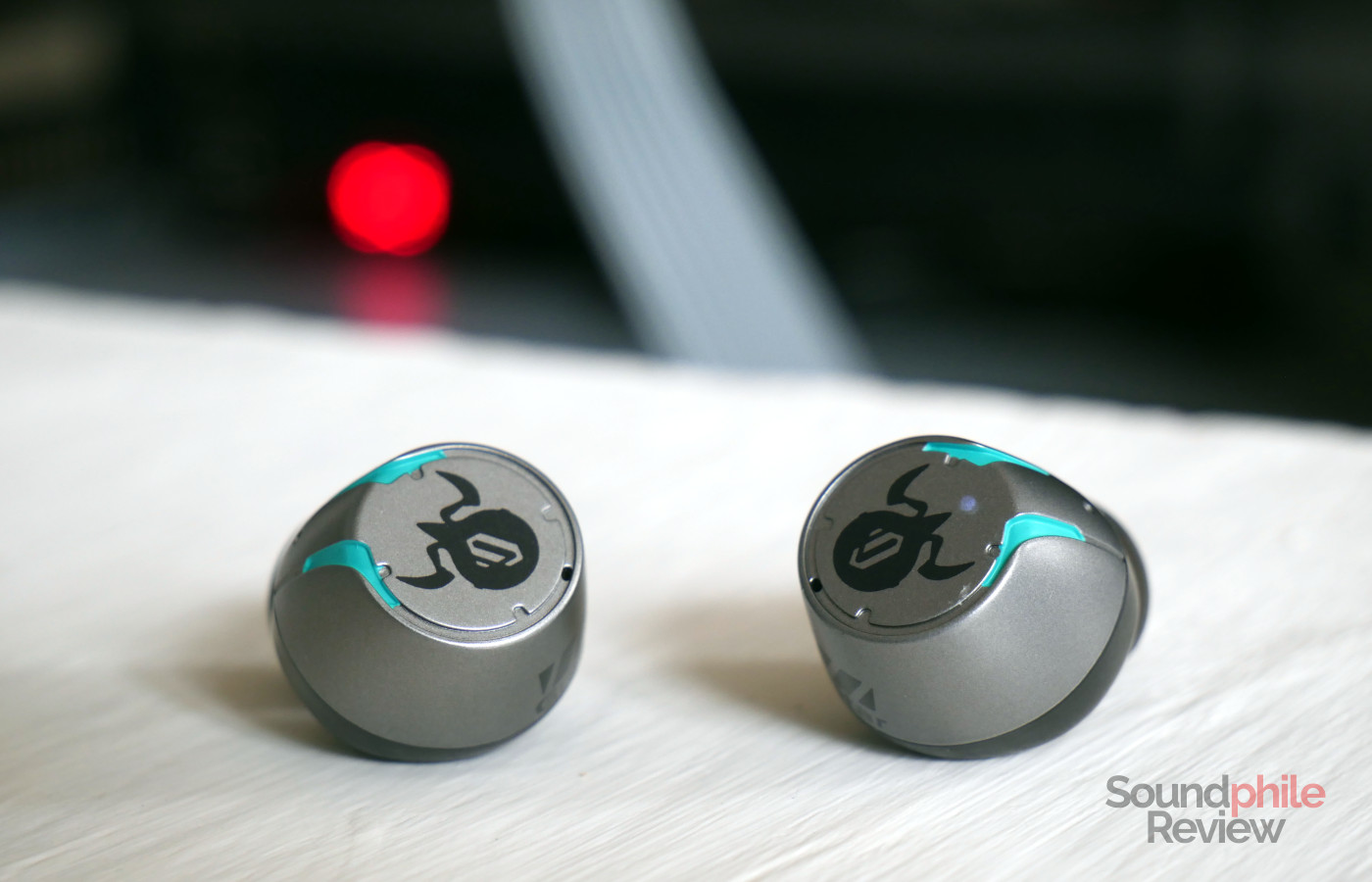 The earbuds themselves have rounded shells and a short nozzle; they're made entirely of plastic, with the nozzle being black and the rest being gunmetal grey, with GravaStar's logo on the faceplate and two cerulean slits – which I thought would light up, but they don't. On the faceplate is also a status LED.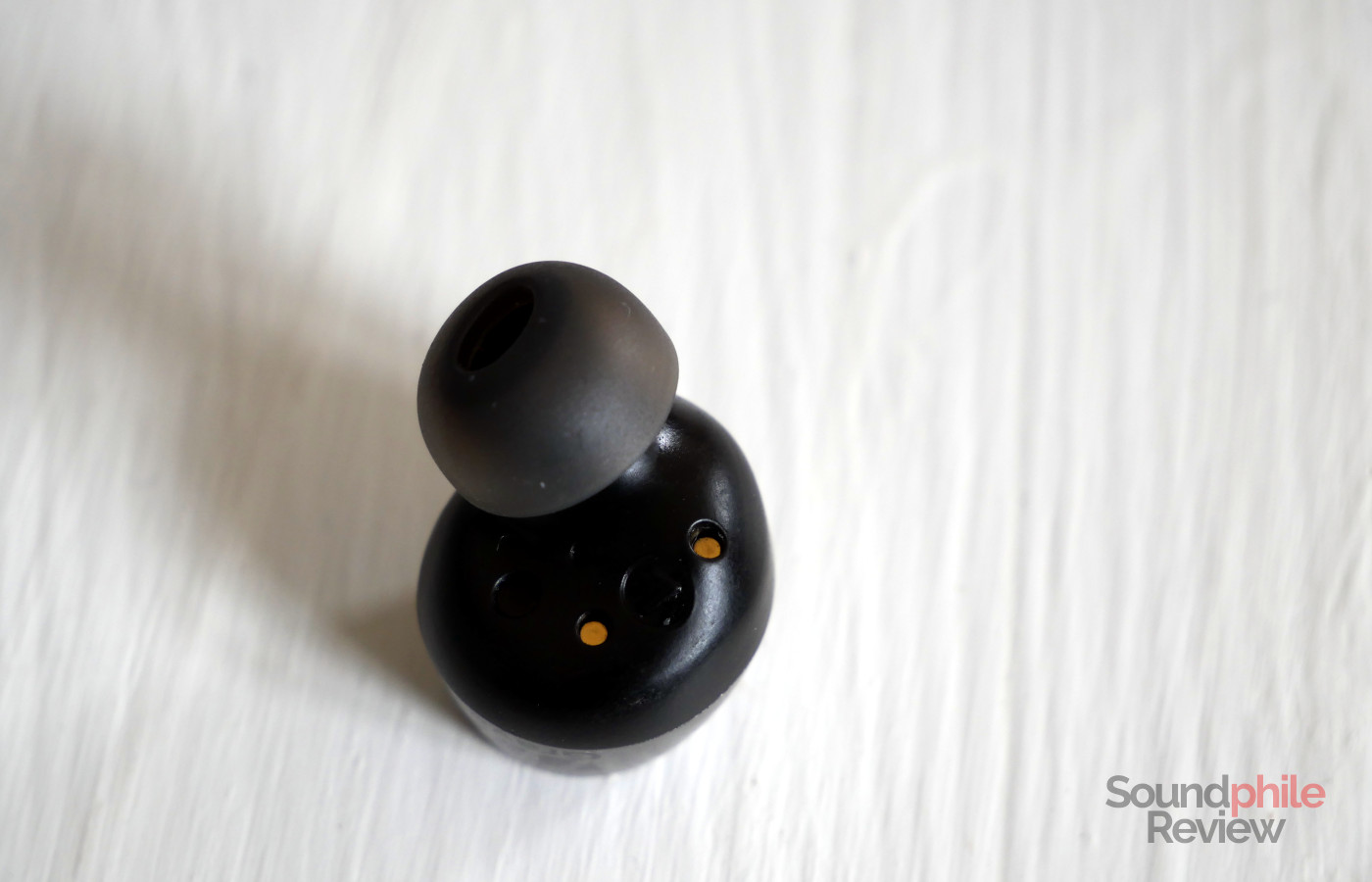 There's also a proximity sensor that automatically pauses the music whenever you take the earphones out and starts playback again when you put them back in, which is quite useful and works really well.
Build quality is fairly good and I can't really find any specific fault in the assembly. The Sirius feature IPX5 certification, so they're perfectly safe to use while working out and in other situations where there's water – as long as you don't submerge them. The manual officially says that you shouldn't wear the earphones under the shower or under the rain though, which is a bit puzzling.
I find the GravaStar Sirius to be great in terms of comfort: their rounded shape and small size make them fit perfectly in my ears, and probably in those of most other people as well. The earphones are also very light, so I don't really feel them in my ears while wearing them. This, in turn, means I can wear them for hours and still feel no fatigue nor discomfort at all. The only issue I've found is that the stock eartips are not the best for my taste, as I prefer a tighter and deeper fit – the stock tips, on the contrary, offer a shallow fit and feel to me like they're halfway in my ears. Using tips by SpinFit, such as the TWS-focused CP1025, I have no issues and find the Sirius absolutely comfortable.
Isolation is limited, but sufficient to shield you from noises at average volume – high-volume noises won't be stopped, though, so if you wear the Sirius on public transport you'll probably need to crank up the volume. While playing at home with my PC I had no issues isolating myself from my surroundings and focusing on the game I was playing.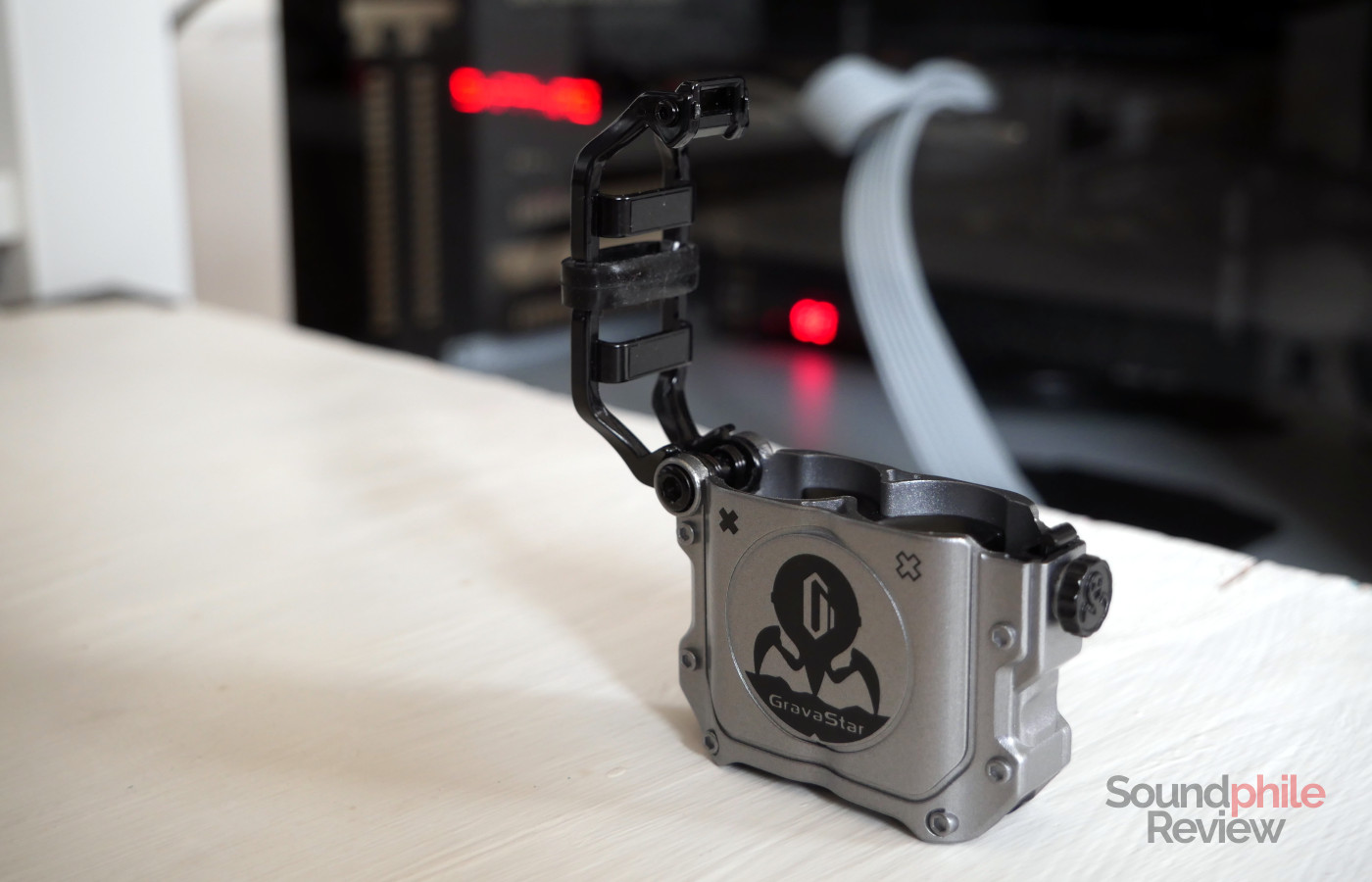 The case is certainly the thing that sets the Sirius apart from the mass of true wireless earphones. It's… different, I guess? I don't know what it looks like, but it's as if a machine and a futuristic ammo crate had a baby. The lid is actually open, so you can see the earphones inside (which turns out to be useful as you can see the charging LEDs), while the lower section is made with metal. The lid is black, while the rest is gunmetal and sports GravaStar's logo. There is a small thingy on the right hand side which is another possible piece of conversation – it resembles a valve, so most people's first instinct is to actually turn it – but it's a button, so it requires a few tries to understand how it works! The bottom is made of plastic and is where the USB-C port and a button.
Extra Features & Battery Life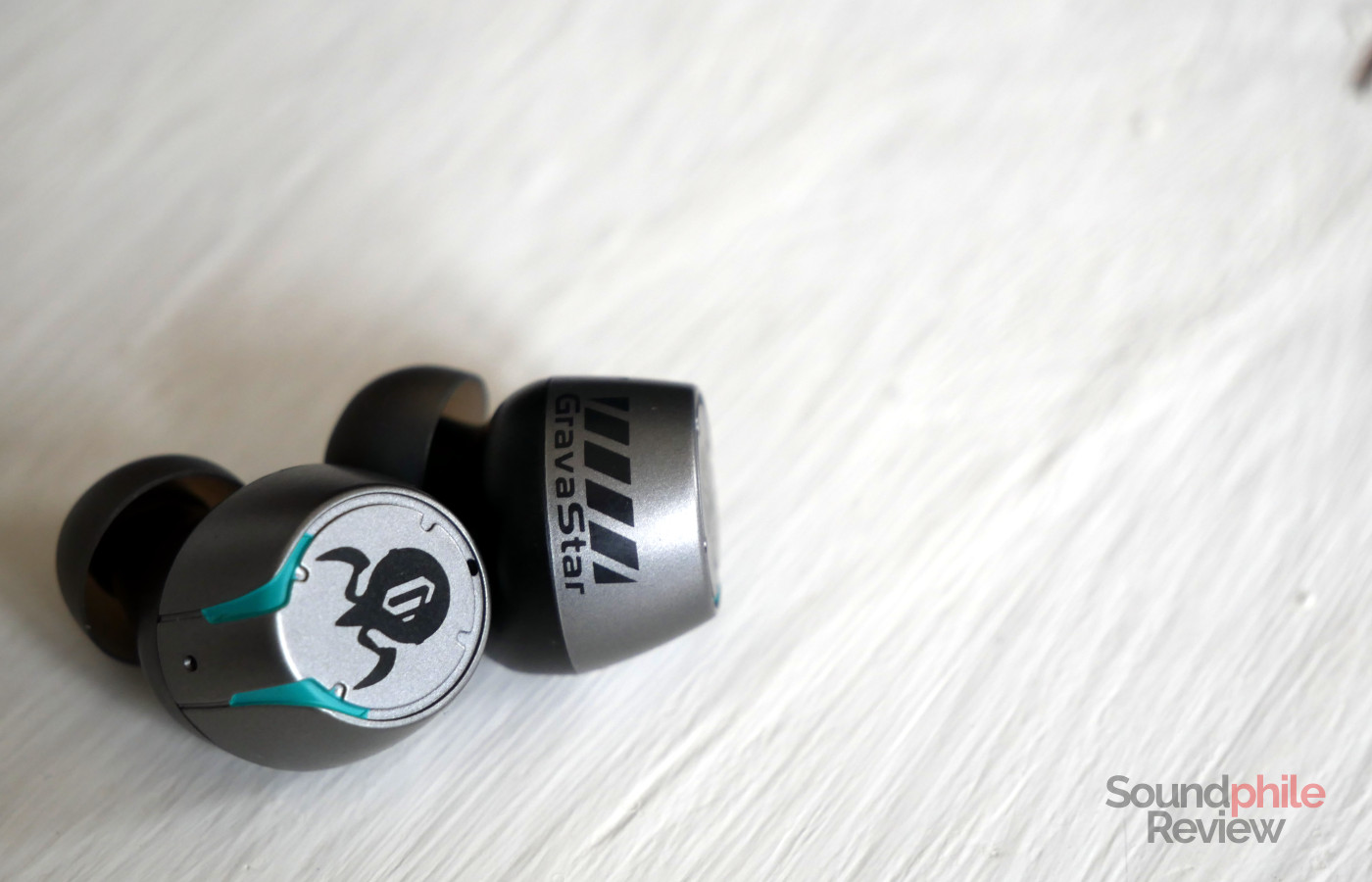 The GravaStar Sirius offer support for the Bluetooth 5.2 standard coupled with the SBC and AAC codecs. Unfortunately there's no support for aptX LL, which would have proven quite useful with gaming thanks to its significantly low latency. Still, GravaStar claims that you can get a latency of just 65 ms by enabling the gaming mode, so the difference is not necessarily huge.
In fact, when using the Sirius with the SBC codec, latency is kept to a minimum. I've used the earphones to play with my desktop computer, which has a Bluetooth 5.0 controller, and I could play most games without feeling any significant lag – even games such as Middle Earth: Shadow of War, which is fast-paced and requires quick responses, posed no problems at all. Using AAC the situation was definitely worse, though not so much as to make games entirely unplayable.
The connection range and stability are quite good and I've never experienced any dropouts or stuttering while gaming, but using them for music I could get some interruptions by moving around the house while the earphones were connected to the computer.
You can control the earphones by tapping on them; the surface is quite responsive, but not so much that adjusting your hair is going to issue unwanted commands. Among the controls available are a single tap on either earbud to play/pause music and accept/end calls; two taps to skip to previous (left hand side) or next track (right hand side); three taps to switch between music mode and movie mode (left hand side) or gaming mode (right hand side); tap-and-hold to decrease (left hand side) or increase volume (right hand side); four taps on either side to activate the voice assistant.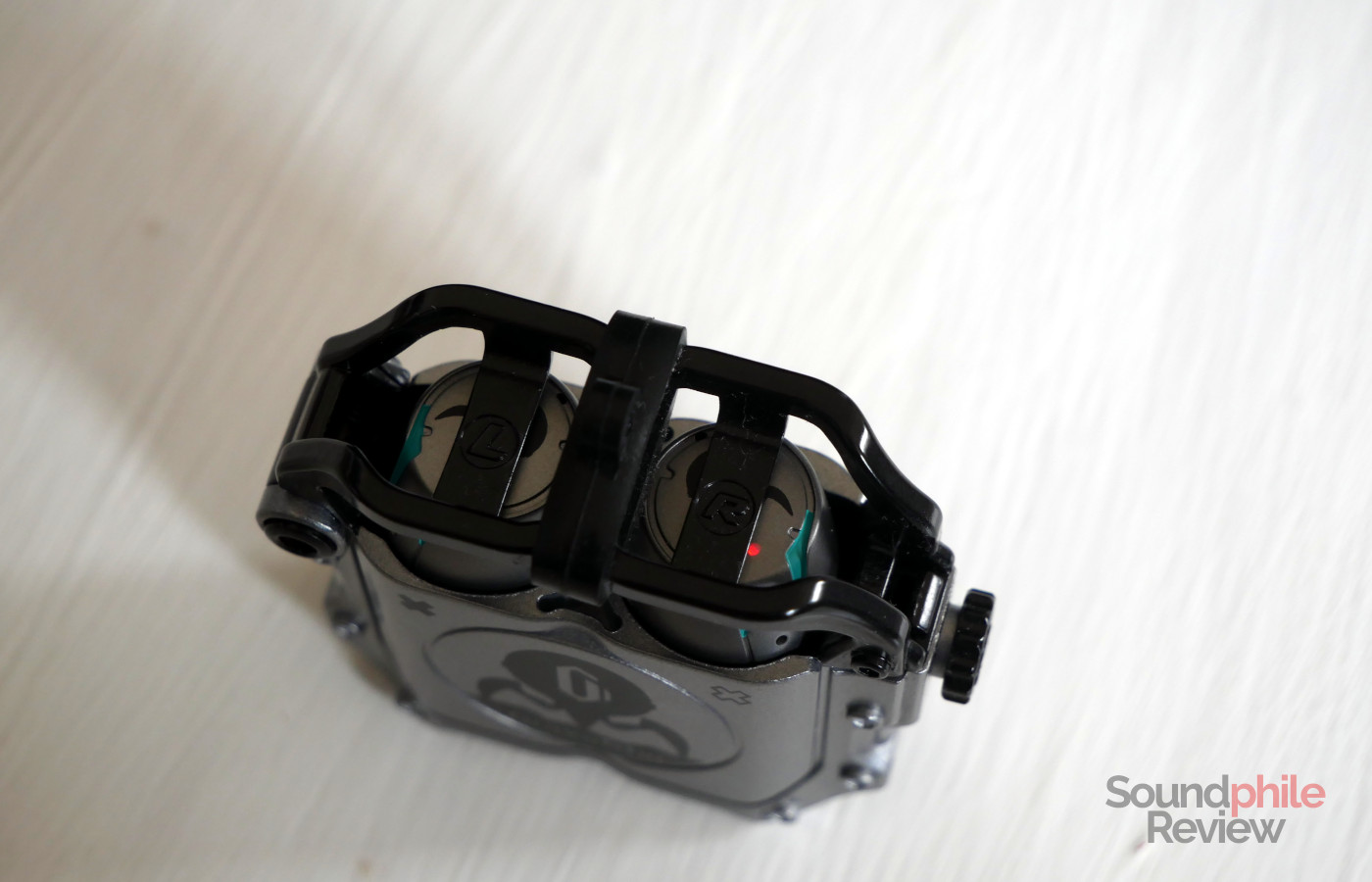 Battery life is the only real issue with the Sirius, as it's only 4 hours and there's not even ANC! This is much less than the competition, which now commonly offers around double that. The case offers about three additional charges, so the grand total is about 16 hours of playback.
Sound & Specs
I've mainly used my desktop PC as the source when testing the GravaStar Sirius.
| | |
| --- | --- |
| Frequency response | N/A |
| Impedance | N/A |
| Sensitivity | N/A |
| Bluetooth version | 5.2 |
| Codecs | SBC, AAC |
Soundstage is decently large and doesn't feel like it's inside your head – it extends laterally and also has a bit of depth, which is unexpected. Imaging is unexpectedly good, as it offers a good variety of positions that goes beyond the basic "left-centre-right" triptych. Instrument separation is quite good overall, but it does suffer a bit from the midrange being recessed, especially at lower volume levels.
As you would expect from earphones targeted towards gamers, the GravaStar Sirius feature a sound signature with heavy bass. This does actually help with the sense of involvement while playing, as it adds that bit of punch that makes quite the difference, with sound effects appearing more lively and vivid. That said, bass has significant emphasis and this is immediately clear once you put the Sirius on and start playing music; although bass is not suffocating everything else, it is is still quite a significant presence in the mix and can sometimes leak over the mids. Depth is decent, but it doesn't get to the lowest notes with significant volume. Overall, though, it is enjoyable enough if you're not excessively picky, as it offers decent speed and a relatively short decay together with a good level of detail.
Midrange is slightly recessed, but still perfectly audible. It is balanced, relatively speaking, as all the parts are clearly audible and there's no significant predominance of one over the others; if I had to nitpick, I would say that a bit more presence in the middle and upper area could work well. Female voices are still quite well represented, so it's not a matter of things sounding bad, but of things potentially sounding better. The level of detail is definitely good.
Treble is in line with midrange, if not slightly ahead of it, but it's definitely not on par with bass. This makes the signature more relaxed and easier on the ears, and conversely it makes this area less prominent in the mix. There is probably a small peak around the 8 kHz mark that can be a bit fatiguing at times, but the listening experience is otherwise very calm. The Sirius offer decent extension, while the level of detail is quite good for this price range, with cymbal splashes sounding convincing enough.
I've tested the GravaStar Sirius with multiple games such as Middle Earth: Shadow of War, Project CARS and Monster Hunter: World; with all of them, my experience has been quite positive as the Sirius have given me the right immersion, also thanks to the low latency they offer. Overall I am quite happy with how they perform while gaming as they do tick all of the relevant boxes in this regard.
GravaStar Sirius Comparisons
I'll compare the Sirius against one of the heavy weights in the sub-$100 range:
GravaStar Sirius vs Lypertek SoundFree S20: the Sirius has a larger bass presence with similar extension, but less articulation – in other words, bass is slower and less detailed and therefore feels less "alive". Midrange is warmer on the Sirius, as the S20 feature a larger emphasis on the upper range, though again with better detail and speed. Treble is more prominent on the S20 as well, again with better detail and a general better balance. From the perspective of technical ability, the S20 is better in almost all regards, save maybe for imaging where they trade blows. In terms of features, the Sirius win thanks to the various modes they offer as well as to the proximity sensors.
Final Thoughts
Everything considered, I quite like the GravaStar Sirius, if anything because they're so different from anything else. That alone is not enough, of course, but the overall tuning and features of the Sirius make them at least a viable option if you want something dedicated to gaming without spending an arm and a leg – the key to "gaming" here being the low latency mode, actually. From a sonic perspective there's no such thing as "gaming earbuds", except for the fact that most headphones of this type tend to emphasise bass and that's true in this case as well. The only real flaw with the Sirius is their battery life, which is quite low even for the sub-$100 price point they're sold at.
Having said that, the GravaStar Sirius are quite easily likeable and work well in their area – plus they can surely be an interesting piece of conversation, as I doubt people will immediately understand what they are and how they work. Thumbs up from me!