IKKO had quite a bit of success with their first earphones: the OH1 garnered almost a cult following, while the successors, the OH1s and the OH10, both were met with general praise (though I had a few remarks on both). The new IKKO OH2 Opal builds on that with a new design and a slightly different sound signature.
Disclaimer: I received this unit directly from IKKO, free of charge. Additional information is available on the official website.

TL;DR: recap
Pros




Cons

+ Super comfortable

+ Nicely balanced tuning

+ Lots of accessories

+ Good level of detail

– Low passive isolation

– Oval nozzles won't fit with every eartips
Rating: 7.5/10
Packaging & Accessories
As usual for IKKO, they used a packaging with an anime-like character. What's not usual is that they included a fridge magnet with the character! This weird inclusion aside, the package includes the usual accessories we've already seen with other IKKO products: a series of eartips (four "normal" tips, two oblong ones and three foams), plus an accessory to clean the earphones and replace the nozzle filter (of which a spare unit is provided). There are also a pin and a leatherette pouch.
Design & Comfort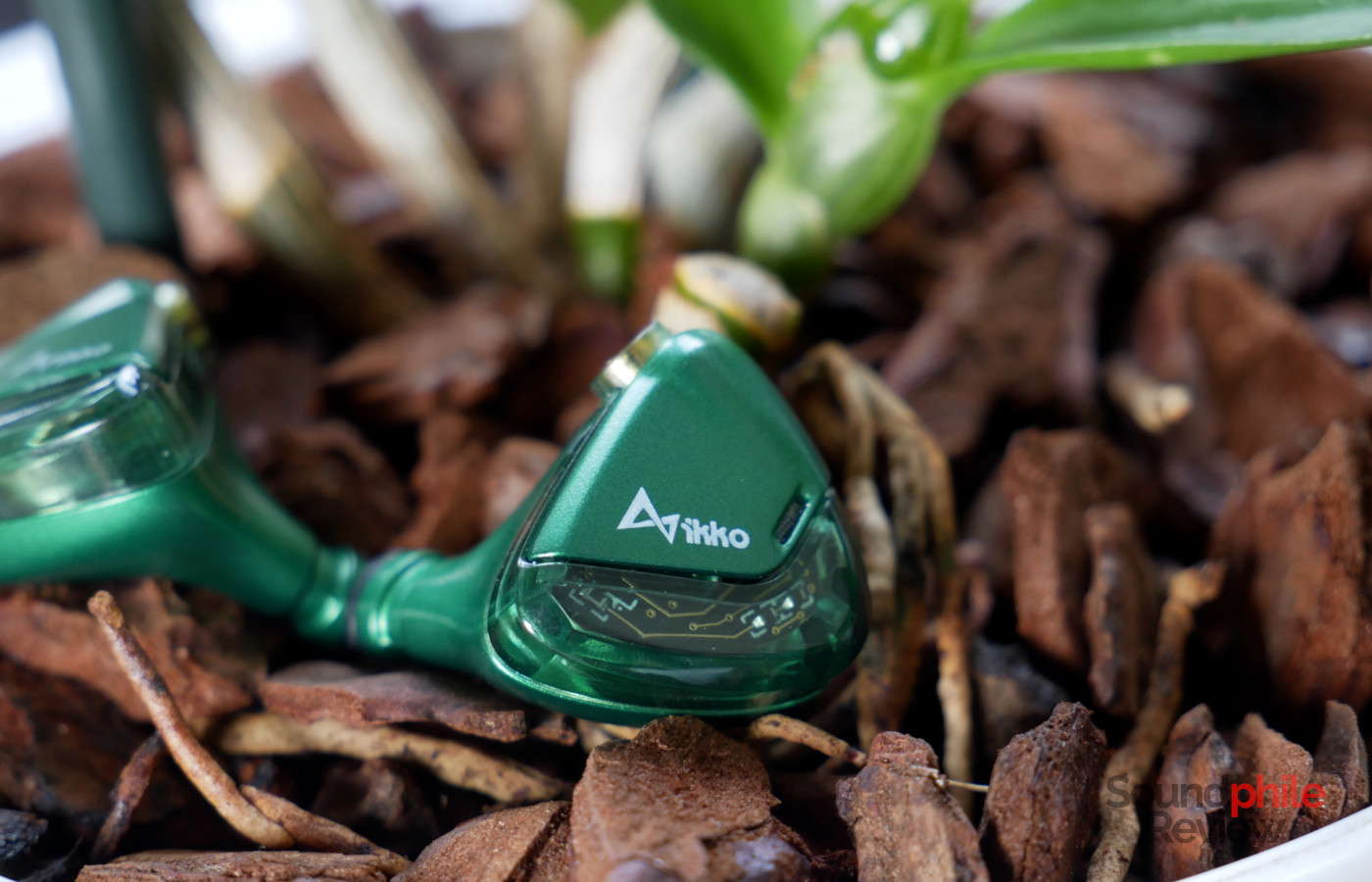 The shells of the IKKO OH2 Opal are made of metal and plastic and remind me of the OH1s Gems, as the plastic is used to create transparencies that play with colours. The internal PCB is also exposed and that adds a good further aesthetic flair. The shells are small and triangular, much more so than previous earphones by IKKO; the triangle is in fact equilateral, which adds to its aesthetic pleasantness. There are several colours available: black, white, green and yellow/gold.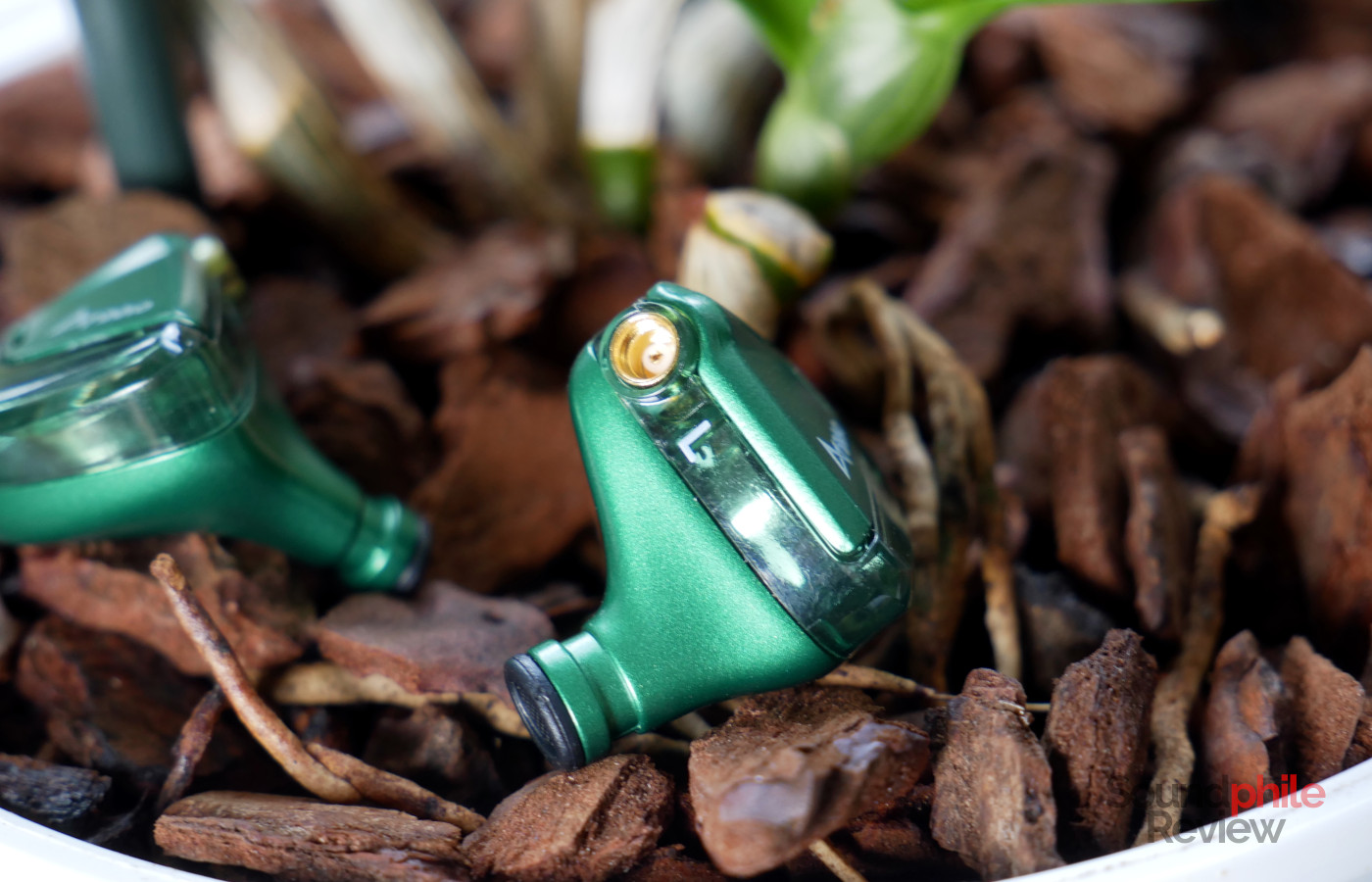 Build quality appears to be quite good and I can't find any noticeable flaws with it. The earpieces are quite light at ~7 g each (without the cable and the eartips). One thing to note is that the nozzles are oval in shape, so some eartips won't fit. I've tried fitting some SpinFit tips on them and I had no issues, but others may not work as well.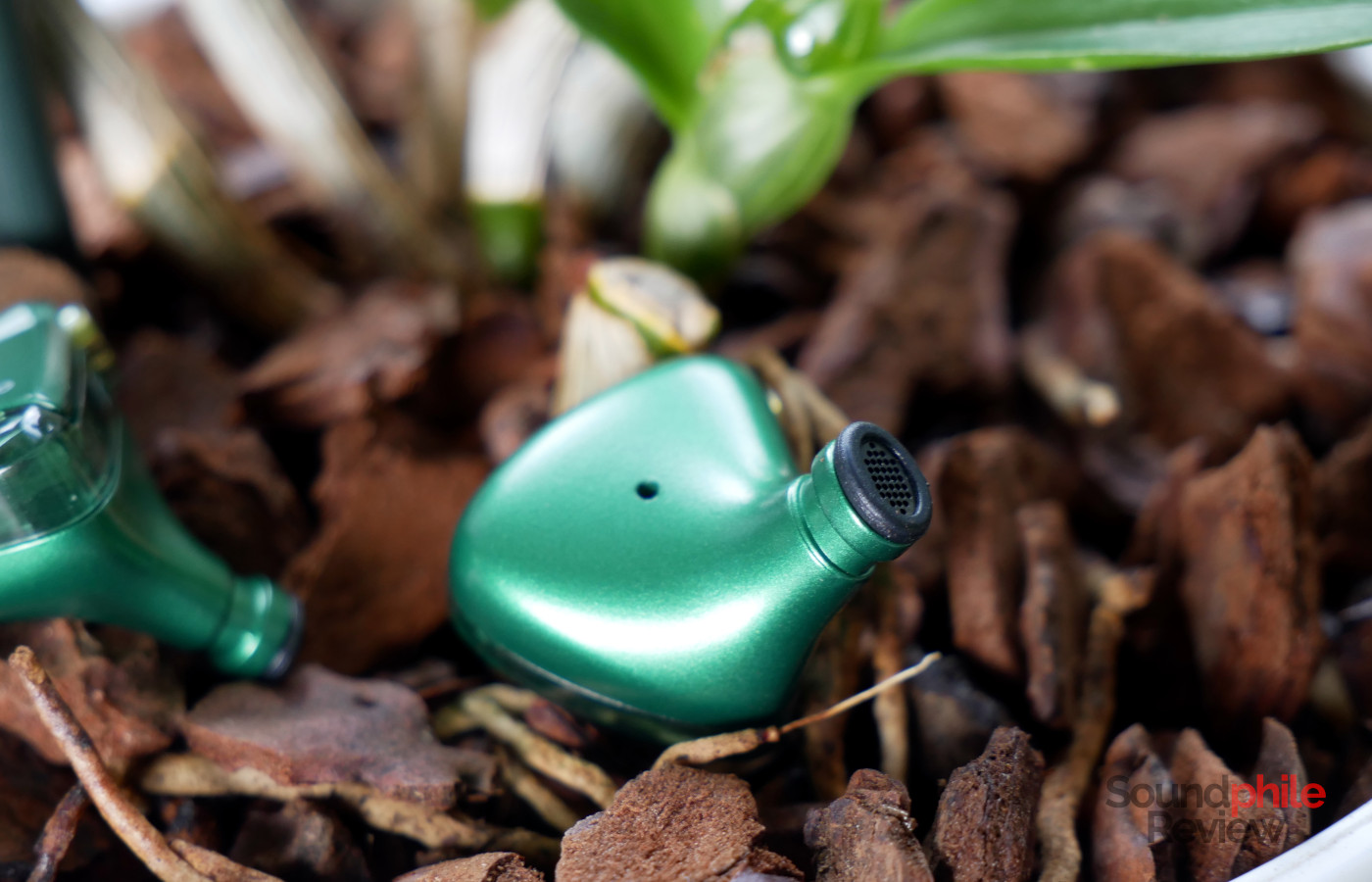 Thanks to the small size and low weight, as well as to the absence of any hard edges and protrusions, comfort is very good. In fact I can wear the OH2 for at least a couple of hours without feeling any discomfort. This is highly subjective, of course, but I guess that these earphones could be greatly comfortable for people with smaller ears.
One thing the OH2 don't excel at is passive isolation. Irrespective of the eartips used, I haven't been able to make them exclude sounds from outside effectively.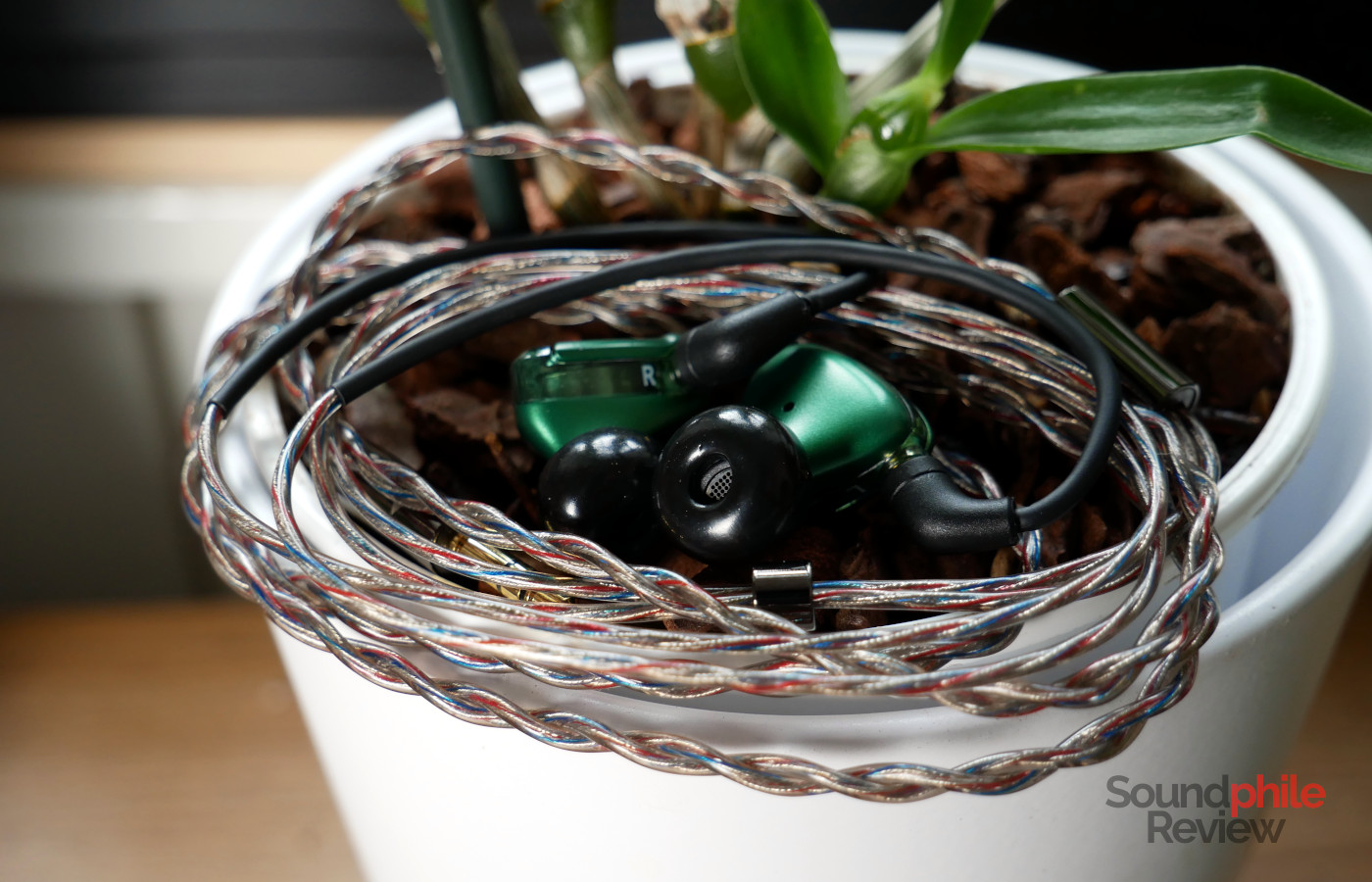 The cable is identical to the one provided with the OH1s. It's a bit stiff and it never gets straight, but it's still quite usable. It uses four cores, two per channel, sleeved in two groups. The jack housing, the Y-split and the chin slider are made of metal, while the MMCX connector housing is made of plastic and the ear hooks are seemingly made of silicone.
Sound & Specs
I tested the IKKO OH2 Opal using a Topping DX7 feeding a Drop THX AAA 789.
| | |
| --- | --- |
| Frequency response | 20 – 20,000 Hz |
| Impedance | 32 Ω |
| Sensitivity | 100 dB |
IKO's signature tuning is V-shaped, but with the OH2 Opal they've changed that and adopted a more U-shaped tuning that ends up being more versatile and pleasant with a wider range of genres.
The soundstage has sufficient width, but very little depth, so the impression is that of a space that extends laterally but not in front of the listener. Imaging is quite good overall, as it offers a variety of placements that go well beyond the basic left-centre-right and places each instrument with good accuracy. Instrument separation is generally quite good and even in crowded tracks there's good clarity.
Bass is unmistakably elevated, with a bump in the mid-bass region. Still, there's good depth to it and sub-bass has decent presence in the mix as well, so from a tuning perspective bass does its job well if you're after a coloured tuning. Detail is average, but it's enough to get a good grasp on everything's that going on. Speed is fairly good, but physicality is lacking a bit even in those tracks that do get more physical.
Midrange is slightly recessed, but still perfectly audible. It's U-shaped, so there's more focus on the lower and upper regions. Bass never gets to cover midrange, so the lower region stays clear and audible at all times. The level of detail is better than that shown by bass, though the tuning hampers it a bit by making some instruments harder to hear (and therefore their details with them). Speed is again fairly good and physicality is a bit lacking.
Treble is emphasised and has a few peaks, so it can get fatiguing to those with sensitive ears. The middle region is especially emphasised and this lends the whole treble area a good sense of air and sparkle – it sounds "light", for lack of a better word. It does counterbalance the bass quite effectively, even too much at times! Detail is remarkable for the price range and goes into minute details, so cymbal crashes are quite lively and vivid as an example.
IKKO OH2 Opal Comparisons
Let's pit the OH2 against other earphones:
IKKO OH2 Opal vs IKKO OH1s Gems: the OH1s are more refined than the OH2. They're less warm, as their bass is less emphasised, though the depth is similar; detail is similar as well, while speed is slightly faster on the OH1s. Midrange is definitely warmer on the OH2, while on the OH1s it sounds much "lighter"; the same consideration for bass apply to midrange as well when it comes to detail and speed. Treble is more emphasised on the OH1s, which actually goes in favour of the OH2 as they're less aggressive; detail is slightly better on the OH1s. Soundstage is wider on the OH1s, which also offer better imaging and instrument separation; the difference is not of the "black and white" kind, though. Overall the largest difference is in tuning.
IKKO OH2 Opal vs Moondrop Aria: the Aria are much more balanced than the OH2. Bass has similar depth, but the Aria represent it less intrusively (as there's less mid-bass) and with better detail and speed. Midrange is more balanced overall, with better presence in the middle area; detail is again better. Treble is noticeably different on the Aria, and for better: it is more detailed and less emphasised, so it's more enjoyable in the end. Soundstage is slightly wider on the Aria, which also fare better in terms of imaging, but in terms of instrument separation I would say it's a tie.
Final Thoughts
All in all, the IKKO OH2 Opal are very enjoyable earphones that tick all the relevant boxes for most people: they're built well, they're comfortable, their tuning is quite enjoyable and easy to listen to, they come with a lot of accessories. They have a few minor things that more demanding listeners could not like, like soundstage not being very wide or sub-bass being relatively recessed. These are quite specific things that I don't think hinder the enjoyment of what the IKKO OH2 have to offer, though, as they are very good for the price they're sold at. At $79, they surely do offer a lot of value for the money.