IKKO recently unveiled their new product, called the IKKO Zerda ITM01: a small portable DAC meant to be used with computers and smartphones, it uses an ingenious connector (proprietary, unfortunately) to give you the convenience of a high-quality DAC without the inconvenience of cables that wear out. It does in fact use a magnetic connector that makes it super easy to change the cable – quite a good idea! Add to that the fact that it also has multiple modes and you get an interesting product that's worth taking a look at. So we'll do just that!
Disclaimer: I received this unit free of charge from IKKO themselves (thanks, Rebecca!). You can find out more about it on the official shop, where it sells for $59.
TL;DR: recap
Pros




Cons

+ Very nice design

+ Controls on the device

+ Ingenious magnetic cable system

– Additional modes are hardly distinguishable
Rating: 8/10
Packaging & Accessories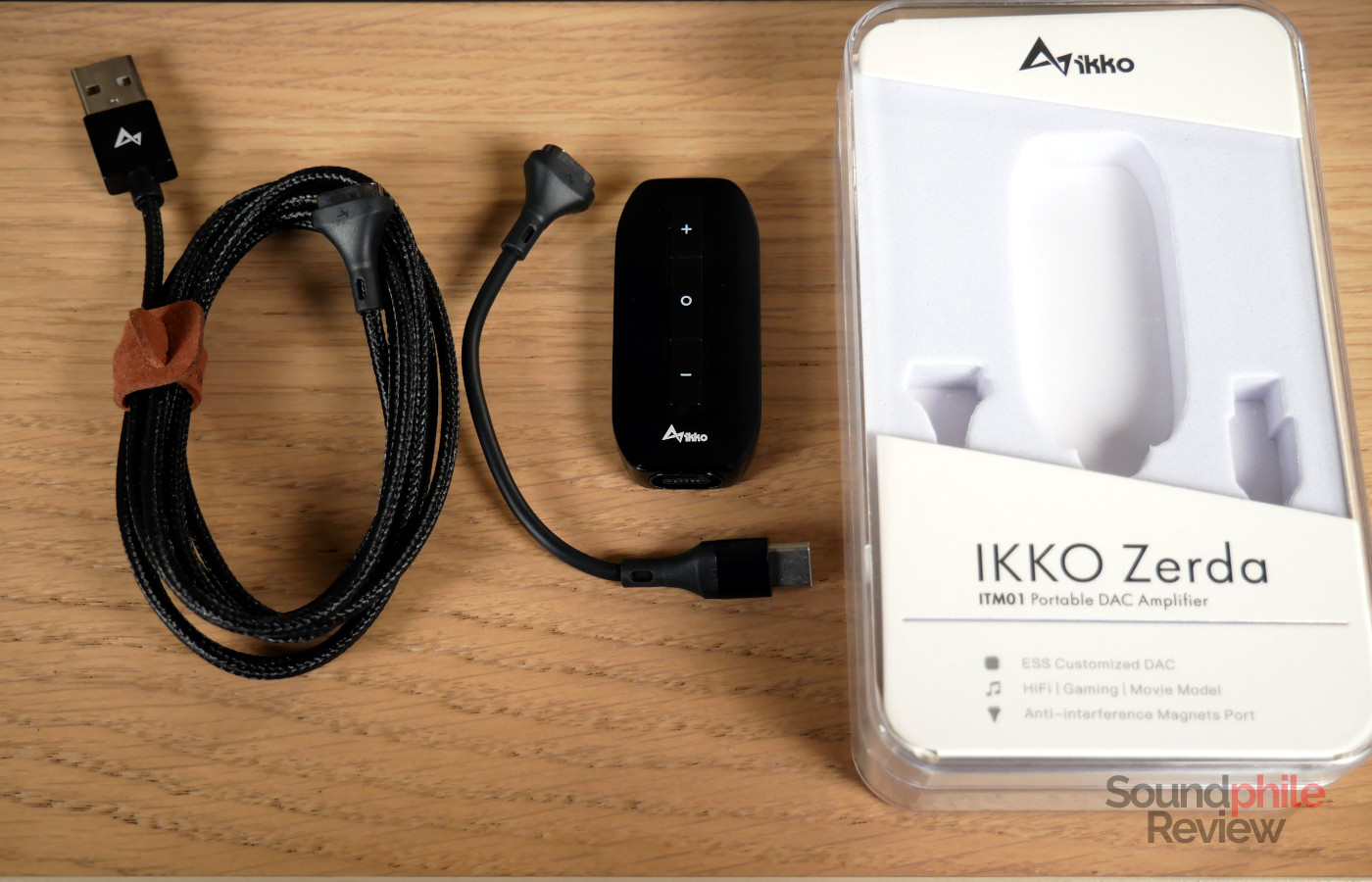 The IKKO ITM01 comes in a transparent plastic box which holds the device itself along with a 1.5 m USB-A cable, which comes with a (faux?) leather strap to keep it tidy, and a 10 cm USB-C cable. There's also a manual which is only in Chinese – and unfortunately I can't read it, so I had to ask for a translation of some things.
Design & Build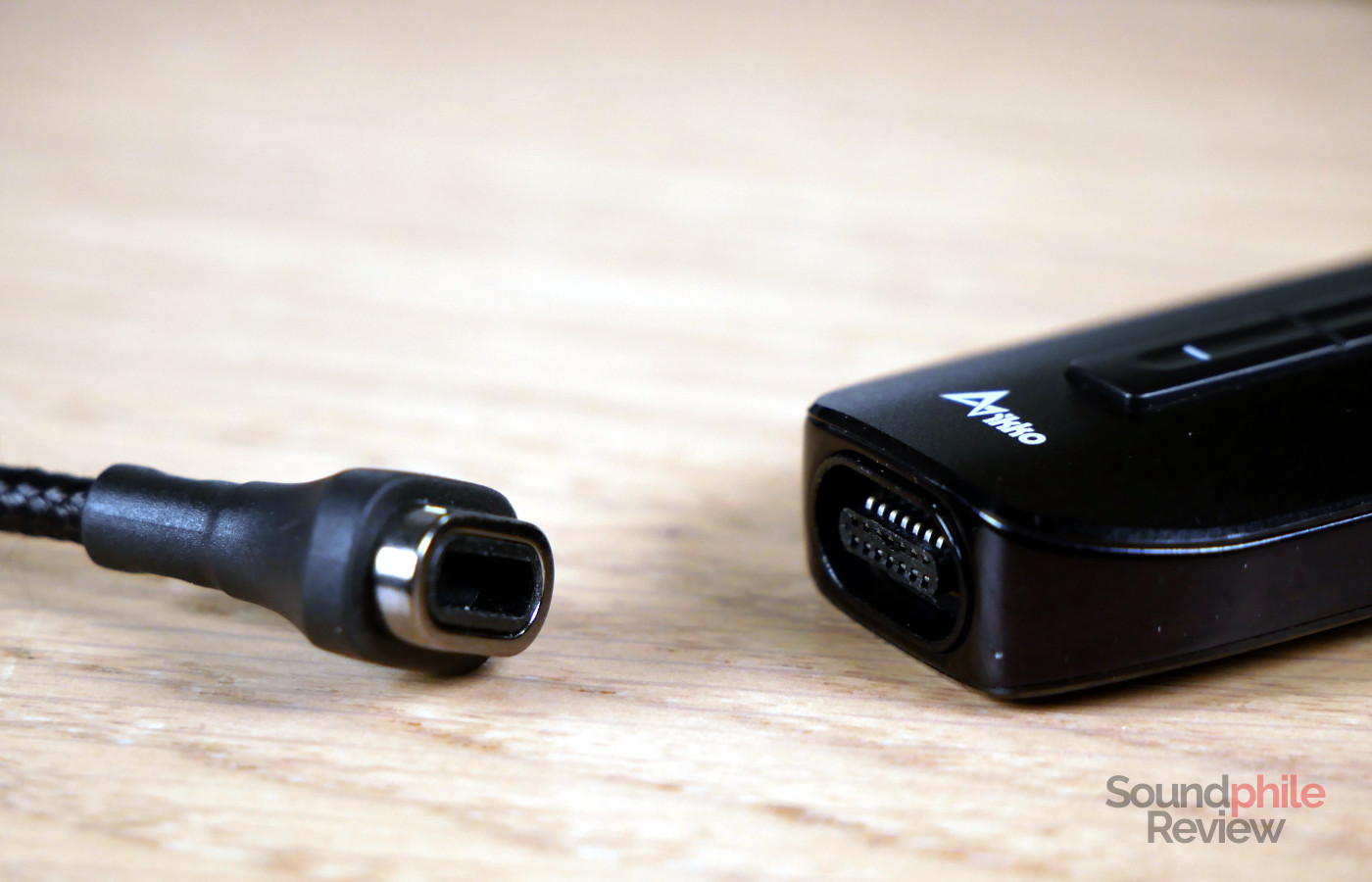 The design of the IKKO Zerda ITM01 is quite simple, yet effective: it is not the smallest portable DAC I've seen, being 58 x 22 x 11 mm, but it's still small enough to be easily pocketable; the device is made of plastic with metal plates on the front and back which add a bit of sophistication to the looks. It is entirely black with white text printed on it. The front has three buttons (two to adjust the volume and the central one to perform other actions) and the IKKO logo, while the back only has the model number on it, though this text has quickly started disappearing on my unit, as you can see in the following picture.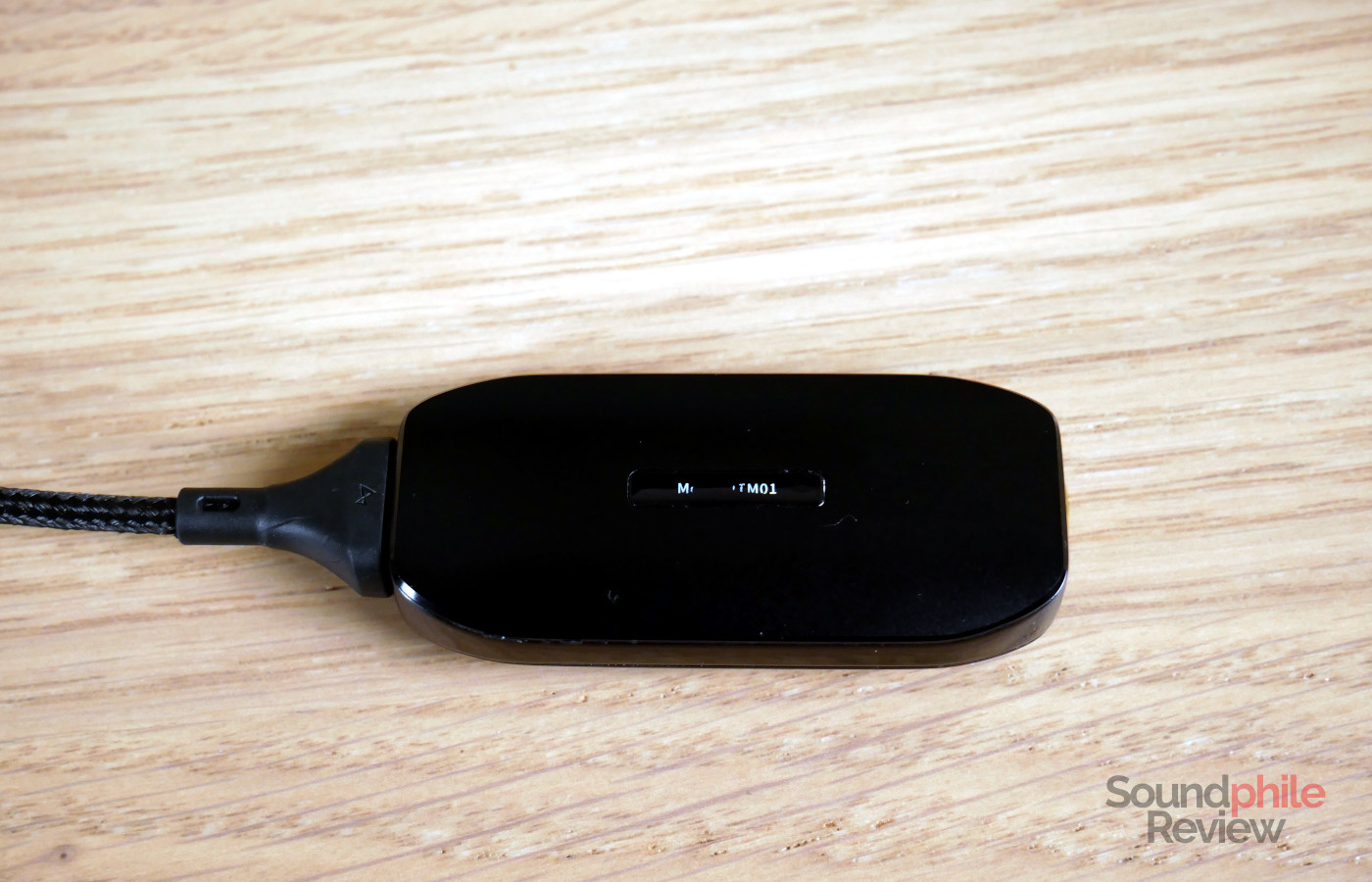 The sides are made of semi-transparent dark plastic and the reason for this is that there is LED lighting inside the ITM01. Not only this is useful to understand if the device is working or not, but it also shows which mode the ITM01 is in – something we'll talk about in more detail in the next section of the review. I do find this use of lighting quite interesting and I do see it appealing to the younger folks, especially if they are into the whole gaming kind of design.
What I really like about the IKKO ITM01 is the removable cable. It uses a magnetic connector that reminds me a bit of the MagSafe used on older notebooks by Apple. It is strong enough to keep the device attached without issues, but at the same time it is easy to remove it. It's also agnostic to rotation, which means you can plug it in on whichever side you want just like USB-C. It is unfortunately proprietary, but it is a good solution so that doesn't count too much – and it is also quite a welcome change compared to the higher-tiered ITM03, which had a non-removable cable.
The ITM01 is built well and appears to be robust. The USB-A cable has a braided fabric sheath on it that makes it a bit stiff, but it's overall very nice; it is long enough to make the ITM01 usable at your desk with a desktop PC. The USB-C cable is evidently aimed at mobile phones, as it is short and malleable; it is covered in plastic and lacks the fabric sleeve of the USB-A cable.
Features & Specs
The ITM01 has three different operating modes: music, movies and games. The first is what you would expect from a portable DAC, so it makes the device operate as usual. The movies mode emulates a 5.1 surround setup, giving you a wider soundstage and an illusion of placement that recalls that of home theatre setups; this mode actually doesn't make much difference in my experience. The games mode, on the other hand, allows consoles to "directly control the sound of the game console system by dual decoding method. [It m]akes it easier for gamers to position the sound and have a better gaming experience", as IKKO's Rebecca explained to me. Gaming on a PC, I can't hear much difference between this mode and the music one; I suspect this has also to do with the USB Audio Class that the ITM01 exposes to the host device, as some consoles like the Switch do not support UAC 2.0.
The Zerda ITM01 is compatible with Windows, macOS and Linux, as well as Android (and possibly iPad OS as well). There's also a version that comes with the Lightning connector so that you can use with iPhones.
| | |
| --- | --- |
| Input | USB (up to 32 bit / 384 kHz PCM, DSD128 as DoP) |
| Suitable headphones impedance | 16 – 600 Ω |
| Output impedance | < 0.8 Ω |
| Maximum output power | 125 mW (32 Ω) |
| Frequency response | 20 – 40,000 Hz |
| THD+N (@1 kHz) | 0.0006% |
| SNR | 118 dB |
| Crosstalk | N/A |
The IKKO ITM01 uses the ESS Sabre ES9298 DAC chip, which appears to be used only in this device as I wasn't able to find any information on it that wasn't related to the ITM01 – I couldn't find anything on ESS's website, either! It seems like IKKO did their homework, though, as the power output is quite good for a device in this size and price class, while output impedance is great and allows you to drive even very low impedance earphones without issues.
Sound
I tested the IKKO Zerda ITM01 with a few earphones and headphones, including the IKKO OH1s and the Moondrop A8.
I can't find any fault in how the ITM01 sounds, as it is as neutral as it gets. I can't hear any kind of background noise whatsoever, either. What makes the device more interesting is the presence of various modes but, as I mentioned, I can't really hear massive differences between them. The "movies" mode, which is the most interesting out of the three, doesn't actually make much difference as I can hear some change in how the device sounds, but it's so small it's difficult to put my finger on it – and it doesn't quite give me the full surround-like impression. It's nowhere near Creative SXFi AMP levels, to be clear.
Final Thoughts
At just $59, the IKKO Zerda ITM01 is simply utterly ridiculous. It does offer quite a decent set of options and it's actually quite convenient to use. It offers enough power for most earphones and headphones to sound good. The fact that it also offers some novel features like the three modes and the magnetic cable only add more value to it. Honestly, I wish IKKO had launched this as the ITM03 as it is just so much better in terms of features and convenience, the only significant difference being that the superior model has optical output. Overall I'm very satisfied with the ITM01 and if you are looking for a portable DAC that you can also use with your computer and your game console easily, this is one very valid option to consider.