Vulpis zerda is the scientific name bestowed upon a well-known animal, the fennec. The name of the IKKO Zerda ITM03 can then appear quite surprising – why name a portable DAC/amp after a desert fox? That's because IKKO's mascot is a fox-looking animal, so it's quite fitting that a portable device like the Zerda ITM03 is named after the small, nimble fennec. The Zerda ITM03 is quite remarkable as a portable DAC/amp as it also offers optical output, something that's very rarely seen and which opens a host of possibilities to the devices it is connected to.
Disclaimer: I received this unit from IKKO's PR agency and I didn't have to pay for it. The Zerda ITM03 retails for $99. Additional info on the official product page.

TL;DR: recap
Pros




Cons

+ Very nice design

+ Optical output

– Low power output
Rating: 7/10
Packaging & Accessories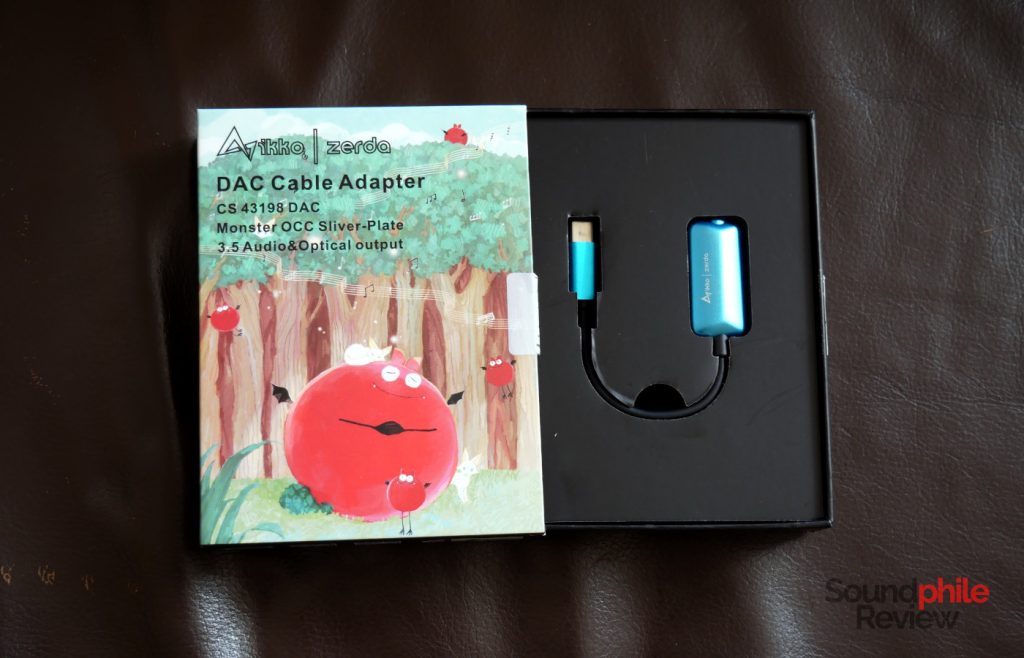 Packaging is extremely simple: the device comes in a colourful cardboard box with a slide-out mechanism. Inside it there's just the DAC/amp, without any kind of accessory: an adapter from USB-C to USB-A would have been appreciated, though, especially given the price of the device.
Design & Build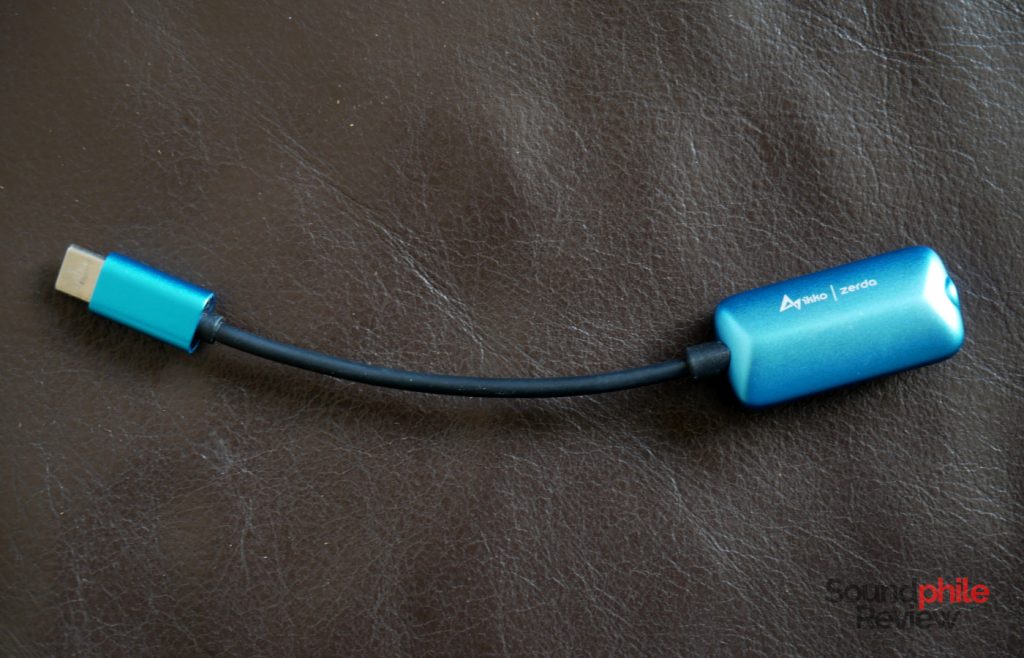 Like many other portable DAC/amps, the IKKO Zerda ITM03 has a main body with a USB cable attached to it (there's also a version with a Lightning connector). It's nothing fancy or innovative, but it's pleasant to look at: the shell and the USB connector are made of metal painted electric blue, which is quite striking (and goes well with my blue Honor 9 smartphone). The shell has the shape of an elongated hexagon and it has the IKKO Zerda logo printed on it. The cable is unfortunately non-removable and covered in rubbery plastic, with small strain reliefs at both ends. Overall the ITM03 stands out positively from the large mass of similar devices, if not because of its bold colour.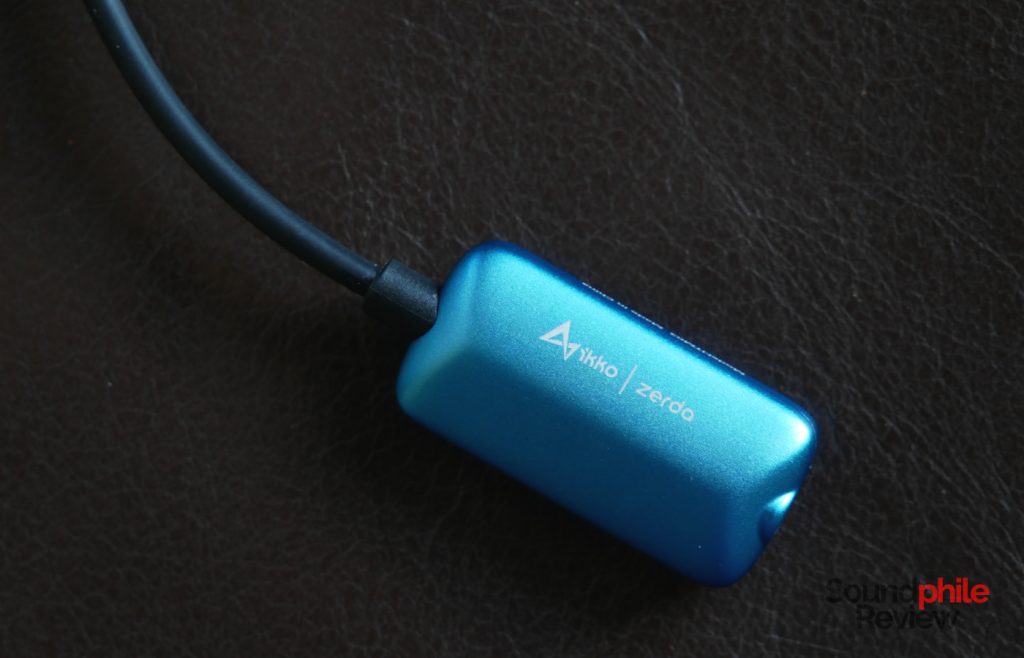 You can tell that build quality is quite good as the two pieces the shell is made of are joined almost seamlessly. Despite not looking great, the plastic sheathing of the cable feels quite durable and resistant. The Zerda ITM03 weighs just 12 g, so it adds just a bit of weight to your device.
There are no LEDs nor buttons, so the only way to tell if the device is working is by looking inside the 3.5 mm socket, as it glows red due to the fact it doubles as optical output.
Features & Specs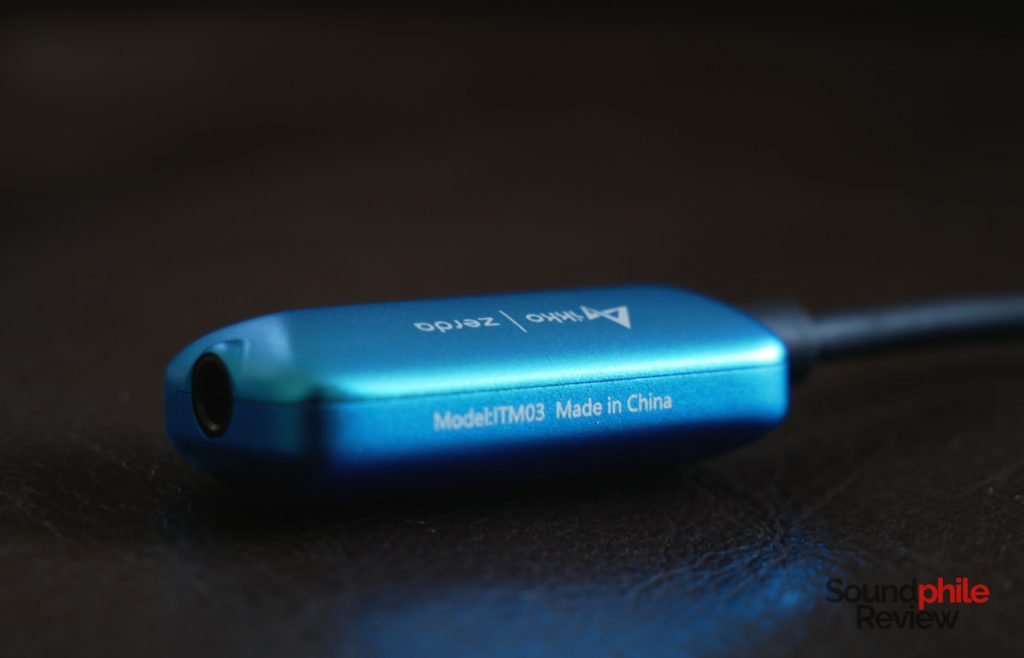 IKKO advertises the Zerda ITM03 as compatible with Windows 10, macOS and Android devices (or iOS, if you bought the Lightning version). The device is perfectly compatible with Linux as well.
| | |
| --- | --- |
| Input | USB (up to 32 bit / 384 kHz PCM, DSD128) |
| Suitable headphones impedance | 16 – 600 Ω |
| Output impedance | N/A |
| Maximum output power | N/A |
| Frequency response | 20 – 40,000 Hz |
| THD+N (@1 kHz) | 0.0015% |
| SNR | N/A |
| Crosstalk | N/A |
The IKKO Zerda ITM03 uses the Cirrus Logic CS43198 DAC chip, which is not often seen in portable DACs – the only other device I know of that uses it is the HiBy R5. This DAC is theoretically able to deliver a 130 dB dynamic range and a distortion of -115 dB (or 0.00018%), with DSD256 and 32-bit/384-kHz audio formats being supported. IKKO made a few technical decision which result in a less performing device, but still decently performing for a portable DAC/amp: the ITM03 can reproduce audio at 32 bit / 384 kHz in PCM and DSD128. MQA is not available, should you care about it.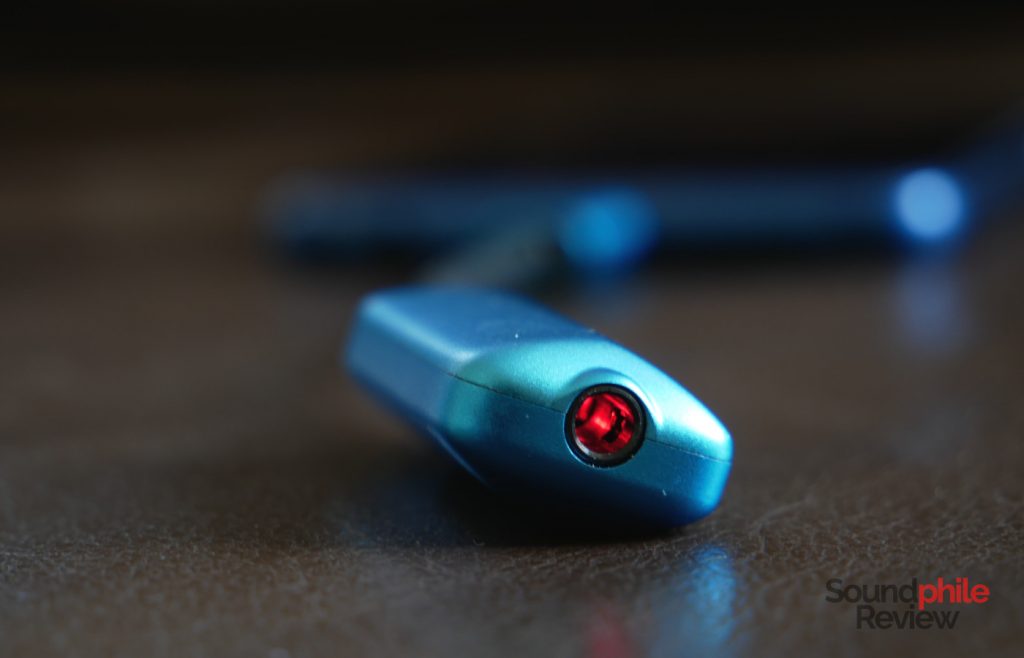 The interesting thing about the ITM03 is that it also offers optical output, but there are limitations with this format: you can only reproduce files in 24 bit / 192 kHz natively, so higher resolutions or DSD are ruled out (again, natively: PCM will be downsampled and DSD transmitted as DoP).
Unfortunately IKKO does not disclose a lot of important information, such as output power, so it's hard to compare the device to its competitors based on specs alone.
Sound
I tested the IKKO Zerda ITM03 with a variety of headphones, from the Fearless Audio S8 Pro to the HiFiMAN Arya, mostly using my laptop and playing FLAC files.
One thing I instantly liked about the Zerda ITM03 is that it has no background noise at all – its background is pitch black, if you so wish to say.
As you can probably imagine, the ITM03 sounds great with whatever you throw at it. This means that it can drive even demanding headphones like the Arya to a relatively high volume level with no audible issues – at low volume the Arya sound just as good as when driven by a THX AAA 789. This changes a bit with higher-impedance headphones: I tried using the Venture Electronics Zen 2.0 and found that sub-bass wasn't as present as it should have, and speed wasn't as good as usual. This means that available power on the ITM03 is limited at higher impedance levels – something we actually already knew from the form factor of the device, but which puts it in the lower tiers of the market from this point of view.
The sound signature is – as expected – neutral and practically indistinguishable from other solid-state devices, so the Zerda ITM03 gives you just the sound of your headphones without interfering with it.
Final Thoughts
The IKKO Zerda ITM03 is a bit of an oddity: it is the only portable DAC/amp that I know of to offer an optical output, usually domain of larger DAC/amps (often meant to be used on a desktop). Still, this is the only feature that makes the Zerda stand out from the now packed crowd of similar devices around $100. The ITM03 has to compete with the likes of the Shanling UA2, the Zorloo Ztella and the xDuoo LinK 2 – all excellent in their own way. Without the same power output and fancy options, the Zerda ITM03 falls a bit flat and fails to offer the same attractiveness as its competitors. It sounds fine and it has quite an attractive design, but can this be enough? Unless you really want the optical output, other options out there offer better value for your money.