It's all a matter of philosophy. That's what we can infer from the availability of DACs based on wildly different principles, despite their aim being the same. The HiFiMAN R2R2000 uses, as the name suggests, an R2R DAC and couples it with a great design and some modern functionality like Bluetooth. But although it is positioned as a super-high-end device, it has many limitations that beg the question: are you ready to give up functionality in the name of a different DAC?
Disclaimer: I received this unit on loan from Mark at HiFiMAN Europe. The HiFiMAN R2R2000 retails for a whopping $2,500. Additional info is available on the official product page.
TL;DR: recap
Pros




Cons

+Retro-inspired compact design

+ Well built with premium materials

+ Very large power output

+ Very nice sound

– Limited max microSD size

– Loud "pop" when playback starts or stops

– First second of each track is skipped
Rating: 8/10
Packaging and Accessories
Now, this unit has a bit of a funny story and I'll use this space to explain it. Mark gave me this device without any box or even just a cover because its power button appeared to be broken and so the unit was returned by a customer. Mark suggested that I try it basically as a DAC by connecting it to my computer. I then looked at the button and I saw what the problem was: it had been pressed too much and it just got stuck. I then took out a pin and unstuck it, so the unit became fully functional again (though the button is a bit finicky now in how I need to press it). So I have no idea whatsoever of what the packaging looks like!
Design & Build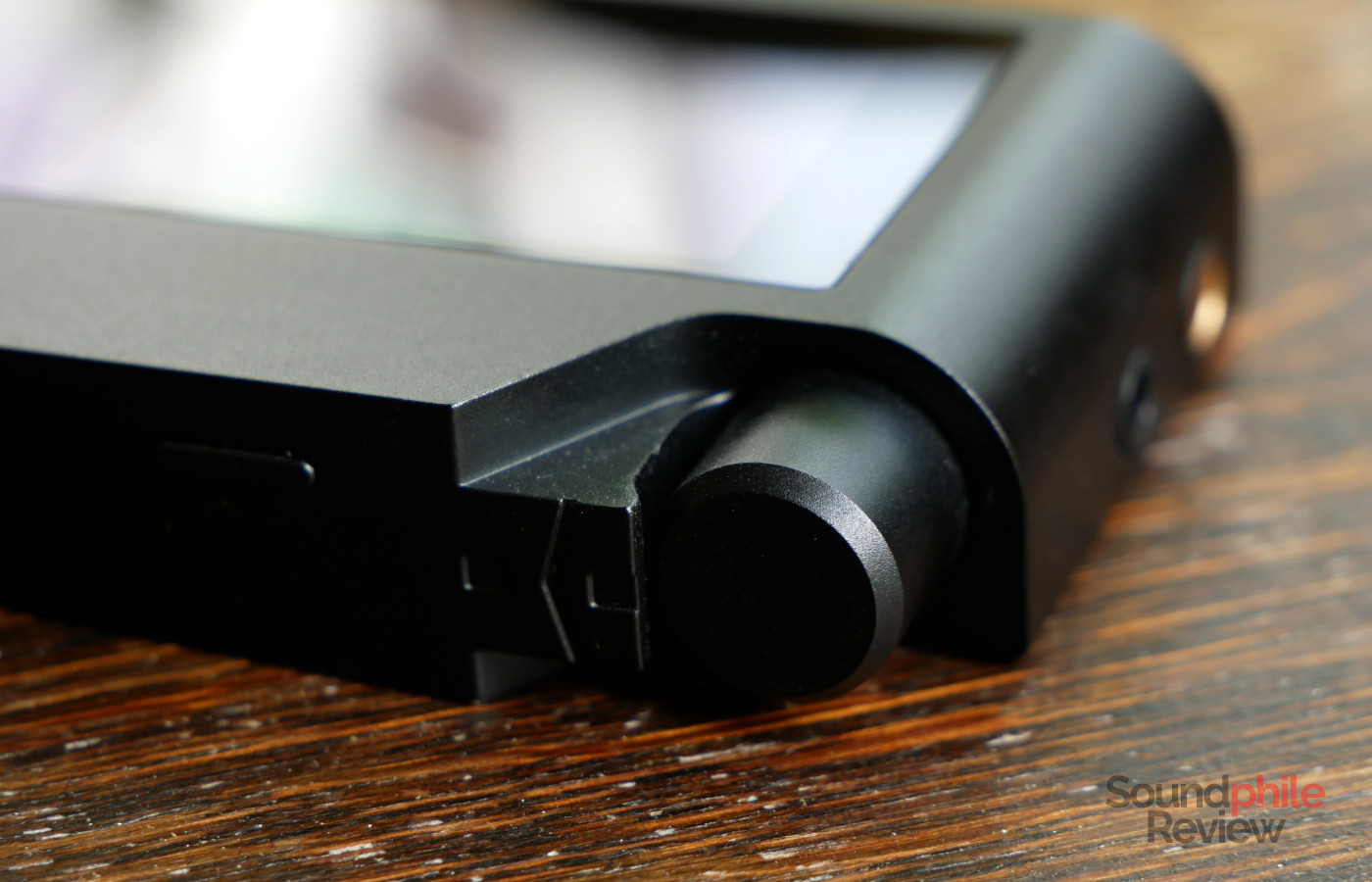 One thing I really appreciate about the HiFiMAN R2R2000 is that its design is really different from the other DAPs you see around. It's curvy and asymmetrical, with the top that is thicker than the bottom and the volume wheel that protrudes from the top-right corner. I think it is this asymmetry that gives it a classy and refined look. It's also quite small: to put how much in perspective, it's a bit narrower than the already small Shanling M2X, while keeping all the other dimensions basically the same. The result is a sleek, svelte-looking device that's also highly wieldy.
The lower side hosts the USB-C connector, on the right hand side you can find the power button and the volume knob, on the left one you can find the microSD tray and the top side is home to 3.5 mm and 4.4 mm jack connectors. The power button is small but has a nice feel to it, despite the unfortunate condition of my unit. I absolutely love the feel of the volume knob, as it has quite some weight to it and it requires a bit of force to turn, with discrete steps that give you a very satisfying tactile (but not acoustic) "click".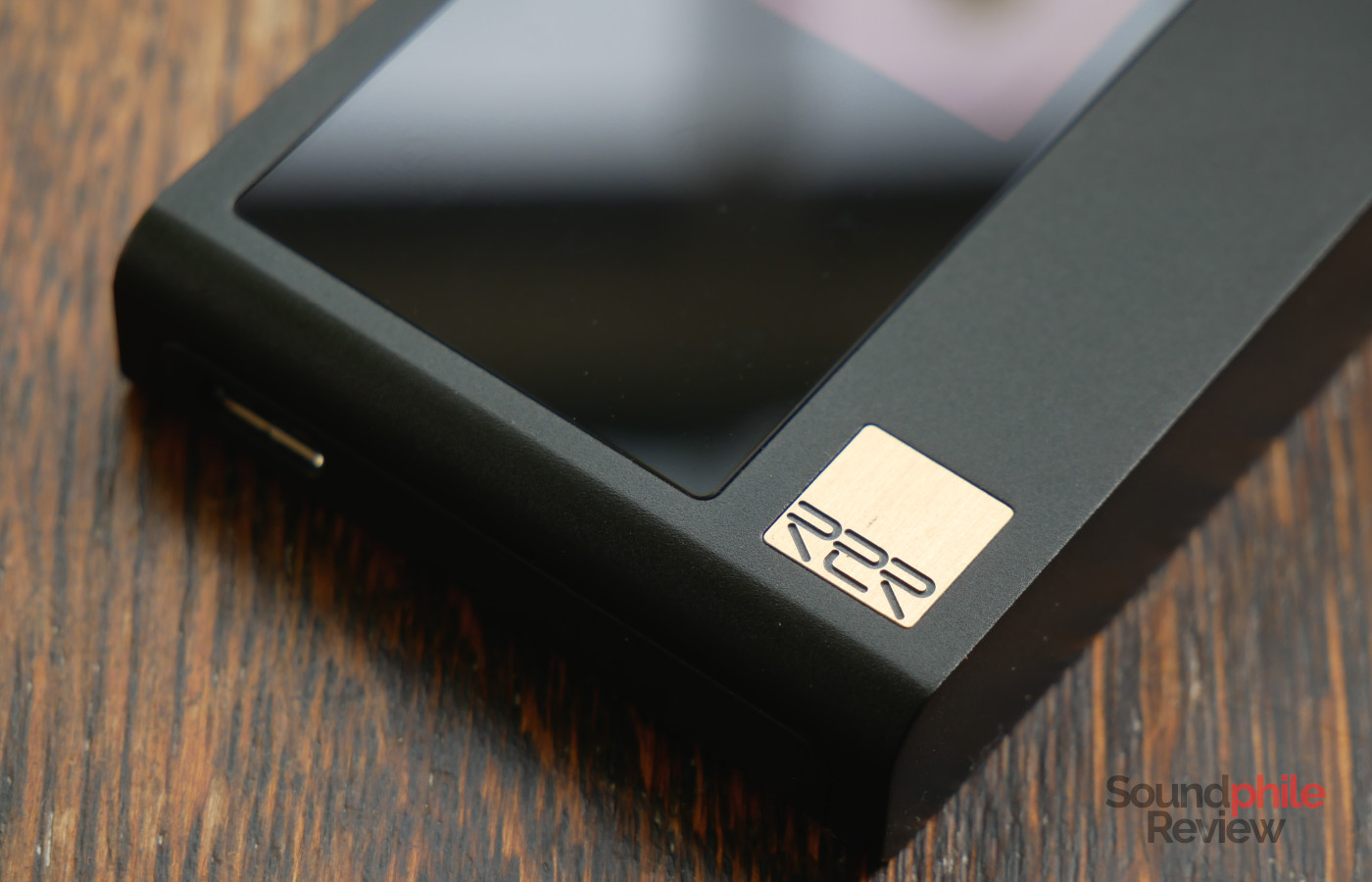 The front hosts the screen and the control buttons: those are back, home, up, down, play/pause and options. The latter only works in certain contexts, as an example in the "now playing" screen. They're very reactive and sensitive, and I quite like the fact that you can't see them when they're turned off: they appear completely black and leave the front clear and clean-looking.
The body frame is seemingly made of aluminium, while both front and back are covered by glass. This makes the R2R2000 look quite sophisticated and elegant. Build quality is quite great, with no apparent flaws in the assembly and all pieces fitting perfectly. The only issue appears to be with the power button: in my unit it was smashed in, either from the previous user applying too much force or from the button breaking and giving in.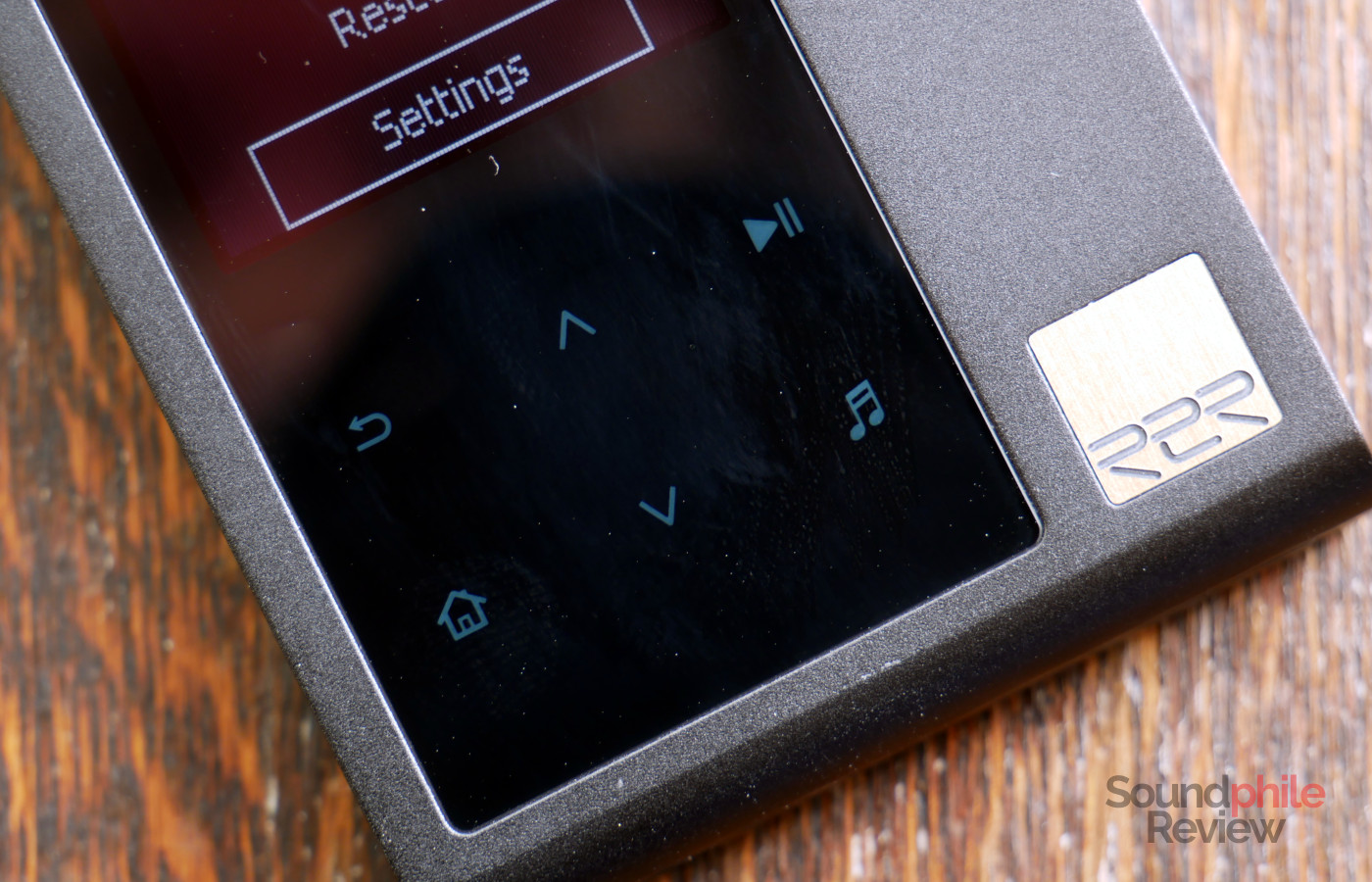 As the screen is black and white and it's quite bright, it is easy to read even under full sunlight. That's the only really positive thing that can be said about it, though, as the screen and the input method appear to herald from the early 2000s – an era in which touch interfaces were a real novelty, not to say an oddity. It's really low resolution and tiny compared to modern standards, although it has to be said it works well overall.
Specs & Features
DAC chip
2x Burr-Brown PCM1704K
Amp chip
N/A
Suitable headphones impedance
N/A
Output impedance
N/A
Maximum output power
500 mW
THD+N (@1 kHz)
0.006%
SNR
115 dB
Operating System
Proprietary
Supported formats
PCM up to 24 bit / 192 kHz
DSD up to DSD64
HiFiMAN says the output power of the R2R2000 is 500 mW, leaving us wondering what impedance this value refers to. We can take a guess and say it's 32 Ω, but it's hard to be sure. It should also refer to the balanced output. This puts the R2R2000 in the same league as desktop amplifiers, which is quite unusual for a portable device this small.
The peculiarity of the R2R2000 is that it uses the Burr-Brown PCM1704K DAC chips: as the name of the device implies, they're R-2R DACs, which means that the implementation is quite different from those of delta-sigma chips commonly used nowadays: you can find a bit of information on how it works here. SW1X has a great explanation on how these DACs differ on their website (though they strongly advocate for the R2R DACs, so take that with a pinch of salt).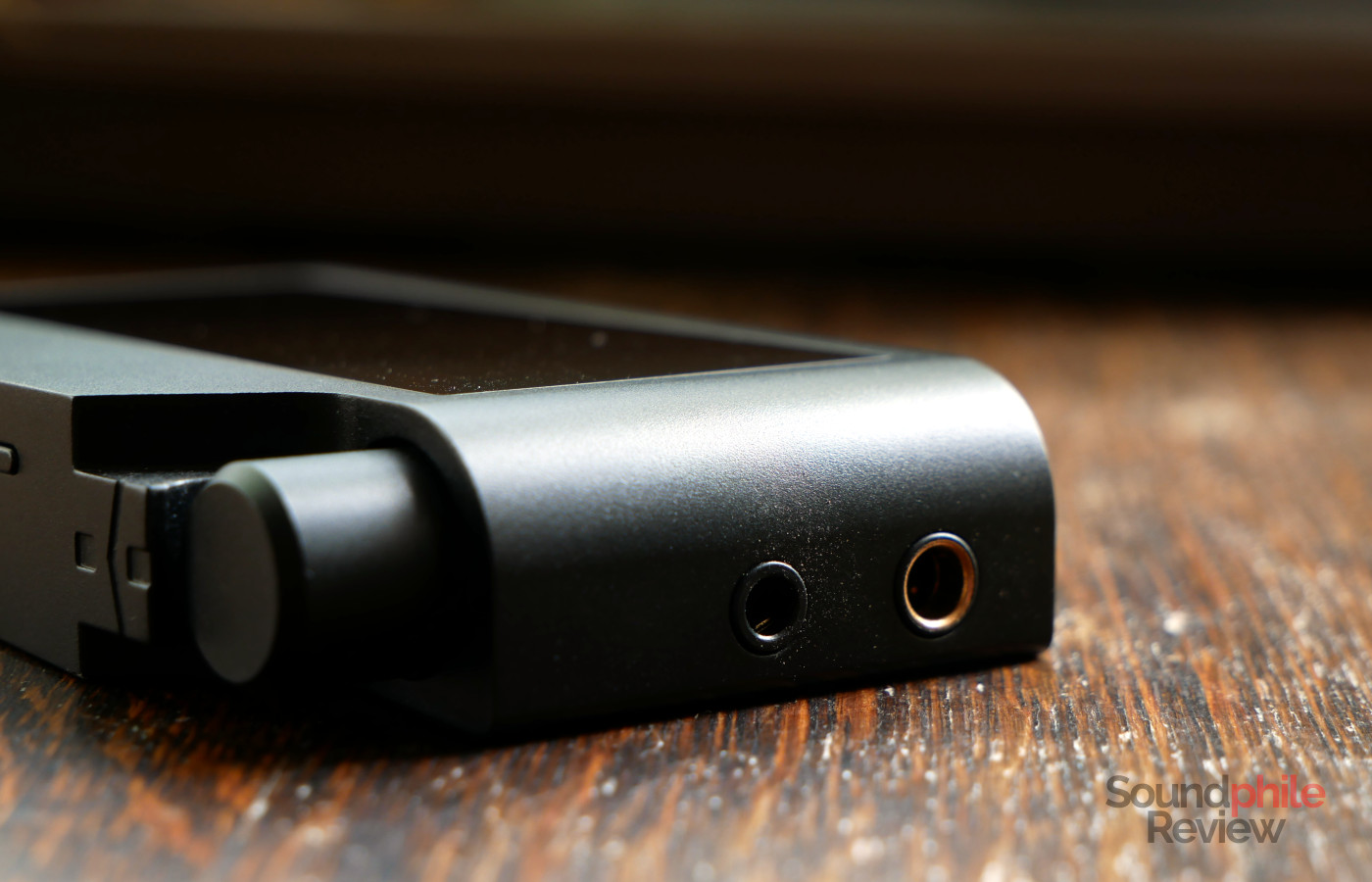 HiFiMAN claims the device supports microSD cards up to 256 GB. That's true when it comes to building the music library: I tried to pop in a 512 GB card and it wouldn't work, with the unit rebooting halfway through the indexing process. Trying to use file-based playback yielded better results, though, and I was able to play music without a hitch. Still, I find that this is a major oversight (let's use euphemisms…) on HiFiMAN's part: I understand that the main selling point of the R2R2000 is the DAC technology, but I would still expect it to feature the ability to correctly manage large SD cards like much cheaper competitors. Supported file formats include WAV, FLAC, ALAC, APE, AIFF, SFF, DSF, MP3 and others.
Although the R2R2000 does support Bluetooth, it is only as a receiver: this does make some sense when you consider that the only real reason you might want to use a device like this is because of its own analogue output, so it would make little sense to use it as a source for Bluetooth headphones. In order to use the R2R2000 as a Bluetooth device you need to select "Bluetooth mode" in the menu, which puts the device in pairing mode. It's then quite easy to pair it using your source device of choice. It must be noted that once in Bluetooth mode, the only thing you can do is to adjust the volume; all other features of the device become unavailable.
In my experience the Bluetooth mode works quite well, with good stability as long as you don't move too much around; the range is decent, but the walls of my house are enough to prevent a stutter-free experience. The only real issue with the Bluetooth mode is the lack of any high-quality codecs. The R2R2000 only supports the SBC and LHDC codec, which is quite a disappointment: there are not that many devices that support LHDC out there, so it's hard to get the highest quality out of it.
Software
The OS HiFiMAN developed is quite simple and bare-bone compared to what we're now used to. Its simplicity reminds me of the OS used on the Aune M1s, which was already a bit rétro when it came out, four years ago. It is a bit tricky to operate, as there are frequent freezes and warnings of files being unsupported, but it's surprisingly fast and easy to use.
The home screen, which you see at every boot, has all the main features laid out: [now] playing, browser, Bluetooth mode, USB DAC, rescan library and settings. Those include a setting for USB DAC to switch between PC and mobile devices (possibly because in the latter case the internal battery of the R2R2000 is used), Bluetooth mode (which appears to be a clone of the option in the home screen), repeat (off, all, or one), shuffle (off/on), volume tuner lock (so that you can't accidentally change the volume while the screen is off), auto screen lock (always on, 30 s, 1 min, 5 min or 10 min), auto power off when inactive (from 5 minutes to 2 hours), language (traditional Chinese, simplified Chinese, English, Japanese, French and German), automatic file sort and all various things like firmware versions and certifications.
One thing I don't like is that the first second of each track is basically skipped, which breaks the immersion into the music. Gapless playback is also only available for WAV files, which is quite limiting: it always takes a second or two to go from one track to the next. Another quirk of the R2R2000 is that you can't just plug in your headphones to whichever port you like: you have to select which port you want to use from the options menu in the "now playing" screen. You can also select the sound quality from there, choosing between eco mode and Hi-Fi mode.
Overall I think that the HiFiMAN R2R2000 is best suited as a DAC/amp than as a full-fledged player: you can use the phone as your main interface to access music and then connect it to the DAP using Bluetooth, so you get the best of both worlds. You could also use the R2R2000 as a DAC when connecting it to your PC. In any case, it is quite limited and this has to be taken into consideration.
Sound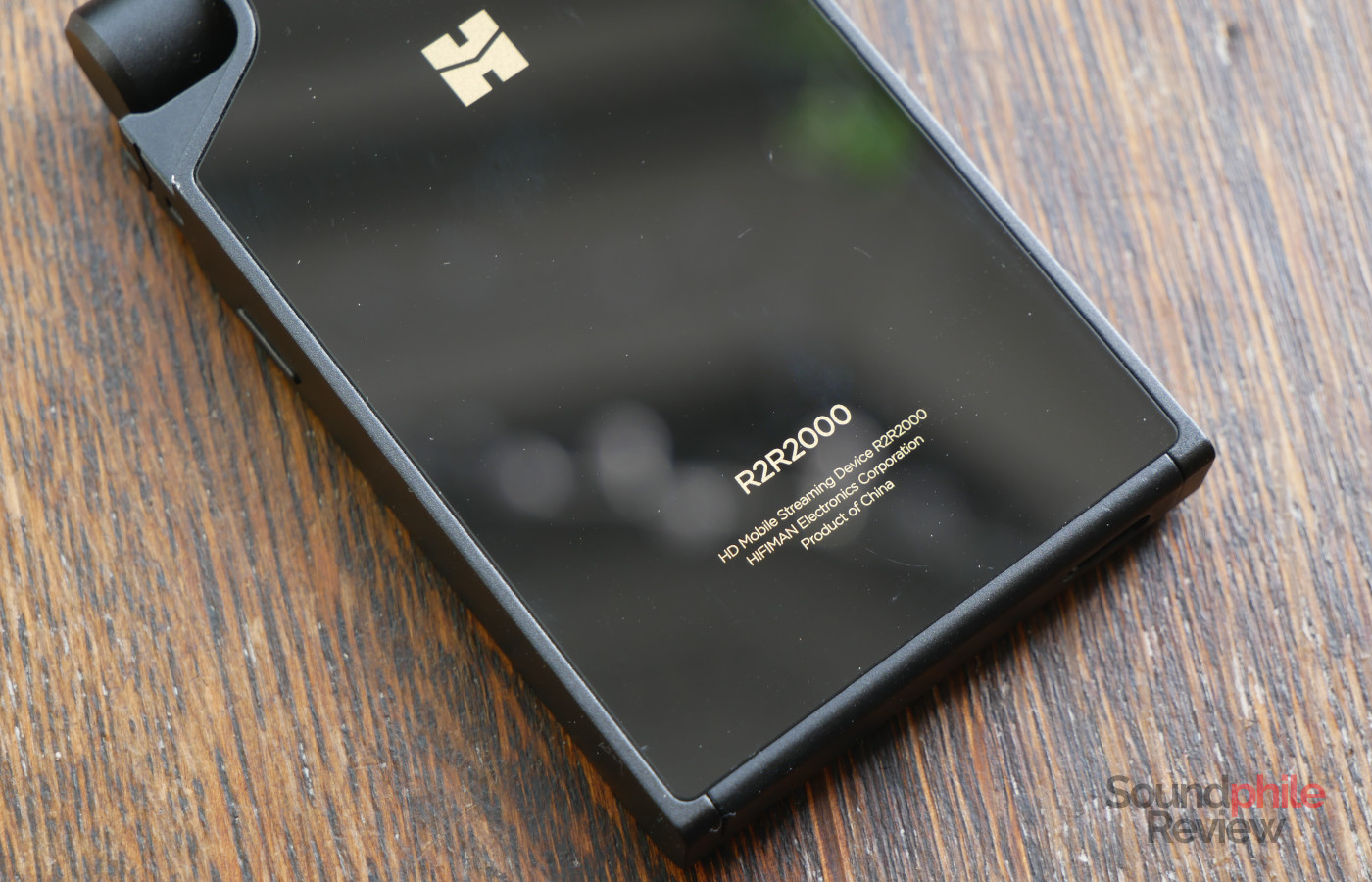 There's an audible click each time the music is played or paused, even with with planar headphones with (relatively) low sensitivity like the Arya. On the other hand, there's no background hiss whatsoever, even when using low-impedance, high-sensitivity earphones.
I can't hear significant differences between Hi-Fi mode and eco mode. They sound identical to me in terms of signature, but there is a major difference in volume: the Hi-Fi mode is in fact quieter than the eco mode at the same volume level indicated by the player, so having volume at 15 is not the same across the two modes. That's quite weird.
It's hard to define the sound of the R2R2000. There are no major differences compared to a DAP powered by a delta-sigma DAC: everything sounds more or less the same, with a nearly-linear frequency response and very good technicalities (excellent speed, superb control…). It's the nuances that make the R2R2000 sound different: there's like a bit of warmth to the sound, as if all instruments were slightly warmer and fuzzier while still retaining their character and detail. It's really weird and very difficult to describe! One thing for sure is that treble sounds different: it doesn't have any edges and it's quite relaxing to listen to even in tracks where it otherwise sounds a bit fatiguing.
I wouldn't say that it's enormously different from a modern delta-sigma implementation. There are some differences, but they're mostly very small nuances that you won't notice in everyday listening activities. I had to compare the R2R2000 head-to-head to other sources (Shanling M2X, Topping D30 + Head 'n' HiFi Objective 2, iFi micro iDSD Black Label…) multiple times to realise what was going on with it, otherwise I wouldn't tell the difference.
Final Thoughts
The HiFiMAN R2R2000 looks to me like a device that was built with one thing in mind, using the PCM1704K R2R DAC chip by Burr-Brown, and then everything else came as an afterthought. That's why everything else is almost half-baked: the support for low-capacity microSD cards, the lack of high-quality Bluetooth codecs, the absence of any physical buttons (e.g. to skip tracks), the relatively low battery life, the convoluted software… It's all there, but at the same time it's not quite there.
The R2R2000 forces me to see things from a different perspective. With its disregard for most modern functionality and approach to interfaces it surely looks and feels a bit dated, but at the same time its down-to-Earth approach gives you enough to enjoy your music to the fullest. On the other hand it is probably best used just as the "renderer" of the music, rather than a full DAP: you stream music to it and then it takes care of translating that into those good vibrations we all crave.
At $2,500, its price is surely quite high compared to what the device actually is and can do: what you are actually paying for is the fact that the PCM1704K chips are not made any more, so that devices with them inside become all of a sudden exclusive and costly. The value proposition of the HiFiMAN R2R2000 is therefore not great at all and it doesn't hold a candle to other modern DAPs, but some may think that the differences in how it sounds are worth the expense.