Shanling is continuously renewing their DAP line-up and their latest addition is the Shanling M2X. The M2X takes the previous version, the M2S, and improves it, especially on the volume wheel front. This small slab of metal and glass is easy and pleasant to use and offers great sound quality on top of that. I took inspiration for this title from the beautiful Pillars of Eternity soundtrack: one of the tracks is called Gilded Vale and I thought that the Shanling M2X is really a "golden" device, one that is worth its price and probably more.
Disclaimer: Shanling sent me this unit as a free sample. I won't have to return it. Additional information can be found here. The Shanling M2X sells for ~$210.
TL;DR: recap
Pros




Cons

Well built with premium materials

Convenient design

Good amount of power

Dynamic, exciting sound

No background hiss

Long battery life

Integration with Tidal

Relatively high output impedance
Rating: 8.5/10
Packaging & Accessories
The Shanling M2X comes in a nice box with a cardboard cover that slides on top of it. The box holds the player itself, a faux leather case and a USB to USB Type-C cable. Alas there are no screen protectors included in the box. The leather case also seems to be something Shanling included only in reviewer packages, as the retail box does not include it.
Design & Build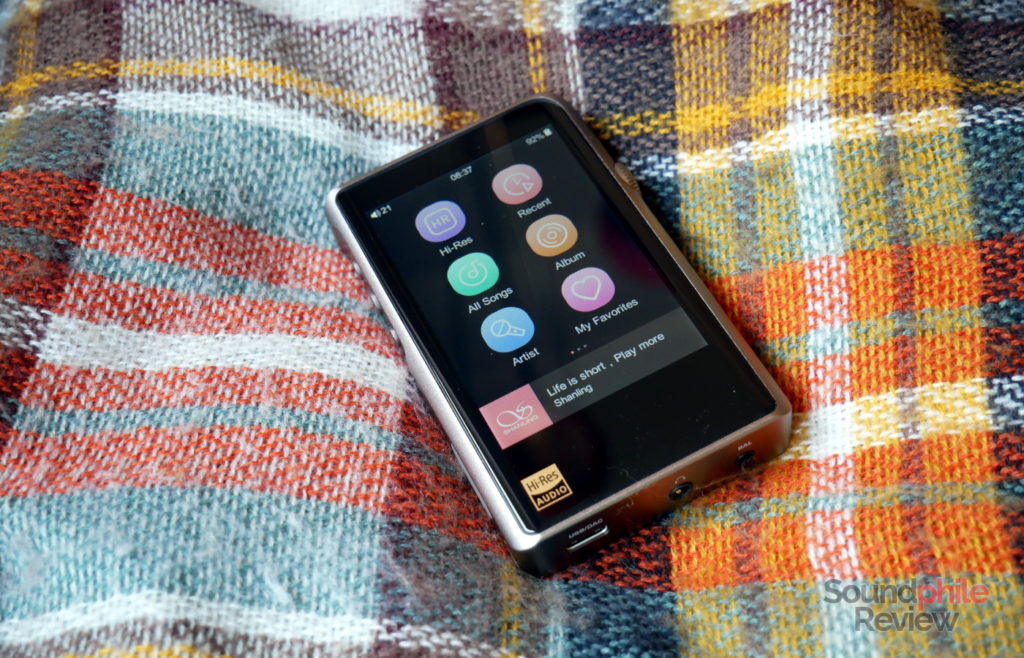 The Shanling M2X looks like a scaled-up Shanling M0 or a scaled-down Shanling M5s. The company has been keeping a consistent approach to design which includes rounded corners, bevelled glass surfaces and the volume wheel on the right side. This gives their product a consistent look and helps them being instantly recognizable as made by Shanling. The M2X appears a bit "fat" as it is thick and not as tall as modern devices, which tend to have a high height/width ratio. That's not to say it's ugly, though – quite the contrary, in fact, as the device appears (subjectively) beautiful and elegant.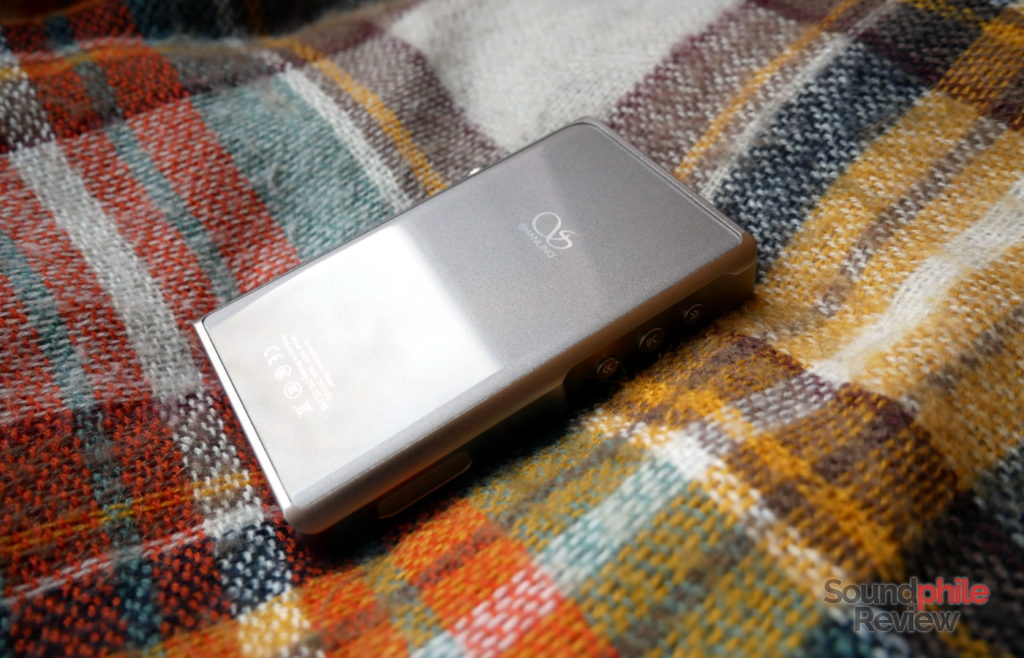 The frame is made of smooth aluminium, while both front and back are covered with glass with curved edges. My unit is coloured in beige, but there are also black and red variants. Shanling stays in the tracks of previous offerings when it comes to colours – there are no fancy additions in this regard. The device is very well assembled and I can't find any significant flaw in this regard. Everything seems to be just how it should be – I have no complaints.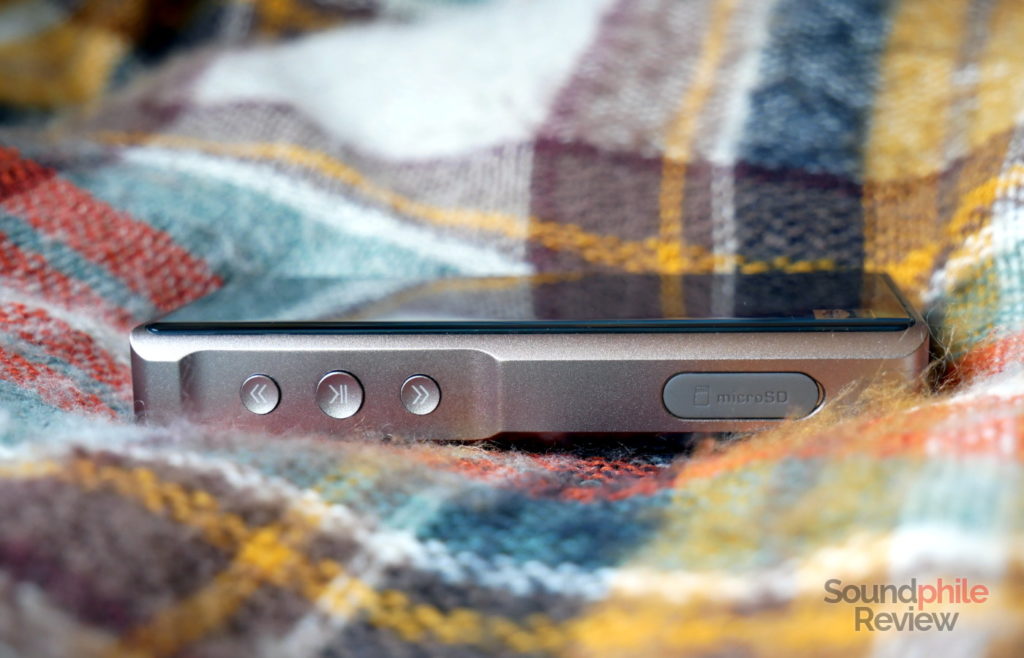 The front of the device only hosts the screen with an abundant bezel surrounding it; on the right side is the volume wheel (which acts as the power button, too, when pressed); on the left are the previous track, play/pause and next track buttons (with the "previous track" button being on top, for whatever reason); the lower side hosts the USB Type-C port, the 3.5 mm jack and the 2.5 mm jack sockets. The top is just smooth metal. The Shanling M2X features a 3.2″ touchscreen so one can control it easily. The screen is not extremely bright and can struggle keeping up with the sun of May here in Italy – those living in regions with hard-hitting Sun may find it challenging to read the screen while outdoor.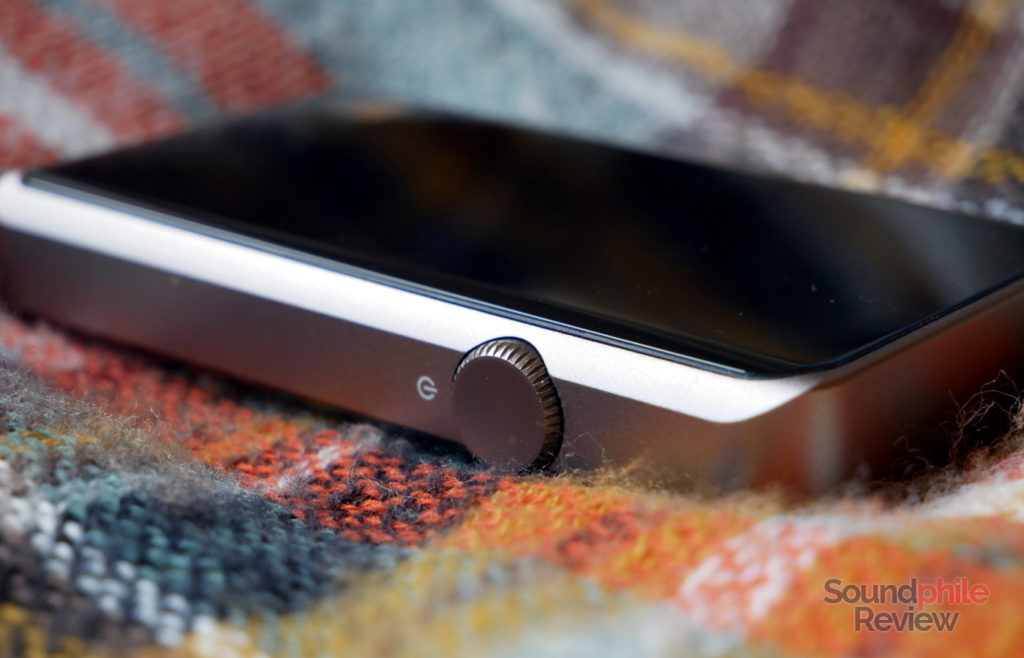 If anything, the buttons are a bit too sensitive: in my experience with the Shanling M2X, it has not been rare that I would inadvertently press a button while taking the player out of the pocket or while putting it in. This is why Shanling thought of allowing one to disable them completely while the screen is off and to make the volume wheel power on the screen only when pressed twice.
Although the Shanling M2X is in the low-middle range, it is solidly built. The body is made of a single slab of machined aluminium, which is made with precision and is smooth and without any clear-cut edges. Glass on the front and the back is curved at the edges, following the shape of the body and improving the fit in the palm of the hands. The glass can be quite fragile, but the case works perfectly in protecting the device (as I dropped the device two times, I can vouch that it actually works).
The volume wheel does not spin freely and instead clicks when rotating, similarly to the one on the Cayin N5ii. This allows one to set the volume even without looking at the player and while it is in the pocket. The clicks are precise and I never experienced any skipping or any "false" click that did not act on the volume even though the wheel was rotating. The wheel seems solid, though it is pressed a bit too easily as I already wrote.
Specifications
DAC chip
AK4490EN
Amp chip
single TI OPA1612 (low-pass filter) + dual AD8397
Suitable headphones impedance
N/A
Output impedance
1 Ω (single-ended)
2 Ω (balanced)
Maximum output power
Single-ended:

180 mW (16 Ω)
106 mW (32 Ω)

Balanced:

212 mW (16 Ω)
120 mW (32 Ω)

THD+N (@1 kHz)
N/A
SNR
117 dB (single-ended)
116 dB (balanced)
Operating System
MTouch 2.0
Supported formats
PCM up to 32 bit / 384 kHz
DSD up to DSD256
Although power output is relatively limited, the Shanling M2X is able to drive even high-impedance headphones such as the Sennheiser HD 6XX to satisfyingly high volume (though it probably won't be able to drive it to 90+ dB). The low output impedance makes it ideal to drive low-impedance in-ear headphones, too, as they won't suffer from alterations in their frequency response. IEMs with extremely low impedance may be affected when using balanced output, though.
Shanling thought of the M2X as a modern device with a strong selection of codecs with Bluetooth: on top of the usual SBC, it offers AAC, aptX and LDAC. The latter is crucial in providing higher-quality audio and it offers the best quality out of the four. It is still supported by a limited amount of headphones, but that number is getting bigger as Sony open-sourced the standard and other manufacturers are now making products that support it (e.g. the 1More Triple Driver BT).
The Shanling M2X supports a single microSD with capacity up to 2 TB. That allows one not to worry about how much music they can have – just pop in a card and it will be fine.
Battery Life
Inside the Shanling M2X is a 2,400 mAh battery which does an amazing job at allowing the player to play tracks for a long time. It is in fact able to keep the player going for more than ten hours on a single charge when using the 3.5 mm jack output, with that figure going down to roughly 7 hours when using balanced mode. Although this figures are still somewhat limited, they're in line with what's on offer on the market – competitors are in the same boat.
The Shanling M2X drains amazingly little power when in standby: it takes five or more days before the battery is completely drained without active usage. That means that you can forget about it and still be relatively sure you will be able to play your favourite tracks when you pick it up again. You won't have to worry about turning it off at night, that's granted!
Software
The Shanling M2X uses the MTouch 2.0 operating system based on Linux. This OS is developed internally by Shanling, who moved away from HiBy software due to issues between the two companies. The system supports touch screens, as the name implies, unlike previous products by the company that only supported navigation based on physical buttons. Navigation is done through gestures: swiping the the right takes the user to the previous screen, swiping to the left opens option menus and swiping up takes one back to the home screen.
The home screen is similar to that of a smartphone and it has a few icons on it: Hi-Res, Recent, My Favourites, All Songs, Album, Artist,  Composer, Playback, Playlist, Frequent, Recently Added, System. All those items are selectable by swiping to the left once in the last page, so one can hide unwanted items (third picture). The lower section shows the currently playing track with information on track title and artist.
The bar on top shows the current volume, playback status, time and battery status. Much like a modern smartphone, it allows one to pull a shade with basic settings such as WiFi, Bluetooth, gain and brightness without opening the settings.
Save for the folder-based browsing, all other methods of displaying the contents of the music library allow one to quickly go through them thanks to scrolling similar to that available on smartphones. All screens offer quick access to the desired section of the list thanks to a strip with the letters of the alphabet that appears on the right when scrolling.
All screens have a button on the top right that allows one to instantly go to the "now playing" screen. There is no way to add a single track to the playlist, which is a bit limiting. This results in custom playlists not being possible unless creating them from the "playlist" section: those wishing for a player with this ability may have to look elsewhere.
Apart from this last minor flaw, the system is snappy and easy to use. It's really a pleasure to use the Shanling M2X as it always feels fast and quick to respond to the user's input. The only exception to this is when playback starts, as it takes 1-2 seconds before it actually starts playing music.
The player supports playback from both the microSD and USB OTG drives connected through the USB Type-C port. This makes it possible to further expand the capacity of the Shanling M2X beyond what's possible with the microSD card.
The playback settings include:
Max volume: allows one to set the max settable volume;
Default volume: the default volume the player has when booting up;
Resume Mode: whether to remember where the player left off before shutting down and, if that's the case, if it has to remember the track or the precise location inside the track;
Gapless playback (on or off);
Equaliser: 10-bands equaliser;
Gain (low or high);
Filter: one can choose between sharp roll-off, slow roll-off, short dlay sharp, short delay slow, super slow roll-off;
Channel balance;
Play mode: "list play" (play the whole playlist), repeat track, shuffle, repeat all;
Folder skip, also known as "play through folders".
System settings, on the other hand, are:
Update library: sets automatic update of the library on or off and allows one to force a manual update. If set to automatic, the update is done each time the player is disconnected from a PC or each time the microSD card is inserted;
Wireless setting: settings on WiFi and Bluetooth that are familiar if you ever used a smartphone;
WiFi file transfer: allows for file transfer over WiFi, which simplifies transfer and removes the need for a USB cable;
Brightness;
Idle: this option sets the behavious of the M2X when idle. It allows to set a timer to shut the player down after a given amount of time (max 4 hours), auto standby (which makes the device go in standby mode after 1 minute), auto shutdown (with 1, 3, 5 and 10 minutes options, which are indeed a bit poor in terms of choice), lyrics mode (which apparently makes the screen max out brightness), and screen off timer (which can be 10, 20, 30 or 40 seconds);
USB mode: the player either exposes the microSD to the computer or works as a DAC;
Clock;
Lock screen: enables or disables the integrated lockscreen;
Double click to wake up: as I mentioned previously, the volume wheel is overly sensitive and can be activated by mistake, so using this setting one can make it work as power button to wake up the device only when clicked two times;
Buttons lock: enables (or disables) the lock of various buttons: it can lock playback buttons, volume or both;
DSD output: either DoP or D2P;
USB audio ouput: fixed volume or variable volume;
Output option: a fancy way of saying "gain";
Theme: the Shanling M2X has four themes;
Enlarged album art: it displays the album art full-screen when waking up the device;
Language: there is a good choice of languages that includes Chinese (traditional and simplified), English, Japanese, Korean, French, German, SPanish, Italian, Thai and Polish;
About: shows basic information on the device and its software and hardware;
Factory setting: restores the device to factory conditions;
System update: lets you choose whether to perform updates over WiFi or by selecting a file on the microSD.
The library update takes many minutes to complete in my case: I have roughly 7,000 tracks on a 200 GB microSD card. It is really slow compared to other products on the market, but still acceptable if one uses manual update.
The Shanling M2X is the first product by the manufacturer to support Tidal, the Bluetooth transmitter mode and advanced USB output. All these features will be then backported to other devices in upcoming updates, but are exclusives to the M2X for the time being. Shanling confirmed to me Spotify is not available and its availability is not even being discussed at the moment: the platform seems to just ignore smaller players that cater to a niche, so the possibility to see Spotify on Shanling players is, alas, close to zero.
The Shanling M2X can be used as a DAC and amplifier when connected to a computer. I tested it with my Linux PCs which, like Macs, do not require any driver to identify the device and make it work. The Shanling M2X works remarkably well as a DAC: one has just to select the appropriate mode in the settings for it to just work (and work quite well, too!).
What's interesting is the fact that it works exactly as it would as a stand-alone device: that not only includes wired output with single-ended and balanced modes, but also wireless output using Bluetooth (that's the "Bluetooth transmitter mode" I mentioned previously). The M2X can in fact be used as a Bluetooth adapter with high-quality codecs, which comes in really handy if the computer does not have an adapter compatible with such codecs. That's an issue especially with Linux, so this is a real treat for us Tux supporters.
Sound
I tested the Shanling M2X with various products, including the following: LZ A6, Toneking T88K, KZ AS06, Fearless Audio S6 RUI and Massdrop x Sennheiser HD 6XX. I did not use any attenuator. Source files were stored on a 200 GB SanDisk microSD card and were mostly made of FLAC files in standard resolution.
I pleasantly noticed that the Shanling M2X has no background hiss whatsoever. Even using highly sensitive earphones, there is no trace of background noise. The M2X is therefore usable with theoretically any headphones without requiring any attenuator.
On the other hand, the good amount of power it outputs is enough for it to be able to drive full-size headphones without much effort and without requiring an external amplifier, though it can only do so much and volume can be limited with higher-impedance headphones. The HD 6XX I tried offered plenty of volume, though, so I guess it will do for most people (unless they want to blow their eardrums, that's it).
The Shanling M2X has very clean output and no apparent colouration, so it comes out as a source ideal to drive practically every headphone on the market. It is really dynamic, in the sense that it separates low-volume sounds from high-volume sounds very well, transitioning from one state to the other quickly and doing a great job at portraying both at the same time. It's also fast, as it sounds more immediate and impactful than other sources. Music really sounds lively and vivid when played on the M2X. I write all this even though I usually refrain from making such comments on solid-state players as most sound just the same, but I could hear the difference clearly from other sources such as the xDuoo XD-05 or the iFi nano iDSD BL.
I could not hear any difference in sound when using the balanced output, save for the additional power that allows the M2X to drive higher-impedance headphones.
Final Thoughts
The Shanling M2X is lovely indeed. Its only limitation is that it does not have Spotify, but that won't scare off those who look for a great "offline" portable player or who can/want to use Tidal. The M2X is well made and sounds really great. Its few flaws are minor and the company seems to be aware of them, as they showed by introducing the "double click to power on" option with a software update. Given the company's great reputation, I am sure they will make the M2X grow even better. It's already a device anyone can enjoy – and, most importantly, a device anyone can truly enjoy listening their music with.