iFi has recently announced the updated nano iDSD, its portable DAC with integrated headphone amplifier. Called the iFi nano iDSD Black Label, it features a fancier look with black housing and increased power output that allow it to drive high-impedance headphones with authority.
Disclaimer: I received a test unit I had to return. You can find additional information on the nano iDSD Black Label on iFi's website.
TL;DR: recap
Pros




Cons

Aluminium housing built to last

Low output impedance and IEMatch output

High power output

Great battery life

Flat response

It could benefit from having a larger battery

Can't be used just as a headphone amplifier
Rating: 9.5/10
Packaging & Accessories
As I've detailed in the dedicated Out of the Box article, the iFi nano iDSD Black Label comes with a USB 3.0 cable, two USB-A to USB-B adapters, rubber bands and a manual.
Design & Build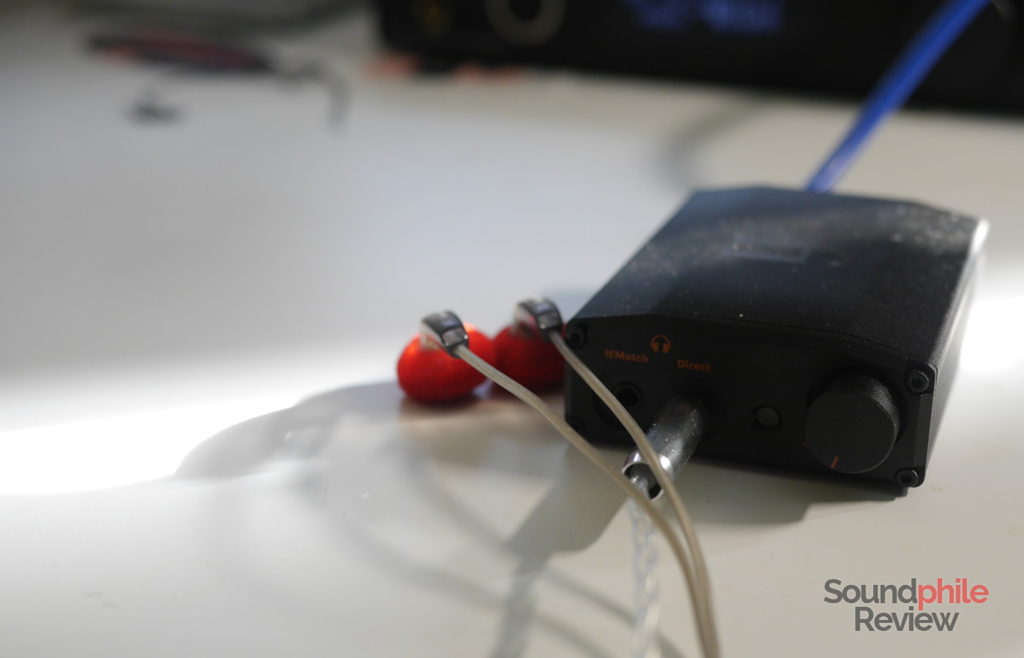 The iFi nano iDSD Black Label is a small box with iFi's signature trapezoidal section. It is made of aluminium, painted black with orange accents. It is relatively small, being 9.6 x 64 x 2.55 cm and weighing just 139 g. While not as portable or compact as other products on the market, it is definitely small enough to allow you to fit it into a bag or backpack and carry it around.
Build quality is similar to that of the iFi micro iCAN SE – in short, it's great. The nano iDSD Black Label is rock solid and seems to be built to last. iFi paid a lot of attention to details – the knob is perfectly aligned and smooth as butter, the different pieces are flush and perfectly aligned, the jack connectors offer a bit of resistance that lets cables stay in even on the move.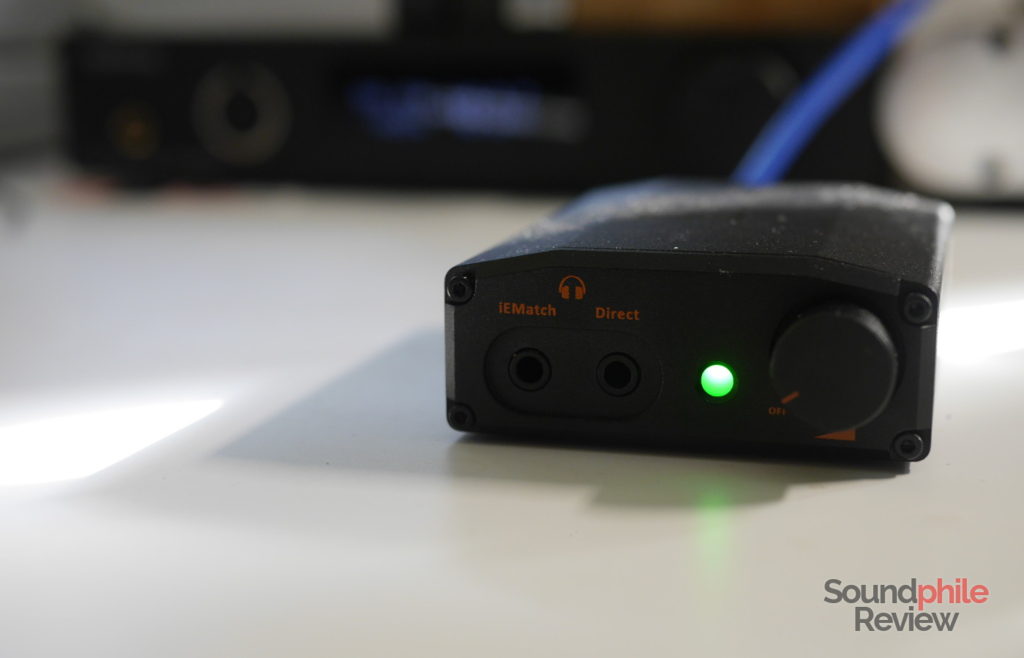 iFi opted to print the instruction manual for the device on its bottom; though that's more understandable than on a desktop device such as the micro iCAN SE, I still think it doesn't make a lot of sense – though it may come in handy at times. It surely is one of iFi's peculiarities.
The bottom hosts four little rubber feet that allow one to simply place it against a portable device (i.e. DAPs, smartphones) without the need to use additional accessories such as rubber mats. That's very practical and a nice touch.
The front hosts two 3.5 mm outputs, a status LED and a volume knob, while the back is where the USB input and the 3.5 mm line out port are located. There's also a filter switch to select either the "measure" filter or the "listen" filter – more on that later.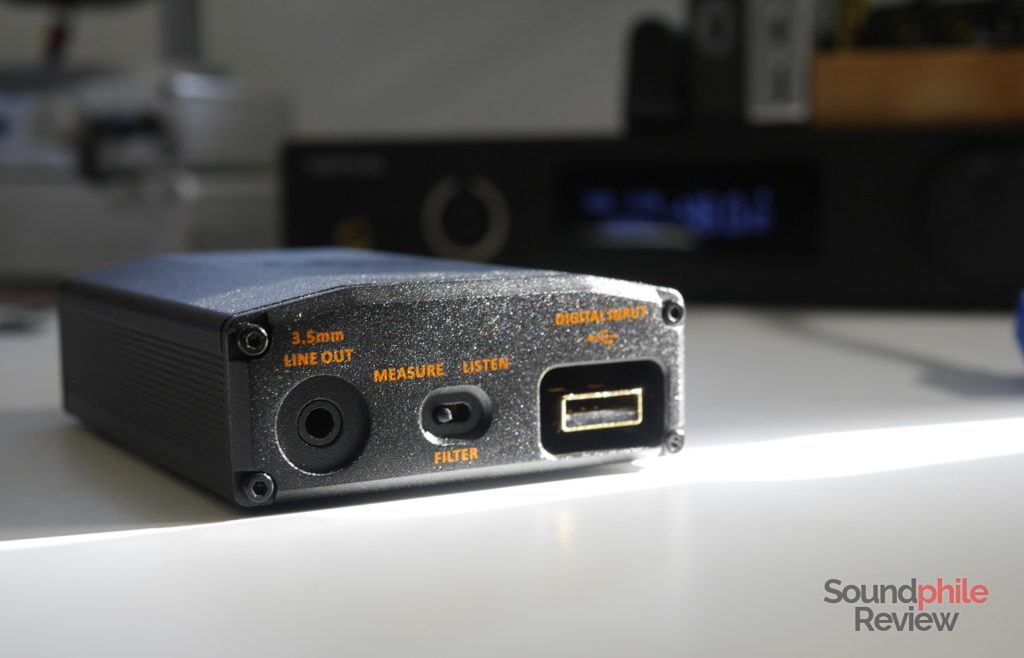 The LED on the front tells you the type of stream being reproduced:
blue is for DSD256;
cyan is for DSD128/64;
white is for DXD and PCM 352.8 kHz and 384 kHz;
yellow is used for PCM 176.4 kHz and 192 kHz;
green stands for PCM 44.1, 48, 88.2 and 96 kHz;
magenta is for for all sample rates of MQA;
red is used when the battery is empty.
The knob is smooth and requires little force to operate; it may be even too smooth and "soft" as lower-impedance headphones require incredibly tiny movements to adjust volume and it is sometimes difficult not to over-turn the knob. I also noticed there is completely no output below eight o'clock, with an incredibly short passage where there's channel imbalance and output being balanced around 8:30, approaching 9 o'clock.
Features & Specs
Contrary to products such as the RHA Dacamp L1, the ifi nano iDSD Black Label only works as a DAC. There is no option to use it just as an amplifier by connecting it to another DAC, so one can't use its amplifier stage on its own. On the other side, there is a line out connector that makes it possible to use it as a DAC and to connect another amplifier or a set of powered speakers.
iFi opted for a male USB-A connector – the same one as that found on USB keys! – and that makes the nano iDSD Black Label a bit special. In fact, that's the only device of this kind I've seen so far – but there's a sound reason for this choice. The use of a male USB-A connector allows the use of simple patch cables without resorting to specific cables (e.g. micro-USB or Type-C). It also allows one to use USB OTG cables right away, with no additional cables between the source and the nano iDSD Black Label or need for special cables with micro-USB on one side and USB Type-C on the other, as an example. The USB 3.0 cable provided is also easily (and cheaply) replaceable in case it gets lost.
The two 3.5 mm ports on the front are meant for different headphones: the one on the right, labelled "IEMatch", is for sensitive and/or low-impedance in-ear headphones that need low output impedance and are sensitive to hissing.
iFi nano iDSD Black Label

Input range
16 – 32 bit / 44.1 – 384 kHz PCM, 352 – 384 kHz DXD, DSD64, DSD128, DSD256, 88.2/96/176.4/192kHz MQA
Suitable headphones impedance
16 – 600 Ω
Output impedance
1 Ω (single-ended)

4 Ω (IEMatch)

Maximum output power
200 mW (15 Ω)
285 mW (32 Ω)
20 mW (600 Ω)
Frequency response
N.D.
THD+N (@1 kHz)
> 0.005%
SNR
109 dB (Direct)
107 dB (IEMatch)
Crosstalk
79 dB
The iFi nano iDSD Black Label uses a Burr-Brown DAC chip (though there's no mention of exactly which chip it is) and two amplifiers, one for each channel, that effectively makes it a dual mono setup. iFi also claims it is "balanced but not as we know it": what this means is in fact that it has a dual mono amplifying stage and it supports 3.5 mm TRRS balanced connectors, but it is not a fully balanced device like the Topping DX7.
In terms of power output, the iFi nano iDSD Black Label comes out as a very powerful unit, capable of driving even high-impedance full-size headphones to good volume levels. Sensitive IEMs are – a bit ironically, if you ask me – the Achilles' heel of the nano iDSD Black Label as it is difficult to get the right volume out of it. It's too powerful! Even when using the IEMatch output, the volume on lower-impedance IEMs can become excessive soon and I have to adjust the volume by turning the volume knob by microns at a time (okay, that's a bit exaggerated, but it really is sensitive to micro-movements!).
It surprises me that the IEMatch impedance output is larger than that of the direct output: as the IEMatch port is to be used with low-impedance headphones, it should be the one with lower output impedance to avoid any unwanted distortion.
Battery Life
iFi knows the mobile world and designed the nano iDSD Black Label accordingly. The issue with portable DACs/amplifiers being attached to smartphones and portable devices is that they tend to drain power from the batteries of the devices they're attached to. As modern smartphones tend to have short battery life, having something that sucks power is definitely not ideal. iFi brilliantly found a solution by allowing the user to choose where to draw power from: if one powers the nano iDSD Black Label and then connects it to USB, it will use the internal battery; if one connects it and then powers it on, it will draw power from USB. That's pretty smart!
The built-in 1200 mAh battery can power the iFi nano iDSD Black Label for about eight hours before needing a charge – so the 10-hour estimate iFi provides is not far from reality. Please mind that this figure can change depending on volume and headphones' impedance; I ran my test using a 150 Ω Asura 2.0s and a 20 Ω Urbanfun HiFi at low volume, so you may get better or worse battery life depending on your headphones and on listening volume.
Sound
As usual, I tried the iFi nano iDSD Black Label with a fair good amount of headphones: among them are the Sennheiser HD6XX, the HiFiMAN HE-560, the Urbanfun HiFi, the RHA CL1 Ceramic, the RHA T20i, the TRN V10, the Venture Electronics Asura 2.0s and a few others. I used mainly standard-res FLACs, with a few hi-res tracks and DSD files here and there.
Despite the use of iPurifier technology, I have to note that there's an audible hiss when using especially sensitive IEMs. The Venture Electronics Monk IE Smalls is one of those, along with the TRN V10 and other earphones, too – this is only true when I use USB power and independently of the chosen output, but it is not there when using battery power.
The iFi nano iDSD Black Label is transparent and linear – no colouration here, for the best or the worst (that's on you). In my own view this as a big plus, as the nano iDSD Black Label represents music as it was recorded or as close as we can currently achieve with state-of-the-art technology.
Hiss aside, the iFi nano iDSD Black Label is very clear and clean. Its ability to render small details and fast transients is remarkable and it adds to the general richness of the sound. Soundstage and instrument separation are both really good.
The filter has two options: "measure" and "listen". I honestly can't tell the difference between the two – the only slight (please note the emphasis) change I can hear is music presentation, as using the "listen" filter seems to me like the sound opens up a bit. That's so slight I'm not even sure it's there, though I operated the switch without looking at it and trying to emulate an A/B test. I think it could be more apparent with extremely high-end gear or especially sensitive IEMs (I'm told the Campfire Andromeda are revealing in this regard, though I haven't had a chance to try them yet).
Final Thoughts
iFi nailed it again. The nano iDSD Black Label is a small marvel – it has (almost) everything one needs in a convenient, lean package that's also small enough to be easily portable. Its use of a full-size male USB connector means it is easy to connect it to any device without fancy adapters. It may not feature all of the input and output options as the RHA Dacamp L1, but it is a complete and competent device that can satisfy even the most demanding audiophiles on the go.
The only negative traits I can think of are the IEMatch port impedance output and the relatively small battery – everything else just leaves me wondering how iFi could achieve such good results with an asking price of just $199.99. This is a seriously good device that I am all too pleased to praise and recommend. It's hard to compete with it at this price point!
The iFi nano iDSD Black Label currently retails at $199.99.