1More's last full-sized headphones date back to a while ago – it was in fact 2018 when they launched the Triple Driver (bearing the same name as the smaller in-ears). After that launch, the company has focused on the in-ear market, with no successor to the successful headphones. Until now. Enter the 1More SonoFlow, the first wireless, noise-cancelling full-sized headphones by 1More.
Disclaimer: I received this unit free of charge directly from 1More Europe. Additional info on the company's website. The headphones retail for $99, but there is a $20 "early bird" discount until October 18th. If you are in the UK, you can also buy them from 1More's new UK website.

TL;DR: recap
Pros




Cons

+ Super comfortable

+ Effective noise cancelling

+ High-quality LDAC codec

+ Very good tuning

+ Extremely long battery life

– Passive isolation could be better
Rating: 8.5/10
Packaging & Accessories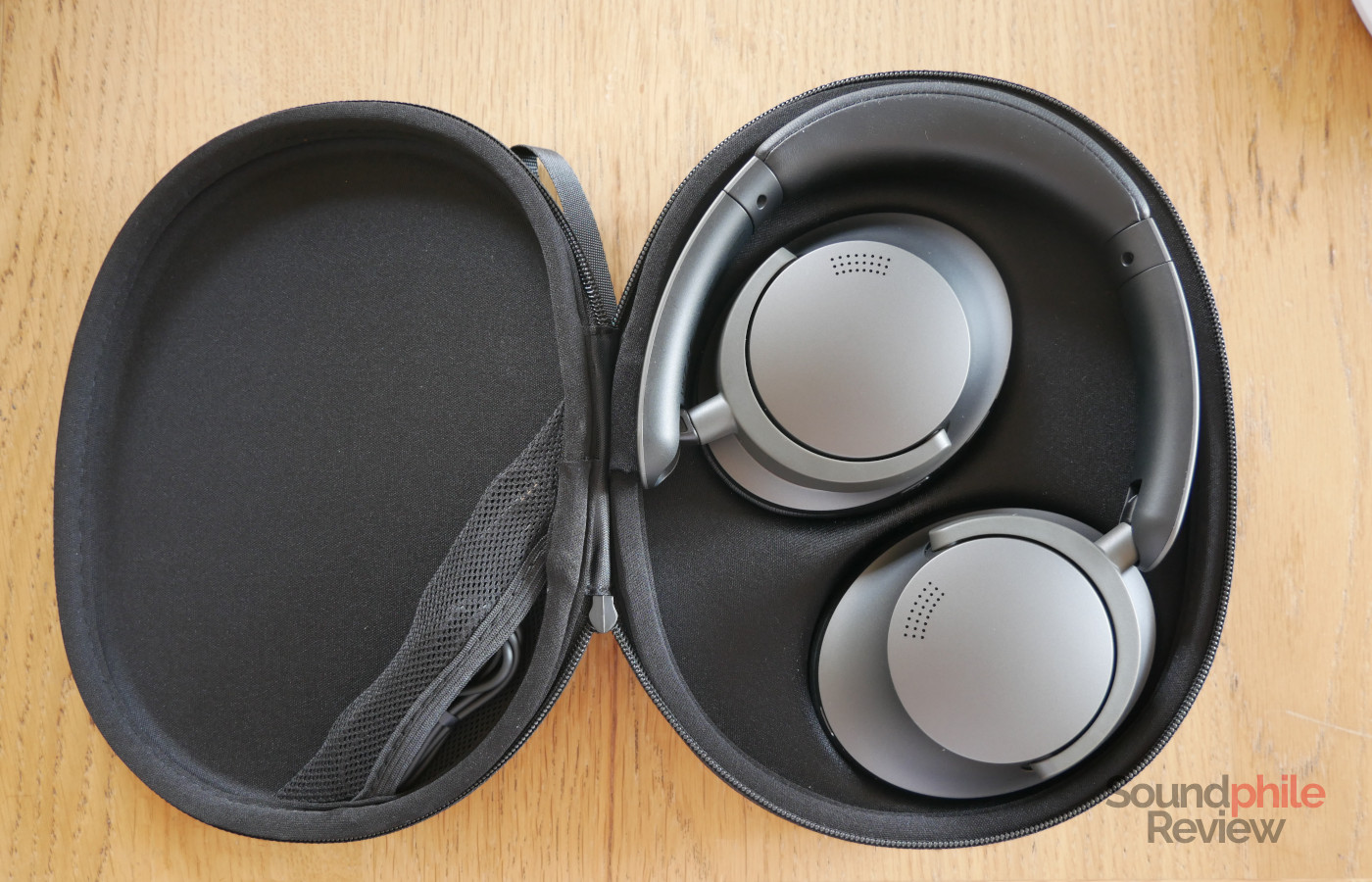 The 1More SonoFlow's packaging is quite simple: it only contains a manual and the hard case for the headphones. It's inside the case that you find the headphones themselves, plus a USB to USB-C cable and an aux cable (3.5 mm to 2.5 mm).
Design & Comfort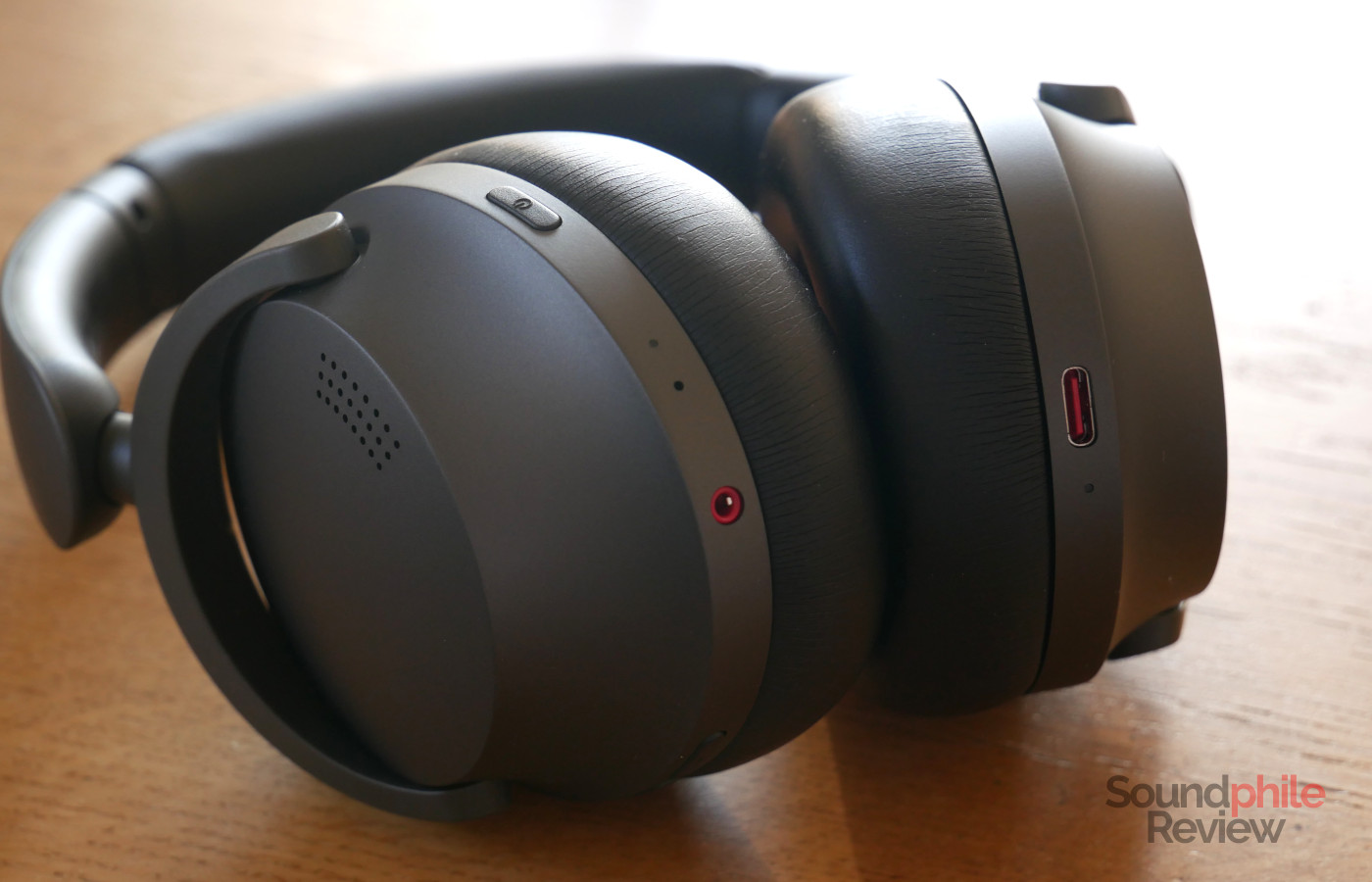 When it comes to pure design, the 1More SonoFlow really hit the nail on the head. They have a great design that looks elegant and understated, in line with trends but with its own distinct personality. There's two main colours, black and gunmetal, with bright red accents. The headband is quite thin, which also helps giving the headphones a sleek look.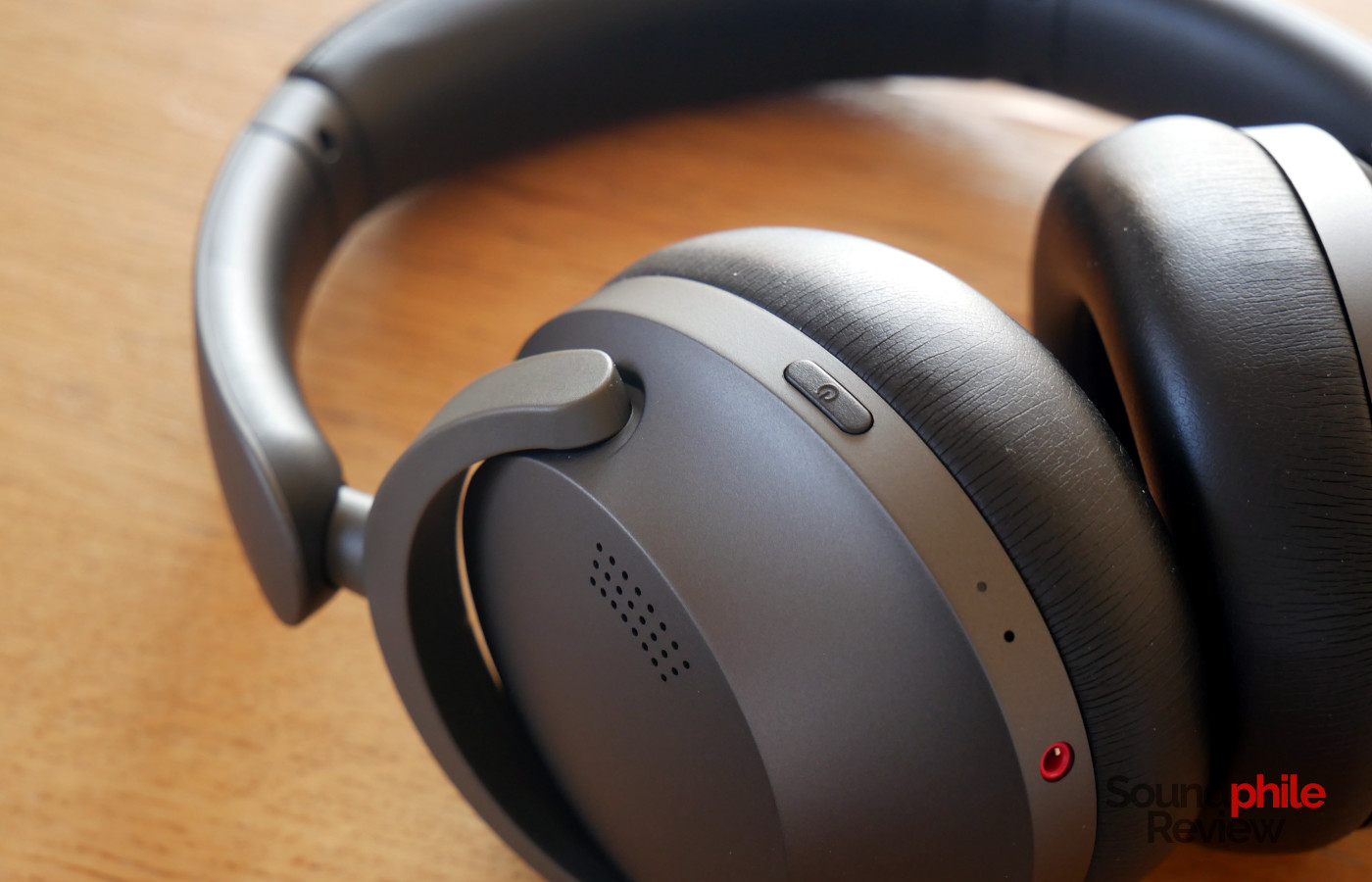 As in 1More's best tradition, build quality is very good and there are no creaks nor other issues with how the headphones are built. There's no IP certification, so it's best not to use the SonoFlow e.g. while you're working out.
The earcup on the right hand side holds all the controls: on the front there's the power button (a choice which is not entirely ergonomic, but which separates the power button from the rest) as well as a status LED, while the back hosts the ANC button, the ANC status LED as well as two buttons to adjust the volume; there's also a jack connector, which is a 2.5 mm one. The earcup on the left hand side only has a USB-C port and a third status LED. All these status LEDs are probably a bit of over-engineering!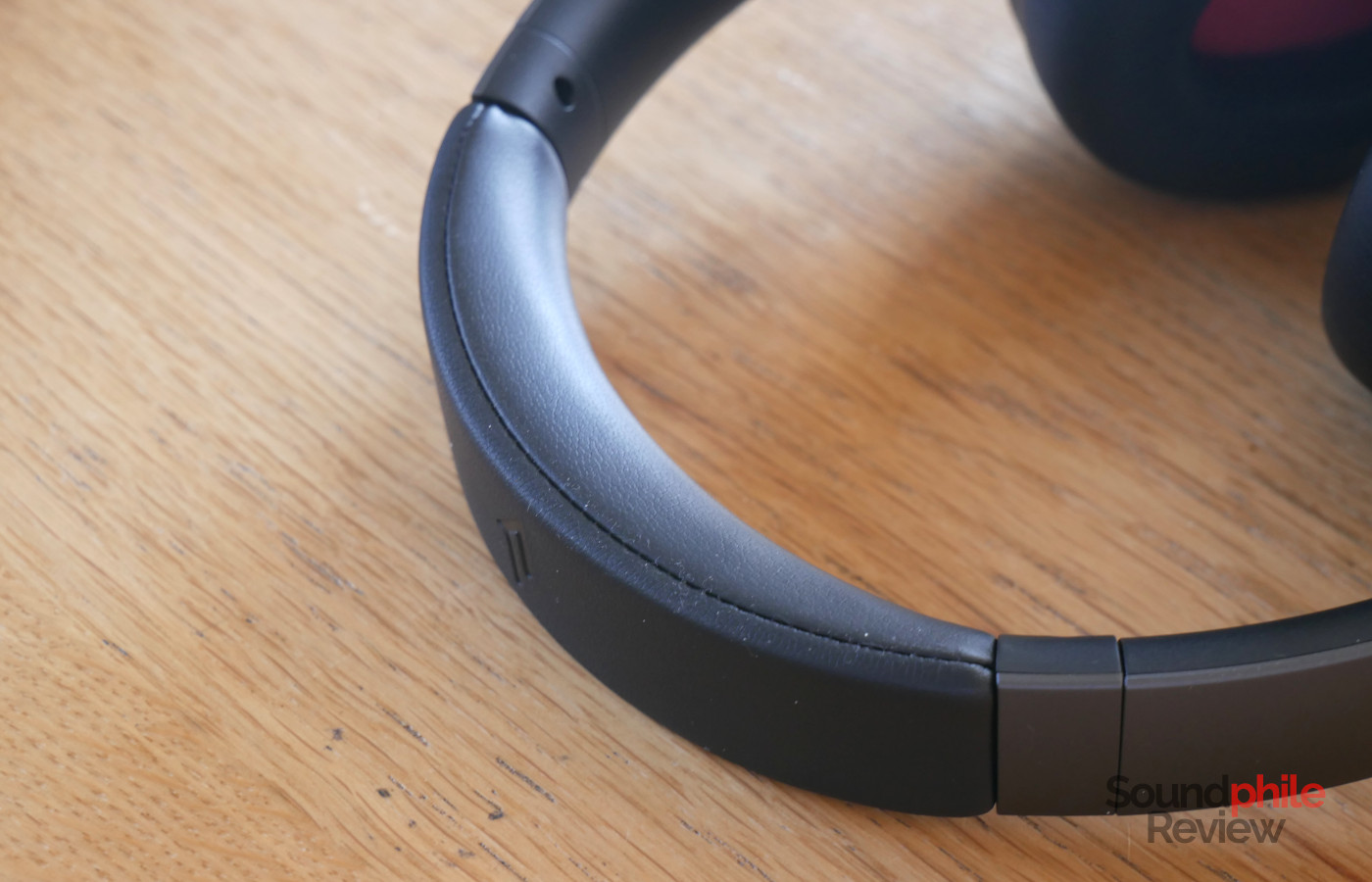 Passive isolation is not really there, so sounds from outside are not reduced in volume when wearing the headphones. This means that wearing the headphones without ANC won't shield you at all from ambient noises: if you don't enable the ANC feature, it is almost as if you weren't wearing anything to cover your ears. This has also an effect on the efficacy of ANC itself, as we'll see later.
Comfort is absolutely fantastic and even with my super-sensitive scalp I am able to wear the headphones for hours with no adverse effects. This is thanks to the abundant, soft padding on both the headband and the earcups.
Extra Features & Battery Life
The 1More SonoFlow offer Bluetooth 5.0 with SBC, AAC and LDAC codecs. The LDAC codec has to be manually enabled through the app; doing so disables the multi-point connectivity feature that allows you to connect the headphones to two devices simultaneously. Overall, the connection is quite strong and stable and I have never had any issues with it; in fact, I can walk around my house and have multiple walls between the headphones and the source without incurring into any interruptions.
The control scheme is quite simple and is entirely based on physical buttons: you can play/pause music or answer/end calls by using the power button, while the volume buttons do what it says on the tin as well as skip tracks.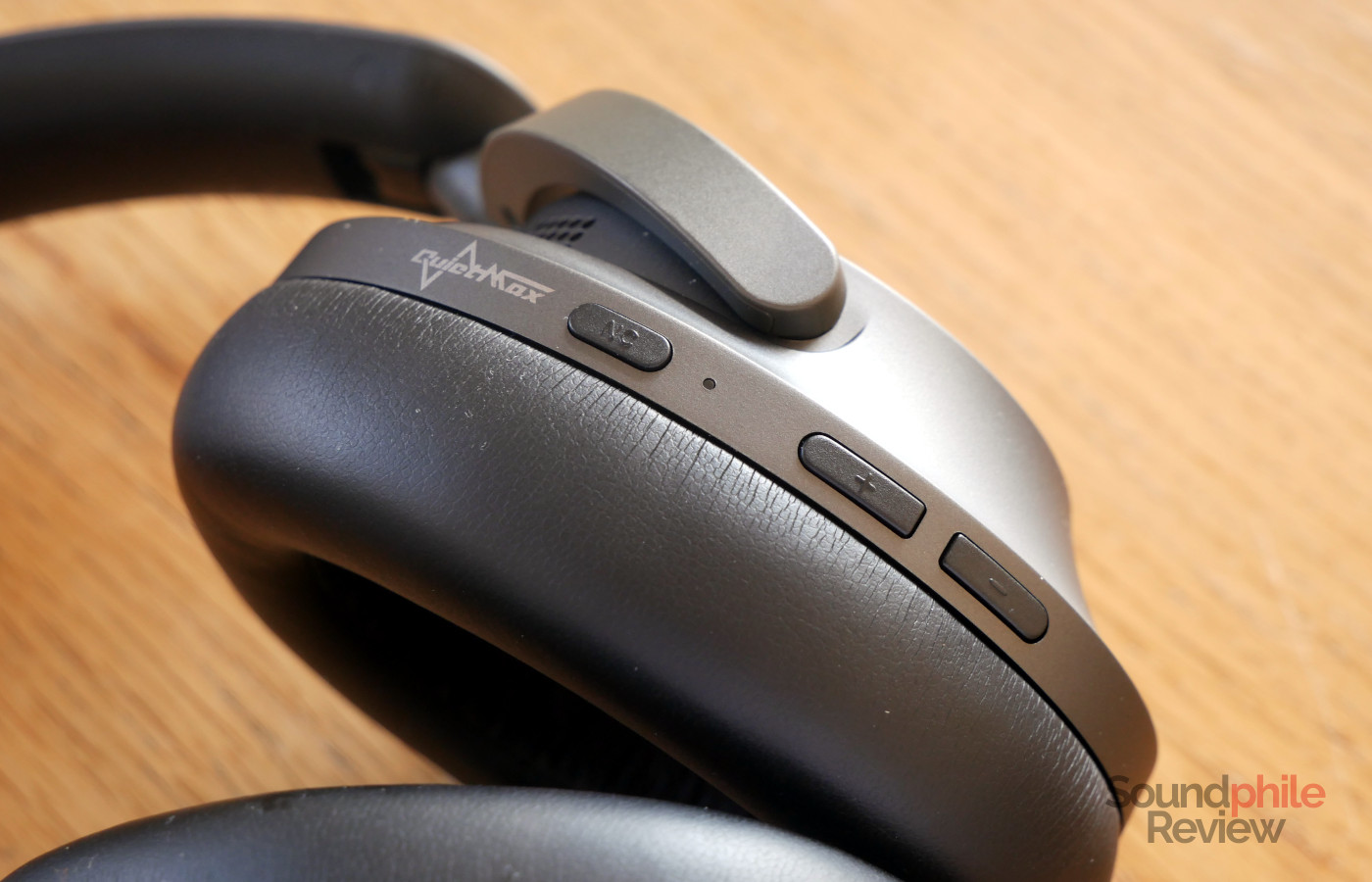 The ANC is quite effective at removing lower frequencies, but it does not affect mid and high frequencies at all. As a consequence, human voices, traffic and other very common noises stay perfectly audible and are, in a curious turn of events, even more audible than they would be with ANC disabled. Travelling on London's tube I could hear everything as if I wasn't wearing headphones, save for the lowest frequencies; other people talking and the other noises made by the train itself (e.g. the screeching of the wheels on the rails, or the howl of the wind in the tunnel) were not impacted at all by the ANC. 1More's ANC tech looks promising as it removes a lot of the low frequency component of noise, but it ultimately still fails to compete with the best out there – which take advantage of both passive isolation and ANC so that you don't have to raise the volume on your headphones and are therefore able to protect and preserve your hearing.
Battery life is nothing short of impressive: with ANC enabled it does get near the 50 hours of playback advertised by the company, which is just exceptional. Disabling ANC further increases this figure to 70 hours. We are looking at full-week usage here, a result that's really noteworthy.
Sound & Specs
I've tested the SonoFlow using mostly my computers.
| | |
| --- | --- |
| Frequency response | 20 – 40,000 Hz |
| Impedance | 32 Ω |
| Sensitivity | N/A |
| Bluetooth version | 5.0 |
| Codecs | SBC, AAC, LDAC |
Contrary to the most recent releases by 1More, and more in keeping with the older models like the Triple Driver, the new SonoFlow has a well-balanced sound signature that tends towards a U shape while retaining a good balance. The driver uses a 40 mm diaphragm made from DLC (diamond-like carbon) composite.
Soundstage is quite decently wide for closed-back Bluetooth headphones, with good lateral extension and some depth as well. Imaging is surprisingly good and not only offers a variety of placements for the instruments across the full spectrum of the stage, but also a very good accuracy. Instrument separation is also surprisingly good, even in crowded tracks like Snarky Puppy's Chonks, as you can always hear every instrument separately, though it seldom feels like there is a proper separation between them and it feels like they're a bit squashed together.
Possibly due to the use of the DLC composite, one of the very good things about the 1More SonoFlow is that their sound is quite physical. Transients are quite fast and have that physical slam that helps bring them to life. Bass is just above neutrality, but it is never obtrusive or excessive; in fact it strikes a very good balance and will surely please those who look for some emphasis in the area, but a limited one that doesn't take away from the rest. As one could legitimately expect, bass doesn't have a lot of depth and is mostly concentrated in the mid-bass area, but it doesn't sound bloated due to this at all. It offers a very good amount of detail, so much so that even in tracks like Black Sabbath's Evil Woman you can actually hear the minutiae in the bass cords' vibrations.
The general U-shaped signature is found again in the midrange area, with the lower and upper regions which are more emphasised than the middle one. This emphasis is quite gentle though and doesn't interfere with the middle area, which is then still perfectly audible. The emphasis on the upper region is more than the one on the lower one, so the result is that the sound is brighter and more lively without overly distorting the general tonality. Voices are quite well reproduced, both male and female. There's also quite a good bit of detail, and speed and physicality are remarkable.
Treble is quite rich and is slightly forward, but it never becomes fatiguing or intrusive. It strikes a very good balance between having a forward presence in the mix and keeping it at a point in which it's not fatiguing. There are a couple of bumps in the lower and middle sections, but they are limited; extension is quite good, though the upper section has a steep enough slope that makes it less prominent than the rest. Another good thing is that there's plenty of details, so you can really appreciate the hits on the cymbals.
Final Thoughts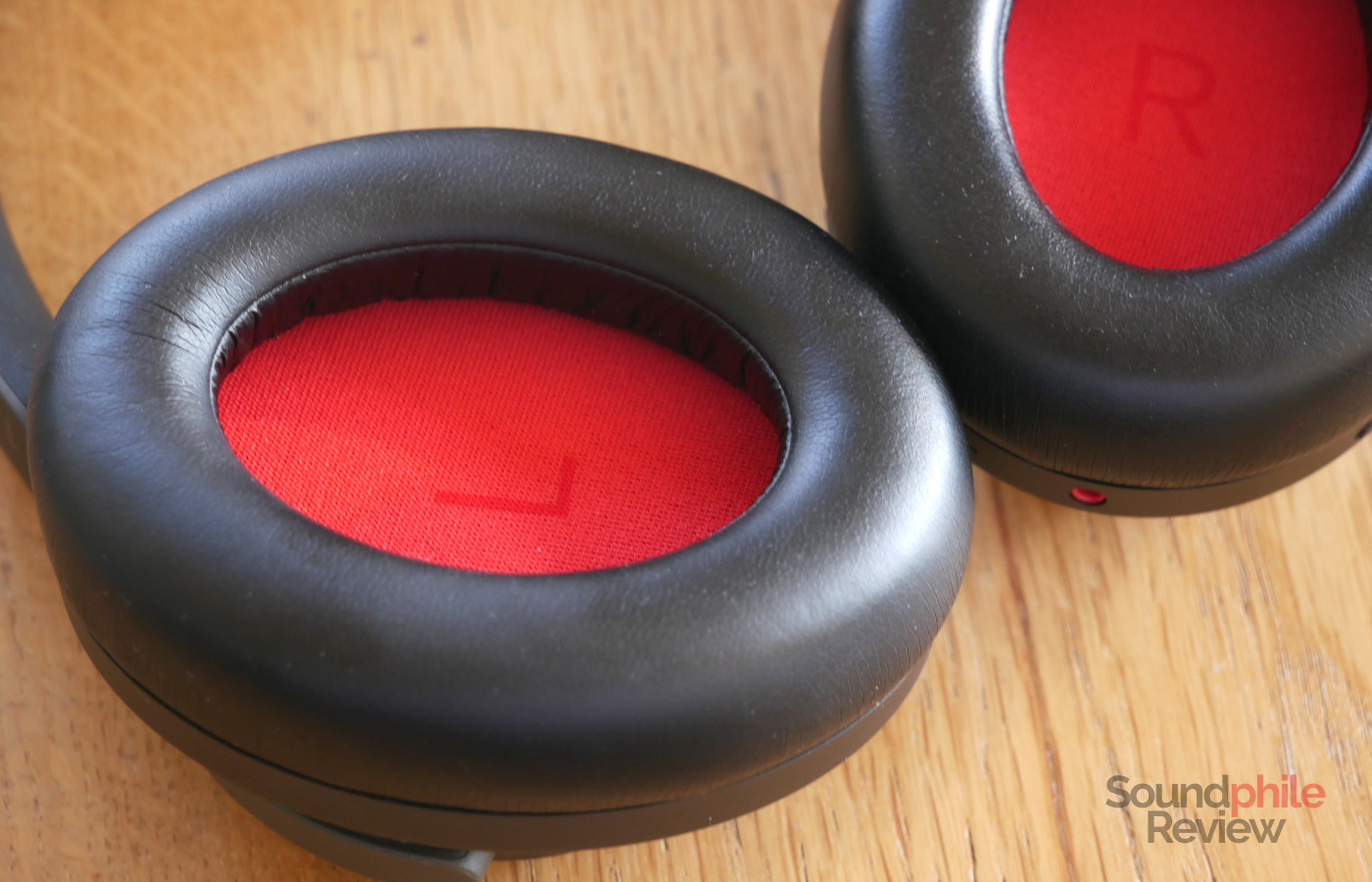 Once again, the SonoFlow are a confirmation that 1More's noise cancelling products deliver great ANC technology, but fall just short of offering good passive isolation. The problem is that this approach, which at this point appears to be a conscious design choice, makes ANC much less effective than it could be, as the tech only cancels lower frequencies. You will probably still have to raise the volume in order to cover ambient noises in crowded spaces or where there's a strong midrange component. It doesn't take away from the noise cancelling tech being effective in most cases and in effectively removing most of the noise. It also has to be noted that I may be over-sensitive on this, as I tend to listen to music at a low volume (everyone should, really).
On the other hand, the SonoFlow have quite a good sound for "mainstream" headphones, with a good balance that makes them quite attractive even to audiophiles. That is probably the best quality of these headphones and this, complemented by the great comfort and the good functionality, makes them easy to recommend. The fact that they are quite affordable overall, at $99 and therefore way below most big-name competitors, seals the deal and gains them my recommendation: they do indeed offer most of what you can find in headphones that are three or four times the price, in both functionality and sound. I am not a fan of saying "they punch above their weight", but I feel that in this case it is absolutely warranted.