1More got fame from their in-ear headphones mainly, but that doesn't mean that they don't design full-size headphones, too. The company is in fact behind Xiaomi's headphones, which were quite successful, and they drew from that experience to launch their multi-driver headphones: the 1More Triple Driver Over Ear. Those headphones mix modern design with modern tuning but, contrary to most products with "consumer tuning", their tuning is actually enjoyable.
Disclaimer: Thomas at 1More Europe sent me this sample free of charge – thanks for that! Additional details about the headphones on 1More's website.
TL;DR: recap
Pros




Cons

Good comfort

Superior, all-metal build quality

V-shaped tuning with fun bass

Removable cable

Very good value

A bit more padding in the headband would have been great!

Not really over-ear
Rating: 8/10
Packaging & Accessories
As usual, 1More put a lot of effort in making hte unboxing experience great. The box is shaped and coloured so that it reminds you of a (large) book and it has drawings and text that detail the design process of the headphones. It has both a hard carrying case and a soft fabric bag, plus a 3.5 mm to 6.3 mm adapter. The hard carrying case has both a pouch where the 6.3 mm adapter can be stored in, and a velcro strap one can use to hold the cable.
Design & Comfort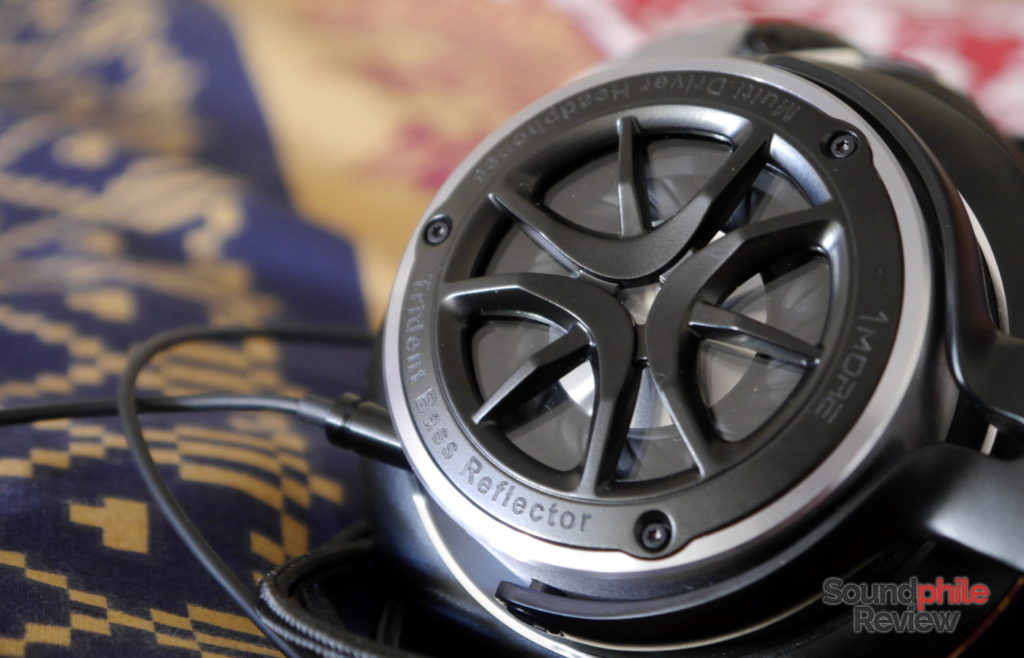 I didn't mention Xiaomi's headphones in the introduction just because 1More designed (and probably manufactured, too) them, but also because they share many design cues. Some elements are in fact nearly identical: the cup swivels, the headband, the rounded metal earcups, the cables… All of these elements are shared, but that's not a negative fact per se as they work well. As I already mentioned in other reviews: never change a winning team, right?
The team in question is made of a good assembly coupled with good design that make the 1More Triple Driver Over Ear not only solid, but also good to look at. Everything is made of metal: the earcups are made of machined aluminium, the headband is made of aluminium too and the headband's stuffing and the earcups' padding are made of synthetic leather. As everything is basically made of metal, except for padding, the impression is that these are incredibly solid headphones that can withstand the trial of continuous use (and abuse). In this regard they are surely unlike the average product in the $200-300 price range.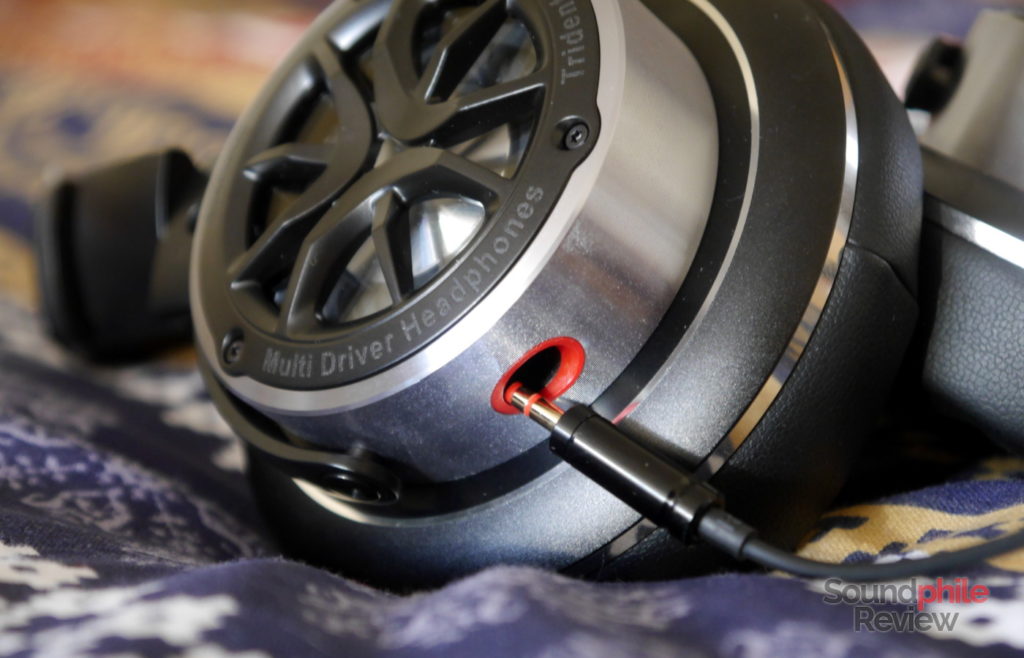 The earcups are the most peculiar thing in these headphones: they are indeed made of machined aluminium, but they are also enclosed by a layer of glass protected by a grille of metal. This is probably the most striking fact about these headphones, as they make use of materials that are definitely not widely used in the industry – especially in this price range. Glass is actually a gimmick to make the Triple Driver Over Ear "special", as there is no absolute need for that, but it also has a functional reason as it makes the headphones closed-back (and this has an impact on sound, of course).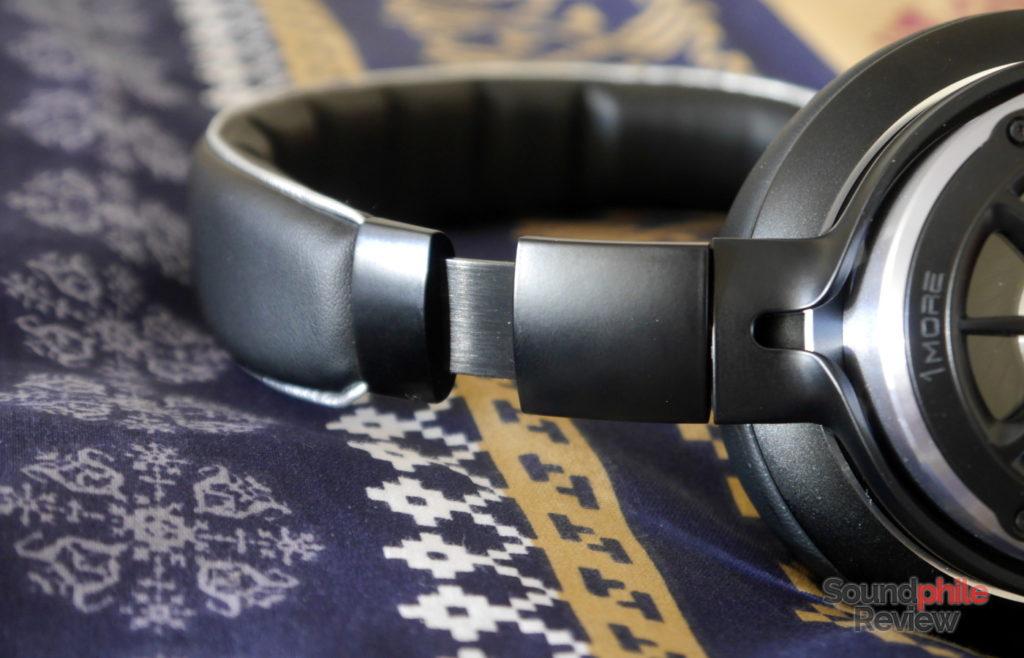 The headband has hinges that make it possible to fold the headphones so that they take less space when not in use. The hinges also allow the earcups to swivel, so they adapt to one's head or they sit comfortably on one's chest when not in use. The padding on the headband is divided into different sections; whether or not this helps comfort is up to debate.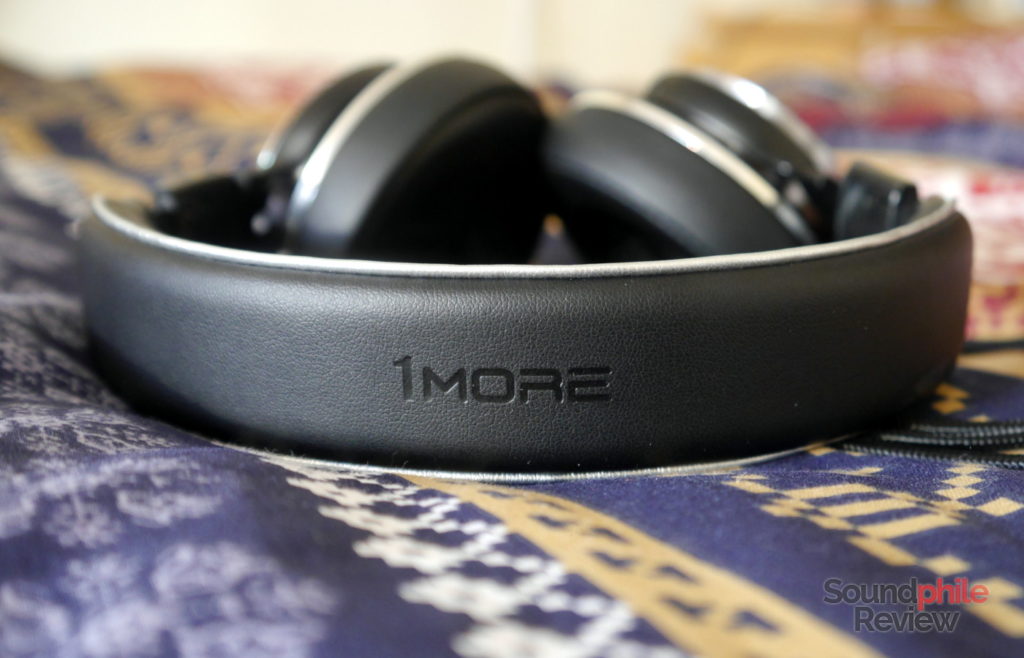 Talking about comfort, the 1More Triple Driver Over Ear are actually good at that. I am quite picky about comfort as I have extremely sensitive scalp and it gets irritated after just a couple minutes of wearing full-size headphones usually. That's not the case with the 1More Triple Driver Over Ear though, as I can wear them for over half an hour before the scalp is too irritated to continue wearing them. I guess that to the average person that would translate to a few hours of comfortable listening. If the padding was a tiny bit softer, then the result would be much better, but it is really good even as it is. The earcups padding is good, though it is the size that poses some problems: although the headphones flaunt their "Over Ear" design in their very name, they are actually not really over ear as they tend to be not large enough to completely enclose my ears.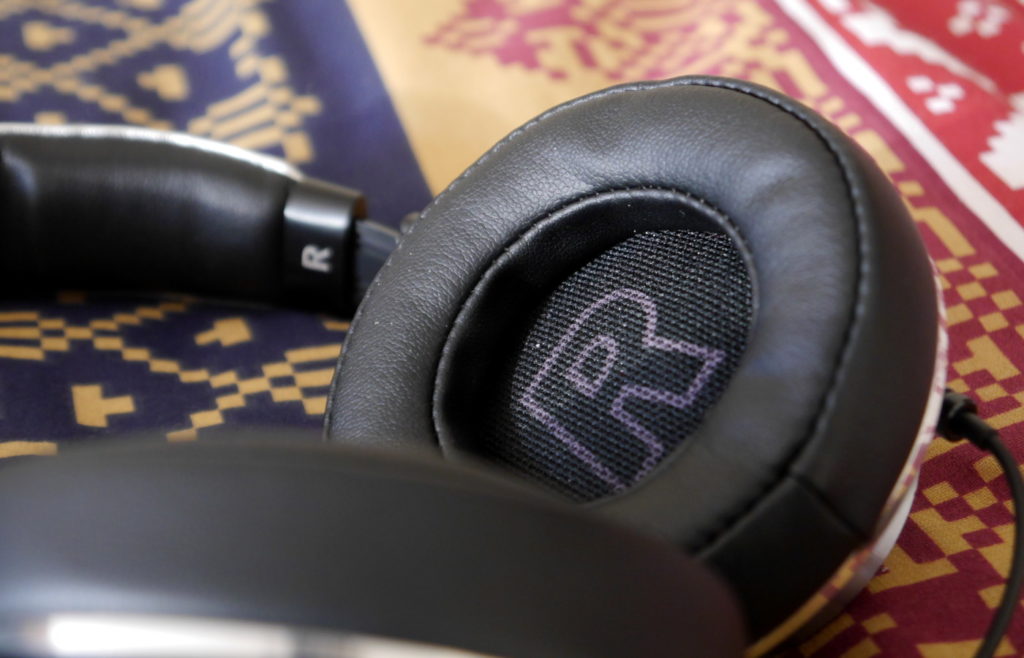 Isolation is decent, but it has room for improvement. I wouldn't take these on my daily commute expecting them to completely eliminate all of the noise I hear on public transport, but they do a decent job in reducing it enough to allow for a comfortable listening experience.
Despite being mobile-friendly headphones, the 1More Triple Driver Over Ear do not have a remote on the cable, nor a microphone. Therefore they can't be used with a mobile phone to manage calls, nor do they give you the option to control music playback.
Sound & Specs
I mainly used the 1More Triple Driver Over Ear in conjunction with a Cayin N5ii and a Honor 9 smartphone, though I also used it with a Venture Electronic Odyssey and a RHA Dacamp L1 (and in this case I used an iFi IEMatch, too). Source files were standard-resolution FLACs most of the time, though a few MP3s (usually 320 kbps) and high-res FLACs are part of my music collection.
1More Triple Driver Over Ear
| | |
| --- | --- |
| Frequency response | 20 – 40,000 Hz |
| Impedance | 32 Ω |
| Sensitivity | 104 dB |
The name "Triple Driver" would make one think there are three actual drivers at work, though reality is a bit different: on top of the main driver, which the company says is covered with graphene (however unlikely that may seem, given how graphene is still being studied in advanced laboratories), there is a ceramic tweeter and a bass reflex. The latter is the third driver, though it is not an actual active driver – so the headphones are dual driver, if one wants to be pedantic about that. It is an odd configuration anyway, as there are not that many full-size headphones that sport multiple drivers.
1More got their tuning quite right, if we take the consumer approach into account. The Triple Driver Over Ear use the familiar V-shaped signature that privileges bass (especially mid-bass) and treble, but it uses this signature in a decently balanced way. This is because there is no extreme peak or dip, so despite a few tuning "issues" the sound is generally coherent and pleasant.
As the general tuning is V-shaped, bass is more prominent than in an ideal neutral setting, but it is never aggressive and overbearing. It never leaks over the mids, despite being emphasised in the mid-bass section and near the border with the midrange. This makes it immersive and powerful without making it fatiguing nor excessive. It has good depth, as it reaches down to 30 Hz almost effortlessly, and this contributes to giving it a strong body and a good sensation of impact. The latter is also helped by the speed: the 1More Triple Driver Over Ear sport some decent speed that makes transients decently accurate, though it's not blistering fast nor punchy either. It's good, but not exceptional. It's not bloated and sloppy and that's what counts, in the end. But, as I said, it does give you a good sense of impact and that gives you some physical sensation that is surely satisfying and entertaining.
Midrange is V-shaped, too, and this makes for an odd situation which makes the upper and lower areas come up on top while the middle section is left in the background. As a consequence, most instruments sound a bit off – pianos sound like the middle section of the keyboard is attenuated, while the rest is boosted. While this is not excessive and it leaves the midrange balanced enough (as there is no clear-cut prevalence of one part over the others), it is still noticeable. The level of detail is really good for the price range these headphones are in, as they can deliver a high degree of detail including small nuances. This, together with the ability to separate instruments pretty well and to deliver good impact, make the midrange clear enough.
Treble has very good extension and, despite the roll-off leading the highest frequencies to be barely audible, the slope is gentle and therefore even the higher tones are portrayed fairly forward in the mix. This is a bit of an uncommon situation, as most of the time treble tends to be either laid-back or a bit aggressive; we might say it is correctly placed in this case. Detail is very good, yet there is no portrayal of the tiniest details – you never feel the brush on the cymbals in jazz recordings, as an example. So while the ceramic tweeter and the driver do indeed a good job, they're still solidly placed in the midrange – though it is higher midrange, truth be told.
As they're V-shaped, the 1More Triple Driver Over Ear are mostly good for modern genres, but if that's a signature you like you might actually use them for whatever you see fit as the V is not extreme.
Final Thoughts
The 1More Triple Driver Over Ear are well-crafted headphones however you look at them. From a build perspective, they are incredibly solid and the attention to detail 1More poured into them is evident. They are also good from an acoustic point of view, as they have a well-balanced tuning despite it being V-shaped. The detail is really above average and so is the fun component, as the headphones are able to really make you feel involved and in the centre of the scene. Bass is especially likeable: although it is not entirely controlled and super-fast, it still packs enough punch and has enough depth to be felt.
All in all it is a very likeable product, and one that feels great using. Although it is not the go-to product when you look for an audiophile listening experience, it is in fact a great day-to-day pair of headphones that is fun and relaxing. And at ~$249, they have great value. They could be priced at least $100 more and still be competitive. So you should definitely give them a try, because they are good!