1More recently expanded their line-up of products to include cheaper, trendier-looking earphones. They are marketed under the Stylish brand and they're mostly aimed at the young crowd. The 1More Stylish Dual-Driver Bluetooth are neckband-style Bluetooth earphones which are akin to simplified, more streamlined Triple Driver BT. Their colourful, joyful look matches their sound, though the tuning isn't exactly what one would expect from "mainstream" earphones.
Disclaimer: I received this sample from Tom at 1More Europe. You can find additional information on the company's website. The 1More Stylish BT are on sale on Amazon and have a MSRP of $69.99.

TL;DR: recap
Pros




Cons

Great comfort

Good connection quality

Engaging, balanced sound

Good battery life

No magnetic clasp
Rating: 7.5/10
Packaging & Accessories
It doesn't really matter if it's a low-end or a high-end product: 1More is consistent with their packaging. So even for the affordable Stylish Dual-Driver Bluetooth, 1More used their usual approach to packaging: a rich cardboard box with a window-like plastic lid that shows the earphones inside. The set of accessories includes four different eartip sizes (three with a full shell cover, one with just the eartips), a USB to micro-USB cable, plus a 1More sticker and a manual.
Let me delve a bit deeper in the eartips thing. 1More does not use the usual eartips that only cover the nozzle: the eartips are made to also fit around the shell, so that the part of the earpiece that comes in touch with the ear is covered in silicone. This improves comfort as it makes the shell softer, and it also offers better seal (theoretically speaking).
Design & Comfort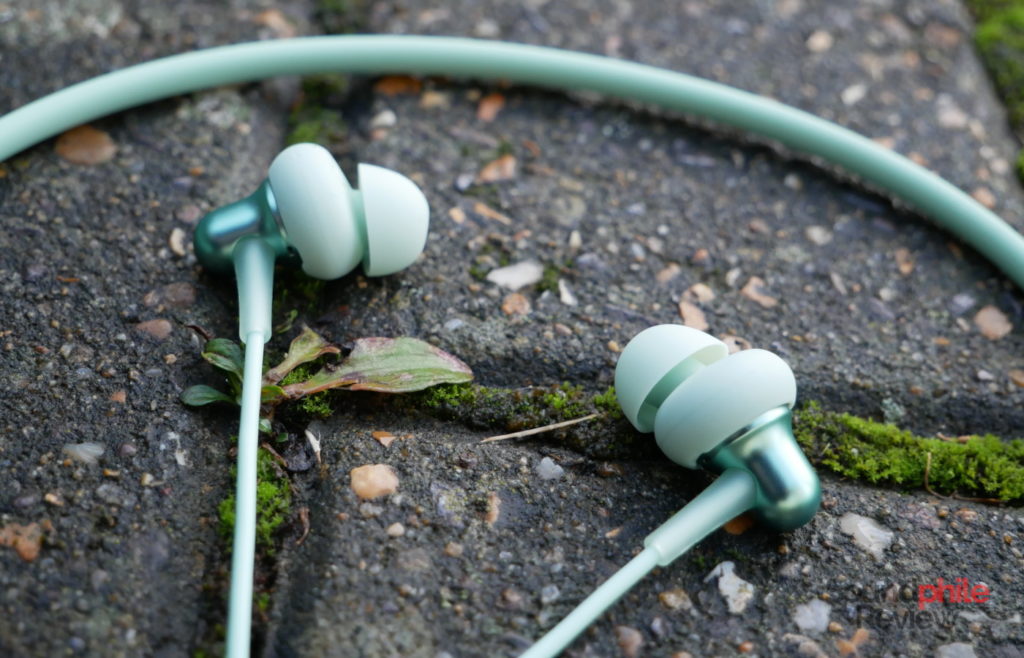 Much like the other 1More Bluetooth earphones I've reviewed so far, the Stylish Dual-Driver Bluetooth belong to that group of earphones that use a neckband to store the electronics and the battery. Contrary to the other 1More earphones, though, the Stylish Dual-Driver Bluetooth are much more flashy and young in their appearance. They're made for younger audiences after all, so it's only natural that they have a more elaborate design. They are probably the most fashion-orientated earphones in the manufacturer's line-up, though that's not a bad thing: they're in fact rather well-designed.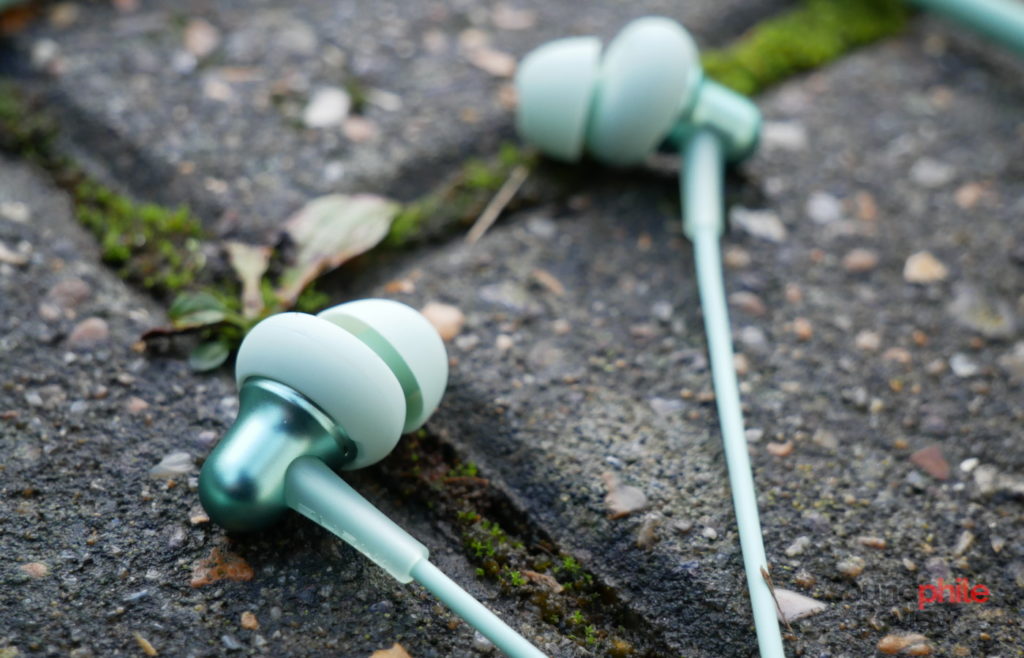 The neckband has two solid plastic casings at both ends; those contain all the electronics and the battery. A shiny, almost metallic paint is applied to those parts as well as the earphone shells. The neckband itself is made of rubbery plastic with a soft finish that feels good when resting on the neck. There is no strain relief on the cable coming out of the neckband, but there is some on the cable entering the earpieces.
All the controls are on the left side: the power button, which also acts as the play and pause button; the volume rocker, which also acts as the previous/next buttons. The micro-USB connector to charge the battery is also there.
Alas the earphones do not have any magnetic clasps, so the earpieces are free to wander when they're not actively worn. This is a minor inconvenience, but one that is felt in the daily usage.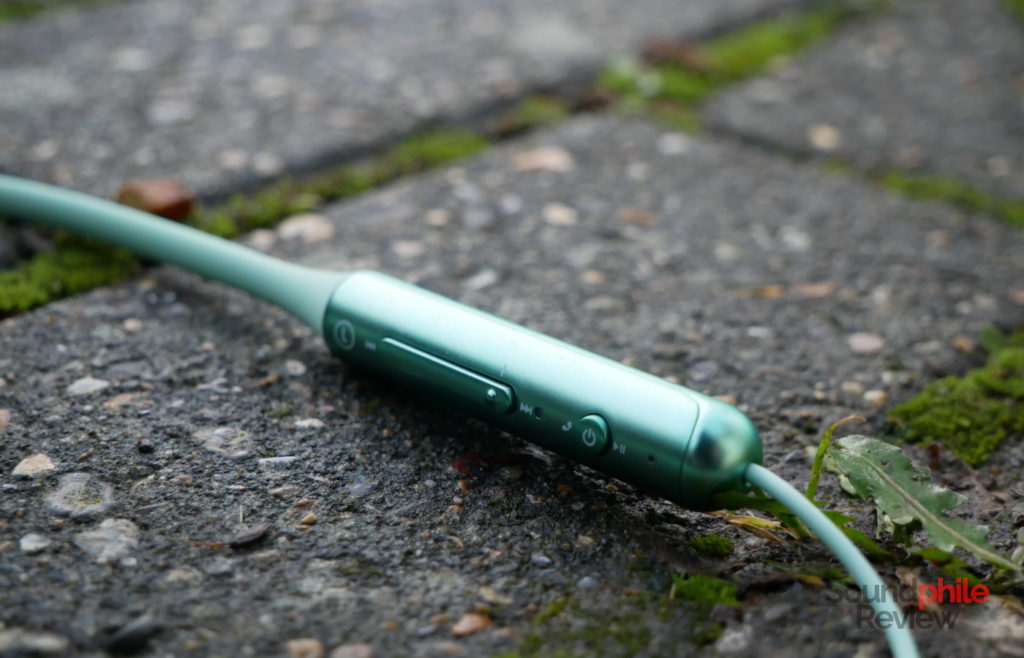 I found the 1More Stylish Dual-Driver Bluetooth to be really good in terms of comfort. The rounded, relatively small earpieces can sit in my ears for hours and I barely notice them. As usual this is my personal impression, so it my be different for you.
None of the eartips provided with the earphones actually fits my ears the way I would like them to, but isolation is limited even when wearing foam eartips. They're not ideal for really noisy situations, but they may be interesting for urban areas where you need to stay aware of the surroundings.
Extra Features & Battery Life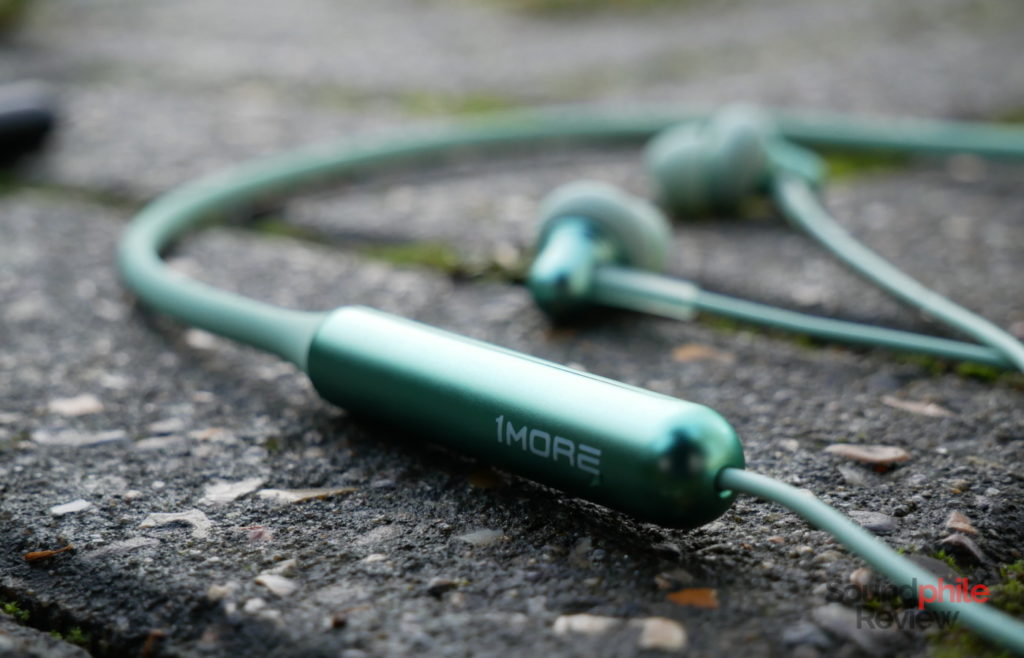 The 1More Stylish Dual-Driver Bluetooth rely on Bluetooth 4.2 for their connectivity. They do not feature any high-quality codec though, and they're limited to standard SBC (like the Dual Driver BT ANC).
Volume is adjusted independently from the source. This is especially useful as it allow for a more fine-grained adjustment, without depending on the source's volume (which can be terrible, as is the case with some Android devices).
The microphone works well, though its position on the neckband can sometimes prove tricky (e.g. if you are wearing a scarf or another bulky garment). Unless you are in a really loud environment, you should be heard just fine.
There are various voice prompts (in English) that inform you of the status of the earphones: battery charge, connection, pairing mode, etc. They're rather useful, as they are really clear and concise.
There is a "low battery" warning, so you always know when it's time to charge the earphones. There's no risk of music stopping without understanding why. Charging usually happens after more than five hours of usage (just short of the advertised 6 hours). While this is not great, it's still acceptable.
Sound & Specs
Since the 1More Stylish Dual-Driver Bluetooth do not support high-quality codecs, I decided to test them with whatever I had on hand. So on top of the usual Shanling M2X player and Honor 9 smartphone, I also used my HP EliteBook 745 G5 laptop (and its considerably larger music collection). Most files were FLACs in standard 16 bit / 44.1 kHz.
1More Stylish Dual-Driver Bluetooth

| | |
| --- | --- |
| Frequency response | N/A |
| Impedance | 32 Ω |
| Sensitivity | N/A |
The 1More Stylish Dual-Driver Bluetooth use a dual dynamic driver: it's made of two coaxial dynamic driver pointed in opposite directions. According to 1More, this has a beneficial effect on sensitivity, compactness of the shell and bass volume.
Bass is slightly abundant: it is in line with 1More's house sound, which is a neutral-ish tuning with a bit of added bass. It is a sane compromise between a more consumer-orientated approach and a more hi-fi one. The emphasis can be clearly heard but it's always discreet enough not to step over the midrange or to become too much; it adds some colour, making the sound warmer with class. It's not really super-deep, with roll-off starting around 50 Hz, but it's still good enough to let you feel the lows. Control is decent and so is detail.
Midrange has a small drop in presence in the lower area and a small bump in the upper one. At first I thought it was the eartips that did not fit well, but then I tried some Comply tips that I always use and I realised that was not the issue – it's just the way the earphones are tuned. The dip and the bump are not very large so they don't cause any major disruption, but they're enough to alter tonality a bit so that female voices appear richer and further forward than their male counterparts, the same as the upper keys of a piano have more presence than the lower ones. In terms of detail, midrange has a good amount. It's also as physical as bass.
Treble is a different story, as it is produced by a different driver. It's not as detailed as the other two areas, although its detail is still more than adequate. It has decent extension, though the roll-off is still pretty fast. There's more presence in the lower area, with the middle area being slightly recessed and the upper one rapidly wearing off. It counterbalances the lows effectively, but it doesn't give you that super-airy or extremely detailed representation some may look for – though it's perfectly fine!
1More Stylish Dual-Driver Bluetooth Comparison
At the time of writing this review I only have one other pair of Bluetooth earphones I can compare the 1More Stylish Dual-Driver Bluetooth to: the 1More Piston Fit BT. Those are $30, but they actually offer some things that may be considered better: IPX4 certification (vs none on the Stylish Dual-Driver Bluetooth), Bluetooth 5 (vs Bluetooth 4.2, though it makes no real difference in sound quality), 8 h battery life (vs 6 h), magnetic clasp (vs none). You might wonder where the Stylish Dual-Driver Bluetooth are better – the answer is sound. The Stylish Dual-Driver Bluetooth are more detailed and more balanced in their presentation, with larger soundstage and better instrument separation.
Final Thoughts
As far as sub-$100 Bluetooth earphones go, the 1More Stylish BT are good.  They offer a well-balanced sound signature with more-than-decent technical ability, especially when we look at overall detail. Their battery life is sufficient and covers the daily commute (and something more). They are good-looking and comfortable on top of all this. They are worth their asking price, though if they were ~$50 they would provide much better value overall.