1More has been a champion of the affordable market for a long time now, though the company also ventured into more expensive territory with the 1More Quad Driver. They still seem to have this mission of providing their customers with high quality audio at affordable prices and they reiterated that commitment by releasing the $29 1More Piston Fit BT. For the price, they really are among the best "bang for your buck" earphones in the market.
Disclaimer: I received a complimentary unit for the purpose of this review from 1More EU (thank you, Tom!). Learn more on 1More's website. They retail for $29.99 and are on sale on Amazon.

TL;DR: recap
Pros




Cons

Pocketable design

Fun sound signature

Great battery life

Superb value

Sometimes bass is excessive

Tuning has some issues
Rating: 7.5/10
Packaging & Accessories
Due to the low price of the Piston Fit BT, 1More decided to reduce the accessory set and to simplify the packaging to keep costs down. It's not a policy I can blame them for, since there is a more than decent set of accessories: the earphones come with four pairs of eartips, one USB to micro-USB cable and the usual sticker and leaflets. There's no bag included, but it's not missed dearly.
Design & Comfort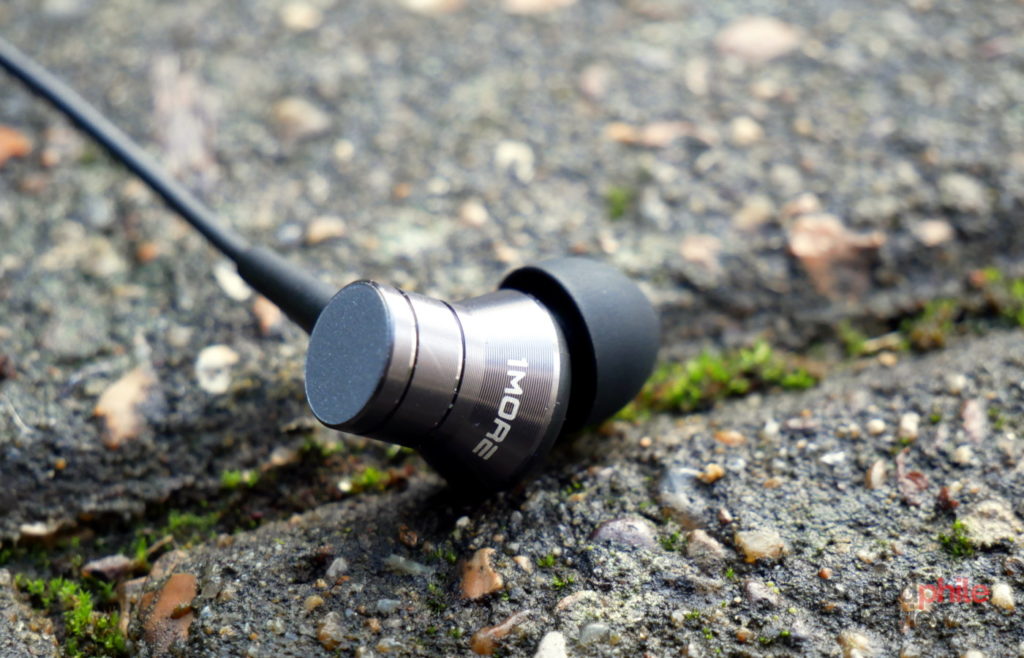 When I wrote that the bag is not missed dearly it's because the 1More Piston Fit BT are super-flexible and can be put almost anywhere – including your pocket. That's because the neckband is very soft and it's easily wound up. In fact it is covered in a rubbery material with grooves all over it that help it grip on the neck and stay (relatively) in place. At the two ends are two plastic capsules that hold the electronics and the battery. The earphones themselves are really similar to their wired counterparts and are made of plastic and metal.
The design isn't overly innovative, but it's quite functional; as I mentioned, the fact that the neckband is soft makes it easy to place it anywhere. The downside is that if you remove one earphone from your ears and leave it dangling, it will bring the whole neckband with it. I have not other complaints though, as build quality appears quite high compared to the price.
The left "capsule" is the one that holds all the electronics and therefore the buttons. It has the power button, the volume rocker and the pause/play button, plus a microphone and the micro-USB port to charge the battery.
The shell of the earphones is made of machined aluminium, with the nozzle made of plastic and the strain relief made of rubber. Each earpiece has a magnet that makes it stick to the other, so they are not dangling loose when not in use. That's quite useful! The 1More Piston Fit BT are also IPX4 certified, which makes them usable even under the rain, when working out or under the shower.
The 1More Piston Fit BT are quite comfortable, thanks to the small size of the shells and to the nozzle being angled. These two elements together make it possible for me to wear them even for four hours straight without any sensation of fatigue or discomfort arising.
Isolation is limited, even when using different eartips from those provided in the box. Unless one raises the volume, they offer little in terms of usability in noisy environments. On the other hand, though, this may be seen as a pro as one should always stay aware of their surroundings when listening to music on the streets. Given they're mainly targeted at active users, who might run or cycle or do physical activity, I dare say that this approach to isolation is right.
Extra Features & Battery Life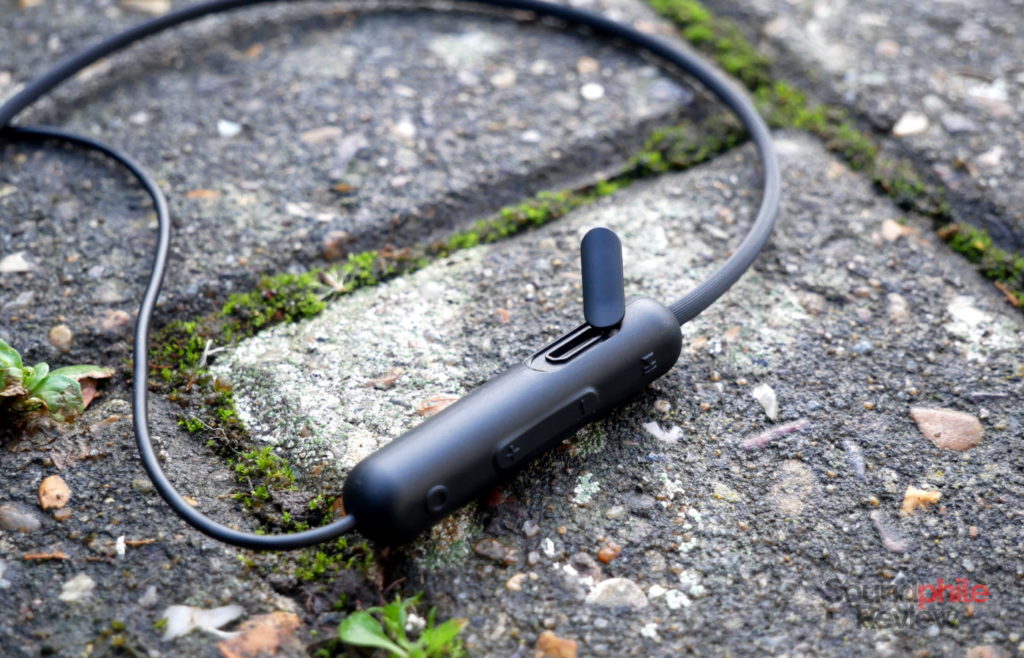 Unsurprisingly, given the low-cost nature of the Piston Fit BT, the only codec offered is plain old SBC. A bit more surprisingly, though, it sounds more than decently well. Bluetooth 5.0 is the standard chosen by 1More for the Piston Fit BT and this has the advantage of transmitting audio in low-power mode, saving battery on both ends of the communication. Sound quality is not affected by Bluetooth 5.0.
I find the connection quality to be very good: while it's not as good as that of the RHA TrueConnect, it's still very good as I can roam the (rather large) room where I test the equipment almost without issues. If I leave the source player on the desk at one end of the room and walk to the furthest end from it, the music may sometimes stutter, but that's about it.
The play/pause button also acts as the next button with two presses and as the previous buttons with three presses. It also allows one to manage calls (answer with one press, hang up with two, decline call by pressing and holding). The power button also allows one to bring up the vocal assistant by pressing it two times when the Piston Fit BT are connected to a compatible smartphone and when no music is playing.
Microphone quality is limited and required me to speak at a very loud voice volume in order to be heard. I would say that it's really not the best one could hope for, but it can get the job done while one is working out and needs to take an incoming call.
Battery life is rated at eight hours, and I can say that this estimate is actually somewhat accurate. I was able to consistently squeeze around 7 hours out of it, which is an acceptable figure.
Sound & Specs
I tested the 1More Piston Fit BT by using a Shanling M2X as the main source, though I also connected them to my Honor 9 smartphone and to my Linux-sporting HP EliteBook 745 G5 notebook. In all cases, the source files were mostly comprised of 16 bit / 44.1 kHz FLACs.
| | |
| --- | --- |
| Frequency response | N/A |
| Impedance | 32 Ω |
| Sensitivity | N/A |
The 1More Piston Fit BT are tuned in what we might call a "mainstream" fashion, so they have robust mid-bass and recessed mids followed by inoffensive treble.
Bass is substantial. It's not excessive, but it's still more prominent than in a balanced signature (not to mention a neutral one!). It has little depth and is mostly concentrated in the mid-bass area, where there is a large bump followed by a slow descent towards the midrange. These variations are constant, however, so there are no large peaks that sound off. It's a heavy colouration of sound, but at least it's not fatiguing. There is not much detail in the bass area: finer details are just not there and just the larger ones remain there. Speed is also limited, while decay is surprisingly decent.
Midrange is a bit odder than bass, as it seems there is a drop in the middle region which makes it sound a bit weird. The lower region is a bit elevated, being it coherent with the lows, but there is then a drop followed by a small bump in the upper area. The end result is not exactly linear and makes some instruments sound a bit odd: either distant or "in your face", which makes for a very peculiar sound presentation. Most of the time it's totally fine, whichever genre you listen to. There's not much detail again, but it's enough to get a clear idea of what's going on as it's not too muffled. There's decent speed which makes drums entertaining and engaging.
Treble is maybe the weakest point of the signature, though that depends on how you see things. I say that it's weak because there's very little of it: it's mostly in the background, hidden behind the bass. This makes tracks in general a bit dark, which may not be everyone's cup of tea. Speaking of what's there, though, there seem to be a few ups-and-downs going on here as the treble starts as quiet in the lower area, then climbs up in the middle and subsequently crashes down in the upper region. There's some detail, but it's limited and it's hard to hear mostly due to the tuning.
Final Thoughts
At $30, the 1More Piston Fit Bluetooth are good. Let's face it: there's not that many good Bluetooth earphones with water resistance and good connection quality. The Piston Fit Bluetooth may not be the most technical headphones, nor those with the best tuning, but they're fun, they have good battery life and good range, and they're super comfortable. Finding better Bluetooth earphones at this price is possible, but really hard. Yes, if we were to consider the sound alone, these would not be my first choice in general, but if I only had $30 they would probably be what I would buy. This is not an introductory price – it's the real thing that will possibly be reduced in the future. And the Piston Fit BT are decent (or even downright good) in most respects, so that's enough in my book to give them thumbs up.